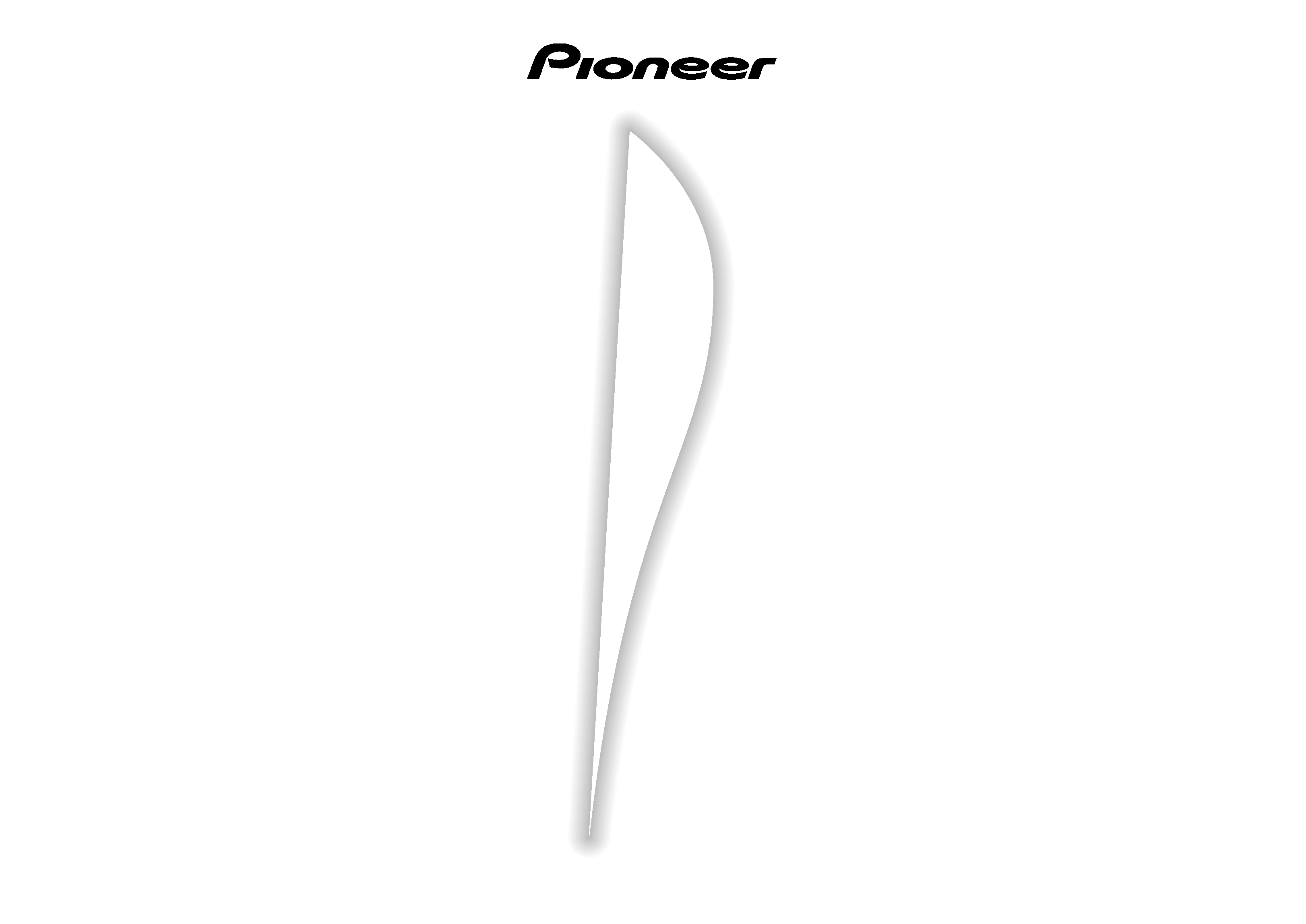 STEREO CD RECEIVER SYSTEM
RECEPTEUR RADIO STEREO AVEC LECTEUR/
STEREO CD-EMPFÄNGER SYSTEM
SISTEMA STEREOFONICO CON RADIO E
---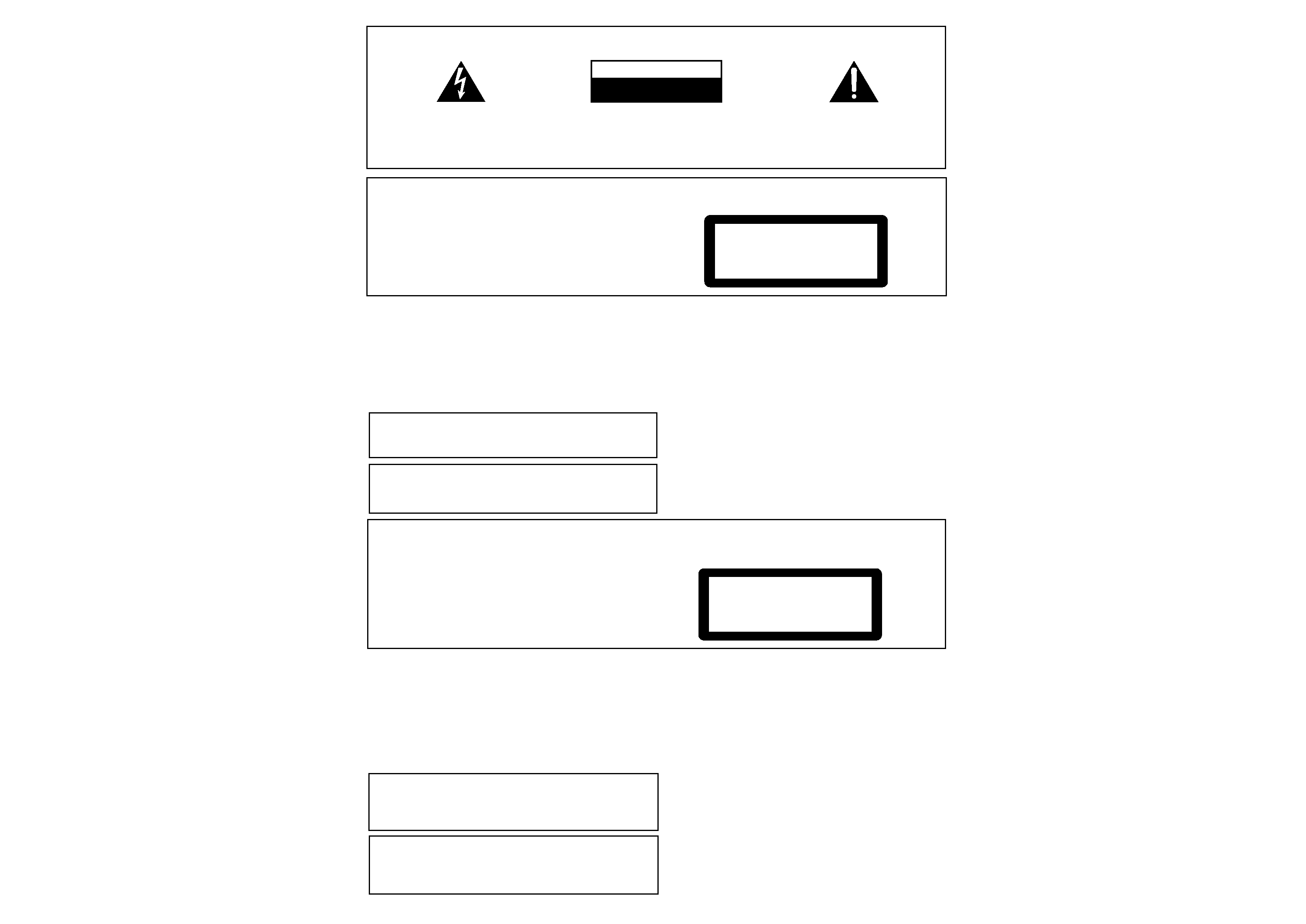 The exclamation point within an equilateral
triangle is intended to alert the user to the presence
of important operating and maintenance
(servicing) instructions in the literature
accompanying the appliance.
The lightning flash with arrowhead symbol, within
an equilateral triangle, is intended to alert the
user to the presence of uninsulated "dangerous
voltage" within the product's enclosure that may
be of sufficient magnitude to constitute a risk of
electric shock to persons.
TO PREVENT THE RISK OF ELECTRIC SHOCK, DO
NOT REMOVE COVER (OR BACK). NO USER-SER-
VICEABLE PARTS INSIDE. REFER SERVICING TO
QUALIFIED SERVICE PERSONNEL.
÷ When installing this unit, make sure to leave space around the unit for
ventilation to improve heat radiation (at least 10 cm at the top, 10 cm at
the rear, and 10 cm at each side). If not enough space is provided
between the unit and walls or other equipment, heat will build up
inside, interfering with performance or causing malfunctions.
÷ Do not place on a thick carpet, bed, sofa or fabric having a thick pile.
Do not cover with fabric or other covering.
Anything that blocks ventilation will cause the internal temperature to
rise, which may lead to breakdown or fire hazard.
÷ Lors de l'installation de cet appareil, veillez à ménager un espace
suffisant autour de ses parois de maniére que la chaleur puisse se
dissiper aisément (au moins 10 cm à l'apartie supérieure, 10 cm à
l'arrière et 10 cm de chaque côté). Si l'appareil est trop près d'un mur,
d'une cloison ou d'autres appareils, sa température interne peut s'élever
anormalement, ce qui entraîne un dégradation de ses performances et
des anomalies de fonctionnement.
÷ Ne placez pas l'appareil sur un tapis épais, un lit, un sofa ou un tissu à
fibres longues. Ne le couvrez pas d'un vêtement ou de tout autre
Tout ce qui peut empêcher la libre circulation de l'air provoque une
augmentation de la température intérieure, ce qui peut conduire à une
anomalie de fonctionnement ou à un incendie.
This product contains a laser diode of higher
class than 1. To ensure continued safety, do
not remove any covers or attempt to gain
access to the inside of the product.
Refer all servicing to qualified personnel.
The following caution label appears on your unit.
Location: Side of the unit.
WARNING:
TO PREVENT FIRE OR SHOCK
HAZARD, DO NOT EXPOSE THIS APPLIANCE TO
THE STANDBY/ON BUTTON IS SECONDARY CON-
NECTED AND THEREFORE DOES NOT SEPARATE THE
UNIT FROM MAINS POWER IN STANDBY POSITION.
This product complies with the Low Voltage Directive (73/
23/EEC), EMC Directives (89/336/EEC, 92/31/EEC) and CE
Marking Directive (93/68/EEC).
L'étiquette de précaution suivante se trouve sur
Emplacement : Côté de l'appareil
L'INTERRUPTEUR D'ALIMENTATION (STANDBY/ON) EST
SUR UN CIRCUIT DE CONNEXION SECONDAIRE ET PAR
CONSEQUENT NE COUPE PAS L'ALIMENTATION
SECTEUR SUR LA POSITION D'ATTENTE.
ATTENTION:
AFIN DE PREVENIR TOUS
RISQUES DE CHOC ELECTRIQUE OU D`INCENDIE, NE
PAS EXPOSER CET APPAREIL A L`HUMIDITE OU A
Ce produit renferme une diode à laser d'une
catégorie supérieure à 1. Pour garantir une
sécurité constante, ne pas retirer les couvercles
ni essayer d'accéder à l'intérieur de l'appareil.
Pour toute réparation, s'adresser à un personnel
Thank you for buying this PIONEER product.
Please read through these operating instructions so you will know
how to operate your model properly. After you have finished reading
the instructions, put them away in a safe place for future reference.
In some countries or regions, the shape of the power plug and power
outlet may sometimes differ from that shown in the explanatory
drawings. However, the method of connecting and operating the unit
Nous vous remercions pour cet achat d'un produit Pioneer.
Nous vous demandons de lire soigneusement ce mode d'emploi ;
vous serez ainsi à même de faire fonctionner l'appareil
correctement. Après avoir bien lu le mode d'emploi, rangez-le dans
un endroit sûr pour pouvoir vous y référer ultérieurement.
Dans certains pays ou certaines régions, la forme de la fiche
d'alimentation et de la prise d'alimentation peut différer de celle qui
figure sur les schémas, mais les branchements et le fonctionnement
de l'appareil restent les mêmes.
Ce produit est conforme à la directive relative aux appareils basse
tension (73/23/CEE), aux directives relatives à la compatibilité
électromagnétique (89/336/CEE, 92/31/CEE) et à la directive CE
relative aux marquages (93/68/CEE).
---

The wires in this mains lead are colored in
accordance with the following code :
If the plug provided is unsuitable for your socket
outlets, the plug must be cut off and a suitable
Do not connect either wire to the earth terminal of a
After replacing or changing a fuse, the fuse cover in the
plug must be replaced with a fuse cover which corre-
sponds to the colour of the insert in the base of the plug
or the word that is embossed on the base of the plug, and
the appliance must not be used without a fuse cover. If
lost, replacement fuse covers can be obtained from
Only 5 A fuses approved by B.S.I. or A.S.T.A. to B.S.
The cut-off plug should be disposed of and must not
be inserted into any 13 amp socket as this can result
in electric shock. The plug or adaptor or the distribu-
tion panel should be provided with a 5 amp fuse. As
the colours of the wires in the mains lead of this
appliance may not correspond with coloured mark-
ings identifying the terminals in your plug, proceed as
The wire which is coloured blue must be connected
to the terminal which is marked with the letter N or
The wire which is coloured brown must be con-
to the terminal which is marked with the letter L or
Dieses Gerät enthält eine Laserdiode mit
einer höheren Klasse als 1. Um einen stets
sicheren Betrieb zu gewährleisten, weder
irgendwelche Abdeckungen entfernen, noch
versuchen, sich zum Geräteinneren Zugang
Alle Wartungsarbeiten sollten qualifiziertem
Kundendienstpersonal überlassen werden.
Der unten abgebildete Warnaufkleber befindet
sich an der Seite dieses Gerätes.
WARNUNG:
UM EINEN BRAND ODER
STROMSCHLAG ZU VERMEIDEN, DIESES GERÄT
NICHT REGEN ODER FEUCHTIGKEIT AUSSETZEN.
DER NETZSCHALTER IST MIT DEN SEKUNDÄR-
WICKLUNGEN VERBUNDEN UND TRENNT DAHER IN
DER BEREITSCHAFTSPOSITION DAS GERÄT NICHT
Dieses Produkt entspricht den Niederspannungsrichtlinien
(73/23/EEC), EMV-Richtlinien (89/336/EEC, 92/31/EEC) und
den CE-Markierungsrichtlinien (93/68/EEC).
L'INTERRUTTORE DI ALIMENTAZIONE È COLLEGATO
AD UN CIRCUITO SECONDARIO E QUINDI, NELLA
POSIZIONE DI ATTESA (STANDBY), NON SEPARA
L'UNITÀ DALLA PRESA DI CORRENTE.
AVVERTENZA:
PER EVITARE IL
RISCHIO DI FIAMME O SCOSSE ELETTRICHE, NON
ESPORRE QUESTO APPARECCHIO ALLA PIOGGIA
Questo prodotto contiene un diodo al laser di
classe superiore alla classe 1. Per motivi di
sicurezza, non smontare i coperchi e non
procedere ad interventi sulle parti interne.
Per qualsiasi riparazione rivolgersi a
Questo prodotto è conforme alla direttiva sul basso voltaggio
(73/23/CEE), alle direttive EMC (89/336/CEE, 92/31/CEE) e alla
direttiva sul marchio CE (93/68/CEE).
Wir danken lhnen für den Kauf dieses Pioneer-Produkts.
Lesen Sie sich bitte diese Bedienungsanleitung durch. Dann wissen
Sie, wie Sie lhr Gerät richtig bedienen. Bewahren Sie sie an einem
sicheren Platz auf, um auch zukünftig nachschlagen zu können.
In manchen Ländern oder Verkaufsgebieten weichen die
Ausführungen von Netzstecker oder Netzsteckdose u.U. von den in
den Abbildungen gezeigten ab; die Anschluss- und
Bedienungsverfahren des Gerätes sind jedoch gleich.
Grazie per aver acquistato questo prodotto Pioneer.
Leggere attentamente questo manuale di istruzioni per
familiarizzarsi con l'uso dell'apparecchio. Conservare poi il
manuale per ogni eventuale futuro riferimento.
I modelli disponibili in alcuni paesi o regioni possono avere la forma
della spina del cavo d'alimentazione e della presa ausiliaria di
corrente diversa da quella mostrata nelle illustrazioni, ma il loro
modo di collegamento e funzionamento è lo stesso.
La nota seguente si trova sul pannello
laterale dell'apparecchio.
· Beim Aufstellen des Receivers für ausreichenden Abstand zu anderen
Geräten oder Wänden sorgen (mindestens 10 cm nach oben, 10 cm
nach hinten und 10 cm an den Seiten), um für ausreichende
Belüftung bzw. Kühlung zu sorgen. Andernfalls kann es im Innern
des Geräts zu einem Hitzestau und demzufolge Funktionsstörungen
· Den Receiver nicht auf einen dicken Teppich, Bett, Sofa oder weiche
Stoffunterlagen stellen. Den Receiver auch keinesfalls mit einem Tuch
o.ä. abdecken. Andernfalls werden die Lüftungsöffnungen blockiert
und es kann zu einem Hitzestau mit Brandgefahr kommen.
· Quando si installa questo apparecchio, accertarsi di lasciare uno
spazio libero attorno all'apparecchio per consentire la ventilazione in
modo da migliorare la dissipazione del calore (lasciare almeno 10
cm sopra l'apparecchio, 10 cm sul retro e 10 cm su ciascun lato). Se
non viene lasciato spazio a sufficienza tra l'apparecchio e le pareti o
un altro apparecchio, il calore si accumula all'interno interferendo
con le prestazioni o causando problemi di funzionamento.
· Non collocare l'apparecchio su un tappeto a pelo lungo, su un letto,
su un divano o su tessuti a pelo lungo. Non coprire l'apparecchio
con panni o altre coperture.
Il blocco della ventilazione in qualsiasi modo può causare l'aumento
della temperatura interna, con conseguenti guasti o rischi di incendi.
---

Saving station presets .............................................................. 25
Listening to station presets ...................................................... 25
Using RDS ............................................................................... 25
Program types ................................................................... 26
Displaying RDS information ............................................... 27
Searching for a program type ............................................. 27
Waking up to the radio or auxiliary component ........................ 28
Activating/deactivating the timer ...................................... 28
Setting the wake up time ................................................... 28
Sleeping to the radio ............................................................... 29
Changing the tuning frequency interval .................................... 29
Handling discs ......................................................................... 30
Storing discs ............................................................................ 30
Discs to avoid .......................................................................... 30
CD lens cleaner ....................................................................... 30
Cleaning external surfaces ....................................................... 31
Moving the unit ....................................................................... 31
Magnetic shielding of speakers ................................................. 31
Troubleshooting ...................................................................... 32
Specifications .......................................................................... 33
Switching off the demo mode ...................................... Back cover
Checking what's in the box ........................................................ 6
Using this manual ...................................................................... 6
Removing the transport stopper ................................................ 6
Putting the batteries in the remote ............................................ 6
Hints on installation .................................................................. 7
Avoiding condensation problems ............................................... 7
The back panel .......................................................................... 8
Connecting the AM and FM antennas ......................................... 8
AM loop antenna ................................................................. 8
FM wire antenna .................................................................. 9
Connecting external antennas .................................................... 9
External AM antenna ........................................................... 9
External FM antenna .......................................................... 10
Connecting the speakers ......................................................... 10
Using a sub-woofer ................................................................... 11
Connecting to other components ............................................. 11
Plugging in to an AC outlet ....................................................... 11
Power cord caution ............................................................. 11
Front panel .............................................................................. 12
Display .................................................................................... 13
Remote control ........................................................................ 14
Remote control range ......................................................... 14
Setting the clock ...................................................................... 15
Switching on the clock in standby ............................................. 15
Playing CDs .............................................................................. 16
Playing discs back-to-back or individually .................................. 17
Changing the disc information display ...................................... 17
Listening to the radio ................................................................ 18
Improving stereo FM sound ................................................. 18
Listening to a connected component ......................................... 18
Programming the track order ................................................... 19
Programming a single disc playlist ...................................... 19
Programming a multi disc playlist ....................................... 20
Adding a track to the playlist ............................................. 21
Clearing a track from the playlist ....................................... 21
Checking and editing the playlist ....................................... 21
Erasing the playlist ............................................................ 21
Using random play ................................................................... 22
Using repeat play ..................................................................... 22
Waking up to a CD ................................................................... 23
Activating/deactivating the timer ...................................... 23
Setting the wake up time ................................................... 23
Sleeping to a CD ..................................................................... 24
This product is for general household purposes. Any failure due to use for other than
household purposes (such as long-term use for business purposes in a restaurant or use
in a car or ship) and which requires repair will be charged for even during the warranty
---

Saving station presets .............................................................. 25
Listening to station presets ...................................................... 25
Using RDS ............................................................................... 25
Program types ................................................................... 26
Displaying RDS information ............................................... 27
Searching for a program type ............................................. 27
Waking up to the radio or auxiliary component ........................ 28
Activating/deactivating the timer ...................................... 28
Setting the wake up time ................................................... 28
Sleeping to the radio ............................................................... 29
Changing the tuning frequency interval .................................... 29
Handling discs ......................................................................... 30
Storing discs ............................................................................ 30
Discs to avoid .......................................................................... 30
CD lens cleaner ....................................................................... 30
Cleaning external surfaces ....................................................... 31
Moving the unit ....................................................................... 31
Magnetic shielding of speakers ................................................. 31
Troubleshooting ...................................................................... 32
Specifications .......................................................................... 33
Switching off the demo mode ...................................... Back cover
Checking what's in the box ........................................................ 6
Using this manual ...................................................................... 6
Removing the transport stopper ................................................ 6
Putting the batteries in the remote ............................................ 6
Hints on installation .................................................................. 7
Avoiding condensation problems ............................................... 7
The back panel .......................................................................... 8
Connecting the AM and FM antennas ......................................... 8
AM loop antenna ................................................................. 8
FM wire antenna .................................................................. 9
Connecting external antennas .................................................... 9
External AM antenna ........................................................... 9
External FM antenna .......................................................... 10
Connecting the speakers ......................................................... 10
Using a sub-woofer ................................................................... 11
Connecting to other components ............................................. 11
Plugging in to an AC outlet ....................................................... 11
Power cord caution ............................................................. 11
Front panel .............................................................................. 12
Display .................................................................................... 13
Remote control ........................................................................ 14
Remote control range ......................................................... 14
Setting the clock ...................................................................... 15
Switching on the clock in standby ............................................. 15
Playing CDs .............................................................................. 16
Playing discs back-to-back or individually .................................. 17
Changing the disc information display ...................................... 17
Listening to the radio ................................................................ 18
Improving stereo FM sound ................................................. 18
Listening to a connected component ......................................... 18
Programming the track order ................................................... 19
Programming a single disc playlist ...................................... 19
Programming a multi disc playlist ....................................... 20
Adding a track to the playlist ............................................. 21
Clearing a track from the playlist ....................................... 21
Checking and editing the playlist ....................................... 21
Erasing the playlist ............................................................ 21
Using random play ................................................................... 22
Using repeat play ..................................................................... 22
Waking up to a CD ................................................................... 23
Activating/deactivating the timer ...................................... 23
Setting the wake up time ................................................... 23
Sleeping to a CD ..................................................................... 24
This product is for general household purposes. Any failure due to use for other than
household purposes (such as long-term use for business purposes in a restaurant or use
in a car or ship) and which requires repair will be charged for even during the warranty
---