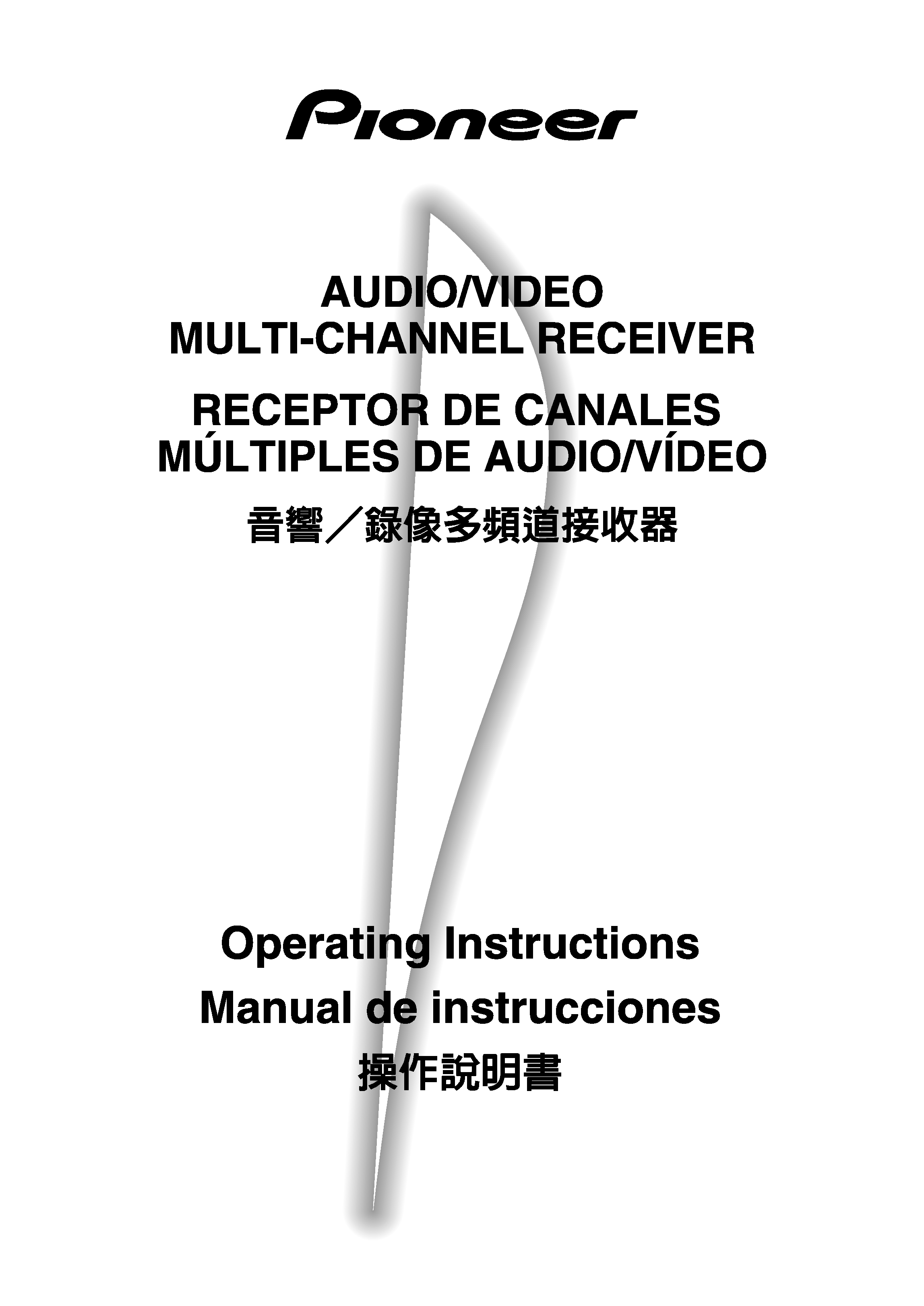 ---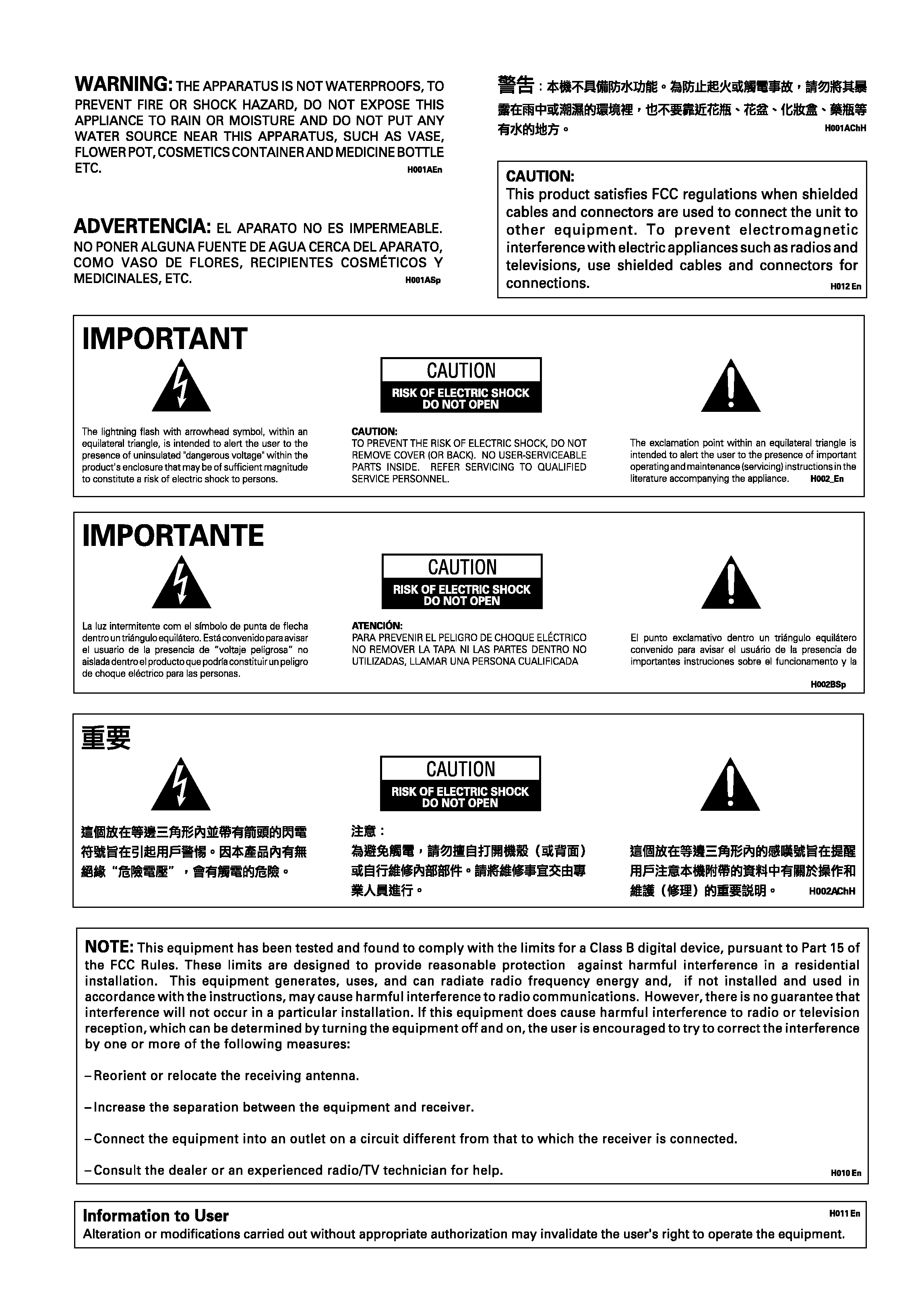 ---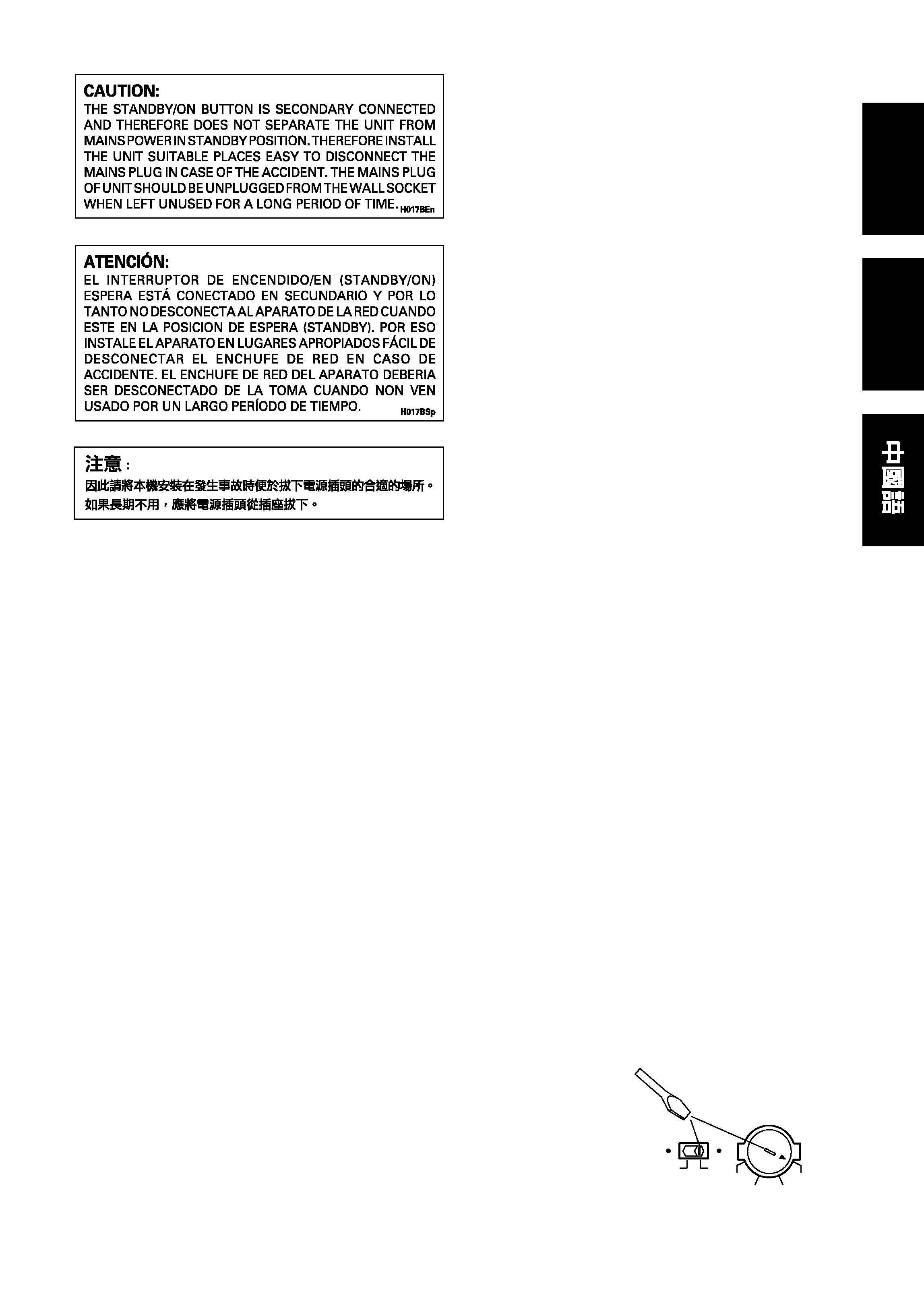 Only multi-voltage model is
provided with these switches.
Mains voltages in Saudi Arabia are
127 V and 220 V only. Never use
this model with the 110 V setting
The line voltage selector switches are
on the rear panel. Check that they are
set properly before plugging the
power cord into the household wall
socket. If the voltage is not properly
set or if you move to an area where
the voltage requirements differ, adjust
the selector switches as follows.
1. Use a medium-size screwdriver.
2. First, insert the screwdriver in the
groove of the voltage selector at the
right, and adjust so that the tip of the
groove points to the voltage value of
3. Next, insert the screwdriver in the
groove of the voltage selector at the
left and adjust until the voltage is the
"DTS" and "DTS Digital Surround" are trademarks of Digital
Theater Systems, Inc. Manufactured under license from Digital
Manufactured under license from Dolby Laboratories. "Dolby", "Pro
Logic" and the double-D symbol are trademarks of Dolby Labora-
tories. Confidential Unpublished Works. © 1992-1997 Dolby Labo-
ratories, Inc. All rights reserved.
"DTS" y "DTS Digital Surround" son marcas comerciales de
Digital Theater Systems Inc. Fabricado bajo licencia de
Digital Theater Systems Inc.
Fabricado bajo licencia de Dolby Laboratories. "Dolby", "Pro
Logic" y el símbolo con una doble D son marcas comerciales
de Dolby Laboratories. Trabajos confidenciales no publicados.
© 1992 - 1997 Dolby Laboratories. Todos los derechos quedan
Destornillador de tamaño medio
La tensión de la red en Arabia
Saudita es de 127 V y 220 V. Nunca
utilice este modelo en Arabia
Saudita con el ajuste para 110 V.
Los conmutadores selectores de la
tensión de línea se encuentran en el
panel trasero. Compruebe que éstos
se encuentren en las posiciones
correctas antes de conectar el cable de
alimentación a una toma de corriente.
Si la tensión está mal ajustada o usted
se desplaza a un área donde los
requerimientos de tensión son
diferentes, ajuste los conmutadores
selectores como se indica a
1. Utilice un destornillador de
2. Inserte primero el destornillador
en la ranura del selector de tensión de
la derecha y ajústelo de forma que la
punta de la ranura indique hacia el
valor de la tensión utilizada en su
3. A continuación, inserte el
destornillador en la ranura del
selector de tensión de la izquierda y
ajústelo hasta que la tensión sea la
misma que la del selector de tensión
---

Congratulations on buying this fine Pioneer product.
Please read through these operating instructions so you will know how to operate your model properly. After you have
finished reading the instructions, put them away in a safe place for future reference.
Checking the Supplied Accessories
Operating Range of Remote Control Unit
When Making Cable Connections
Connecting Your Equipment
Connecting Digital Components
Connecting Audio Components
Connecting DVD 5.1 Channel Components
Connecting Video Components
Hints on speaker placement
Operating Other Pioneer Components
Setting Up for Surround Sound
Setting the Volume Level of Each Channel
Learning about the Sound Modes
Switching ANALOG/DIGITAL Signal Input
Playing Sources with Dolby Digital or DTS Sound
ADVANCED THEATER Mode ( Dolby/DTS mode)
Tuning Directly to a Station
Recalling Memorized Stations
Making an Audio or a Video Recording
Controlling the Rest of Your System
Setting Up the Remote Control
Clearing All the Remote Control Settings
Direct Function (MULTI CONTROL)
CD/MD/CD-R/VCR/DVD/LD/DVR Player/
Cable TV/Satellite TV/TV/DTV Controls
---

Enhorabuena por su adquisición de este excelente producto Pioneer.
Para saber cómo utilizar correctamente su modelo lea detenidamente este manual de instrucciones. Después de haber
finalizado su lectura, guárdelo en un lugar seguro para futuras referencias.
Información de introducción
Confirmación de los accesorios incluidos
Alcance del mando a distancia
Cuando haga las conexiones de cable
Conexión de componentes digitales
Conexión de componentes DVD de 5,1 canales
Conexión de las antenas 14
Utilización de antenas externas
Consejos para la instalación de los altavoces
Funcionamiento de otros equipos de Pioneer
Ajustes para sonido ambiental
Ajuste del nivel de volumen de cada canal
Aprendizaje de los modos de sonido
Cambio de entrada de señal analógica/digital
Reproducción de fuentes con sonido Dolby Digital o
Selección de un modo de sonido
Utilización en el modo de escucha de
Reproducción de otras fuentes
Utilización del sintonizador
Ajuste de intervalo entre canales
Sintonización directa de una emisora
Memorización de emisora 50
Llamado de emisoras memorizadas
Para hacer una grabación de audio o video
Control del resto de su sistema
Ajuste del mando a distancia
Borrado de todos los ajustes del mando a
Función directa (MULTI CONTROL)
Controles del tocadiscos de discos compactos/
minidiscos/CD-R/videograbadora/DVD/discos láser/
reproductor de DVR/platina de casetes
Controles de TV cable/TV satélite/TV/DTV
Lista de códigos prefijados
Loclaización de averías 65
---