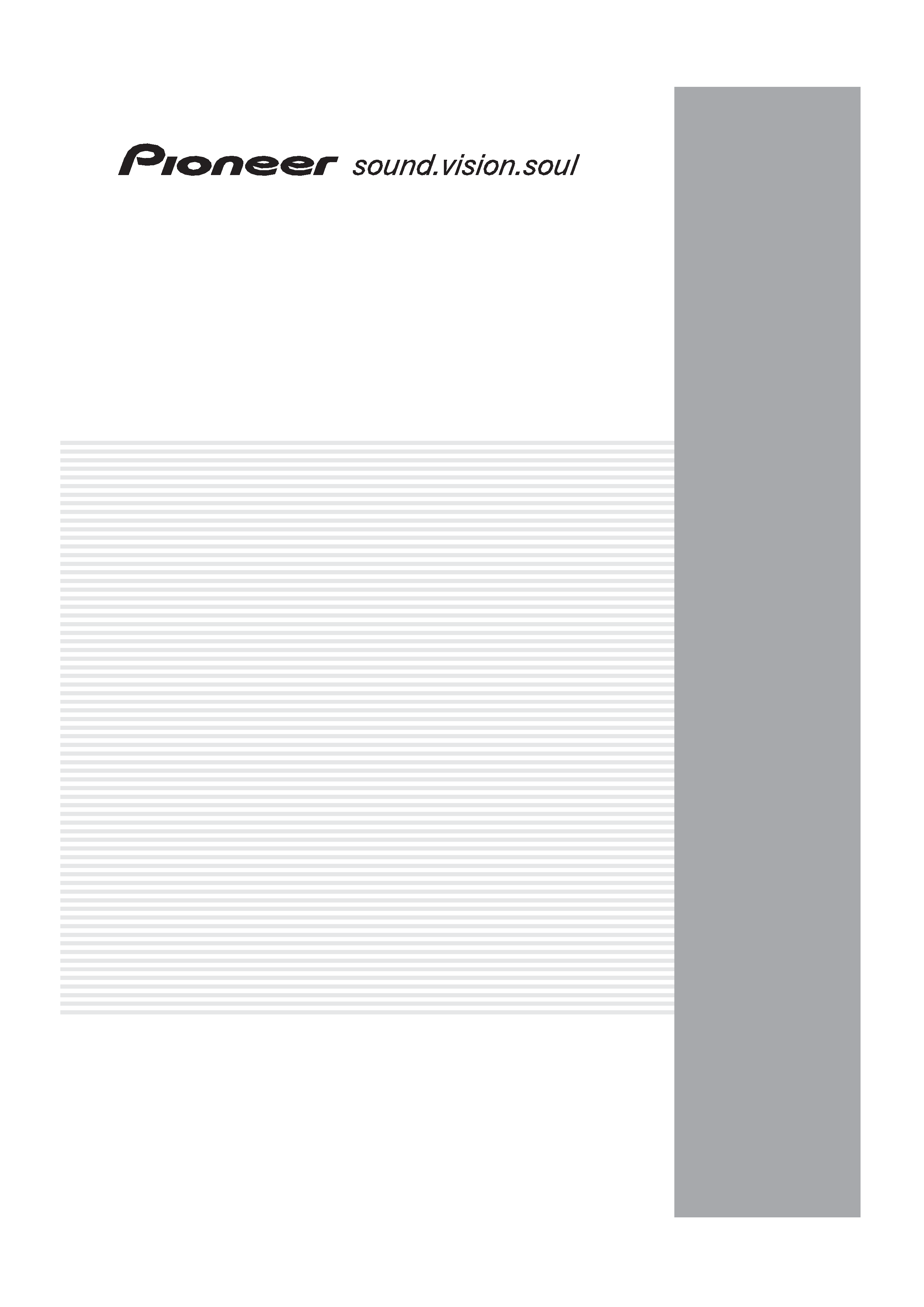 AUDIO/VIDEO MULTI-CHANNEL
---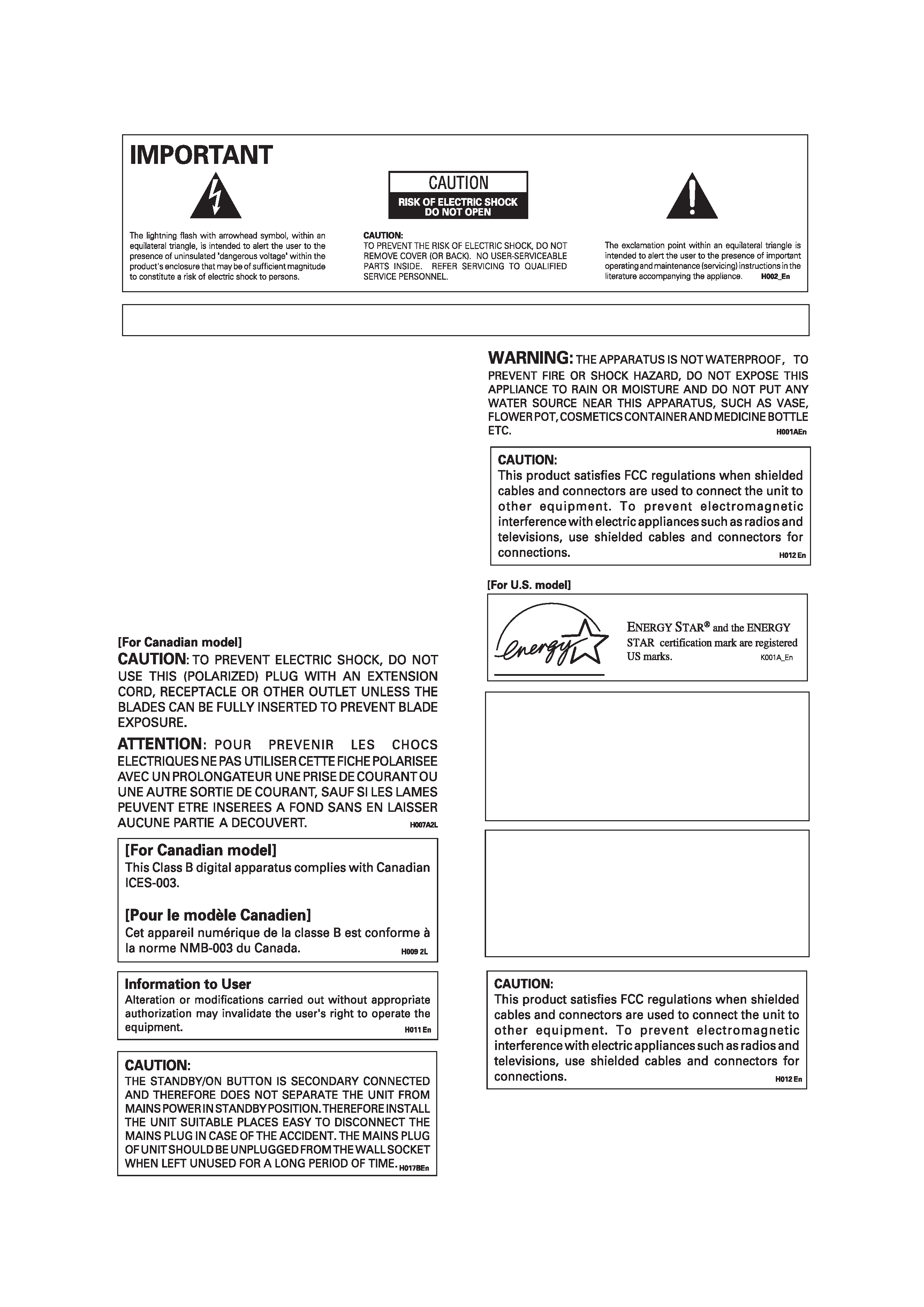 Thank you for buying this Pioneer product.
Please read through these operating instructions so
you will know how to operate your model properly.
After you have finished reading the instructions, put
them away in a safe place for future reference.
In some countries or regions, the shape of the power
plug may sometimes differ from that shown in the
explanatory drawings. However, the method of con-
necting and operating the unit is the same.
This product is for general household purposes.
Any failure due to use for other than household
purposes (such as long-term use for business
purposes in a restaurant or use in a car or ship)
and which requires repair will be charged for even
during the warranty period.
NOTE:
THE NO USER-SERVICEABLE PARTS COMPARTMENT WARNING IS LOCATED ON THE APPLIANCE BONNET
The serial number for this equipment is located
on the bottom plate of the unit. Please write this
serial number on your enclosed warranty card
and keep it in a secure area. This is for your
WARNING: Handling the cord on this product
or cords associated with accessories sold with
the product will expose you to lead, a chemical
known to the State of California and other
governmental entities to cause cancer and
birth defects or other reproductive harm. Wash
---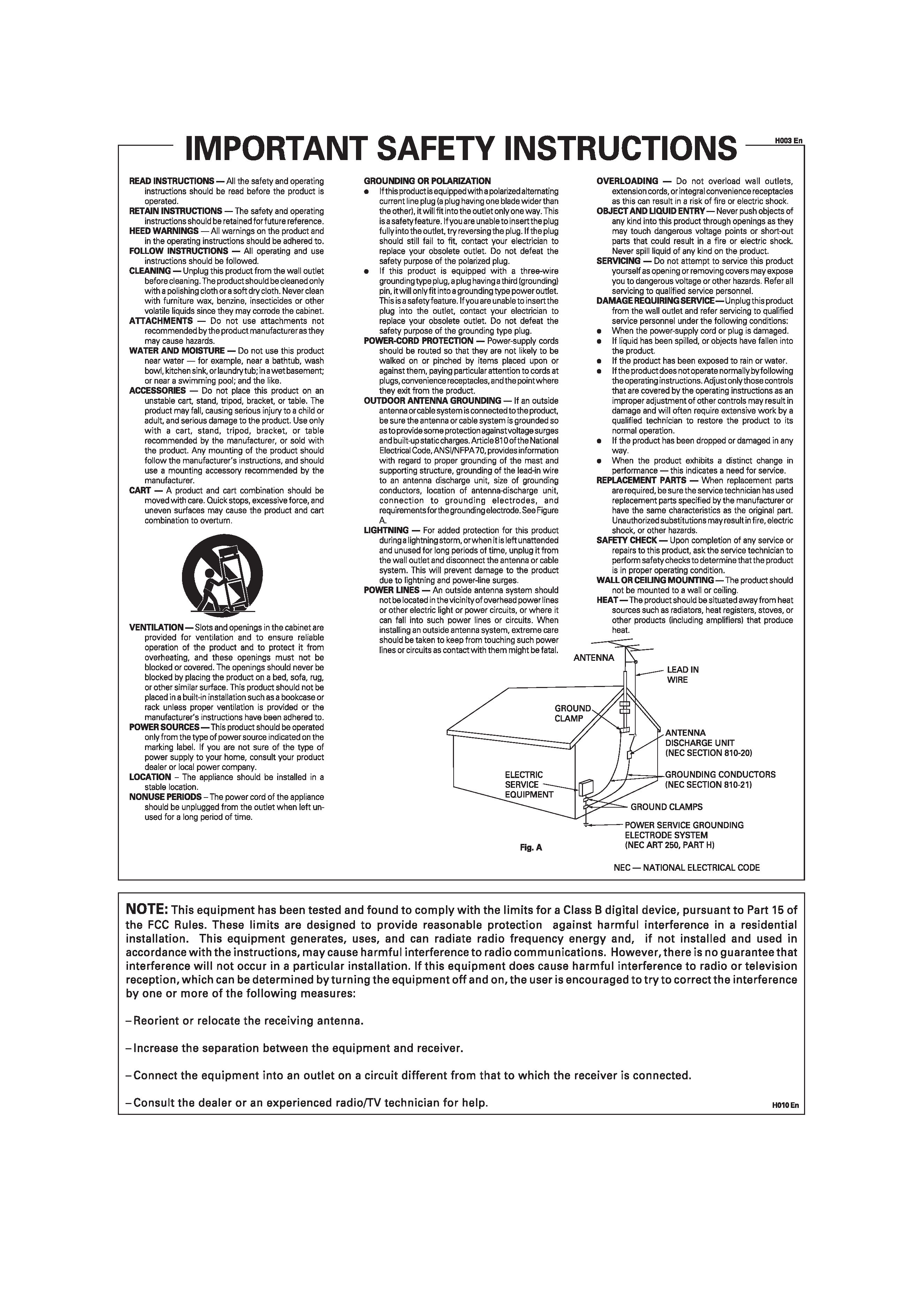 ---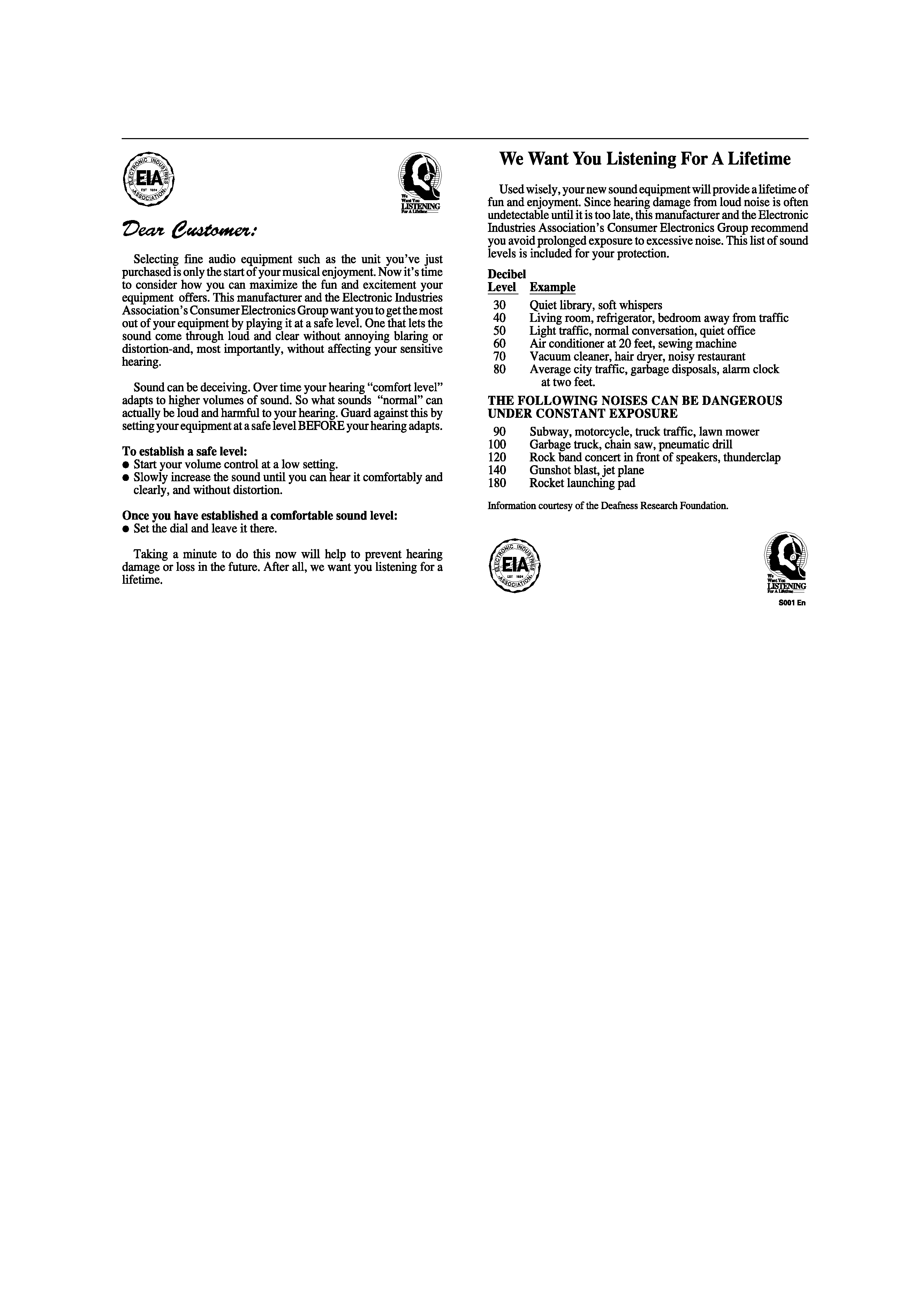 ---

Checking the supplied accessories
. . . . . . . . . . . . . . 6
. . . . . . . . . . . . . . . . . . . . . . . . . 6
. . . . . . . . . . . . . . . . . . . . . . . . . . . . . . . . . 6
Maintenance of external surfaces
. . . . . . . . . . . . . . . 6
02 Introductory information
Introduction to home theater
. . . . . . . . . . . . . . . . . . . 7
. . . . . . . . . . . . . . . . . . . . . . . . . . . . . . . . . . . 7
03 Connecting your equipment
. . . . . . . . . . . . . . . . . . . . . . . . . . . . . . . . . 8
. . . . . . . . . . . . . . . . . . . . . . . . 9
When making cable connections
. . . . . . . . . . . . . . . . 9
. . . . . . . . . . . . . . . . . . . . . 10
. . . . . . . . . . . . . . . . . . . . . . . . . 11
Connecting a satellite/cable receiver or other set-top
. . . . . . . . . . . . . . . . . . . . . . . . . . . . . . . . . . . . . . 12
Connecting a VCR or DVD recorder
. . . . . . . . . . . . . 13
Connecting other video components
. . . . . . . . . . . . 14
Connecting equipment to the front panel inputs
Installing your speaker system
. . . . . . . . . . . . . . . . . 15
. . . . . . . . . . . . . . . . . . . . 16
. . . . . . . . . . . . . . . . . . . . . . . 16
. . . . . . . . . . . . . . . . . . . . . . . 17
. . . . . . . . . . . . . . . . . . . . . . . . . . 17
. . . . . . . . . . . . . . . . . . . . . . . . . . 17
Connecting external antennas
. . . . . . . . . . . . . . . . 17
Using this receiver with a Pioneer plasma display
Operating other Pioneer components with this unit's
. . . . . . . . . . . . . . . . . . . . . . . . . . . . . . . . . . . 19
. . . . . . . . . . . . . . . . . . . . . . 19
. . . . . . . . . . . . . . . . . . . . . . . . . . . . . . . 20
. . . . . . . . . . . . . . . . . . . . . . . . . . . . . . . . . . . 21
. . . . . . . . . . . . . . . . . . . . . . . . . . . . 22
Operating range of the remote control
Automatically calibrating your listening area
. . . . . . . . . . . . . . . . . . . . . . . . . . . . . . . . . 24
. . . . . . . . . . . . . . . . . . . . 25
Other problems when using MCACC
Checking the settings on your DVD (or other)
. . . . . . . . . . . . . . . . . . . . . . . . . . . . . . . . . . . . 25
. . . . . . . . . . . . . . . . . . . . . . . . . . . 26
Playing multichannel sources
. . . . . . . . . . . . . . . . . 27
. . . . . . . . . . . . . . . . . . . . . . . 27
Listening with headphones
. . . . . . . . . . . . . . . . . . . 28
Using the Advanced Surround effects
. . . . . . . . . . . . . . . . . . . . . 28
. . . . . . . . . . . . . . . . . . . . . . . . . . . 28
Using the surround back channel
. . . . . . . . . . . . . . 29
Listening with virtual surround back speakers
. . . . . . . . . . . . . . . . . . . . . . . . . . . 30
Tuning directly to a station
. . . . . . . . . . . . . . . . . . . . 30
. . . . . . . . . . . . . . . . . . . . . . . . . . . . . . 30
Memorizing station presets
. . . . . . . . . . . . . . . . . . . 31
. . . . . . . . . . . . . . . . . . . . . 31
Listening to memorized station presets
Selecting the input signal type
. . . . . . . . . . . . . . . . . 32
. . . . . . . . . . . . . . . . . . . . . . . . 32
Using the SR+ mode with a Pioneer plasma
. . . . . . . . . . . . . . . . . . . . . . . . . . . . . . . . . . . 32
. . . . . . . . . . . . . . . . . . . . . . . . 33
Default receiver settings
. . . . . . . . . . . . . . . . . . . . 33
Making receiver settings from the System Setup
. . . . . . . . . . . . . . . . . . . . . . . . . . . . . . . . . . . . 34
. . . . . . . . . . . . . . . . . . . . . . . 34
SR+ control for Pioneer plasma displays
Setting individual channel levels
. . . . . . . . . . . . . . 37
10 Controlling other equipment
Using the remote control with other components
. . . . . . . . . . . . . . . . . . . . . 39
. . . . . . . . . . . . . . . . . . . . . 39
. . . . . . . . . . . . . . . . . . . . . . . . . . . . 40
. . . . . . . . . . . . . . . . . . . . . . . . 40
Resetting all remote control settings
. . . . . . . . . . . . . . . . . . . . . . . . . . . . 41
DV-50A DVD player controls
. . . . . . . . . . . . . . . . . 42
VCR / DVD / LD player and DVD recorder
. . . . . . . . . . . . . . . . . . . . . . . . . . . . . . . . . 43
Cable TV / digital TV / TV controls
. . . . . . . . . . . . . 44
11 Additional information
. . . . . . . . . . . . . . . . . . . . . . . . . . . . 45
. . . . . . . . . . . . . . . . . . . . . 49
. . . . . . . . . . . . . . . . . . . . . . . . . . . . . 49
Dolby Digital Surround EX
. . . . . . . . . . . . . . . . . . . 49
Dolby Pro Logic II and Dolby Surround
. . . . . . . . . . . . . . . . . . . . . . 49
. . . . . . . . . . . . . . . . . . . . . . . . . . . . . . . . . 49
. . . . . . . . . . . . . . . . . . . . . . . . . . . . . . . 49
. . . . . . . . . . . . . . . . . . . . . . . . . . . . . . . 49
PCM (Pulse Code Modulation)
. . . . . . . . . . . . . . . 49
. . . . . . . . . . . . . . . . . . . . . . . . . . . . . 50
---