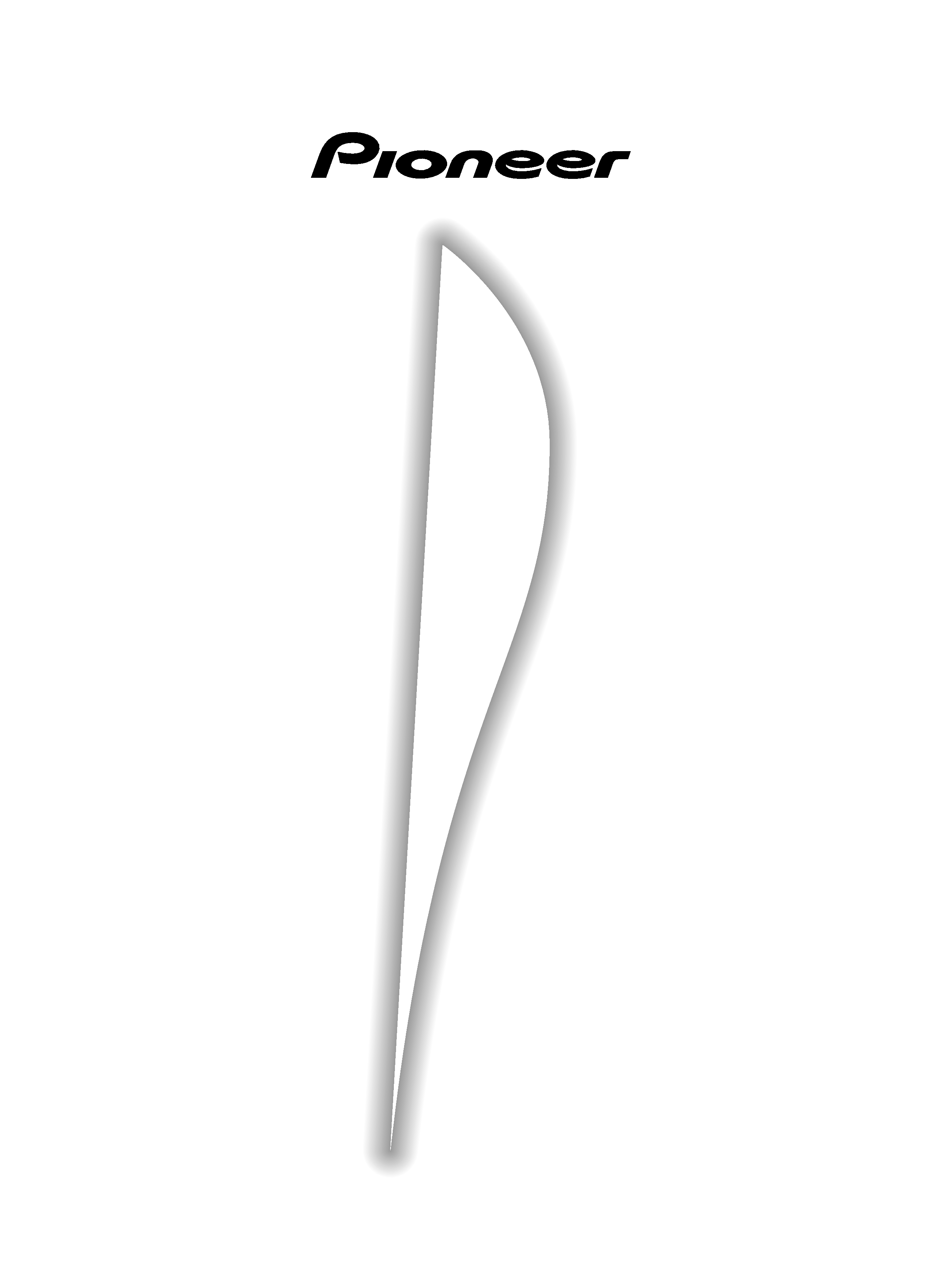 STEREO DOUBLE CASSETTE DECK
GRABADORA DE DOBLE CASETE ESTEREOFÓNICA
---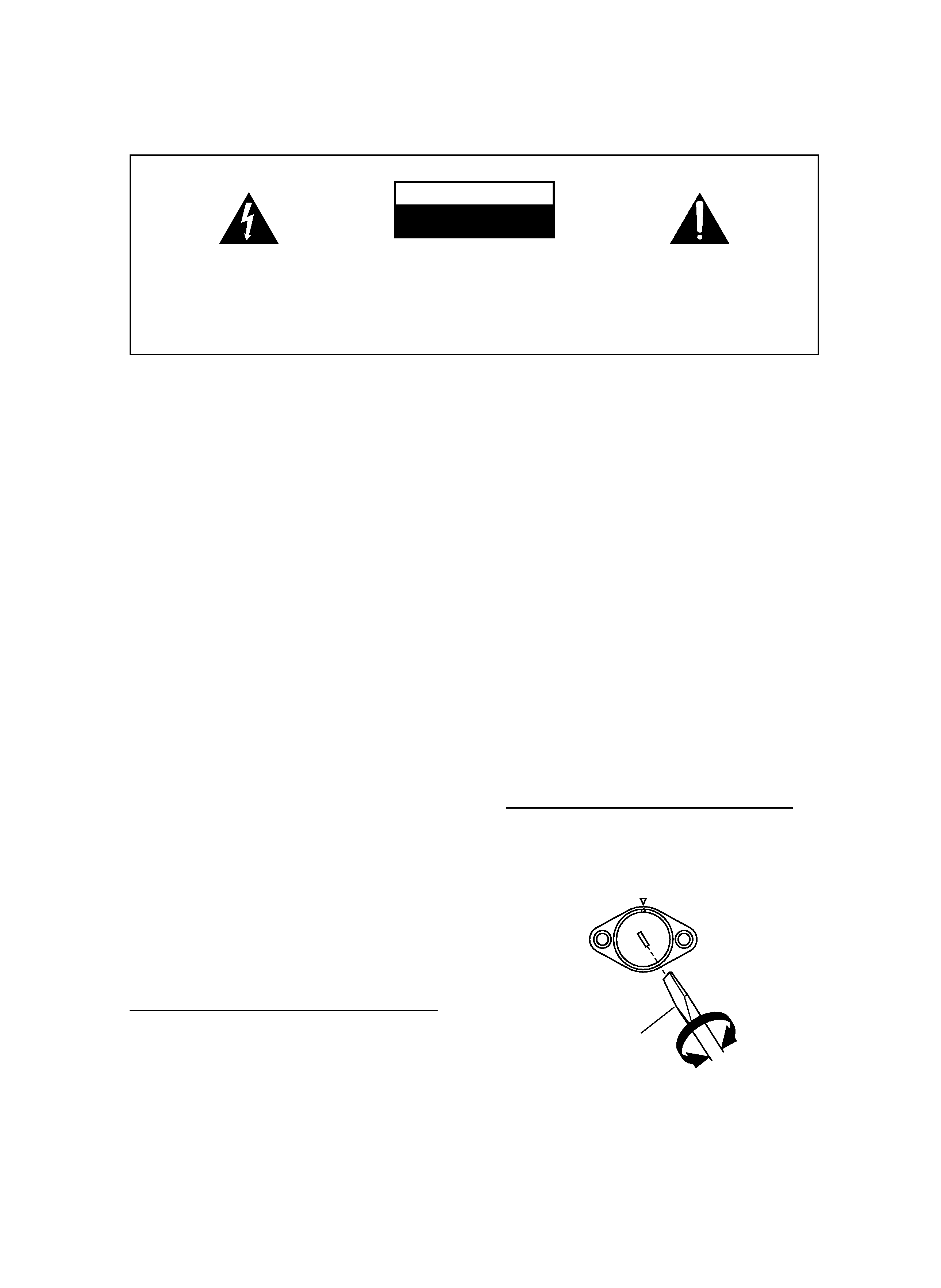 The exclamation point within an equilateral
triangle is intended to alert the user to the
presence of important operating and
maintenance (servicing) instructions in the
literature accompanying the appliance.
The lightning flash with arrowhead symbol,
within an equilateral triangle, is intended to
alert the user to the presence of uninsulated
"dangerous voltage" within the product's
enclosure that may be of sufficient
magnitude to constitute a risk of electric
TO PREVENT THE RISK OF ELECTRIC
SHOCK, DO NOT REMOVE COVER (OR
BACK). NO USER-SERVICEABLE PARTS
INSIDE. REFER SERVICING TO QUALIFIED
WARNING:
The apparatus is not waterproofs, to
prevent fire or shocks hazard, do not expose this
apparatus to rain or moisture and do not put any
water source near this apparatus, such as vase,
flower pot, cosmetics container and medicine
BEFORE PLUGGING IN THE UNIT FOR THE FIRST
TIME, READ THE FOLLOWING SECTION CAREFULLY.
The voltage of the available power supply differs
according to country or region. Be sure that the
power supply voltage of the area where this unit
will be used meets the required voltage (e.g., 230V
or 120V) written on the rear panel.
You can find the voltage selector switch on the rear
panel of multi-voltage models.
The factory setting for the voltage selector is 220 V.
Please set it to the correct voltage for your country
· For Taiwan, please set to 110 V before using.
Before changing the voltage, disconnect the AC power
cord. Use a medium size screwdriver to change the
The POWER switch does not completely separates
the unit from the MAINS in off position. Therefore
install the unit suitable places easy to disconnect
the MAINS plug in case of the accident. The MAINS
plug of unit should be unplugged from the wall
socket when left unused for a long period of time.
Thank you for buying this Pioneer product.
Please read through these operating instructions so
you will know how to operate your unit properly.
After you have finished reading the instructions, keep
them in a safe place for future reference.
In some countries or regions, the shape of the power
plug and power outlet may sometimes differ from
that shown in the explanatory drawings. However,
the method of connecting and operating the unit is
WARNING:
No naked flame sources, such as
lighted candle, should be placed on the apparatus.
If naked flame sources accidentally fall down, fire
spread over the apparatus then may cause fire.
WARNING:
Slot and openings in the cabinet are
provided for ventilation and to ensure reliable
operation of the product and to protect it from
overheating, to prevent fire hazard, the openings
should never be blocked and covered with items,
such as newspapers, table-cloths, curtains, etc. Also
do not put the apparatus on the thick carpet, bed,
sofa, or fabric having a thick pile.
Operating environment temperature and humidity:
+5 ºC ­ +35 ºC (+41 ºF ­ +95 ºF); less than 85 %RH
(cooling vents not blocked)
Do not install in the following locations
· Location exposed to direct sunlight or strong artificial
· Location exposed to high humidity, or poorly
---

NOTE: This equipment has been tested and found to comply with the limits for a Class B digital device, pursuant to
Part 15 of the FCC Rules. These limits are designed to provide reasonable protection against harmful interference in
a residential installation. This equipment generates, uses, and can radiate radio frequency energy and, if not
installed and used in accordance with the instructions, may cause harmful interference to radio communications.
However, there is no guarantee that interference will not occur in a particular installation. If this equipment does
cause harmful interference to radio or television reception, which can be determined by turning the equipment off
and on, the user is encouraged to try to correct the interference by one or more of the following measures:
­ Reorient or relocate the receiving antenna.
­ Increase the separation between the equipment and receiver.
­ Connect the equipment into an outlet on a circuit different from that to which the receiver is connected.
­ Consult the dealer or an experienced radio/TV technician for help.
Alteration or modifications carried out without appropriate authorization may invalidate the user's right to operate
CAUTION: This product satisfies FCC regulations when shielded cables and connectors are used to connect the
unit to other equipment. To prevent electromagnetic interference with electric appliances such as radios and
televisions, use shielded cables and connectors for connections.
Recording equipment and copyright: Recording
equipment should be used only for lawful copying
and you are advised to check carefully what is lawful
copying in the country in which you are making a
copy. Copying of copyright material such as films or
music is unlawful unless permitted by a legal
exception or consented to by the rightowners.
INSTALLATION .......................................................... 8
HANDLING CASSETTE TAPES ................................ 10
MAINTENANCE ....................................................... 14
CONNECTIONS ....................................................... 16
FRONT PANEL FACILITIES ...................................... 18
PLAYBACK ............................................................. 26
SINGLE PLAYBACK .............................................. 26
BLANK SKIP .......................................................... 26
RELAY PLAYBACK ................................................ 26
MUSIC SEARCH ................................................... 30
RECORDING ............................................................ 34
RECORDING ......................................................... 34
RECORDING MUTE .............................................. 36
ERASING A TAPE ................................................. 36
TAPE COPYING ....................................................... 38
TROUBLESHOOTING .............................................. 40
SPECIFICATIONS ..................................................... 46
This product is for general household purposes. Any
failure due to use for other than household purposes
(such as long-term use for business purposes in a
restaurant or use in a car or ship) and which
requires repair will be charged for even during the
---

El punto exclamativo dentro un triángulo
equilátero convenido para avisar el usuário
de la presencia de importantes instruciones
sobre el funcionamento y la manutención
en la libreta que acompaña el aparato.
La luz intermitente com el símbolo de punta
de flecha dentro un triángulo equilátero.
Está convenido para avisar el usuario de la
presencia de "voltaje peligrosa" no aislada
dentro el producto que podría constituir un
peligro de choque eléctrico para las
PARA PREVENIR EL PELIGRO DE CHOQUE
ELÉCTRICO NO REMOVER LA TAPA NI LAS
PARTES DENTRO NO UTILIZADAS,
LLAMAR UNA PERSONA CUALIFICADA
ADVERTENCIA:
El aparato no es impermeable.
No poner alguna fuente de agua cerca del aparato,
como vaso de flores, recipientes cosméticos y
ANTES DE ENCHUFAR EL APARATO POR LA
PRIMERA VEZ, LEER LA SECCIÓN SIGUIENTE CON
El voltaje de corriente necesaria es diferente de
acordo con el país o la región, sea seguro que el
voltaje donde este aparato será usado encuentra el
voltaje adequado (por ejemplo, 230V o 120V)
escrito en el panel posterior.
El interruptor "POWER" no desconecta al aparato
de la red en la posición "OFF", por eso instale el
aparato en lugares apropiados fácil de desconectar
el enchufe de red en caso de accidente. El enchufe
de red del aparato debería ser desconectado de la
toma cuando no es usado por un largo período de
Condiciones de Funcionamiento
Temperatura y humedad ambiental durante el
+5 ºC ­ +35 ºC (+41 ºF ­ +95 ºF); menos de 85 %RH
(aperturas de aireación no obstruidas)
No instalar en los siguientes lugares:
· lugar expuesto a la luz directa del sol o a fuerte luz
· lugar expuesto a alta humedad, o lugar poco aireado
ADVERTENCIA:
Las rendijas en el aparato es
necesario para la ventilacíon para permitir el
funcionamento del producto y para proteger este
de sobrecalentamiento, para evitar incendio. Las
rendijas no deberían ser nunca cubiertas con
objectos, como periódicos, manteles, tiendas, etc.
Tambiém no poner el aparato sobre alfombra
espesa, cama, sofá o construción de pila espesa.
ADVERTENCIA:
Fuentes de llama descobiertas,
como una vela encendida, no deberían estar sobre
el aparato. Si fuentes de llama accidentalmente
caen, el fuego propagado sobre el aparato puede
Enhorabuena por la adquisición de este producto
Lea completamente este manual de instrucciones para
aprender a operar correctamente el aparato. Después
de haber terminado la lectura de las instrucciones,
guarde el manual en un lugar seguro para poderlo
En algunos países o regiones, la forma de la clavija de
alimentación y del enchufe de corriente pueden ser
diferentes de la mostrada en las ilustraciones de
explicación. Sin embargo, el método de conexión y
operación del aparato es el mismo.
Este producto es para tareas domésticas generales.
Cualquiera avería debida a otra utilización que
tareas domésticas (tales como el uso a largo plazo
para motivos de negocios en un restaurante o el uso
en un coche o un barco) y que necesita una
reparación hará que cobrarla incluso durante el
---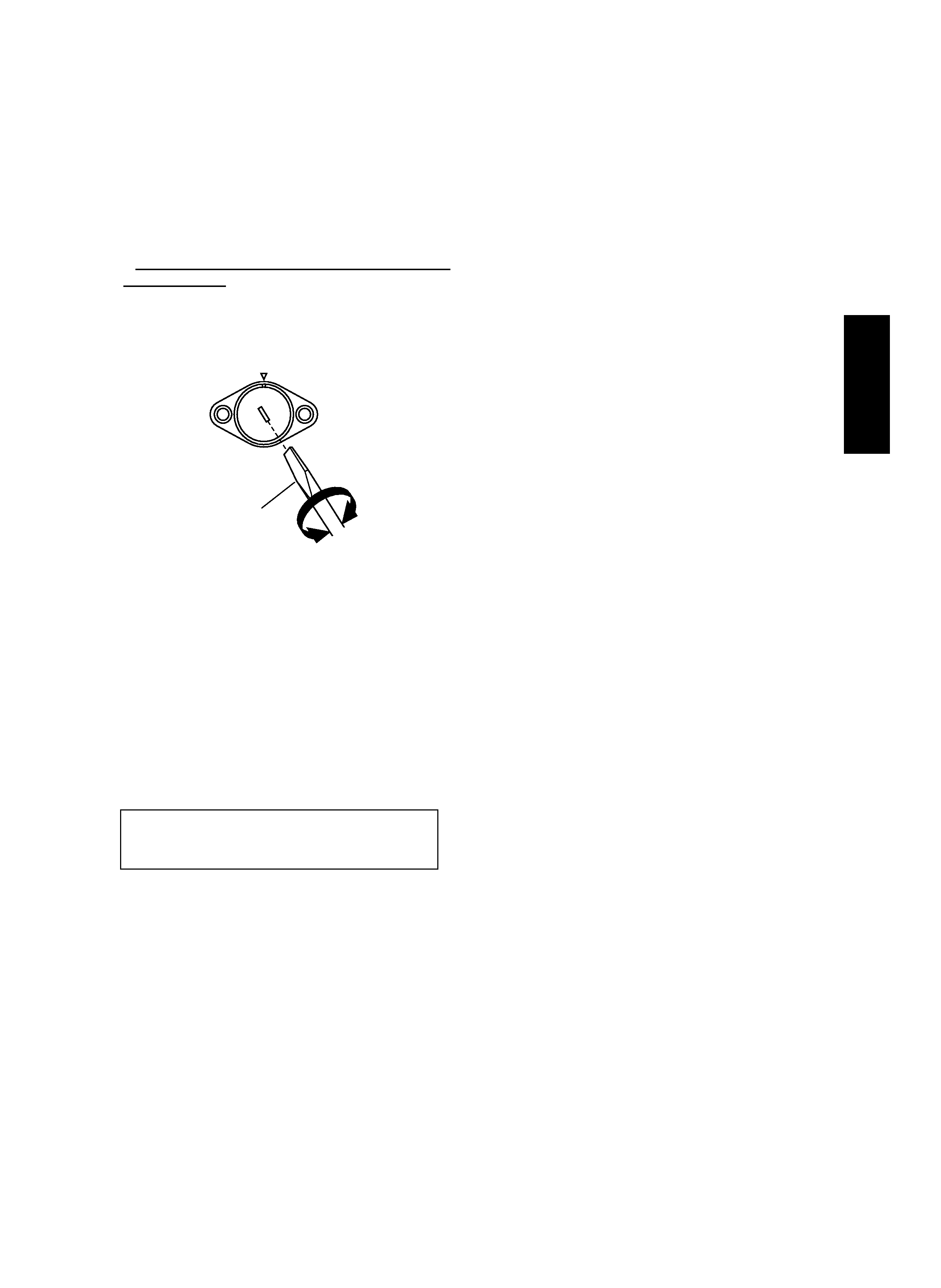 Voltage selectorSelector de tensión
El selector de tensión está situado en el panel posterior
de los modelos de tensiones múltiples.
El ajuste predeterminado del selector de tensión es
de 220 V. Ajústelo a la tensión correcta de su país o
· Para Taiwán, ajústelo a 110 V antes de ponerlo en
Antes de cambiar la tensión, desenchufe el cable de
alimentación de CA. Para cambiar el ajuste del selector
de tensión, emplee un destornillador de tamaño medio.
INSTALACION ........................................................... 9
MANIPULACION DE LAS CINTAS DE CASETE ...... 11
MANUTENCION ...................................................... 15
CONEXIONES ......................................................... 17
DISPOSITIVOS DEL PANEL FRONTAL ................... 19
REPRODUCCION ..................................................... 27
REPRODUCCION SENCILLA ................................ 27
SALTOS DE ESPACIOS EN BLANCO ................... 27
REPRODUCCION POR RELEVOS ........................ 27
BUSQUEDA DE CANCIONES ............................... 31
......................................................... 35
GRABACION ......................................................... 35
SILENCIAMIENTO EN GRABACION .................... 37
BORRADO DE UNA CINTA .................................. 37
COPIADO DE CINTAS ............................................. 39
SOLUCION DE PROBLEMAS .................................. 42
ESPECIFICACIONES ................................................ 47
---