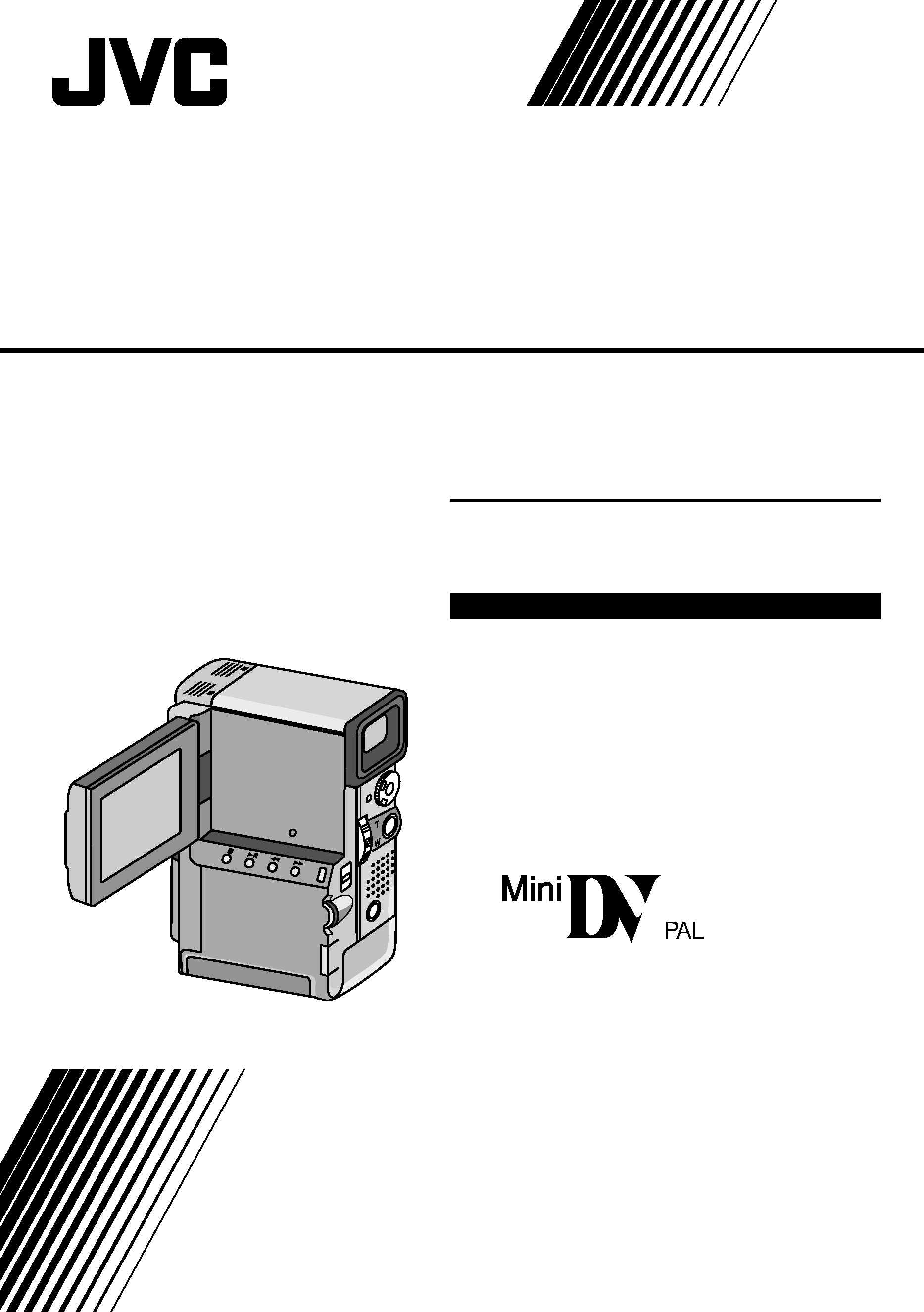 Please visit our CyberCam Homepage on
the World Wide Web and answer our
Consumer Survey (in English only):
http://www.jvc-victor.co.jp/index-e.html
---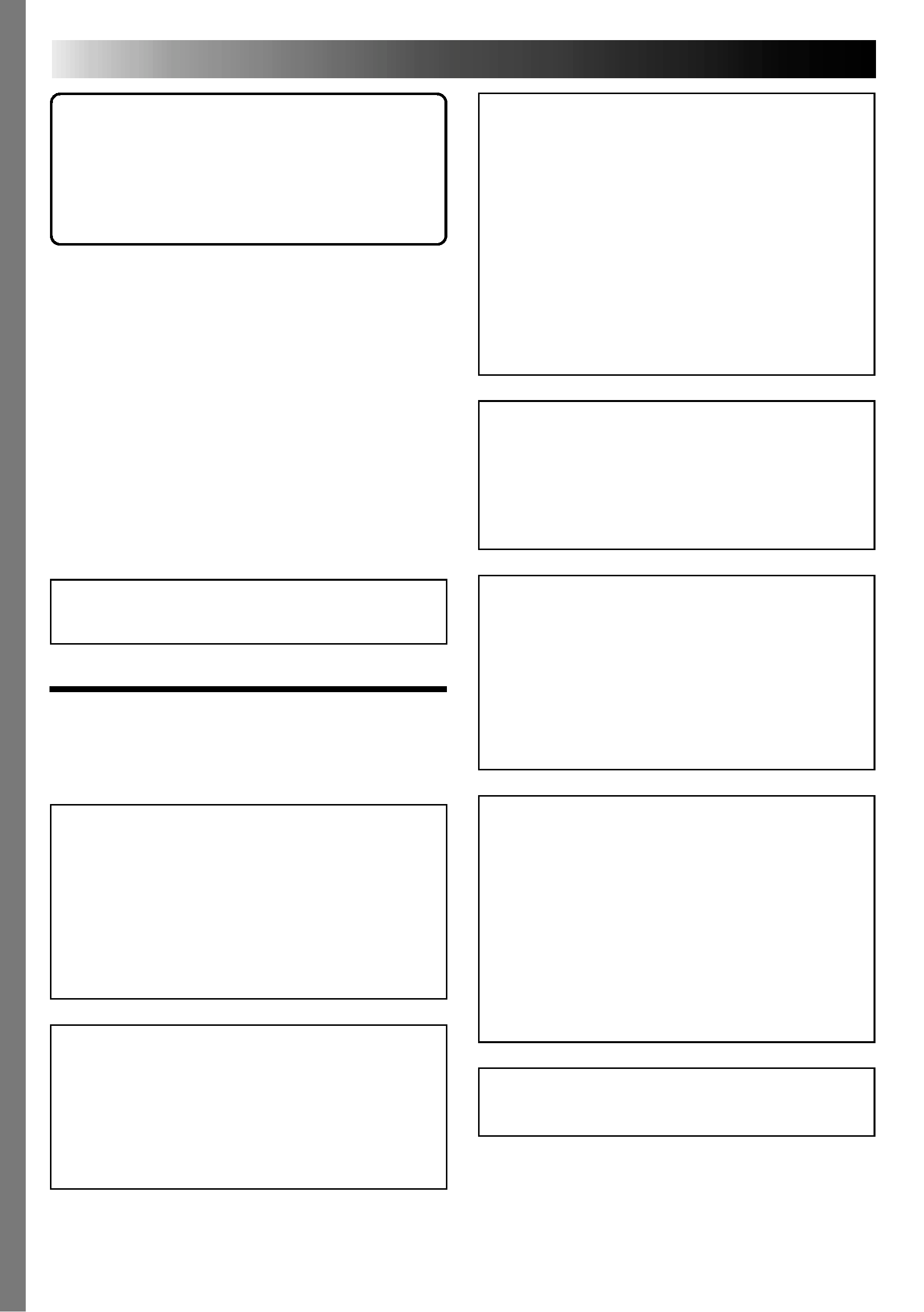 This unit is produced to comply with Standard
Thank you for purchasing this Digital Video
Camera. Before use, please read the safety
information and precautions contained in the
following pages to ensure safe use of this
Using This Instruction Manual
· All major sections and subsections are listed in the
· Notes appear after most subsections. Be sure to
· Basic and advanced features/operation are
separated for easier reference.
It is recommended that you . . .
.... refer to "Controls, Indications and Connectors"
pgs. 73 ­ 78) and familiarize yourself with
button locations, etc. before use.
.... read thoroughly the Safety Precautions and
Safety Instructions that follow. They contain
extremely important information regarding the
safe use of your new camcorder.
You are recommended to carefully read the
cautions on pages 79 and 80 before use.
To prevent shock, do not open the cabinet.
No user serviceable parts inside. Refer
servicing to qualified personnel.
When you are not using the AC Power
Adapter/Battery charger for a long period of
time, it is recommended that you disconnect
the power cord from AC outlet.
Warning on lithium cell battery
The battery used in this device may present a
fire or chemical burn hazard if mistreated. Do
not recharge, disassemble, heat above 100°C
Replace battery with Panasonic (Matsushita
Electronic), Sanyo or Maxell CR2025; use of
another battery may present a risk of fire or
Dispose of used battery properly.
Do not disassemble and do not dispose of in
CAUTION
(applies to the Docking Station)
:
TO REDUCE THE RISK OF FIRE, DO NOT
REMOVE COVER (OR BACK). NO USER­
SERVICEABLE PARTS INSIDE. REFER SERVIC-
The rating plate (serial number plate) and
safety caution are on the bottom and/or the
The rating plate (serial number plate) of the
AC Power Adapter/Charger is on its bottom.
The rating plate (serial number plate) of the
Docking Station is on its bottom.
This camcorder is designed to be used with
PAL-type colour television signals. It cannot be
used for playback with a television of a different
standard. However, live recording and LCD
monitor/viewfinder playback are possible
anywhere. Use the BN-V907U battery pack
and, to recharge it, the provided multi-voltage
AC Power Adapter/Charger. (An appropriate
conversion adapter may be necessary to
accommodate different designs of AC outlets in
---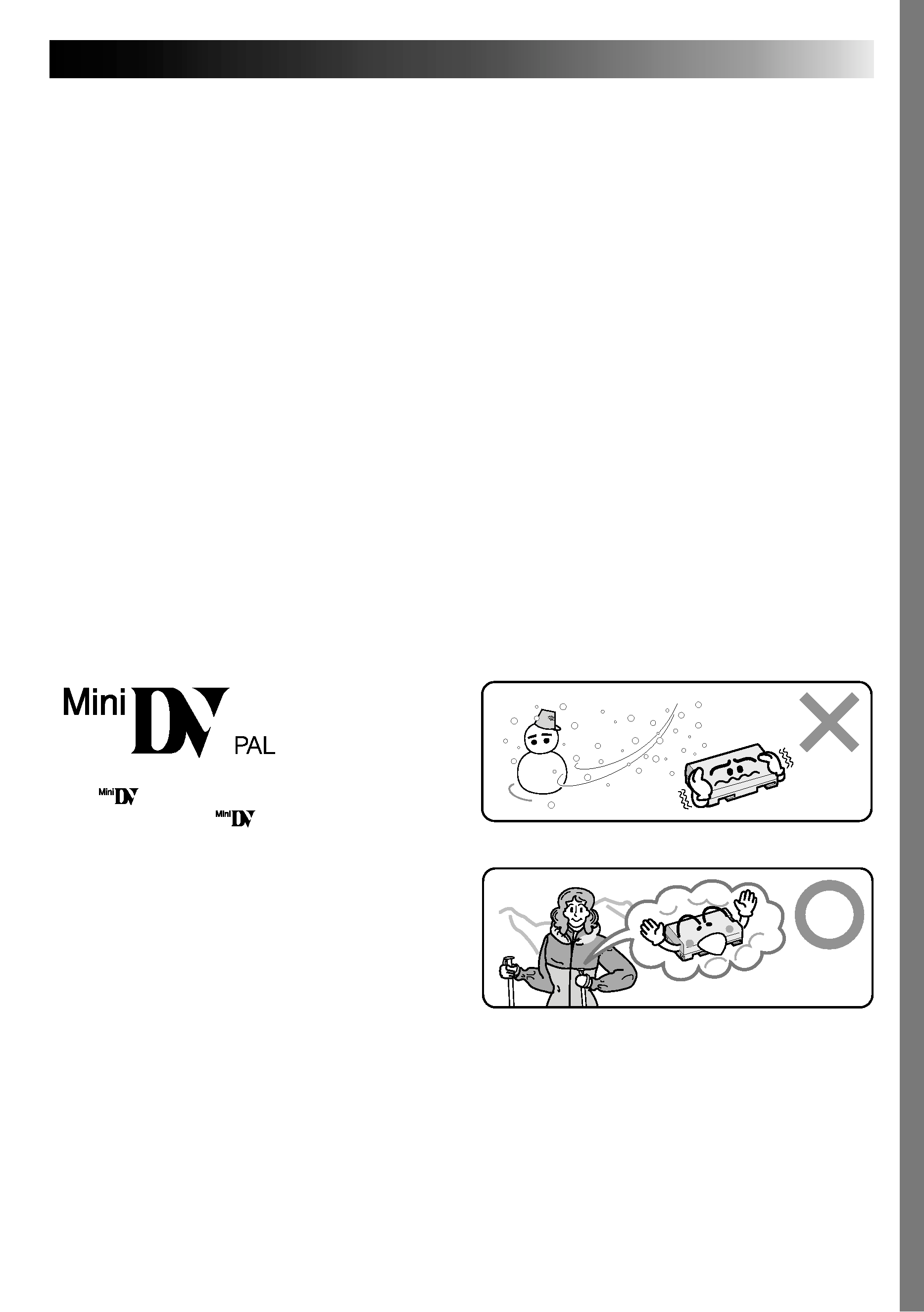 DANGER! Do not attempt to take the batteries
apart, or expose them to flame or excessive heat, as
there is a risk of fire or explosion.
WARNING! Do not allow the battery terminals, or
the battery itself, to come in contact with metals, as
this can result in a short circuit and possibly start a
·When transporting, make sure the provided
battery cap is attached to the battery. If you
misplace the battery cap, carry the battery in a
The Benefits Of Lithium-Ion Batteries
Lithium-ion battery packs are small but possess a
large power capacity. However, when the battery
pack becomes cool in an environment subject to
cold temperatures (below 10°C/50°F), the battery
pack has a characteristic that its usage time
becomes shorter and may cease to function. If this
happens, place the battery pack in your pocket or
other warm, protected place for a short time, then
re-attach it to the camcorder. As long as the battery
pack itself is not cold, it should not affect perform-
(If you're using some kind of heating pad, make
sure the battery pack does not come in direct
Do not point the lens or the viewfinder directly into
the sun. This can cause eye injuries, as well as lead
to the malfunctioning of internal circuitry. There is
also a risk of fire or electric shock.
CAUTION! The following notes concern possible
physical damage to the camcorder and to the user.
When carrying, be sure to always attach and use
the provided hand strap. Hold the camcorder firmly
in your hand, with the strap securely around your
wrist. Carrying or holding the camcorder by the
viewfinder and/or the LCD monitor can result in
dropping the unit, or in a malfunction.
Take care not to get your finger caught in the
cassette cover. Do not let children operate the
camcorder, as they are particularly susceptible to
Do not use a tripod on unsteady or unlevel surfaces.
It could tip over, causing serious damage to the
CAUTION! Attaching the camcorder to the Docking
Station, connecting cables (AUDIO/VIDEO, S-VIDEO,
Editing, DC) and leaving the unit on top of the TV is
not recommended, as tripping on the cables will
cause the camcorder to fall, resulting in damage.
Lithium-ion is vulnerable in colder temperatures.
This camcorder is designed exclusively for
digital video cassette. Only
Before recording an important scene . . .
.... make sure you only use cassettes with the Mini
.... remember that this camcorder is not compatible
with other digital video formats.
.... remember that the this camcorder is intended
for private consumer use only. Any commercial
use without proper permission is prohibited.
(Even if you record an event such as a show,
performance or exhibition for personal
enjoyment, it is strongly recommended that you
obtain permission beforehand.)
---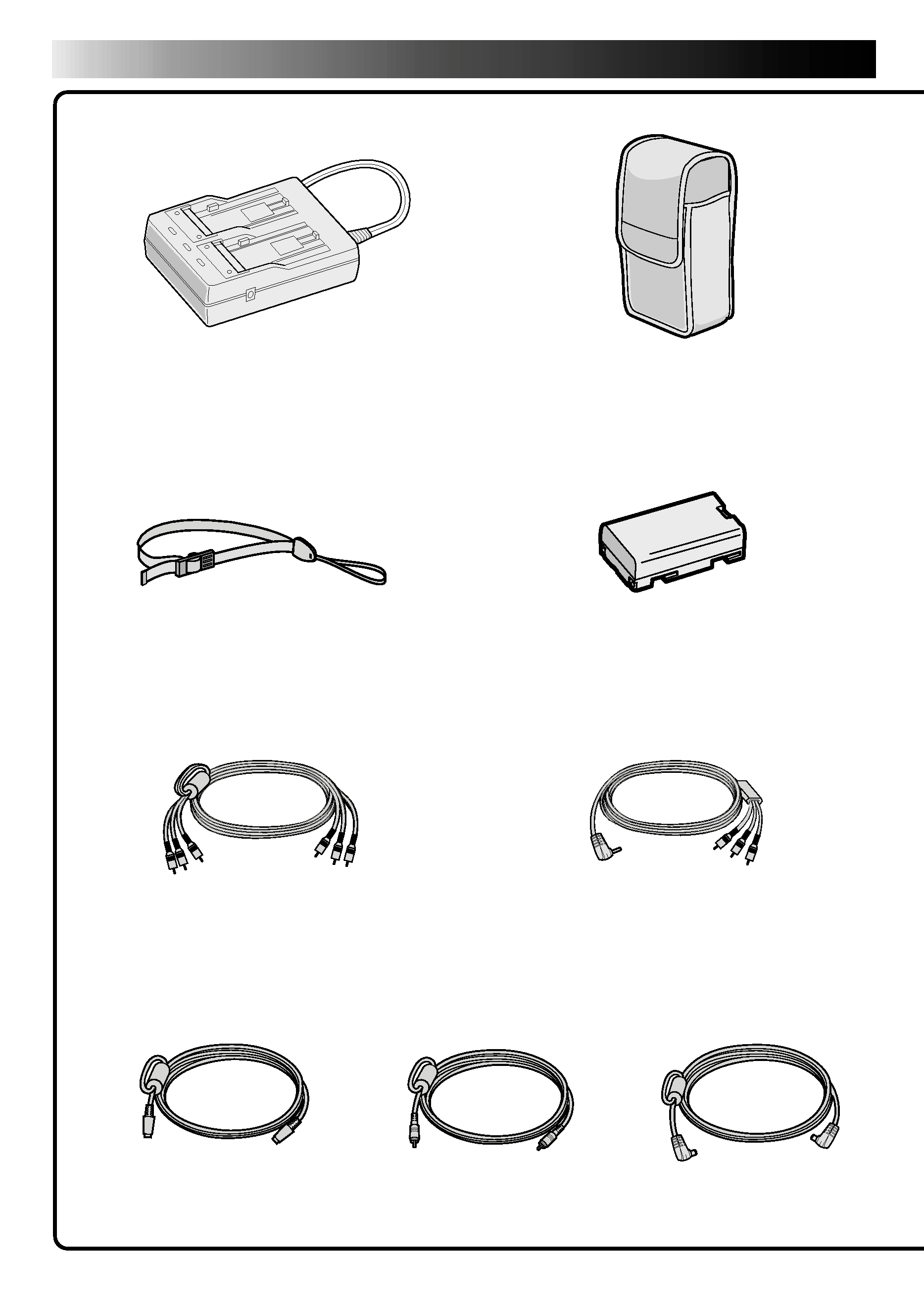 (ø 3.5 mini-plug, 2 poles)
(Docking Station to TV or VCR,
ø 3.5 mini-plug 4 RCA plug)
---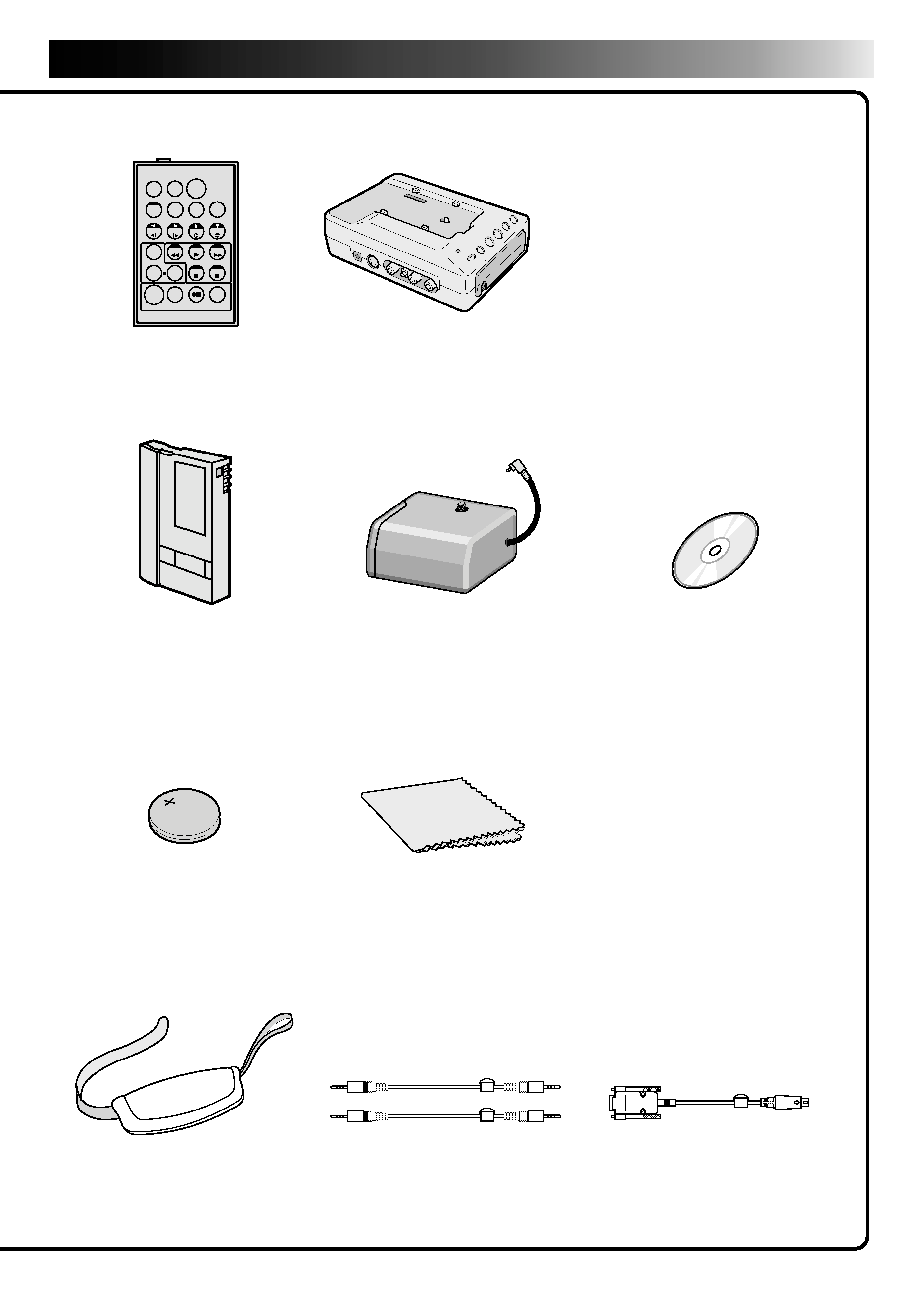 MiniDV Cassette Tape 30 min
JLIP Video Capture Docking
Station GV-DS2 (referred to in
the manual as "Docking Station")
Use of the JLIP Video Capture
Docking Station enables you to
capture video images from video
sources such as camcorders and
VCRs. Also refer to the JLIP Video
Capture Docking Station's
JLIP connection cables x 2
(ø 3.5 mini-plug, 4 poles)
(for remote control unit)
---