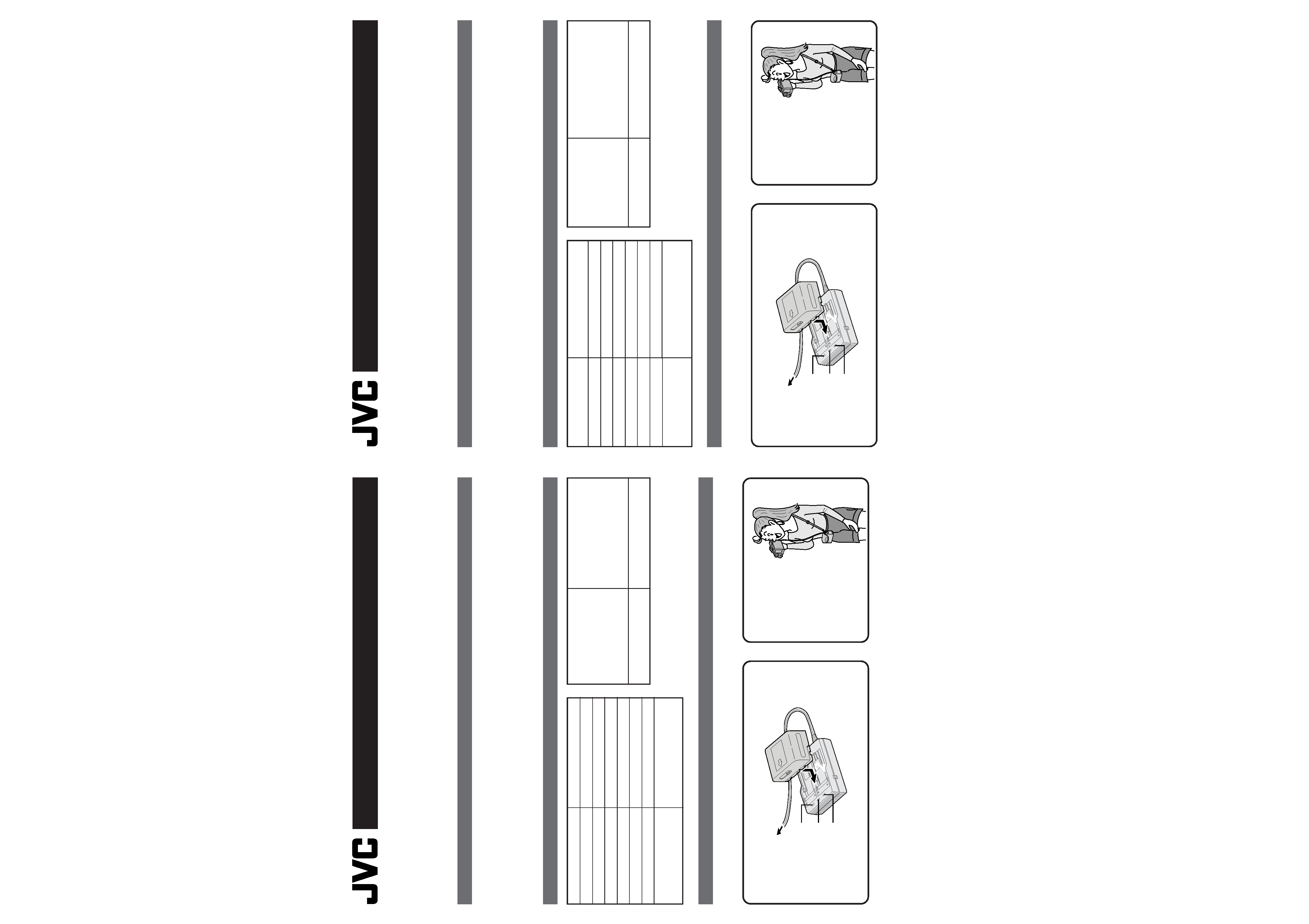 BN-V856
EXTENDED-USE BATTERY PACK
Use only the AC Power Adapter/Charger designed exclusively for your digital video camera. Use of another battery charger may result
in incomplete charging, malfunctions and risk of fire.
Do not incinerate or disassemble; may explode or release toxic chemicals.
Do not short circuit; may cause burns.
When transporting, carry the Battery Pack in a plastic bag.
For more details on handling precautions, use and proper storage of Battery Packs, please refer to your digital video camera's instruction
Thank you for purchasing this JVC Extended-Use Battery Pack.
This is a lithium-ion type battery pack, and is intended for use only with JVC digital video cameras. Do not use it with any other digital
Before using, be sure to read these instructions carefully to ensure safe use of your new battery pack. For more details, consult your
Some camcorders do not display the Battery Pack's remaining power.
Charging and Installing the Battery Pack
To charge the Battery Pack, your digital video camera's AC Power Adapter/Charger (AA-V80) is required. Note that it is also possible to
charge a Battery Pack that has not been completely exhausted.
1
Plug your digital video camera's AC Power Adapter/Charger's Power Cord
2
Attach the Battery Pack to the AC Power Adapter/Charger.
Charger Indicator 1 starts to blink. Charger Indicator 2 does not blink.
The Charger Indicator stops blinking but stays lit to indicate charging has
Power requirement, Output
room temperature of +10°C
86 (W) x 41 (H) x 83 (D) mm
when using the viewfinder:
when using the LCD monitor:
Battery Pack, Battery Pouch
(shoulder strap included)
E. O. E. Design and specifications subject to change without
1
Install the Battery Pack in the Battery Pouch.
2
Connect the DC Cord to the Battery Pack and
the camcorder. Use only the DC Cord provided
with the AC Power Adapter/Charger.
BN-V856
LANGZEIT-BATTERIESATZ
Ausschließlich mit dem für Ihren Digital-Camcorder vorgeschriebenen Netzadapter/Batterielader laden. Andernfalls besteht die
Möglichkeit von unvollständigen Ladevorgängen, Fehlfunktionen oder Feuergefahr.
Niemals zur Entsorgung verbrennen oder zerlegen. Andernfalls besteht Explosionsgefahr und es können giftige Chemikalien austreten.
Die Batteriepole niemals kurzschließen. Andernfalls besteht Verbrennungsgefahr.
Den Batteriesatz stets in seiner Tragetasche transportieren.
Weiter Angaben bezüglich Handhabung, Gebrauch und Aufbewahrung des Batteriesatzes siehe die Benutzerdokumentation des Digital-
Vielen Dank für den Kauf dieses JVC Langzeit-Batteriesatzes.
Dieser Batteriesatz ist eine Lithium-Ion-Ausführung für JVC Digital-Camcorder. Niemals für einen Camcorder eines Fremdherstellers
Bitte lesen Sie diese Anleitung vor der Ingebrauchnahme sorgfältig durch, um den Batteriesatz sachgemäß und betriebssicher zu nutzen.
Weitere Informationen erhalten Sie bei Ihrem JVC Fachhändler.
Ihr Camcorder kann ggf. nicht den Ladezustand für diesen Batteriesatz anzeigen.
So laden und verwenden Sie den Batteriesatz
Zum Laden ist der Netzadapter/Batterielader (AA-V80) Ihres Digital-Camcorders erforderlich. Sie können einen Batteriesatz aufladen,
selbst wenn dieser nicht vollständig entladen ist.
1
Schließen Sie das Netzkabel des Netzadapter/Batterieladers an einer
2
Schieben Sie den Batteriesatz am Netzadapter/Batterielader auf.
Nur die Ladeanzeige 1 beginnt zu blinken. Ladeanzeige 2 arbeitet nicht.
Nach vollständig ausgeführtem Ladevorgang wechselt das Blink- auf ein
86 (B) x 41 (H) x 83 (T) mm
mit Sucherbildüberwachung:
mit LCD-Monitor-Bildüberwachung:
Batteriesatz, Tragetasche
Irrtümer sowie Änderungen der Konstruktion und der
technischen Daten vorbehalten.
1
Setzen Sie den Batteriesatz in die Tragetasche ein.
2
Verbinden Sie Batteriesatz und Digital-Camcorder
mit dem Gleichspannungskabel. Verwenden Sie
ausschließlich das zum Netzadapter/Batterielader
mitgelieferte Gleichspannungskabel.
---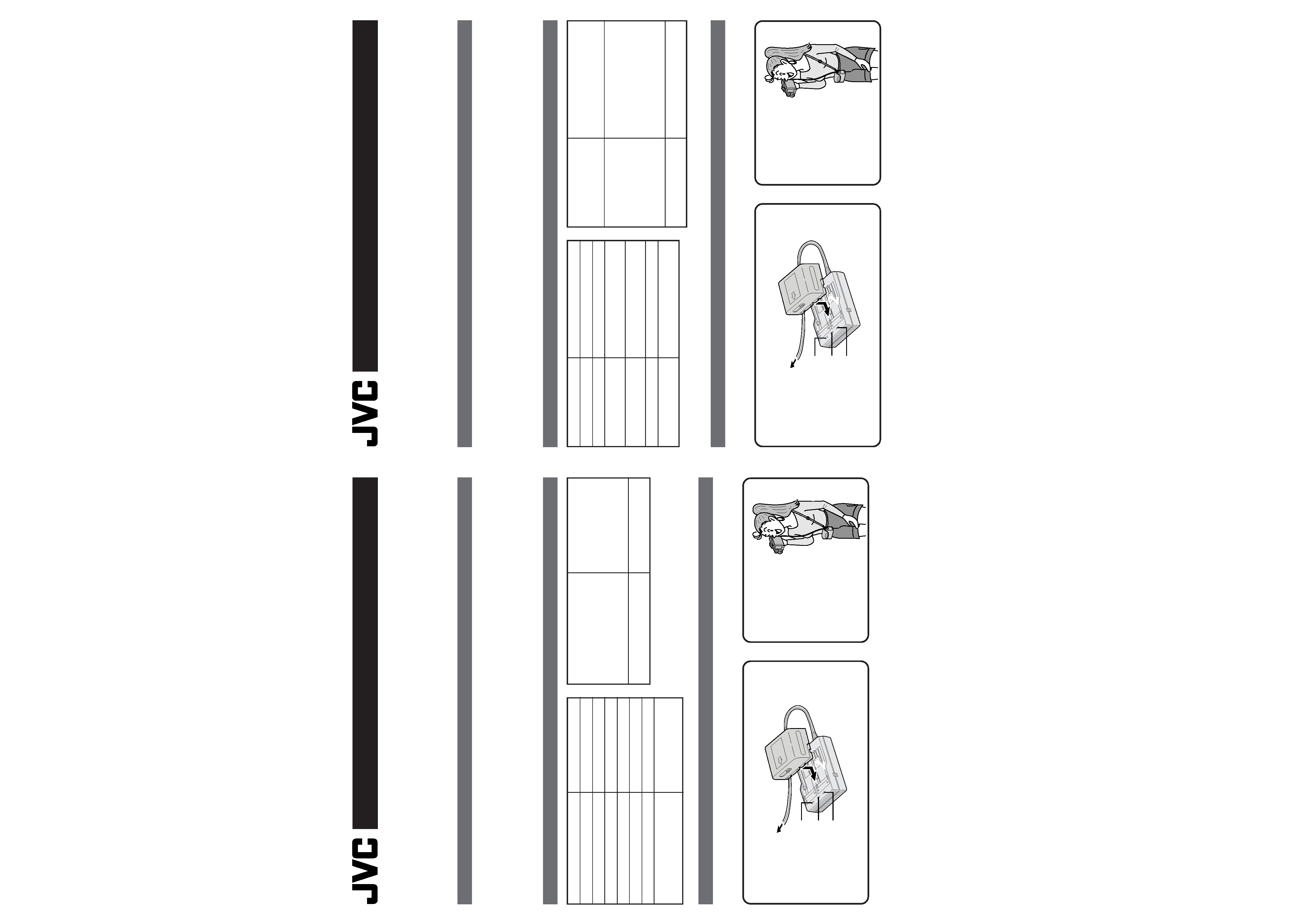 BN-V856
BATTERIE LONGUE DURÉE MODE
N'utiliser que l'adaptateur secteur/chargeur conçu exclusivement pour votre caméra vidéo numérique. L'utilisation d'un autre chargeur
de batterie pourrait conduire à une recharge incomplète, à de mauvais fonctionnements ou à des risques d'incendie.
Ne pas incinérer ni démonter; pourrait exploser ou libérer des produits chimiques toxiques.
Ne pas mettre en court-circuit; pourrait causer des brûlures.
Lors du transport, porter la batterie dans un sac en plastique.
Pour plus de détails sur les précautions de manipulation, l'utilisation et le stockage correct des batteries, veuillez vous référer au mode
d'emploi de votre caméra vidéo numérique.
Caractéristiques principales
Nous vous remercions pour l'achat de cette batterie longue durée.
Cette batterie est de type lithium-ion, et elle est prévue pour n'être utilisée qu'avec des caméras vidéo numériques JVC. Ne pas l'utiliser
avec d'autres caméras vidéo numériques.
Avant utilisation, bien lire avec soin ces instructions pour garantir un usage sûr de votre nouvelle batterie. Pour plus de détails, consulter
le revendeur JVC le plus proche.
Certains camescopes n'indiquent pas l'énergie restante dans la batterie.
Recharge et installation de la batterie
Pour recharger la batterie, l'adaptateur secteur/chargeur (AA-V80) de la caméra vidéo numérique est nécessaire. Notez qu'il est également
possible de recharger une batterie qui n'a pas été complètement déchargée.
1
Brancher le cordon d'alimentation de l'adaptateur secteur/chargeur de la
caméra vidéo numérique à une prise secteur.
2
Installer la batterie sur l'adaptateur secteur/chargeur.
L'indicateur de charge 1 commence à clignoter. L'indicateur de charge 2
L'indicateur de charge 1 s'arrête de clignoter et reste allumé lorsque la
Température de fonctionnement
Humidité de fonctionnement
(à une température ambiante de
Durée de prise de vues en
(à une température ambiante de
86 (L) x 41 (H) x 83 (P) mm
en utilisant l'écran LCD:
Batterie, trousse batterie
Erreurs et omissions possibles. Présentation et caractéristiques
modifiables sans préavis.
1
Placer la batterie dans la trousse batterie.
2
Raccorder le cordon CC à la batterie et au
camescope. N'utiliser que le cordon CC fourni
avec l'adaptateur secteur/chargeur.
PARA LA BATERÍA DE USO PROLONGADO
Utilice únicamente el adaptador de CA/cargador designado exclusivamente para su videocámara digital. El empleo de otro cargador
podrá resultar en una carga incompleta, funcionamiento defectuoso o riesgo de incendio.
No la incinere ni desarme; podría explotar o soltar productos químicos tóxicos.
No la cortocircuite, podría producirle quemaduras.
Cuando lleve la batería encima, llévela en una bolsa de plástico.
Para más detalles sobre precauciones para el manejo, empleo y almacenamiento de las baterías, consulte el manual de instrucciones de
Especificaciones principales
Muchas gracias por la adquisición de la batería de uso prolongado JVC.
Esta es una batería tipo lítio-ion, y está diseñada para ser usada con videocámaras digitales JVC. No la utilice con ninguna otra
Antes de utilizarla, asegúrese de leer estas instrucciones atentamente, para garantizar un empleo seguro de su nueva batería. Para más
detalles, consulte a su distribuidor JVC más cercano.
Algunas videocámaras no muestran la carga restante de la batería.
Carga e instalación de la batería
Para cargar la batería, será necesario que utilice el adaptador de CA/cargador (AA-V80) de su videocámara. Tenga en cuenta que también
podrá cargar una batería que aún no esté completamente descargada.
1
Enchufe el cable de alimentación del adaptador de CA/cargador de su
videocámara digital en una toma de corriente de CA.
2
Coloque la batería en el adaptador de CA/cargador.
El indicador de carga 1 comenzará a parpadear. El indicador de carga 2
El indicador de carga dejará de parpadear, pero se mantendrá encendido
para indicar que ha finalizado la carga.
86 x 41 x 83 mm (an x al x pr)
6,5 horas aproximadamente
Cuando se utiliza el visor:
Cuando se utiliza el monitor LCD:
4,5 horas aproximadamente
Batería, funda para la batería
(correa de bandelora incluida)
E.O.E. Diseño y especificaciones sujetos a cambio sin previo aviso.
1
Menta la batería en la funda para batería.
2
Conecte el cable de CC a la batería y a la
videocámara. Utilice únicamente el cable de CC
suministrado con el adaptador de CA/cargador.
---