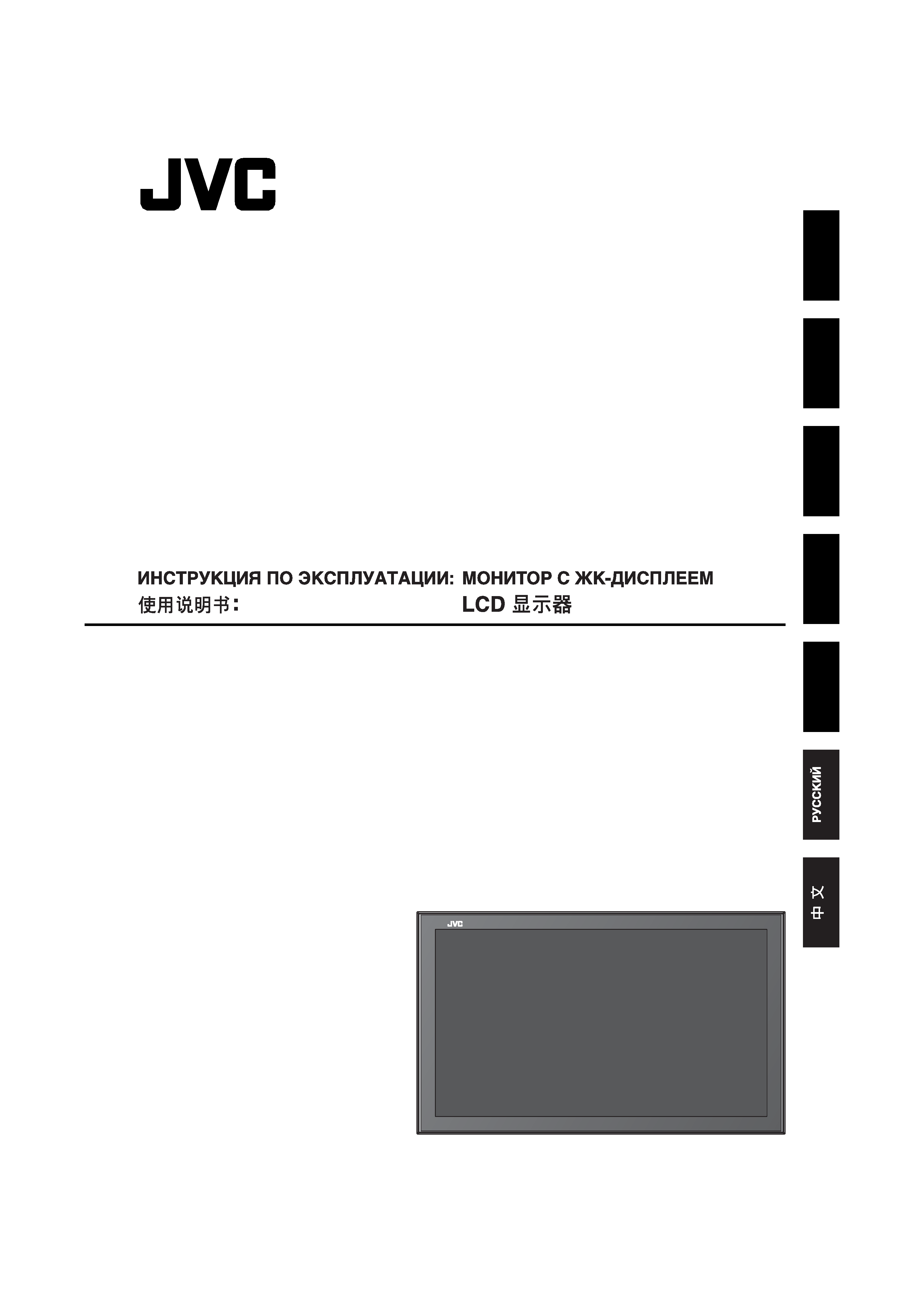 SCHERMO A CRISTALLI LIQUIDI
GM-H40L1G_Ecover-f.indd 3
GM-H40L1G_Ecover-f.indd 3
---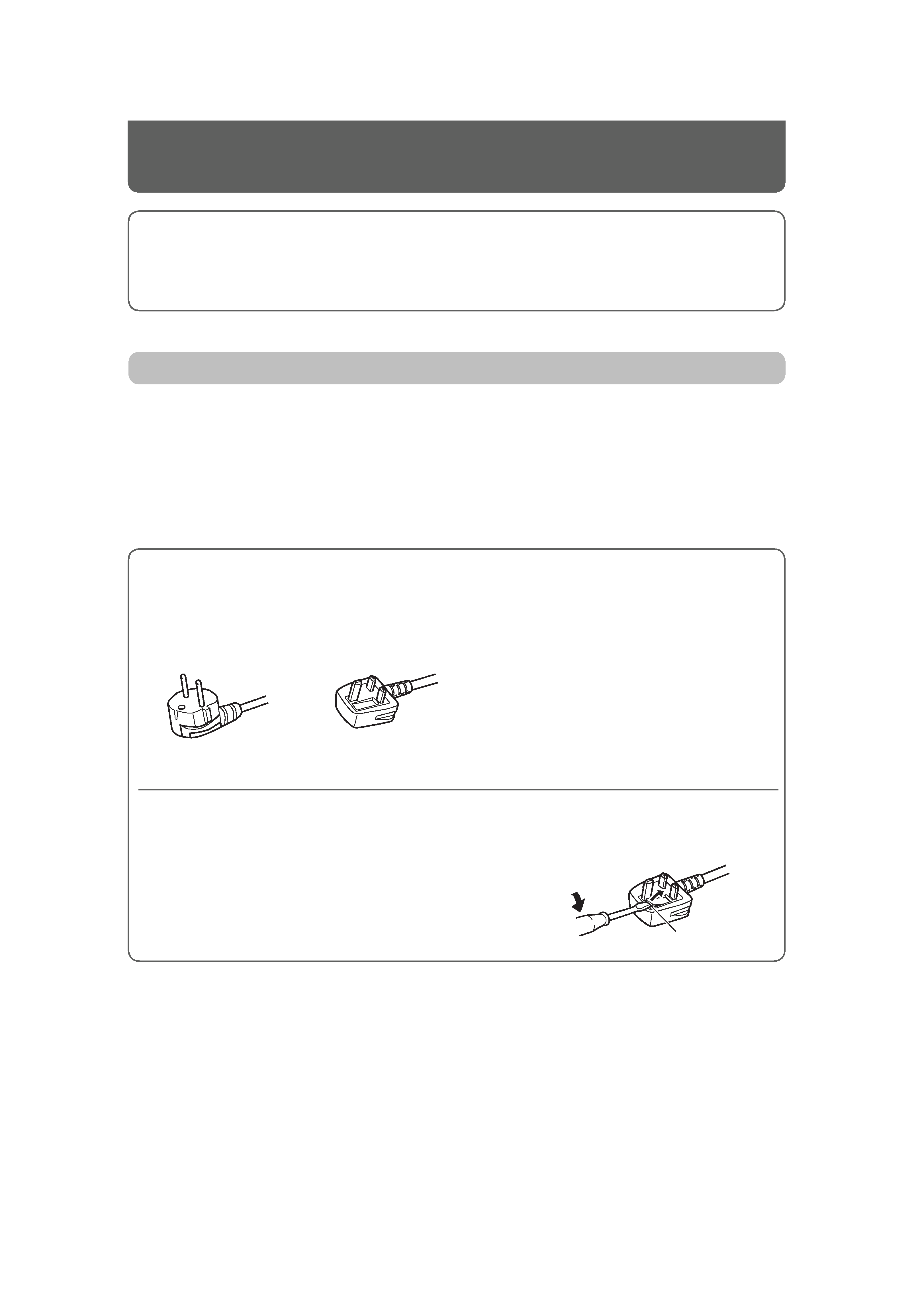 WARNING: TO REDUCE THE RISK OF FIRE AND ELECTRIC SHOCK, DO NOT EXPOSE THIS APPARATUS TO RAIN, MOISTURE,
DRIPPING OR SPLASHING AND THAT NO OBJECTS FILLED WITH LIQUIDS, SUCH AS VASES, SHALL BE PLACED
The power supply voltage rating of this product is AC 220 ­ 240 V.
The power cord attached conforms to the following power supply voltage and countries. Use only the power cord
designated to ensure safety and EMC regulations of each countries.
This plug will fit only into a grounded power outlet. If you
are unable to insert the plug into the outlet, contact your
electrician to install the proper outlet. Do not defeat the
safety purpose of the grounded plug.
· This product should be operated only with the type of power source indicated on the label. If you are not sure of the
type of power supply of your home, consult your product dealer or local power company.
Note for United Kingdom power cord only
The plug on United Kingdom power cord has a built-in fuse. When replacing the fuse, be sure to use only a correctly rated
approved type, re-fit the fuse cover. (Consult your dealer or qualified personnel.)
Open the fuse compartment with the blade screw driver, and replace the fuse.
Electrical energy can perform many useful functions. This unit has been engineered and manufactured to assure your
personal safety. But IMPROPER USE CAN RESULT IN POTENTIAL ELECTRICAL SHOCK OR FIRE HAZARD. In order not to
defeat the safeguards incorporated into this product, observe the following basic rules for its installation, use, and service.
Please read these "IMPORTANT SAFEGUARDS" carefully before use.
· All the safety and operating instructions should be read before the product is operated.
· The safety and operating instructions should be retained for future reference.
· All warnings on the product and in the operating instructions should be adhered to.
· All operating instructions should be followed.
For European and Asian countries:
02-05_GM-H40L1G_E-f.indd 2
02-05_GM-H40L1G_E-f.indd 2
---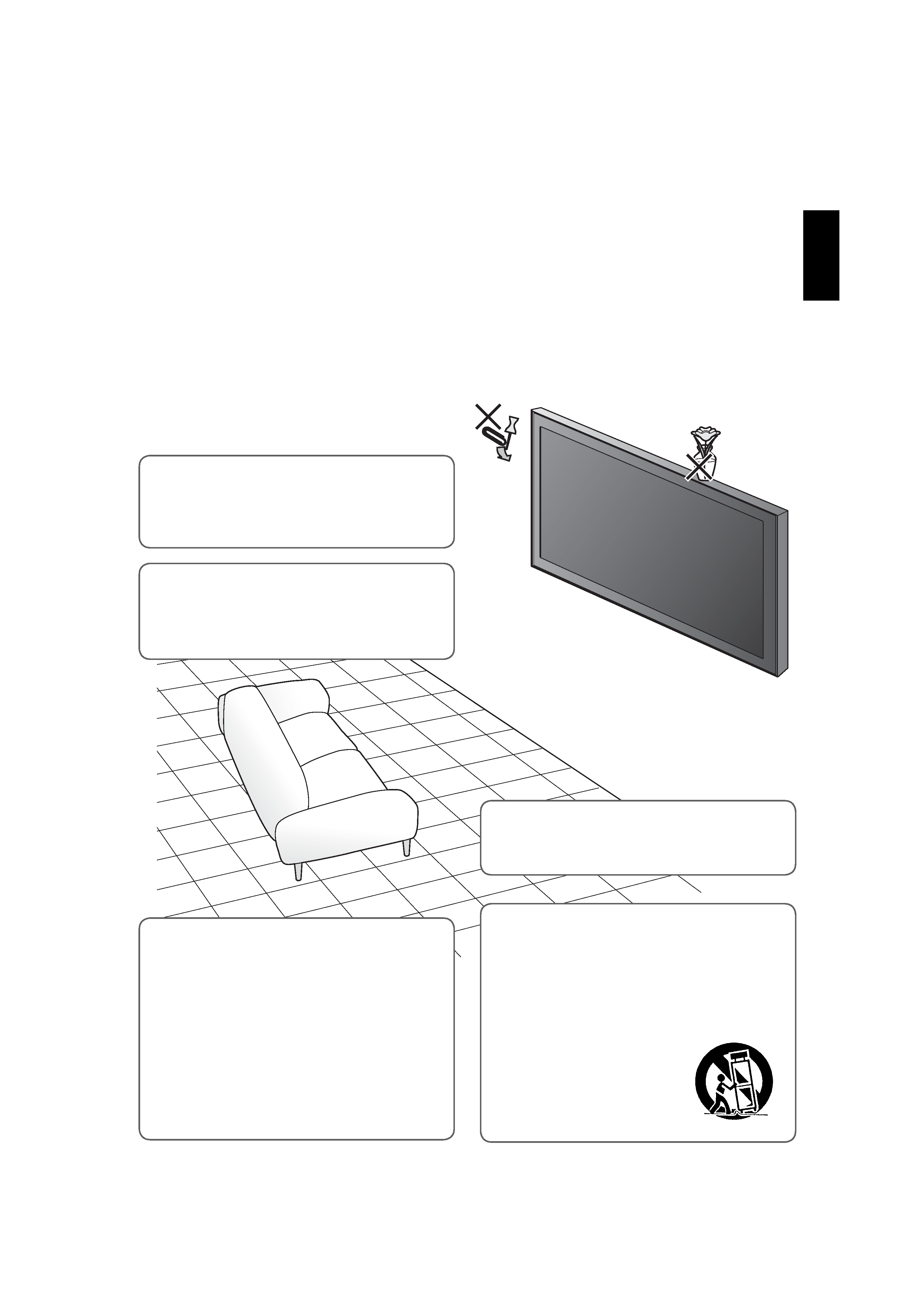 · Never push objects of any kind into this product
through openings as they may touch dangerous
voltage points or short out parts that could result in a
· Never spill liquid of any kind on the product.
· Slots and openings in the cabinet are provided for
ventilation. These ensure reliable operation of the
product and protect it from overheating. These
openings must not be blocked or covered.
· The openings should never be blocked by placing
the product on bed, sofa, rug, or similar surface. It
should not be placed in a built-in installation such as a
bookcase or rack unless proper ventilation is provided
and the manufacturer's instructions have been
· For proper ventilation, separate the product from
other equipment, which may prevent ventilation and
keep distance more than 10 cm.
Unplug this product from the wall outlet and refer service to qualified service personnel under the
a) When the power supply cord or plug is damaged.
b) If liquid has been spilled, or objects have fallen on the product.
c) If the product has been exposed to rain or water.
d) If the product operated normally by following the operating instructions. Adjust only those controls that are covered by
the Operation Manual, as an improper adjustment of controls may result in damage and will often require extensive work
by a qualified technician to restore the product to normal operation.
e) If the product has been dropped or damaged in any way.
f) When the product exhibits a distinct change in performance--this indicates a need for service.
Do not attempt to service this product yourself, as
opening or removing covers may expose you to
dangerous voltages and other hazards. Refer all service
to qualified service personnel.
· Do not place this product on an unstable cart, stand,
or table. The product may fall, causing serious injury
to a child or adult, and serious damage to the product.
The product should be mounted according to the
manufacturer's instructions, and should use a mount
recommended by the manufacturer.
· When the product is used on
a cart, care should be taken to
avoid quick stops, excessive
force, and uneven surfaces
which may cause the product
and cart to overturn, damaging
equipment or causing possible
· Do not use this product near water.
· Do not use immediately after moving from a low
temperature to high temperature, as this causes
condensation, which may result in a fire, electric
02-05_GM-H40L1G_E-f.indd 3
02-05_GM-H40L1G_E-f.indd 3
---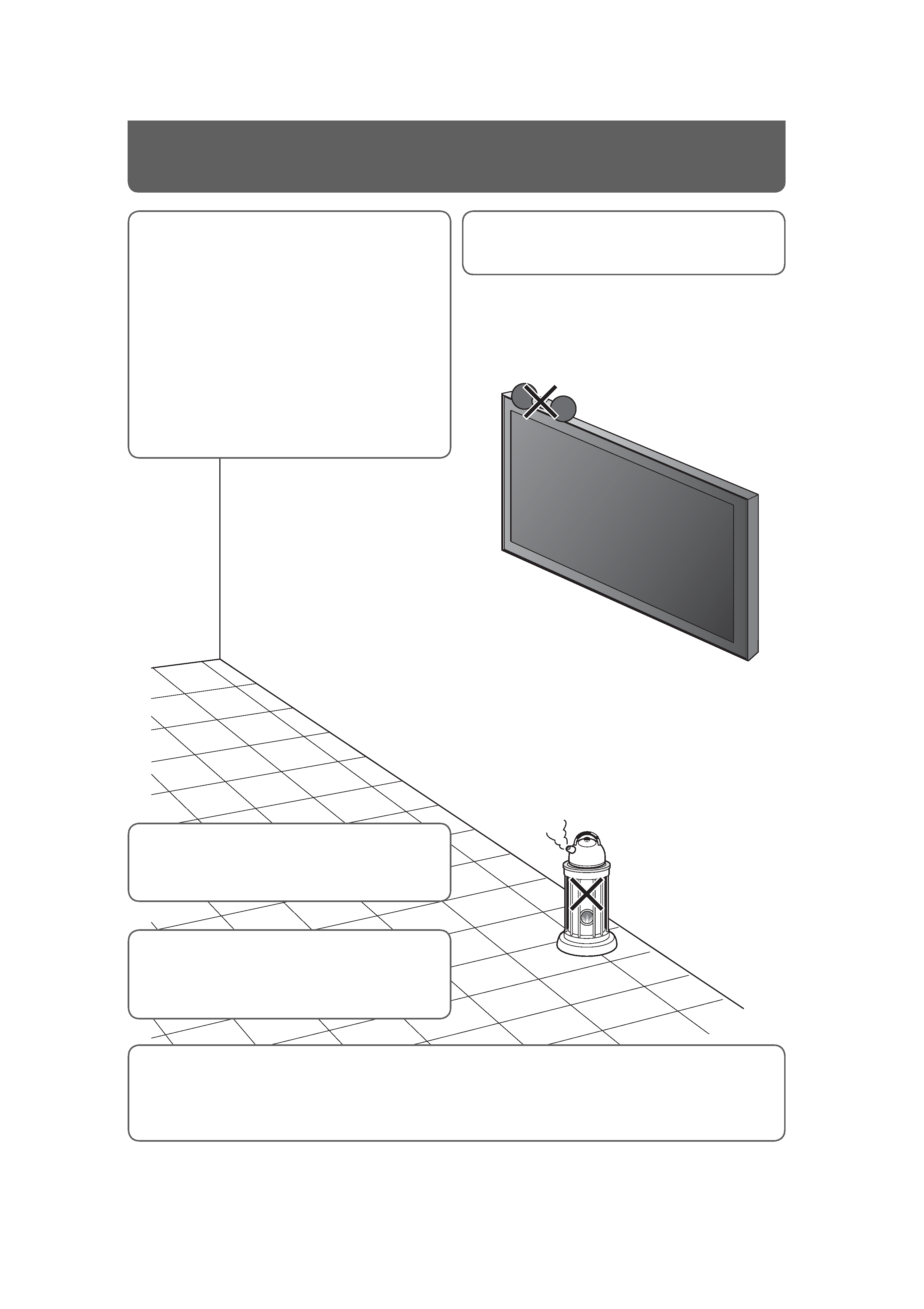 Do not place combustibles behind the cooling fan. For
example, cloth, paper, matches, aerosol cans or gas
lighters that present special hazards when over heated.
Safety Precautions
(cont.)
· When replacement parts are required, be sure the service technician has used replacement parts specified by the
manufacturer or with same characteristics as the original part. Unauthorized substitutions may result in fire, electric
· Upon completion of any service or repairs to this product, ask the service technician to perform safety checks to
determine that the product is in proper operating condition.
· Power-supply cords should be routed so that they are
not likely to be walked on or pinched by items placed
upon or against them. Pay particular attention to cords
at doors, plugs, receptacles, and the point where they
· For added protection of this product during a lightning
storm, or when it is left unattended and unused for
long periods of time, unplug it from the wall outlet and
disconnect the cable system. This will prevent damage to
the product due to lightning and power line surges.
· Do not overload wall outlets, extension cords, or
convenience receptacles on other equipment as this can
result in a risk of fire or electric shock.
· Use only the accessory cord designed for this product to
· When connecting other products such as VCR's and
personal computers, you should turn off the power of
this product for protection against electric shock.
· Do not use attachments not recommended by the
product manufacturer as they may be hazardous.
The product should be placed more than 30 cm away
from heat sources such as radiators, heat registers, stoves,
and other products (including amplifiers) that produce
02-05_GM-H40L1G_E-f.indd 4
02-05_GM-H40L1G_E-f.indd 4
---

· Unplug this product from the wall outlet before cleaning.
· Do not use liquid cleaners or aerosol cleaners. Use a damp cloth for cleaning.
· Use a vacuum cleaner to get rid of the dust around the intakes (all the openings) on the rear. If a vacuum is not available,
use a cloth and wipe it off. Failure to do so will cause internal heat buildup and, therefore, cause damage to the product.
Information for Users on Disposal of Old Equipment
This symbol indicates that the electrical and electronic equipment should not be disposed as general household
waste at its end-of-life. Instead, the product should be handed over to the applicable collection point for the
recycling of electrical and electronic equipment for proper treatment, recovery and recycling in accordance with
your national legislation.
By disposing of this product correctly, you will help to conserve natural resources and will help prevent potential
negative effects on the environment and human health which could otherwise be caused by inappropriate
waste handling of this product. For more information about collection point and recycling of this product, please
contact your local municipal office, your household waste disposal service or the shop where you purchased the
Penalties may be applicable for incorrect disposal of this waste, in accordance with national legislation.
If you wish to dispose of this product, please visit our web page www.jvc-europe.com to obtain information
about the take-back of the product.
[Other Countries outside the European Union]
If you wish to dispose of this product, please do so in accordance with applicable national legislation or other
rules in your country for the treatment of old electrical and electronic equipment.
02-05_GM-H40L1G_E-f.indd 5
02-05_GM-H40L1G_E-f.indd 5
---