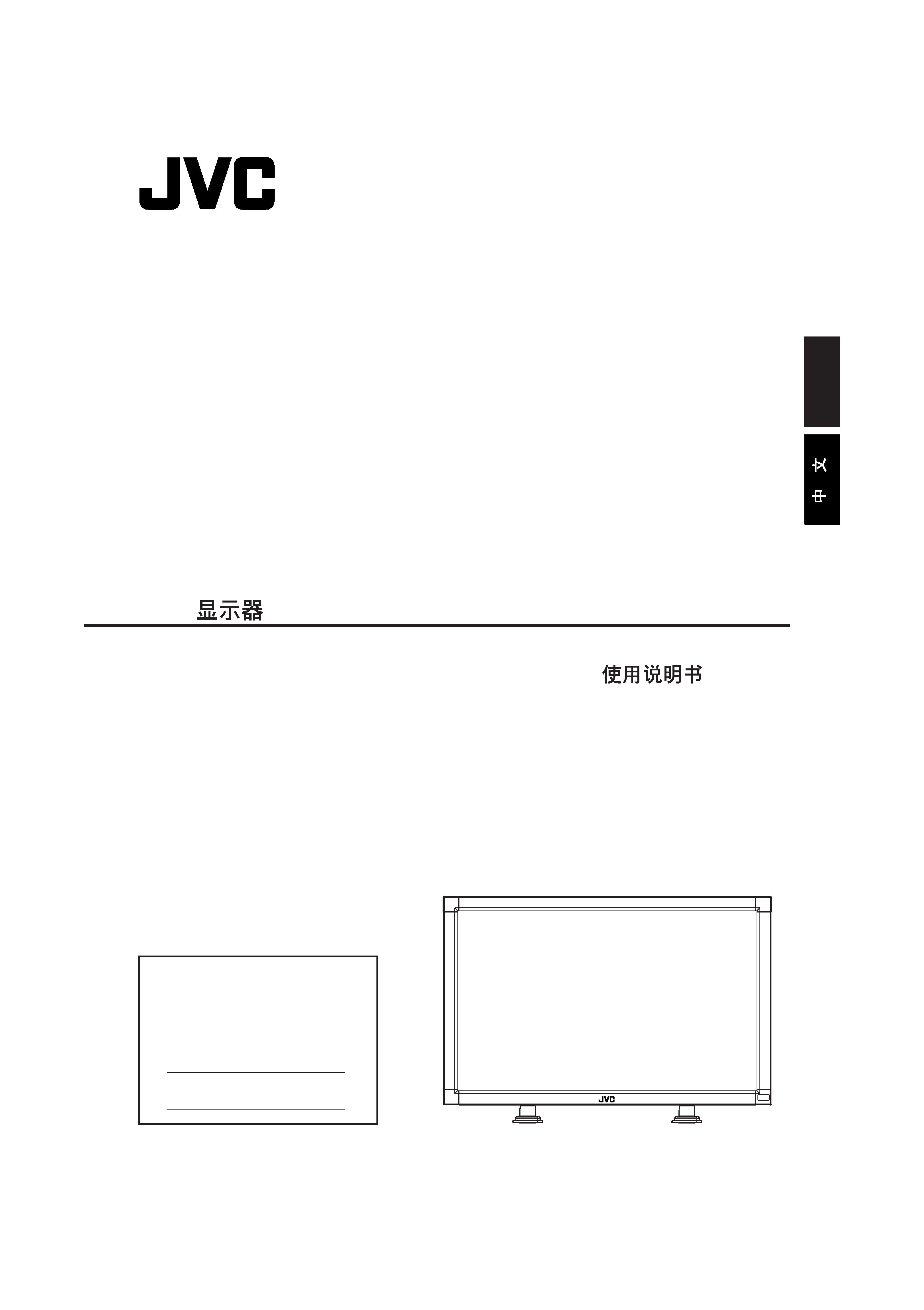 Enter below the Model No. and the Serial
No. which is located on the rear panel of the
cabinet. Retain this information for future
---

Important Information .......................................................................................... 1
Safety Precautions, Maintenance, & Recommended Use ......................................... 2
Contents ............................................................................................................. 3
Attaching LCD Options ........................................................................................ 4
Control Panel .......................................................................................... 5
Terminal Panel ........................................................................................ 6
Wireless Remote Control .......................................................................... 7
Operating Range for the Remote Control ................................................... 8
Handling the Remote Control .................................................................... 8
Setup Procedure ................................................................................................. 9
Wiring Diagram .................................................................................. 10
Connecting to a PC.............................................................................. 11
Connecting to a Macintosh Computer ................................................... 12
Connecting to a Computer with a Digital Output .................................... 13
Connecting to a VCR or Laser Disc Player.............................................. 14
Connecting to a DVD Player ................................................................. 15
Connecting to a Stereo Amplifier .......................................................... 16
Power On and Off Modes ........................................................................ 17
Power Indicator ....................................................................................... 18
When Using Power Management Function ................................................ 18
Selecting a Video Source ......................................................................... 18
Picture Size ............................................................................................. 18
Picture Mode........................................................................................... 18
OSD Information ..................................................................................... 18
Control Key Lock Mode ............................................................................ 18
OSD (On-Screen Display) Controls
Computer ............................................................................................... 19
DVD & HD .............................................................................................. 23
AV input ................................................................................................. 25
About REMOTE-PIP Mode ........................................................................ 27
Using the LCD with a Personal Computer (PC) ....................................................... 28
Troubleshooting .................................................................................................. 30
Specifications ..................................................................................................... 31
---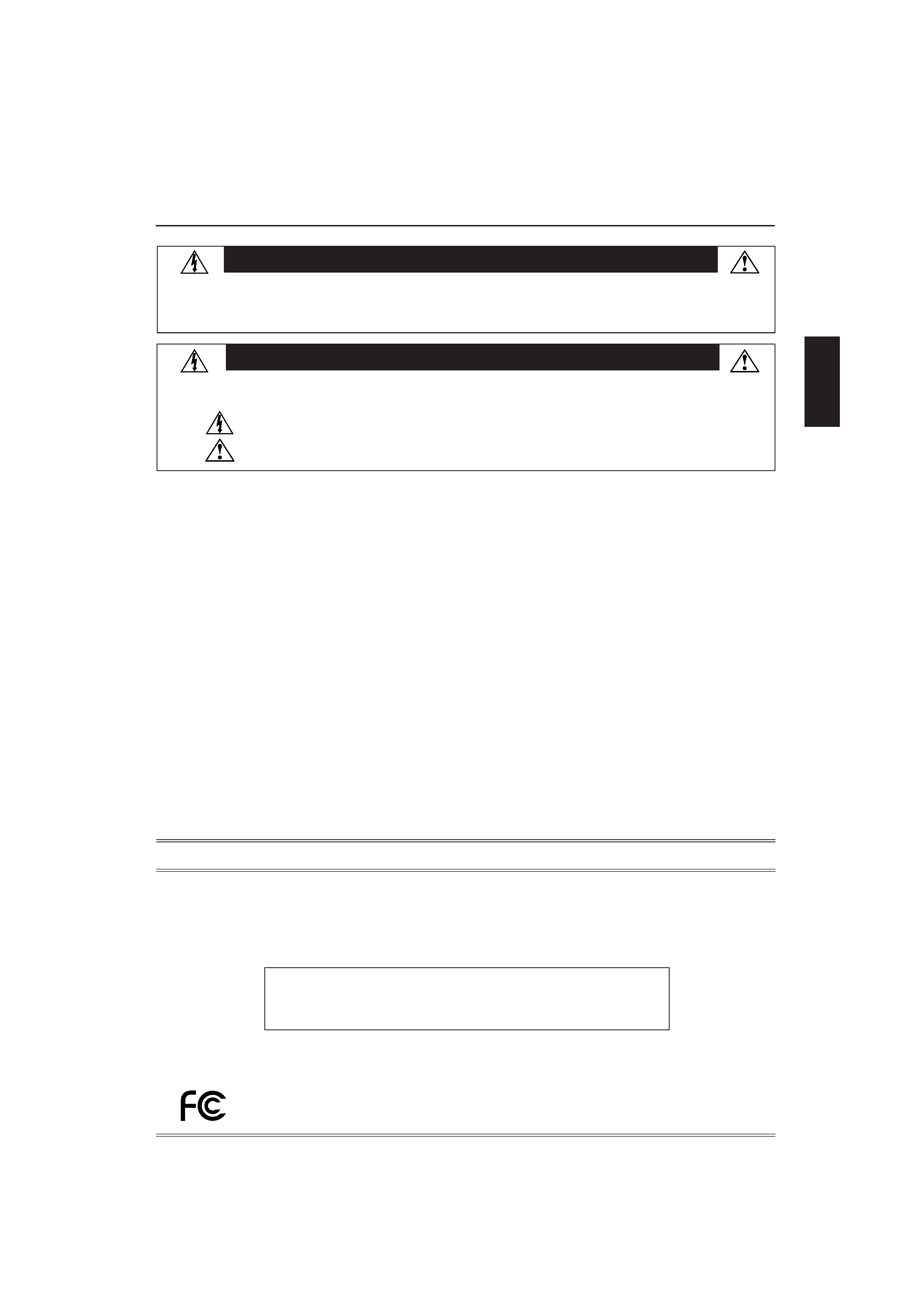 Canadian Department of Communications Compliance Statement
DOC: This Class B digital apparatus meets all requirements of the Canadian Interference-Causing Equipment Regulations.
C-UL: Bears the C-UL Mark and is in compliance with Canadian Safety Regulations according to CAN/CSA C22.2 No.
1. Use the following specified cables with the GD-30L1G so as not to interfere with radio and television reception.
(1) Please use the supplied power cord or equivalent to ensure compliance with FCC requirements.
(2) Please use a shielded RGB signal cable* which has ferrite cores on each end of the cable to ensure compliance with FCC
* mini D-sub 15 pin to mini D-sub 15 pin cable for RGB2 (D-SUB) and DVI-D cable for RGB1 (DVI-D). Please see pages
(3) Please attach the ferrite cores on the Audio Cable and S -VIDEO cable.
Please see page 10 of this manual.
2. This equipment has been tested and found to comply with the limits for a Class B digital device, pursuant to part 15 of the FCC
Rules. These limits are designed to provide reasonable protection against harmful interference in a residential installation. This
equipment generates, uses, and can radiate radio frequency energy, and, if not installed and used in accordance with the
instructions, may cause harmful interference to radio communications. However, there is no guarantee that interference will
not occur in a particular installation. If this equipment does cause harmful interference to radio or television reception, which
can be determined by turning the equipment off and on, the user is encouraged to try to correct the interference by one or more
of the following measures:
· Reorient or relocate the receiving antenna.
· Increase the separation between the equipment and receiver.
· Connect the equipment into an outlet on a circuit different from that to which the receiver is connected.
· Consult your dealer or an experienced radio/TV technician for help.
CAUTION:TO REDUCE THE RISK OF ELECTRIC SHOCK, MAKE SURE POWER CORD IS UNPLUGGED FROM WALL SOCKET. TO FULLY
DISENGAGE THE POWER TO THE UNIT, PLEASE DISCONNECT THE POWER CORD FROM THE AC OUTLET. DO NOT REMOVE
COVER (OR BACK). NO USER SERVICEABLE PARTS INSIDE. REFER SERVICING TO QUALIFIED SERVICE PERSONNEL.
This symbol warns user that uninsulated voltage within the unit may have sufficient magnitude to cause electric shock. Therefore, it is
dangerous to make any kind of contact with any part inside this unit.
This symbol alerts the user that important literature concerning the operation and maintenance of this unit has been included. Therefore,
it should be read carefully in order to avoid any problems.
TO PREVENT FIRE OR SHOCK HAZARDS, DO NOT EXPOSE THIS UNIT TO RAIN OR MOISTURE. ALSO, DO NOT USE THIS UNIT'S
POLARIZED PLUG WITH AN EXTENSION CORD RECEPTACLE OR OTHER OUTLETS UNLESS THE PRONGS CAN BE FULLY INSERTED.
REFRAIN FROM OPENING THE CABINET AS THERE ARE HIGH VOLTAGE COMPONENTS INSIDE. REFER SERVICING TO QUALIFIED
DECLARATION OF CONFORMITY
This device complies with Part 15 of FCC Rules. Operation is subject to the following two conditions. (1) This device may not cause
harmful interference, and (2) this device must accept any interference received, including interference that may cause undesired
CAUTION: Changes or modifications not approved by JVC could void user's authority to operate the equipment.
Equipment Classification:
We hereby declare that the equipment specified above
conforms to the technical standards as specified in the FCC Rules.
JVC Professional Products Company
---

CORRECT PLACEMENT AND ADJUSTMENT OF THE DISPLAY
CAN REDUCE EYE, SHOULDER AND NECK FATIGUE. CHECK
THE FOLLOWING WHEN YOU POSITION THE DISPLAY:
· For optimum performance, allow 20 minutes for warm-up.
· Rest your eyes periodically by focusing on an object at least
20 feet away. Blink often.
· Position the display at a 90° angle to windows and other light
sources to minimize glare and reflections. Adjust the display
tilt so that ceiling lights do not reflect on your screen.
· If reflected light makes it hard for you to see your screen, use
· Clean the LCD display surface with a lint-free, nonabrasive
cloth. Avoid using any cleaning solution or glass cleaner.
· Adjust the display's back light and contrast controls to en-
· Position whatever you are looking at most of the time (the
screen or reference material) directly in front of you to mini-
mize turning your head while you are typing.
·Avoid displaying fixed patterns on the display for long peri-
ods of time to avoid image persistence (afterimage effects).
· Get regular eye checkups.
· The lamp of backlight contains mercury. Please handle it ap-
propriately in case of disposal.
To realize the maximum ergonomics benefits, we recommend the
· Use the preset Size and Position controls with standard
· Use the preset Color Setting
· Use non-interlaced signals with a vertical refresh rate between
· Do not use primary color blue on a dark background, as it is
difficult to see and may produce eye fatigue to insufficient
Safety Precautions and Maintenance
FOR OPTIMUM PERFORMANCE, PLEASE NOTE THE FOLLOWING WHEN
SETTING UP AND USING THE GD-30L1G:
· DO NOT OPEN THE DISPLAY. There are no user serviceable parts
inside and opening or removing covers may expose you to dan-
gerous shock hazards or other risks. Refer all servicing to quali-
· Do not spill any liquids into the cabinet or use your display near
· Do not insert objects of any kind into the cabinet slots, as they
may touch dangerous voltage points, which can be harmful or
fatal or may cause electric shock, fire or equipment failure.
· Do not place any heavy objects on the power cord. Damage to
the cord may cause shock or fire.
· Do not place this product on a sloping or unstable cart, stand or
table, as the display may fall, causing serious damage to the
· Use a power supply cord that matches with the power supply
voltage of the AC power outlet being used.
· Do not place any objects onto the display and do not use the
· The inside of the fluorescent tube located within the LCD
display contains mercury.
· Do not bend power cord.
· Do not use display in high temperature, humid, dusty, or oily ar-
· If glass is broken, handle with care.
· Do not cover vent on display.
· If display or glass is broken, do not come in contact with the liquid
crystal and handle with care.
· Allow adequate ventilation around the display so that heat can
properly dissipate. Do not block ventilated openings or place the
display near a radiator or other heat sources. Do not put any-
· The power cable connector is the primary means of detaching the
system from the power supply. The display should be installed
close to a power outlet which is easily accessible.
· Handle with care when transporting. Save packaging for
·Please follow the bylaws or rules of your municipality to
dispose of the tube properly.
· Keep the holes on the back of the LCD clean of dirt and dust.
It is recommended to wipe holes with a soft cloth a minimum of
Immediately unplug your display from the wall outlet and refer
servicing to qualified service personnel under the following
· When the power supply cord or plug is damaged.
· If liquid has been spilled, or objects have fallen into the display.
· If the display has been exposed to rain or water.
· If the display has been dropped or the cabinet damaged.
· If the display does not operate normally by following operating
Safety Precautions, Maintenance & Recommended Use
---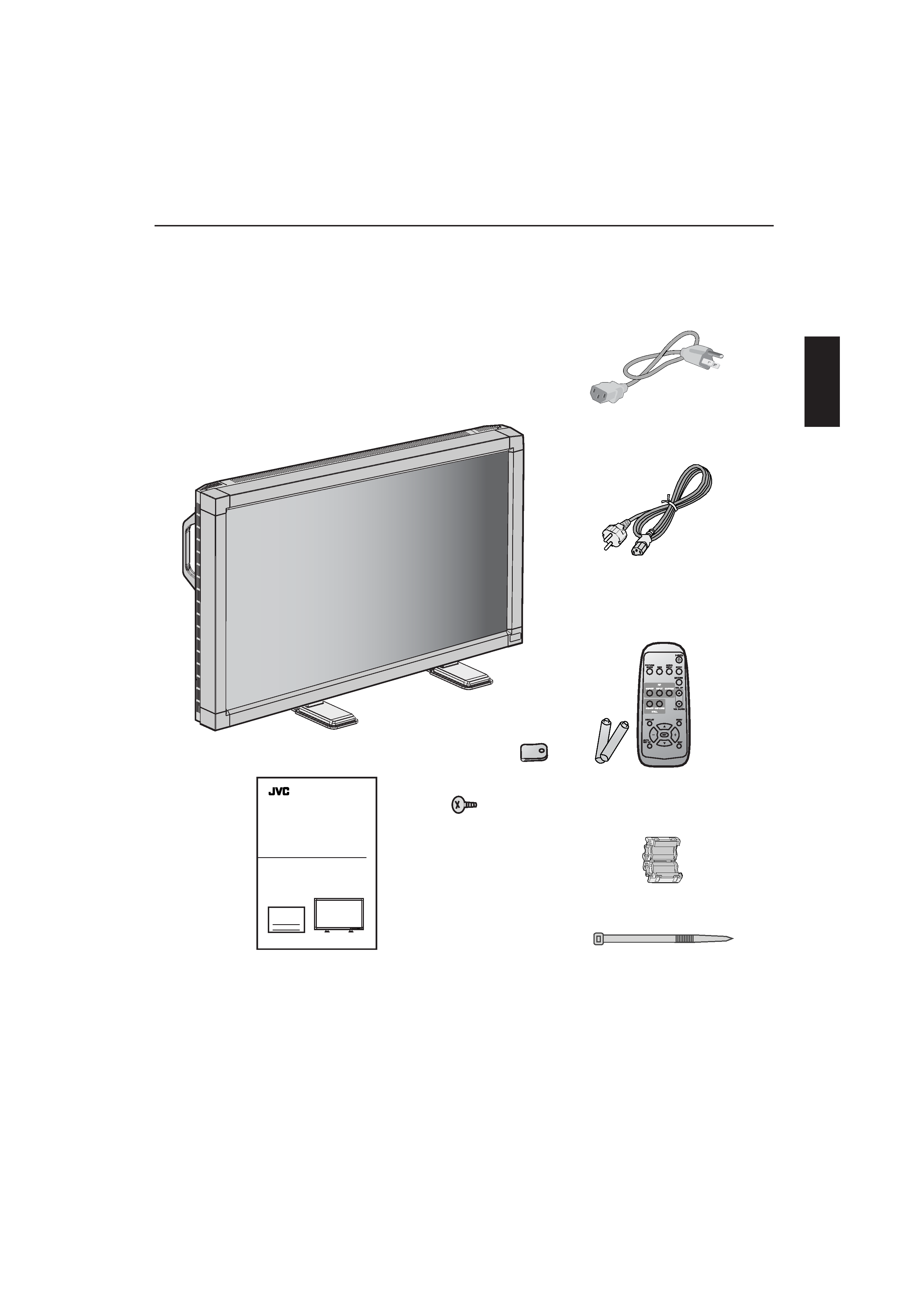 REMOTE CONTROLLER RU-M107
Enter below the Model No. and the Serial
No. which is located on the rear panel of the
cabinet. Retain this information for future
*Remember to save your original box and packing material to transport or ship the display.
Your new GD-30L1G display box* should contain the following:
· GD-30L1G LCD display with stand
· Power Cord x 2 (Use the one matching the wall outlet)
· Wireless Remote Control and AA Batteries
The following component is prepared as an option.
· External Speakers (AS-D30L1G)
---