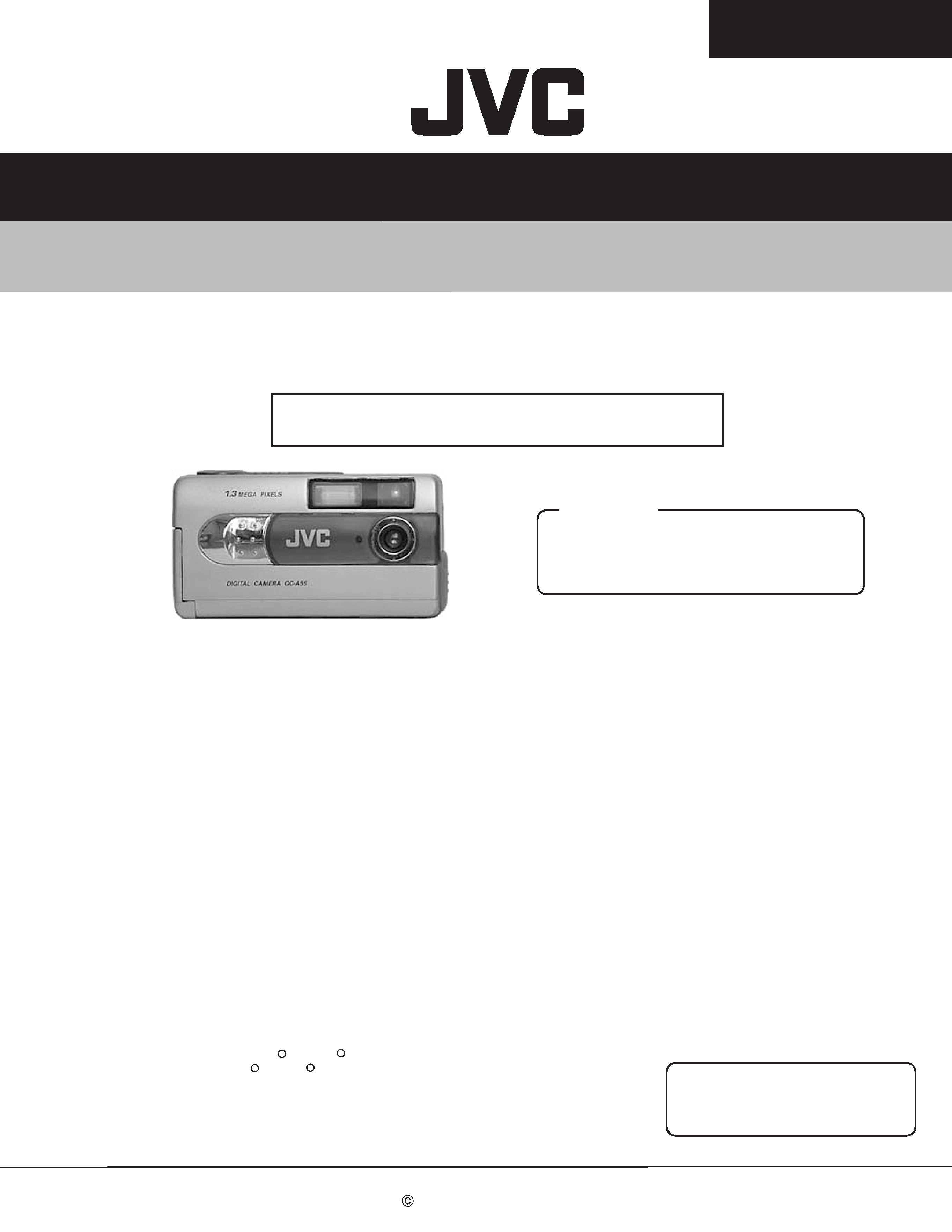 2002 VICTOR COMPANY OF JAPAN, LIMITED
The " Product Exchange System" is applicable to this product.
For limited spare parts, refer to the parts list.
External: SD or multimedia Card (Type 1 Slot)
JPEG (EXIF 2.1), DPOF, AVI (Motion-JPEG)
Fixed focus (2X digital zoom)
Manual: 0.5 EV step, -2.0 ~ +2.0
Auto / Sun / Shade / Fluorescent / Tungsten
Built-In: Auto, Fill-in, Flash Off, Red-eye reduction
MGI Photo Suite IV SE and Photo Vista
English, French, Spanish, Traditional Chinese
USB port, Video Output (NTSC/PAL)
About 130g (with battery and SD card)
Approx. 108mm x 59mm x 36mm
design and specifications
subject to change without notice.
*Microsoft Windows 98/98SE/Me/ 2000/XP (Pre-installed Model)
*Intel Pentium Processor 166 MHz or higher
*Minimum RAM: 32 MB (Windows XP: 128 MB)
*250 MB of available hard disk space
*Color display: 800 x 600 or better
Specifications --------------------------- Front cover
Disassembly method ------------------ 2
Packing method and parts list ------ 3
---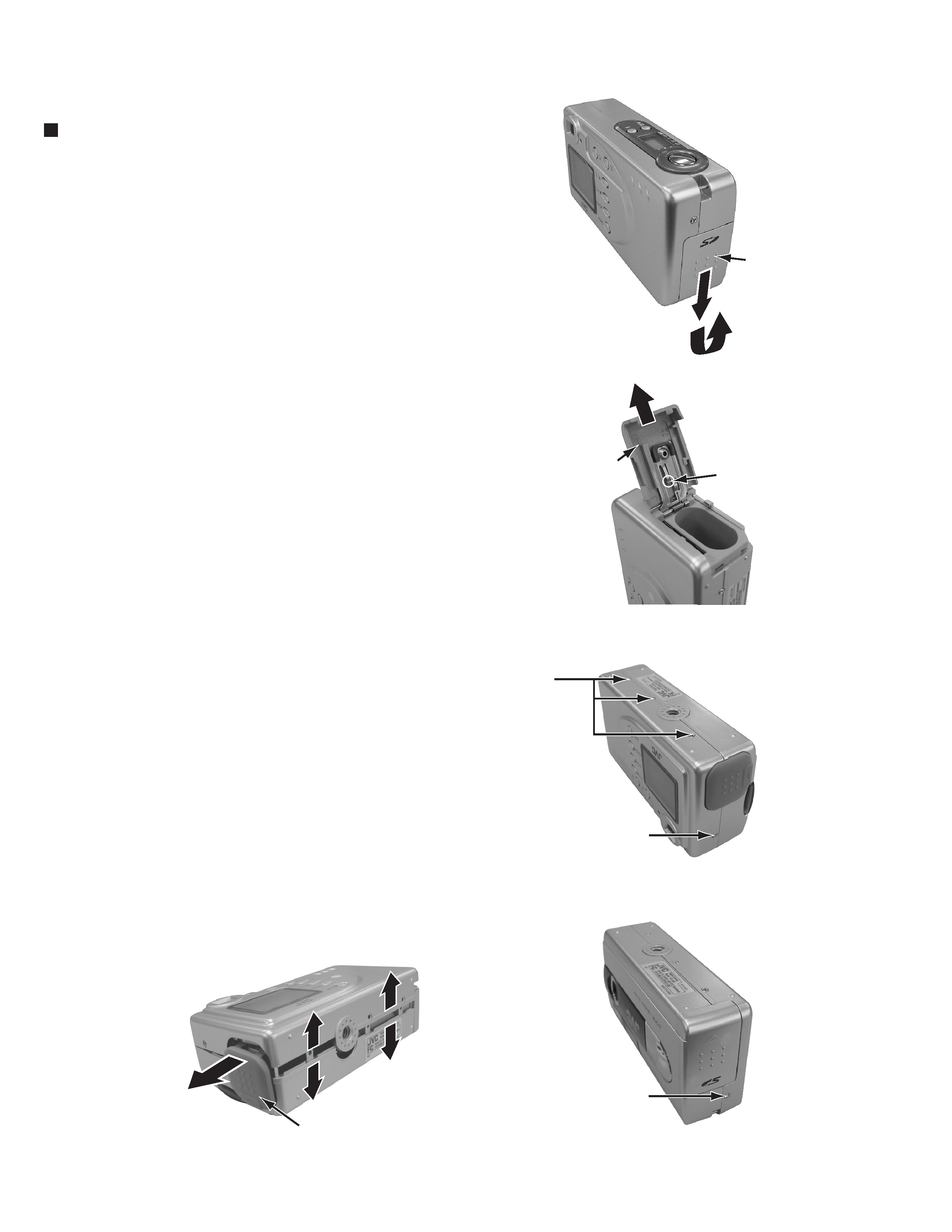 Removing the battery cover and USB port cover
Open the battery cover. (Fig.1)
Pull out the battery cover as a small flat screwdriver lifts
hook of the battery terminal. (Fig.2)
Remove the five screws A attaching the front case.(Fig.3,4)
Open the bottom of rear cover a little. (Fig.5)
Remove the USB port cover.(Fig.5)
---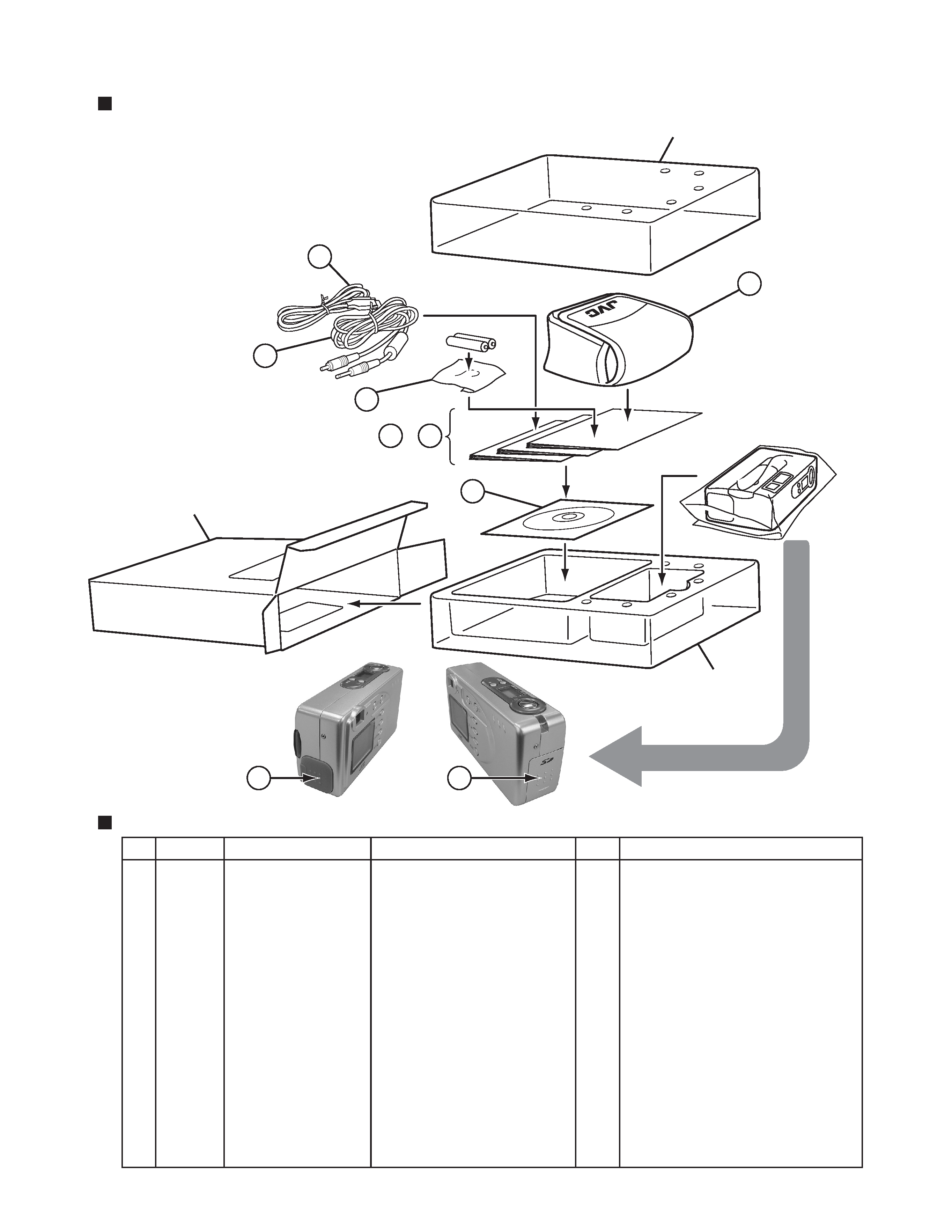 Packing method and parts list
These parts which was marked " * "(Blister
cover/Blister tray/Packing case) will not be
able to supply as our service parts.
Service center list(Canada)
Silver paint, SD mark printing.
English/French/Spanish/Chinese
English/French/Spanish/Chinese
Parts list (General assembly and accessories)
) are safety parts. When replacing, be sure to use the specified one.
---

VICTOR COMPANY OF JAPAN, LIMITED
COMMUNICATION NETWORK BUSINESS UNIT
AV & MULTIMEDIA COMPANY 1644, Shimotsuruma, Yamato, Kanagawa 242-8514, Japan
---