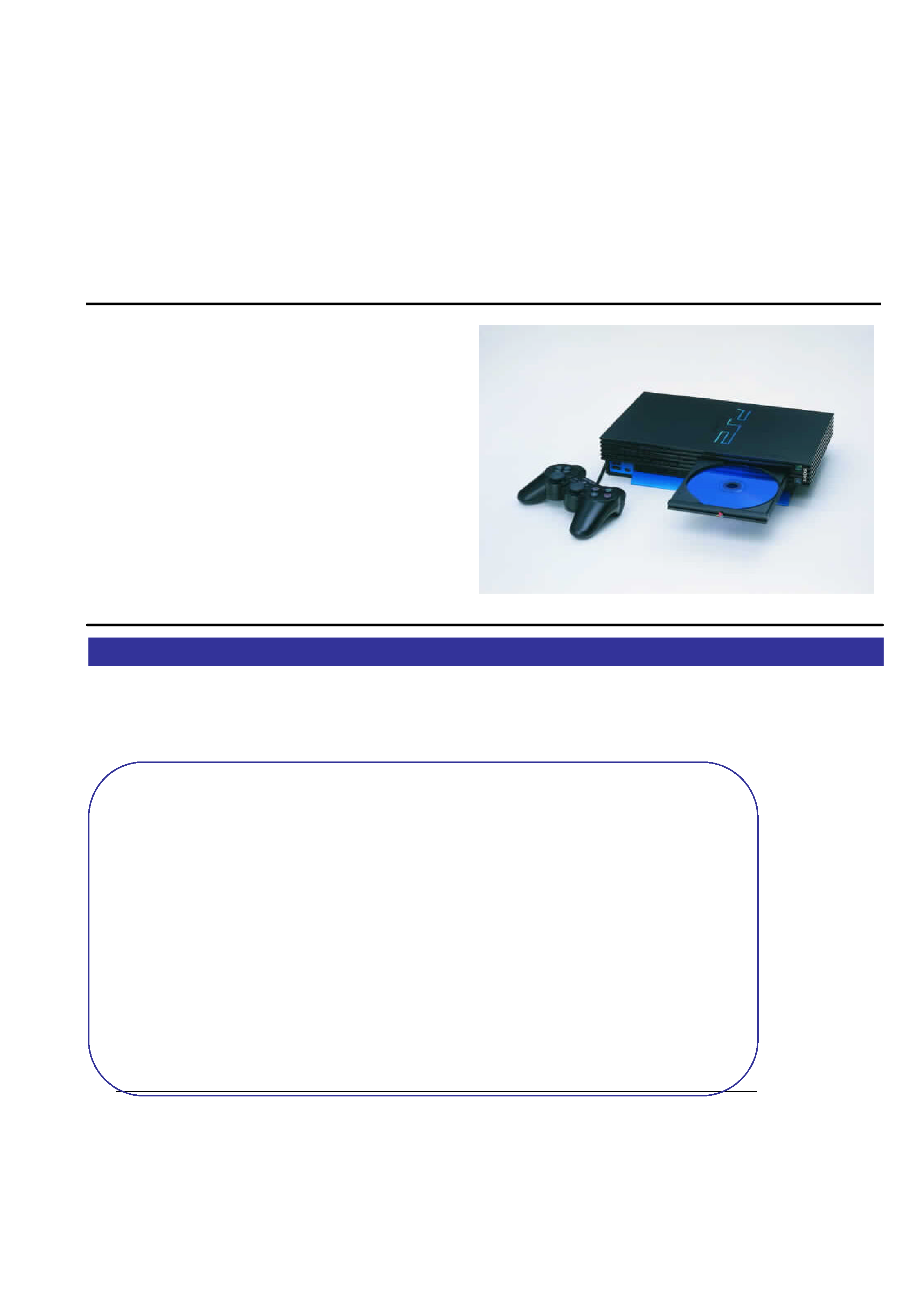 SCPH-50000/50000SS series
for SCPH-30002D/ -30003D/-300004D
for SCPH-30002D/ -30003D/-300004D
301 x 78 x 182 mm (w/h/d)
Inputs/Outputs on the front
Inputs/Outputs on the rear
RGB, Ycbcr, Y/C, Composite-video,
for SCPH-30003/4 & 35003/4
SCPH-30003/4 R & SCPH-39003/4
SCPH-50003/4 & SCPH-50003/4SS
Dualshock2 Analog controller (1)
for SCPH-35002/-350003/-350004
PlayStation®2 Level-1 Service & Procedures Manual / Version 4.0
: READ THIS DOCUMNENT IN CONJUCTION WITH THE LATEST SERVICE GUIDELINES ISSUED BY SEC
---

SCPH-30000 series and SCPH-35000 series GH013 (31/41) MOUNT on board
SAFETY-RELATED COMPONENT WARNING
1. SERVICE NOTE/CONDITIONS
4. LEVEL -1 SERVICE SPECIFICATION
7. REPORTING (WARRANTY DATA ENTRY)
GB-003/GB-004 and Place Assy Block
SCPH-30002R/30003R/30004R
Power Switch, Fan and Rear Panel
SCPH-39002/39003/39004/39008
Power Switch, Fan and Rear Panel
SCPH-50002/3/4/8 & 50002/3/4S S (H)
---

SAFETY-RELATED COMPONENT WARNING
Components identified by mark
and in the parts list are critical to safe operation.
these components with Sony parts whose part numbers appear as shown in this manual.
SAFETY-RELATED COMPONENT WARNING!!
.
COMPONENTS IDENTIFIED BY MARK OR DOTTED LINE WITH
MARK ON THE SCHEMATIC DIAGRAMS
AND IN THE PARTS LIST ARE CRITICAL TO SAFE
OPERATION. REPLACE THESE COMPONENTS WITH SONY
PARTS WHOSE PART NUMBERS APPEAR AS SHOWN IN THIS
MANUAL OR IN SUPPLEMENTS PUBLISHED BY SONY
.
SONY COMPUTER ENTERTAINMENT DEMANDS THAT AT NO
TIME SHOULD A MOTHERBOARD BE EXCHANGED FROM ONE
NO MCB PARTS ARE INCLUDED ON
Do NOT touch any PlayStation®2 parts not listed
Replace the battery with a Sony CR2032 battery.
Use of any other type of battery may present the
risk of fire or explosion. The battery may
explode if mistreated. Do not recharge,
disassemble, or dispose of in fire.
The use of optical instruments with this product
will increase eye Hazard. As the laser beam used
in this CD/DVD player is harmful to eyes, do not
attempt to disassemble the cabinet. Refer
servicing to qualified personnel only.
WHEN SERVICING, DO NOT APPROACH THE LASER EXIT
WITH THE EYE TOO CLOSELY. IN CASE IT IS NECESSARY
TO CONFIRM LASER BEAM EMISSION, BE SURE TO
OBSERVE FROM A DISTANCE OF MORE THAN 25cm FROM
THE SURFACE OF THE OBJECTIVE LENS ON THE OPTICAL
Use of controls or adjustments or performance of
procedures other than those specified herein may
result in hazardous radiation exposure.
CAUTION for electric shock
.
When power is ON, Don't touch to Power supply
block, AC-inlet, Power switch and so on, not to
get an electric shock at repair
.
When current is supplied, Some of part surface
temperature like EE, GS, Regulater-IC, power
supply, Optical device and so on. These part
surface is become high temperature condition.
When it repair, don't touch them at a time during
it surface is high temperature condition to take
prevent against burning. Do repair after it is
Danger of explosion if battery is incorrectly
replaced. Replace only with the same or
equivalent type recommended by the manufacturer.
Discard used batteries according to the
manufacturer's instructions.
After correcting the original service problem,
perform the following safety checks before
releasing the set to the customer:
1. Check the area of your repair for unsoldered
or cold-soldered connections. Check the entire
board surface for solder splashes and bridges.
2. Check the inter board wiring to ensure that no
wires are "pinched" or contact high-wattage
3. Look for unauthorized replacement parts,
particularly transistors, that were installed
during a previous repair. Point them out to the
customer and recommend their replacement.
4. Look for parts, which, though functioning,
show obvious signs of deterioration. Point them
out of the customer and recommend their
5. Check the line cord for cracks and abrasion.
Recommend the replacement of any such line cord
6. Check the b+ voltage to see it is at the
7. Check the antenna terminals, metal trim,
"metalized" knobs, screws, and all other exposed
metal parts for ac leakage.
NOTIFICATION for environmental assessment
.
This model is CR2032 lithium battery onboard
inside on the GD MOUNT as Timer backup power.
CR2032 life may be about 5 to 8 years so you have
very few need for changing to new one. But if you
have necessary to replaced to new one or
disassemble for scrapping, you have to keep your
country low, regulation, standard, etc. of
environmental assessment and safety.
NOTE: Some of the above safety text is NOT applicable to Level-1 Repairs
---

NOTICE: Copyright by Sony Computer Entertainment Inc. All rights reserved. No reproduced and transferred
required except permission by Sony Computer Entertainment Inc. No commercial use and rental required.
REVISIONS: This manual compiled by first edition of SCPH-30000 series and SCPH-35000 series design data.
Design and Specification will be subject to changed without notice. The latest versions of service manual,
Technical memo, and Technical information should be used together.
Level-1 service is only allowed by Sony Service Centres (SSC) or dedicated Authorised Service
Other type of repair still has to be carried out by SEC-ROE as appropriate
jigs or tools are not available to SSC/ASC
can only perform Play Station®2 Level -1 repair as described in this
It is strictly prohibited to perform any Level-2 and/or Level-3 repairs on
Level-2 repairs must only be performed by SEC­ROE (or SSC/ASC authorised by SCEE)
Level-3 repairs must onl y be performed by SEC-ROE;
Any PlayStation®2 unit submitted to any kind of abuse repair will never be
classified as `in warranty';
Units sent to SEC-ROE for Level-2 and/or Level-3 repair that shows any evidence of
must have an appropriate Warranty Seal Control procedure
covering the following areas: inventory control, process, audit trail and
replenishment of stock (please refer to paragraph six in this manual for more
Sony Computer Entertainment Europe (SCEE) will provide Fault Information and
Frequent Asked Questions through the Technical Service Extranet site
(http://tech.scee.net/tech.nsf).
This is a secured site and can only be accessed by
personnel authorised by SCEE (please contact SCEE if you require access to this
In the case of defective units arriving at SSC or ASC
without the original inner
carton: SCEE will make `brown' inner cartons available to order by SOSA Central
For more information contact SOSA Central Office.
can be used for returning consoles repaired locally and as a transportation box to
any units missing original components, having additional components (e.g.
modifying chips) and/or physical liquid damage.
The warranty on Level-1 repaired PlayStation®2 should be set to 90 days.
eligible to free of charge re -repair within the 90 days warranty.
In case service is carried out in -warranty, please proceed for compensation according to the
standard Warranty Reimbursement rules, outlined in the SEC -ROE Warranty Rulebook.
This Level-1 Service Manual is applicable to the following PlayStation®2 models:
- SCPH-30002 /SCPH -30003 /SCPH-30004
- SCPH-30002 /SCPH -30003 /SCPH-30004
- SCPH-35002 /SCPH -35003 /SCPH-35004
- SCPH-30002R/SCPH -30003R/SCPH-30004R
- SCPH-39002 /SCPH -39003 /SCPH-39004/SCPH39008
- SCPH-50002/3/4/8 & SCPH-50002/3/4 SS
LEVEL-1 SERVICE SPECIFICATION
Level-1 service is only allowed by SSC or dedicated ASC
note1
and specified as follows:
Cosmetic and easy repairs using level-1 spare parts mentioned in this manual;
Replacement of dedicated parts, such as power supply module, terminal board, etc.
(please refer to this manual for a full list of dedicated parts);
Adjustment of mechanical parts (NOT on optical block);
---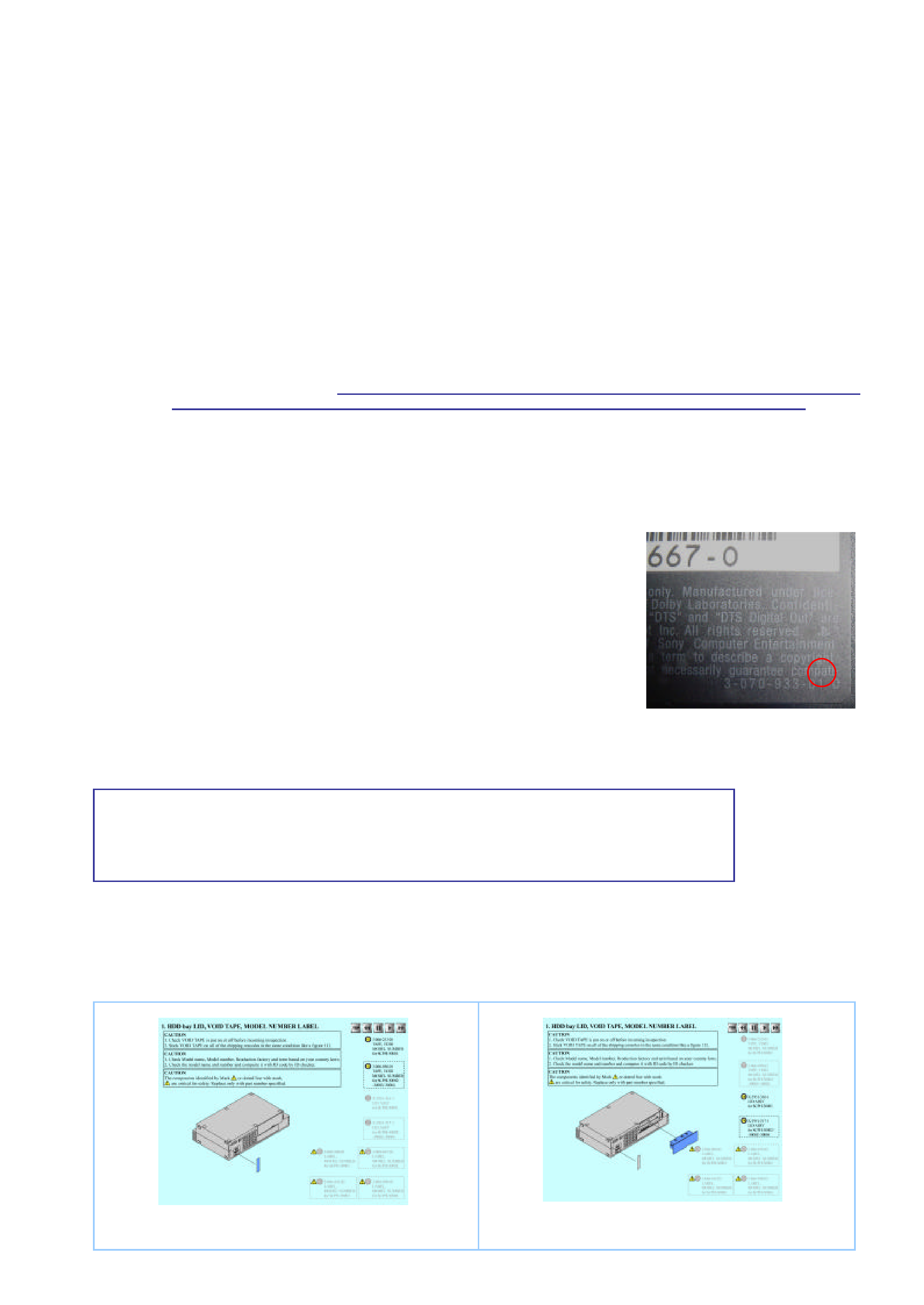 are only authorised to order spare parts listed in this manual.
should be ordered through existing WRPCE system/procedures.
For more information on parts
reorders, please refer to SEC -ROE guidelines/procedures.
Repairs must be controlled by the use of Warranty Seals (Part Number: 3-066-498-01, Tape/Void).
Warranty Seals must be strictly controlled.
All countries wishing to perform Level-1 repair on
PlayStation®2, as described in this manual, must submit appropriate Warranty Seal Control
procedures covering the following areas: inventory control, process, audit trail and
To ensure that Warranty Seals are controlled properly, each SSC and ASC
nominated member of staff who is responsible for these parts.
They should carry out the
Confirm that the service centre inventory accurately represents the true stock level when
To report promptly any loss due to damage, theft, defective application or unforeseen
This person will also be responsible for the periodic reporting to SCEE, and should
maintain the local audit files to be examined by SCEE as part of a stock inventory audit.
must re-seal all PlayStation®2 units that could not be repaired locally
(Level-1 repair) before shipping the unit to SEC-ROE for Level-2/Level -3 repair.
Reimbursement will not be granted for PlayStation®2 units arriving at SEC-ROE without
warranty seal (even if in-warranty).
SCEE must obtain Level-1 repair information from all countries performing Level-1 repairs
Monthly reports will be extracted from ESQI-line, however it is imperative that
PlayStation®2 is reported on a "model type" basis (e.g. C-model, D-model, etc). Information
must be entered in the ESQI-line in the following format:
Console SCPH-30004 type D = SCPH-30004D
Console SCPH-30004R type D = SCPH-30004RD
How to identify model type: All Engineers should be able
to identify consoles by Model type (e.g. "C","D","F","G"),
if not, model type can be identified on the number plate
on the "right bottom left hand corner" next to a number
with the following format: "3 -070-933-01 D" (this last
digit refers to the model typ e)
IMPORTANT NOTE: PlayStation®2 unit must always be handled in ESD -safe
Workbench with anti-ESD mat, connected to earth
Technician should wear wrist/ankle strap, connected to any-ESD-mat
In the case, both, power and loading mechanism are active:
Connect the PlayStation®2 unit to the power and switch the unit on at the back.
at the front side is blinking, push this button and the unit will switch one.
by pushing the eject button.
In case power or loading mechanism is not active:
Remove tape void at backside of the
Remove HDD Bay lid at the backside of
Note 1
Where no SSC is present in the country
Note 1
Where no SSC is present in the country
---