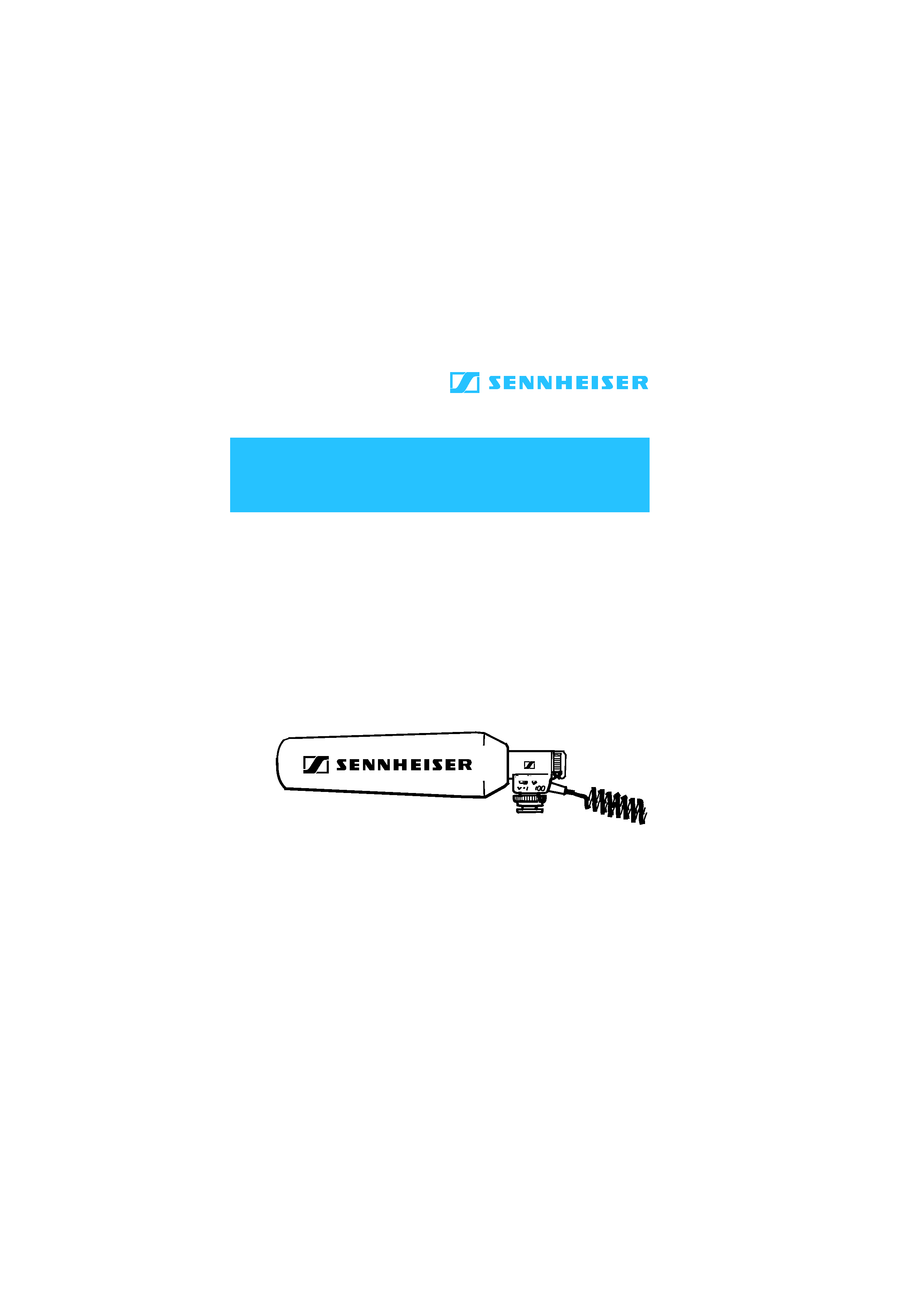 Instrucciones para el uso
---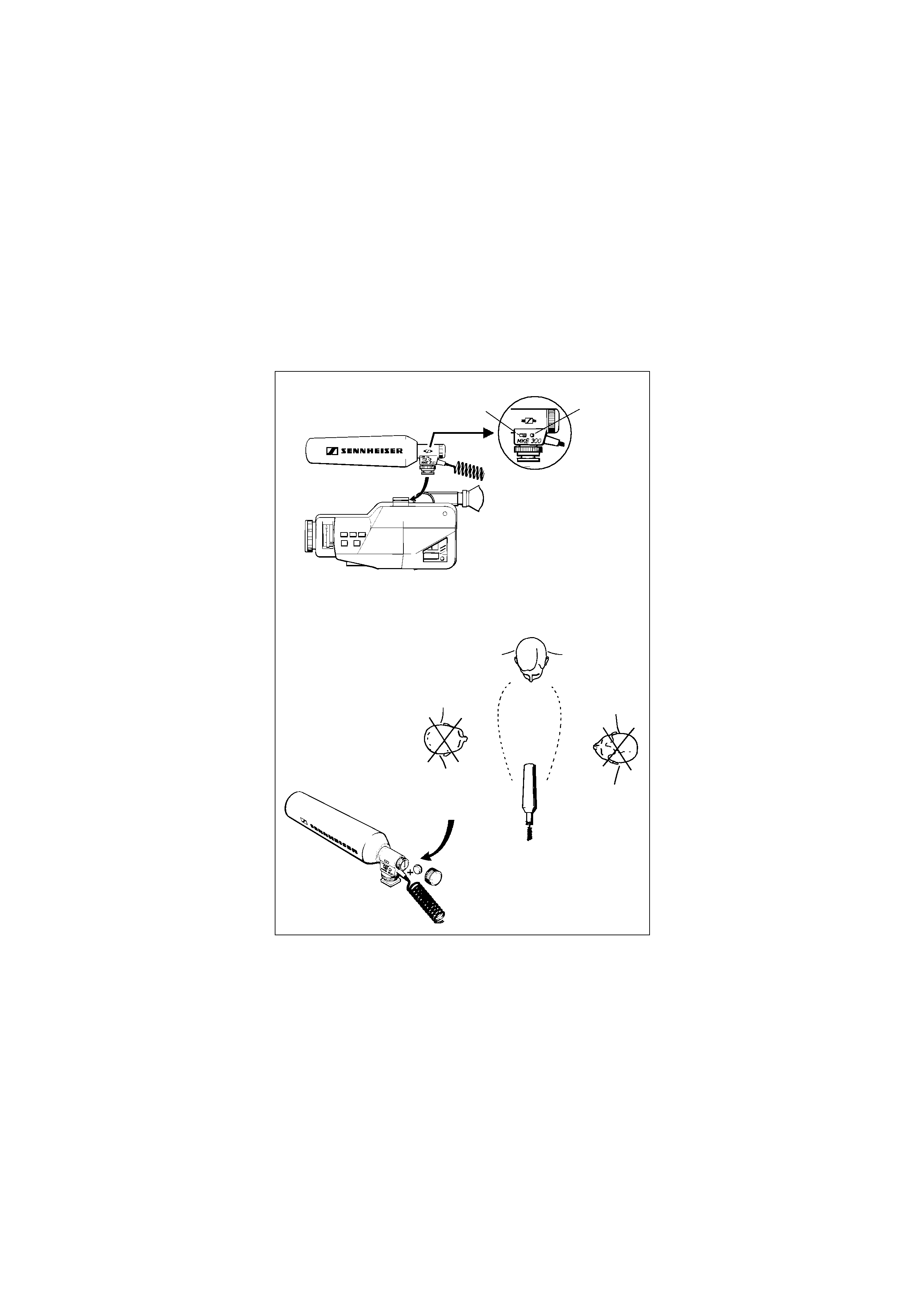 Ausrichten des Mikrofones
Orientation du microphone
Regolazione del microfono
Posicionamiento del micrcófone
Mounting MKE 300 to a camera
Montage sur une camera vidéo
Instalación sobre la camera
---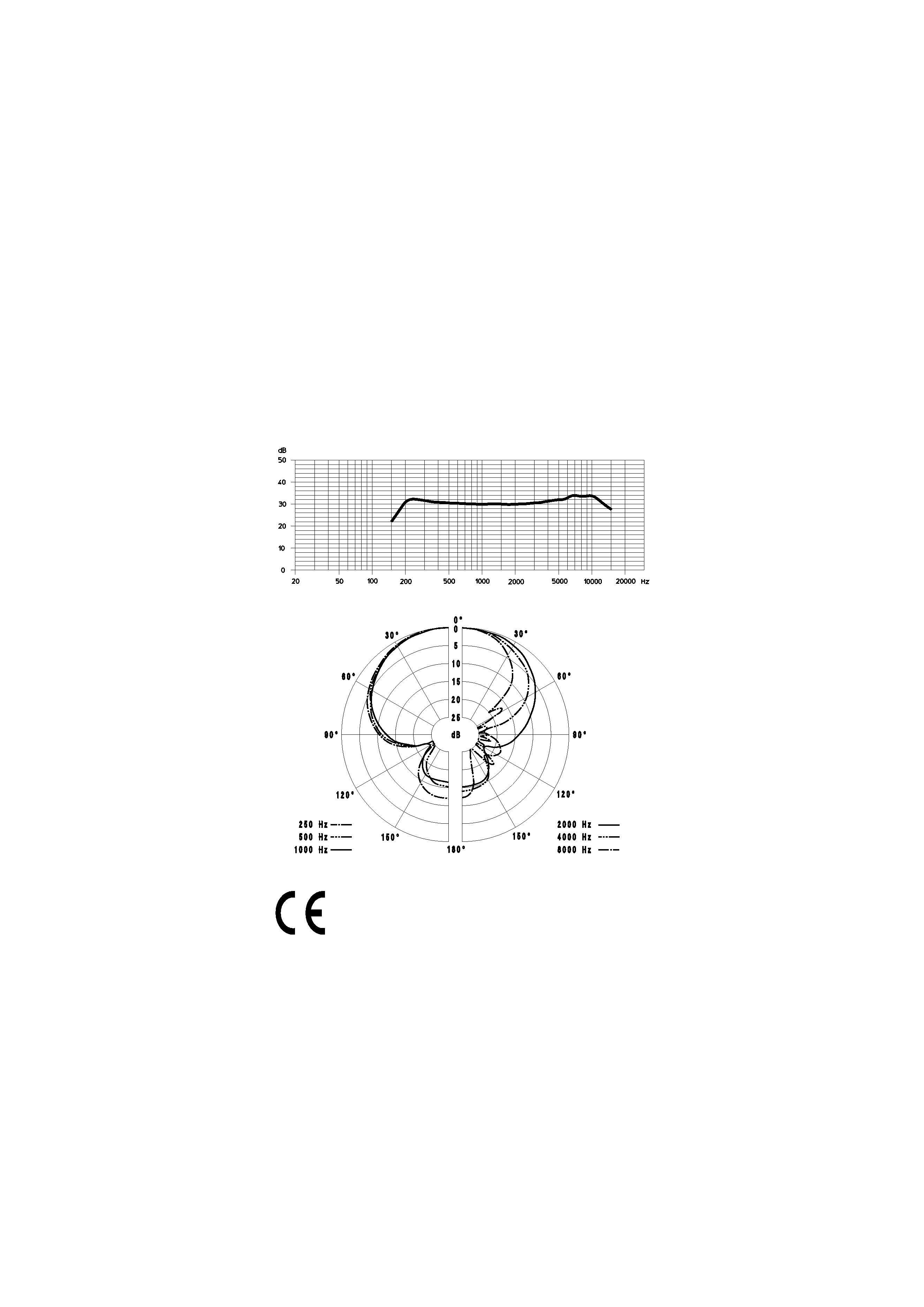 Sennheiser electronic GmbH & Co.KG
Frequenzkurve/Richtdiagramm
Frequency response/polar pattern
Réponse en fréquence/diagramme de la directivité
Risposta in fréquenza/diagramma polare
Respuesta en frequencia/diagrama de la directividad
---

Das MKE 300 ist ein leichtes Elektret-Kondensator-Richtmikrofon, das speziell für den Einsatz
zusammen mit einer Video-Kamera entwickelt wurde.
Das Mikrofon wird auf den "Blitzschuh" (Haltevorrichtung für die Filmleuchte) der Video-Kamera
montiert, nimmt hier in Form einer "Keule" bevorzugt den Schall auf, der aus der Richtung des gefilmten
Durch die elastische Aufhängung des inneren Mikrofonsystemes wird die Übertragung von Körper-
schallgeräuschen beim Hantieren mit der Kamera deutlich abgeschwächt.
Der Schaumnetz-Windschirm ist fest montiert, er unterdrückt wirksam Windgeräusche bei Außenauf-
Die Stromversorgung ist integriert, die Ladung einer Batterie TYP LR 44 reicht für ca. 200
Betriebstunden. Bei längerem Nichtgebrauch Batterie entnehmen !
· integrierter Windschutz
· eingebaute Stromversorgung
· 3,5 mm ø-Klinkenstecker und Wendelkabel
· hohe Körperschalldämpfung durch elastische Systemlagerung
· EIN/AUS-Schalter mit eingebauter Batterie-Kontrolle
· Mikrofon in Blitzschuh einstecken und mit Rändelscheibe verriegeln
· 3,5 mm ø Klinkenstecker in Mikrofonanschlußbuchse der Kamera einstecken
· Stromversorgung des Mikrofons einschalten,LED muß zur Kontrolle kurz aufblinken !
Nach Gebrauch Stromversorgung unbedingt wieder ausschalten !
Richtmaß in 1 m Abstand bei 1 kHz, 90
Feldleerlauf-Übertragungsfaktor
Äquivalenzschalldruckpegel nach DIN 45500 < 18 dBA
Abmessungen (ohne Kabel) in mm
MKE 300 Video-Richtmikrofon
---

MKE 300 is a light-weight electret condenser microphone, especially designed for video cameras.
The MKE 300 microphone is mounted to the video camera using the clip destined for carrying the
film lamp. Once placed in this clip, MKE 300 with a lobar polar pattern preferrably records sound
coming from the object to be filmed.
Due to the elastic suspension of the internal microphone system, transmission of structure-born
noise resulting from handling the camera is drastically reduced.
The permanently mounted windscreen effectively suppresses wind noise when recording
The MKE 300 has an integrated power supply, using a LR 44 batterywhitch offers an operating time
of apporx.200 hours. If not used constantly, remove battery !
· Integrated power supply
· 3.5 mm ø jack and helical cable
· High resistance to structure-born noise and elastic suspension of the microphone system
· ON/OFF switch with integrated battery control
· Light weight: 60 g only
Setting the device into operation:
· Put microphone into shoe adapter clip and fasten it by means of the knurled screw
· Put 3.5 mm ø jack plug into the corresponding microphone socket at the camera
· Switch on power supply of the microphone. The LED has to light up for a moment!
In any case, power supply has to be switched off after use!
pressure gradient transducer
combined with directional tube
and a distance of 1 m, 90
Sensitivity (free field, no load)
Equivalent sound pressure level
Min. terminating impedance
Dimensions (without cable) in mm
MKE 300 directional video microphone
---