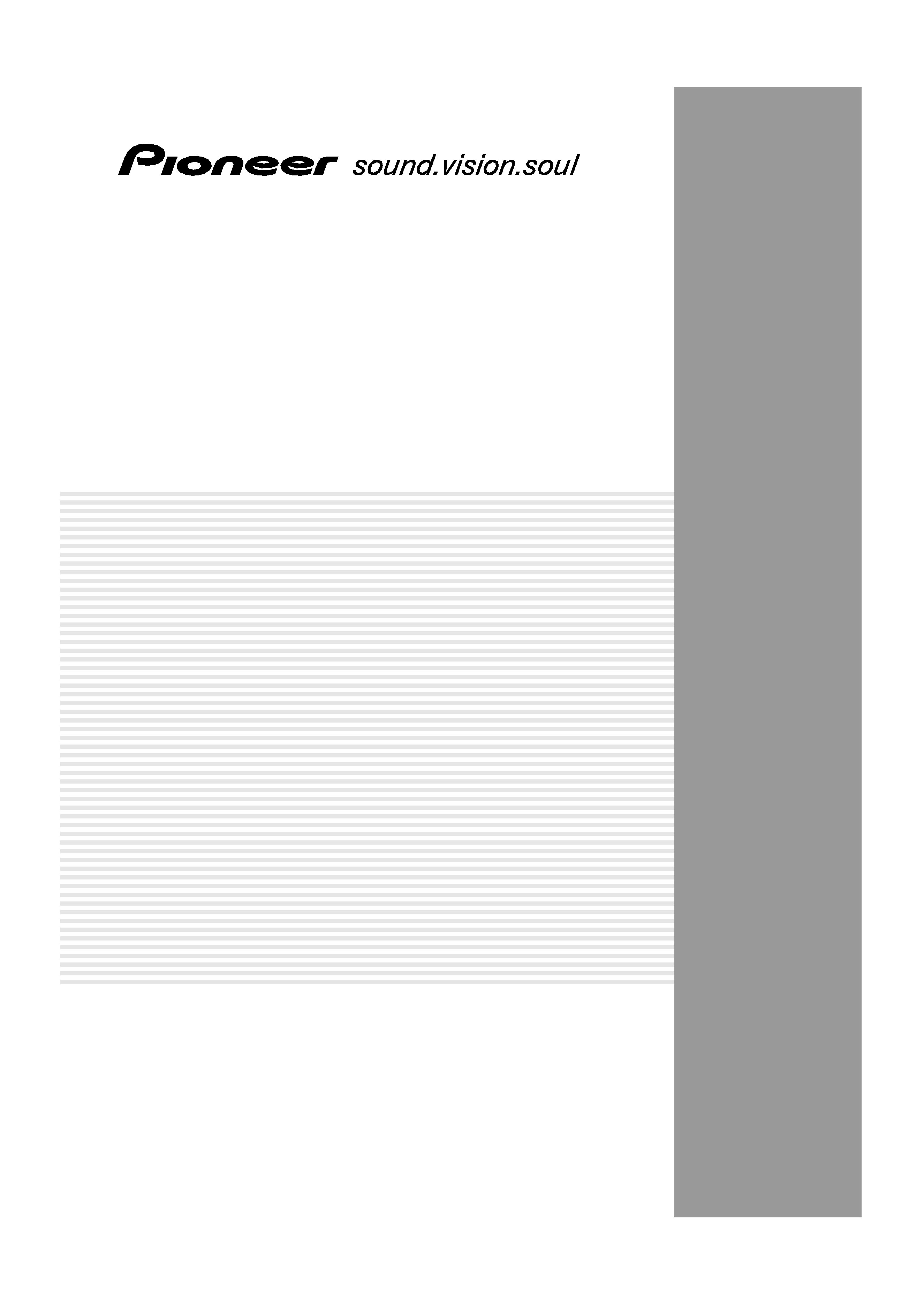 AUDIO/VIDEO MULTI-CHANNEL
---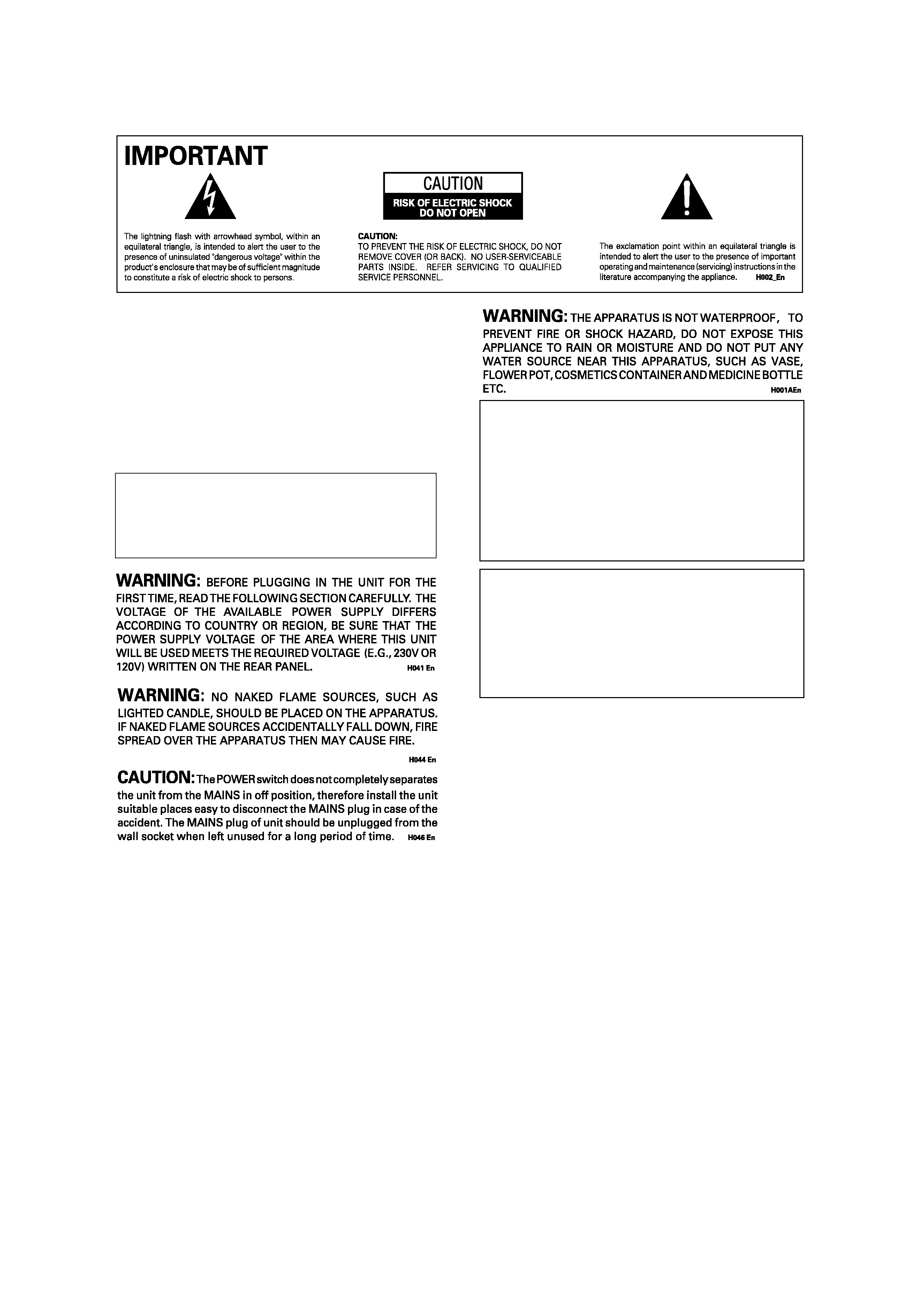 Thank you for buying this Pioneer product.
Please read through these operating instructions so
you will know how to operate your model properly.
After you have finished reading the instructions, put
them away in a safe place for future reference.
In some countries or regions, the shape of the power
plug may sometimes differ from that shown in the
explanatory drawings. However, the method of con-
necting and operating the unit is the same.
This product complies with the Low Voltage
Directive (73/23/EEC, amended by 93/68/EEC),
92/31/EEC and 93/68/EEC).
CONNECTED AND THEREFORE DOES NOT SEPARATE
POSITION. THEREFORE INSTALL THE UNIT SUITABLE
PLACES EASY TO DISCONNECT THE MAINS PLUG IN
CASE OF THE ACCIDENT. THE MAINS PLUG OF UNIT
SHOULD BE UNPLUGGED FROM THE WALL SOCKET
WHEN LEFT UNUSED FOR A LONG PERIOD OF TIME.
This product is for general household purposes.
Any failure due to use for other than household
purposes (such as long-term use for business
purposes in a restaurant or use in a car or ship)
and which requires repair will be charged for even
during the warranty period.
Operating environment temperature and humidity:
°C ­ +35°C (+41°F ­ +95°F); less than 85% RH
(cooling vents not blocked).
Do not install in the following locations:
· Location exposed to direct sunlight or strong
· Location exposed to high humidity, or poorly
VENTILATION:
When installing this unit, make sure to leave space around the unit for ventilation to
improve heat radiation (at least 20 cm at top, 50 cm at rear, and 10 cm at each side).
WARNING:
Slot and openings in the cabinet are provided for ventilation and to ensure reliable operation of
the product and to protect it from overheating, to prevent fire hazard, the openings should never be blocked and
covered with items, such as newspapers, tablecloths, curtains, etc. Also do not put the apparatus on the thick
carpet, bed, sofa, or fabric having a thick pile.
---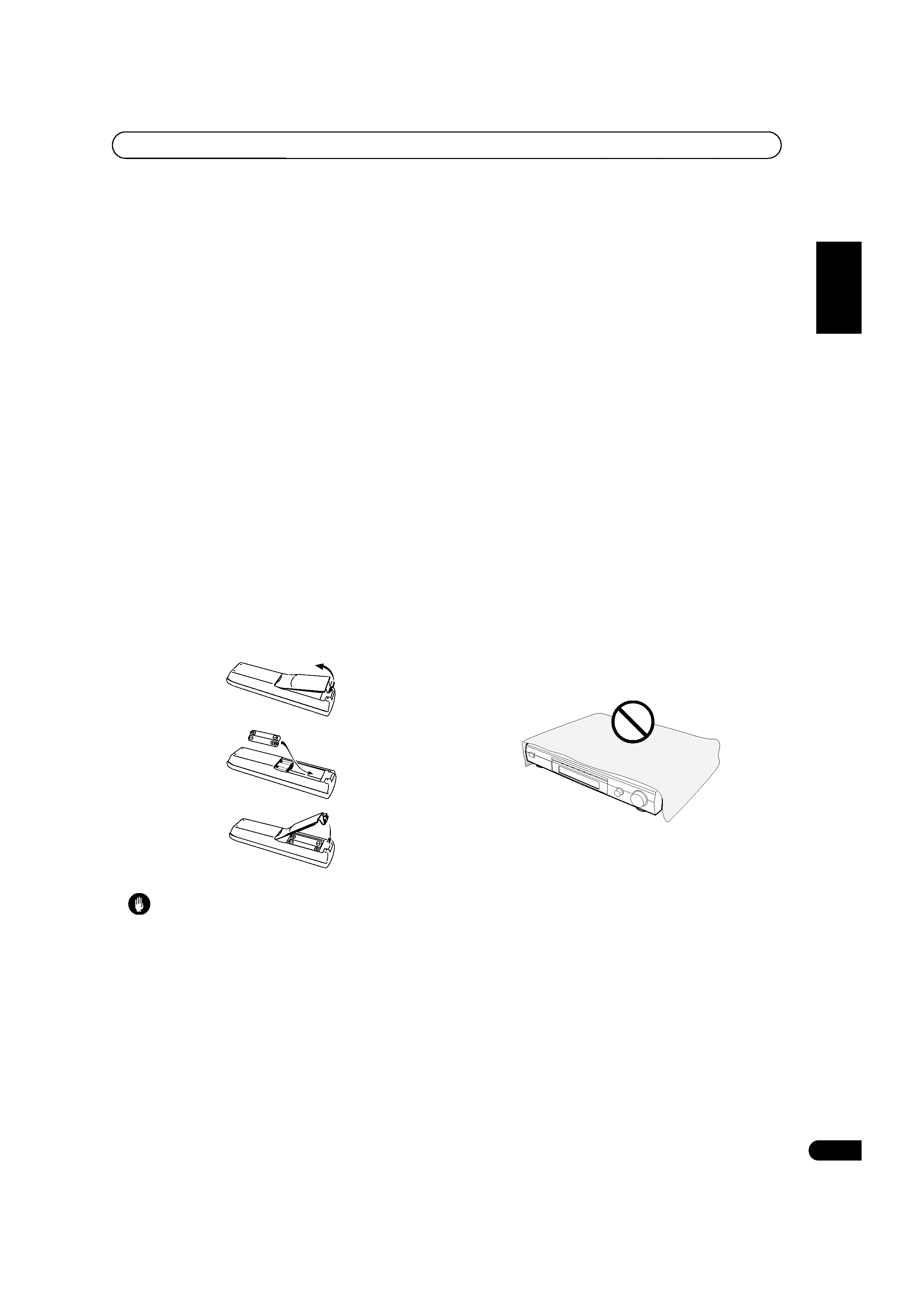 Checking the supplied accessories
Please check that you've received the following supplied
· Dry cell batteries (AA Size / IEC R6P) x2
The remote control operates on two AA batteries
· Incorrect use of batteries may result in such hazards
as leakage and bursting. Observe the following
· Never use new and old batteries together.
· Insert the plus and minus sides of the batteries
properly according to the marks in the battery case.
· Batteries of the same shape may have different
voltages. Do not use different batteries together.
· When disposing of used batteries, please comply
with governmental regulations or environmental
public institution's rules that apply in your country or
· When installing this unit, make sure to leave space
around the unit for ventilation to improve heat
dispersal (at least 20 cm at the top, 50 cm at the rear,
and 10 cm at each side). If not enough space is
provided between the unit and walls or other
equipment, heat will build up inside, interfering with
performance and/or causing malfunctions. See
below for exceptions to this.
· Don't place anything on top of the receiver except for
a Pioneer DV-565A, 464, 360, 454 or 350 DVD player.
If you do place one of these pieces of equipment on
top of the receiver be sure to leave the ventilation
space over it as prescribed above.
· If using a rack to hold the receiver make sure the
back of the rack and the left side are open.
· Also, if you're using a case with doors, leave the
doors open when using the receiver.
· Do not place on a thick carpet, bed, sofa or fabric
having a thick pile. Do not cover the receiver with
fabric or other covering. Anything that blocks
ventilation will cause the internal temperature to rise,
which may lead to breakdown or fire hazard.
· The receiver may become hot while in use, please
Maintenance of external surfaces
· Use a polishing cloth or dry cloth to wipe off dust and
· When the surfaces are dirty, wipe with a soft cloth
dipped in some neutral cleanser diluted five or six
times with water, and wrung out well, and then wipe
again with a dry cloth. Do not use furniture wax or
· Never use thinners, benzine, insecticide sprays or
other chemicals on or near this unit, since these will
---

Checking the supplied accessories
. . . . . . . . . . . . . . 3
. . . . . . . . . . . . . . . . . . . . . . . . . 3
. . . . . . . . . . . . . . . . . . . . . . . . . . . . . . . . . 3
Maintenance of external surfaces
. . . . . . . . . . . . . . . 3
. . . . . . . . . . . . . . . . . . . . . . . . . . . . . . . . 6
. . . . . . . . . . . . . . . . . . . . . . . . . . . . . . . . . 6
. . . . . . . . . . . . . . . . . . . . . . . . 6
Connecting your TV and DVD player
. . . . . . . . . . . . 7
Switching on and playing a DVD
. . . . . . . . . . . . . . . . 7
02 Introductory information
Introduction to home theater
. . . . . . . . . . . . . . . . . . . 8
. . . . . . . . . . . . . . . . . . . . . . . . . . . . . . . . . . . 8
03 Connecting your equipment
. . . . . . . . . . . . . . . . . . . . . . . . . . . . . . . . . 9
. . . . . . . . . . . . . . . . . . . . . . . . 10
. . . . . . . . . . . . . . . . . . . . . . . . 10
When making cable connections
. . . . . . . . . . . . . . . 10
. . . . . . . . . . . . . . . . . . . . . 11
. . . . . . . . . . . . . . . . . . . . . . . . . 12
Connecting a satellite/cable receiver or other set-top
. . . . . . . . . . . . . . . . . . . . . . . . . . . . . . . . . . . . . . 13
Connecting a VCR or DVD recorder
. . . . . . . . . . . . . 14
Connecting other video components
. . . . . . . . . . . . 15
Connecting equipment to the front panel inputs
Installing your speaker system
. . . . . . . . . . . . . . . . . 16
. . . . . . . . . . . . . . . . . . . . 17
. . . . . . . . . . . . . . . . . . . . . . . 17
. . . . . . . . . . . . . . . . . . . . . . . . 18
. . . . . . . . . . . . . . . . . . . . . . . . . . 18
. . . . . . . . . . . . . . . . . . . . . . . . . . 18
Connecting external antennas
. . . . . . . . . . . . . . . . 18
Using this receiver with a Pioneer plasma display
Operating other Pioneer components with this unit's
. . . . . . . . . . . . . . . . . . . . . . . . . . . . . . . . . . . 20
. . . . . . . . . . . . . . . . . . . . . . 20
. . . . . . . . . . . . . . . . . . . . . . . . . . . . . . . . 21
. . . . . . . . . . . . . . . . . . . . . . . . . . . . . . . . . . 22
. . . . . . . . . . . . . . . . . . . . . . . . . . . . 23
Operating range of the remote control
Automatically calibrating your listening area
. . . . . . . . . . . . . . . . . . . . . . . . . . . . . . . . . 25
. . . . . . . . . . . . . . . . . . . . 26
Other problems when using MCACC
Checking the settings on your DVD (or other)
. . . . . . . . . . . . . . . . . . . . . . . . . . . . . . . . . . . . 26
. . . . . . . . . . . . . . . . . . . . . . . . . . . . 27
Playing multichannel sources
. . . . . . . . . . . . . . . . . . 28
. . . . . . . . . . . . . . . . . . . . . . . 28
Listening with headphones
. . . . . . . . . . . . . . . . . . . . 29
Using the Advanced Surround effects
. . . . . . . . . . . . . . . . . . . . . . 29
. . . . . . . . . . . . . . . . . . . . . . . . . . . 29
Using the surround back channel
. . . . . . . . . . . . . . . 30
Listening with virtual surround back speakers
. . . . . . . . . . . . . . . . . . . . . . . . . . . . 31
. . . . . . . . . . . . . . . . . . . . . . . . 31
Tuning directly to a station
. . . . . . . . . . . . . . . . . . . . 31
. . . . . . . . . . . . . . . . . . . . . . . . . . . . . . . 31
Memorizing station presets
. . . . . . . . . . . . . . . . . . . 31
. . . . . . . . . . . . . . . . . . . . . 32
Listening to memorized station presets
. . . . . . . . . . . . . . . . . . . . . 32
Displaying RDS information
. . . . . . . . . . . . . . . . . . 33
Searching for RDS programs
. . . . . . . . . . . . . . . . . 33
Enhanced Other Network (EON)
. . . . . . . . . . . . . . . . 34
Program identification function
. . . . . . . . . . . . . . . 34
Selecting the input signal type
. . . . . . . . . . . . . . . . . 35
. . . . . . . . . . . . . . . . . . . . . . . . 35
Using the SR+ mode with a Pioneer plasma
. . . . . . . . . . . . . . . . . . . . . . . . . . . . . . . . . . . 36
. . . . . . . . . . . . . . . . . . . . . . . . 36
Default receiver settings
. . . . . . . . . . . . . . . . . . . . . 37
Making receiver settings from the System Setup
. . . . . . . . . . . . . . . . . . . . . . . . . . . . . . . . . . . . 38
. . . . . . . . . . . . . . . . . . . . . . . . 38
SR+ control for Pioneer plasma displays
Setting individual channel levels
. . . . . . . . . . . . . . 41
10 Controlling other equipment
Using the remote control with other components
. . . . . . . . . . . . . . . . . . . . . . 43
. . . . . . . . . . . . . . . . . . . . . 43
. . . . . . . . . . . . . . . . . . . . . . . . . . . . . 44
. . . . . . . . . . . . . . . . . . . . . . . . 44
Resetting all remote control settings
VCR / DVD / LD player and DVD recorder
. . . . . . . . . . . . . . . . . . . . . . . . . . . . . . . . . 45
Cable TV / satellite TV / digital TV / TV controls
. . . . . . . . . . . . . . . . . . . . . . . . . . . . . 47
---

11 Additional information
. . . . . . . . . . . . . . . . . . . . . . . . . . . . 48
. . . . . . . . . . . . . . . . . . . . . 51
. . . . . . . . . . . . . . . . . . . . . . . . . . . . . 51
Dolby Digital Surround EX
. . . . . . . . . . . . . . . . . . . 51
Dolby Pro Logic II and Dolby Surround
. . . . . . . . . . . . . . . . . . . . . . 51
. . . . . . . . . . . . . . . . . . . . . . . . . . . . . . . . . 52
. . . . . . . . . . . . . . . . . . . . . . . . . . . . . . . 52
. . . . . . . . . . . . . . . . . . . . . . . . . . . . . . . 52
PCM (Pulse Code Modulation)
. . . . . . . . . . . . . . . 52
. . . . . . . . . . . . . . . . . . . . . . . . . . . . . 52
---