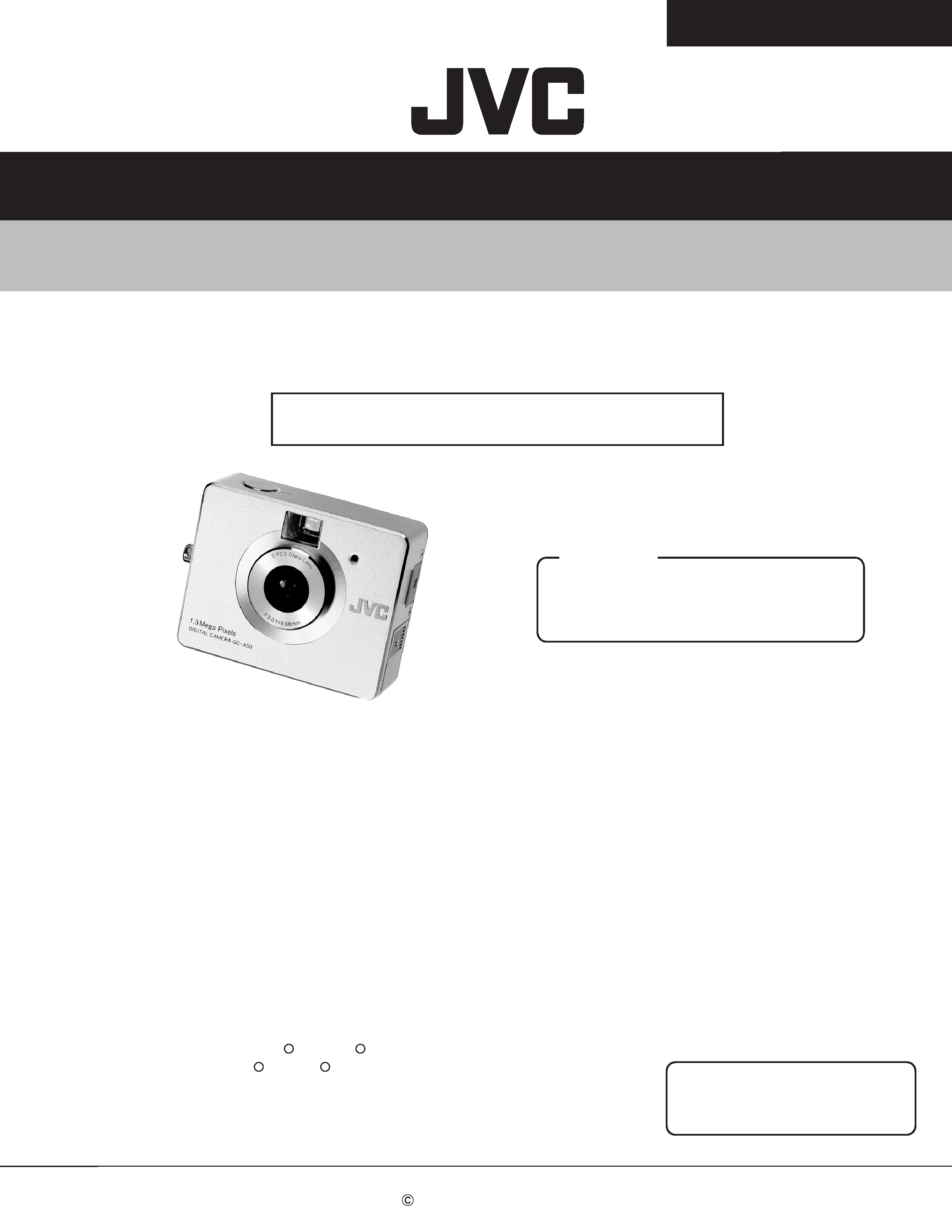 2002 VICTOR COMPANY OF JAPAN, LIMITED
GC-A50 (J)/(C)/(K)/(H)/(E)
GC-A50 (J)/(C)/(K)/(H)/(E)
The " Product Exchange System" is applicable to this product.
For limited spare parts, refer to the parts list.
CMOS Image sensor (1359,232 total pixels,1310,720 effective pixels)
1280 x 1024, 640 x 480 pixels
*Number of storable photos
20 Images (1280 x 1024 Fine) 40 Images (1280 x 1024 Normal)
70 Images (640 x 480 Fine) 140 Images (640 x 480 Normal)
Video Clip : Motion JPEG (AVI)
15 frame/sec QVGA 320 x 240
30 frame/sec VGA 640 X 480
60 sec. after no operation (Discable when using USB)
Alkaline battery (AA x 1)
Approx 42 g (1.5 oz) without battery
60mm (W) x 48mm (H) x 20mm (D)
(2-3/8" x 1-15/16" x 13/16)
design and specifications
subject to change without notice.
98/98SE/Me/2000/XP (Pre-installed model)
Processor 166MHz or higher
*250 MB of available hard disk space
*Color display : 800 X600 or better
Specifications --------------------------- Front cover
Disassembly method ------------------ 2
Packing method and parts list ------ 3
---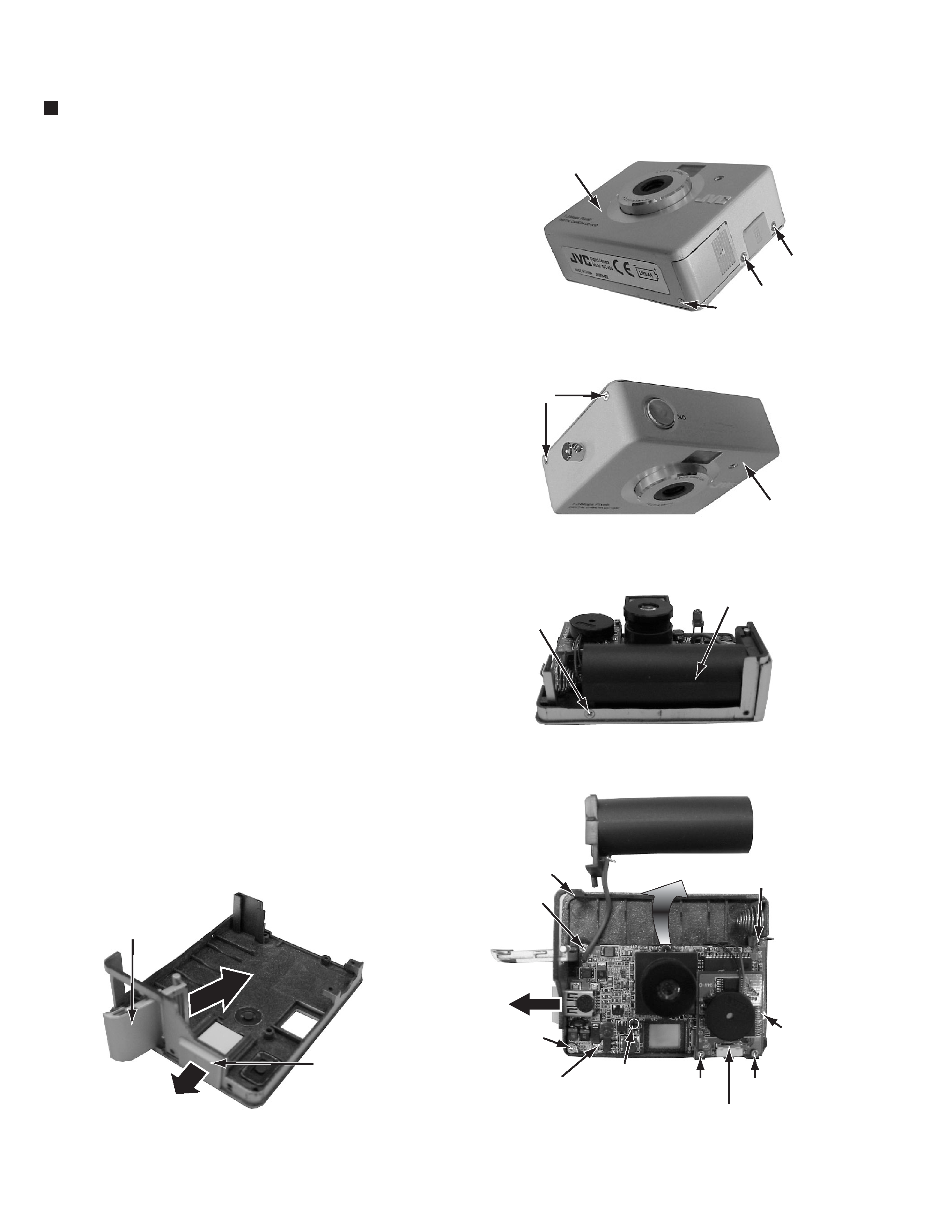 GC-A50 (J)/(C)/(K)/(H)/(E)
Removing the battery cover and USB port cover
Remove the five screws A attaching the front case. (Fig.1,2)
Remove the one screw B attaching the battery case. (Fig.3)
Remove the five screws C attaching the main board. (Fig.4)
Remove the two screws D attaching the shutter switch
Open the rear case slightly in the direction that the arrow
shows,and slide the main board to the bottom with raising
the main board a little.And the main board will be removed.
Remove the battery cover. (Fig.5)
Remove the USB port cover. (Fig.5)
---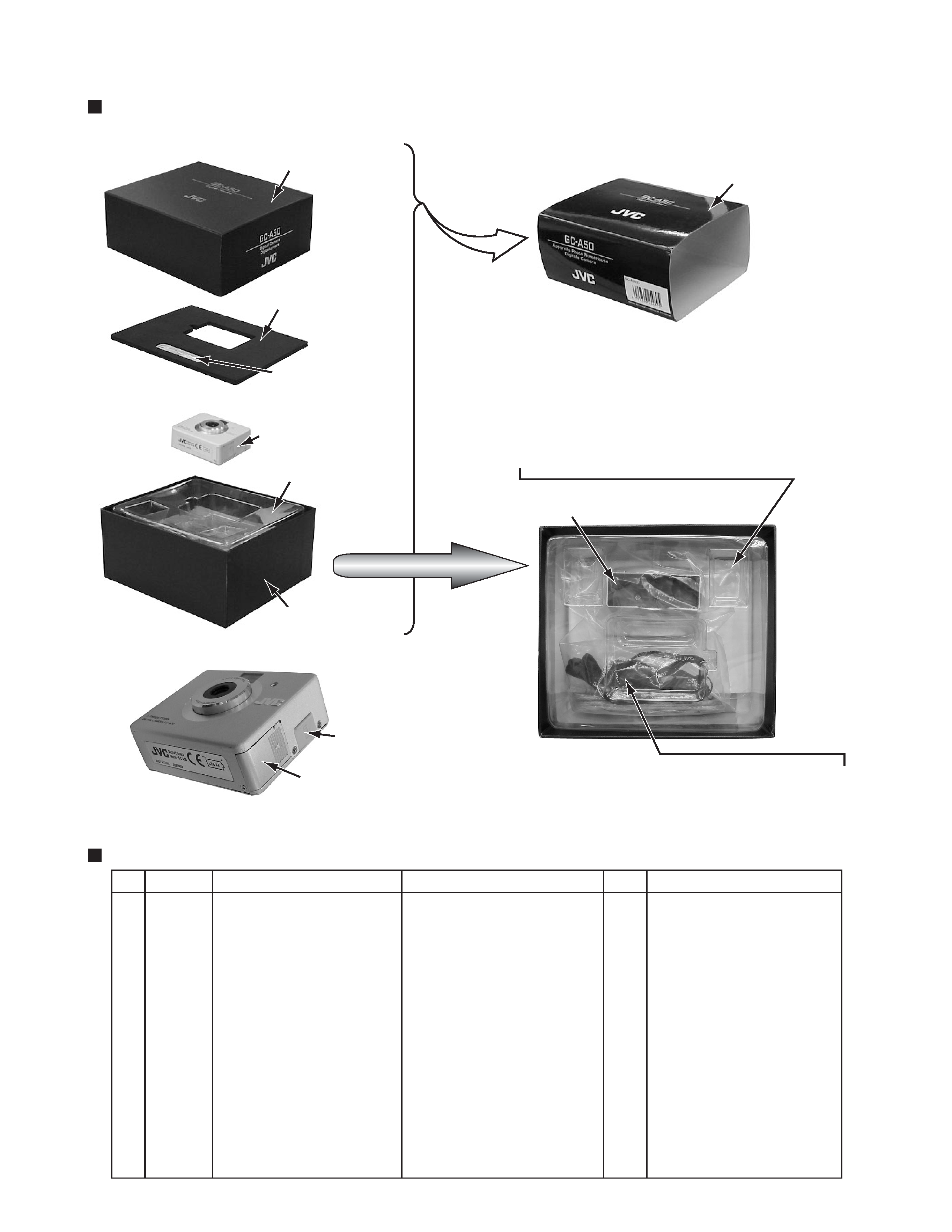 GC-A50 (J)/(C)/(K)/(H)/(E)
Packing method and parts list
(4) Camera stand : J33962-001
(3) USB Cable : J33954-001
(5) Neck strap : J33959-001
(6) Hand strap : J33960-001
(9) Quick start guide : J33964-001,002,003,004
(10) Caution sheet : J33965-001
(11) Warranty card (U.S.A) : BT-51007-6C
(12) Warranty card (Canada) : BT-52006-1C
(13) Service center list (Canada) : BT-20071B-C
(14) WindowsXP sheet : J47149-001,002
These parts which was marked " * "(Upper
box/Cushion/Blister/Lower box/Sleeve) will
not be able to supply as our service parts.
Service center list (Canada)
Parts list (General assembly and accessories)
---

GC-A50 (J)/(C)/(K)/(H)/(E)
VICTOR COMPANY OF JAPAN, LIMITED
COMMUNICATION NETWORK BUSINESS UNIT
AV & MULTIMEDIA COMPANY 1644, Shimotsuruma, Yamato, Kanagawa 242-8514, Japan
---