Selecting reception optimisation
Selecting the operating mode
Switching on radio menu mode
Setting procedures for transmitter selection
Dynamic autostore (FM DAS)
AM, LW, SW station search
Direct frequency entry for FM
Direct frequency entry for AM, LW, SW
Programme type selection (PTY)
Switching PTY display on / off
Requesting/storing stations on FM STT
Requesting/storing AM, LW, SW stations
Switching regionalisation on / off
Switching frequency display on / off
Switching radio text display on / off
Deactivating the programme filter
Activating/quitting the TP menu
Setting automatic tracking
Setting/deleting direct programming
Mute function - switch on/off
Interrupting TP announcements
Cassettes - insert / eject
Englisch.bk : Inhalt.fm5 Seite 49 Dienstag, Januar 9, 2001 9:42 AM
---

Radio operation during forward / rewind
Music search - forwards / backwards
Cleaning the cassette mechanism
Compact disc (CD) instructions
Insert / ejecting CDs/MDs
Skipping tracks - forwards / backwards
Number of tracks and total playing time
Replaying a track (repeat)
Temperature protection circuit
Operational readiness of CD/MD changer
CD magazine - load / unload
Requesting/quitting user menu
Setting the search mode (SEK)
Telephone mute characteristics (TEL)
Setting right-hand or left-hand drive (DRV)
(COL) display colour setting (not for 4625)
Favourite station settings (FAV)
Display setting (LCD) (not for 4625)
Removal / Installation Guide
DOLBY and the double D-ymbol
are trademarks of Dolby Laboratories Li-
Dolby noise reduction system manufactured under license from Dolby Labora-
tories Licensing Corporation.
Englisch.bk : Inhalt.fm5 Seite 50 Dienstag, Januar 9, 2001 9:42 AM
---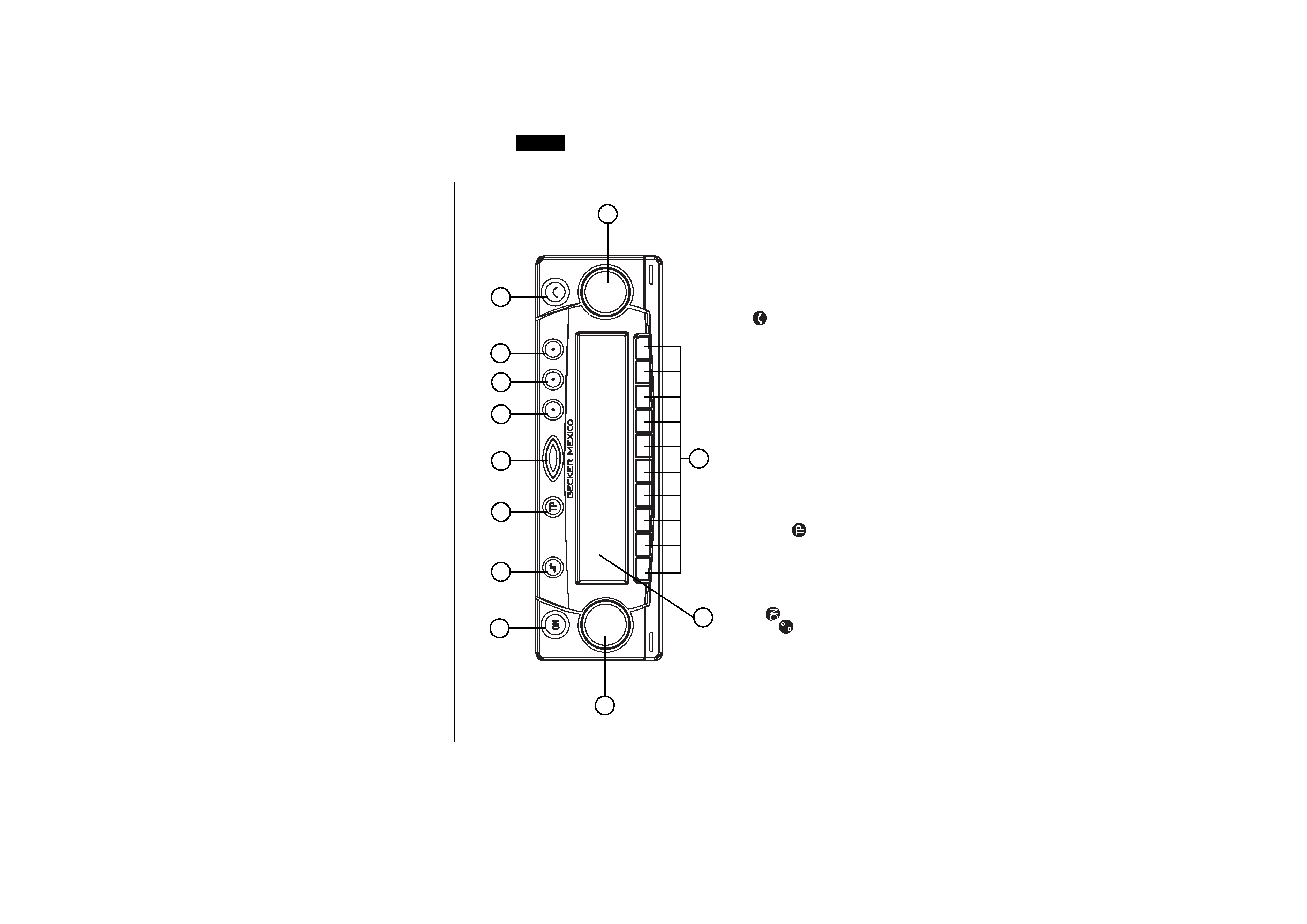 4 Road traffic announcement button (
Englisch.bk : tasten.fm5 Seite 51 Dienstag, Januar 9, 2001 9:42 AM
---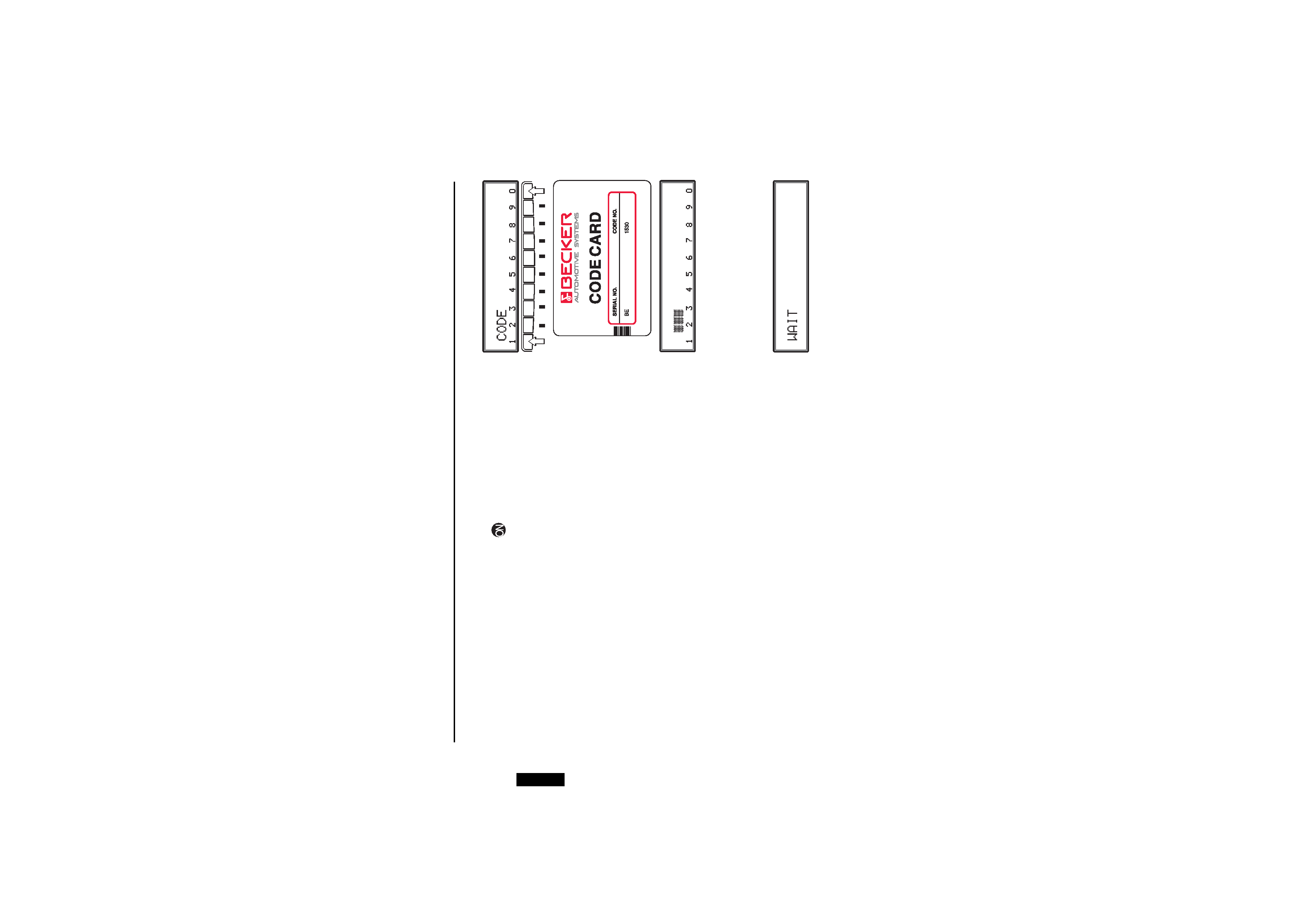 If the car radio is disconnected from the power supply, it is theft-protected upon
reconnection. After switching on at the
button, the prompt
CODE,
followed
by 4 squares is displayed.
The four-digit code must then be entered using the multifunction buttons "1-0".
Example: Code number 1530 (the code number can be found on the enclosed
Enter code number using the multifunction buttons.
The first square is extinguished after entry of the first digit. The second square
is extinguished after entry of the second digit, etc. The unit switches on
automatically after entry of the 4th digit, if this and all other digits have been
It is essential that the CODE CARD be kept in a safe place outside
the vehicle. Thus, illegal use is not possible. The accompanying
sticker should be attached to the inside of the vehicle windscreen/
If an incorrect code number is entered, the prompt CODE with the four stars is
displayed again. After entering incorrect code three times WAIT is displayed
and the unit is disabled for approx. 60 minutes. Three further incorrect entries
block the unit again for 60 minutes.
Important: The waiting time functions only with the unit switched on.
Englisch.bk : dieb.fm5 Seite 52 Dienstag, Januar 9, 2001 9:42 AM
---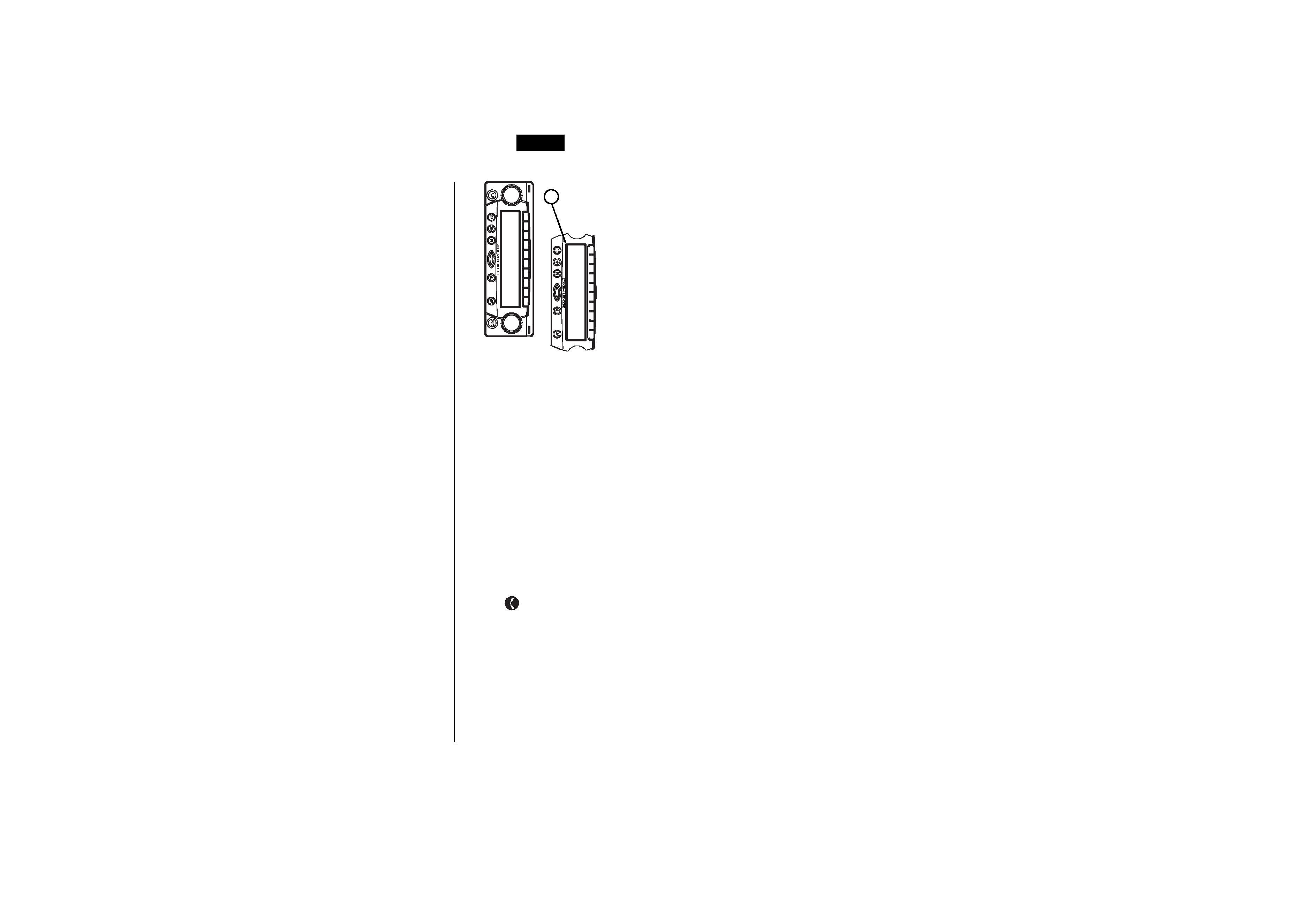 As effective anti-theft device, the portable panel (A) can be removed from the
(storage medium remains in the unit). The display
The portable component can then be pulled out.
The volume is limited to a maximum value after the display has been folded
down. After 20 seconds an audible signal indicates that the control component
is folded down. The unit is switched to mute. The unit switches off after an
For safety reasons, it is not permitted to leave the portable panel
Important: Please insert the portable panel in the accompanying protective
Do not touch the metal contacts on the portable panel or on the
Insert the portable panel so that it engages first in the lower left catch and then
in the lower right. Then press the portable panel into the upper catches.
Or position portable panel directly over all four catches and press in firmly to
For proper functioning, ensure that the portable panel is firmly engaged in all
If a new portable panel or one from another unit is utilised, the code number
must be entered, as previously described, in order to activate the unit.
Englisch.bk : dieb.fm5 Seite 53 Dienstag, Januar 9, 2001 9:42 AM
---