(WITH DOCUMENT IMAGING CAMERA)
(WITH DOCUMENT IMAGING CAMERA)
(WITH DOCUMENT IMAGING CAMERA)
(WITH DOCUMENT IMAGING CAMERA)
---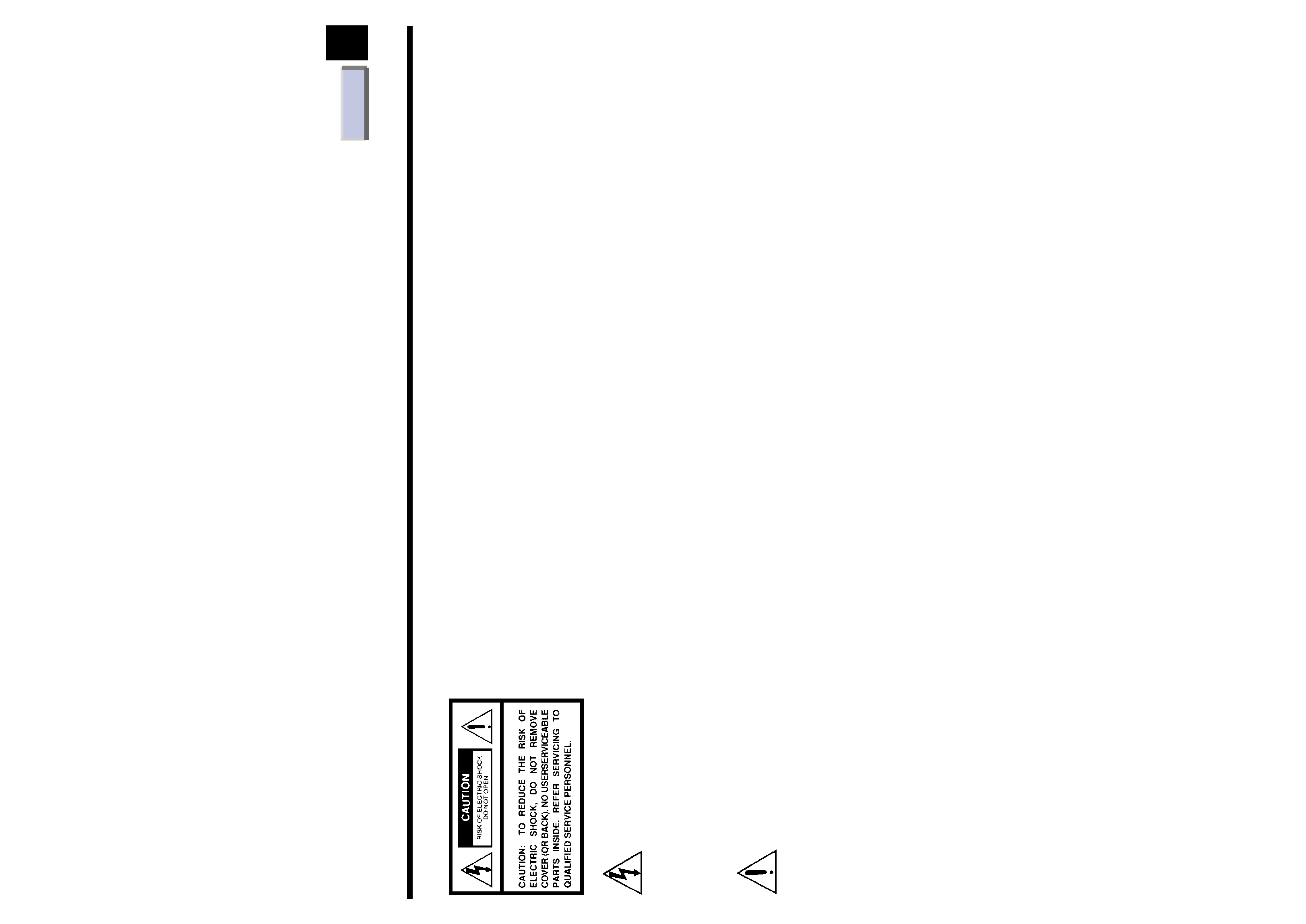 The lightning flash with arrowhead
symbol, within an equilateral triangle,
is intended to alert the user to the
presence of uninsulated "dangerous
voltage" within the product's
enclosure that may be of sufficient
magnitude to constitute a risk of
electric shock to persons.
The exclamation point within an
equilateral triangle is intended to
alert the user to the presence of
maintenance (servicing) instructions
in the literature accompanying the
WARNING: TO REDUCE THE RISK OF FIRE OR ELECTRIC SHOCK, DO NOT EXPOSE THIS
APPLIANCE TO RAIN OR MOISTURE. DANGEROUS HIGH VOLTAGES ARE
PRESENT INSIDE THE ENCLOSURE. DO NOT OPEN THE CABINET. REFER
SERVICING TO QUALIFIED PERSONNEL ONLY.
CAUTION: Laser beam is emitted when the laser button of the remote control is pressed. Do not
look from the front of the remote control. Do not face toward a person or to a mirror.
---

Save Original Packing Materials
The original shipping carton and packing materials will come in
handy if you ever have to ship your LCD projector. For maximum
protection, repack the set as it was originally packed at the factory.
Do not use volatile liquids, such as an insect spray, near the unit.
Do not leave rubber or plastic products touching the unit for a long
time. They will mar the finish.
Never operate this unit immediately after moving it from a cold
location to a warm location. When the unit is exposed to such a
change in temperature, moisture may condense on the crucial
internal parts. To prevent the unit from possible damage, do not use
the unit for at least 2 hours when there is an extreme or sudden
In the spaces provided below, record the Model and Serial No. located
at the rear of your LCD projector.
Retain this information for future reference.
---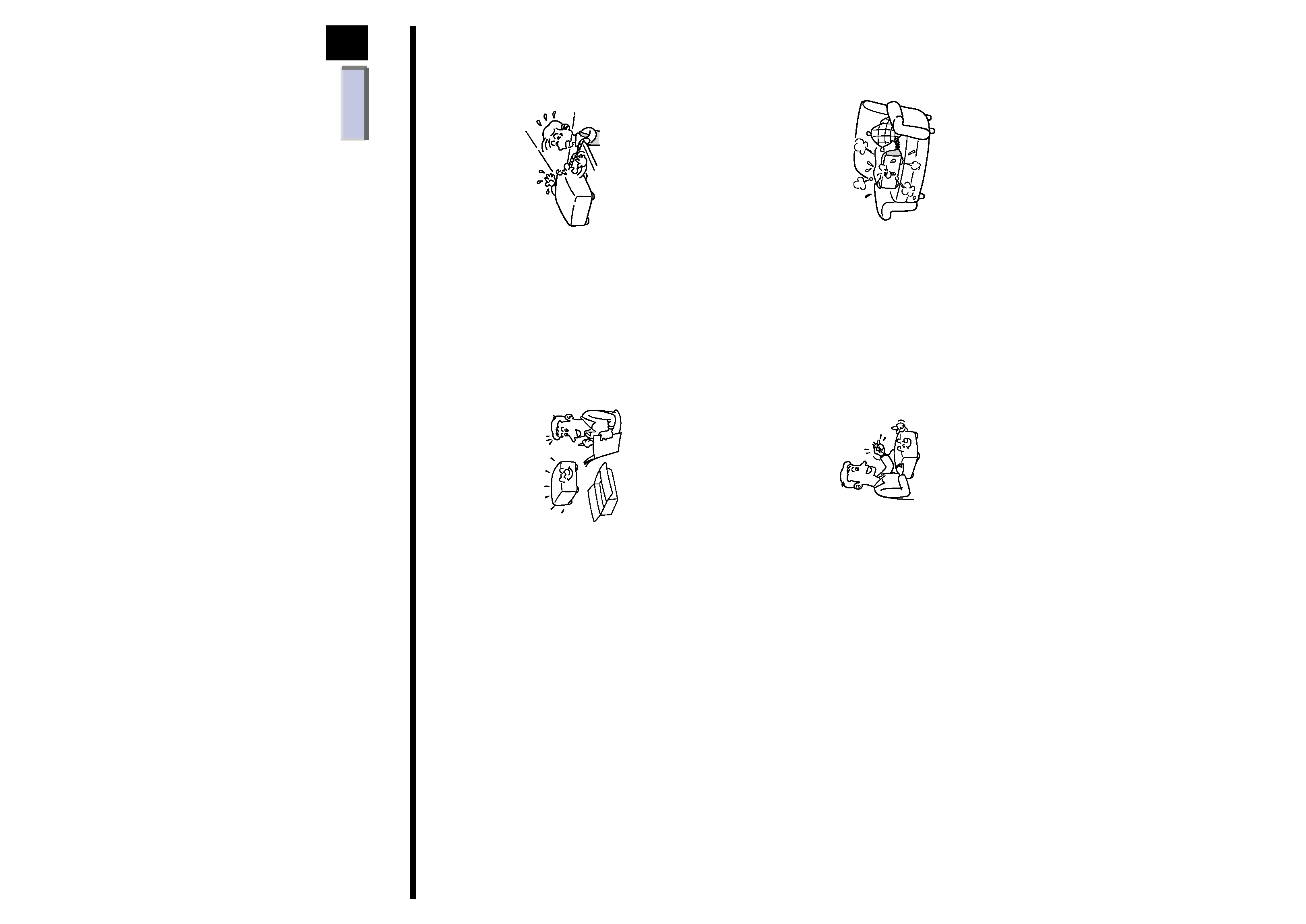 IMPORTANT SAFETY INSTRUCTIONS
CAUTION: PLEASE READ AND OBSERVE
INSTRUCTIONS GIVEN IN THIS
MARKED ON THE UNIT. RETAIN
This set has been designed and manufactured
to assure personal safety. Improper use can
result in electric shock or fire hazard. The
safeguards incorporated in this unit will protect
you if you observe the following procedures for
installation, use and servicing. This unit is fully
transistorized and does not contain any parts
that can be repaired by the user.
DO NOT REMOVE THE CABINET COVER, OR
YOU MAY BE EXPOSED TO DANGEROUS
VOLTAGE. REFER SERVICING TO
QUALIFIED SERVICE PERSONNEL ONLY.
After unpacking this product, read the
owner's manual carefully, and follow all the
operating and other instructions.
This product should be operated only from
the type of power source indicated on the
marking label. If you are not sure of the type
of power supply to your home, consult your
product dealer or local power company.
For products intended to operate from
battery power, or other sources, refer to the
Do not look into the lens while the lamp is
on. The strong light from the lamp may
cause damage to your eyes or sight.
Openings in the cabinet are provided for
ventilation and to ensure reliable operation
of the product and to protect it from
overheating, and these openings must not
be blocked or covered. The openings
should never be blocked by placing the
product on a bed, sofa, rug or other similar
surface. This product should not be placed
in a built-in installation such as a bookcase
or rack unless proper ventilation is provided
or the manufacturer's instructions have
---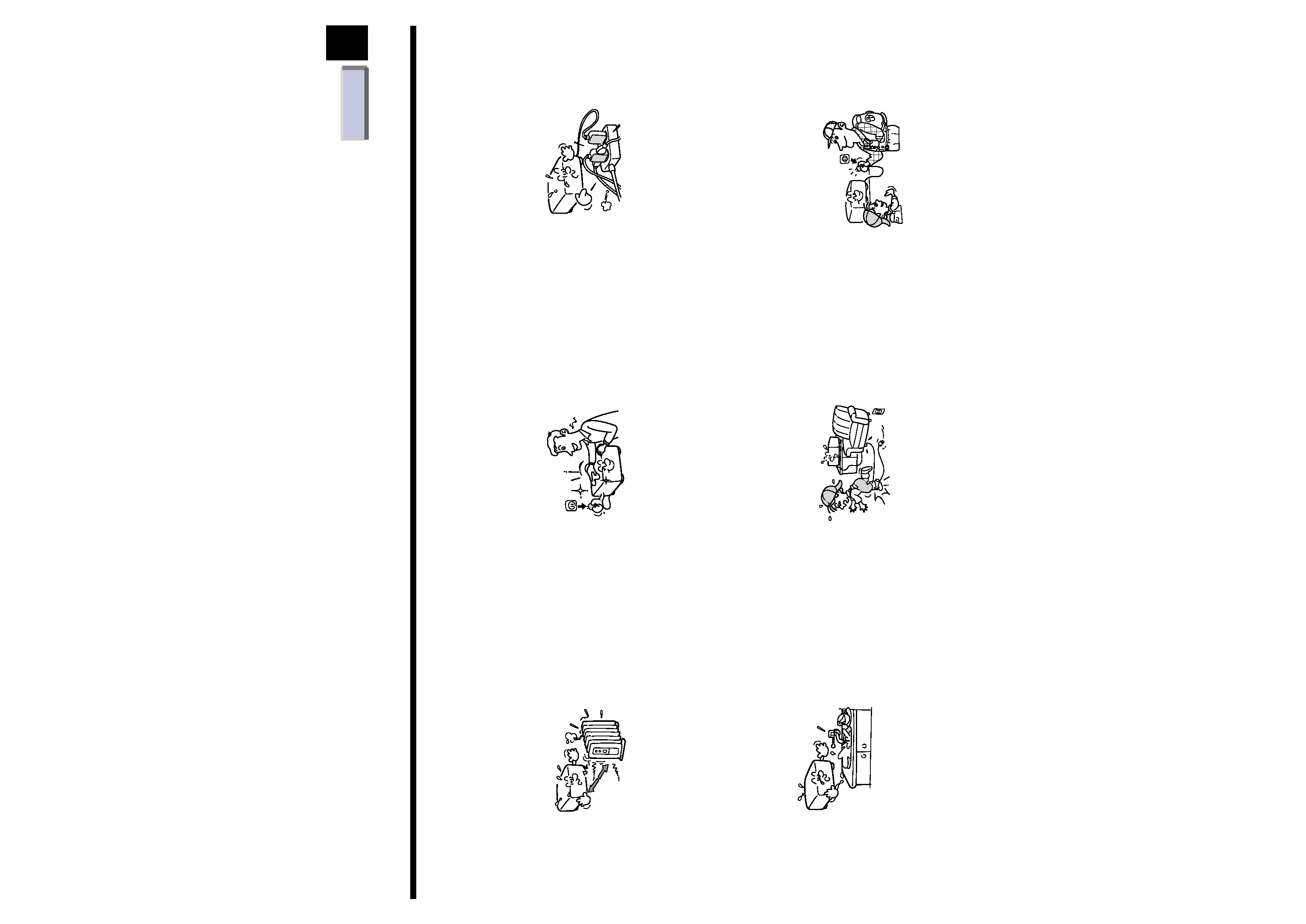 The product should be situated away from
heat sources such as radiators, heat
registers, stoves, or other products
(including amplifiers) that produce heat.
IMPORTANT SAFETY INSTRUCTIONS
Do not use this product near water ­ for
example, near a bath tub, wash bowl,
kitchen sink, or laundry tub; in a wet
basement; or near a swimming pool and the
Unplug this product from the wall outlet
before cleaning. Do not use liquid cleaners
or aerosol cleaners. Use a damp cloth for
Power-supply cords should be routed so
that they are not likely to be walked on or
pinched by items placed upon or against
them, paying particular attention to cords at
plugs, convenience receptacles, and the
point where they exit from the product.
Do not overload wall outlets; extension
cords, or integral convenience receptacles
as this can result in a risk of fire or electric
For added protection for this product during
storm, or when it is left unattended and
unused for long periods of time, unplug it
This will prevent damage to the product due
to lightning and power-line surges.
---