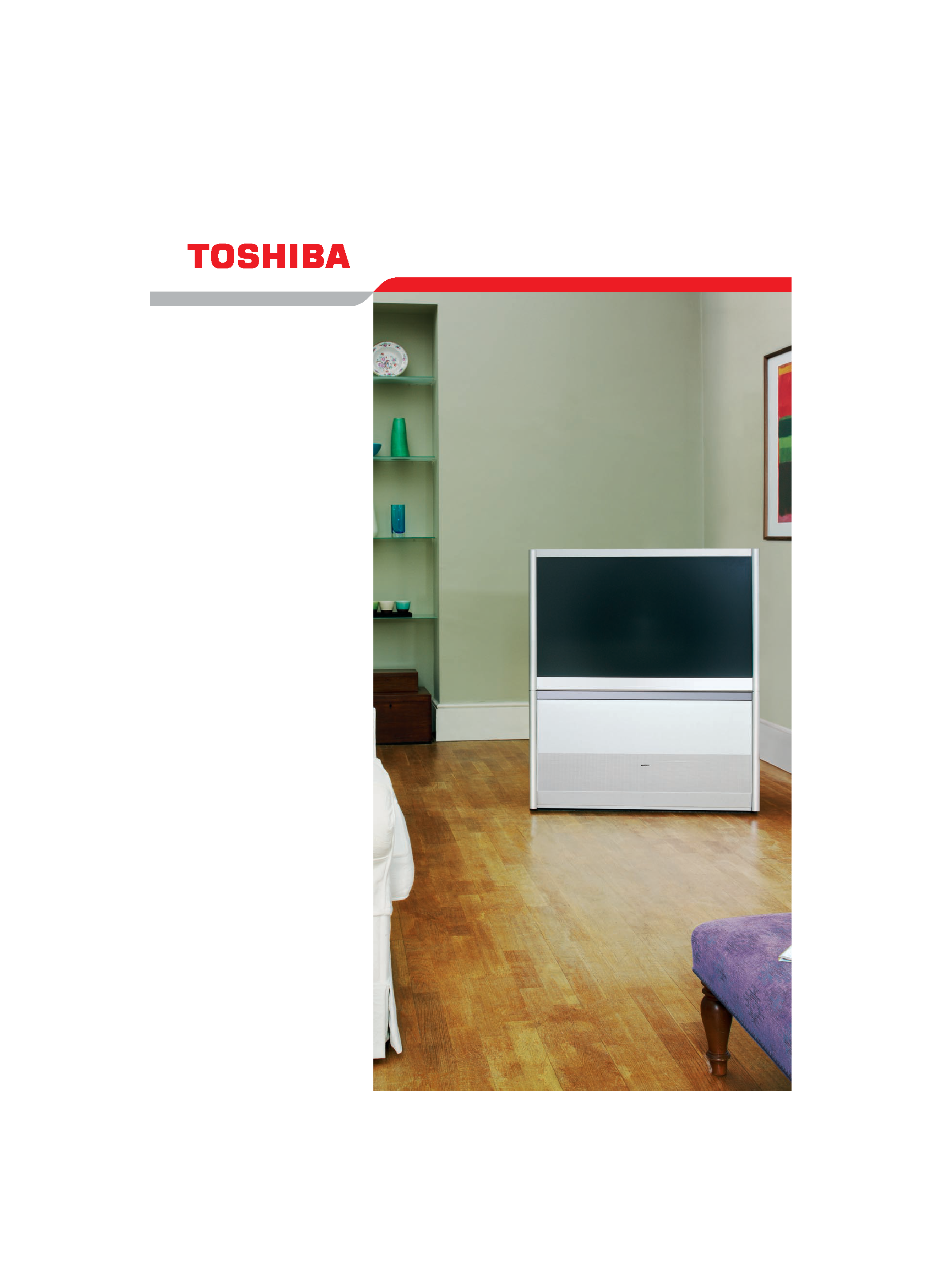 OwnerManual 51/42WH46 28/32Z's
--- ­ Some do's and don'ts for you to be aware of
Installation and important information
Connecting external equipment
­ a guide to connecting equipment to the back of the television
­ switching on the television, standby, using the controls, headphone socket,
connecting equipment to the front/side of the television
Selecting the language, country and system
­ an alternative to Auto tune, tuning a programme position for a VCR,
­ changing programme position
­ volume, sound mute, bass boost, super woofer, bass/treble/balance
Stereo and bilingual transmissions
­ stereo or dual language broadcasts
­ picture preferences (contrast, brightness, colour, tint, sharpness),
noise reduction (NR), black stretch, colour temperature
­ convergence, picture position, automatic format (Widescreen), still picture
The timer and time display
­ setting the television to turn on and off, time display
Panel lock and blue screen
­ disabling the buttons on the television, blue screen
Input selection and AV connections
­ input and output sockets for connected equipment
Setting up, general information, Auto. and LIST modes
­ answers to some of the more common queries including colour system
Specifications and accessories
­ technical information about the television, supplied accessories
---

This equipment has been designed and manufactured to meet international safety standards but, like any
electrical equipment, care must be taken to obtain the best results and for safety to be assured. Please read
the points below for your own safety. They are of a general nature, intended to help with all electronic
consumer products and some points may not apply to the goods you have just purchased.
DON'T remove any fixed cover as this may expose
DON'T obstruct the ventilation openings of the
equipment with items such as newspapers,
tablecloths, curtains, etc. Overheating will cause
damage and shorten the life of the equipment.
DON'T allow electrical equipment to be exposed to
dripping or splashing or objects filled with liquids,
such as vases, to be placed on the equipment.
DON'T place hot objects or naked flame sources,
such as lighted candles or nightlights on, or close to
equipment. High temperatures can melt plastic and
DON'T use makeshift stands and NEVER fix legs
with wood screws. To ensure complete safety,
always fit the manufacturers' approved stand or
legs with the fixings provided according to the
DON'T listen to headphones at high volume, as
such use can permanently damage your hearing.
DON'T leave equipment switched on when it is
unattended, unless it is specifically stated that it is
designed for unattended operation or has a
standby mode. Switch off using the switch on the
equipment and make sure your family know how to
do this. Special arrangements may need to be
made for infirm or handicapped people.
DON'T continue to operate the equipment if you
are in any doubt about it working normally, or it is
damaged in any way ­ switch off, withdraw the
mains plug and consult your dealer.
­ NEVER let anyone, especially
children, push anything into holes, slots or any
other openings in the case ­ this could result
in a fatal electric shock.
NEVER guess or take chances with electrical
equipment of any kind ­ it is better to be safe
TO FULLY DISCONNECT THE TELEVISION,
SWITCH OFF THE MAINS SOCKET AND
Leave at least 10cm clearance around the television
to allow adequate ventilation. This will prevent
overheating and possible damage to the television.
Dusty places should also be avoided.
Damage may occur if the television is left in direct
sunlight or near a heater. Avoid places subject to
extremely high temperatures or humidity, or locations
where the temperature is likely to fall below 5°C (41°F).
The mains supply required for this equipment is
230v AC 50Hz. Never connect to a DC supply or
any other power source. DO ensure that the
television is not standing on the mains lead. DO
NOT cut off the mains plug from this equipment,
this incorporates a special Radio Interference Filter,
the removal of which will impair its performance. In
the UK, the fuse fitted in this plug is approved by
ASTA or BSI to BS1362. It should only be replaced
by a correctly rated and approved type and the
fuse cover must be refitted.
IF IN DOUBT PLEASE CONSULT A COMPETENT
DO read the operating instructions before you
attempt to use the equipment.
DO ensure that all electrical connections (including
the mains plug, extension leads and inter-
connections between pieces of equipment) are
properly made and in accordance with the
manufacturers' instructions. Switch off and withdraw
the mains plug before making or changing
DO consult your dealer if you are ever in doubt
about the installation, operation or safety of your
DO be careful with glass panels or doors
---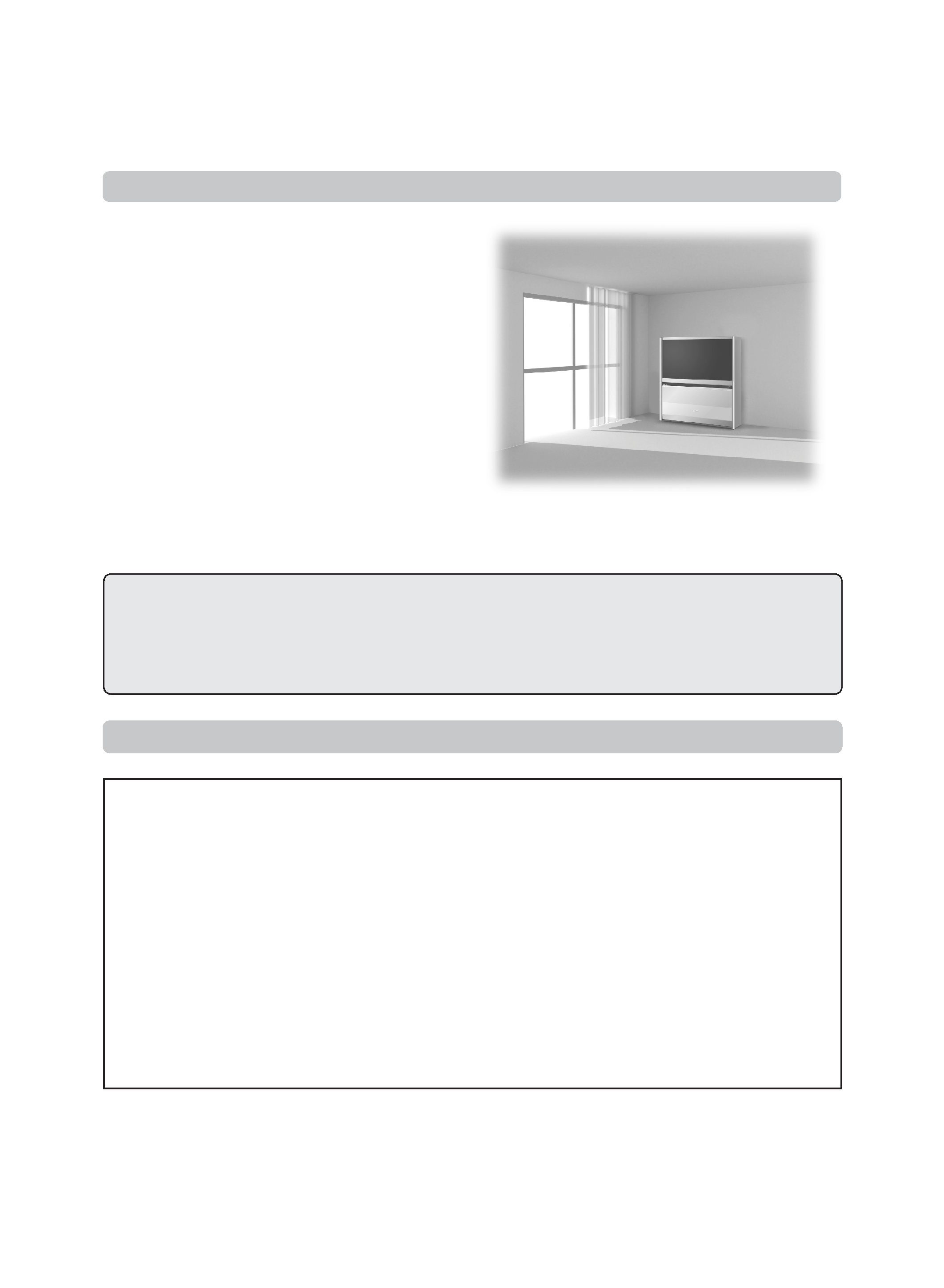 If stationary images generated by teletext, channel identification logos, computer displays, video games, on screen menus, etc. are
left on the television screen for any length of time they could become conspicuous, it is always advisable to reduce both the
brightness and contrast settings.
Installation and important information
Locate the television away from direct sunlight and strong lights,
soft, indirect lighting is recommended for comfortable viewing.
Place the television directly on the floor or a sturdy platform. The
mounting surface should be flat and steady, it should then be
secured to the wall with a sturdy tie using the hook on the back
of the television, this will prevent it from falling over.
If you install the television onto a soft floor covering, make sure
that the covering will not be damaged by the weight of the
television. Always take great care when moving this television as
it could mark polished floor surfaces or damage floor
coverings.Use curtains or blinds to prevent direct sunlight falling
Make sure the television is located in a position where it cannot
be pushed or hit by objects and that small items cannot be
inserted into slots or openings in the case.
Toshiba shall under no circumstances be liable for loss and/or damage to the product caused by:
iv) intentional misuse of the product;
v) use of the product in improper conditions;
vi) loss and/or damge caused to the product whilst in the possession of a third party;
vii) any damage or loss caused as a result of the owner's failure and/or neglect to follow the instructions set out in the owner's
viii) any loss or damage caused directly as a result of misuse or malfunction of the product when used simultaneously with
Furthermore, under no circumstances shall Toshiba be liable for any consequential loss and/or damage including but not limited
to the following, loss of profit, interruption of business, the loss of recorded data whether caused during normal operation or
Cleaning the screen and cabinet...
Turn off the power, clean the screen and cabinet with a soft, dry cloth. We recommend that you do not use any proprietary polishes or
solvents on the screen or cabinet as this may cause damage.
When the television reaches the end of its useful life please dispose of it in accordance with Local Government Regulations or at a recycling
---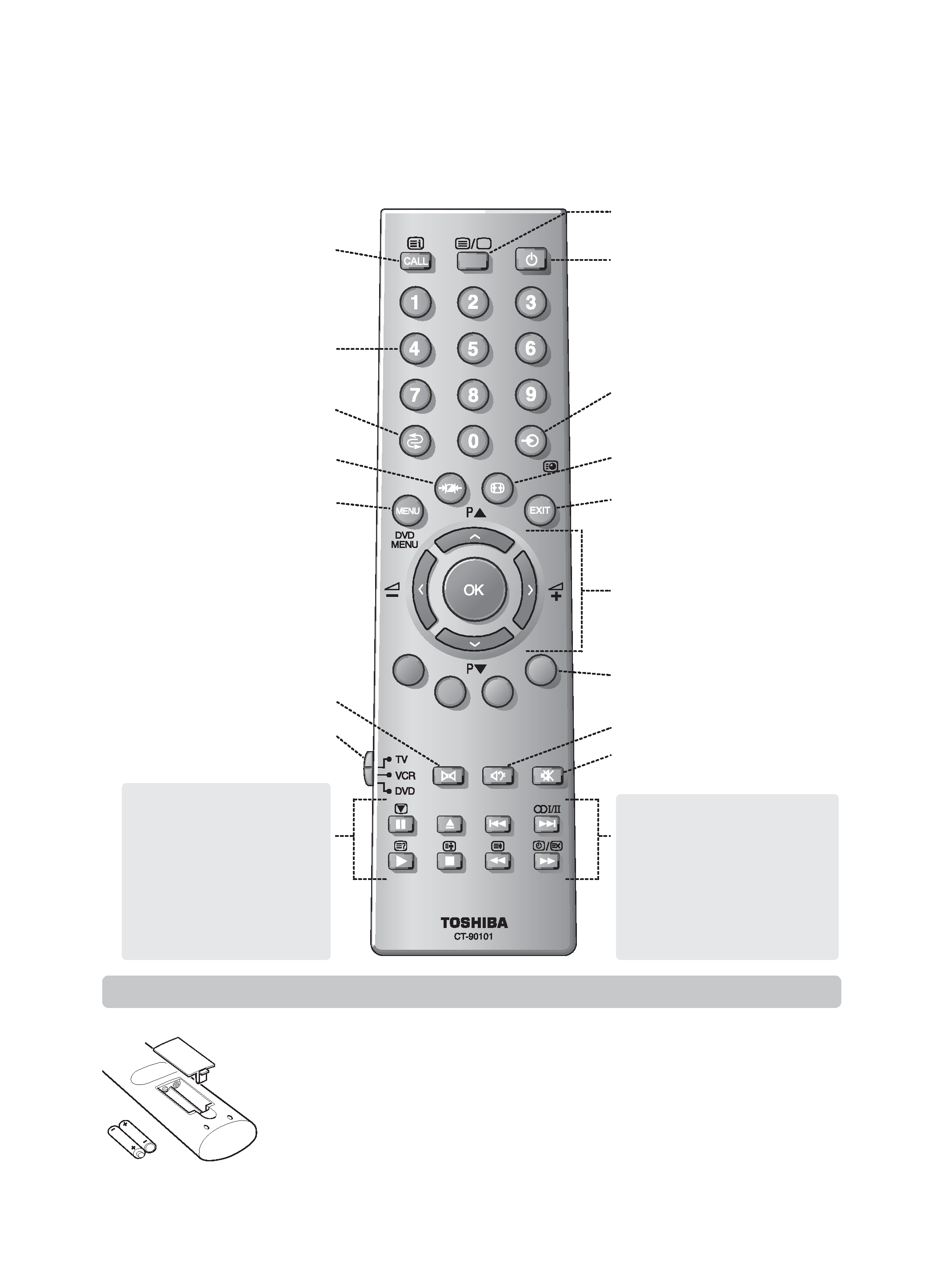 Simple at-a-glance reference of your remote control.
No function on this model
To bring up on-screen information and
for the teletext initial/index function
To select input from external sources
To access sub-pages when in teletext
Selectable picture preferences
To return to the previous programme
When using a TOSHIBA VCR or DVD:
To change programme positions and
When using menus the arrows move the
cursor on the screen up, down, left or
right. OK to confirm your selection
O
I/II
Stereo/bilingual reception
To enlarge teletext display size
8
/
9
To select a page whilst viewing a
Remove the back cover to reveal the battery compartment and make sure the batteries are inserted
Suitable battery types for this remote are UM-4, AAA, IEC R03 1.5V.
Do not combine a used, old battery with a new one or mix battery types. Dispose of them in a
designated disposal area.
The performance of the remote control will deteriorate beyond a distance of five metres or outside an
angle of 30 degrees from the centre of the television.
Inserting batteries and effective range of the remote
---