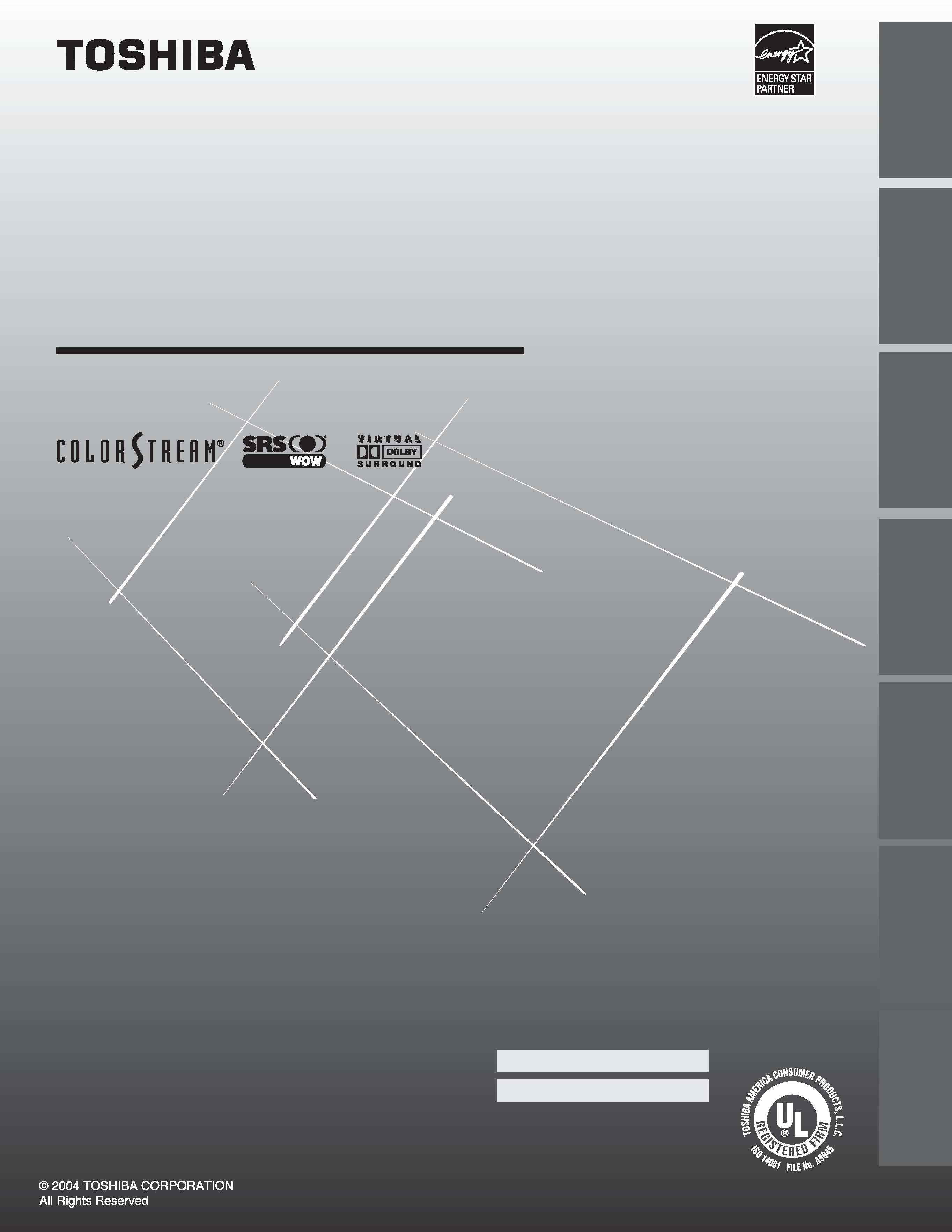 The model number and serial number are on the back
of your TV. Record these numbers in the spaces below.
Refer to these numbers whenever you communicate
with your Toshiba dealer about this TV.
---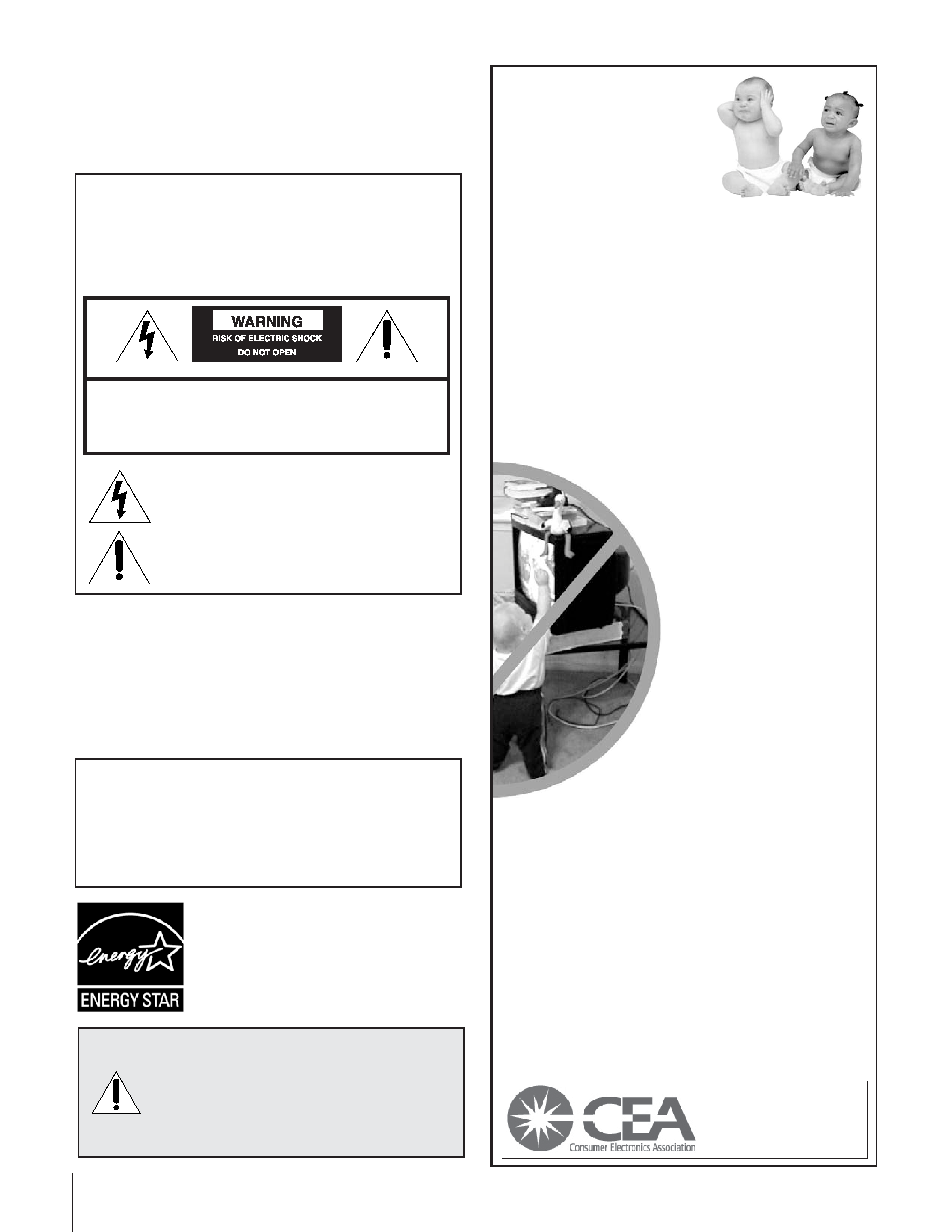 Congratulations on your purchase! As you enjoy
your new TV, keep these safety tips in mind:
If you are like most consumers, you have a TV in your home.
Many homes, in fact, have more than one TV.
The home theater entertainment experience is a growing
trend, and larger TVs are popular purchases; however, they
are not always supported on the proper TV stands.
Sometimes TVs are improperly secured or inappropriately
situated on dressers, bookcases, shelves, desks, audio
speakers, chests, or carts. As a result, TVs may fall over,
causing unnecessary injury.
The consumer electronics industry
is committed to making home
entertainment enjoyable and safe.
Association formed the Home
Entertainment Support Safety
Committee, comprised of TV and
consumer electronics furniture
manufacturers, to advocate
children's safety and educate
consumers and their families about
One size does NOT fit all! Use appropriate
furniture large enough to support the weight of your
TV (and other electronic components).
Use appropriate angle braces, straps, and anchors to secure
your furniture to the wall (but never screw anything directly
Carefully read and understand the other enclosed
instructions for proper use of this product.
Do not allow children to climb on or play with furniture
Avoid placing any item on top of your TV (such as a VCR,
remote control, or toy) that a curious child may reach for.
Remember that children can become excited while watching
a program and can potentially push or pull a TV over.
Share our safety message about this hidden hazard of the
home with your family and friends. Thank you!
Arlington, VA 22201 U.S.A.
Tel. 703-907-7600 Fax 703-907-7690
CEA is the Sponsor, Producer and
Manager of the International CES
®
TO REDUCE THE RISK OF FIRE OR ELECTRIC SHOCK,
DO NOT EXPOSE THIS APPLIANCE TO RAIN OR
Thank you for purchasing this Toshiba TV. This manual will
help you use the many exciting features of your new TV.
Before operating the TV, please read this manual
completely, and keep it nearby for future reference.
NOTE TO CATV INSTALLERS IN THE USA
This is a reminder to call the CATV system installer's attention
to Article 820-40 of the NEC, which provides guidelines for
proper grounding and, in particular, specifies that the cable
ground shall be connected to the grounding system of the
building, as close to the point of cable entry as practical. For
additional antenna grounding information, see items 26
The lightning symbol in the triangle tells you that the
voltage inside this product may be strong enough to
cause an electric shock. DO NOT TRY TO SERVICE
The exclamation mark in the triangle tells you that
important operating and maintenance instructions
WARNING: TO REDUCE THE RISK OF ELECTRIC
SHOCK, DO NOT REMOVE COVER (OR BACK).
NO USER-SERVICEABLE PARTS INSIDE. REFER
SERVICING TO QUALIFIED SERVICE PERSONNEL.
NOTICE OF POSSIBLE ADVERSE EFFECTS
If a fixed (non-moving) pattern remains on the TV screen for
long periods of time, the image can become permanently
engrained in the picture tube. This type of damage is NOT
COVERED BY YOUR WARRANTY. See item 34 on page 4.
ENERGY STAR
®
qualified TV. Products that
earn the ENERGY STAR prevent green house
gas emissions by meeting strict energy
efficiency guidelines set by the U.S.
Environmental Protection Agency and the U.S.
Department of Energy. ENERGY STAR and the
ENERGY STAR mark are registered U.S. marks.
NOTICE OF POSSIBLE TV STAND INSTABILITY
DANGER: RISK OF SERIOUS PERSONAL INJURY
OR DEATH! Use this TV with the TOSHIBA TV stand
recommended in the "Specifications" section only.
Use with other stands may result in instability, causing
possible injury or death.
---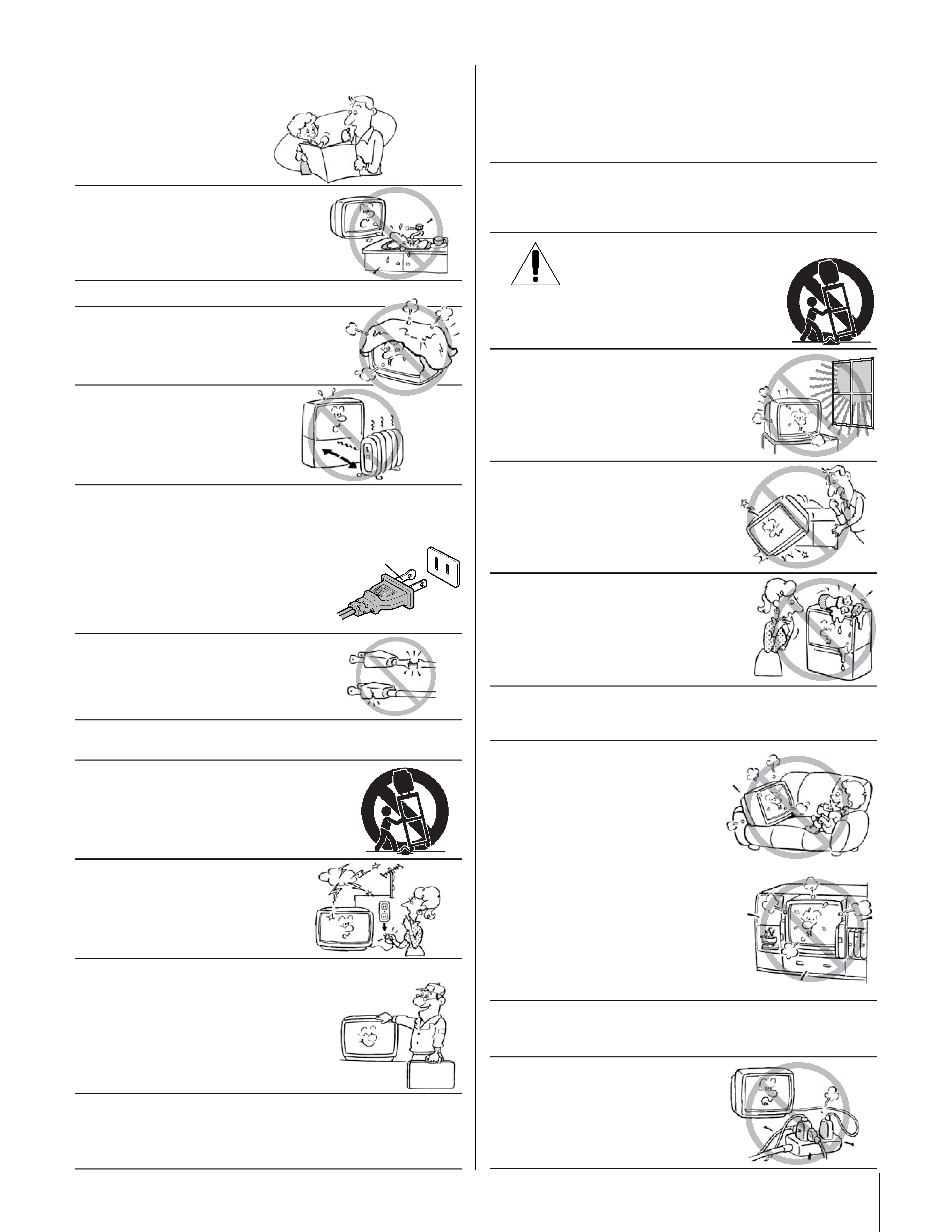 Installation, Care, and Service
Follow these recommendations and precautions and heed all
warnings when installing your TV:
16) Never modify this equipment. Changes or modifications
may void: a) the warranty, and b) the user's authority to
operate this equipment under the rules of the Federal
Communications Commission.
DANGER: RISK OF SERIOUS PERSONAL
INJURY, DEATH, OR EQUIPMENT
DAMAGE! Never place the TV on
an unstable cart, stand, or table. The TV
may fall, causing serious personal injury,
death, or serious damage to the TV.
18) Never place or store the TV in direct
sunlight; hot, humid areas; areas
subject to excessive dust or vibration;
or locations with temperatures at or
19) Always place the TV on the floor
or a sturdy, level, stable surface that
can support the weight of the unit.
20) Never place items such as vases,
aquariums, or candles on top of the TV.
21) Always place the back of the television at least one (1)
inch away from any vertical surface (such as a wall) to
allow proper ventilation.
22) Never block or cover the slots or
openings in the TV cabinet back,
bottom, and sides. Never place
· on a bed, sofa, rug, or similar
· too close to drapes, curtains,
· in a confined space such as a
bookcase, built-in cabinet, or any
other place with poor ventilation.
The slots and openings are provided
to protect the TV from overheating
and to help maintain reliable
23) Never allow anything to rest on or roll over the power
cord, and never place the TV where the power cord is
subject to wear or abuse.
24) Never overload wall outlets and
Important Safety Instructions
1) Read these instructions.
2) Keep these instructions.
4) Follow all instructions.
5) Do not use this apparatus near
6) Clean only with dry cloth.
7) Do not block any ventilation
openings. Install in accordance with
the manufacturer's instructions.
8) Do not install near any heat
sources such as radiators,
heat registers, stoves, or other
apparatus (including amplifiers)
9) Do not defeat the safety purpose of the polarized or
grounding type plug. A polarized plug has two blades
with one wider than the other. A grounding type plug has
two blades and a third grounding
prong. The wide blade or the third
prong are provided for your safety.
If the provided plug does not fit into
your outlet, consult an electrician
for replacement of the obsolete outlet.
10) Protect the power cord from being
walked on or pinched, particularly at
plugs, convenience receptacles, and
the point where it exits the apparatus.
11) Only use attachments/accessories specified by the
12) Use only with the cart, stand, tripod,
bracket, or table specified by the
manufacturer, or sold with the
apparatus. When a cart is used, use
caution when moving the cart/apparatus
combination to avoid injury from tip-over.
13) Unplug this apparatus during
14) Refer all servicing to qualified service personnel.
Servicing is required when the apparatus has been
damaged in any way, such as power supply
cord or plug is damaged, liquid has
been spilled or objects have fallen into
the apparatus, or the apparatus has
been exposed to rain or moisture, does
not operate normally, or has been dropped.
15) CAUTION: To reduce the risk of electric shock, do not
use the polarized plug with an extension cord, receptacle,
or other outlet unless the blades can be inserted
completely to prevent blade exposure.
---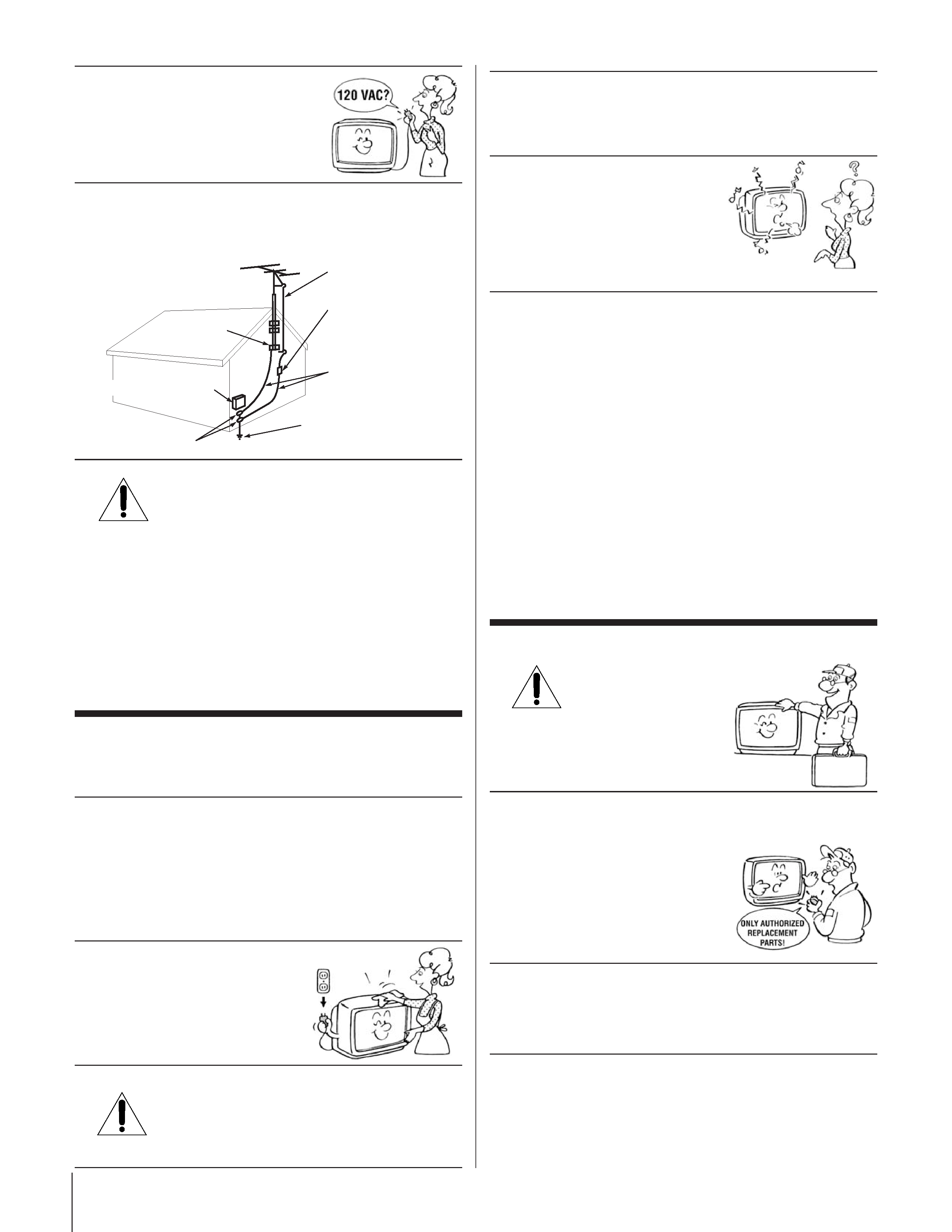 31) For added protection of your TV from lightning and power
surges, always unplug the power cord and disconnect the
antenna from the TV if you leave the TV unattended or
unused for long periods of time.
32) During normal use, the TV may make
occasional snapping or popping
sounds. This is normal, especially
when the unit is being turned on or
off. If these sounds become frequent
or continuous, unplug the power cord
and contact a Toshiba Authorized Service Center.
33) Possible Adverse Effects on TV Picture Tube: If a fixed
(non-moving) pattern remains on the TV screen for long
periods of time, the image can become permanently
engrained in the picture tube and cause subtle but
permanent ghost images. This type of damage is NOT
COVERED BY YOUR WARRANTY. Never leave your TV
on for long periods of time while it is displaying the
following formats or images:
· Fixed Images, such as PIP/POP windows, stock tickers,
video game patterns, TV station logos, and websites.
· Special Formats that do not use the entire screen. For
example, viewing letterbox style (16:9) media on a
normal (4:3) display (gray bars at top and bottom of
screen); or viewing normal style (4:3) media on a
widescreen (16:9) display (gray bars on left and right
WARNING: RISK OF ELECTRIC
SHOCK! Never attempt to service the
removing the covers may expose
you to dangerous voltage or other
hazards. Refer all servicing to a
Toshiba Authorized Service Center.
35) If you have the TV serviced:
· Ask the service technician to use only replacement parts
specified by the manufacturer.
· Upon completion of service, ask
the service technician to perform
routine safety checks to determine
that the TV is in safe operating
36) When the TV reaches the end of its useful life, ask a
qualified service technician to properly dispose of the TV.
Improper disposal may result in a picture tube implosion
and possible personal injury.
electrode system (NEC Art 250 Part H)
Electric service equipment
25) Always operate this equipment from
a 120 VAC, 60 Hz power source only.
26) Always make sure the antenna system is properly
grounded to provide adequate protection against voltage
surges and built-up static charges (see Section 810 of the
DANGER: RISK OF SERIOUS PERSONAL
· Use extreme care to make sure you are never in
a position where your body (or any item you are in contact
with, such as a ladder or screwdriver) can accidentally
touch overhead power lines. Never locate the antenna
near overhead power lines or other electrical circuits.
· Never attempt to install any of the following during
a) an antenna system; or b) cables, wires, or any home
theater component connected to an antenna or phone
For better performance and safer operation of your TOSHIBA
TV, follow these recommendations and precautions:
28) Always sit approximately 10­25 feet away from the TV and
as directly in front of it as possible. The picture can appear
dull if you sit too far to the left or right of the TV, or if
sunlight or room lights reflect on the screen. Turn the TV
off to check for reflections on the screen, and then remove
the source of reflections while viewing the TV.
29) Always unplug the TV before
cleaning. Never use liquid or
aerosol cleaners. Clean only with
WARNING: RISK OF ELECTRIC SHOCK!
Never spill liquids or push objects of any kind
into the TV cabinet slots.
---

Important Safety Information ............................. 2-4
Introduction ................................................................ 6
Welcome to Toshiba ......................................................... 6
Exploring your new TV ................................................... 6
Connecting your TV .................................................. 7
Connecting an antenna or cable TV ................................. 7
Connecting a VCR .......................................................... 8
Connecting a cable converter box .................................... 8
Connecting a cable converter box and VCR ..................... 9
Connecting a DVD player or satellite receiver and
a VCR ............................................................................ 10
Connecting a DVD player with ColorStream
®
(component video) and a VCR ...................................... 11
Connecting a DTV receiver/set-top box with
ColorStream
®
(component video) and a VCR ................ 12
Connecting two VCRs ................................................... 13
Connecting a camcorder ................................................ 13
Connecting an HDMITM or a DVI device to
the HDMI input ........................................................... 14
Connecting an audio system .......................................... 15
Using the remote control ...................................... 16
Preparing the remote control for use .............................. 16
Installing the remote control batteries ............................ 16
Remote Control functional key chart ...................... 17
Programming the remote control for use with
your audio/video devices ................................................ 19
Device code setup ................................................... 19
Searching and sampling the code
of a device [8500] ................................................... 19
Using the volume lock feature [8000] ..................... 20
Operational feature reset [8900] ............................. 20
Device code table .................................................... 21
Learning about the remote control .......................... 23
Setting up your TV .................................................. 24
Learning about the menu system ................................... 24
Changing the on-screen display language ....................... 25
Selecting the antenna input ............................................ 25
Adding channels to the TV's memory ............................ 26
Programming channels automatically ...................... 26
Adding and erasing channels manually .................... 27
Changing channels ........................................................ 27
Adjusting the tilt correction feature ................................ 27
Using the TV's features .......................................... 28
Adjusting the channel settings ........................................ 28
Switching between two channels using Channel
Return .................................................................... 28
Switching between two channels using
SurfLockTM ............................................................. 28
Programming your favorite channels ....................... 28
Labeling channels ................................................... 30
Viewing the wide-screen picture formats
(480i, 480p and 1080i signals only) ............................ 31
Selecting the picture size ......................................... 31
Scrolling the Theater Wide picture
(Theater Wide 2 and 3 only) .................................. 33
Using the AUTO ASPECT feature ......................... 34
Using the POP double-window feature .......................... 35
Switching the main and POP pictures ..................... 36
Switching the speaker audio (main or POP) ............ 36
Double-Window aspect ratio .................................. 37
Using the programmed channel search function ............. 37
Using the favorite channel search function .............. 38
About the auto favorite feature ................................ 38
Using the LOCKS menu ............................................... 39
Entering the PIN code ............................................ 39
If you cannot remember your PIN code .................. 39
Using the V-CHIP menu ............................................... 39
ENABLE BLOCKING .......................................... 40
TV RATING (Independent rating system for
broadcasters) ........................................................... 40
MPAA RATING (Independent rating system for
movies) ................................................................... 41
BLOCKING OPTION .......................................... 41
Unlocking programs temporarily ............................ 42
Locking channels ........................................................... 42
Locking the video inputs ................................................ 44
Changing the PIN code ................................................. 44
Adjusting the picture ..................................................... 45
Selecting the picture mode ...................................... 45
Adjusting the picture quality ................................... 45
Saving your new preferences ................................... 46
Selecting the color temperature ............................... 46
Selecting the Scan Velocity Modulation [SVM] ...... 47
Using the CableClearTM DNR feature .................... 47
Resetting picture adjustments ................................. 48
Selecting the display format
(for 480p signals only) ............................................ 48
Selecting the cinema mode ...................................... 48
Selecting the video input source ..................................... 49
Labeling the video input sources .................................... 49
Using the closed caption feature ..................................... 50
Setting the ON timer ..................................................... 51
Setting the sleep timer .................................................... 51
Setting the clock ............................................................ 52
Adjusting the sound ....................................................... 53
Muting the sound ................................................... 53
Selecting stereo/SAP broadcasts .............................. 53
Enjoying dolby virtual sound feature .......................54
Using the WOWTM surround sound feature ........... 55
Adjusting the sound quality .................................... 55
Resetting your audio adjustments ........................... 56
Using the StableSound
®
feature .............................. 56
Turning off the built speakers ................................. 57
Selecting the Audio OUT sound ............................. 57
Using the cyclone sub-woofer system ............................. 58
Selecting the background of the menu display ............... 59
Displaying on-screen information .................................. 59
Understanding the auto power off feature ...................... 59
Understanding the last mode memory feature ................ 59
Appendix ................................................................... 60
Specifications ................................................................. 60
Troubleshooting ............................................................. 61
Limited United States Warranty ..................................... 62
Limited Canada Warranty .............................................. 63
Index .......................................................................... 64
---