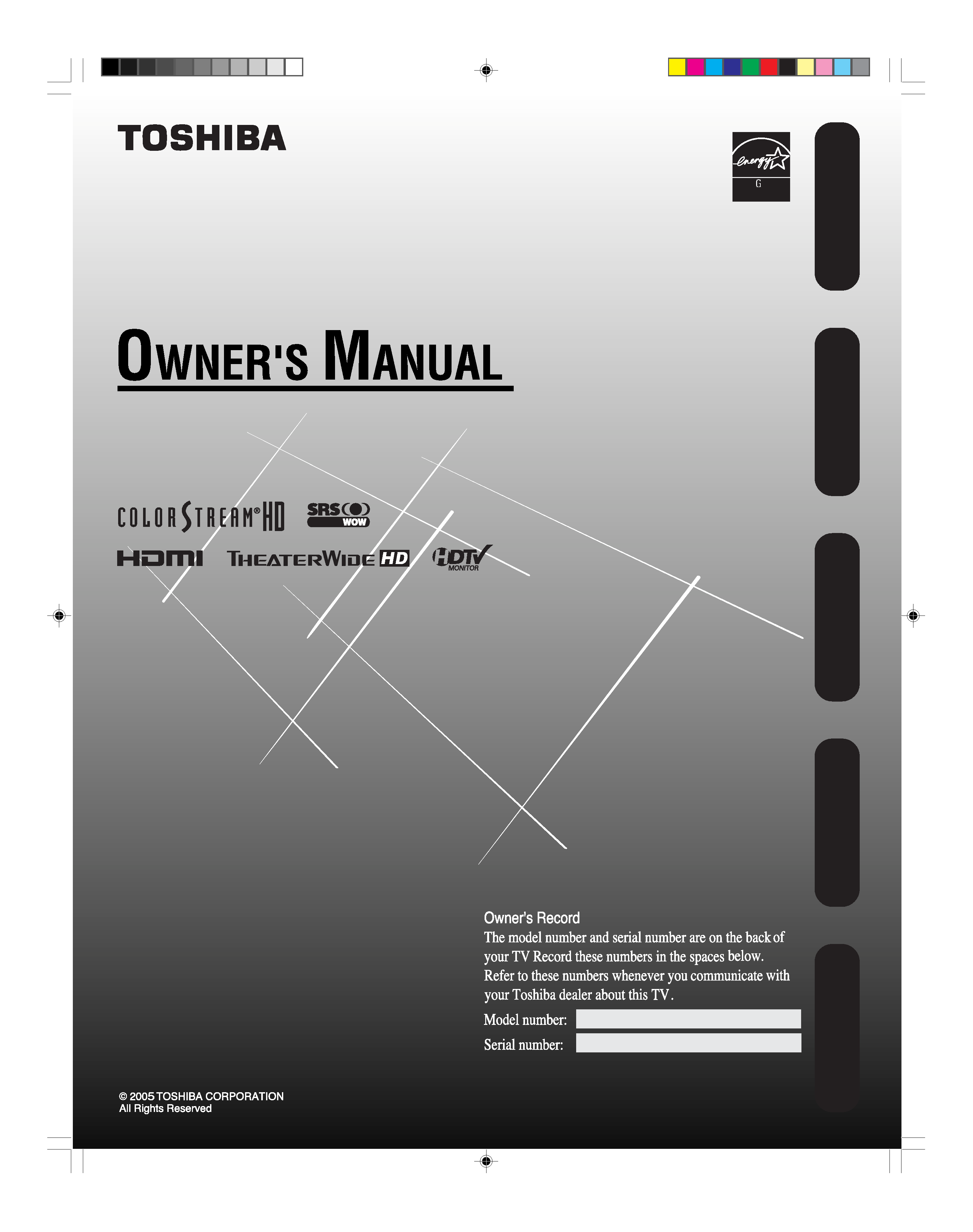 ---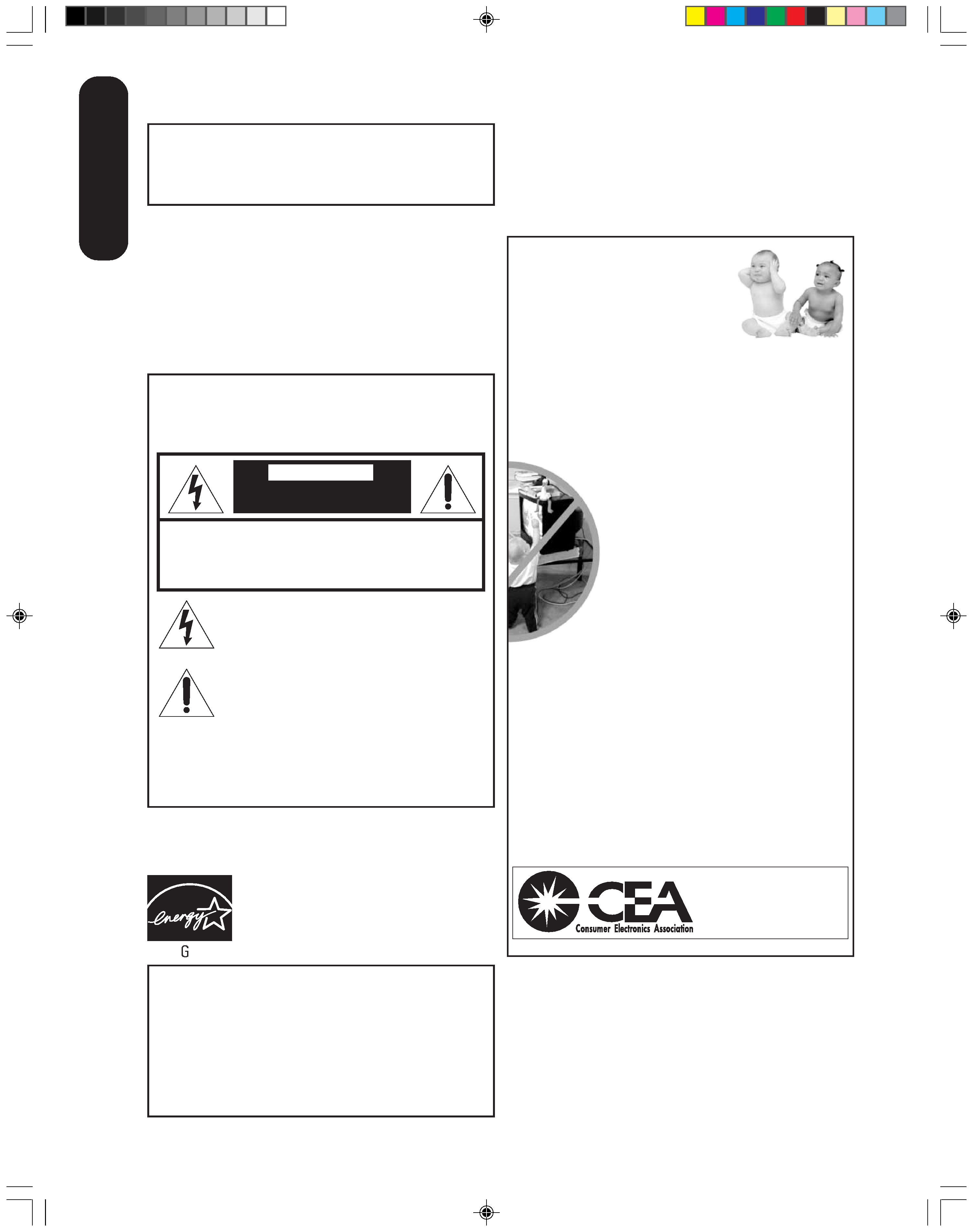 Congratulations on your purchase!
As you enjoy your new TV, keep these safety tips in mind:
If you are like most consumers, you have a TV in your home. Many homes,
in fact, have more than one TV.
The home theater entertainment experience is a growing trend, and larger
TVs are popular purchases; however, they are not always supported on
Sometimes TVs are improperly secured or inappropriately
situated on dressers, bookcases, shelves, desks, audio
speakers, chests, or carts. As a result, TVs may fall over,
causing unnecessary injury.
The consumer electronics industry is committed to
making home entertainment enjoyable and safe.
The Consumer Electronics Association formed the
Home Entertainment Support Safety Committee,
comprised of TV and consumer electronics furniture
manufacturers, to advocate children's safety and educate
consumers and their families about television safety.
One size does NOT fit all! Use appropriate furniture large enough to
support the weight of your TV (and other electronic components).
Use appropriate angle braces, straps, and anchors to secure your furniture
to the wall (but never screw anything directly into the TV).
Carefully read and understand the other enclosed instructions for proper
Do not allow children to climb on or play with furniture and TVs.
Avoid placing any item on top of your TV (such as a VCR, remote control,
or toy) that a curious child may reach for.
Remember that children can become excited while watching a program
and can potentially push or pull a TV over.
Share our safety message about this hidden hazard of the home with
your family and friends. Thank you!
Arlington, VA 22201 U.S.A.
Tel. 703-907-7600 Fax 703-907-7690
CEA is the Sponsor, Producer and
Manager of the International CES
®
Thank you very much for purchasing this Toshiba television.
You must carefully read and understand all of the safety instructions
contained in this manual before you attempt to use this product in
order to avoid potential hazards that could cause bodily injury or
property damage or could damage your Television.
We hope that you are completely satisfied with your Toshiba television
and that it will give you long and enjoyable service. We look forward to
providing you with additional Toshiba products to serve all of your
entertainment needs in the future.
The lightning flash with arrowhead symbol, within an
equilateral triangle, is intended to alert the user to
the presence of uninsulated "dangerous voltage"
within the product's enclosure that may be of
sufficient magnitude to constitute a risk of electric
The exclamation point within an equilateral triangle,
is intended to alert the user to the presence of
important operating and maintenance (servicing)
instructions in the literature accompanying the
This is a reminder to call the CATV system installer's attention
to Article 820-40 of the U.S. NEC, which provides guidelines for proper
grounding and, in particular, specifies that the cable ground shall be
connected to grounding system of the building, as close to the point of
cable entry as practical. For additional antenna grounding information,
CAUTION:
TO REDUCE THE RISK OF ELECTRIC
SHOCK, DO NOT REMOVE COVER (OR BACK).
NO USER-SERVICEABLE PARTS INSIDE. REFER
SERVICING TO QUALIFIED SERVICE PERSONNEL.
WARNING:
TO REDUCE THE RISK OF FIRE OR
ELECTRIC SHOCK, DO NOT EXPOSE THIS
APPLIANCE TO RAIN OR MOISTURE.
Always read and understand the PRODUCT WARNINGS and
USER DIRECTIONS that are contained in this manual before
attempting to use your television, to help ensure its safe use.
Always store this manual near your television for convenient future
ENERGY STAR
®
qualified TV. Products that earn
the ENERGY STAR prevent green house gas
emissions by meeting strict energy efficiency
guidelines set by the U.S. Environmental
Protection Agency and the U.S. Department of
Energy. ENERGY STAR and the ENERGY STAR
mark are registered U.S. marks.
WARNING:
Handling the cord on this product or cords
associated with accessories sold with this product will expose you
to lead, a chemical known to the State of California to cause birth
defects or other reproductive harm.
Wash hands after handling.
WARNING: Always use the Toshiba wall bracket specified below
or another wall bracket approved by Toshiba for wall mounting this
television. The use of any wall bracket other than the Toshiba wall
bracket specified below or another wall bracket approved by
Toshiba for wall mounting this television could result in serious
bodily injury and/or property damage.
In the U.S.: Use Toshiba wall bracket model number FWB2027.
For more information, call TACP's Consumer Solutions Center at
1-800-631-3811 or visit TACP's website at www.tacp.toshiba.com.
In Canada: Call TCL's Customer Service Department
CAUTION:
To reduce the risk of electric shock, do not use
the polarized plug with an extension cord, receptacle, or other
outlet unless the blades can be inserted completely to prevent
---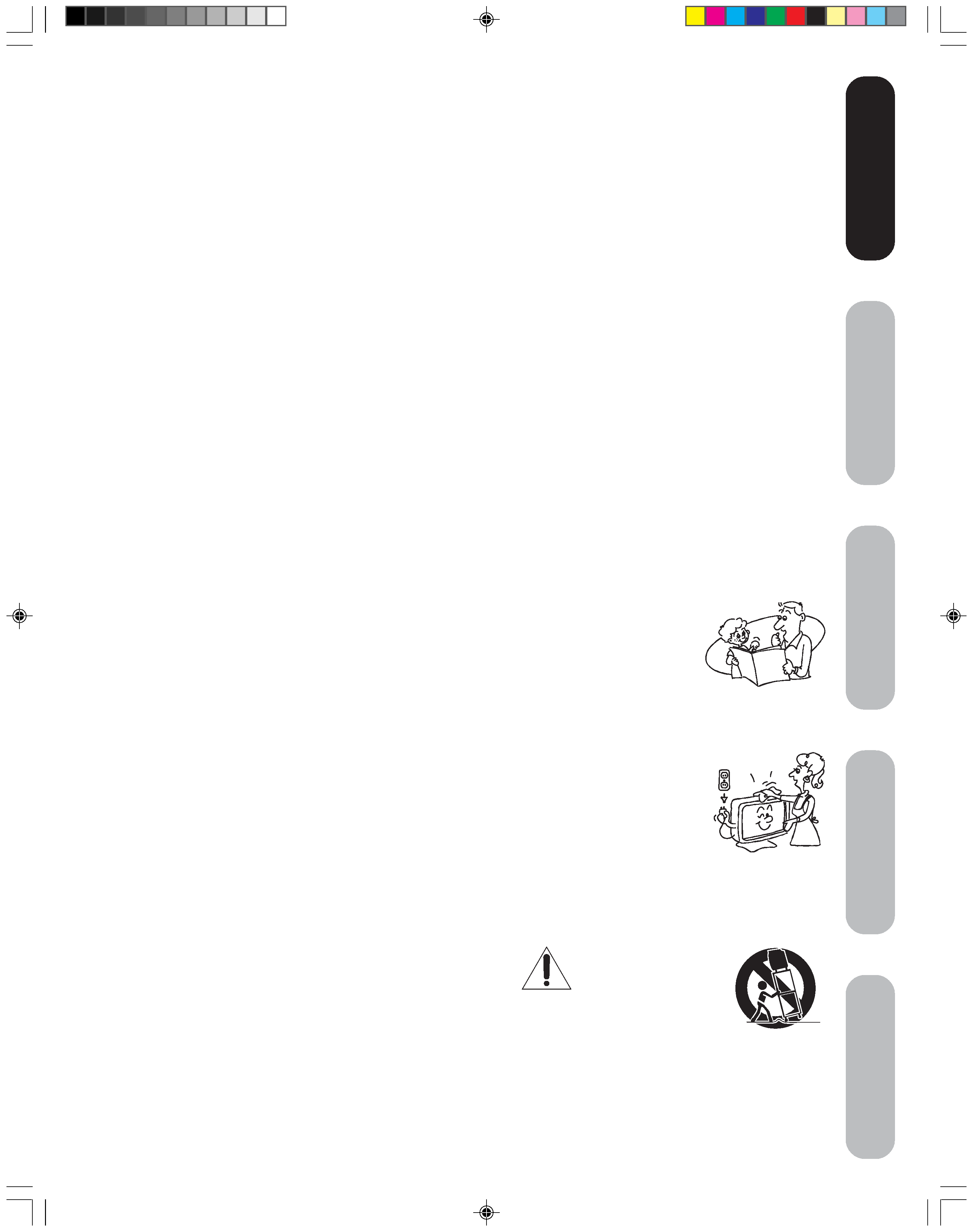 FCC compliance information
CAUTION: TO PREVENT ELECTRIC SHOCK DO NOT USE THIS POLARIZED PLUG WITH AN EXTENSION CORD, RECEPTACLE
OR OTHER OUTLET UNLESS THE BLADES CAN BE FULLY INSERTED TO PREVENT BLADE EXPOSURE.
Federal Communications Commission (FCC):
This equipment complies with Part 15 of the FCC rules.
FCC Declaration of Conformity Compliance Statement (Part 15):
The Toshiba 20HL85, LCD TV Combination complies with Part 15 of the FCC rules. Operation is subject to the following two
conditions: (1) this device may not cause harmful interference, and (2) this device must accept any interference received,
including interference that may cause undesired operation.
The party responsible for compliance to these rules is:
Toshiba America Consumer Products, L.L.C.
82 Totowa Rd. Wayne, NJ 07470.
This equipment has been tested and found to comply with the limits for a Class B digital device, pursuant to Part 15 of the
FCC rules. These limits are designed to provide reasonable protection against harmful interference in a residential
installation. This equipment generates, uses, and can radiate radio frequency energy and, if not installed and used in
accordance with the instructions, may cause harmful interference to radio communications. However, there is no guarantee
that interference will not occur in a particular installation. If this equipment does cause harmful interference to radio or
television reception, which can be determined by removing and applying power to the equipment, the user is encouraged to
try to correct the interference by one or more of the following measures:
- Reorient or relocate the receiving antenna.
- Increase the separation between the equipment and the receiver.
- Connect the equipment into an outlet on a circuit different from that to which the receiver is connected.
- Consult the dealer or an experienced radio/TV technician for help.
CAUTION: Changes or modifications to this equipment not expressly approved by Toshiba could void the user's authority to operate this
All the safety and operating instructions should be read before the unit is operated.
The safety and operating instructions should be retained for future reference.
All warnings on the unit and in the operating instructions should be adhered to.
All operating and use instructions should be followed.
Unplug this unit from the wall outlet before cleaning. Do not use liquid cleaners or aerosol
cleaners. Clean only with a dry cloth.
Do not use attachments not recommended by the product manufacturer as they may cause
Do not use this unit near water. For example, near a bathtub, washbowl, kitchen sink, laundry tub, in a wet basement,
Do not place this product on an unstable cart, stand, tripod,
bracket, or table. The product may fall, causing serious injury to
a child or adult, and serious damage to the product. Use only
with a cart, stand, tripod, bracket, or table recommended by the
manufacturer, or sold ith the product. Any mounting of the
product should follow the manufacturer's instructions, and
should use a mounting accessory recommended by the
8A.
An appliance and cart combination should be moved with care.
Quick stops, excessive force, and uneven surfaces may cause
the appliance and cart combination to overturn.
(symbol provided by RETAC)
---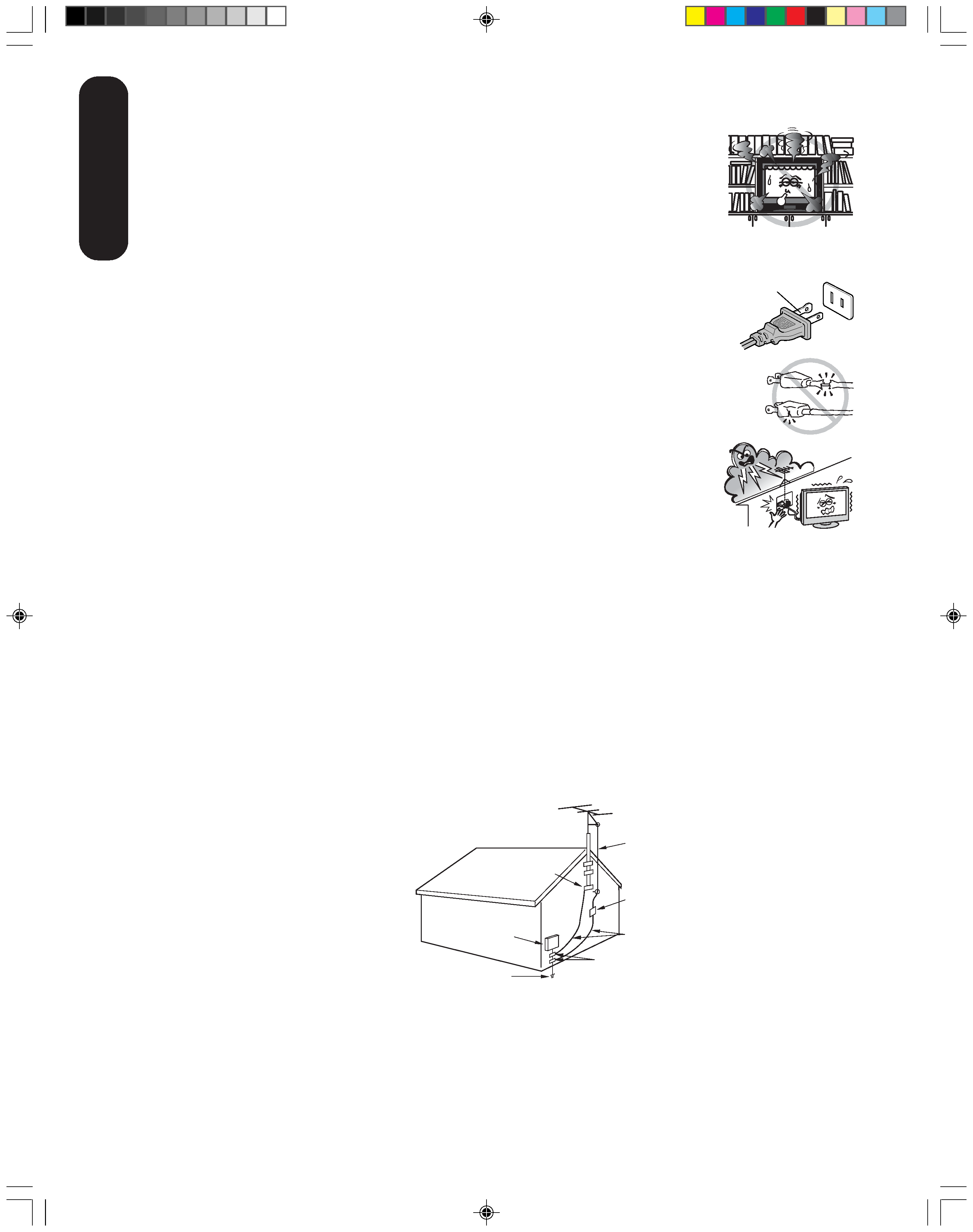 Slots and openings in the cabinet back or bottom are provided for ventilation, and to
ensure reliable operation of the unit, and to protect it from overheating. These openings must
not be blocked or covered. The openings should never be blocked by placing the unit on a bed,
sofa, rug, or other similar surface. This unit should never be placed near or over a radiator or
heat source. This unit should not be placed in a built-in installation such as a bookcase or rack
unless proper ventilation is provided or the manufacturer's instructions have been adhered to.
This unit should be operated only from the type of power source indicated on the rating plate. If you are not sure of the
type of power supply to your home, consult your appliance dealer or local power company.
11. GROUNDING OR POLARIZATION
This unit is equipped with a polarized alternating-current line plug (a plug having one blade wider than the
other). This plug will fit into the power outlet only one way. This is a safety feature. If you are unable to insert
the plug fully into the outlet, try reversing the plug. If the plug should still fail to fit, contact your electrician to
replace your obsolete outlet.
12. POWER-CORD PROTECTION
Power-supply cords should be routed so that they are not likely to be walked on or pinched by items placed upon or against
them, paying particular attention to cords at plugs, convenience receptacles, and the point where they exit from the appliance.
To protect your unit from a lightning storm, or when it is left unattended and unused for long periods of
time, unplug it from the wall outlet and disconnect the antenna or cable system. This will prevent damage
to the unit due to lightning and power line surges.
An outside antenna system should not be located in the vicinity of overhead power lines or
other electric light or power circuits, or where it can fall onto or against such power lines or
circuits. When installing an outside antenna system, extreme care should be taken to keep from touching such power
lines or circuits, as contact with them might be fatal.
Do not overload wall outlets and extension cords, as this can result in a risk of fire or electric shock.
16. OBJECT AND LIQUID ENTRY
Do not push objects through any openings in this unit, as they may touch dangerous voltage points or short out parts
that could result in fire or electric shock. Never spill or spray any type of liquid into the unit.
17. OUTDOOR ANTENNA GROUNDING
If an outside antenna or cable system is connected to the unit, be sure the antenna or cable system is grounded to
provide some protection against voltage surges and built-up static charges, Section 810 of the National Electrical
Code (NEC), ANSI/NFPA 70, provides information with respect to proper grounding of the mast and supporting
structure, grounding of the lead-in wire to an antenna discharge unit, size of grounding conductors, location of antenna
discharge unit, connection to grounding electrodes, and requirements for the grounding electrode.
ELECTRODE SYSTEM (NEC ART 250, PART H)
NEC-NATIONAL ELECTRICAL CODE
---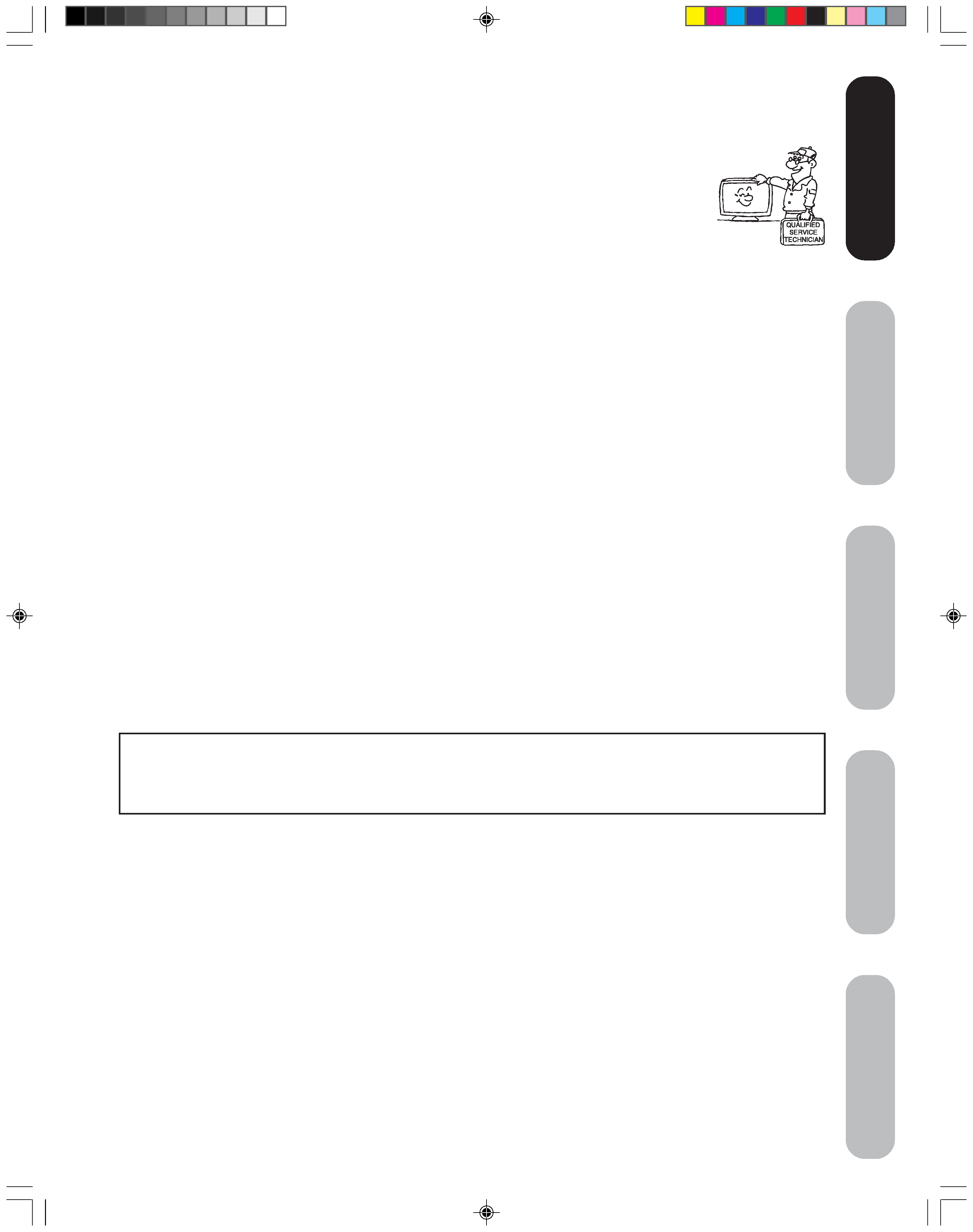 Do not attempt to service this unit yourself, as opening or removing covers may expose you to
dangerous voltage or other hazards. Refer all servicing to qualified service personnel.
When the power-supply cord or plug is damaged.
If liquid has been spilled, or objects have fallen into the unit.
If the unit has been exposed to rain or water.
If the unit does not operate normally by following the operating instructions. Adjust only those
controls that are covered by the operating instructions, as an improper adjustment of other
controls may result in damage and will often require extensive work by a qualified technician to restore the unit to
If the unit has been dropped or the cabinet has been damaged.
When the unit exhibits a distinct change in performance, this indicates a need for service.
When replacement parts are required, be sure the service technician uses replacement parts specified by the
manufacturer or those that have the same characteristics as the original part.
Unauthorized substitutions may result in fire, electric shock or other hazards.
Upon completion of any service or repairs to this unit, ask the service technician to perform safety checks to
determine that the unit is in proper operating condition.
The product should be situated away from heat sources such as radiators, heat registers, stoves, or other products
(including amplifiers) that produce heat.
When you connect the product to other equipment, turn off the power and unplug all of the equipment from the wall
outlet. Failure to do so may cause a product damage. Read the owner's manual of the other equipment carefully and
follow the instructions when making any connections.
When you use headphones, keep the volume at a moderate level. Using headphones continuously at a high volume
may cause hearing damage.
Do not press on or jolt the LCD panel. Doing so may cause the LCD panel glass to break and injury may occur.
Should the LCD panel be broken and liquid leaks out, do not inhale or swallow it. Doing so may cause poisoning.
If you have got it into your mouth, wash it out and consult your doctor. If your hands or clothes have touched it,
wipe them with alcohol and a cleaning cloth and then wash them well.
This product contains mercury. Disposal of mercury may be regulated due to environmental
considerations. For disposal or recycling information, please contact your local authorities or the
Electronic Industrial Alliance: www.eiae.org.
---