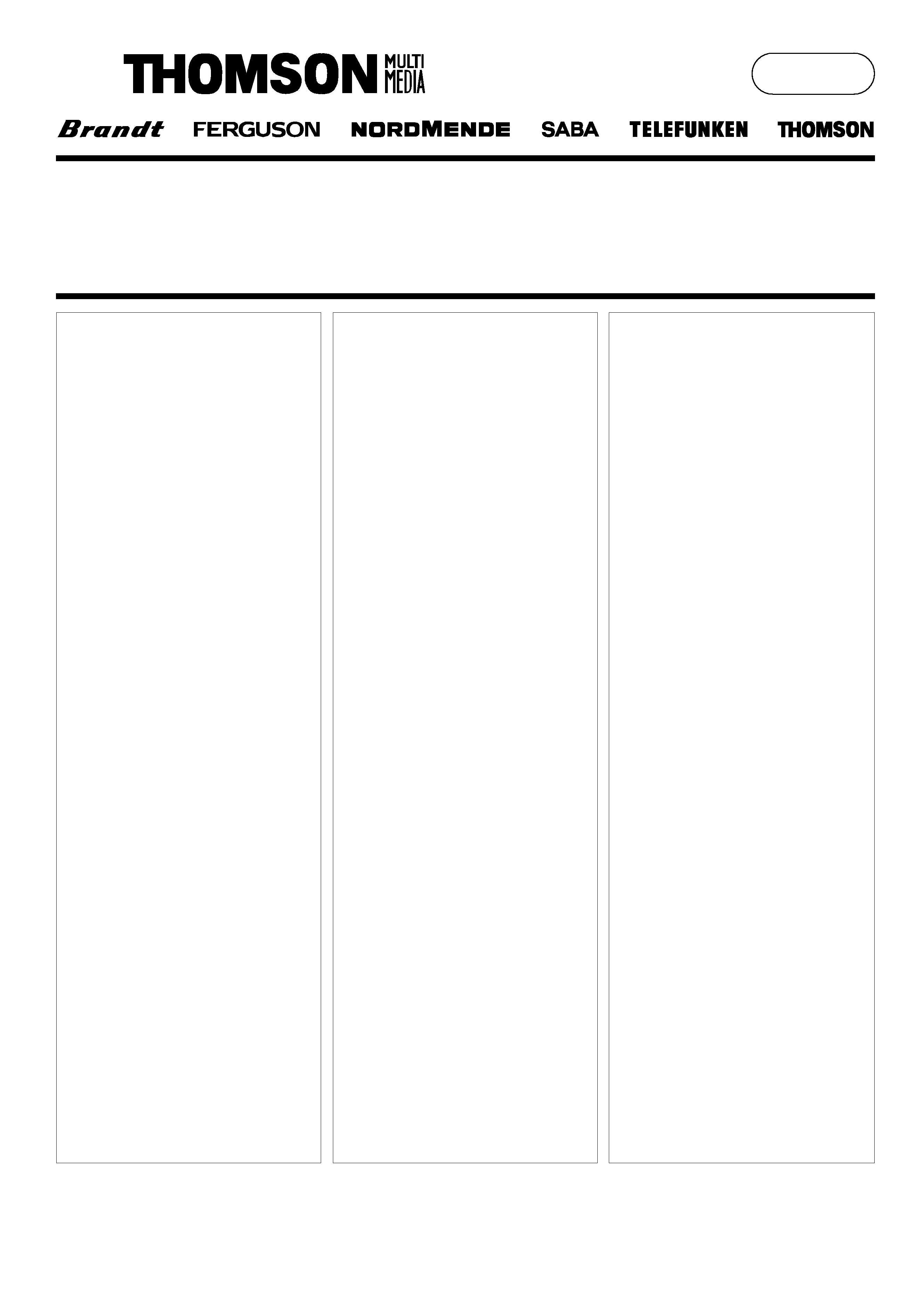 LISTA DE PIEZAS DE REPUESTO
No copying, translation, modification on other use authorized. All rights reserved worldwide. · Tous droits de reproduction, de traduction, d'adaptation et d'exécution réservés pour tous les pays. · Sämtliche Urheberrechte an diesen Texten und Zeichnungen stehen uns zu. Nachdrucke,
Vervielfältigungen - auch auszugsweise - nur mit unserer vorherigen Zustimmung zulässig. Alle Rechte vorbehalten. · I diritti di riproduzione, di traduzione, e esecuzione sono riservati per tutti i paesi. · Derechos de reproduccion, de traduccion, de adaptacion y de ejecucion reservados para todos los paises.
For any requests, please contact THOMSON multimedia after sales service area
Pour toutes précisions, contactez votre service apres vente local THOMSON multimedia
Für weitere Auskünfte, wenden Sie sich bitte an die THOMSON multimedia Kundendienste
Per precisazioni, contattare l'assistenza tecnica THOMSON multimedia
Para cualquier pregunta, por favor contactar con el responsable de zona del servicio postventa de THOMSON multimedia
---

A59EHJ43X15 CATHODE RAY TUBE
A59EHJ43X15 TUBE CATHODIQUE
A59EHJ43X15 FARBBILDROEHRE
A59EHJ43X15 TUBO CATODICO
BOBINE DE DEMAGNETISATION
BOBINA DI SMAGNETIZZAZIONE
25DG21C LISTE DE PIECES DETACHEES
25DG21C LISTA PARTI DI RICAMBIO
25DG21C LISTA DE PIEZAS DE REPUESTO
ICC17 SERVICE MANUEL EUROPE
ICC17 DOC TECHNIQUE EUROPE
ICC17 TECHNISCHE DOKUMENTATION EUROPE
ICC17 DOCUMENTAZIONE TECNICA EUROPE
ICC17 DOCUMENTACION TECNICA EUROPE
25DG21C UM THOMSON D/I/GB/GR/F
25DG21C NU THOMSON D/I/GB/GR/F
25DG21C BA THOMSON D/I/GB/GR/F
25DG21C IU THOMSON D/I/GB/GR/F
25DG21C IU THOMSON D/I/GB/GR/F
2A5T FUSIBILE TEMPORIZZATO
SK01,02,03,04 MICROSWITCH
FUEHRUNGSSCHIENE LAUTSPRECHER
8R OHM 15W LOUDSPEAKER 60X125
8R OHM 15W HAUT PARLEUR 60X125
8R OHM 15W LAUTSPRECHER 60X125
8R OHM 15W ALTOPARLANTE 60X125
8R OHM 15W ALTAVOZ 60X125
THOMSON multimedia S.A au capital de 12375616000 FF - 46, Quai Alphonse Le Gallo 92648 Boulogne Cedex FRANCE - RCS NANTERRE B 333 773 174
The description and characteristics given here are of informative significance only, and non committal. To keep up the high quality of our products, we reserve the right to
make any changes or improvement without previous notice. · Les descriptions et caractéristiques figurant sur ce document sont données à titre d'information et non
d'engagement. En effet, soucieux de la qualité de nos produits, nous nous réservons le droit d'effectuer, sans préavis, toute modification ou amélioration. · Die
Beschreibungen und Daten in dieser Anleitung dienen nur zur Information und sind nicht bindend. Um die Qualität unserer Produkte ständig zu verbessern, behalten wir uns
das Recht auf Änderungen vor. · Le descrizioni e le caratteristiche date su questo documento sono fornite a semplice titolo informativo e senza impegno. Ci riserviamo il
diritto di eseguire, senza preavviso, qualsiasi modifica o miglioramento. · Las descripciones y características que figuran en este documento se dan a título de información
y no de compromiso. En efecto, en bien de la calidad de nuestros productos, nos reservamos el derecho de efectuar, sin previo aviso, cualquier modificación o mejora.
---

Do not disconnect modules when they are enregized! Repairs on power supply section are to
be carried out only with isolating transformer.
Ne pas retirer les modules lorsqu'ils sont sous tension. N'effectuer les travaux de maintenan-
ce sur la partie reliée au secteur (Switch Mode) qu'au travers d'un transformateur d'isolement.
Module nicht bei eingeschaltetem Gerät entfernen ! Servicearbeiten am Netzteil nur unter
Verwendung eines Regeltrenntrafos durchführen.
Non scollegare i moduli quando sono alimentati! Intraprendere riparazioni sulla sezione ali-
mentatore solo con trasformatore isolante.
No desconectar los módulos cuando están activados. Las reparaciones en la sección de ali-
mentación de energía deben ser ejecutadas solamente con un transformador de separación.
Indicates critical safety components, and identical components should be used for repla-
cement. Only then can the operational safety be garanteed.
Le remplacement des éléments de sécurité (repérés avec le symbole
non homologués selon la Norme CEI 65 entraine la non-conformité de l'appareil. Dans ce cas,
la responsabilité du fabricant n'est plus engagée.
Wenn Sicherheitsteile (mit dem Symbol
gekennzeichnet) nicht durch Original -
Ersatzteile ersetzt werden, erlischt die Haftung des Herstellers.
La sostituzione degli elementi di sicurezza (marcati con il segno
) con componenti non omolo-
gati secondo la norma CEI 65 comporta la non conformitá dell'apparecchio. In tal caso è "esclu-
sa la responsabilità " del costruttore.
La sustitución de elementos de seguridad (marcados con el simbolo
homologados segun la norma CEI 65, provoca la no conformidad del aparato. En ese caso, el
fabricante cesa de ser responsable.
Before servicing this chassis read the safety recommendations.
Avant toute intervention sur ce châssis, lire les recommandations de sécurité.
Vor jedem Eingriff auf diesem Chassis, die Sicherheitsvorschriften lesen.
Prima di intervenire sullo chassis, leggere le norme di sicurezza.
Antes de cualquier intervención, leer las recomendaciones de seguridad.
Note : During measurements in the power supply unit, use the primary power unit ground (Emit. TP060).
Attention : Mesures dans le bloc alimentation. Utiliser la masse du bloc alimentation (Emet. TP060).
Achtung : Bei Messungen im Primärnetzteil. Primärnetzteilmasse verwenden (Emit. TP060).
Attentionze : Misure nell'alimentatore primario. Usare massa alimentazione primario (Emet. TP060).
Cuidado : Medida en el bloque de alimentación. Utilizar la masa del bloque de alimentación (Emet.TP060).
---

Monoscopio per barre : PAL, norma G.
- In UHF, livello d'entrata 1 mV,
- Per la presa SCART, livello d'entrata 1 Vcc.
Colore, Contrasto, Luce a metä corsa,
Programma designato PR 01.
Tensioni continue rilevate rispetto alla
massa con un voltametro numerico.
Bar test pattern : PAL, I standard, 100%
- On UHF, input level 1 mV
- Via the scart socket, input level 1 Vpp
Colour, contrast and brightness at mid-
position, sound at minimum.
Programme selected : PR 01.
DC voltages measured between the point
and earth using a digital voltmeter.
Farbbalken : PAL, Norm G, Weiss 100%
- Bei UHF Eingangspegel 1 mV.
- Über die Scartbuchse : Eingangspegel 1 Vss.
Farbe, Kontrast, Helligkeit in der Mitte des
Bereichs, Ton auf Minimum.
Zugeordnetes Programm PR 01.
Gleichspannungen mit einem digitalen
Voltmeter zur Masse gemessen.
Mire de barres : SECAM, Norm L, Blanc
- En UHF, niveau d'entrée 1 mV
- Par la prise Péritélévision, niveau
Couleur, contraste, lumière à mi-course,
Tensions continues relevées par rapport à
la masse avec un voltmètre numérique.
Mira de barras : PAL, norma G, blanco
- En UHF, nivel de entrada 1 mV,
- Por la toma Peritelevision, nivel de
Color, Contraste, luz a mitad de carrera,
Tensiones continuas marcadas en relacion
a la masa con un voltimetro digital.
MEASUREMENT CONDITIONS - CONDITIONS DE MESURES - MESSBEDINGUNGEN
CONDIZIONI DI MISURA - CONDICIONES DE MEDIDAS
---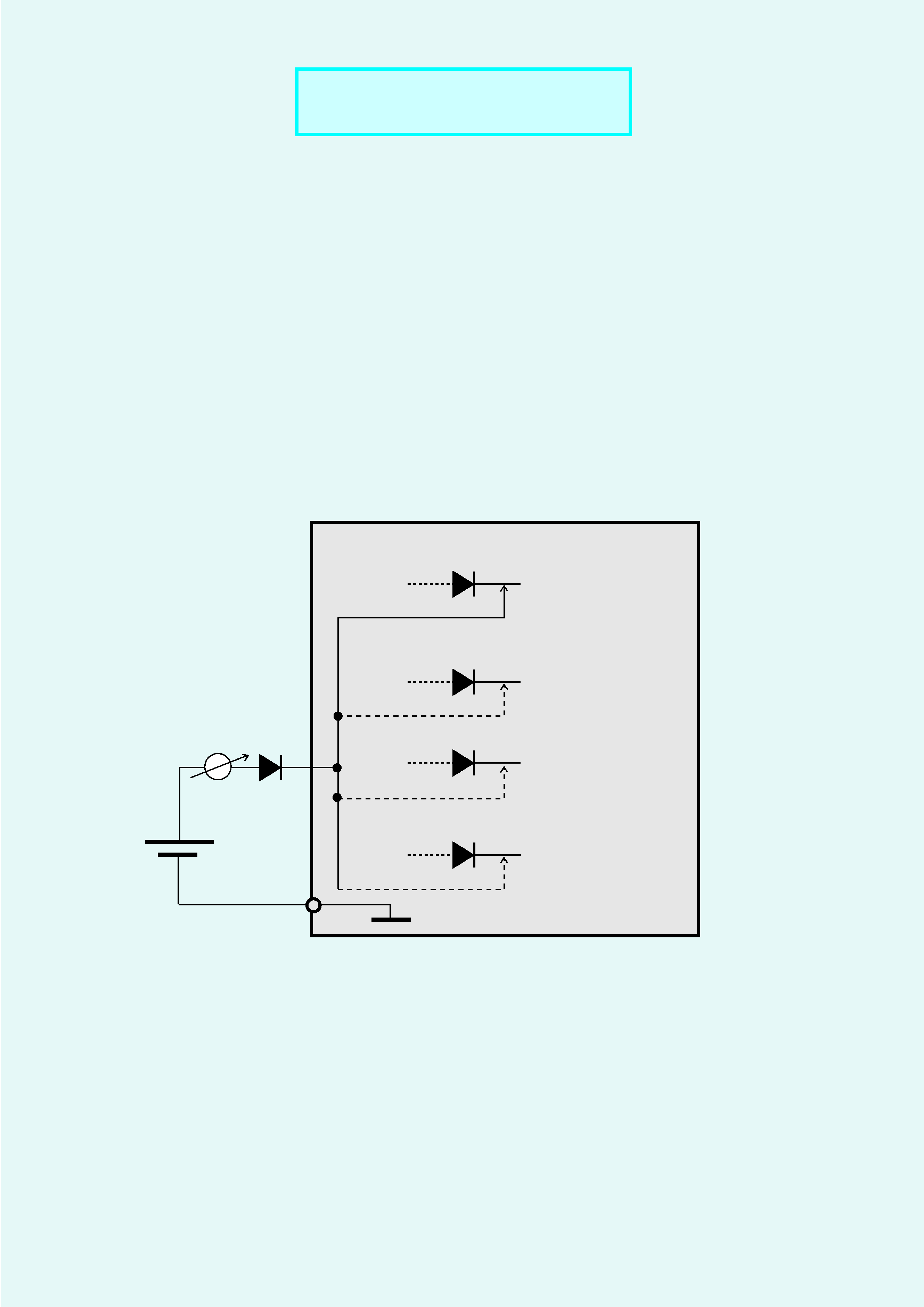 Tutte le misurazioni in questo capitolo dovrebbero essere fatte SENZA i voltaggi principali.
il voltaggio esterno è una fornitura d'energia esterna DC con un voltaggio regolato
di 11V e una limitazione di corrente a 0,5A.
Il polo della fornitura del voltaggio esterno deve essere direttamente connesso al campo
Il polo + della fornitura del voltaggio esterno fornisce il carico tramite un diodo.
L'anodo di questo diodo è connesso al polo +, il catodo è connesso al
carico sul telaio. La corrente deve essere misurata.
---