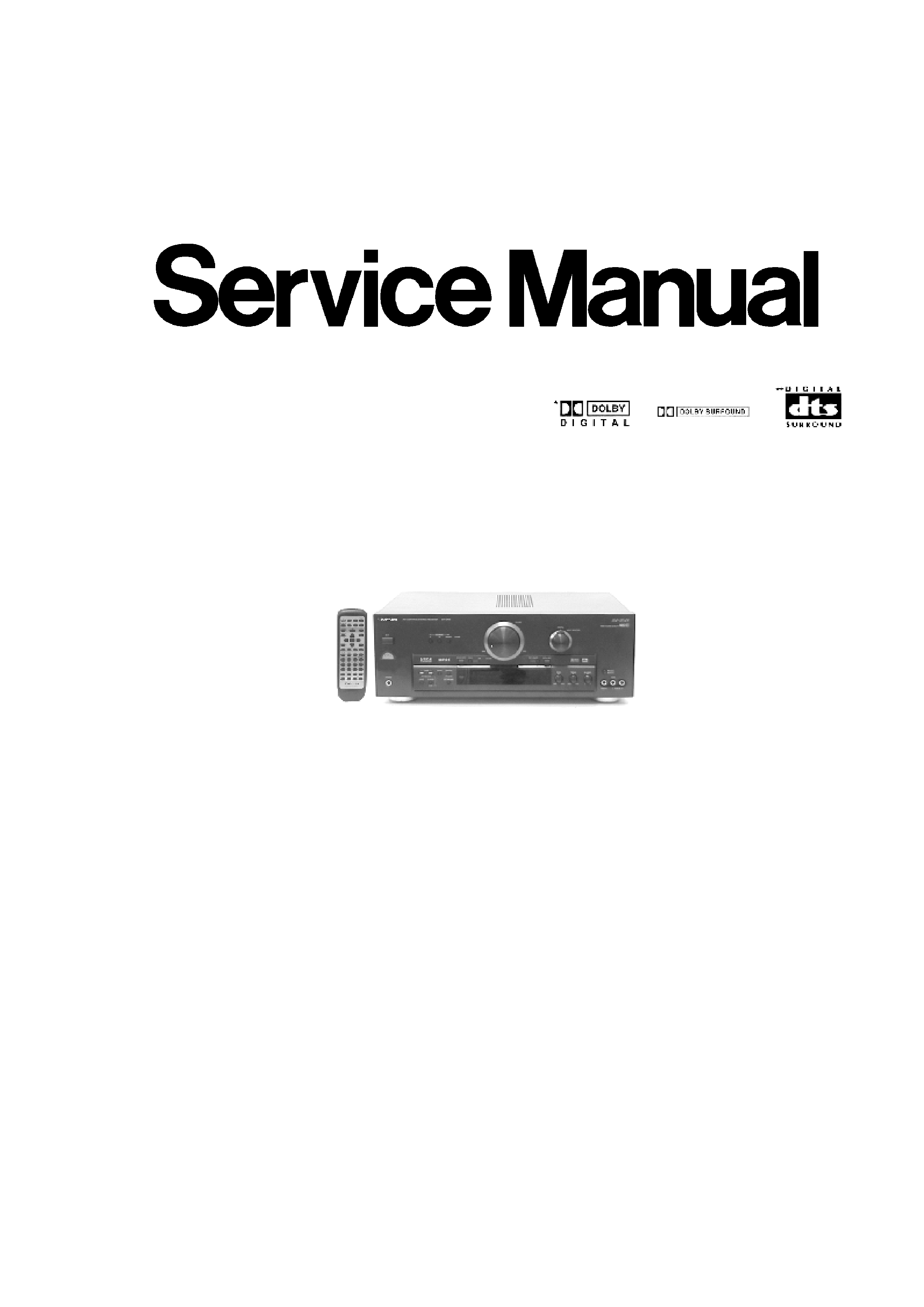 AV Control Stereo Receiver
---

50 dB quieting sensitivity
Total harmonic distortion
20 Hz-15 kHz, +1 dB, -2 dB
Alternate channel selectivity
Image rejection at 98 MHz
Spurious response rejection at 98 MHz
IF rejection (at 1000 kHz)
Output voltage at 1 V input
Rated minimum sine wave RMS power output
20 Hz-20 kHz both channels driven
0.09% total harmonic distortion
1 kHz continuous power output both channels driven
0.05% total harmonic distortion
Total harmonic distortion
rated power at 20 Hz-20 kHz
both channels driven, -3 dB
Power output at the DVD 6CH operation
20 Hz-20 kHz (each channels driven)
0.09% total harmonic distortion
--- Low frequency damping factor
RIAA standard curve ±0.8 dB
CD, DVD, TV, VCR1, VCR2, VCR3,
CD, DVD, TV, VCR1, VCR2, VCR3,
CD, DVD, TV, VCR1, VCR2, VCR3,
113 dB (IHF A, Rated Power,
Subwoofer frequency response (-6 dB)
(16-15/16" x 6-7/32" x 14-9/16")
Power consumption in standby mode:
DIN POWER (1 kHz T.H.D. 1%)
1. Specifications are subject to change without notice. / Mass and
dimensions are approximate.
2. Total harmonic distortion is measured by the digital spectrum analyzer.
* Manufactured under license from Dolby Laboratories. "Dolby",
"Pro Logic" and the double-D simbol are trademarks of Dolby
** Manufactured under license from Digital Theater System. "DTS"
and "DTS Digital Surround" are trademarks of Digital Theater
---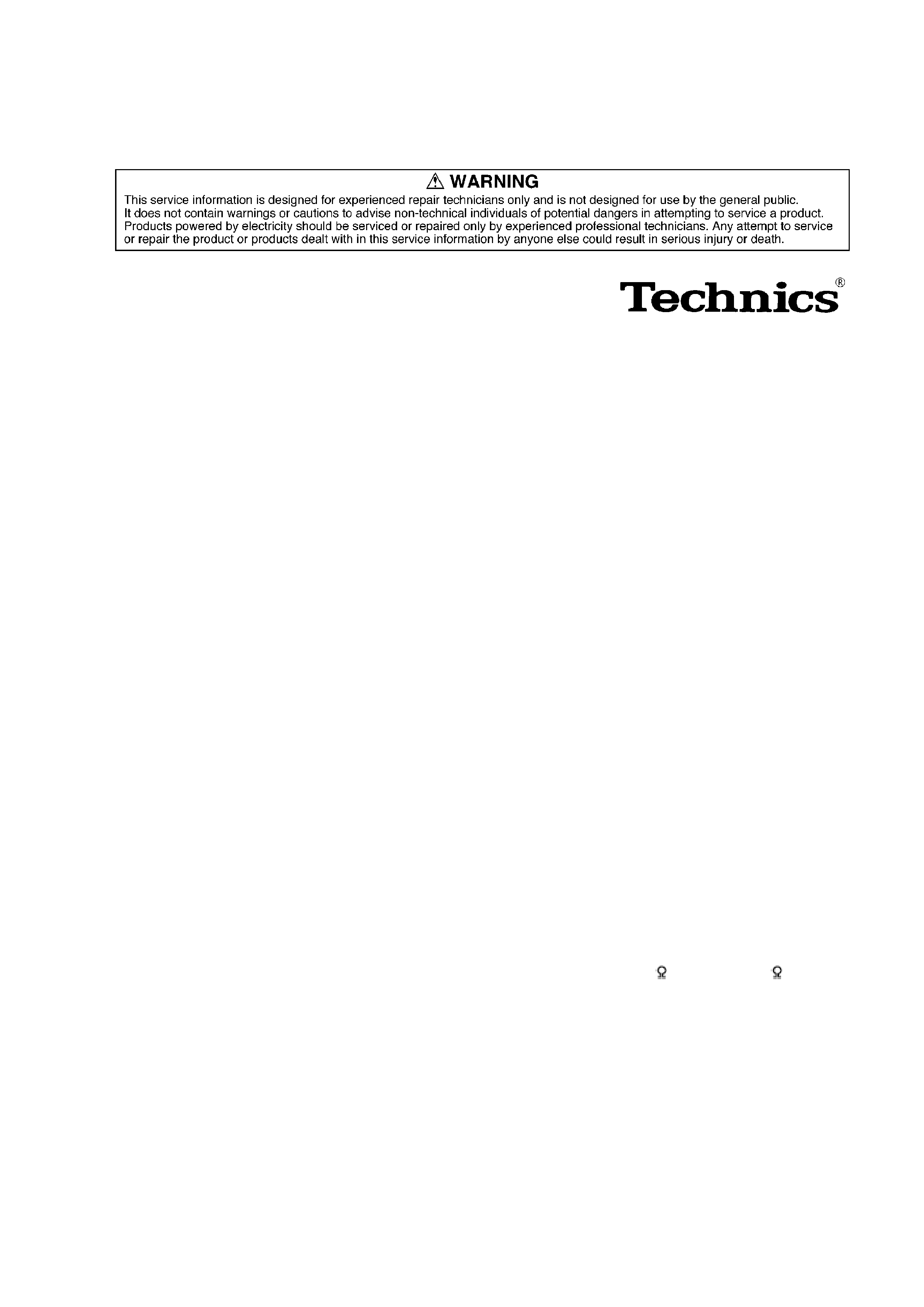 (This "Safety Precaution" is applied only in U.S.A.)
1. Before servicing, unplug the power cord to prevent an electric
2. When replacing parts, use only manufacturer's recommended
3. Check the condition of the power cord. Replace if wear or damage
4. After servicing, be sure to restore the lead dress, insulation
barriers, insulation papers, shields, etc.
5. Before returning the serviced equipment to the customer, be sure
to make the following insulation resistance test to prevent the
customer from being exposed to a shock hazard.
- Insulation Resistance Test
1. Unplug the power cord and short the two prongs of the plug with a
2. Turn on the power switch.
3. Measure the resistance value with ohmmeter between the jumper
AC plug and each exposed metal cabinet part, such as screw
heads, antenna, control shafts, handle brackets, etc. Equipment
with antenna terminals should read between 3M
exposed parts*. (Fig 1) Equipment without antenna terminals
should read approximately infinity to all exposed parts. (Fig 2)
*Note: Some exposed parts may be isolated from the chassis by
design. These will read infinity.
4. If the measurement is outside the specified limits, there is a
possibility of a shock hazard. The equipment should be repaired
---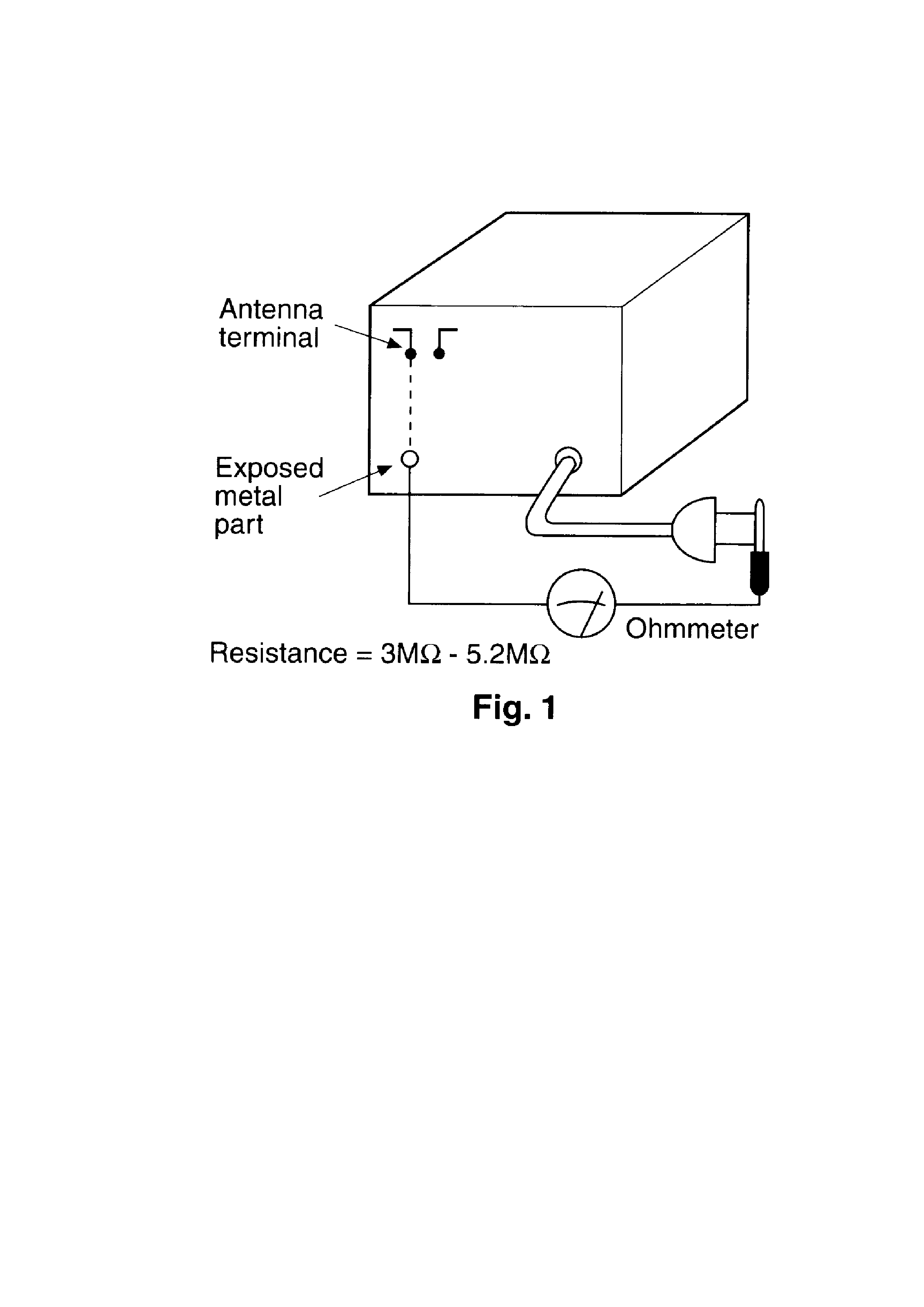 and rechecked before it is returned to the customer.
---