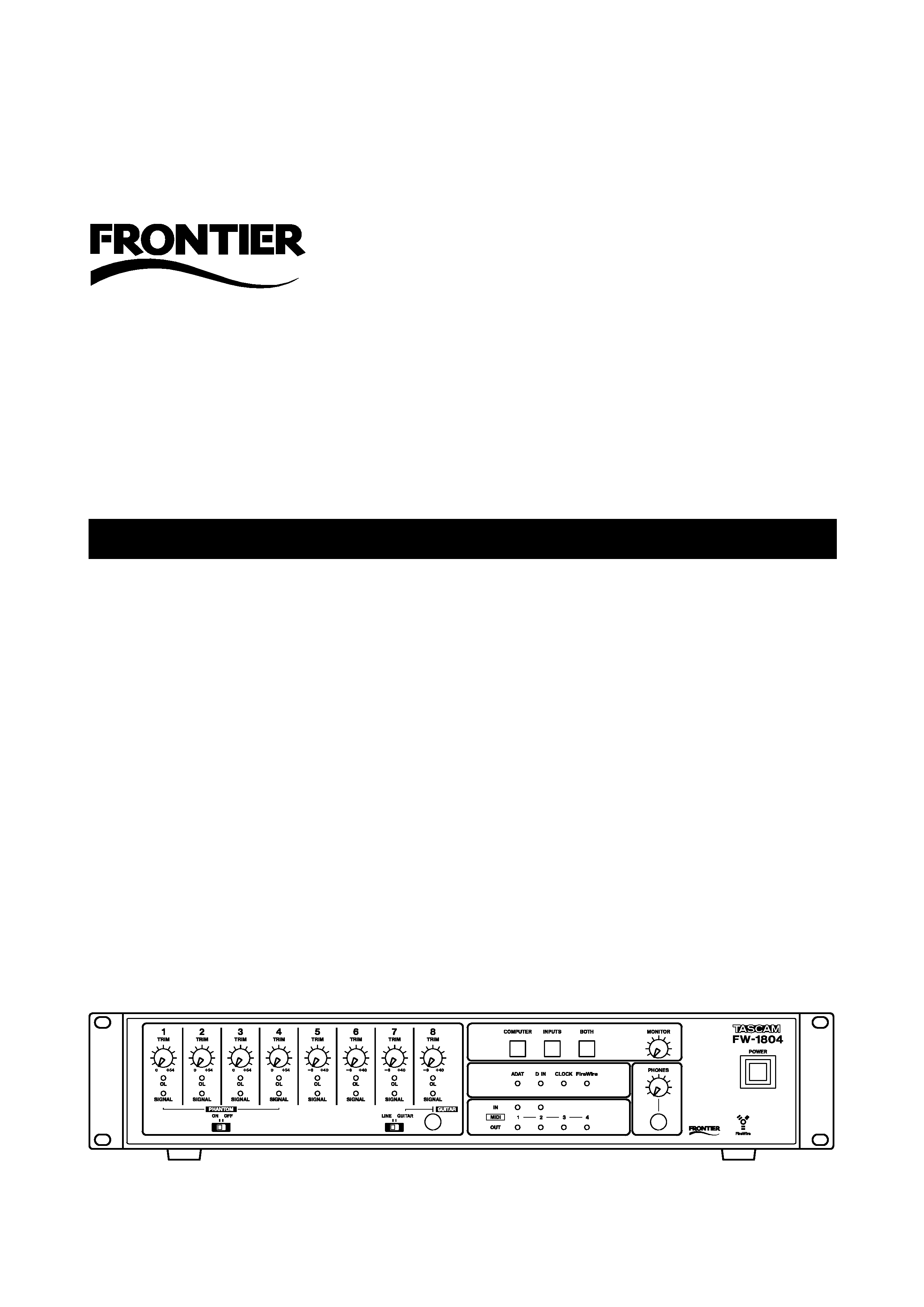 FireWire Audio-MIDI Interface
---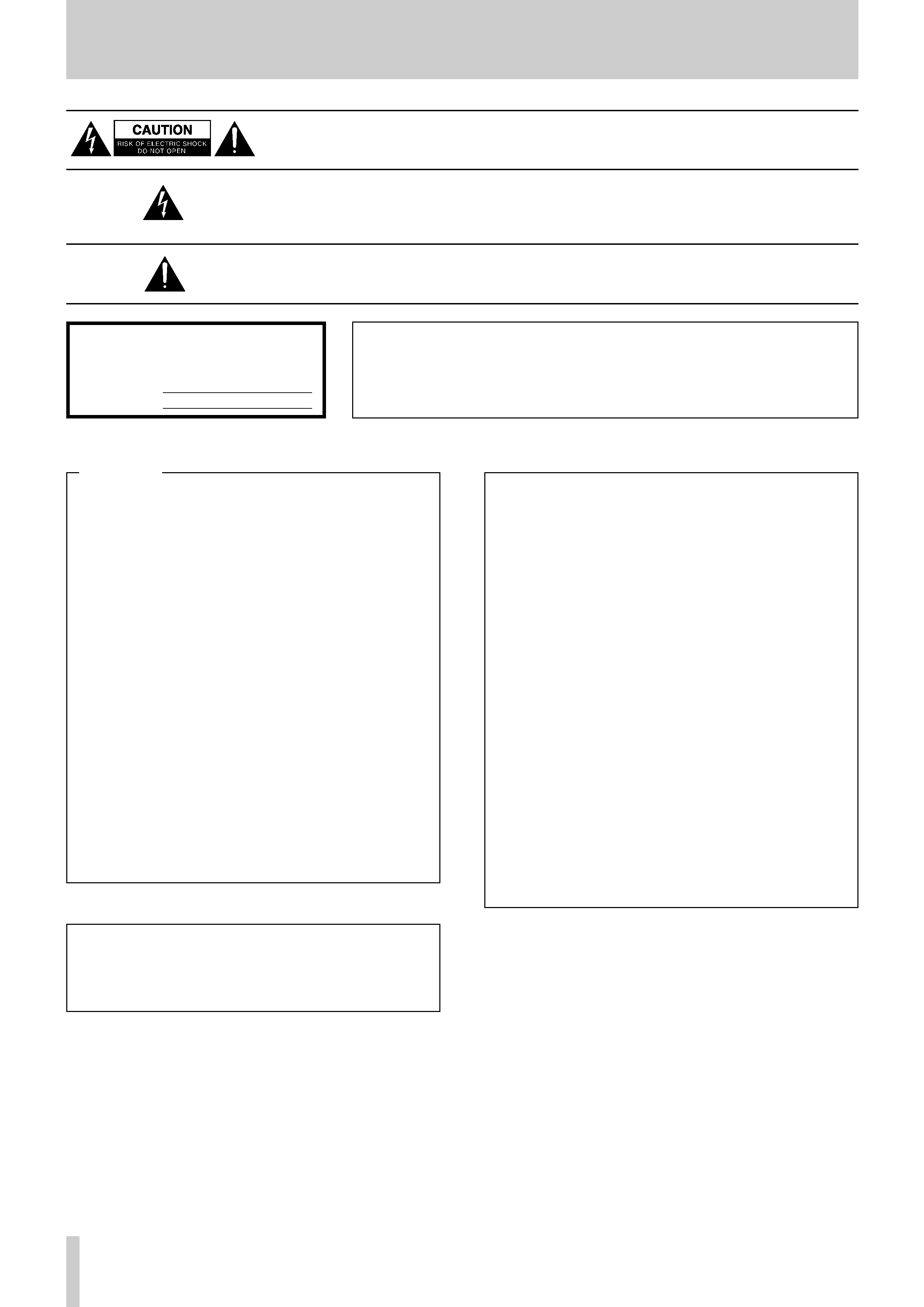 Important Safety Precautions
The exclamation point within an equilateral triangle is intended to alert the user to
the presence of important operating and maintenance (servicing) instructions in the
literature accompanying the appliance.
The lightning flash with arrowhead symbol, within equilateral triangle, is intended to
alert the user to the presence of uninsulated "dangerous voltage" within the prod-
uct's enclosure that may be of sufficient magnitude to constitute a risk of electric
CAUTION: TO REDUCE THE RISK OF ELECTRIC SHOCK, DO NOT REMOVE
COVER (OR BACK). NO USER-SERVICEABLE PARTS INSIDE. REFER SERVICING
TO QUALIFIED SERVICE PERSONNEL.
This appliance has a serial number locat-
ed on the rear panel. Please record the
model number and serial number and
retain them for your records.
WARNING: TO PREVENT FIRE OR SHOCK
HAZARD, DO NOT EXPOSE THIS
APPLIANCE TO RAIN OR MOISTURE.
This equipment has been tested and found to comply
with the limits for a Class A digital device, pursuant to
Part 15 of the FCC Rules. These limits are designed
to provide reasonable protection against harmful
interference when the equipment is operated in a
commercial environment. This equipment generates,
uses, and can radiate radio frequency energy and, if
not installed and used in accordance with the instruc-
tion manual, may cause harmful interference to radio
Operation of this equipment in a residential area is
likely to cause harmful interference in which case the
user will be required to correct the interference at his
Changes or modifications to this equipment not
expressly approved by TEAC CORPORATION for
compliance could void the user's authority to operate
For the customers in Europe
This is a Class A product. In a domestic environment,
this product may cause radio interference in which
case the user may be required to take adequate
Pour les utilisateurs en Europe
Il s'agit d'un produit de Classe A. Dans un environ-
nement domestique, cet appareil peut provoquer des
interférences radio, dans ce cas l'utilisateur peut être
amené à prendre des mesures appropriées.
Dies ist eine Einrichtung, welche die Funk-Entstörung
nach Klasse A besitzt. Diese Einrichtung kann im
Wohnbereich Funkstörungen versursachen ; in
diesem Fall kann vom Betrieber verlang werden,
angemessene Maßnahmen durchzuführen und dafür
a) Applicable electromagnetic environment: E4
b) Peak inrush current: 4.6 A
---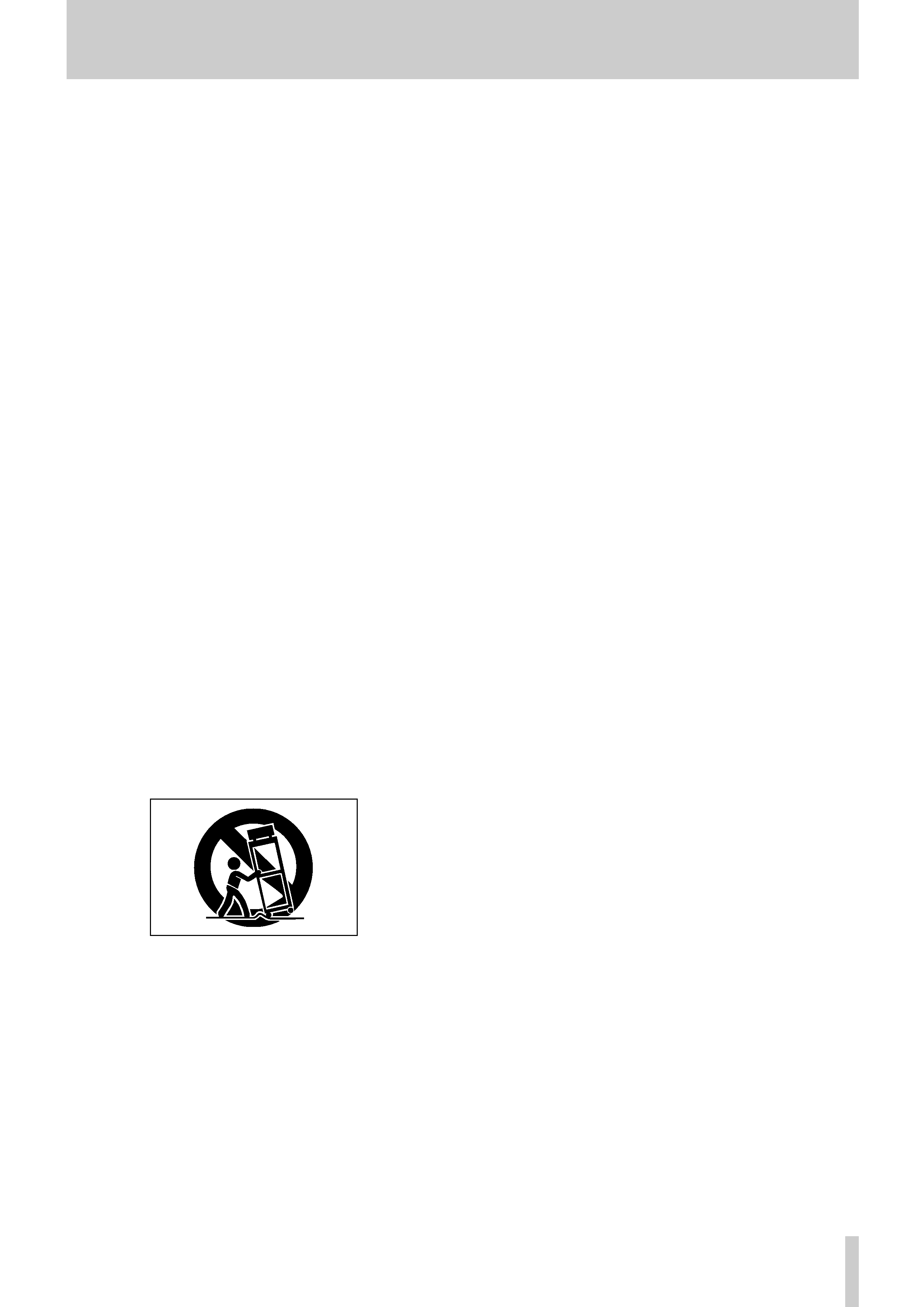 Important Safety Instructions
1 Read these instructions.
2 Keep these instructions.
4 Follow all instructions.
5 Do not use this apparatus near water.
6 Clean only with dry cloth.
7 Do not block any ventilation openings. Install in accor-
dance with the manufacturer's instructions.
8 Do not install near any heat sources such as radiators,
heat registers, stoves, or other apparatus (including
amplifiers) that produce heat.
9 Do not defeat the safety purpose of the polarized or
grounding-type plug. A polarized plug has two blades
with one wider than the other. A grounding type plug
has two blades and a third grounding prong. The wide
blade or the third prong are provided for your safety. If
the provided plug does not fit into your outlet, consult
an electrician for replacement of the obsolete outlet.
10 Protect the power cord from being walked on or
pinched particularly at plugs, convenience receptacles,
and the point where they exit from the apparatus.
11 Only use attachments/accessories specified by the
12 Use only with the cart, stand, tripod, bracket, or table
specified by the manufacturer, or sold with the appara-
tus. When a cart is used, use caution when moving the
cart/apparatus combination to avoid injury from tip-
13 Unplug this apparatus during lightning storms or when
unused for long periods of time.
14 Refer all servicing to qualified service personnel.
Servicing is required when the apparatus has been
damaged in any way, such as power-supply cord or
plug is damaged, liquid has been spilled or objects
have fallen into the apparatus, the apparatus has been
exposed to rain or moisture, does not operate normally,
· Do not expose this apparatus to drips or splashes.
·Do not place any objects filled with liquids, such as
· Do not install this apparatus in a confined space such as
a book case or similar unit.
· The apparatus draws nominal non-operating power from
the AC outlet with its POWER switch in the off position.
---

Introduction ............................. 5
Overview ............................... 5
Features ............................... 5
System Requirements .................... 5
In the Box .............................. 6
Rack-mounting the Unit ................. 6
Nomenclature Used in the Manual ......... 6
Copyright, etc. ........................ 6
Parts of the FW-1804 ...................... 7
Front Panel ............................. 7
Rear Panel ............................. 9
Monitor Mixing ........................... 10
Setting and Checking Clock Rates ........... 10
Monitor Mixing .......................... 10
Monitoring Setups ..................... 10
Making Mixer Settings .................... 10
Setting Input Levels .................... 11
Control Panel............................. 12
Settings Tab ............................ 12
Routing Tab ............................ 12
Quick Start Tab (Windows only) ............. 13
Core Audio Tab (Mac OS X only) ............ 13
Troubleshooting .......................... 14
Specifications ............................ 15
---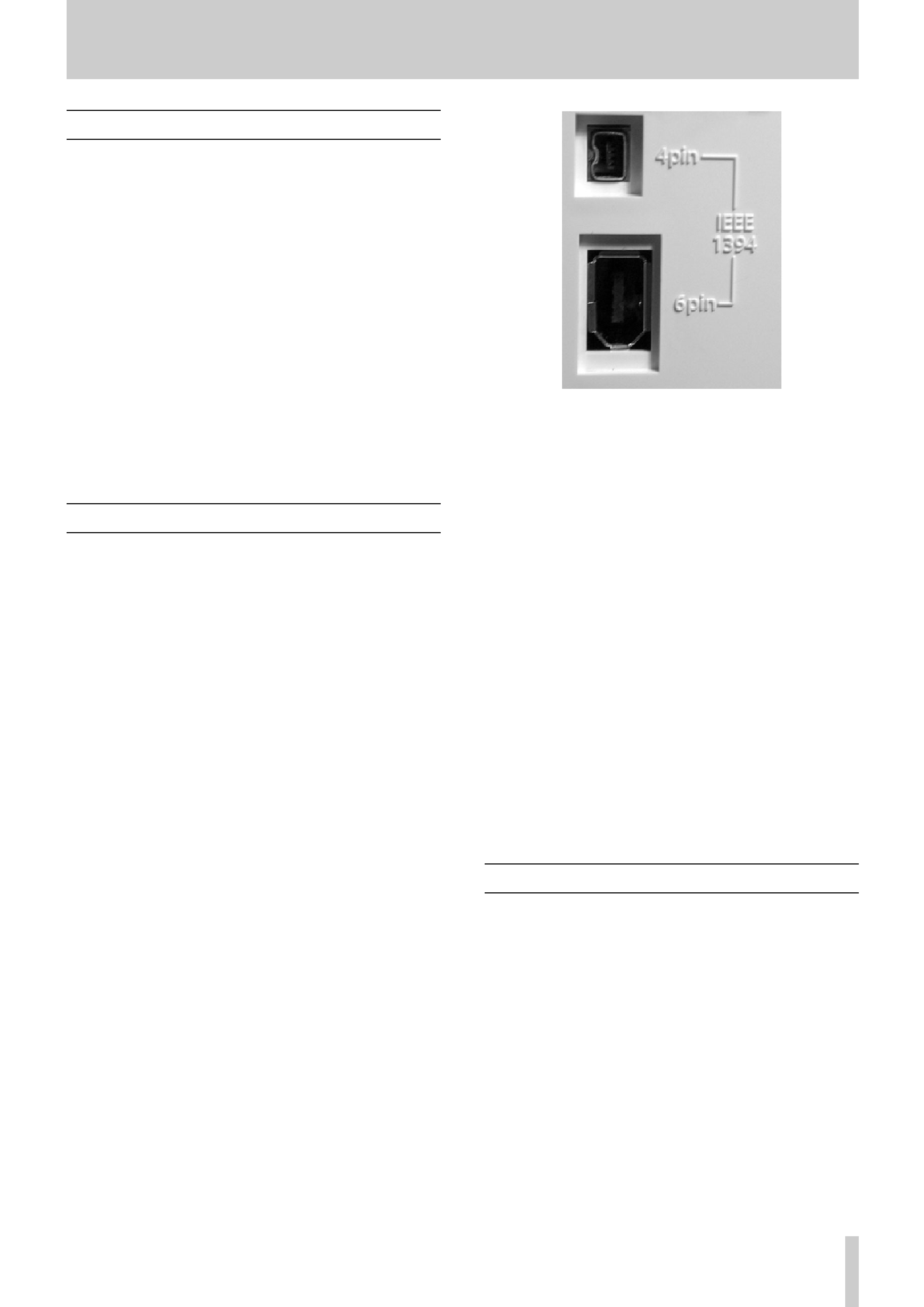 Thank you for choosing the TASCAM FW-1804. We have
designed the FW-1804 to be an ideal audio/MIDI interface
for your computer-based digital audio workstation system.
Its integrated design incorporates a high-resolution profes-
sional multi-channel audio interface and integrated zero-
latency input monitor mixer and a 2 x 4 MIDI interface.
Please take some time to look through this owner's manual
and familiarize yourself with the FW-1804's features and
operation. We suggest you pay particular attention to the
operational notes for your software application(s) of choice.
You may also want to refer to your software's documenta-
tion in many cases, for a clear understanding of how to con-
figure device drivers. Your experience with the FW-1804
will be greatly enhanced by a good working knowledge of
The audio input section is fully 24-bit and can accommo-
date sample rates of up to 96 kHz. It is capable of inputting
up to eighteen simultaneous channels of audio (eight ana-
log, eight ADAT digital and two S/PDIF digital) to your
computer. It features eight analog inputs, four with profes-
sional quality microphone preamps and switchable phantom
power, as well as eight line inputs and four analog channel
inserts. Digital inputs are available in an S/PDIF coaxial
configuration and an ADAT optical configuration.
The output section offers two balanced line level analog
outputs. A stereo S/PDIF coaxial digital output and eight
channel ADAT optical output are also featured.
The FW-1804 is supported under Windows XP and
Windows 2000, Mac OS X 10.2.8 (Jaguar) or later and Mac
OS 9.2.2 or later. In addition, your computer must be fitted
with a 6-pin IEEE 1394 (FireWire
TM
) interface.
Some manufacturers may use a different nomenclature to
refer to their FireWire
TM
connections, such as Sony's
"i.LINK", or simply "1394".
The FW-1804 comes with a high-quality 6-pin to 6-pin
interface cable. We strongly suggest you use this cable, or
one of equal quality, for optimum audio performance. We
always recommend the use of a 6-pin IEEE 1394 connector
(not the 4-pin type) on your computer.
The FW-1804 is supplied with a 2 m (6-foot) cable. If you
wish to use a longer cable, the length should not be more
than 4 m (13 feet) and the cable should be the best possible
quality available to avoid data loss, which results in audio
· We strongly suggest that although a "daisy-chain" con-
nection is provided, that the FW-1804 is the only unit
connected to the FireWire port.
· Always perform all FireWire connections and disconnec-
tions with the power to both the FW-1804 and the com-
puter turned off. If connections are made or broken with
power to the FW-1804 or computer turned on, this may
result in your computer crashing, or "freezing" and pos-
· When turning the power of the FW-1804 on and off
when it is connected to the computer, turn on the power
before launching the DAW software, and quit the soft-
ware before turning off the FW-1804.
The FW-1804 is supported under Windows XP and
Windows 2000. The FW-1804 is not supported under
Windows 98 or Windows ME.
In the case of Windows 2000, you must be running SP3 or
SP4 and then use the supplied installer which includes the
Hotfix. Windows 2000 SP5 includes the Hotfix, so the FW-
1804 driver installer only may be used. For Windows XP,
you must be running SP1 and then use the supplied installer
which includes the Hotfix. Windows XP SP2 includes the
Hotfix, so the FW-1804 driver installer only may be used.
On the Mac, the FW-1804 is supported under Mac OS X
version 10.2.8 or later and Mac OS 9.2.2. Earlier versions
of Macintosh operating systems are not supported.
---