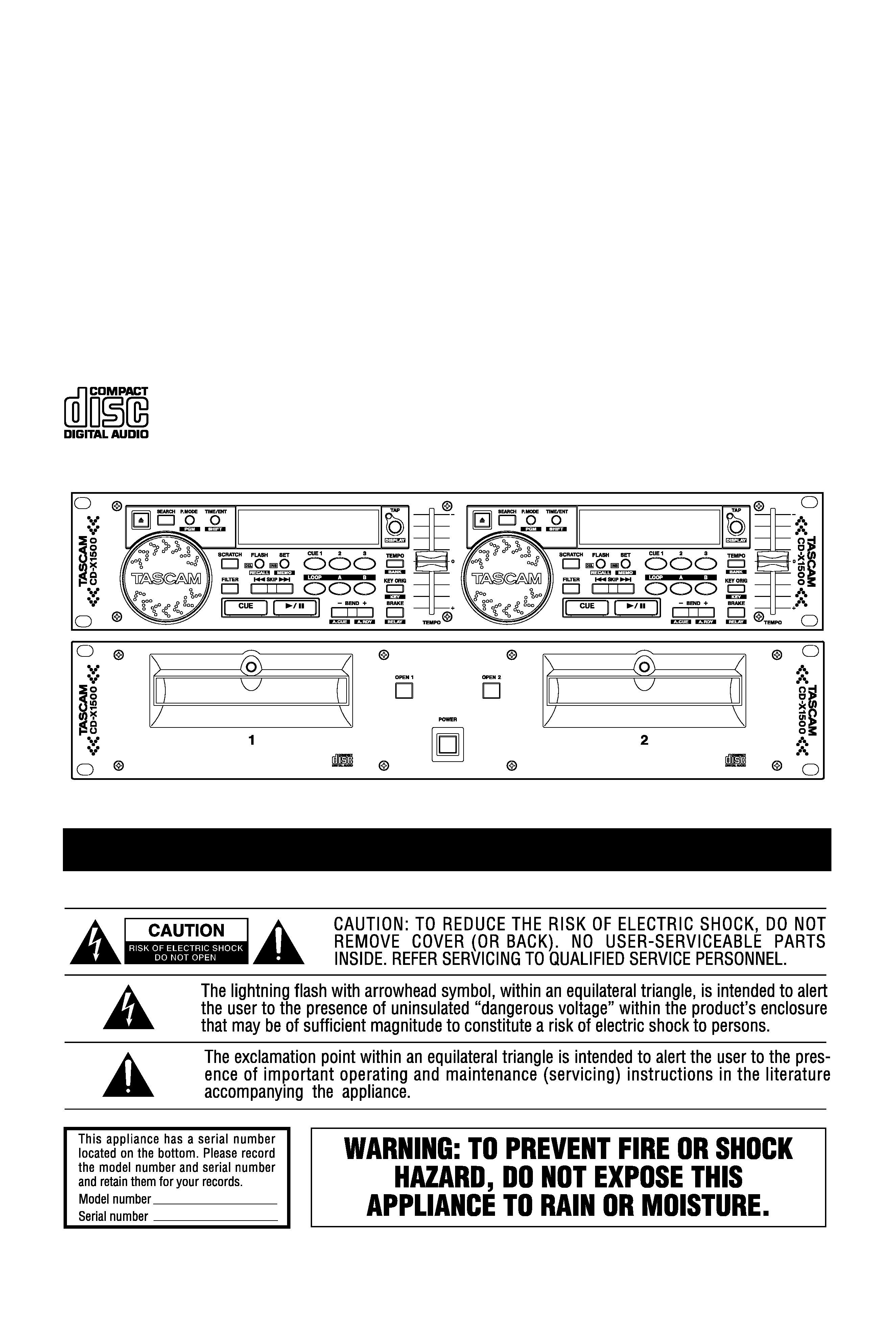 OWNER'S MANUAL / MANUAL DEL USUARIO
---

IMPORTANT SAFETY PRECAUTIONS
2
TASCAM CD-X1500 DUAL CD PLAYER
IMPORTANT (for U.K. Customers)
DO NOT cut off the mains plug from this
DO NOT cut off the mains plug from this
If the plug fitted is not suitable for the power points
in your home or the cable is too short to reach a
power point, then obtain an appropriate safety
approved extension lead or consult your dealer.
If nonetheless the mains plug is cut off, remove the
fuse and dispose of the plug immediately, to avoid
a possible shock hazard by inadvertent connection
If this product is not provided with a mains plug, or
one has to be fitted, then follow the instructions
IMPORTANT: DO NOT make any connection to
the larger terminal which is marked with the letter
E or by the safety earth symbol c or coloured
GREEN or GREEN-and-YELLOW.
The wires in the mains lead on this product are
coloured in accordance with the following code:
As these colours may not correspond with the
coloured markings identifying the terminals in
your plug proceed as follows:
The wire which is coloured BLUE must be
connected to the terminal which is marked with the
letter N or coloured BLACK.
The wire which is coloured BROWN must be
connected to the terminal which is marked with the
letter L or coloured RED.
When replacing the fuse only a correctly rated
approved type should be used and be sure to re-fit
IF IN DOUBT -- CONSULT A COMPETENT
This equipment has been tested and found to
comply with the limits for a Class A digital device,
pursuant to Part 15 of the FCC Rules. These limits
are designed to provide reasonable protection
against harmful interference when the equipment
is operated in a commercial environment. This
equipment generates, uses, and can radiate radio
frequency energy and, if not installed and used in
accordance with the instruction manual, may
Operation of this equipment in a residental area is
likely to cause harmful interference in which case
the user will be required to correct the interference
Changes or modifications to this equipment not
expressly approved by TEAC CORPORATION for
compliance could void the user's authority to
For the consumers in Europe
This is a Class A product. In a domestic environment,
this product may cause radio interference in which
case the user may be required to take adequate
Pour les utilisateurs en Europe
Il s'agit d'un appareil de Classe A. Dans un
provoquer des interférences radio. Dans ce cas,
l'utilisateur peut être amené à prendre des mesures
Dies is eine Einrichtung, welche die Funk-Entstörung
nach Klasse A besitzt. Diese Einrichtung kann im
Wohnbereich Funkstörungen versursachen ; in
diesem Fall kann vom Betrieber verlang werden,
angemessene Maßnahmen durchzführen und dafür
---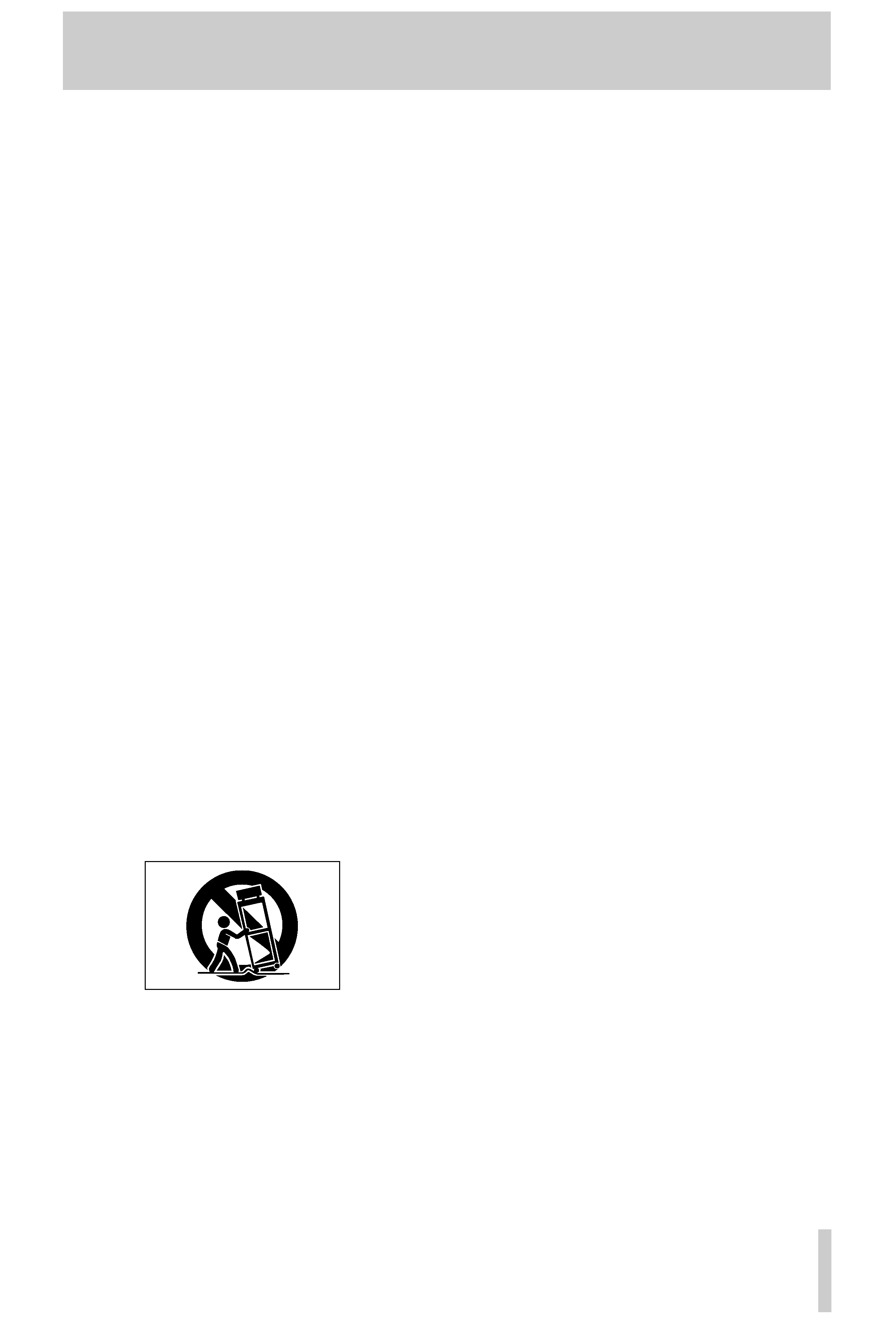 IMPORTANT SAFETY INSTRUCTIONS (1)
TASCAM CD-X1500 DUAL CD PLAYER
Do not use this apparatus near water.
Clean only with dry cloth.
Do not block any ventilation openings. Install in
accordance with the manufacturer's instructions.
Do not install near any heat sources such as
radiators, heat registers, stoves, or other apparatus
(including amplifiers) that produce heat.
Do not defeat the safety purpose of the polarized or
grounding-type plug. A polarized plug has two
blades with one wider than the other. A grounding
type plug has two blades and a third grounding
prong. The wide blade or the third prong are
provided for your safety. If the provided plug does
not fit into your outlet, consult an electrician for
replacement of the obsolete outlet.
10 Protect the power cord from being walked on or
receptacles, and the point where they exit from the
11 Only use attachments/accessories specified by the
12 Use only with the cart, stand, tripod, bracket, or
table specified by the manufacturer, or sold with the
apparatus. When a cart is used, use caution when
moving the cart/apparatus combination to avoid
13 Unplug this apparatus during lightning storms or
when unused for long periods of time.
14 Refer all servicing to qualified service personnel.
Servicing is required when the apparatus has been
damaged in any way, such as power-supply cord or
plug is damaged, liquid has been spilled or objects
have fallen into the apparatus, the apparatus has
been exposed to rain or moisture, does not operate
normally, or has been dropped.
... Do not expose this apparatus to drips or splashes.
... Do not place any objects filled with liquids, such as
... Do not install this apparatus in a confined space such
as a book case or similar unit.
... The apparatus draws nominal non-operating power
from the AC outlet with its POWER switch in the off
---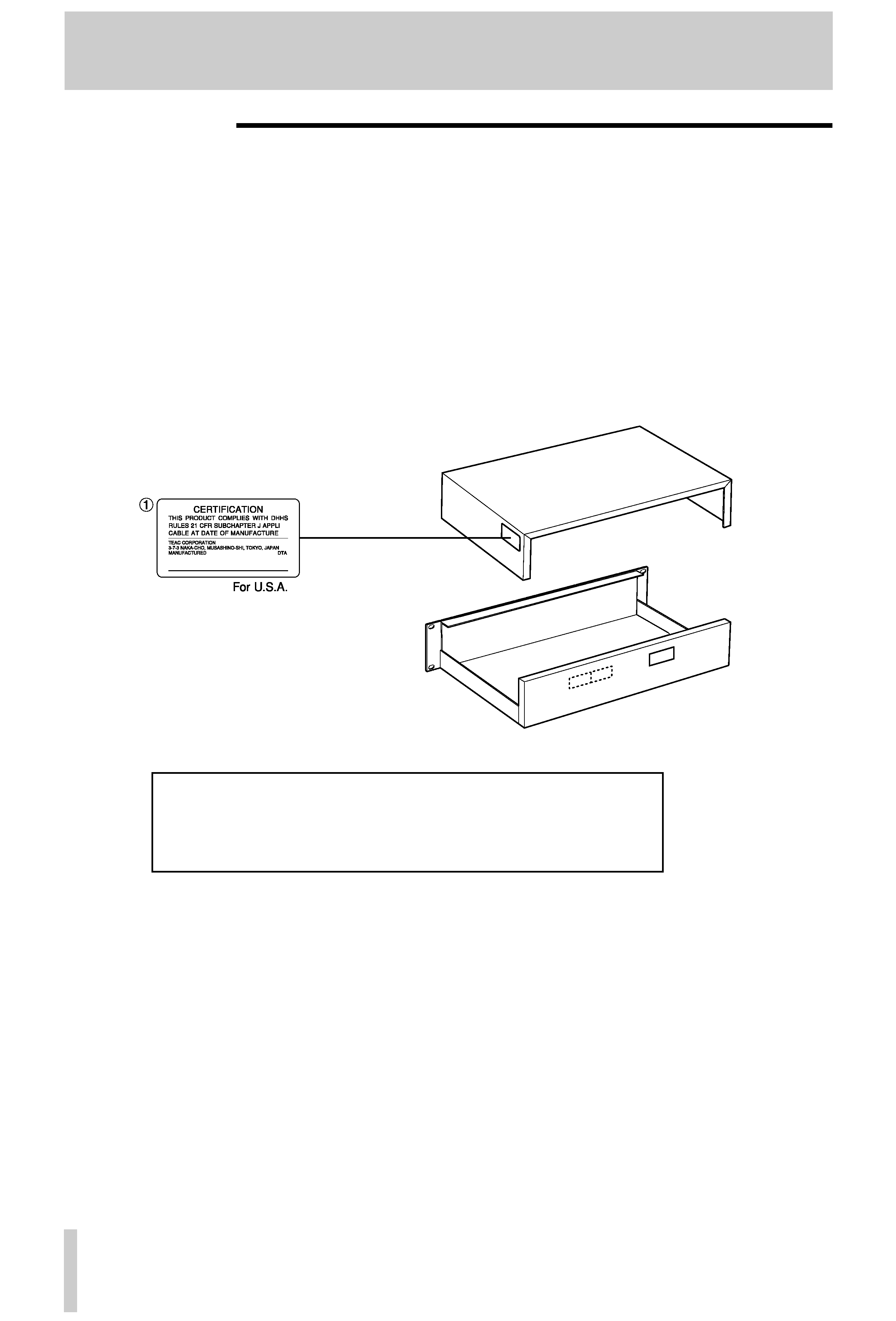 4
TASCAM CD-X1500 DUAL CD PLAYER
This product has been designed and manufactured according to FDA regulations "title 21, CFR, chapter 1, subchapter J,
based on the Radiation Control for Health and Safety Act of 1968", and is classified as a class 1 laser product. There is no
hazardous invisible laser radiation during operation because invisible laser radiation emitted inside of this product is
completely confined in the protective housings.
The label required in this regulation is shown 1.
- DO NOT REMOVE THE PROTECTIVE HOUSING USING A SCREWDRIVER.
- USE OF CONTROLS OR ADJUSTMENTS OR PERFORMANCE OF PROCEDURES OTHER THAN THOSE SPECIFIED HEREIN MAY
RESULT IN HAZARDOUS RADIATION EXPOSURE.
- IF THIS PRODUCT DEVELOPS TROUBLE, CONTACT YOUR NEAREST QUALIFIED SERVICE PERSONNEL, AND DO NOT USE THE
PRODUCT IN ITS DAMAGED STATE.
: Less than 0.4 mW on the objective lens
IMPORTANT SAFETY INSTRUCTIONS (2)
---

TASCAM CD-X1500 DUAL CD PLAYER
1. Before you start............................................... 6
1.1 Environmental conditions .......................... 6
1.2 Beware of condensation ............................. 6
1.3 Handling of discs ....................................... 6
2. Functions and Controls ................................... 7
2.1 Main Unit (Front Panel)............................. 7
2.2 Main Unit (Rear Panel).............................. 7
2.3 Remote Controller (Top Panel) .................. 8
2.4 Remote Controller (Bottom Panel) .......... 10
2.5 Remote Controller (LCD) ........................ 10
3. Playback operation........................................ 12
3.1 CUE.......................................................... 12
To memorize the CUE point ....................... 12
Stutter play with CUE key .......................... 12
3.2 CUE 1-3 ................................................... 12
To memorize the CUE 1-3 points ............... 12
Stutter play with CUE 1-3 keys .................. 12
3.3 Flash Start ................................................ 12
3.4 A-B Looping ............................................ 13
To store the LOOP points............................ 13
Disengage the loop ...................................... 13
Re-looping ................................................... 13
Erasing the LOOP points............................. 13
Changing the LOOP end point (B point) .... 13
3.5 Adjusting the tempo ................................. 14
Tempo range ................................................ 14
Using the TEMPO slider ............................. 14
Using the TAP key....................................... 14
3.6 Pitch bending............................................ 14
3.7 Key original.............................................. 14
4. More advanced operation.............................. 15
4.1 Key control............................................... 15
4.2 Scratching................................................. 15
4.3 Brake ........................................................ 15
Set the brake time........................................ 15
4.4 FILTER..................................................... 15
4.5 Track Memory / Recall ............................ 16
Track memory ............................................. 16
Recall........................................................... 16
4.6 Fader Start ................................................ 17
4.7 Relay Play ................................................ 17
4.8 Auto Cue .................................................. 17
4.9 Auto Ready............................................... 17
4.10 Programmed Play ................................... 18
Create the program ...................................... 18
Edit program................................................ 18
Insert program ............................................. 18
Delete program ............................................ 19
4.11 Preset menu ............................................ 19
4.12 Backup memory ..................................... 20
5. Specifications ................................................ 21
Error Messages............................................... 21
Demensions ...........................................Back page
---