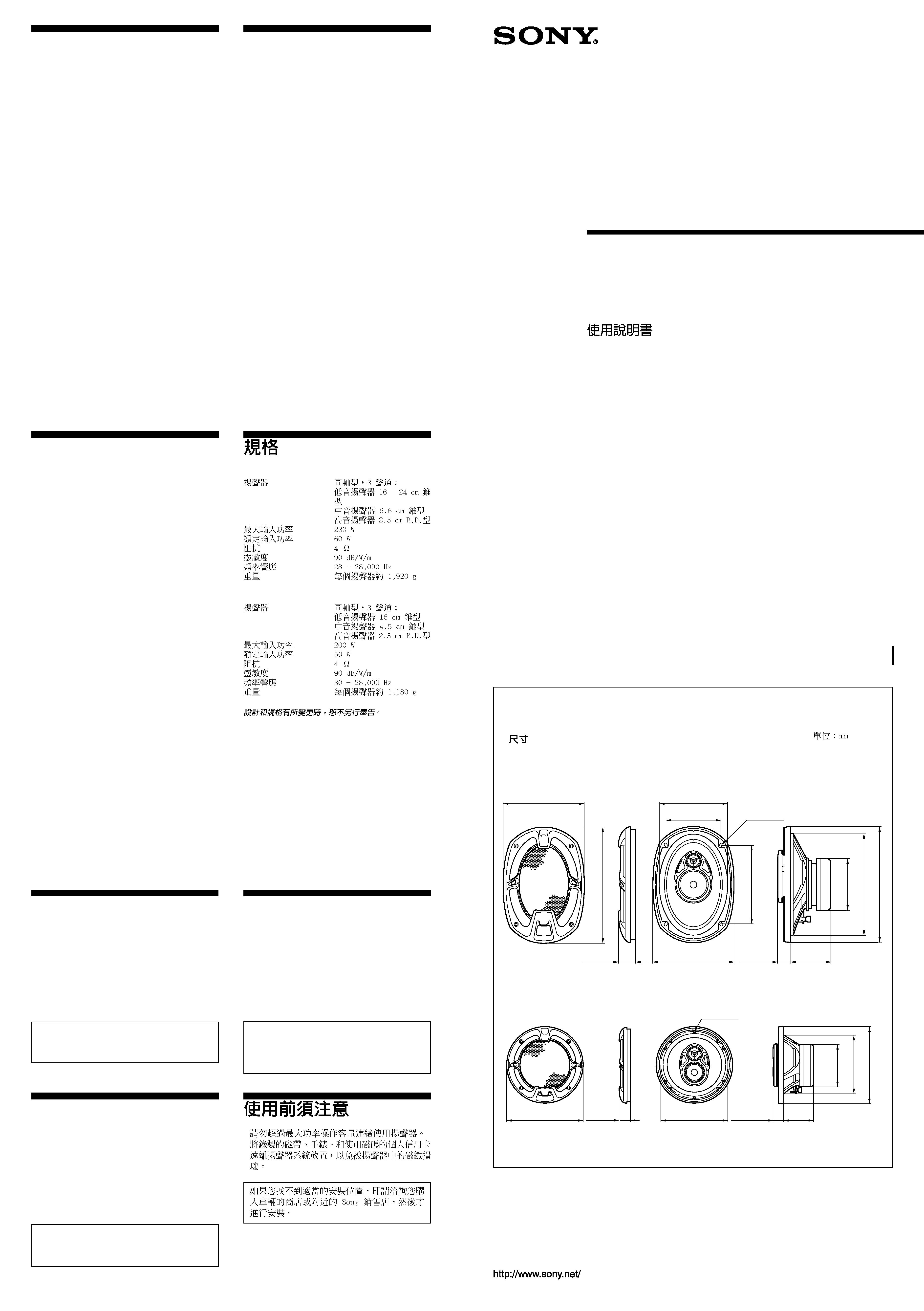 Midrange 6.6 cm (2
5
/
8
in.)
Maximum input power 230 W
Maximum input power 200 W
Design and specifications are subject to change
Médium 6,6 cm (2
5
/
8
po.)
Puissance d'entrée maximale
Env. 1.920 g (4 liv. 4 on.)
(1
13
/
16
po.) type conique
Tweeter de 2,5 cm (1 po.)
Puissance d'entrée maximale
Env. 1.180 g (2 liv. 10 on.)
La conception et les spécifications sont modifiables
Potencia máxima de entrada
Potencia nominal de entrada
Aprox. 1 920 g por altavoz
Graves 16 cm, tipo cónico
Potencia máxima de entrada
Potencia nominal de entrada
Aprox. 1 180 g por altavoz
Diseño y especificaciones sujetos a cambio sin
· Do not continuously use the speaker system
beyond the maximum power handling
· Keep recorded tapes, watches, and personal
credit cards using magnetic coding away from
the speaker system to protect them from
damage caused by the magnets in the
If you cannot find an appropriate mounting
location, consult your car dealer or your
nearest Sony dealer before mounting.
· Eviter de soumettre en continu le système de
haut-parleurs à une puissance supérieure à la
· Garder les bandes enregistrées, les montres et
les cartes de crédit utilisant un code
magnétique à l'écart du système de haut-
parleurs pour éviter tout dommage causé par
les aimants des haut-parleurs.
Si l'on ne peut trouver un emplacement
adéquat pour l'installation, consulter le
distributeur Sony le plus proche.
·Tenga cuidado de no utilizar el sistema de
altavoces de forma continua con una potencia
que sobrepase la potencia admisible.
·Mantenga alejados del sistema de altavoces
las cintas grabadas, relojes o tarjetas de
crédito con codificación magnética para evitar
daños que posiblemente causaría el imán de
Si no encuentra un emplazamiento
apropiado para el montaje, consulte al
distribuidor de su automóvil o al proveedor
---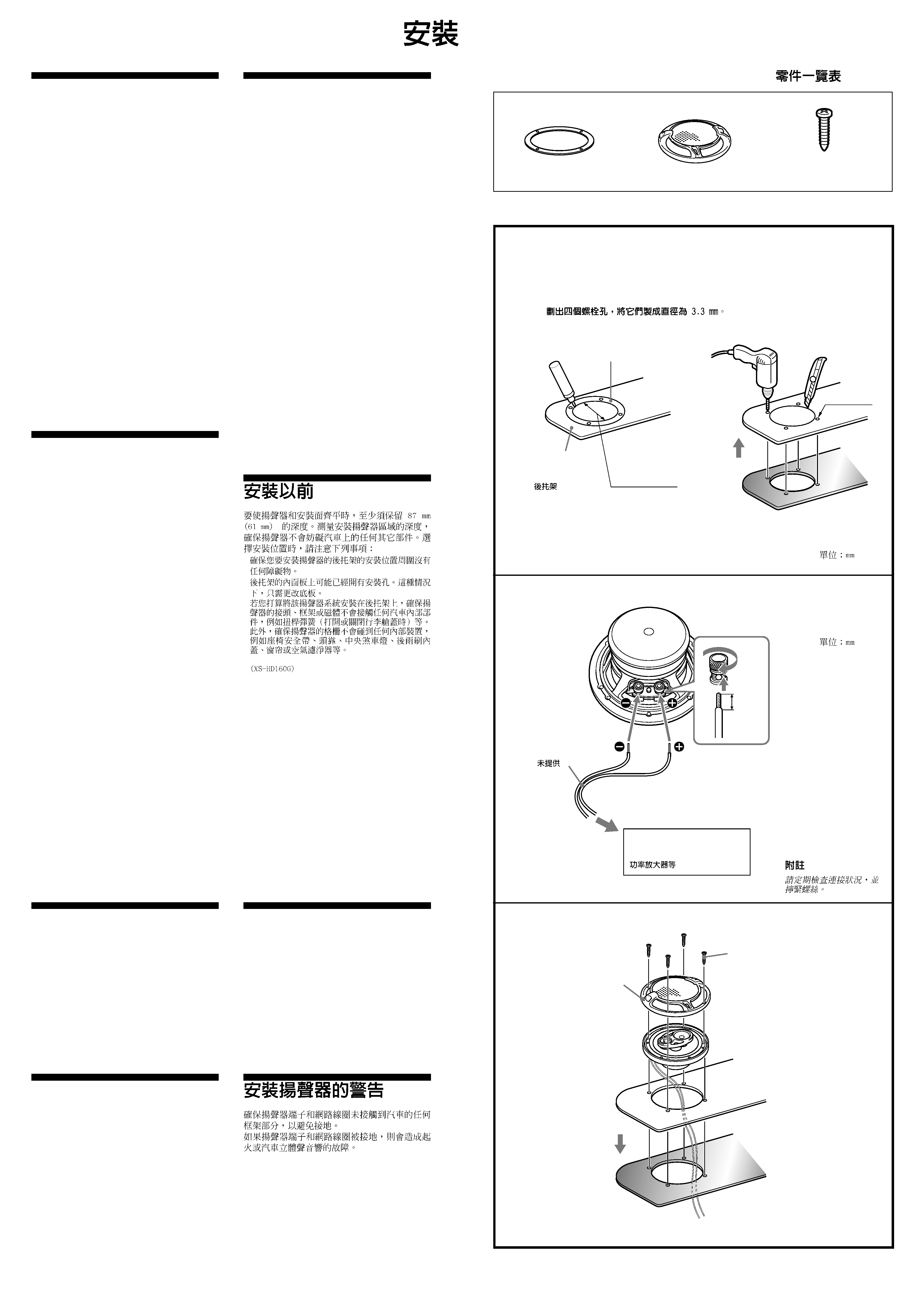 Parts list / Liste des pièces / Lista de las piezas /
Mark the four bolt holes and make them 3.3 mm (
5
/
32
in.) in diameter.
Marquer les quatre orifices des boulons et percer des trous de 3,3 mm (
5
/
32
po.)
Marque los orificios para los cuatro pernos y haga agujeros de 3,3 mm de
Make sure that the speaker terminal and the
network coil do not touch any part of the car
frame to avoid grounding.
If the speaker terminal or network coil is
grounded, it may cause fire or a malfunction of
Assurez-vous que le terminal du haut-parleur
et que le rouleau du réseau ne touchent aucune
partie du châssis de la voiture afin d'éviter une
Une mise à la terre est susceptible de provoquer
un incendie ou un mauvais fonctionnement de
Mounting/Montage/Montaje/
A depth of at least 87 mm / 3
1
/
2
in. (61 mm /
2
1
/
2
in.)* is required for flush mounting.
Measure the depth of the area where you are to
mount the speaker, and ensure that the speaker
is not obstructing any other components of the
car. Keep the following in mind when choosing
·Make sure that nothing is obstructing around
the mounting location of the rear tray where
you are to mount the speaker.
·A hole for mounting may already be cut out
of the inner panel of the rear tray. In this case,
you need to modify the board only.
·If you are to mount this speaker system in the
rear tray, make sure that the speaker
terminals, frame or magnet do not touch any
inner parts of the car, such as the torsion bar
springs (when you open or close the trunk
Also make sure that the speaker grille does
not touch any inner fittings, such as seat belts,
head rests, center brake lights, inner covers of
the rear wipers, curtains or air purifiers etc.
Une profondeur d'au moins 87 mm / 3
1
/
2
po.
(61 mm / 2
1
/
2
po.)* est nécessaire pour
effectuer le montage encastré. Mesurez la
profondeur de l'emplacement où vous
souhaitez monter le haut-parleur, puis assurez-
vous que le haut-parleur ne gène en rien les
autres composants du véhicule. Prenez en
considération les points suivants lors du choix
de l'emplacement de montage:
·Assurez-vous qu'aucun objet ne gêne à
proximité de l'emplacement de montage sur
la plage arrière où vous envisagez de monter
·Il est possible qu'un trou ait déjà été découpé
dans le panneau intérieur de la plage arrière.
Dans ce cas, il vous suffit de modifier le
·Si vous envisagez de monter ce système de
haut-parleur sur la plage arrière, assurez-vous
que les bornes, le cadre ou les aimants du
haut-parleur ne sont pas en contact avec des
pièces internes du véhicule, telles que les
ressorts à barre de torsion (lorsque vous
ouvrez ou fermez le coffre), etc.
Assurez-vous également que la grille du haut-
parleur n'entre pas en contact avec des
éléments internes, tels que ceintures de
sécurité, appuis-tête, feux de stop centraux,
garnitures intérieures des essuie-glaces
arrières, rideaux ou filtres à air, etc.
Para el montaje alineado, es necesaria una
profundidad mínima de 87 mm (61 mm)*. Mida
la profundidad del lugar donde desea montar
el altavoz y compruebe que el altavoz no
obstruya ningún componente del automóvil.
Antes de elegir el lugar de montaje, se debe
tener en cuenta lo siguiente:
·Asegúrese de que no haya obstáculos en el
lugar de montaje de la bandeja posterior en la
que desea instalar el altavoz.
·Es posible que ya exista un orificio de montaje
en el panel interior de la bandeja posterior. En
este caso, sólo debe modificar el salpicadero.
·Si desea montar el sistema de altavoces en la
bandeja posterior, asegúrese de que los
terminales del altavoz, automóvil o el imán no
están en contacto con los componentes
interiores del la estructura como, por ejemplo,
los resortes de la barra de torsión (cuando
abra o cierre el portaequipajes), etc.
Asegúrese también de que la rejilla del
altavoz no está en contacto con accesorios
interiores como, por ejemplo, los cinturones
de seguridad, los reposacabezas, las luces de
frenos centrales, las cubiertas interiores de los
limpiaparabrisas posteriores, cortinas o
Amplificateur de puissance, etc.
Amplificador de potencia, etc.
Asegúrese de que la terminal del altavoz y la
bobina de red no toquen ninguna parte de la
carrocería del auto para evitar que un mal
contacto o que generen una toma de tierra.
Si la terminal del altavoz o la bobina de red se
conectan a tierra puede producirse un incendio
o una falla del equipo de sonido del auto.
---