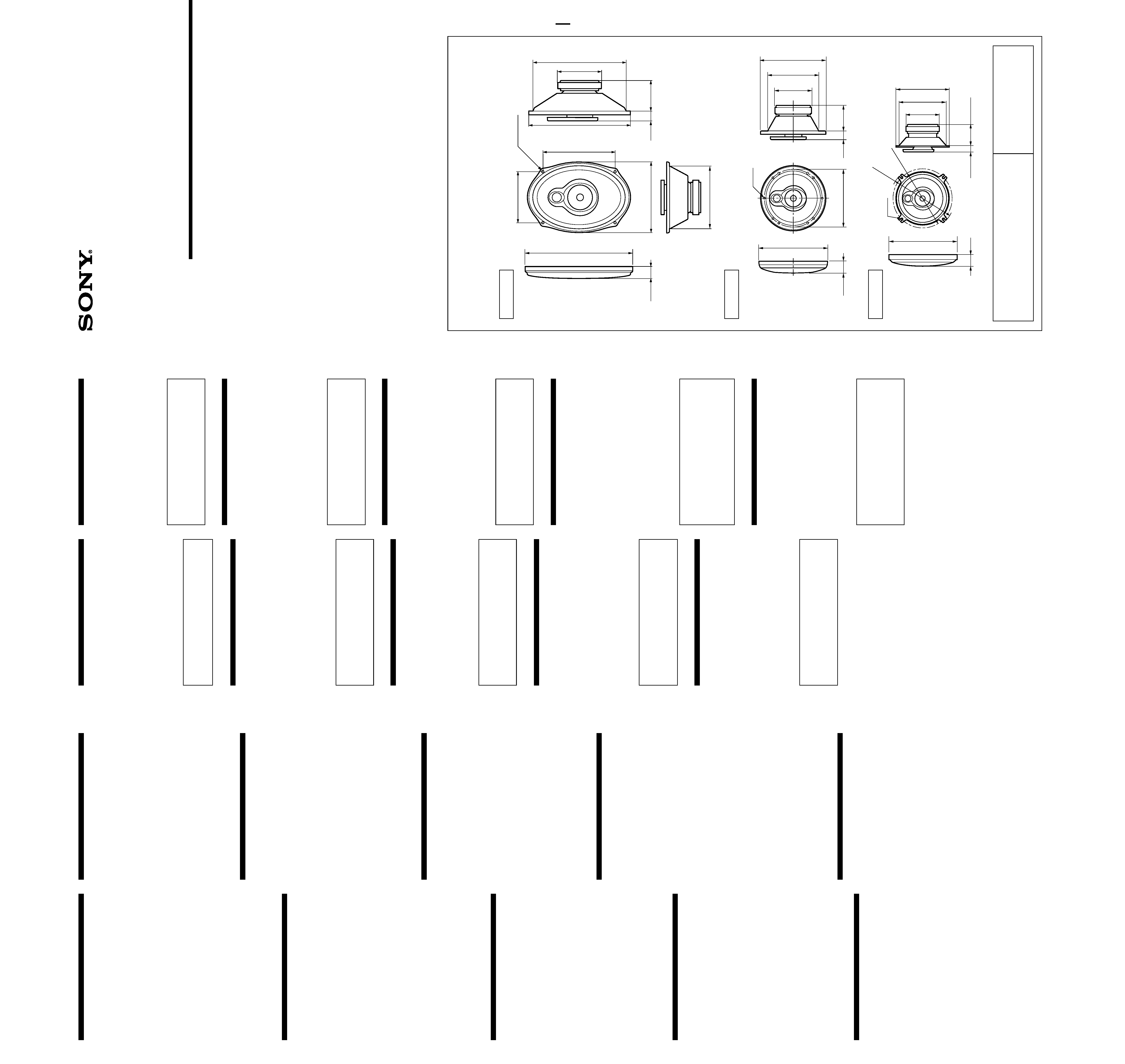 9
1
/
2
in.) (16 cm (6
3
/
8
in.))*
1
(13 cm (5
1
/
8
in.))*
2
cone type
Midrange 6.6 cm (2
5
/
8
in.)
(4 cm (1
5
/
8
in.))*
2
cone type
(1.3 cm (
1
/
16
in.))*
1
(1.1 cm
180 (160)*
1
(100)*
2
watts
30 ­ 28,000 (30 ­ 28,000)*
1
Approx. 1.4 kg (3 lb.1 oz.)
(870 g (1 lb.15 oz.))*
1
(700 g
(1 lb. 9 oz.))*
2
per speaker
*
1
(XS-E1611) *
2
(XS-E1311)
Design and specifications are subject to change
9
1
/
2
po.) (16 cm (6
3
/
8
po.))*
1
(13 cm (5
1
/
8
po.))*
2
type
Médium 6,6 cm (2
5
/
8
po.)
(5 cm (
7
/
32
po.))*
1
(4 cm
(1
5
/
8
po.))*
2
type conique
Tweeter de 2,2 cm (
7
/
8
po.)
(1,3 cm (
1
/
16
po.))*
1
(1,1 cm
(
7
/
16
po.))*
2
type en dôme
Puissance d'entrée maximale
180 (160)*
1
(100)*
2
watts
30 à 28.000 (30 à 28.000)*
1
Env. 1,4 kg (3 liv.1 on.) (870 g
(1 liv.15 on.))*
1
(700 g (1 liv.
9 on.))*
2
par haut-parleur
*
1
(XS-E1611) *
2
(XS-E1311)
La conception et les spécifications sont modifiables
(16 cm)*
1
(13 cm)*
2
, Konus-
(5 cm)*
1
(4 cm)*
2
, Konus-Typ
Hochtöner: 2,2 cm (1,3 cm)*
1
30 ­ 28.000 (30 ­ 28.000)*
1
ca. 1,4 kg (870 g)*
1
(700 g)*
2
*
1
(XS-E1611) *
2
(XS-E1311)
Änderungen, die dem technischen Fortschritt
dienen, bleiben vorbehalten.
(16 cm)*
1
(13 cm)*
2
, tipo
(5 cm)*
1
(4 cm)*
2
, tipo cónico
Agudos: 2,2 cm (1,3 cm)*
1
Potencia máxima de entrada
180 (160)*
1
(100)*
2
vatios
30 ­ 28.000 (30 ­ 28.000)*
1
*
1
(XS-E1611) *
2
(XS-E1311)
Diseño y especificaciones sujetos a cambio sin previo
(16 cm)*
1
(13 cm)*
2
, konus-
(5 cm)*
1
(4 cm)*
2
, konus-type
(1,3 cm)*
1
(1,1 cm)*
2
, koepel-
Nominaal uitgangsvermogen
30 ­ 28.000 (30 ­ 28.000)*
1
ca. 1,4 kg (870 g)*
1
(700 g)*
2
*
1
(XS-E1611) *
2
(XS-E1311)
Ontwerp en specificaties kunnen zonder
voorafgaande mededeling gewijzigd worden.
(5 cm)*
1
(4 cm)*
2
, konisk typ
Tweeter 2,2 cm (1,3 cm)*
1
(1,1 cm)*
2
, domformad typ
30 ­ 28.000 (30 ­ 28.000)*
1
Ca 1,4 kg (870 g)*
1
(700 g)*
2
*
1
(XS-E1611) *
2
(XS-E1311)
Rätt till ändringar förbehålles.
(16 cm)*
1
(13 cm)*
2
, tipo a
(5 cm)*
1
(4 cm)*
2
, tipo a cono
Tweeter da 2,2 cm (1,3 cm)*
1
(1,1 cm)*
2
, tipo a cupola
Potenza in ingresso massima
30 ­ 28.000 (30 ­ 28.000)*
1
*
1
(XS-E1611) *
2
(XS-E1311)
Il design e le caratteristiche tecniche sono soggetti a
modifiche senza preavviso.
(16 cm)*
1
(13 cm)*
2
, cónico
(5 cm)*
1
(4 cm)*
2
, cónico
Tweeter: 2,2 cm (1,3 cm)*
1
Potência máxima de entrada
180 (160)*
1
(100)*
2
watts
30 ­ 28.000 (30 ­ 28.000)*
1
(700 g)*
2
por altifalante
*
1
(XS-E1611) *
2
(XS-E1311)
Design e especificações sujeitos a alterações sem
30 ­ 28.000 (30 ­ 28.000)*
1
*
1
(XS-E1611) *
2
(XS-E1311)
(1,3 cm)*
1
(1,1 cm)*
2
, typ
Maksymalne zasilanie na wejciu
1,4 kg (870 g)*
1
(700 g)*
2
/
*
1
(XS-E1611) *
2
(XS-E1311)
Wygld zewntrzny oraz dane techniczne mog ulec
zmianie bez uprzedniego zawiadomienia.
·Do not continuously use the speaker system
beyond the maximum power handling
·Keep recorded tapes, watches, and personal
credit cards using magnetic coding away from
the speaker system to protect them from
damage caused by the magnets in the
If you cannot find an appropriate mounting
location, consult your car dealer or your
nearest Sony dealer before mounting.
·Eviter de soumettre en continu le système de
haut-parleurs à une puissance supérieure à la
·Garder les bandes enregistrées, les montres et
les cartes de crédit utilisant un code
magnétique à l'écart du système de haut-
parleurs pour éviter tout dommage causé par
les aimants des haut-parleurs.
Si l`on ne peut trouver un emplacement
adéquat pour l`installation, prière de
consulter le concessionnaire Sony le plus
·Steuern Sie die Lautsprecher nicht über
längere Zeit mit zu hoher Leistung an.
·Halten Sie bespielte Tonbänder, Uhren und
Kreditkarten mit Magnetcodierung von den
Lautsprechern fern, um eine Beschädigung
durch die Lautsprechermagnete zu vermeiden.
Wenn Sie keine geeignete Einbaustelle
finden, wenden Sie sich vor der Montage an
Ihren Kfz-Händler oder an den nächsten
·Tenga cuidado de no activar el sistema de
altavoces de forma continua con una potencia
que sobrepase la potencia admisible.
·Mantenga alejados del sistema de altavoces las
cintas grabadas, relojes o tarjetas de crédito
con codificación magnética para evitar daños
que posiblemente causaría el imán de los
Si no puede encontrar un emplazamiento
apropiado para el montaje, consulte al
distribuidor de su automóvil o al proveedor
·Pas op dat u het luidsprekersysteem niet
continu belast met een vermogen dat groter is
dan het opgegeven vermogen.
·Houd bespeelde banden, horloges en
persoonlijke credit cards met magneetcodes op
afstand van het luidsprekersysteem om
mogelijke beschadiging door de
luidsprekermagneten te voorkomen.
Als u geen geschikte inbouwplaats vindt,
raadpleeg dan uw autodealer of de
dichtstbijzijnde Sony dealer voordat u de
luidsprekers gaat installeren.
·Försök att inte enbart köra högtalarsystemet
·Kom ihåg att inspelade kassettband, klockor
och kreditkort med magnetremsa kan skadas
av magneterna i högtalarna och du bör därför
inte lägga dem i närheten av högtalarna.
Om du inte hittar något bra ställe att montera
högtalaren på, bör du kontakta en
bilåterförsäljare eller närmaste Sony-
återförsäljare innan du monterar den.
·Accertarsi di non azionare il sistema diffusori
in modo continuato ad una potenza superiore
·I nastri registrati, gli orologi e le carte di
credito con codice magnetico devono essere
tenuti lontano dal sistema diffusori, per evitare
che i magneti dei diffusori possano
Se non si riesce ad individuare una posizione
adatta per il montaggio, consultare il
concessionario auto o il proprìo rivenditore
·Não accione continuamente o sistema de
altifalantes com uma potência superior à
potência nominal do aparelho.
·Mantenha as cassetes gravadas, os relógios e
os cartões de crédito pessoais que utilizem
codificação magnética longe do sistema de
altifalantes para evitar a sua possível
danificação provocada pelos ímans dos
Se não conseguir encontrar um local de
instalação apropriado, consulte o
concessionário da marca do seu automóvel
ou o agente Sony mais próximo.
·Nie naley uytkowy systemu gloników w
sbsób cigly ponad ich zdolno
·Aby unikn uszkodzenia przedmiotów takich
jak nagrane kasety, zegarki, osobiste karty
kredytowe o magnetycznych kodach naley
przechowywa je z daleka od gloników o
W przypadku trudnoci w znalezieniu
odpowiedniego miejsca na umieszczenie
gloników, proponujemy skonsultowanie si z
punktem sprzeday pojazdu lub najbliszym
© 1999
Printed in Thailand
Profundidade de instalação
---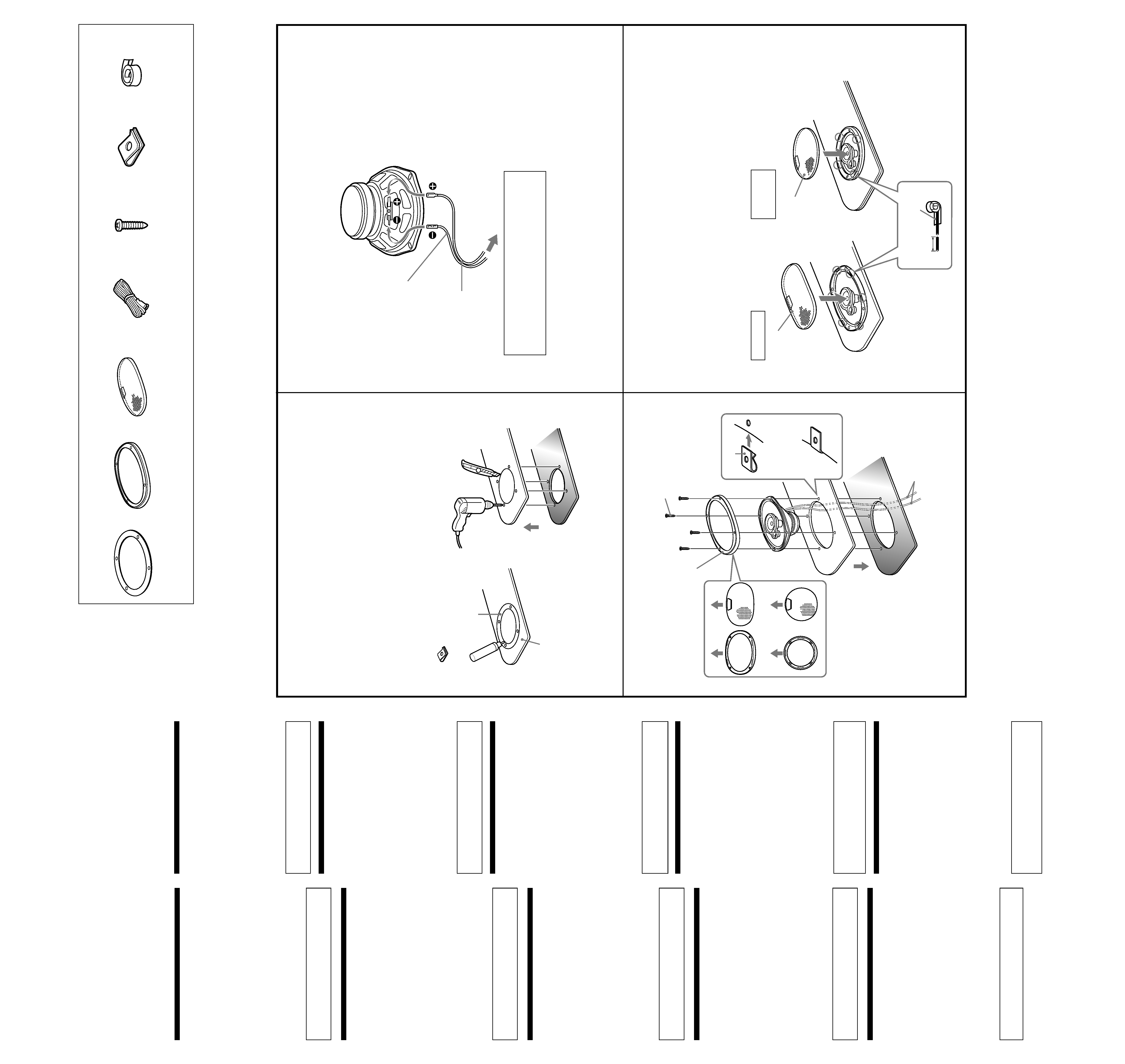 · A depth of at least 77 mm (3
1
/
8
in.) (54 mm (2
1
/
4
in.))*
1
(51 mm (2
1
/
8
in.))*
2
mm is required for flush mounting.
Keep the following in mind when choosing a mounting
· A hole may already be cut out of the metal frame of the
· Nothing should interfere with the speaker inside the
· The speaker inside the door must not come into contact
with the window when it is open.
· Be careful that the speakers are out of the way of the
window cranks, door handles and arm rests.
· Make sure that the speaker does not hinder the
movement of torsion bar springs etc. of the trunk lid.
*
1
(XS-E1611) *
2
(XS-E1311)
If you cannot find an appropriate mounting location,
check with your car dealer or consult the nearest
· Une profondeur d'au moins 77 mm (3
1
/
8
po.) (54 mm
(2
1
/
4
po.))*
1
(51 mm (2
1
/
8
po.))*
2
mm est nécessaire
pour effectuer le montage affleurant. Prendre en
considération les points suivants lors du choix de
l'emplacement de montage.
· Il est possible qu'un trou ait été pratiqué dans le cadre
métallique de la portière avant.
· Aucun obstacle ne peut être en contact avec le haut-
parleur à l'intérieur de la porte.
· Le haut-parleur à l'intérieur de la porte ne peut pas
toucher la fenêtre lorsqu'elle est ouverte.
· S'assurer que les haut-parleurs ne soient pas en contact
avec les poignées des vitres et des portières ainsi que
· Veiller à ce que le haut-parleur n'entrave pas le
mouvement du ressort à barre de torsion, etc. du
*
1
(XS-E1611) *
2
(XS-E1311)
Si l' on ne peut trouver un emplacement adéquat pour
l' installation, prière de consulter le concessionnaire
· Für einen versenkten Einbau ist eine Einbautiefe von
mindestens 77 (54)*
1
(51)*
2
mm erforderlich. Wählen Sie
die Einbaustelle nach den folgenden Gesichtspunkten
· Möglicherweise ist im Metallrahmen der Vordertür
bereits eine Öffnung vorgesehen.
· Im Inneren der Tür darf nichts an den Lautsprecher
· Das Fenster darf auch im geöffneten Zustand nicht
gegen die Lautsprecher stoßen.
· Die Lautsprecher sollten von den Fensterkurbeln,
Türgriffen und Armlehnen weit genug entfernt sein.
· Achten Sie darauf, daß das Gerät die Federn, den Arm
usw. des Kofferraumdeckels nicht behindert.
*
1
(XS-E1611) *
2
(XS-E1311)
Wenn kein geeigneter Einbauort gefunden werden
kann, wenden Sie sich an lhren Kfz-Händler oder an
den nächsten Sony-Händler.
· Para el montaje alineado, es necesaria una profundidad
mínima de 77 (54)*
1
(51)*
2
mm. Antes de elegir el lugar
de montaje, se debe tener en cuenta lo siguiente.
· Es posible que ya exista un orificio en el marco metálico
· Compruebe que no interfiere nada con el altavoz dentro
· Es preciso colocar la tapa del altavoz para que éste no
entre en contacto con una ventana abierta.
· Procure que los altavoces se encuentren alejados de los
picaportes de las ventanas y puertas, y de los
reposabrazos de sillones.
· Cerciórese de que el altavoz no impida el movimiento
del resorte de la barra de torsión, etc., de la tapa del
*
1
(XS-E1611) *
2
(XS-E1311)
Si no encuentra un lugar de montaje apropiado,
consulte a su concesionario automovilístico o al
proveedor Sony más próximo.
· Een inbouwdiepte van minstens 77 (54)*
1
(51)*
2
mm is
nodig voor montage in één vlak. Denk aan de volgende
punten bij het uitkiezen van een montageplaats:
· Het is mogelijk dat er al een gat in het metalen frame
van de voordeur gezaagd is.
· Niets mag met de luidspreker in de deur in contact
· De luidspreker in de deur mag niet in contact komen
met een opengedraaid raam.
· Let er op dat de luidspreker niet in de weg zit van
raamdraaihendels, handvatten van deuren en
· Zorg ervoor dat de luidspreker de torsieveer, enz. van
de kofferklep niet hindert.
*
1
(XS-E1611) *
2
(XS-E1311)
Als u geen geschikte plaats voor het inbouwen vindt,
raadpleeg dan de dichtstbijzijnde Sony dealer of uw
· Ett djup på minst 77 (54)*
1
(51)*
2
mm krävs för infälld
montering. Tänk på följande när du väljer plats för
· Det kan redan finnas ett hål i framdörrens metallram.
· Ingenting får ligga i vägen för dörrhögtalaren.
· Dörrhögtalaren får inte komma i kontakt med fönstret
· Se till att högtalaren inte är i vägen för fönstervev,
dörrhandtag eller armstöd.
· Se till att högtalaren inte är i vägen för bagageluckans
torsionsfjädrar och andra delar.
*
1
(XS-E1611) *
2
(XS-E1311)
Om du inte kan hitta någon lämplig placering för
högtalaren bör du kontakta din bilhandlare eller
närmaste Sony-återförsäljare.
· È necessaria una profondità di almeno 77 (54)*
1
(51)*
2
mm per il montaggio allineato. Ricordare quanto segue
quando si sceglie la posizione di montaggio.
· Utilizzare il foro eventualmente già predisposto nel
pannello di metallo della portiera anteriore.
· Accertarsi dell'assenza di ostacoli tra l'altoparlante e
l'interno della portiera.
· L'altoparlante all'interno della portiera non deve venire
a contatto con il finestrino quando questo viene aperto.
· Fare attenzione a montare gli altoparlanti
opportunamente distanziati dalle manovelle
alzacristallo, dalle maniglie della portiera e dai
· Assicurarsi che l'altoparlante non ostacoli il movimento
degli ammortizzatori dello sportello del bagagliaio.
*
1
(XS-E1611) *
2
(XS-E1311)
Se non si riesce ad individuare una posizione adatta
per il montaggio, consultare il concessionario auto o il
proprìo rivenditore Sony.
· É necessária uma profundidade de pelo menos 77 (54)*
1
(51)*
2
mm para a montagem do suporte. Tenha atenção
ao seguinte quando escolher uma localização de
· Por vezes, os automóveis vêm já equipados com um
orifício na armação metálica da porta dianteira.
· Evite o contacto de todo o qualquer objecto com o
altifalante que se encontra dentro da porta.
· O altifalante que se encontra dentro da porta não deve
interferir com a janela aberta, em nenhuma
· Coloque os altifalantes fora do alcance das manivelas
das janelas, manípulos das portas e dos apoios dos
· Certifique-se de que o altifalante não impede a
movimentação da mola da barra de torzsão da tampa
*
1
(XS-E1611) *
2
(XS-E1311)
Caso não consiga encontrar nenhum local adequado
para a instalação, consulte o seu concessionário de
automóveis ou o seu revendedor Sony mais próximo.
*
1
(XS-E1611) *
2
(XS-E1311)
· Minimalna glboko wpuszczenia gloników
wymagana przy ich wmontowywaniu wynosi 77 (54)*
1
(51)*
2
mm. Prosz pamita o poniej
wyszczególnionych uwagach przed wyborem miejsca
na zamontowanie gloników.
· W niektórych samochodach otwór moe by ju
fabrycznie wycity w metalowej ramie przednich dwi.
· Glonik zamontowa tak, aby nic z nim nie kolidowalo
· W adnym wypadku okno po otwarciu nie powinno
styka si z glonikiem wewntrz dwi.
· Uwaa, aby gloniki nie zawadzaly o takie elementy
jak korby szyby, klamki dwi czy podlokietniki.
·
Pamita o tym, aby gloniki nie ograniczaly ruchu
drka skrtnego itp. pokrywy baganika.
*
1
(XS-E1611) *
2
(XS-E1311)
W przypadku trudnoci ze znalezieniem
odpowiedniego miejsca na zamontowanie gloników
proponujemy skonsultowa si z punktem nabycia
pojazdu lub najbliszym dealerem firmy Sony.
1
Markthefourboltholesandmakethem3.3mm*(
5
/
32
in.)indiameter.
Marquer les quatro orifices des boulons et percer des trous de 3,3 mm* (
5
/
32
po.) de
Markieren Sie die vier Schraubenlöcher, und bohren Sie Löcher mit 3,3 mm*
Marque los orificios de los cuatro pernos y hágalos de 3,3 mm* de diámetro.
Markeer de vier schroefgaten en boor gaten van 3,3 mm* diameter.
Markera de fyra skruvhålen och gör dem 3,3 mm* i diameter.
Contrassegnare i quattro fori dei bulloni e trapanare fori di 3,3 mm* di diametro.
Marque o sítio dos furos para os quatro parafusos. Faça os furos com 3,3 mm* de
Prosz naznaczy cztery otwory na ruby. Otwory powinny mie rednic 3,3 mm*
Mounting from the car interior (Top mounting)
Montage à partir de l'intérieur de l'habitacle (Montage supérieur)
Montage vom Wageninneren aus (von oben)
Montaje desde el interior del automóvil (montaje superior)
Vanuit het passagierskompartiment (Inbouw van bovenaf)
Montering inifrån bilkupén (toppmontering)
Montaggio all'interno dell'auto (montaggio superiore)
Montagem pelo interior do veículo (montagem por cima)
Monta od wntrza pojazdu (Monta górny)
White cord -- Left speaker
Gray cord -- Right speaker
Cordon blanc -- Haut-parleur gauche
Cordon gris -- Haut-parleur droit
Weißes Kabel -- Linker Lautsprecher
Graues Kabel -- Rechter Lautsprecher
Cable blanco -- Altavoz izquierdo
Cable gris -- Altavoz derecho
Wit snoer -- Linker luidspreker
Grijs snoer -- Rechter luidspreker
Vit kabel -- Vänster högtalare
Grå kabel -- Höger högtalare
Cavo bianco -- Diffusore sinistro
Cavo grigio -- Diffusore destro
Cabo branco -- Altifalante esquerdo
Cabo cinza -- Altifalante direito
Szary kabel -- prawy glonik
Bialy kabel -- lewy glonik
Amplificateur de puissance etc.
Amplificador de potencia, etc.
Amplificatore di potenza, ecc.
Amplificador de potência etc.
Schwarzgestreifte Leitung
4
Pressandinserttheedgesofthegrillenet.
Pousser et insérer les bords du filet de la grille.
Zum Aufsetzen der Gittermaske an der Kante der Gittermaske drücken.
Presione e inserte los extremos de la red de la rejilla.
Druk de randen van de roosterafdekking naar binnen.
Tryck och passa i skyddsnätetets kanter.
Premere ed inserire i bordi della griglia di protezione.
Carregar e inserir as bordas da rede da grelha.
Prosz wcisn i umocowa brzegi oslony glonika.
---