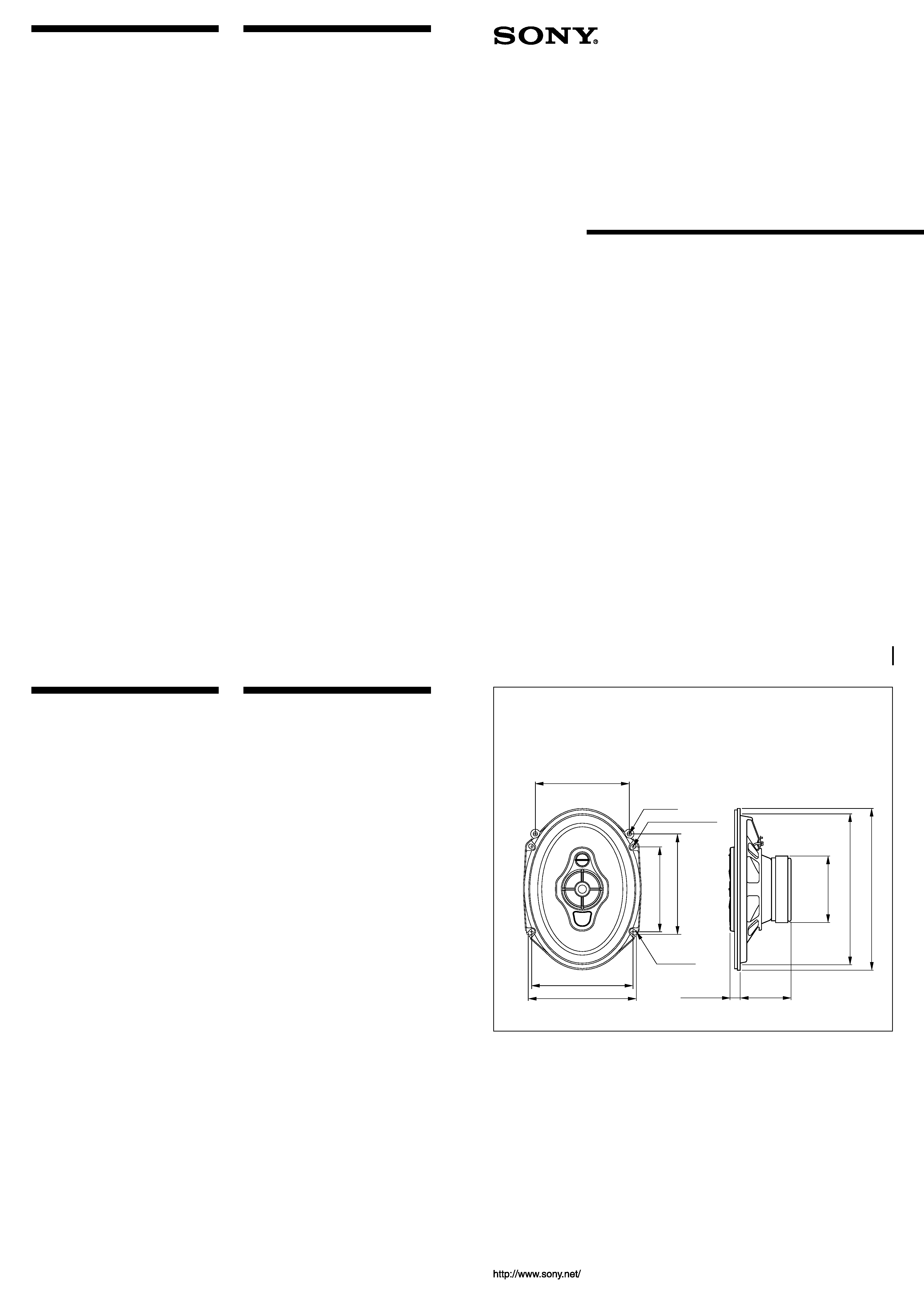 Design and specifications are subject to
La conception et les spécifications sont
modifiables sans préavis.
Diseño y especificaciones sujetos a
Sony Corporation © 2003
Printed in Thailand
---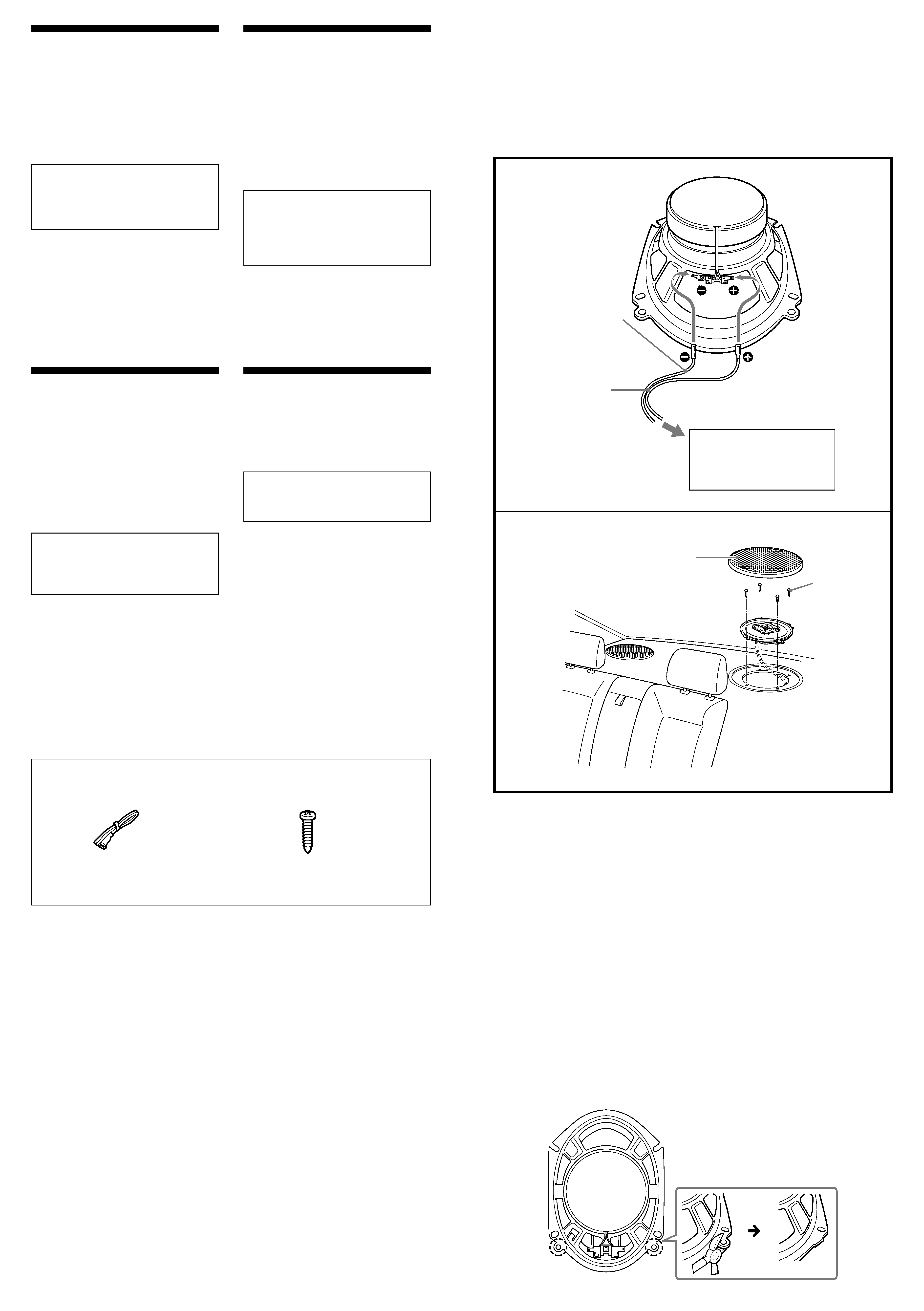 Mounting/Montage/Montaje/
Mounting from the car interior
Montage à partir de l'intérieur de l'habitacle
Montaje desde el interior del automóvil
· Do not continuously use the speaker
system beyond the peak power handling
· Keep recorded tapes, watches, and
personal credit cards using magnetic
coding away from the speaker system to
protect them from damage caused by the
If you cannot find an appropriate
mounting location, consult your car
dealer or your nearest Sony dealer
· Éviter de soumettre le système de haut-
parleurs à une utilisation continue au-
delà de la capacité de traitement de la
· Garder les bandes enregistrées, les
montres et les cartes de crédit utilisant
un code magnétique à l'écart du système
de haut-parleurs pour éviter tout
dommage causé par les aimants des
Si l'on ne peut trouver un emplacement
adéquat pour l'installation, prière de
consulter le détaillant Sony le plus
· Procure no activar el sistema de
altavoces de forma continua con una
potencia que sobrepase la potencia
· Mantenga alejados del sistema de
altavoces las cintas grabadas, relojes o
tarjetas de crédito con codificación
magnética para evitar daños que
posiblemente causaría el imán de los
emplazamiento apropiado para el
montage, consulte al distribuidor de su
automóvil o al proveedor de Sony más
This speaker can be made to fit almost any
type of car by removing the mounting
Use clippers or pliers, etc. to cut or snap
the mounting tabs off so that it is even
with the edge of the speaker frame as
After removing the mounting tabs, handle
the speaker frame with care, as the edges
Ce haut-parleur peut être adapté à
presque tous les types de véhicules en
supprimant les pattes de montage.
Utilisez des cisailles ou des pinces pour
couper ou enlever les pattes de
montage de façon à ce qu'il n'y ait plus
de partie saillante sur le bord du haut-
Après avoir retiré les pattes de montage,
manipulez le haut-parleur avec précaution
car les bords peuvent être tranchants.
Este altavoz puede adaptarse a
prácticamente cualquier tipo de automóvil
extrayendo las lengüetas de montaje.
Utilice unas tijeras o unos alicates para
cortar las lengüetas de montaje de
modo que no sobresalgan del altavoz,
tal como se muestra en la ilustración.
Tras cortar las lengüetas de montaje, maneje
el altavoz con cuidado, ya que los bordes
To speaker cord of a car.
Vers le cordon du haut-parleur
Al cable del altavoz del auto.
---