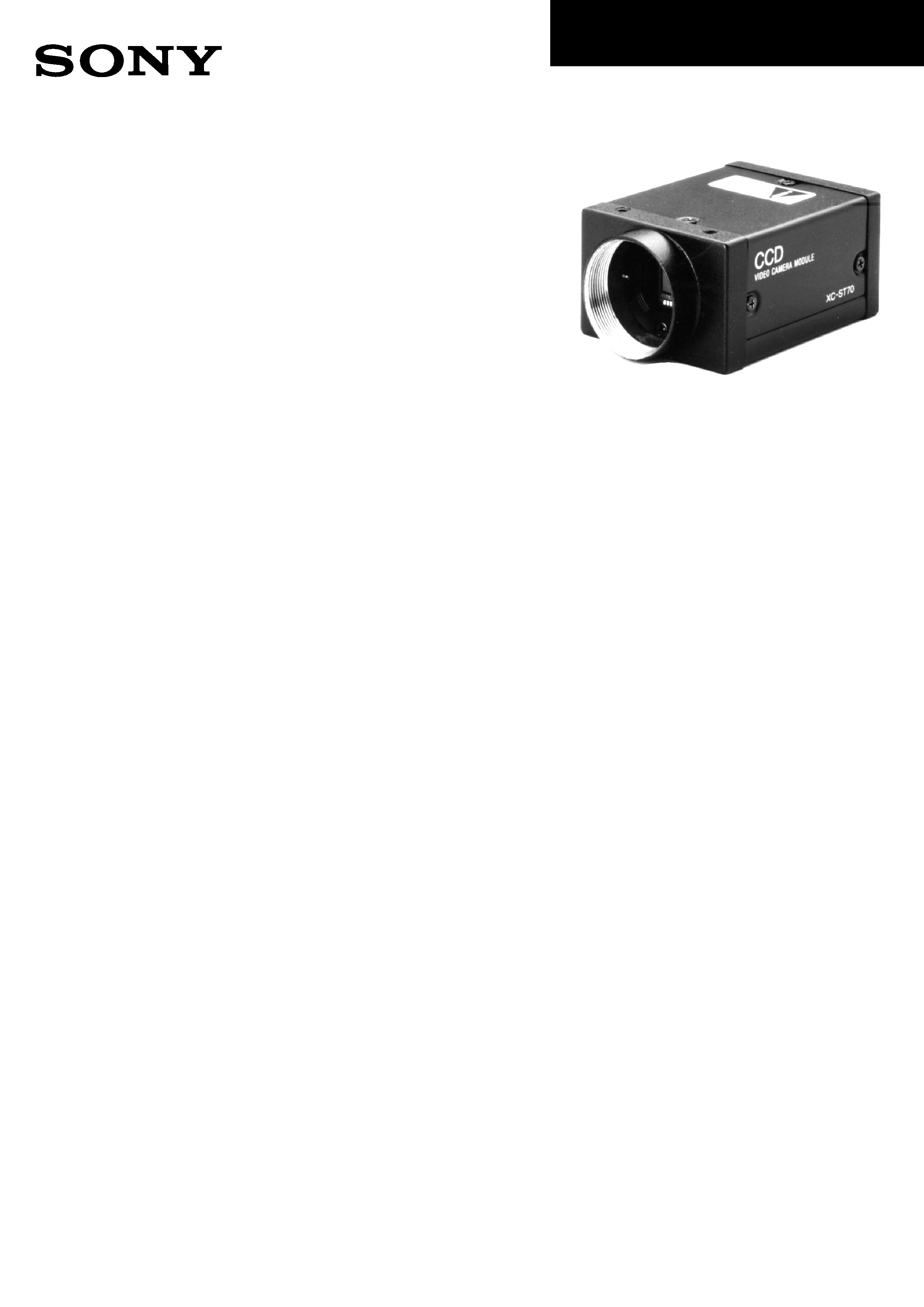 ---

OUTLINE ................................................................................................................. 1
MAIN FEATURES .................................................................................................... 1
SYSTEM CONFIGURATION ................................................................................... 2
MAIN SPECIFICATIONS ......................................................................................... 3
CONNECTION DIAGRAM ....................................................................................... 4
LOCATION OF PARTS AND OPERATION ............................................................. 5
PHASE CONDITIONS OF EXTERNAL SYNCHRONIZATION ................................ 6
ELECTRONIC SHUTTER ........................................................................................ 7
RESTART RESET (R.R) ........................................................................................ 10
FRAME IMAGE OUTPUT WITH STROBE LIGHT ................................................ 12
OUTPUT WAVEFORM TIMING CHART ............................................................... 13
TIMING CHART OF EXTERNAL TRIGGER SHUTTER - MODE 1 ....................... 17
TIMING CHART OF EXTERNAL TRIGGER SHUTTER - MODE 2 ....................... 23
DIMENSIONS ........................................................................................................ 25
SPECTRAL SENSITIVITY CHARACTERISTICS (TYPICAL VALUE) ................... 26
VARIOUS LENS SELECTION ............................................................................... 27
---

The XC-ST70/70CE is a compact, lightweight black-and-white camera module using the latest technology and a 2/3-
inch new-generation CCD. Each mode can be set by selecting the switches on the rear panel. The XC-ST70/70CE
provides an external trigger shutter that can catch a high-speed moving subject using an external signal. This enables
a still image to be read in arbitrary timing. The XC-ST70/70CE meets the high-level needs of image inspection based
on a high-definition image utilizing a 2/3-inch CCD that is popular in the image processing field.
In addition, the XC-ST70/70CE incorporates significant shock and vibration resistance allowing it to be easily
incorporated into machine vision equipment.
External trigger shutter function
(XC-ST70: 1/4 to 1/10,000 seconds, XC-ST70CE: 1/4 to 1/8,000 seconds)
Inputting the trigger pulse gives one still image. This feature allows the capture of high-speed moving object.
Restart Reset (R.R) function
Inputting HD and VD signals (2 VD or more) continuously from the outside can catch one image at arbitrary time
and control the stored CCD.
This function is used for long exposures and strobe with frame image output.
Synchronization system: Internal/external HD/VD, and VS
(VS is used only during external synchronization.)
Inputting an HD/VD signal from the outside automatically establishes external synchronization.
This function is effective for controlling multiple cameras efficiently from the external system.
All control switches on outside of camera.
Setting each mode on rear panel:
The setting of each mode can be changed by selecting DIP
Almost all switches are located on the rear panel. This feature permits easy setting after equipment is installed.
Excellent shock and vibration resistance
---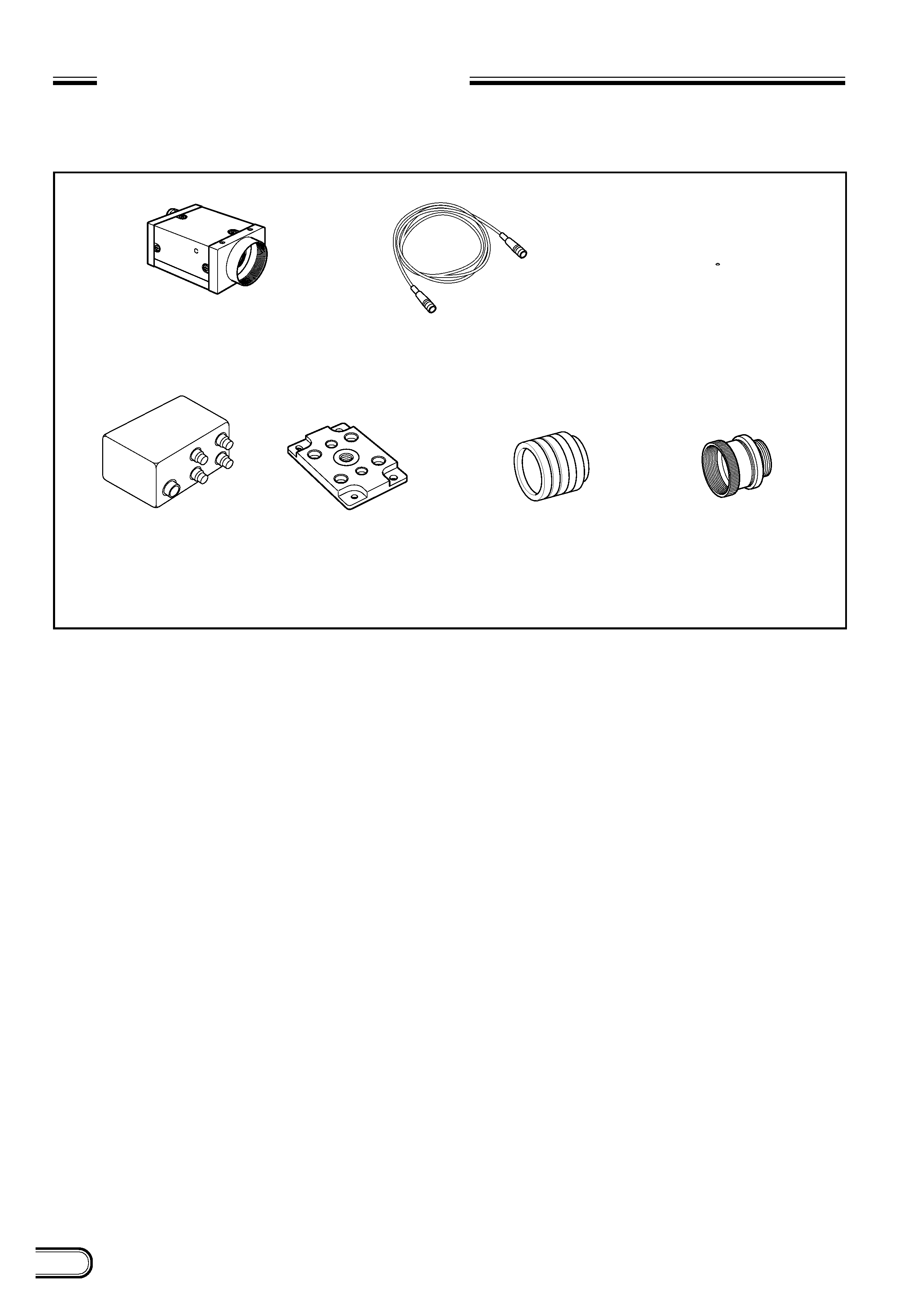 The components making up the system based on XC-ST70/ST70CE video camera are as follows.
VCT-ST70I (Isolated type)
---

Image pickup device: 2/3-inch interline transfer CCD
Number of effective pixels
CCD horizontal driving frequency
CCD vertical driving frequency
(Selected automatically.)
External sync input/output
VS (Sync level: 0.3 Vp-p
+0.3 V
)
Automatically selected according
to the existence of an input signal
when the selection switch on the
rear panel is set to EXT.
Allowable frequency deviation of external synchronization
(in horizontal synchronous frequency)
(during external sync input)
Minimum subject illuminance
(Can be selected using the switch
(Can be selected using the switch
1/100 to 1/10,000 seconds
1/120 to 1/10,000 seconds
Set using the DIP switch on the rear panel, or
continuously variable with the trigger pulse
Operating temperature ­5 °C to +45 °C
Storage temperature ­30 °C to +60 °C
Performance assurance temperature
20 to 80 % (Non-condensing)
20 to 95 % (Non-condensing)
(For 20 minutes in the X, Y, and Z
directions at 20 to 200 Hz)
UL1492, FCC Class A Digital
Device, and CE (EN50081-2 +
Restart Reset function frame or
field integration can be selected.
Conforms to new 12-pin EIAJ.
External synchronization for each mode
---