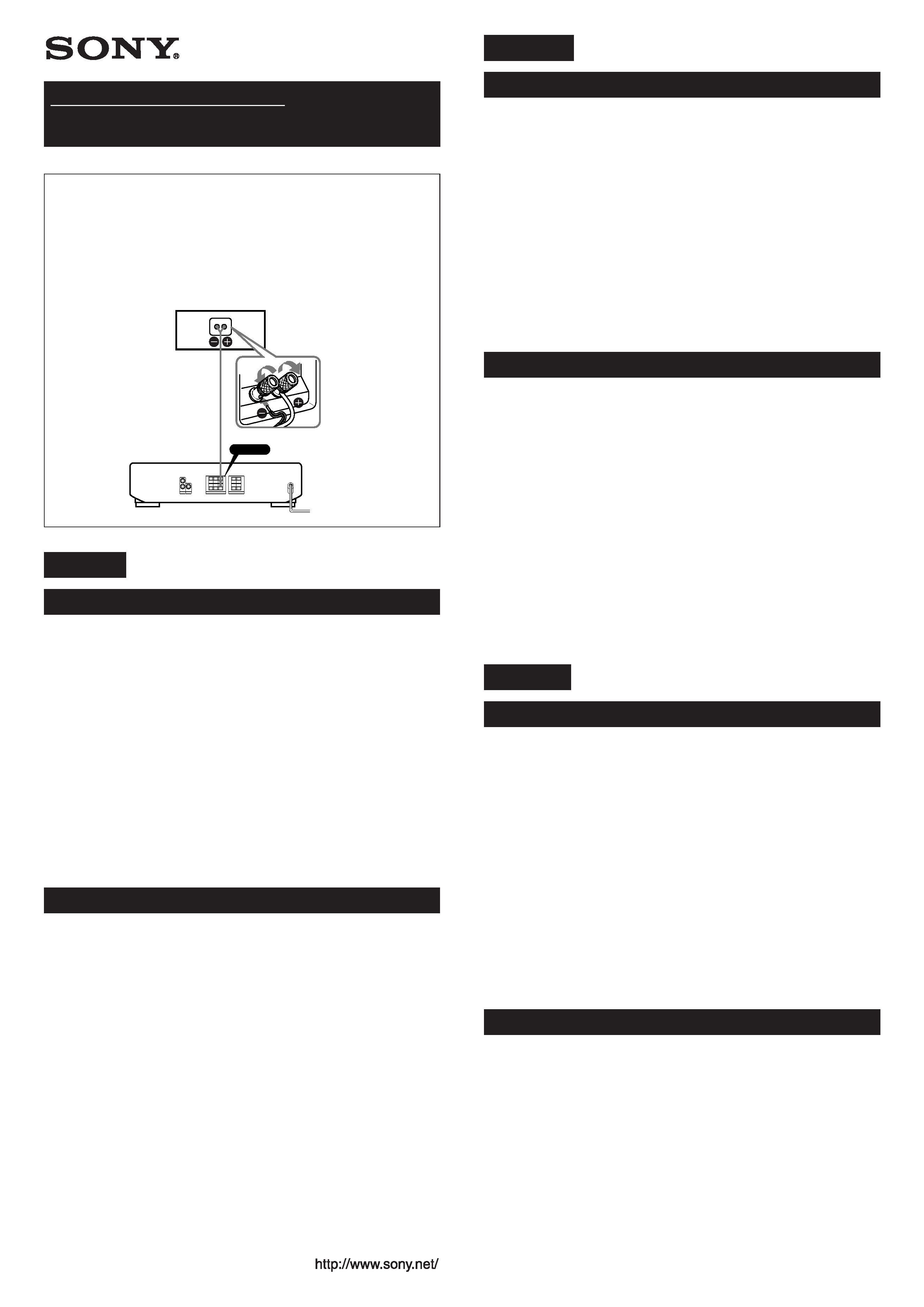 · Evite excitar continuamente el sistema de altavoces con un vatiaje que
sobrepase la potencia máxima de entrada del mismo.
· Antes de realizar las conexiones, desconecte el amplificador a fin de evitar
dañar el sistema de altavoces.
· Si la conexión de +/­ es incorrecta, los tonos bajos parecerán perderse, y
la ubicación de los instrumentos se volverá obscura.
En caso de que observe irregularidades de color en la pantalla de su
Como los altavoces son de tipo magnéticamente apantallado, podrán
instalarse cerca de un televisor. Sin embargo, es posible que todavía observe
ciertas irregularidades de color en la pantalla dependiendo del tipo de su
Si observa irregularidades de color ...
t Desconecte la alimentación del televisor, y vuelva a conectarla después
Si vuelve a observar irregularidades de color ...
t Aleje el sistema de altavoces del televisor.
Blindado magnéticamente, 2 vías,
De graves: 12 cm, tipo cónico
De agudos: 2,5 cm, tipo de cúpula
Potencia máxima de entrada: 120 W
Características del nivel de sensibilidad
Gama de frecuencia efectiva
× 260 × 260 mm (an/al/prf)
Diseño y especificaciones sujetos a cambio sin previo aviso.
· When connecting the speaker cords (not supplied) to the speaker
terminals (CENTER) on the AV amplifier, etc.
· Au raccordement des cordons d'enceinte (non fournis) aux bornes
d'enceinte (CENTER) de l'amplificateur AV, etc.
· Cuando conecte los cables de altavoz (no incluidos) en los terminales
de altavoz (CENTER) del amplificador AV, etc.
· Avoid driving the speaker system continuously with a wattage exceeding
the maximum input power of this speaker system.
· Before connecting, turn off the amplifier to avoid damaging the speaker
· If the +/­ connection is incorrect, the bass tones seem to be missing and
the position of the instruments becomes obscure.
In case color irregularity is observed on nearby TV screen
With the magnetically shielded type of the speaker system, the speakers can
be installed near a TV set. However color irregularity may still be observed
on the TV screen depending on the type of your TV set.
If color irregularity is observed...
t Turn off the TV set, then turn it on after 15 to
If color irregularity is observed again...
t Place the speakers more apart from the TV set.
Magnetically shielded, 2 way
Tweeter: 2.5 cm (1 inch), dome type
Maximum input power: 120 W
Characteristic sensitivity level
Effective frequency range 50-70,000 Hz
Approx. 14 kg (30 lb 14 oz)
Design and specifications are subject to change without notice.
· Evitez de faire fonctionner les enceintes en continu à un wattage excédant
la puissance d'entrée maximale du système.
· Avant d'effectuer les connexions, mettez l'amplificateur hors tension afin
d'éviter d'endommager les enceintes.
· Si les bornes +/­ ne sont pas raccordées correctement, les tonalités basses
sembleront absentes et la position des instruments sera indistincte.
En cas d'anomalie des couleurs sur un téléviseur se trouvant à proximité
Ces enceintes, blindées magnétiquement, peuvent s'installer à proximité
d'un téléviseur. Mais, selon le type de téléviseur, des anomalies de couleur
En cas d'anomalie de couleur...
t Mettez le téléviseur hors tension, puis à nouveau sous tension au bout
Si l'anomalie de couleur persiste...
t Eloignez davantage les enceintes du téléviseur.
à blindage magnétique, 2 voies
Haut-parleur de graves: 12 cm (4
3
/
Haut-parleurs d'aiguës: 2,5 cm (1 pouce), à dôme
Puissance d'entrée maximale: 120 W
Niveau de sensibilité caractéristique
Plage de fréquences effective
La conception et les spécifications sont modifiables sans préavis.
2002 by Sony Corporation
Printed in Japan
---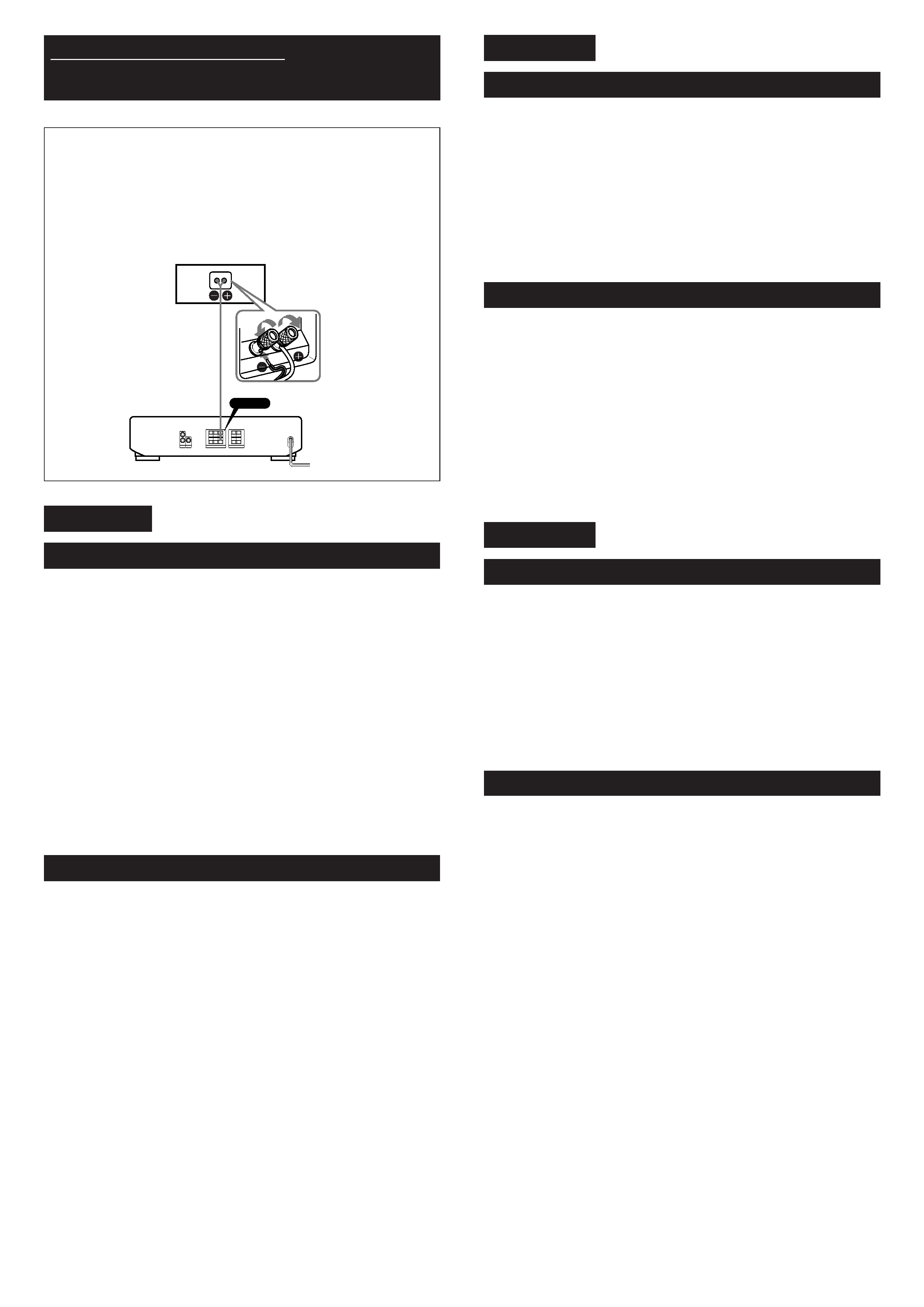 · Quando ligar os cabos dos altifalantes (não fornecidos) aos terminais
dos altifalantes (CENTER) no amplificador AV, etc.
· Evite accionar o sistema de altifalantes continuamente com uma potência
superior à potência de entrada máxima deste sistema de altifalantes.
· Antes de efectuar as ligações, desligue o amplificador para evitar avarias
no sistema de altifalantes.
· Se a ligação +/­ estiver incorrecta, as tonalidades dos graves aparentarão
estar ausentes e a posição virtual dos instrumentos será obscura.
Caso ocorram irregularidades de cor no ecrã de um televisor nas
Graças à blindagem magnética, o sistema de altifalantes pode ser instalado
nas proximidades de um televisor. Entretanto, irregularidades de cor podem
ainda ser observadas no ecrã do televisor, dependendo do tipo do televisor
Caso ocorram irregularidades de cor...
t Desligue o televisor e volte a ligá-lo após um intervalo de 15 a 30
Caso as irregularidades de cor apareçam novamente...
t Afaste os altifalantes do televisor.
Magneticamente blindado, de 2 vias
Woofer: 12 cm, tipo cónico
Tweeter: 2,5 cm, tipo cúpula
Potência de entrada máxima: 120 W
Nível de sensibilidade característica 88 dB (2,83 V, 1 m)
Gama de frequência efectiva
× 260 × 260 mm (larg., alt., prof.)
Design e especificações sujeitos a alterações sem aviso prévio.
---