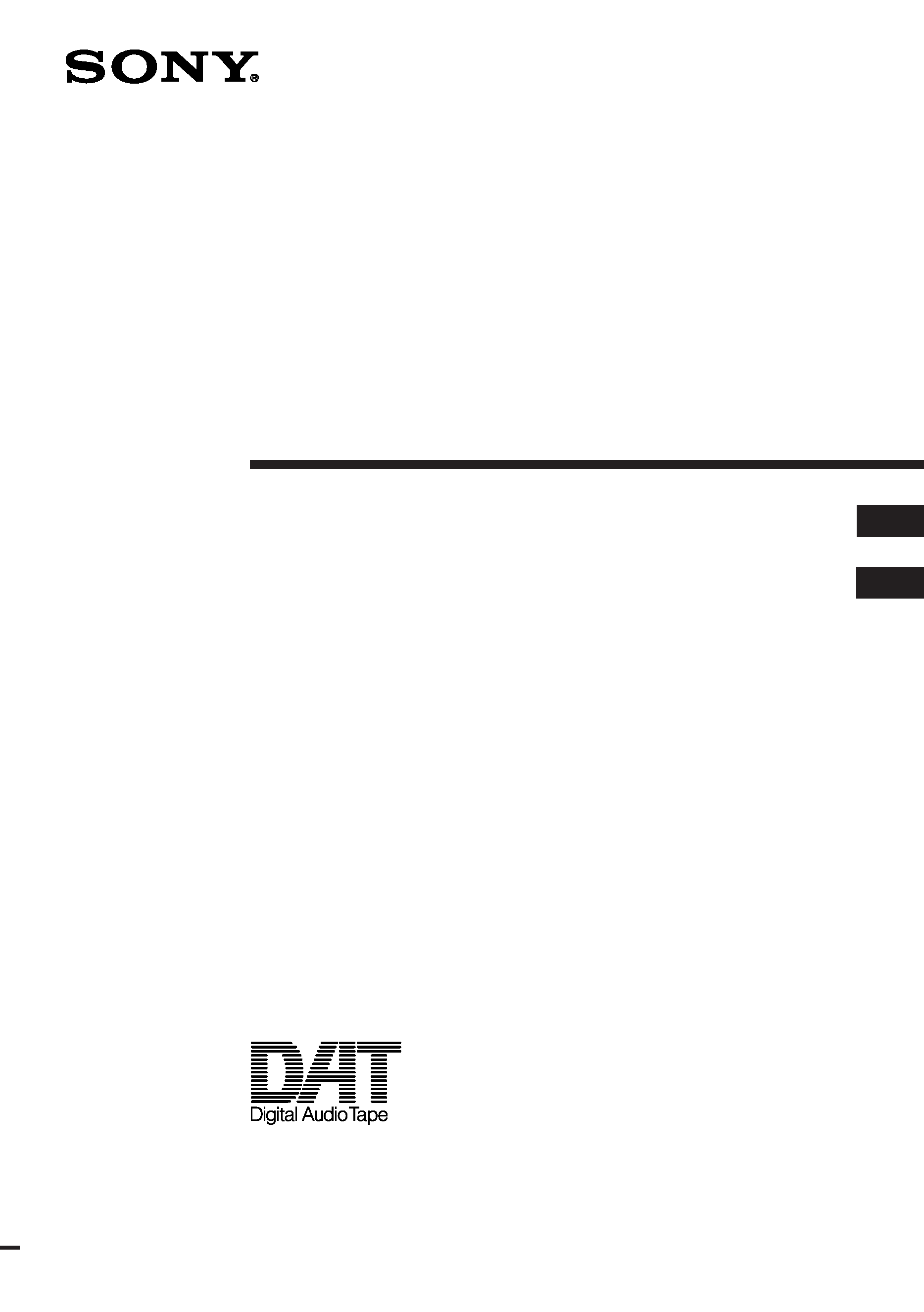 ©1997 by Sony Corporation
Operating Instructions page 2
EN
---

DISPOSAL OF NICKEL METAL HYDRIDE
NICKEL METAL HYDRIDE BATTERY.
You can return your unwanted nickel metal
hydride batteries to your nearest Sony
Note: In some areas the disposal of nickel
metal hydride batteries in household or
business trash may be prohibited.
For the Sony Service Center nearest you call
1-800-222-SONY (United States only)
Caution: Do not handle damaged or leaking
nickel metal hydride batteries.
· This recorder is not designed for business
or commercial use. Never attempt to
modify or tamper the recorder so that it
can be connected to other business or
commercial audio equipment. Do not use
this recorder for data storage.
· Check and make sure that the recording
operation is not malfunctioning prior to
recording important materials.
· Observe the relevant regulations on
copyright relating to your collection of
recordings. Unauthorized public
performance, broadcasting and duplication
of a recorded material for commercial
purposes are a violation of applicable laws.
IN NO EVENT SHALL SELLER BE
INCIDENTAL OR CONSEQUENTIAL
DAMAGES OF ANY NATURE, OR
LOSSES OR EXPENSES RESULTING
FROM ANY DEFECTIVE PRODUCT OR
The model and serial numbers are located on
Record the serial number in the space
provided below. Refer to them whenever you
call upon your Sony dealer regarding this
Model No. PCM-M1 Serial No.
hazard, do not expose the
unit to rain or moisture.
For the customers in the U.S.A.
This equipment has been tested and found to
comply with the limits for a Class B digital
device, pursuant to Part 15 of the FCC Rules.
These limits are designed to provide
reasonable protection against harmful
interference in a residential installation. This
equipment generates, uses, and can radiate
radio frequency energy and, if not installed
and used in accordance with the instructions,
may cause harmful interference to radio
communications. However, there is no
guarantee that interference will not occur in a
particular installation. If this equipment does
cause harmful interference to radio or
television reception, which can be determined
by turning the equipment off and on, the user
is encouraged to try to correct the interference
by one or more of the following measures:
-- Reorient or relocate the receiving antenna.
-- Increase the separation between the
-- Connect the equipment into an outlet on a
circuit different from that to which the
-- Consult the dealer or an experienced
radio/TV technician for help.
This device complies with Part 15 of the FCC
Rules. Operation is subject to the following
two conditions: (1) This device may not cause
harmful interference, and (2) this device must
accept any interference received, including
interference that may cause undesired
You are cautioned that any changes or
modifications not expressly approved in this
manual could void your authority to operate
---

Welcome to the world of the DAT recorder!
Your DAT tape-corder has the following
features. They will be helpful for you to
· Superb DAT sound quality
with excellent frequency response, low
noise, and lack of distortion.
-- You can adjust the copy code (ID6)
when, for example, you record your own
· Supports input in IEC958 format
· Enhanced features for studio recording
-- Start ID blank detection threshold
-- Semi-auto feature; write the first Start
ID automatically during Manual mode
-- PEAK HOLD enables easy recognition
using two Nickel metal hydride
rechargeable batteries. Aproximately 3.5
hours of continuous recording.
· High fidelity recording
with a high quality mic amplifier also
used in the Super Bit Mapping adaptor
· Adjustable (automatic/manual)
to suit every recording condition.
that automatically holds down sudden
large input signals to a certain level.
· Three sampling frequencies
Recording from digital sources such as
CDs, MDs, BS/CS is possible since the
recorder supports three sampling
frequencies (SP mode: 48kHz, 44.1 kHz
and 32 kHz / LP mode: 32 kHz). When
recording with a microphone or from
analog input, choose from SP (48 kHz or
44.1 kHz) or LP (32 kHz).
· After Recording function
that lets you write and erase Start IDs and
Program Numbers after recording.
· LCD with EL (electroluminescent)
that indicates the current operating mode
and the battery power status in the dark.
· Remote control equipped with LCD
that indicates current operating mode.
---

Location of Controls ..........................................................................6
Inserting the Alkaline Batteries .....................................................12
Setting the Clock ..............................................................................13
Inserting the Cassette ......................................................................14
Recording ..........................................................................................16
Playing Back .....................................................................................20
Connecting with Other Equipment for Recording ................................ 23
Recording from analog audio equipment with a LINE OUT jack ....... 23
Recording from audio equipment with digital output ......................... 24
Adjusting the recording level manually -- Manual recording .................. 25
Displaying maximum input level -- PEAK HOLD ............................... 26
Useful Recording Functions ............................................................................ 27
Recording in the Long Play mode -- LP REC ........................................ 27
Recording blank segments-- REC MUTING ......................................... 27
Adjusting the copy code (ID6) .................................................................. 28
Writing Start IDs ......................................................................................... 30
Writing Start IDs during recording -- Manual mode ........................... 30
Writing the first Start ID automatically -- Semi-auto mode ................ 31
Writing Start IDs automatically during recording -- Auto mode ...... 32
Writing Start IDs during playback ........................................................... 33
Erasing Start IDs ......................................................................................... 34
Assigning Program Numbers ................................................................... 35
Connecting with Other Equipment for Playback .................................. 36
Playback with an analog audio equipment ............................................ 36
Playback with an audio equipment with digital input ......................... 36
Useful Playback Functions ........................................................................ 37
Using the AVLS function ........................................................................... 37
---

Using the unit on Nickel Metal Hydride Rechargeable Batteries ....... 38
Replacing the batteries .............................................................................. 40
Low-power Consumption Mode ............................................................. 41
Operating with the AC Power Adaptor or Car Battery ........................ 42
Connecting with Other Equipment ......................................................... 43
Using the optional system adaptor kit RM-D100K ................................ 43
Using the optional Super Bit Mapping adaptor SBM-1 ........................ 43
Serial Copy Management System (SCMS) .............................................. 44
Message Display ......................................................................................... 45
Troubleshooting ......................................................................................... 47
Precautions .................................................................................................. 49
On safety ...................................................................................................... 49
On power sources ....................................................................................... 49
On batteries .................................................................................................. 49
On tapes longer than 120 minutes ............................................................ 49
On unevenly or tightly wound tapes ....................................................... 49
On moisture condensation ........................................................................ 49
On installation ............................................................................................. 50
On headphones ........................................................................................... 50
Maintenance ................................................................................................ 51
Cleaning the cabinet ................................................................................... 51
Cleaning the head ....................................................................................... 51
Specifications .............................................................................................. 52
---