---

Guía del usuario del Notebook VAIO® Z505 SuperSlim ProTM
© 2000 Sony Electronics Inc. Reservados todos
los derechos. A menos que se tenga un permiso
previo por escrito, está prohibido reproducir,
traducir o reducir a ningún formato que pueda
ser leído por una máquina, parcial o totalmente,
este manual y el software descrito en este
SONY ELECTRONICS INC. PROVIDES NO
WARRANTY WITH REGARD TO THIS
MANUAL, THE SOFTWARE, OR OTHER
INFORMATION CONTAINED HEREIN
AND HEREBY EXPRESSLY DISCLAIMS
ANY IMPLIED WARRANTIES OF
MERCHANTABILITY OR FITNESS FOR
ANY PARTICULAR PURPOSE WITH
REGARD TO THIS MANUAL, THE
INFORMATION. IN NO EVENT SHALL
SONY ELECTRONICS INC. BE LIABLE
CONSEQUENTIAL, OR SPECIAL
DAMAGES, WHETHER BASED ON TORT,
CONTRACT, OR OTHERWISE, ARISING
OUT OF OR IN CONNECTION WITH THIS
MANUAL, THE SOFTWARE, OR OTHER
INFORMATION CONTAINED HEREIN OR
Sony Electronics Inc. se reserva el derecho de
efectuar modificaciones a este manual o a la
información contenida en este manual en
cualquier momento y sin previo aviso. El
software descrito en este documento se rige por
los términos de un acuerdo separado de licencia
Este producto contiene software propiedad de
Sony y también software usado con licencia de
otras compañías. El uso de dicho software está
sujeto a los términos y condiciones de los
acuerdos de licencia que se anexan a este
producto. No se permite transportar o usar
algunos componentes del software fuera de los
Estados Unidos. Las especificaciones del
software están sujetas a cambios sin previo
aviso y es posible que no sean necesariamente
idénticas a la versión actual que se venda al por
Es posible que se exija el pago de un cargo
adicional por las actualizaciones y adiciones al
software. Asimismo, es posible que las
suscripciones a los proveedores de servicios en
línea requieran el pago de una tarifa e
información sobre la tarjeta de crédito. Los
servicios financieros pueden requerir la firma
de acuerdos previos con las instituciones
El Programa Internacional
para equipos de oficina es una iniciativa a
escala internacional que fomenta el ahorro de
energía mediante el uso de ordenadores y otros
equipos de oficina. Este programa respalda el
desarrollo y la difusión de productos con
funciones que reduzcan eficazmente el
consumo de energía. Se trata de un sistema
abierto en el que los propietarios de empresas
pueden participar voluntariamente. Los
productos a los cuales está dirigido el programa
son los equipos de oficina como, por ejemplo,
ordenadores, pantallas, impresoras, máquinas
de fax y fotocopiadoras. Sus normas y logotipos
son los mismos para los países participantes.
E
NERGY
S
TAR es una marca registrada en
---

Sony, i.LINK, Memory Stick, Memory Stick
logo, MG Memory Stick, DVGate, Jog Dial,
Mavica, MagicGate, OpenMG Jukebox,
VisualFlow, Handycam, Media Bar,
MovieShaker, PictureGear, VAIO y el logotipo
de VAIO son marcas comerciales de Sony
Corporation. Windows Millennium Edition,
Windows, Windows NT, y el logotipo de
Windows son marcas comerciales registradas
de Microsoft Corporation. Intel, SpeedStep y
Pentium son marcas comerciales de Intel
Corporation. PS/2 es una marca comercial
Todas las demás marcas comerciales son
propiedad de sus respectivos propietarios.
El número de modelo y el número de serie están
situados en la parte inferior del notebook
VAIO® Z505 SuperSlim ProTM de Sony. Anote
el número de serie en el espacio facilitado aquí.
Cuando llame al Centro de Servicio Sony,
mencione los números de modelo y de serie.
Número de modelo: PCG-534D
Número de serie:_______________________
The model number and serial number are
located on the bottom of your Sony VAIO®
Z505 SuperSlim ProTM notebook. Record the
serial number in the space provided here. Refer
to the model and serial number when you call
your Sony Service Center.
Serial Number:_______________________
Información sobre seguridad
Para prevenir incendios y peligros
de descargas eléctricas, no
exponga el ordenador notebook a
la lluvia ni a la humedad.
Para evitar descargas eléctricas,
cualificado para realizar
cualquier tipo de reparación.
No instale nunca cables de
módem o teléfono durante una
No instale nunca conectores
telefónicos en lugares húmedos a
no ser que el conector esté
diseñado específicamente para su
instalación en emplazamientos
telefónicos sin aislamiento, a
menos que la línea telefónica
haya sido desconectada en la
Actúe con cautela al instalar o
modificar líneas telefónicas.
Evite utilizar el módem durante
No utilice el módem ni el
teléfono para informar de un
escape de gas cerca del lugar de
---

Guía del usuario del Notebook VAIO® Z505 SuperSlim ProTM
La toma telefónica debe estar lo
más cerca posible de la unidad y
estar fácilmente accesible.
To prevent fire or shock hazard,
do not expose your notebook to
To avoid electrical shock, do not
open the cabinet. Refer servicing
to qualified personnel only.
Never install modem or telephone
wiring during a lightning storm.
Never install telephone jacks in
wet locations unless the jack is
specifically designed for wet
telephone wire or terminals
unless the telephone line has been
disconnected at the network
Use caution when installing or
modifying telephone lines.
Avoid using the modem during an
Do not use the modem or a
telephone to report a gas leak in
the vicinity of the leak.
A socket outlet should be as close
as possible to the unit and easily
Pour prévenir tout risque
d'incendie ou d'électrocution,
garder cet appareil à l'abri de la
Pour prévenir tout risque
d'électrocution, ne pas ouvrir le
châssis de cet appareil et ne
confier son entretien qu'à une
Ne jamais effectuer l'installation
de fil modem ou téléphone durant
Ne jamais effectuer l'installation
d'une prise téléphonique dans un
endroit mouillé à moins que la
prise soit conçue à cet effet.
téléphonique à découvert ou un
terminal à moins que la ligne
téléphonique n'ait été débranché
Soyez très prudent lorsque vous
installez ou modifiez les lignes
Évitez d'utiliser le modem durant
N'utilisez pas le modem ni le
téléphone pour prévenir d'une
fuite de gas si vous êtes près de la
L'appareil doit être le plus près
possible d'une prise murale pour
---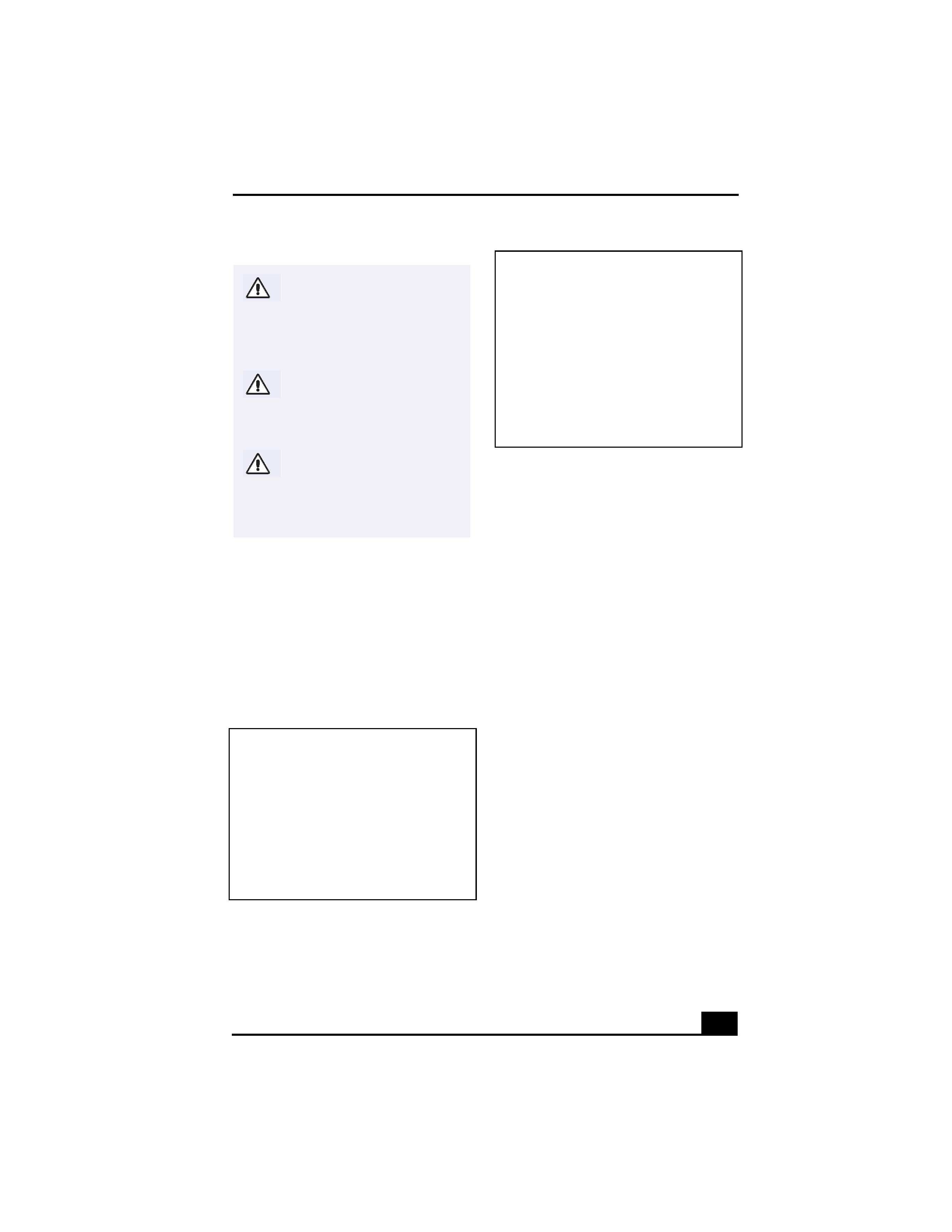 If you have any questions about this product,
you can reach the Sony Customer Information
Service Center at 1-888-4SONYPC; or write to
the Sony Customer Information Service Center
at 12451 Gateway Blvd., Ft. Meyers, FL 33913,
or find Sony Customer Service on the Web at:
http://www.sony.com/pcsupport.
Declaration of Conformity
This equipment has been tested and found to
comply with the limits for a Class B digital
device, pursuant to Part 15 of the Rules. These
limits are designed to provide reasonable
protection against harmful interference in a
residential installation. This equipment
generates, uses, and can radiate radio frequency
energy and, if not installed and used in
accordance with the instructions, may cause
harmful interference to radio communications.
However, there is no guarantee that interference
will not occur in a particular installation. If this
equipment does cause harmful interference to
radio or television reception, which can be
determined by turning the equipment off and
on, the user is encouraged to try to correct the
interference by one or more of the following
Reorient or relocate the receiving
Increase the separation between
the equipment and the receiver.
Connect the equipment into an
outlet on a circuit different from
that to which the receiver is
experienced radio/TV technician
Precaución: Para reducir el
riesgo de incendio, utilice
únicamente cable de línea de
Caution: To reduce the risk of
fire, use only No. 26 AWG or
Attention : Afin de réduire les
risques d'incendie, n'utilisez
This phone number is for FCC-related matters
This device complies with Part 15 of the FCC
rules. Operation is subject to the following
(1) This device may not cause harmful
(2) this device must accept any interference
received, including interference that may
cause undesired operation.
---