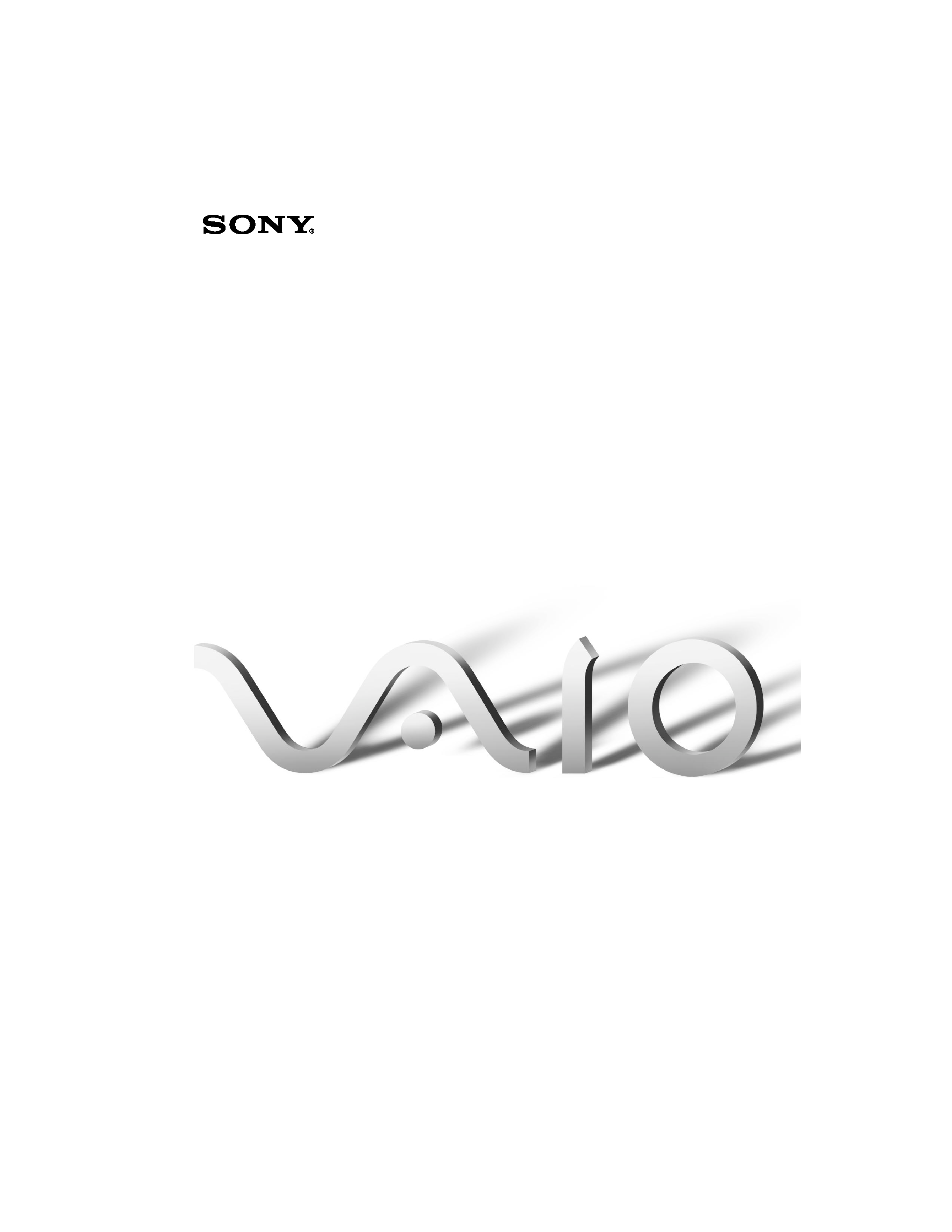 PCG-F150/PCG-F160/PCG-F180/PCG-F190
---

1999 Sony Electronics Inc. All rights
reserved. This manual and the software
described herein, in whole or in part, may
not be reproduced, translated, or reduced
to any machine-readable form without
SONY ELECTRONICS INC. PROVIDES
NO WARRANTY WITH REGARD TO
THIS MANUAL, THE SOFTWARE, OR
OTHER INFORMATION CONTAINED
HEREIN AND HEREBY EXPRESSLY
WARRANTIES OF MERCHANTABILITY
OR FITNESS FOR ANY PARTICULAR
PURPOSE WITH REGARD TO THIS
MANUAL, THE SOFTWARE, OR SUCH
OTHER INFORMATION. IN NO EVENT
SHALL SONY ELECTRONICS INC. BE
LIABLE FOR ANY INCIDENTAL,
CONSEQUENTIAL, OR SPECIAL
DAMAGES, WHETHER BASED ON
TORT, CONTRACT, OR OTHERWISE,
ARISING OUT OF OR IN CONNECTION
WITH THIS MANUAL, THE SOFTWARE,
CONTAINED HEREIN OR THE USE
Sony Electronics Inc. reserves the right to
make any modification to this manual or
the information contained herein at any
time without notice. The software
described herein is governed by the terms
of a separate user license agreement.
This product contains software owned by
Sony and licensed by third parties. Use of
such software is subject to the terms and
conditions of license agreements enclosed
with this product. Some of the software
may not be transported or used outside the
United States. Software specifications are
subject to change without notice and may
not necessarily be identical to current retail
Updates and additions to software may
require an additional charge. Subscriptions
to online service providers may require a
fee and credit card information. Financial
services may require prior arrangements
with participating financial institutions.
Partner, Sony Corporation
S
TAR guidelines for energy
Equipment Program is an international
program that promotes energy saving
through the use of computers and other
office equipment. The program backs the
development and dissemination of
products with functions that effectively
reduce energy consumption. It is an open
system in which business proprietors can
participate voluntarily. The targeted
products are office equipment such as
computers, displays, printers, facsimiles
and copiers. Their standards and logos are
uniform among participating nations.
E
NERGY
S
TAR is a U.S. registered mark.
Sony, i.LINK, VAIO and the VAIO logo are
trademarks of Sony Corporation.
Windows, Windows NT, and the Windows
98 logo are registered trademarks of
Microsoft Corporation. Intel, MMX, and
Pentium are trademarks of Intel
All other trademarks are trademarks of
---

The model number and serial number are
located on the bottom of your Sony VAIO
Notebook Computer. Record the serial
number in the space provided here. Refer
to the model and serial number when you
call your Sony Service Center.
Model Number: PCG-F150/PCG-F160/
Serial Number:________________________
To prevent fire or shock hazard, do
not expose your notebook computer
To avoid electrical shock, do not open
the cabinet. Refer servicing to
qualified personnel only.
Never install modem or telephone
wiring during a lightning storm.
Never install telephone jacks in wet
locations unless the jack is specifically
designed for wet locations.
Never touch uninsulated telephone
wire or terminals unless the telephone
line has been disconnected at the
Use caution when installing or
modifying telephone lines.
Avoid using the modem during an
Do not use the modem or a telephone
to report a gas leak in the vicinity of
A socket outlet should be as close as
possible to the unit and easily
Pour prévenir tout risque d'incendie
ou d'électrocution, garder cet appareil
à l'abri de la pluie et de l'humidité.
Pour prévenir tout risque
d'électrocution, ne pas ouvir le châssis
de cet appareil et ne confier son
entretien qu'à une personne qualifiée.
L'appareil doit être le plus près
possible d'une prise murale pour en
This equipment has been tested and found
to comply with the limits for a Class B
digital device, pursuant to Part 15 of the
Rules. These limits are designed to provide
reasonable protection against harmful
interference in a residential installation.
This equipment generates, uses, and can
radiate radio frequency energy and, if not
installed and used in accordance with the
instructions, may cause harmful
interference to radio communications.
!
The laser beam used in the DVD-
ROM drive unit is harmful to the
disassemble the cabinet. Refer
servicing to qualified personnel
Declaration of Conformity
Model No: PCG-F150/PCG-F160/
Telephone No.: 201-930-6970
This device complies with Part 15 of
the FCC rules. Operation is subject
to the following two conditions: (1)
This device may not cause harmful
interference, and (2) this device
must accept any interference
received, including any interference
that may cause undesired operation.
---

However, there is no guarantee that
interference will not occur in a particular
installation. If this equipment does cause
harmful interference to radio or television
reception, which can be determined by
turning the equipment off and on, the user
is encouraged to try to correct the
interference by one or more of the
Reorient or relocate the receiving
Increase the separation between the
equipment and the receiver.
Connect the equipment into an outlet
on a circuit different from that to
which the receiver is connected.
Consult the dealer or an experienced
radio/TV technician for help.
You are cautioned that any changes or
modifications not expressly approved in
this manual could void your authority to
Only peripherals (computer input/output
devices, terminals, printers, etc.) that
comply with FCC Class B limits may be
attached to this computer product.
Operation with non-compliant peripherals
is likely to result in interference to radio
and television reception.
All cables used to connect peripherals must
be shielded and grounded. Operation with
cables, connected to peripherals, that are
not shielded and grounded, may result in
interference to radio and television
This equipment complies with Part 68 of
the FCC rules. On the bottom of this
equipment is a label that contains, among
other information, the FCC equivalence
number (REN) for this equipment. If
requested, this information must be
provided to the telephone company.
This modem uses the USOC RJ-11
The REN is used to determine the quantity
of devices which may be connected to the
telephone line. Excessive RENs on the
telephone line may result in the devices not
ringing in response to an incoming call. In
most, but not all areas, the sum of the RENs
should not exceed five (5.0). To be certain of
the number of devices that may be
connected to the line, as determined by the
total RENs, contact the telephone company
to determine the maximum REN for the
If the terminal equipment (Notebook
Computer PCG-F150/PCG-F160/
PCG-F180/PCG-F190) causes harm to the
telephone network, the telephone company
will notify you in advance that temporary
discontinuance of service may be required.
But if advance notice is not practical, the
telephone company will notify the
customer as soon as possible. Also, you
will be advised of your right to file a
complaint with the FCC if you believe it is
The telephone company may make
changes in its facilities, equipment,
operations or procedures that could affect
the operations of the equipment. If this
happens, the telephone company will
provide advance notice in order for you to
make the necessary modifications in order
to maintain uninterrupted service.
If trouble is experienced with this
equipment (Notebook Computer
PCG-F150/PCG-F160/PCG-F180/
PCG-F190), please contact 1-888-4SONYPC
(1-888-476-6972), or write to the Sony
Customer Information Center, One Sony
Drive, Park Ridge, NJ 07656 for repair and/or
warranty information. If the trouble is
causing harm to the telephone network, the
telephone company may request that you
remove the equipment from the network
until the problem is resolved.
Repair of this equipment should be made
only by a Sony Service Center or Sony
authorized agent. For the Sony Service
---

Center nearest you, call 1-888-4SONYPC
This equipment cannot be used on public
coin service provided by the telephone
company. Connection to Party Line Service
is subject to state and possible provincial
tariffs. (Contact the state or provincial
utility service commission, public service
commission or corporation commission for
The Telephone Consumer Protection Act of
1991 makes it unlawful for any person to
use a computer or other electronic device to
send any message via a telephone facsimile
machine unless such message clearly
contains, in a margin at the top or bottom
of each transmitted page or on the first
page of the transmission, the date and time
it is sent and an identification of the
business, other entity, or individual
sending the message, and the telephone
number of the sending machine or such
business, other entity, or individual.
In order to program this information into
your facsimile machine, see your fax
Please refer to your telephone directory
under `Privacy Issues' and/or `Terms of
Service.' For more detailed information
Terrasses de la Chaudiére, Tour centrale
1 promenade du Portage, 5 étage Hull PQ
This Class B digital apparatus complies
Cet àppareil numérique de la classe B est
conforme à la norme NMB-003 du Canada.
You can return your unwanted lithium ion
batteries to your nearest Sony Service
Center or Factory Service Center.
For the Sony Service Center nearest you
call 1-888-476-6972 in the United States or
In some areas the disposal of lithium ion
batteries in household or business trash
!
Do not handle damaged or leaking
!
Ne pas manipuler les batteries au
lithium-ion qui fuient ou sont
!
Danger of explosion if battery is
incorrectly replaced. Replace only
with the same or equivalent type
manufacturer. Discard used
batteries according to the
manufacturer's instructions.
!
Une batterie non conforme
présente un danger d'explosion. La
remplacer seulement par une
batterie identique ou de type
équivalent recommandé par le
fabricant. Évacuer les batteries
usées selon les directives du
---