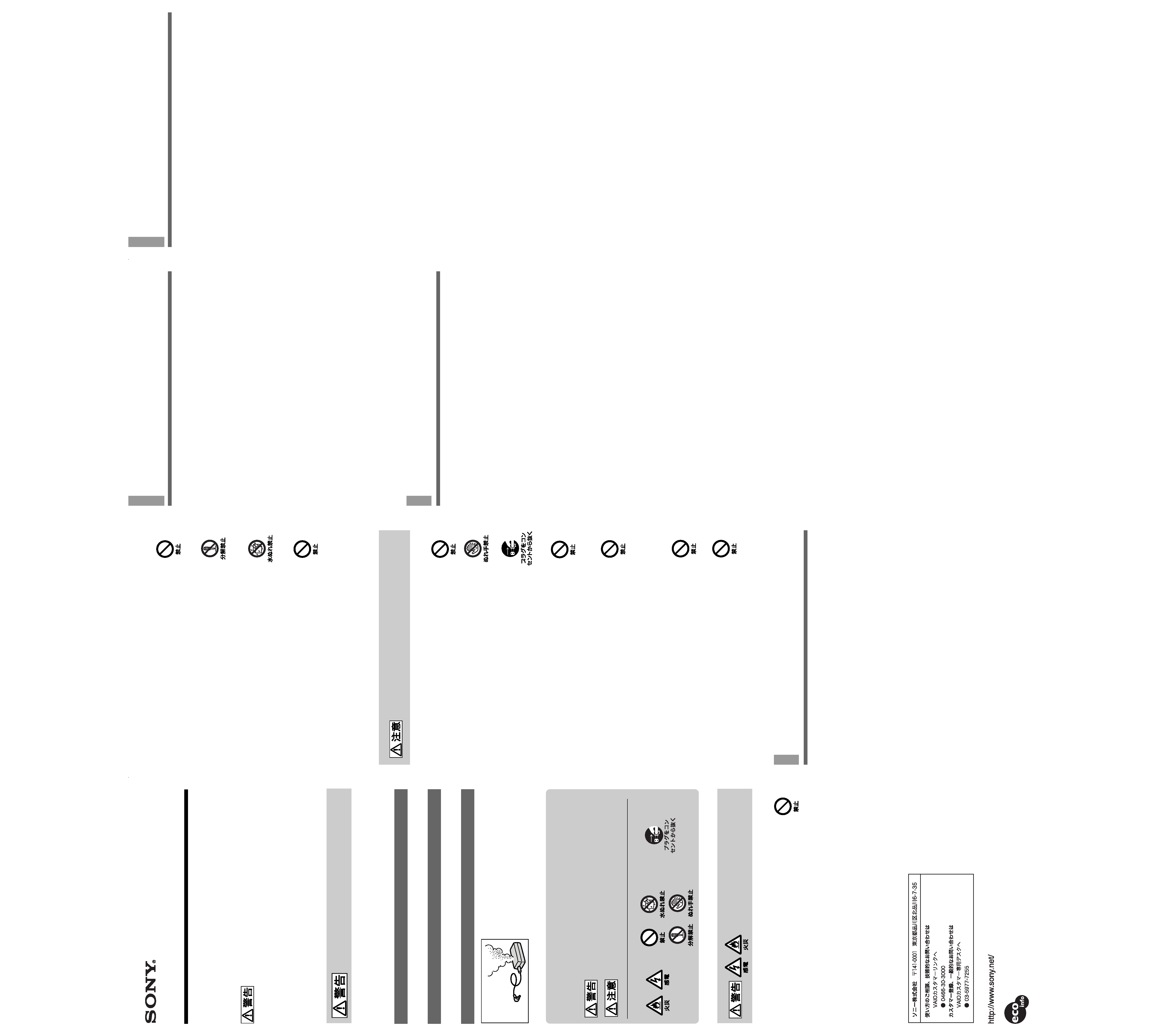 Operating Instructions Mode d'emploi
Bedienungsanleitung Istruzioni per l'uso
Gebruiksaanwijzing Manual de Instrucciones
Sony Corporation © 2001 Printed in Japan
Printed on 100% recycled paper using VOC
(Volatile Organic Compound)-free vegetable oil based ink.
---

To prevent fire or shock hazard, do not
expose the unit to rain or moisture.
To avoid electrical shock, do not open
the cabinet. Refer servicing to qualified
The model number and serial number are
located on the bottom of your AC adapter.
Record the serial number in the space provided
here. Refer to the model and serial numbers
when you call your Sony Service Center.
Serial No. --------------------
The socket outlet shall be located near the
equipment and shall be easily accessible.
For customers in the U.S.A.
This device complies with Part 15 of the FCC
rules. Operation is subject to the following two
conditions: (1) This device may not cause
harmful interference, and (2) this device must
accept any interference received, including any
interference that may cause undesired
This equipment has been tested and found to
comply with the limits for a Class B digital
device, pursuant to Part 15 of the Rules. These
limits are designed to provide reasonable
protection against harmful interference in a
residential installation.
This equipment generates, uses, and can radiate
radio frequency energy and, if not installed and
used in accordance with the instructions, may
cause harmful interference to radio
However, there is no guarantee that
interference will not occur in a particular
installation. If this equipment does cause
harmful interference to radio or television
reception, which can be determined by turning
the equipment off and on, the user is
encouraged to try to correct the interference by
one or more of the following measures:
· Reorient or relocate the receiving antenna.
· Increase the separation between the
equipment and the receiver.
· Connect the equipment into an outlet on a
circuit different from that to which the
· Consult the dealer or an experienced radio/
You are cautioned that any changes or
modifications not expressly approved in this
manual could void your authority to operate
This Class B digital apparatus complies with
This product conforms to the following
73/23/EEC (Low Voltage Directive)
89/336/EEC, 92/31/EEC (EMC Directives)
93/68/EEC (CE Marking Directive)
This product complies with EN55022 Class B
and EN55024 for use in the following areas:
residential, commercial and light-industrial.
Before using the AC adapter, please read this
manual thoroughly and retain it for future
reference. See also the manuals provided with
The Sony PCGA-AC16V3 is the AC adapter
designed exclusively for Sony notebooks.
However, this AC adapter may not be used
10 % to 90 % (not condensed),
provided that humidity is less than
(hygrometer reading of less than
Approx. 78.8 inches (2 m)
Operating instructions (1)
*A suitable power cord supplied for
your country or region. If the package
contains two power cords, use
whichever matches your power outlet.
Design and specifications are subject to change
· Do not place the unit in locations that are:
­ Exposed to direct sunlight
· Do not apply mechanical shock or drop the
· Unplug the power cord from the AC outlet
when not in use for a long time. To
disconnect the power cord, pull it out by the
plug. Never pull the cord itself.
· Be sure that nothing metallic comes into
contact with the metal parts of this unit. If
this happens, a short circuit may occur and
· Do not operate the unit with a damaged
cord or if the unit itself has been dropped or
· Always keep the metal contacts clean.
· Do not disassemble or convert the unit.
·While the unit is in use, it gets warm. This is
· Keep the unit away from TV or AM
receivers, as it will disturb reception.
Clean the unit with a soft dry cloth, or a soft
cloth lightly moistened with a mild detergent
solution. Do not use any type of solvent, such
as alcohol or benzine, which may damage the
Pour éviter tout risque d'incendie ou
d'électrocution, préservez cet appareil
de la pluie ou de l'humidité.
Pour éviter tout risque de décharge
électrique, il est recommandé de ne pas
ouvrir le boîtier. Ne confiez son
entretien qu'à une personne qualifiée.
L'appareil doit se trouver à proximité de la
prise de courant et celle-ci doit être facilement
Pour les utilisateurs au Canada
Cet appareil numérique de la classe B est
conforme à la norme NMB-003 du Canada.
Pour les utilisateurs en Europe
Ce produit est conforme aux directives
73/23/CEE (Basse tension)
(Compatibilité électromagnétique)
Cet appareil est conforme aux normes EN55022
Classe B et EN55024, limitant l'emploi dans les
environnements résidentiel, commerciales et
Avant d'utiliser l'adaptateur secteur, lisez
attentivement le présent mode d'emploi et
conservez-le pour toute référence ultérieure.
Consultez également les manuels d'utilisation
fournis avec votre ordinateur portable Sony.
Le PCGA-AC16V3 de Sony est un adaptateur
exclusivement conçu pour les ordinateurs
Il se peut cependant que cet adaptateur secteur
ne puisse être utilisé avec certains modèles.
Température d'utilisation
(gradient de température inférieur
20 % à 80 % (sans condensation),
à condition que l'humidité soit
inférieure 65 % à une température
de 35°C (95°F) (hygrométrie
inférieure à 29°C (84°F))
­20°C à 60°C (­4°F à 140°F)
(gradient de température inférieur
10 % à 90 % (sans condensation),
à condition que l'humidité soit
inférieure à 20 % à une température
de 60°C (140°F) (hygrométrie
inférieure à 35°C (95°F))
Câble d'alimentation (1 ou 2*)
* Câble d'alimentation approprié à votre
pays ou région. Si la boîte contient
deux câbles d'alimentation, utilisez
celui qui convient à la prise murale
Les caractéristiques sont sujettes à modifications
· Ne placez pas l'appareil à des endroits :
­ Extrêmement chauds ou froids
­ Soumis à des vibrations
­ Soumis à de puissants champs
­ Exposés au rayonnement direct du soleil
· Ne soumettez pas l'appareil à des chocs
mécaniques et ne le laissez pas tomber.
· Débranchez le câble d'alimentation de la
prise murale si vous prévoyez de ne pas
l'utiliser pendant une longue période. Pour
débrancher le câble d'alimentation, saisissez-
le par la fiche ; ne tirez jamais sur le câble
·Veillez à ce qu'aucun objet métallique n'entre
en contact avec les composants métalliques
de cet appareil. Si cela se produit, un court-
circuit risque de survenir et d'endommager
· Ne faites pas fonctionner l'appareil avec un
cordon endommagé ou s'il est tombé et a
· Gardez toujours les contacts métalliques
· Ne démontez pas et ne transformez pas
· En cours d'utilisation, une augmentation de
la chaleur de l'appareil est normale.
· Afin d'éviter toute interférence avec vos
récepteurs de télévision ou radio, veuillez
garder l'appareil éloigné de ceux-ci.
Nettoyez l'appareil avec un chiffon doux et sec
ou avec un chiffon doux légèrement imprégné
d'une solution détergente neutre. N'utilisez
aucun type de solvant comme de l'alcool ou de
l'essence, qui risquerait d'abîmer la finition du
Um Feuergefahr und die Gefahr eines
elektrischen Schlags zu vermeiden,
setzen Sie das Gerät weder Regen noch
sonstiger Feuchtigkeit aus.
Um einen elektrischen Schlag zu
vermeiden, öffnen Sie das Gehäuse
nicht. Überlassen Sie Wartungsarbeiten
stets nur qualifiziertem Fachpersonal.
Die Netzsteckdose muss sich in der Nähe des
Geräts befinden und leicht zugänglich sein.
Dieses Produkt entspricht den
folgenden europäischen Richtlinien:
(Niederspannungs-Richtlinie)
Dieses Gerät erfüllt die Standards EN55022
Class B und EN55024 für folgende Gebiete:
Lesen Sie diese Anleitung vor Inbetriebnahme
des Netzteils bitte genau durch, und bewahren
Sie sie zum späteren Nachschlagen sorgfältig
auf. Schlagen Sie dazu bitte auch in der
Dokumentation nach, die zu Ihrem Notebook
von Sony mitgeliefert wurde.
Das Netzteil PCGA-AC16V3 von Sony ist
ausschließlich für Notebook von Sony gedacht.
Dieses Netzteil kann jedoch bei einigen Modellen
unter Umständen nicht verwendet werden.
100 - 240 V Wechselstrom,
(Temperaturschwankung weniger
Luftfeuchtigkeit bei Betrieb
20 % bis 80 % (nicht kondensierend).
Bei einer Temperatur von 35°C
muss die Luftfeuchtigkeit unter
65 % liegen (Hygrometerstand
(Temperaturschwankung weniger
Luftfeuchtigkeit bei Lagerung
10 % bis 90 % (nicht kondensierend).
Bei einer Temperatur von 60°C
muss die Luftfeuchtigkeit unter
20 % liegen (Hygrometerstand
* Ein geeignetes Netzkabel ist für Ihr
Land bzw. Ihre Region mitgeliefert.
Wenn die Packung zwei Netzkabel
enthält, verwenden Sie das, welches
der vorhandenen Netzsteckdose
Änderungen, die dem technischen Fortschritt
dienen, bleiben vorbehalten.
· Stellen Sie das Gerät nicht an einen Ort, an
dem es folgenden Bedingungen ausgesetzt
· Setzen Sie das Gerät keinen mechanischen
Erschütterungen aus, und lassen Sie es nicht
· Ziehen Sie den Netzstecker aus der
Netzsteckdose, wenn Sie das Netzteil
längere Zeit nicht benutzen wollen. Um das
Netzkabel vom Netzstrom zu trennen,
ziehen Sie den Netzstecker aus der
Netzsteckdose. Ziehen Sie nicht am Kabel.
· Achten Sie darauf, dass keine
Metallgegenstände mit den Metallteilen
dieses Geräts in Berührung kommen.
Andernfalls kann es zu einem Kurzschluss
kommen, und das Gerät könnte beschädigt
·Verwenden Sie das Gerät nicht, wenn das
Kabel oder das Gerät selbst beschädigt oder
das Gerät fallengelassen wurde.
· Halten Sie die Metallkontakte sauber.
· Zerlegen Sie das Gerät nicht, und nehmen
Sie keine Veränderungen daran vor.
41°F to 95°F (5°C to 35°C)
(temperature gradient less than
20 % to 80 % (not condensed),
provided that humidity is less than
(hygrometer reading of less than
­4°F to 140°F (­20°C to 60°C)
(temperature gradient less than
· Das Gerät erwärmt sich während des
Betriebs. Dies ist keine Fehlfunktion.
· Halten Sie das Gerät von Fernseh- oder AM-
Empfängern fern. Es stört den Fernseh- bzw.
Reinigen Sie das Gerät mit einem weichen,
trockenen Tuch oder einem weichen Tuch, das
Sie leicht mit einem milden Reinigungsmittel
angefeuchtet haben. Verwenden Sie keine
Lösungsmittel wie Alkohol oder Benzin. Diese
könnten die Oberfläche angreifen.
Para evitar el riesgo de incendios y
electrocución, no exponga la unidad a
la lluvia ni a la humedad.
Para evitar descargas eléctricas, no abra
el aparato. Solicite asistencia técnica
únicamente a personal especializado.
Para los clientes de Europa
Este producto cumple con las directivas
73/23/CEE (Directiva sobre bajo
89/336/CEE, 92/31/CEE (Directivas
93/68/CEE (Directiva sobre la marca
Este producto cumple con las directivas
EN55022 Clase B y EN55024 para su uso en las
siguientes áreas: residenciales, comerciales y de
Antes de utilizar el adaptador de CA, lea este
manual atentamente y consérvelo para
consultarlo en el futuro. Asimismo, consulte los
manuales suministrados con el ordenador
El PCGA-AC16V3 de Sony es el adaptador de
CA diseñado exclusivamente para ordenador
portátil Sony. No obstante, este adaptador de
CA puede no utilizarse con determinados
Temperatura de funcionamiento
(cambios de temperatura inferiores
Humedad de funcionamiento
20 % a 80 % (sin condensación),
siempre que la humedad sea
inferior al 65 % a 35°C (95°F)
(lectura de higrómetro inferior a
Temperatura de almacenamiento
­20°C a 60°C (­4°F a 140°F)
(cambios de temperatura inferiores
Humedad de almacenamiento
10 % a 90 % (sin condensación),
siempre que la humedad sea
inferior al 20 % a 60°C (140°F)
(lectura de higrómetro inferior a
Aprox. 2 m (78,8 pulgadas)
Cable de alimentación (1 o 2*)
Manual de instrucciones (1)
* Cable de alimentación suministrado
adecuado para su país o región. Si el
paquete contiene dos cables de
alimentación, utilice aquél que
coincida con su toma de corriente.
Diseño y especificaciones sujetos a cambios sin
· No coloque la unidad en lugares:
­ Extremadamente calientes o fríos
­Con campos magnéticos intensos
­ Expuestos a la luz solar directa
· No aplique golpes mecánicos a la unidad ni
·Desenchufe el cable de alimentación de la
toma de CA cuando no vaya a utilizarla
Para desconectar el cable de alimentación,
tire del enchufe. No tire nunca del propio
· Cerciórese de que ningún objeto metálico
entra en contacto con las piezas metálicas de
esta unidad. Si esto ocurre, podría
producirse un cortocircuito y dañar la
· No utilice la unidad si el cable está dañado o
· Mantenga siempre limpios los contactos
· No desmonte ni convierta la unidad.
· La unidad se calienta mientras se encuentra
· Mantenga la unidad alejada de receptores de
AM o TV, ya que dificultará la recepción.
Limpie la unidad con un paño seco y suave, o
con un paño suave ligeramente humedecido
con una solución detergente poco concentrada.
No utilice ningún tipo de disolvente, como
alcohol o bencina, ya que podrían dañar el
Per evitare rischi di incendio o scariche
elettriche, non esporre l'apparecchio a
Per evitare scosse elettriche, non aprire
Per eventuali riparazioni, consultare
La presa di rete deve essere collocata in
prossimità dell'apparecchio e facilmente
Il presente prodotto è conforme a
quanto stabilito dalle seguenti
73/23/EEC (Direttiva Low Voltage)
93/68/EEC (Direttiva CE Marking)
Il presente prodotto è conforme alle norme
EN55022 Class B e EN55024 relative all'utilizzo
nelle seguenti aree: residenziali, commerciali e
Om het gevaar van brand of elektrische
schokken te voorkomen, mag het
apparaat niet worden blootgesteld aan
Open de behuizing niet om elektrocutie
Laat het toestel alleen nakijken door
Het stopcontact moet zich in de buurt van het
toestel bevinden en makkelijk bereikbaar zijn.
Dit produkt beantwoordt aan de
volgende Europese Richtlijnen:
73/23/EEG (Laagspanningsrichtlijn)
93/68/EEG (CE Markeringsrichtlijn)
Dit produkt beantwoordt aan de normen
EN55022 Klasse B en EN55024 voor gebruik in
residentieel, commercieel en licht industrieel.
---