Alteration of parts supply, as the service division had changed. (P.6-2)
Addition of CH model. (P.6-3)
* Blue characters are linking.
---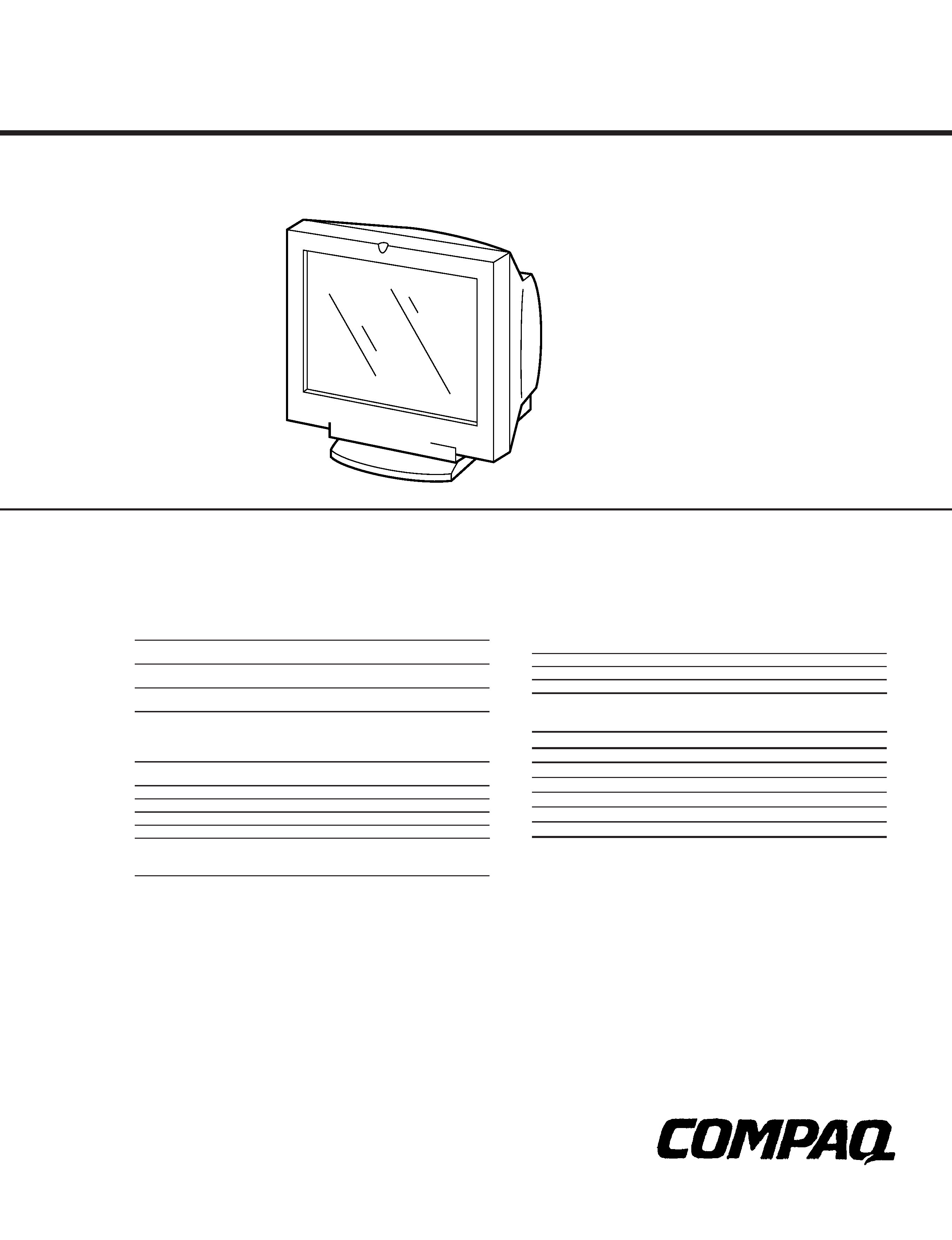 90 - 132/195 - 255 VAC, 50-60 Hz
Two 15-pin D-type connectors
CIE* Chromaticity Coordinates
*Commission International d'Eclairage, 1931 Standard.
Antireflective and antistatic coating compliant with TCO
× 1440 at 75Hz Refresh Rate
Environmental Requirements Temperature
---

The AC leakage from any exposed metal part to earth ground
and from all exposed metal parts to any exposed metal part hav-
ing a return to chassis, must not exceed 0.5 mA (500 microam-
Leakage current can be measured by any one of three methods.
1. A commercial leakage tester, such as the Simpson 229 or
RCA WT-540A. Follow the manufacturers' instructions to
2. A battery-operated AC milliammeter. The Data Precision
245 digital multimeter is suitable for this job.
3. Measuring the voltage drop across a resistor by means of a
VOM or battery-operated AC voltmeter. The "limit" indica-
tion is 0.75 V, so analog meters must have an accurate low-
voltage scale. The Simpson 250 and Sanwa SH-63Trd are
examples of a passive VOMs that are suitable. Nearly all
battery operated digital multimeters that have a 2 V AC
range are suitable. (See Fig. A)
NEVER TURN ON THE POWER IN A CONDITION IN
WHICH THE DEGAUSS COIL HAS BEEN REMOVED.
SAFETY-RELATED COMPONENT WARNING!!
COMPONENTS IDENTIFIED BY SHADING AND MARK
¡
ON THE SCHEMATIC DIAGRAMS, EXPLODED
VIEWS AND IN THE PARTS LIST ARE CRITICAL FOR
SAFE OPERATION. REPLACE THESE COMPONENTS
WITH SONY PARTS WHOSE PART NUMBERS AP-
PEAR AS SHOWN IN THIS MANUAL OR IN SUPPLE-
MENTS PUBLISHED BY SONY. CIRCUIT ADJUST-
MENTS THAT ARE CRITICAL FOR SAFE OPERATION
ARE IDENTIFIED IN THIS MANUAL. FOLLOW THESE
PROCEDURES WHENEVER CRITICAL COMPONENTS
ARE REPLACED OR IMPROPER OPERATION IS SUS-
NE JAMAIS METTRE SOUS TENSION QUAND LA
BOBINE DE DEMAGNETISATION EST ENLEVÉE.
ATTENTION AUX COMPOSANTS RELATIFS À LA
LES COMPOSANTS IDENTIFIÉS PAR UNE TRAME ET
¡
SONT CRITIQUES POUR LA SÉCURITÉ.
NE LES REMPLACER QUE PAR UNE PIÈCE PORTANT LE
NUMÉRO SPECIFIÉ. LES RÉGLAGES DE CIRCUIT DONT
L'IMPORTANCE EST CRITIQUE POUR LA SÉCURITÉ DU
FONCTIONNEMENT SONT IDENTIFIÉS DANS LE
PRÉSENT MANUEL. SUIVRE CES PROCÉDURES LORS
DE CHAQUE REMPLACEMENT DE COMPOSANTS CRI-
TIQUES, OU LORSQU'UN MAUVAIS FONCTIONNEMENT
After correcting the original service problem, perform the fol-
lowing safety checks before releasing the set to the customer:
1. Check the area of your repair for unsoldered or poorly-sol-
dered connections. Check the entire board surface for solder
2. Check the interboard wiring to ensure that no wires are
"pinched" or contact high-wattage resistors.
3. Check that all control knobs, shields, covers, ground straps,
and mounting hardware have been replaced. Be absolutely
certain that you have replaced all the insulators.
4. Look for unauthorized replacement parts, particularly tran-
sistors, that were installed during a previous repair. Point
them out to the customer and recommend their replacement.
5. Look for parts which, though functioning, show obvious
signs of deterioration. Point them out to the customer and
recommend their replacement.
6. Check the line cords for cracks and abrasion. Recommend
the replacement of any such line cord to the customer.
7. Check the B+ and HV to see if they are specified values.
Make sure your instruments are accurate; be suspicious of
your HV meter if sets always have low HV.
8. Check the antenna terminals, metal trim, "metallized"
knobs, screws, and all other exposed metal parts for AC
Leakage. Check leakage as described below.
Fig. A. Using an AC voltmeter to check AC leakage.
---

The energy saver feature has three different modes of operation:
By selecting settings in the computer's Energy Saver utility, you are
able to determine the length of the inactivity period before the
monitor goes into sleep mode.
The following table describes the monitor energy saver levels
available during the different modes of operation.
Less than 145 Watts ON = Normal operation
Monitor screen is blank. LED blinks amber
and green. There is a brief warm-up
period before returning to full power mode.
Monitor screen is blank. LED turns amber.
There is a brief warm-up period before
returning to full power mode.
Monitor screen is blank. LED is OFF. There
is a brief warm-up period before returning
Refer to your computer manual for instructions on setting energy
saver features (sometimes referred to as power management
The energy saver features for monitors only work when
connected to computers that have energy saver features.
Monitor is Working out of Scan Range, Change PC Settings
Indicates the monitor is unable to operate with the selected
input signal. Readjust your video setting to a lower resolution.
Monitor in Power Save Mode, Activate Using the PC
Indicates the monitor is in one of the power saving modes.
Monitor is Working, Check Signal Cable
Indicates the video cable may not be plugged into the
If the screen goes blank and the LED is green, remove any video
connections from video connector 1 or 2. You can also turn off the
PC. Press the power switch twice to turn the monitor OFF then ON
again. Press the right arrow button
(contrast increase) before the
monitor enters power saving mode. If a color bar pattern appears
then it is likely the problem is not the monitor. Please check the
condition of your computer. If the color bar pattern does not appear,
please inform your service representative of the monitor's condition.
If the power LED is flashing orange, please make note of the
frequency of flashing and inform your service representative of this
---

---