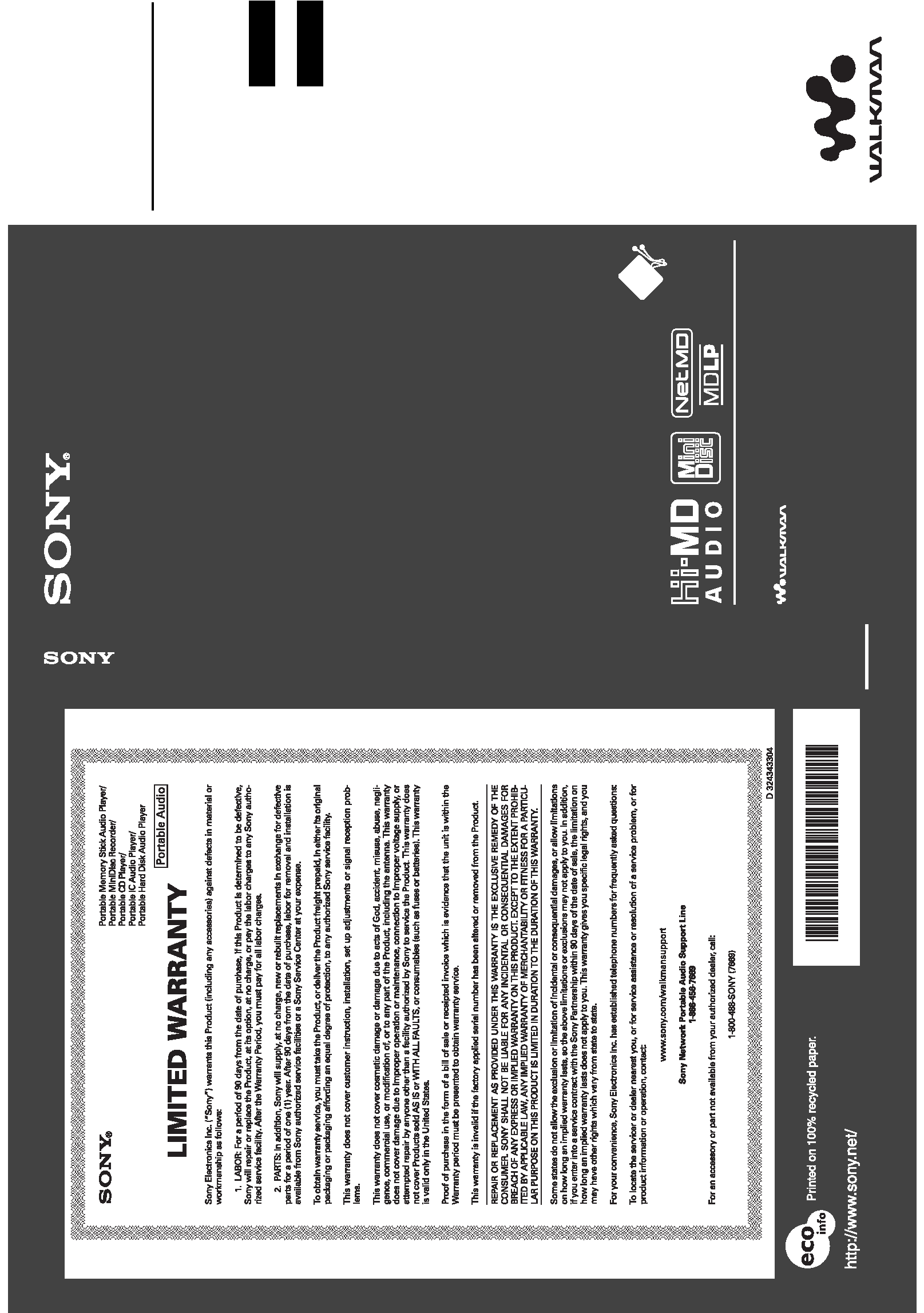 "WALKMAN" is a registered trademark of Sony
Corporation to represent Headphone Stereo products.
is a trademark of Sony Corporation.
This warranty is valid only in the United States.
---

To prevent fire or shock hazard, do
not expose the unit to rain or
To prevent fire, do not cover the
ventilation of the apparatus with news
papers, table cloths, curtains, etc. And
don't place lighted candles on the
To prevent fire or shock hazard, do not
place objects filled with liquids, such as
Certain countries may regulate disposal of
the battery used to power this product.
Please consult with your local authority.
The use of optical instruments with this
product will increase eye hazard.
CAUTION -- CLASS 1M INVISIBLE
LASER RADIATION WHEN OPEN
DO NOT VIEW DIRECTLY WITH
For customers who purchased
The serial number is located at the rear of
the disc compartment lid and the model
number is located at the top and bottom.
Record the serial number in the space
provided below. Refer to them whenever
you call upon your Sony dealer regarding
Please register this product on line at
<http://www.sony.com/walkmanreg>
Proper registration will enable us to send
you periodic mailings about software
upgrades, new products, services and
other important announcements. Thank
If you have any questions about
-- Sony Network Portable Audio
-- Sony Customer Information
12451 Gateway Blvd. Fort Myers,
Do not install the appliance in a
confined space, such as a bookcase or
IN NO EVENT SHALL SELLER BE
---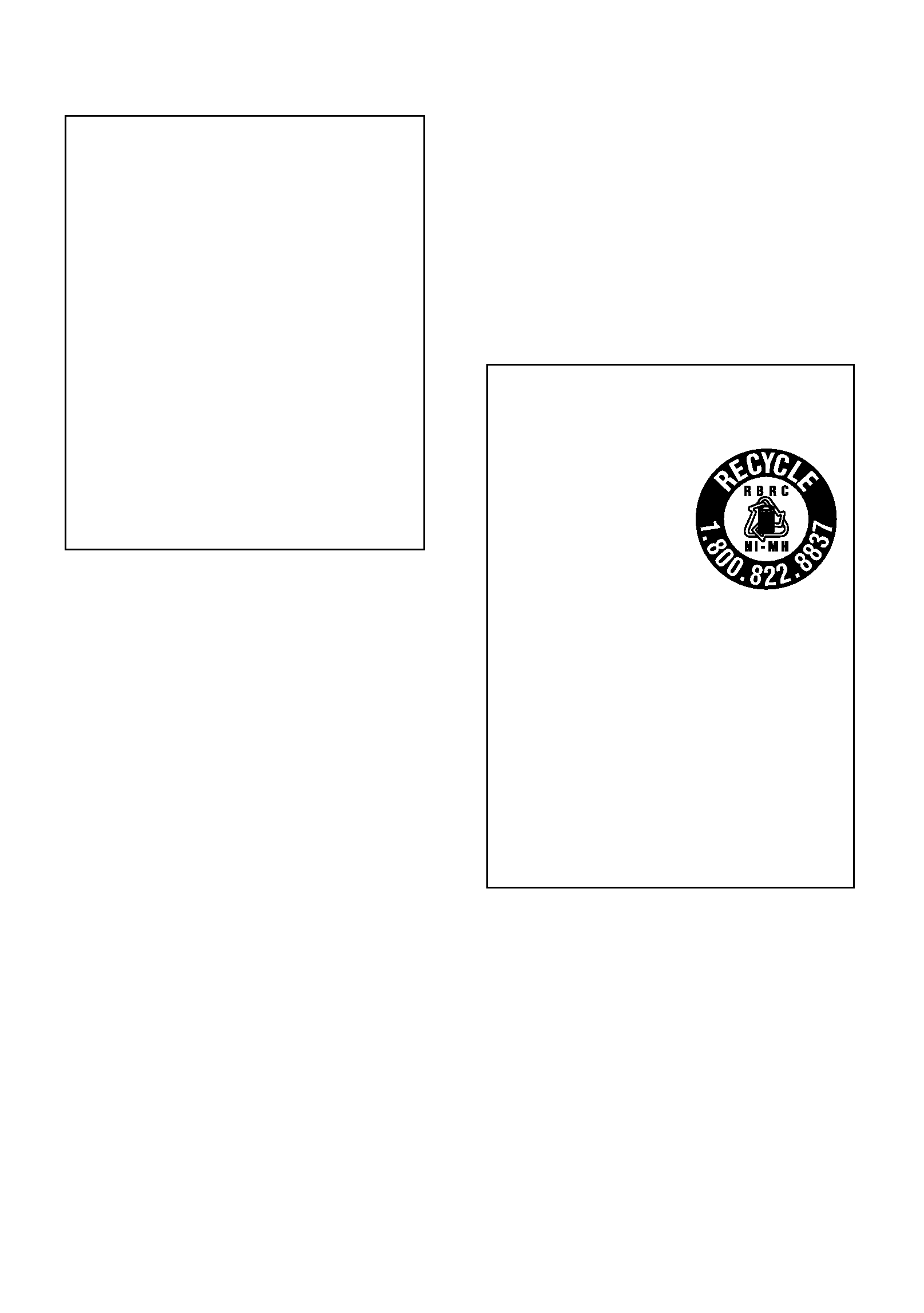 This equipment has been tested and found
to comply with the limits for a Class B
digital device, pursuant to Part 15 of the
FCC Rules. These limits are designed to
provide reasonable protection against
harmful interference in a residential
installation. This equipment generates,
uses, and can radiate radio frequency
energy and, if not installed and used in
accordance with the instructions, may
cause harmful interference to radio
communications. However, there is no
guarantee that interference will not occur
in a particular installation. If this
equipment does cause harmful
interference to radio or television
reception, which can be determined by
turning the equipment off and on, the user
is encouraged to try to correct the
interference by one or more of the
-- Reorient or relocate the receiving
-- Increase the separation between the
-- Connect the equipment into an outlet
on a circuit different from that to
which the receiver is connected.
-- Consult the dealer or an experienced
radio/TV technician for help.
You are cautioned that any changes or
modifications not expressly approved in
this manual could void your authority to
For customers in the USA and
The validity of the CE marking is
restricted to only those countries where it
is legally enforced, mainly in the
countries EEA (European Economic
Declaration of Conformity
Responsible Party: Sony Electronics
Address: 16450 W. Bernardo Dr, San
Telephone No.: 858-942-2230
This device complies with Part 15 of
the FCC Rules. Operation is subject to
the following two conditions: (1) This
device may not cause harmful
interference, and (2) this device must
accept any interference received,
including interference that may cause
rechargeable batteries to the collection
and recycling location nearest you.
For more information regarding
recycling of rechargeable batteries, call
Caution: Do not handle damaged or
leaking Nickel Metal Hydride batteries.
---

Disposal of Old Electrical &
(Applicable in the European
This symbol on the product
or on its packaging indicates
that this product shall not be
treated as household waste.
Instead it shall be handed
recycling of electrical and electronic
equipment. By ensuring this product is
disposed of correctly, you will help
prevent potential negative consequences
for the environment and human health,
which could otherwise be caused by
inappropriate waste handling of this
product. The recycling of materials will
help to conserve natural resources. For
more detailed information about recycling
of this product, please contact your local
city office, your household waste disposal
service or the shop where you purchased
Applicable accessories: Remote control,
Copyright laws prohibit reproducing the
software or the manual accompanying it
in whole or in part, or renting the
software without the permission of the
In no event will SONY be liable for any
financial damage, or loss of profits,
including claims made by third parties,
arising out of the use of the software
supplied with this recorder.
In the event a problem occurs with this
software as a result of defective
manufacturing, SONY will replace it.
However, SONY bears no other
The software provided with this
recorder cannot be used with equipment
other than that which is so designated.
Please note that, due to continued efforts
to improve quality, the software
specifications may be changed without
Operation of this recorder with software
other than that provided is not covered
The ability to display the languages on
the software will depend on the installed
OS on your PC. For better results, please
ensure that the installed OS is
compatible with the desired language
-- We do not guarantee all the
languages will be able to be
displayed properly on the software.
-- User-created characters and some
special characters may not be
Depending on the type of the text and
characters, the text shown on the
software may not be displayed properly
on the device. This is due to:
-- The capability of the connected
-- The device is not functioning
---

SonicStage and SonicStage logo are
trademarks or registered trademarks of
MD Simple Burner, OpenMG,
"
Magic
Gate
"
,
"
MagicGate Memory Stick
"
,
Memory Stick
"
, Hi-MD, Net MD,
ATRAC, ATRAC3, ATRAC3plus and
their logos are trademarks of Sony
Microsoft, Windows, Windows NT and
Windows Media are trademarks or
registered trademarks of Microsoft
Corporation in the United States and /or
IBM and PC/AT are registered
trademarks of International Business
Macintosh is a trademark of Apple
Computer, Inc. in the United States and/
Pentium is a trademark or a registered
trademark of Intel Corporation.
All other trademarks and registered
trademarks are trademarks or registered
trademarks of their respective holders.
TM and ® marks are omitted in this
CD and music-related data from
Gracenote, Inc., copyright © 2000-2004
Gracenote. Gracenote CDDB
R
Client
Software, copyright 2000-2004
Gracenote. This product and service
may practice one or more of the
following U.S. Patents: #5,987,525;
#6,061,680; #6,154,773, #6,161,132,
#6,230,192, #6,230,207, #6,240,459,
#6,330,593, and other patents issued or
pending. Services supplied and/or
device manufactured under license for
following Open Globe, Inc. United
Gracenote is a registered trademarks of
Gracenote. The Gracenote logo and
logotype, and the
"
Powered by
Gracenote
"
logo are trademarks of
Program © 2001, 2002, 2003, 2004, 2005
Documentation © 2005 Sony Corporation
---