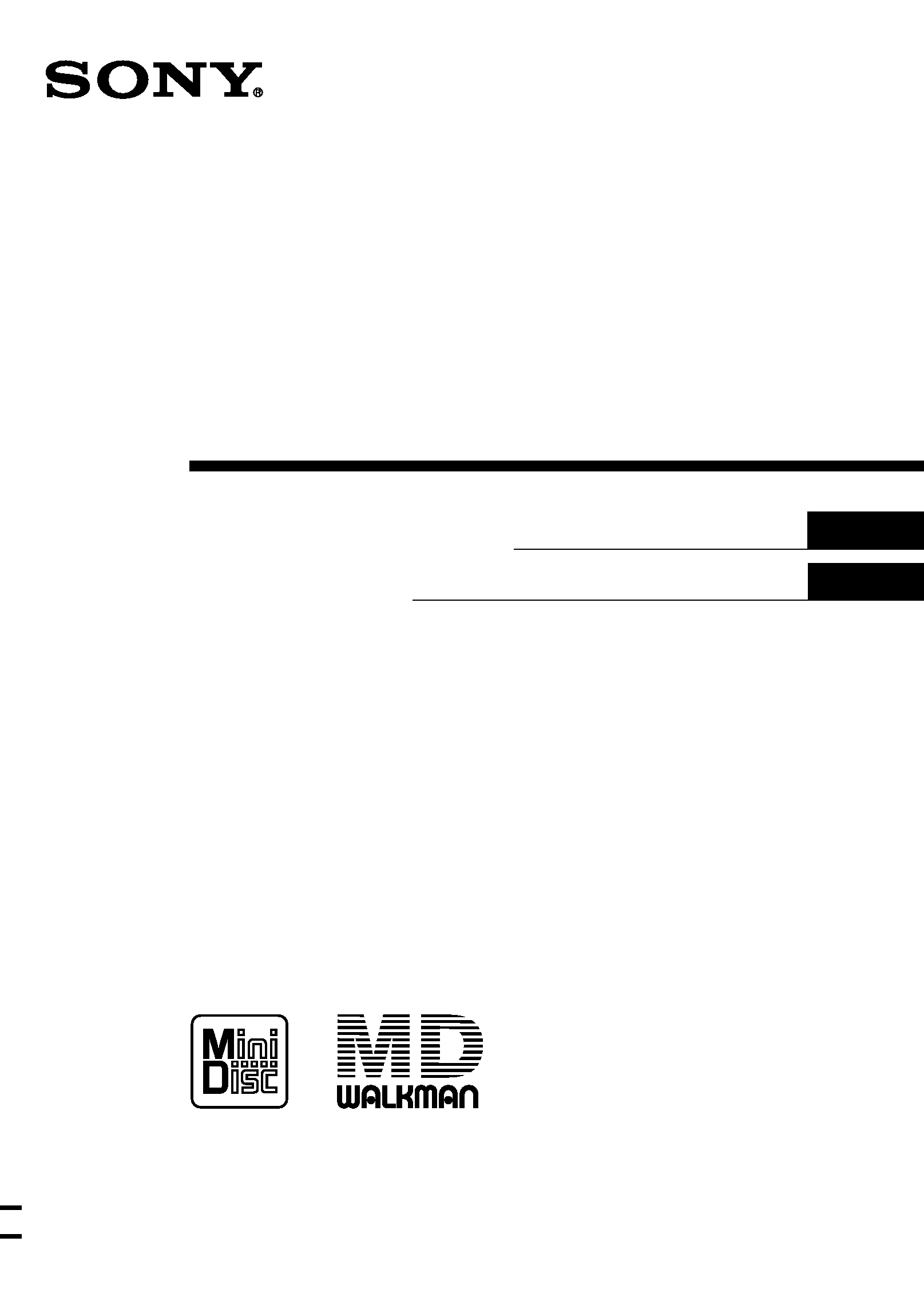 ©1999 by Sony Corporation
--- To prevent fire or shock hazard, do not
expose the unit to rain or moisture.
To avoid electrical shock, do not open the
cabinet. Refer servicing to qualified
The use of optical instruments with this
product will increase eye hazard.
Listening for many hours at maximum
volume may damage your hearing.
IN NO EVENT SHALL SELLER BE
INCIDENTAL OR CONSEQUENTIAL
DAMAGES OF ANY NATURE, OR
LOSSES OR EXPENSES RESULTING
FROM ANY DEFECTIVE PRODUCT
OR THE USE OF ANY PRODUCT.
"MD WALKMAN" is a trademark of
If the supply cord of the AC power
adaptor is damaged, the AC power
adaptor must be returned to the
manufacturer or his agent for the cord to
For the customers in Canada
batteries are recyclable.
unwanted batteries to your nearest point
for collection, recycling or proper
Note: In some areas the disposal of nickel
cadmium batteries in household or
business trash may be prohibited.
RBRC (Rechargeable Battery Recycling
Corporation) advises you about spent
battery collection by the following phone
Call toll free number: 1-800-822-8837
(United States and Canada only)
Caution: Do not handle damaged or
leaking nickel-cadmium batteries.
---

Welcome to the world of the MiniDisc!
Here are some of the capabilities and
features you'll discover with the new
· Recording MiniDisc Walkman with a
new, thin body design -- Easy to carry
· Easy-to-operate remote control with
editing capabilities -- You can label
discs and tracks, move or erase tracks,
etc., from the remote control as well as
· Battery compartment adapted for the
rechargeable battery --The
rechargeable batteries fits in the same
battery compartment of the MiniDisc
player as the dry battery. The
rechargeable batteries can be charged
in this comparment as well.
· High-fidelity recording -- Low-noise,
low-distortion, high-fidelity recording
through the optical digital input jack.
· Digital synchro-recording -- When
recording from a digital equipment
with optical output, the recorder
automatically starts and pauses
recording in sync with operation on the
· Digital AGC (Auto Gain Control) --
Automatic recording level adjustment
without sacrificing superb digital
· Long-time recording with monaural
sound -- You can record up to 148
minutes on a disc using monaural
---

Recording an MD right away! ................................ 6
Playing an MD right away! ..................................... 8
Various ways of recording .................................... 10
Two ways of connecting to a sound source ....................................... 10
Recording with digital input (optical cable required) ...................... 11
To start/stop recording in sync with the source player
(Synchro-recording) ........................................................................ 11
Recording from a microphone ............................................................. 12
Recording in monaural for double the normal recording time ...... 13
Adjusting the recording level manually (Manual recording) ......... 13
Checking the remaining time or the recording position .................. 14
Various ways of playback ..................................... 15
Playing tracks repeatedly ..................................................................... 15
Emphasizing bass (DIGITAL MEGA BASS) ...................................... 15
Protecting your hearing (AVLS) .......................................................... 16
Checking the remaining time or the playing position ..................... 16
Locking the controls (HOLD) .............................................................. 17
Connecting to a stereo system ............................................................. 17
Editing recorded tracks ......................................... 18
Erasing tracks ......................................................................................... 18
To erase a track ................................................................................ 18
To erase the whole disc ................................................................... 18
Adding a track mark ............................................................................. 19
Erasing a track mark ............................................................................. 20
Moving recorded tracks ........................................................................ 20
Labeling recordings ............................................................................... 21
---

Power sources ........................................................ 23
Charging the nickel-cadmium rechargeable batteries ...................... 23
Using on dry batteries ........................................................................... 24
Additional information ......................................... 25
Precautions ............................................................................................. 25
Troubleshooting ..................................................................................... 27
System limitations ................................................................................. 29
Messages ................................................................................................. 30
Specifications .......................................................................................... 32
What is an MD? ...................................................................................... 33
Looking at the controls ......................................................................... 35
---