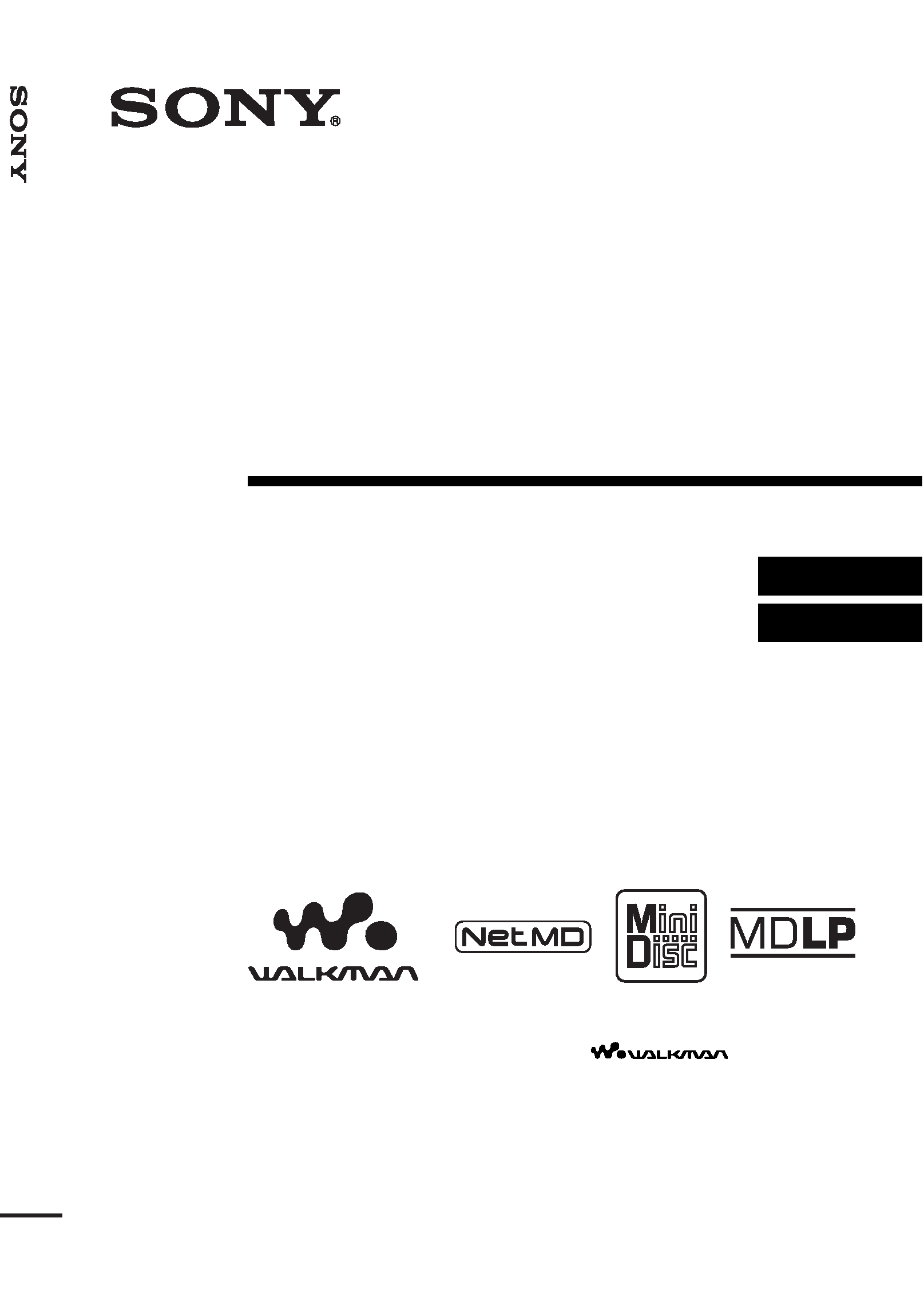 Recorder Operation ______________________________
Software Operation ______________________________
"WALKMAN" is a registered trademark of Sony Corporation to
represent Headphone Stereo products.
trademark of Sony Corporation.
---

To prevent fire or shock hazard, do
not expose the unit to rain or
To prevent fire, do not cover the
ventilation of the apparatus with news
papers, table cloths, curtains, etc. And
don't place lighted candles on the
To prevent fire or shock hazard, do not
place objects filled with liquids, such as
Certain countries may regulate disposal of
the battery used to power this product.
Please consult with your local authority.
The use of optical instruments with this
product will increase eye hazard.
The validity of the CE marking is
restricted to only those countries where it
is legally enforced, mainly in the
countries EEA (European Economic
· SonicStage, OpenMG and the OpenMG
logo, MagicGate, Memory Stick and the
MagicGate Memory Stick logo,
Memory Stick and the Memory Stick
logo, Net MD and the Net MD logo are
trademarks of Sony Corporation.
· Microsoft, Windows, Windows NT and
Windows Media are trademarks or
registered trademarks of Microsoft
Corporation in the United States and /or
· IBM and PC/AT are registered
trademarks of International Business
· Macintosh is a trademark of Apple
Computer, Inc. in the United States and/
· MMX and Pentium are trademarks or
registered trademarks of Intel
· All other trademarks and registered
trademarks are trademarks or registered
trademarks of their respective holders.
· TM and ® marks are omitted in this
Do not install the appliance in a
confined space, such as a bookcase or
IN NO EVENT SHALL SELLER BE
---

· Copyright laws prohibit reproducing the
software or the manual accompanying it
in whole or in part, or renting the
software without the permission of the
· In no event will SONY be liable for any
financial damage, or loss of profits,
including claims made by third parties,
arising out of the use of the software
supplied with this recorder.
· In the event a problem occurs with this
software as a result of defective
manufacturing, SONY will replace it.
However, SONY bears no other
· The software provided with this
recorder cannot be used with equipment
other than that which is so designated.
· Please note that, due to continued efforts
to improve quality, the software
specifications may be changed without
· Operation of this recorder with software
other than that provided is not covered
Program © 2001, 2002 Sony Corporation
Documentation © 2002 Sony Corporation
---

Looking at controls ......................................... 12
Getting started ............................................... 16
Recording an MD right away! ......................... 20
Playing an MD right away! .............................. 23
Various ways of recording .............................. 25
Viewing various information ................................................................25
To start/stop recording in sync with the sound source
(Synchro-recording) ........................................................................26
Long-time recording (MDLP) ..............................................................27
Recording from TV or radio (Analog Recording) ...............................28
Recording from a microphone ..............................................................29
To select microphone sensitivity ....................................................29
Adding track marks while recording ....................................................29
Adding track marks manually ........................................................30
Adding track marks automatically (Auto Time Stamp) .................30
Adjusting the recording level manually ................................................31
Various ways of playback .............................. 32
Viewing various information ................................................................32
Selecting the play mode ........................................................................32
Playing a track repeatedly (Repeat Play) ........................................33
Listening to selected tracks only (Bookmark Play) ........................33
Listening to tracks in a desired sequence (Program Play) ..............34
Adjusting the sound (Virtual-Surround · 6-Band Equalizer) ...............34
Varying the virtual sound to create different acoustics
(Virtual-Surround) ...........................................................34
Selecting the sound quality (6-Band Equalizer) .............................35
---

Editing recorded tracks .................................. 36
Before editing ....................................................................................... 36
Labeling recordings (Name) ................................................................ 36
Labeling ......................................................................................... 36
Moving recorded tracks (Move) .......................................................... 38
Dividing a track (Divide) ..................................................................... 39
Dividing a track directly ................................................................ 39
Adjusting a dividing point before dividing a track
(Divide Rehearsal) .......................................................... 39
Combining tracks (combine) ................................................................ 40
Erasing tracks and a whole disc contents (Erase) ................................ 41
To erase a track .............................................................................. 41
To erase the whole disc .................................................................. 42
Using the group function ................................ 43
What is the group function? ................................................................. 43
Recording tracks using the group function .......................................... 43
Recording a track to a new group .................................................. 43
Recording a track to an existing group .......................................... 44
Playing groups ...................................................................................... 44
Playing a track in group play ......................................................... 44
Selecting the play mode for group play (Group Play Mode) ....... 44
Repeat play for the selected group play mode
(Group Repeat Play) ....................................................... 45
Playing groups in a desired sequence (Group Program Play) ....... 45
Editing groups ...................................................................................... 45
Assigning tracks or groups as a new group (Group Setting) ......... 45
Releasing a group setting ............................................................... 46
Labeling recorded groups .............................................................. 47
Moving a track in a disc with group setting ................................... 47
Changing the order of a group on a disc (Group Move) ................ 48
To erase a group ............................................................................. 49
---