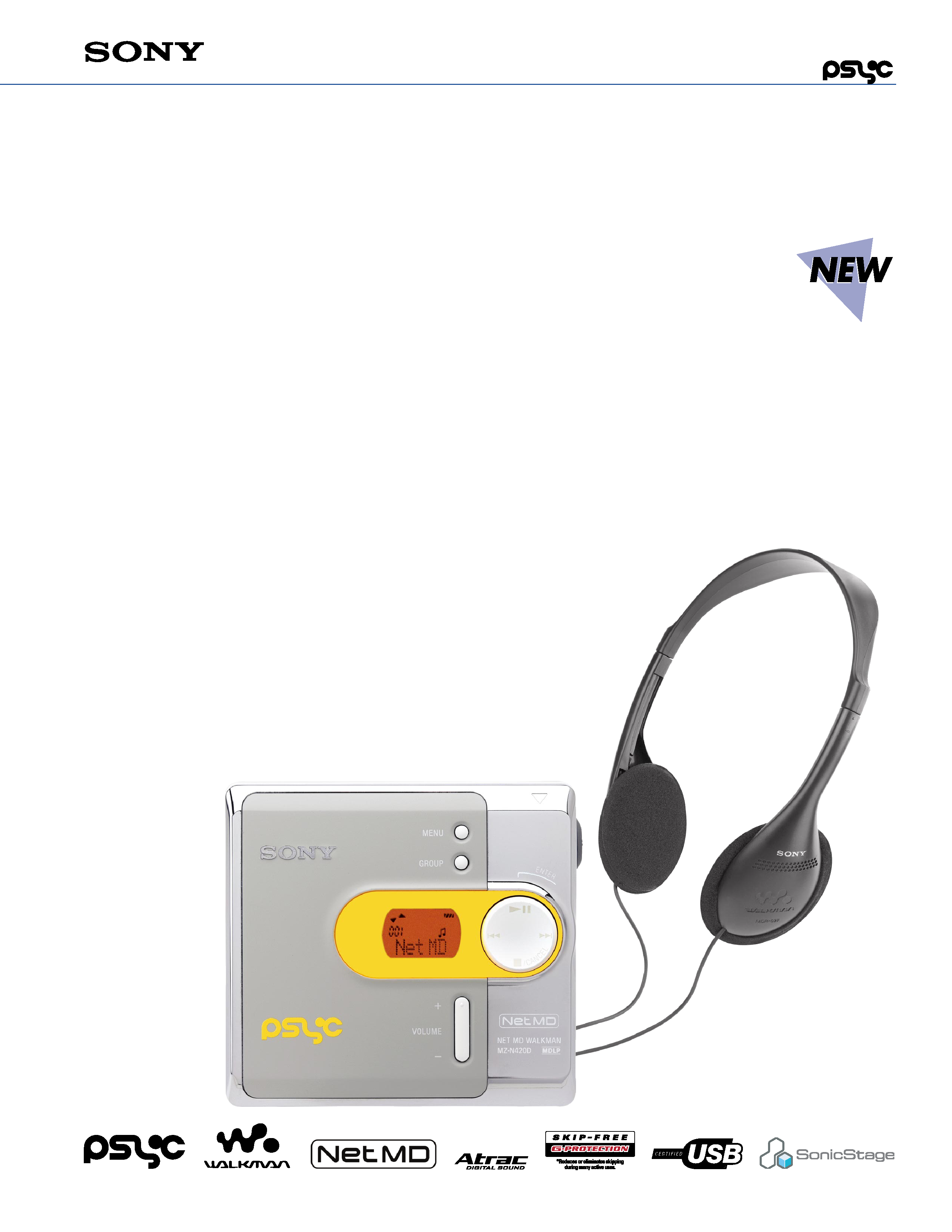 Psyc
®
Net MDTM Walkman
®
Digital Music Player
Store 5 Hours of Music on One Standard MiniDisc (LP4 Mode)
Record your MP3s or CDs at up to 32x* Speed
Utilizes Affordable Standard MiniDisc Media
One Standard MiniDisc Supplied
Up to 56 Hours Continuous Battery Life Using 1 "AA" Battery (LP4 Mode)****
Plays Back in ATRAC3TM Audio, Supports Multiple Audio Formats (MP3, WMA**, WAV)
Music Management Software Supplied
Skip-Free*** G-ProtectionTM Technology
---

v
New Psyc Image The fashion conscious can enjoy all the benefits of
ATRAC
®
high quality sound and storage capacity together with style
elements of chrome, gray and neon.
· Store 5 Hours Of Music On One Standard MiniDisc (LP4 Mode)
MiniDisc media can store over 5 hours (LP4 mode) of music and cost
· Record Your MP3s or CDs at up to 32x* Speed Net MDTM products
provide high speed transfer of your music from your PC directly to your
Net MD recorder. The title/track information you create in the jukebox
automatically will be transferred to the Net MD recorder.
· Utilizes Affordable Standard MiniDisc Media MiniDisc media is
re-recordable, scratch resistant, low cost and provides high capacity
· One Standard MiniDisc Supplied The MZ-N420D Psyc player comes
supplied with one standard MiniDisc.
· Up to 56 Hours Continuous Battery Life Using 1 "AA" Battery
(LP4 Mode)**** Net MD Walkman recorders provide super long battery
life (up to 56 hours) with using just 1 "AA" battery.
· Plays Back in ATRAC3TM Audio, Supports Multiple Internet Audio
Formats (MP3, WMA**, WAV) The Net MD recorder plays back in
ATRAC3 format and supports the most popular Internet audio formats,
including MP3, WMA and WAV.
· Music Management Software Supplied Net MD recorders come
bundled with SonicStage
®
and MD Simple Burner application, which
makes it easy to import, manage and transfer your music collections.
· Skip-Free*** G-ProtectionTM Technology Net MD recorders come
equipped with Skip-Free G-Protection technology which provides
virtually uninterrupted playback of your music.
· Group/Folder Function allows for easy navigation between multiple file
folders transferred from playlist.
· Available in Spark Gray.
Format: Digital Audio MiniDisc System
Sampling Frequency: 44.1 kHz
Data Compression Method (Coding) : ATRAC
®
/ATRAC3TM (Adaptive Transform
Frequency Response: 20-20,000Hz +/-3dB
Wow and Flutter: Unmeasurable
Inputs: USB (previously called USB1.1)
Outputs: Headphones/(stereo mini)
Power Requirements: "AA" Alkaline Battery x 1 (optional)
Dimensions (WHD): 3
1
/
4
" x 1
1
/
4
" x 3" (81.0 x 30.7 x 74.4mm)
Weight: 4.0 oz (113g) without battery
Supplied Accessories: MDR-027LP Headphones, SonicStage
®
Software
CD-ROM with MD Simple Burner Application, USB Cable
Optional Accessories: Active Mini Speakers
©2004 Sony Electronics Inc.
Reproduction in whole or in part without written permission is prohibited. All rights reserved.
Sony, ATRAC, ATRAC3, G-Protection, MD SImple Burner, Net MD, Psyc, SonicStage and Walkman are
MiniDisc products sold by manufacturer-authorized outlets include the Serial Copy Management
System which will not prevent you from making a direct digital-to-digital copy from a digital source but
such copies will prevent a second digital-to-digital copy from being made.
*When recording in LP4 mode. Results vary based on PC specifications and does not include title transfer.
***Reduces or eliminates skipping during many active uses.
****Actual battery life may vary based on usage patterns.
Features and specifications are subject to change without notice. Non-metric weights and measures
Psyc
®
Net MDTM Walkman
®
Digital Music Player
Park Ridge, New Jersey 07656
---