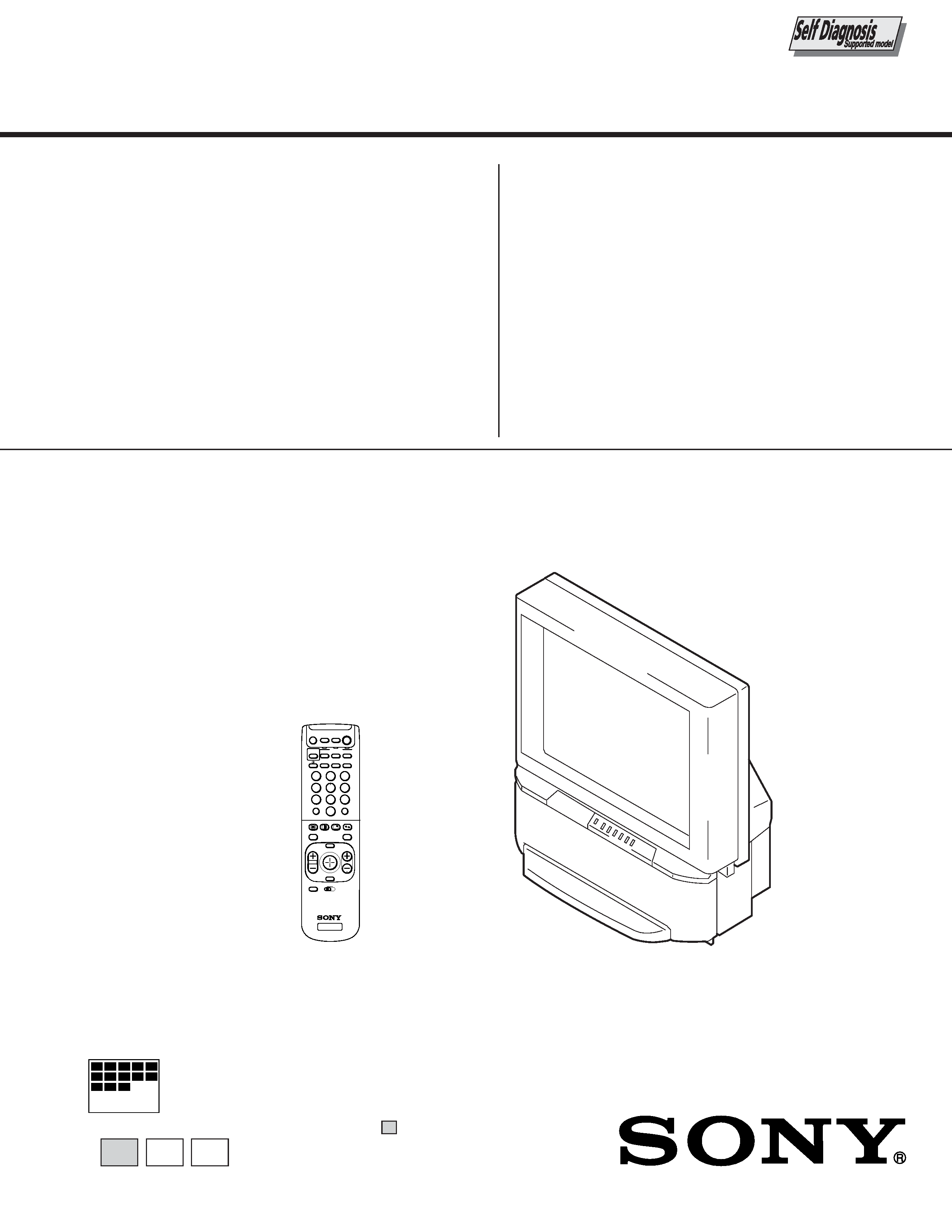 Please file according to model size. .......
COLOR REAR VIDEO PROJECTOR
---

3 picture tubes, 3 lenses, horizontal in-line system
7-inch high-brightness monochrome tubes (6.3 raster size),
with optical coupling and liquid cooling system
High performance, large diameter hybrid lens F1.05
VHF: 2­13/UHF: 14 ­69/CATV: 1 ­ 125
75 ohm external terminal for VHF/UHF
Screen size (measured diagonally)
S VIDEO IN (4-pin mini DIN):
Y: 1 Vp-p, 75-ohms unbalanced, sync negative
C: 0.286 Vp-p (Burst signal), 75 ohms
VIDEO (phono jack): 1 Vp-p, 75-ohms unbalanced, sync
AUDIO (phono jacks): 500 mVrms (100% modulation),
Y: 1 Vp-p, 75 ohms, sync negative
AUDIO (phono jacks): 500 mVrms (100% modulation),
VIDEO (phono jack): 1 Vp-p, 75-ohms unbalanced, sync
AUDIO (phono jacks): 500 mVrms (100% modulation),
UDIO (VAR/FIX) OUT (phono jacks): 500 mVrms (100%
modulation), Impedance: 470 ohms
Tweeter: 66 mm (2 5/8") x 2
Woofer: 130 mm (5 1/8") x 2 (KP-48V80/53V80)
160 mm (6 3/8") x 2 (KP-61V80)
1,105 x 1,338 x 579 mm (43 1/2 x 52 5/8 x 22 3/4 inches)
1,216 x 1,417 x 632 mm (47 7/8 x 55 3/4 x 24 7/8 inches)
1,370 x 1,560 x 670 mm (54 x 61 3/8 x 26 3/8 inches)
68.8 kg (151 lbs 11 oz) (KP-48V80)
76.0 kg (167 lbs 9 oz) (KP-53V80)
93.6 kg (206 lbs 6 oz) (KP-61V80)
Remote control RM-Y905 (1)
Batteries (2) size AA (R6)
RK-G34, RK-74A, RK-G69HG, VMC-10HG,
VMC-720M, VMC-810S/820S, YC-15V/30V
Design and specifications are subject to change without notice.
---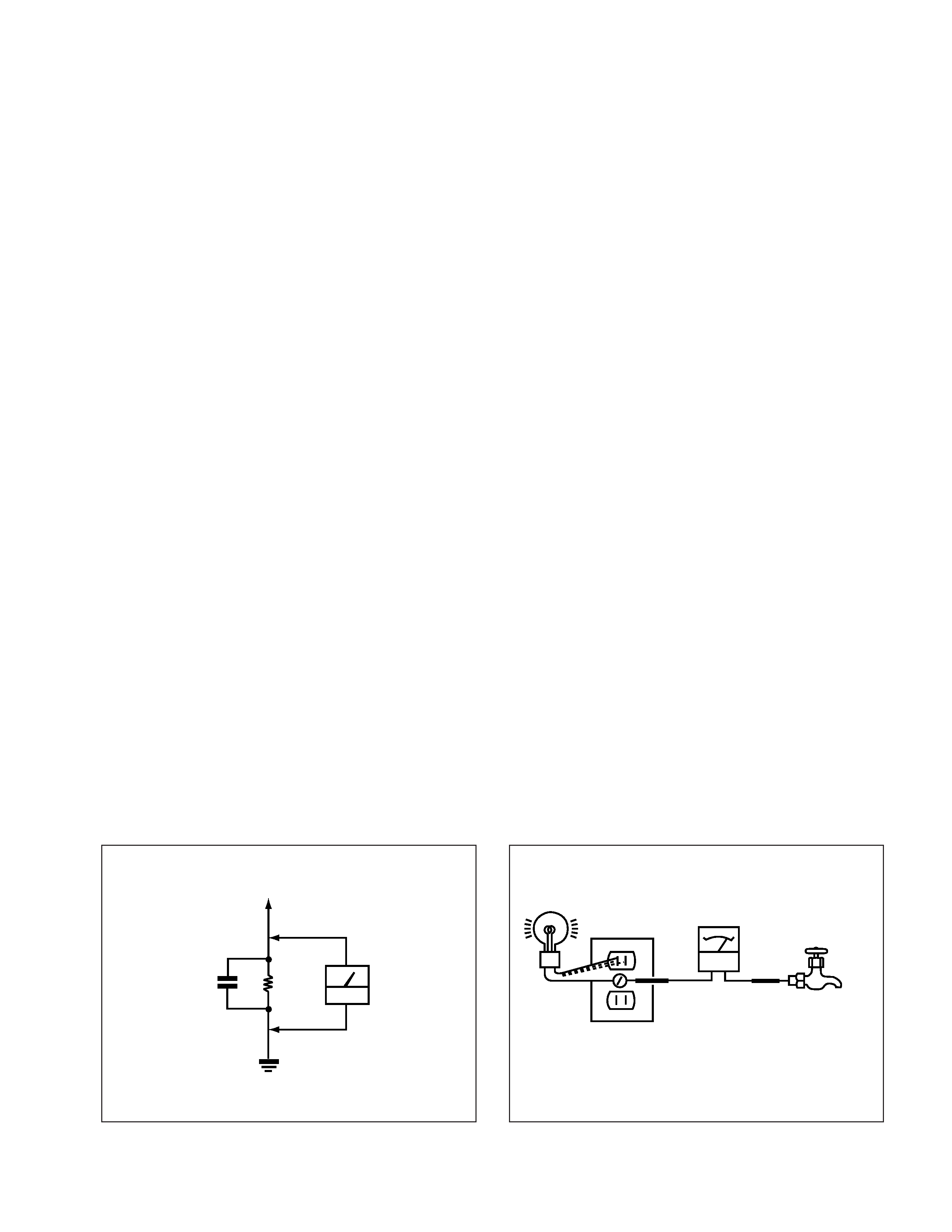 After correcting the original service problem, perfom the follow-
ing safety checks before releasing the set to the customer:
Check the area of your repair for unsoldered or poorly-sol-
dered connections. Check the entire board surface for solder
2. Check the interboard wiring to ensure that no wires are
"pinched" or contact high-wattage resistors.
3. Check that all control knobs, shields, covers, ground straps,
and mounting hardware have been replaced. Be absolutely
certain that you have replaced all the insulators.
4. Look for unauthorized replacement parts, particularly tran-
sistors, that were installed during a previous repair. Point them
out to the customer and recommend their replacement.
5. Look for parts which, through functioning, show obvious
signs of deterioration. Point them out to the customer and
recom mend their replacement.
6. Check the line cords for cracks and abrasion. Recommend
the replacement of any such line cord to the customer.
7. Check the condition of the monopole antenna (if any). Make
sure the end is not broken off, and has the plastic cap on it.
Point out the danger of impalement on a broken antenna to
the customer, and recommend the antenna's replacement.
8. Check the B+ and HV to see they are at the values specified.
Make sure your instruments are accurate;be suspicious of
your HV meter if sets always have low HV.
9. Check the antenna temminals, metal trim, "metallized" knobs,
screws, and all other exposed metal parts for AC leakage.
Check leakage as described below.
The AC leakage from any exposed metal part to earth ground and
from all exposed metal parts to any exposed metal part having a
return to chassis, must not exceed 0.5mA (500 microampers) . Leak-
age current can be measured by any one of three methods.
1. A commercial leakage tester, such as the Simpson 229 or
RCA WT-540A. Follow the manufacturers' instructions to
2. A battery-operated AC milliammeter. The Data Precision 245
digital multimeter is suitable for this job.
3. Measuring the voltage drop across a resistor by means of a
VOM or battery-operated AC voltmeter. The "limit" indica-
tion is 0.75V, so analog meters must have an accurate low-
voltage scale. The Simpson 250 and Sanwa SH-63Trd are
examples of a passive VOM that is suitable. NearIy all bat-
tery operated digital multimeters that have a 2V AC range
are suitable. (See Fig. A)
HOW TO FIND A GOOD EARTH GROUND
A cold-water pipe is guaranteed earth ground;the cover-plate re-
taining screw on most AC outlet boxes is also at earth ground. If
the retaining screw is to be used as your earth-ground, verify that it
is at ground by measuring the resistance between it and a cold-
water pipe with an ohmmeter. The reading should be zero ohms. If
a cold-water pipe is not accessible, connect a 60-l00 watts trouble
light (not a neon lamp) between the hot side of the receptacle and
the retaining screw. Try both slots, if necessary, to locate the hot
side of the line, the lamp should light at normal brilliance if the
screw is at ground potential. (See Fig. B)
Fig. A. Using an AC voltmeter to check AC leakage.
Fig. B. Checking for earth ground.
---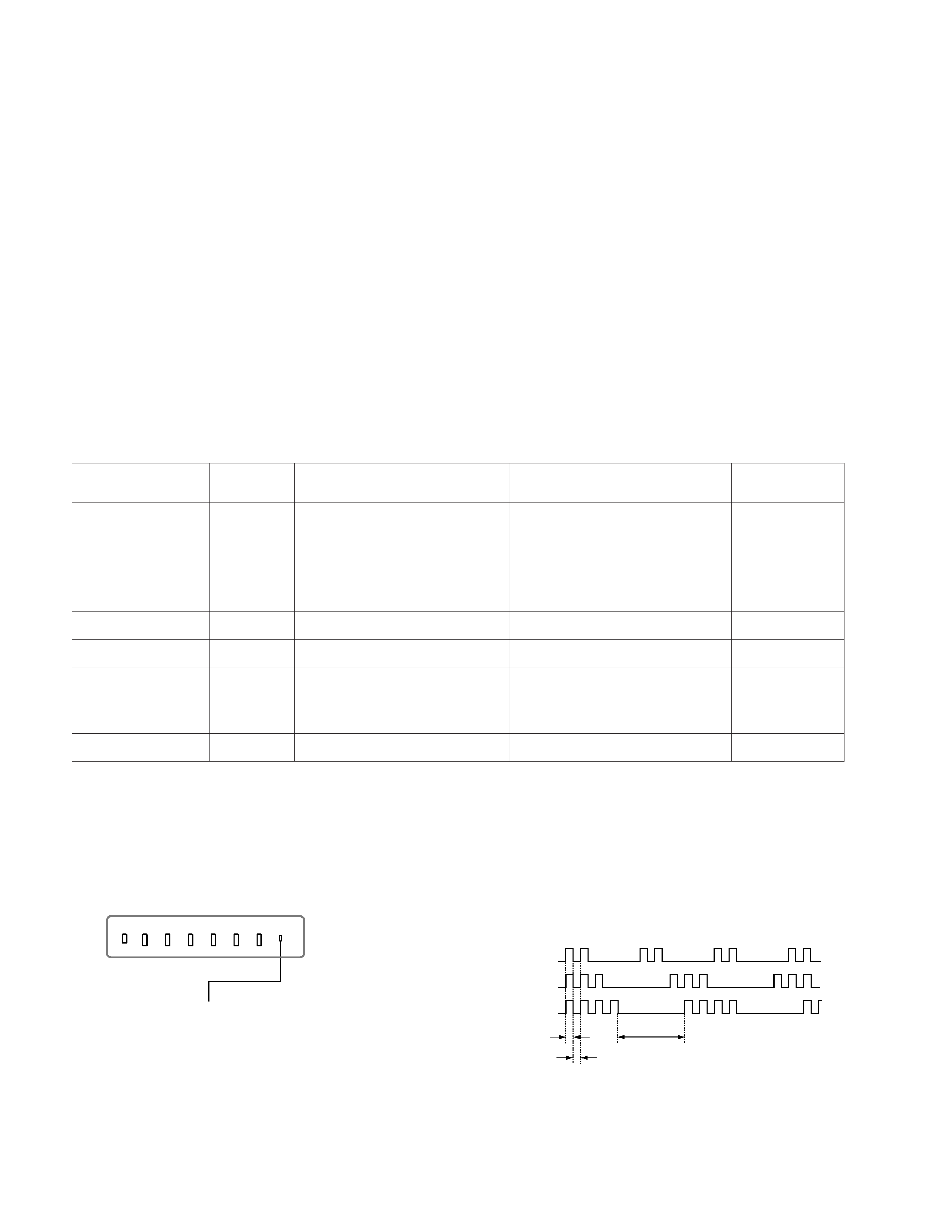 * : 000 the range of values for number of operations is 000-255. For 256 or higher there is
no count up and the number remains at 255.
Blinking count display of TIMER/STAVDBY indicator
Release of TIMER/STANDBY indicator blinking.
The TIMER/STANDBY indicator blinking display is released by turning OFF the power switch
on the TV main unit or removing the plug from the power.
* One blink is not used for self-diagnosis.
· Vertical deflection stop
Summary of Self-Diagnosis Function
This device includes a self-diagnosis function.
In case of abnormalities, the TIMER/STANDBY indicator automatically blinks. It is possible to predict the abnormality location
by the number of blinks. The Instruction Manual describes blinking of the TIMER/STANDBY indicator.
If the symptom is not reproduced sometimes in case of a malfunction, there is recording of whether a malfunction was generated
or not. Operate the remote command to confirm the matter on the screen and to predict the location of the abnormality.
Diagnosis Items and Prediction of Malfunction Location
When a malfunction occurs the TIMER/STANDBY indicator only blinks for one of the following diagnosis items. In case of two
or more malfunctions, the item which first occurred blinks. If the malfunctions occurred simultaneously, the item with the lower
blink count blinks first.
The screen display displays the results regarding all the diagnosis items listed below. The display " 0 " means that no malfunc-
---

Self-diagnosis screen displays
In cases of malfunctions where it is not possible to determine the symptom such as when the power goes off occasionally or when
the screen disappears occasionally, there is a screen display on whether the malfunction occurred or not in the past (and whether
the detection circuit operated or not) in order to allow confirmation.
Quickly press the remote command button in the following order from the standby state.
000
the range of values for number of
For 256 or higher there is no count up
and the number remains at 255.
Self-diagnosis screen display
Self-Diagnosis Screen Display
The results display is not automatically cleared. In case of repairs and after repairs, check the self-diagnosis screen and be sure
to return the results display to " 0 ".
If the results display is not returned to " 0 " it will not be possible to judge a new malfunction after completing repairs.
<Method of Clearing Results Display>
<Method of Ending Self Diagnosis Screen>
When ending the self-diagnosis screen completely, turn the power switch OFF on the remote commander or the main unit.
Be aware that this differs from the method of
entering the service mode (volume + ).
1. Power off (Set to the standby mode)
8 b ENTER (Test reset = Factory preset condition)
---