When clicking an item, it's detail is displayed.
Addition of LAMP XL-2400 (Page 72)
Deleted of LAMP BLOCK ASSY (Page 62)
Addition of SERVICE MANUAL FOR BOARD REPAIR
Correction of " Shipping condition return procedure"
and " Register numbers" (Page 29 and 30)
The part number of LAMP DOOR ASSY is added.
The part number of HC/HB/HA/T2/T1/S2 COMPLETE
BOARD is added. (Page 60, 62, 65, 66, 70 and 71)
2-14. The name of picture 2 of AGU BOARD
Addition of part number (Page 71)
Model Name : KDF-E42A10/E50A10
---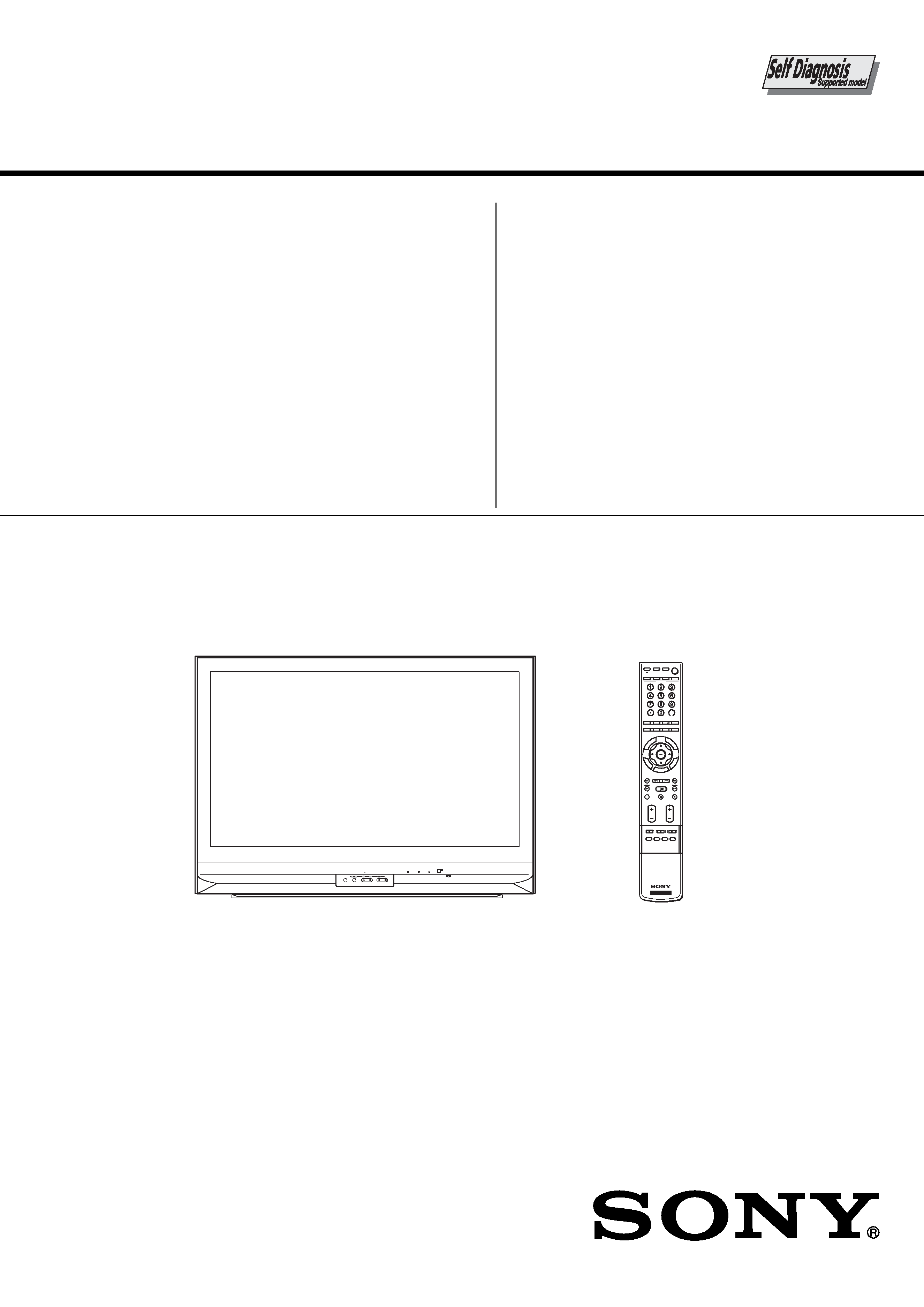 ­­­­­­­­­­­­ ­­­­­ ­­­­­­­­­­­
­­­­­­­­­­­­ ­­­­­ ­­­­­­­­­­­
---

3 LCD Panels, 1 lens projection system
0.73 inch TFT LCD panel (1,280
High Performance, large diameter hybrid lens F2.4
75-ohm external terminal for VHF/UHF
Visible Screen Size (Picture measured
Two channel linear PCM 32, 44.1 and 48 kHz,
3 total (1 on side panel)
1 Vp-p, 75 ohms unbalanced, sync negative
Y: 1 Vp-p, 75 ohms unbalanced, sync
C: 0.286 Vp-p (Burst signal), 75 ohms
5 total (1 on side panel)
500 mVrms (100% modulation)
Y: 1 Vp-p, 75 ohms unbalanced, sync
500 mVrms at the maximum volume setting
Impedance (output): 2 kilohms
AUDIO OUT jacks are opera ble only w hen th e
TV 's Speaker is set to O ff .
Digital Audio Optical Output
Power requirement120 V, 60 Hz
In standby: Less than 17 W
---

TV Stand : (SU-RG11S for KDF-E42A10, SU-RG11M for KDF-E50A10)
Theatre Stand System: RHT-G2000
Design and specifications are subject to change without notice.
Non-metric weights and measures are approximate.
722 357 mm (39
3
/
8
28
1
/
2
14
1
/
8
inches)
827 408 mm (46
5
/
8
32
5
/
8
16
1
/
8
inches)
KDF-E42A10: 28 kg (61 lb. 12 oz.)
KDF-E50A10: 33 kg (72 lb. 13 oz.)
2 supplied for remote control
Product Registration Card
The availability of optional accessories
---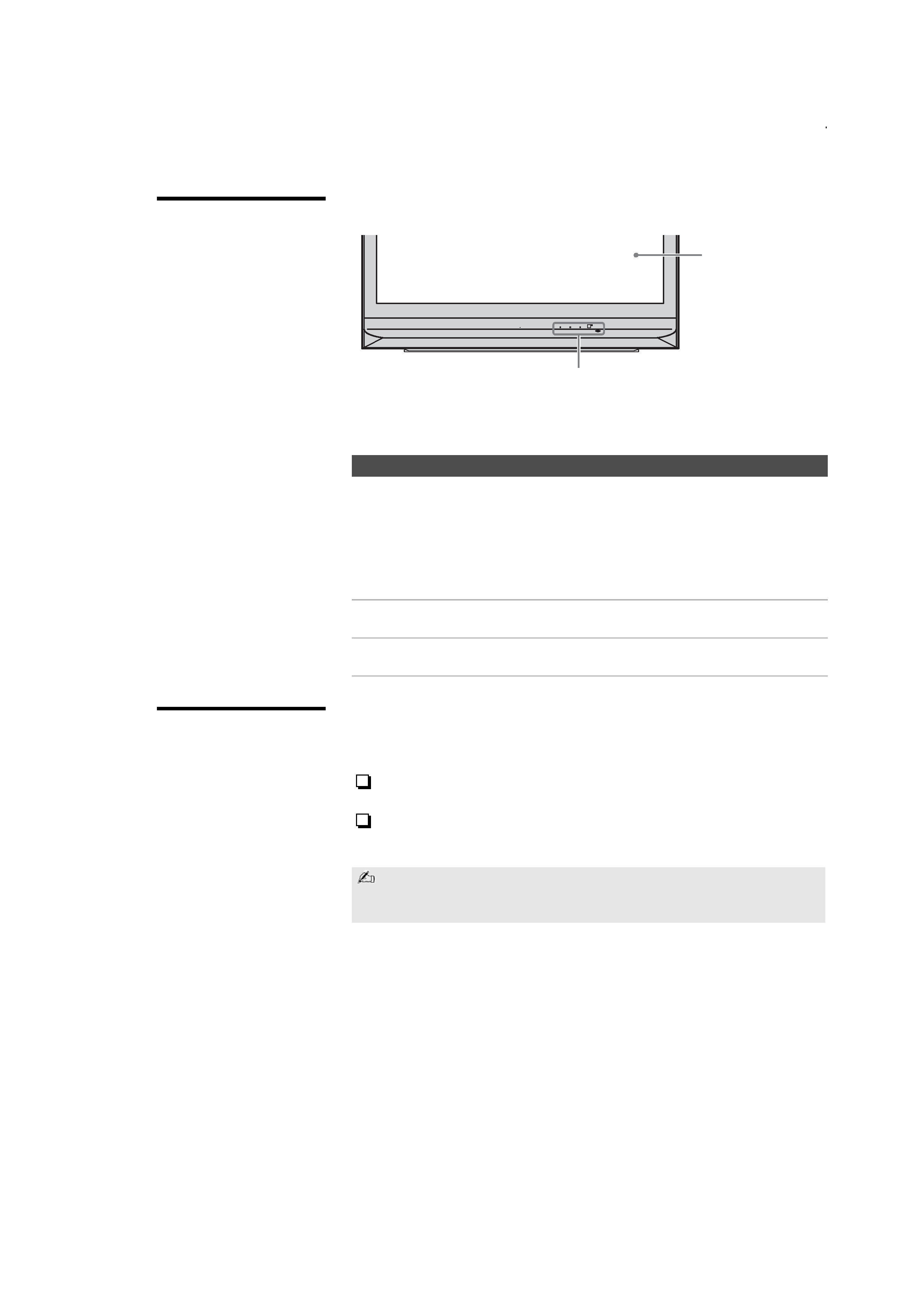 The indicators show the current status of your TV. If there is a change in the
condition or a problem with the TV, the indicators will flash or light up in
the manner described below to let you know that it requires your attention.
Your TV uses a projection lamp as its light source. As with any lamp, it has
lifespan and needs to be replaced when the Lamp indicator flashes or the
screen becomes darker. Note the following:
After turning on your TV, it may take a while (1 minute or less) before
When the projection lamp wears out, the screen goes dark. Replace the
lamp with a new Sony XL-2400 replacement lamp (not supplied).
green : The lamp for the light source is preparing to turn
on. When it is ready, it turns on.
red : The lamp door or the lamp is not securely attached.
The red indicator will continue to flash in intervals of three
blinks at a time until the lamp door or the lamp is placed
correctly. When the lamp door or the lamp is securely
attached, the TV will turn on with green indicator.
The projection lamp has burned out. Replace it with new
When one of the timers is set, the indicator will remain lit
(will not flash) even when the TV is turned off.
The light emitted from the lamp is quite bright when your TV i s in
use. To avoid eye discomfort or injury, do not look into the light
housing when the power is on.
---