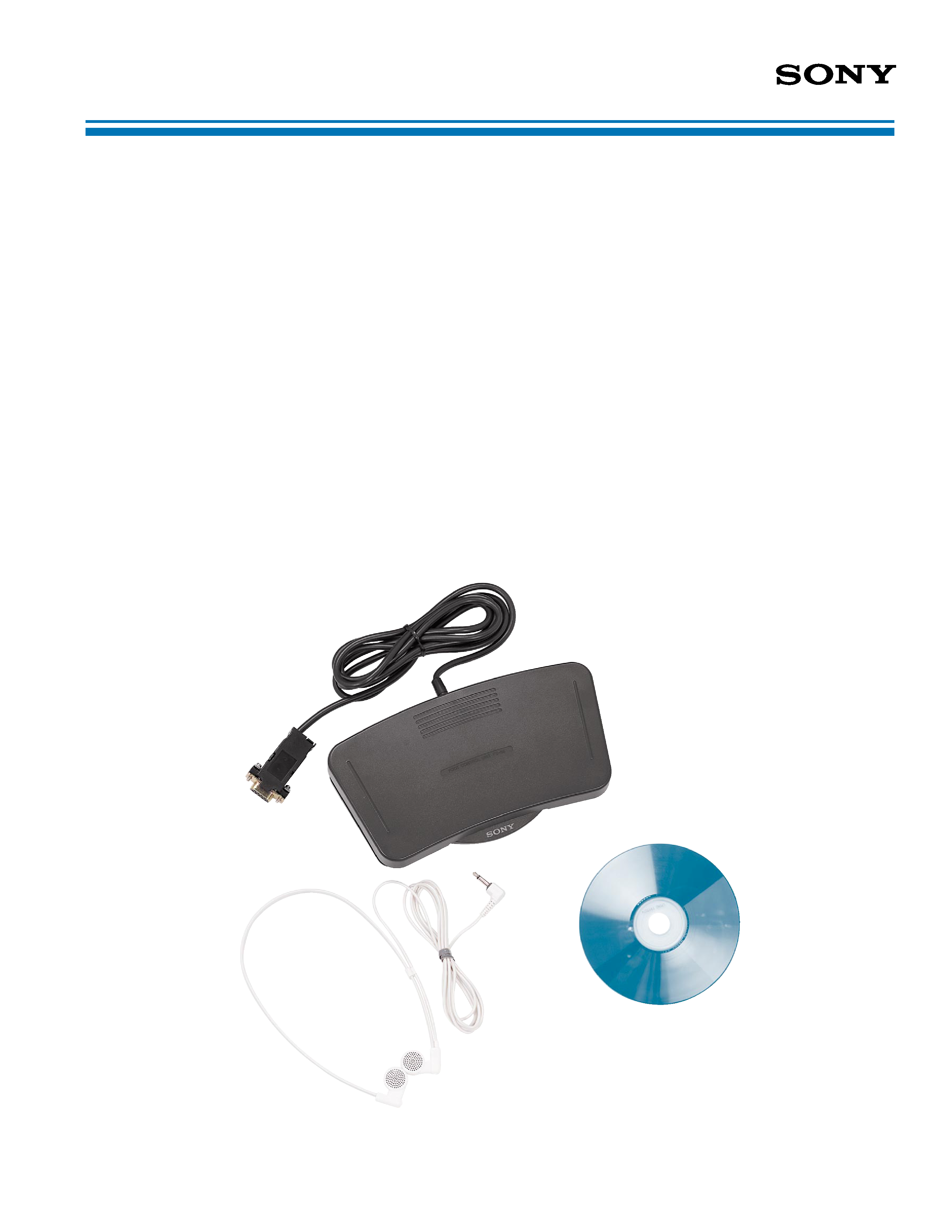 WAVpedalTM Transcription Hardware/Software Bundle
INCLUDES DICTATION STYLE LISTENING DEVICE AND PROFESSIONAL 3-FUNCTION FOOT CONTROL
SUPPORTS MORE WAV FORMATS: PLAYS ANY WAV-FORMATTED FILE
INCLUDING PCM, ADPCM, TRUESPEECH, MP3, GSM, CELP
AUTOMATIC LAUNCH OF YOUR FAVORITE WORD PROCESSING SOFTWARE
MULTIPLE MOUSE-CONTROLLED FUNCTIONS (VOLUME/SPEED/SECRETARIAL AUTO BACKSPACE)
---

Sony Electronics Inc · 1 Sony Drive, Park Ridge, New Jersey 07656 · www.sony.com
· WAV FILE HARDWARE/SOFTWARE TRANSCRIPTION SYSTEM
the transcription of WAV files, generated from digital voice recorders, to
be easily typed into text using your PC and the supplied foot control and
· INCLUDES DICTATION STYLE LISTENING DEVICE AND PROFESSIONAL
which allows the transcriptionist to hear
the WAVfile while being able to change the mode from Play to Rewind
to Fast Forward without needing to remove hands from the keyboard
SUPPORTS MORE WAV FORMATS WAVpedalTM 4.0 plays any
WAV-formatted file format that your version of Windows® supports,
including PCM, ADPCM, Truespeech, MP3, GSM, CELP and others; you can
activate the option to allow WAVpedal windows to "float" above all
other windows on the desktop
SCROLL BAR shows your place in the WAV file and enables you to slide
the bar and go forward or backward to any place you choose
WAVMARKSTM enable you to bookmark any place in a WAV file and
HOT KEYS are system-wide key combinations that you can define to
perform various functions (louder, faster, rewind, etc.); Hot Keys work in
any application as long as WAVpedal is running
· AUTOMATIC LAUNCH OF YOUR FAVORITE WORD PROCESSING
simplifies operation by automatically opening your preferred
word processing application
· MULTIPLE MOUSE-CONTROLLED FUNCTIONS (VOLUME/SPEED/
SECRETARIAL AUTO-BACKSPACE)
makes it easy to operate the system by
enabling you to adjust various functions with the click of a mouse
32 bit Windows® (Windows® 95/98/2000/Me/XP)
16 bit Sound Blaster compatible sound card
One unused 9-pin communications port (serial)
CD-ROM, 3-Function Foot Control with serial
connector, Dictation Style Listening Device, Operator's Instruction Manual
©2002 Sony Electronics Inc.
Reproduction in whole or in part without written permission is prohibited. All rights reserved.
Sony is a trademark of Sony. Windows is a trademark of Microsoft Corporation. All other trademarks
are property of their respective owners.
Features and specifications are subject to change without notice. Non-metric weights and measures
---