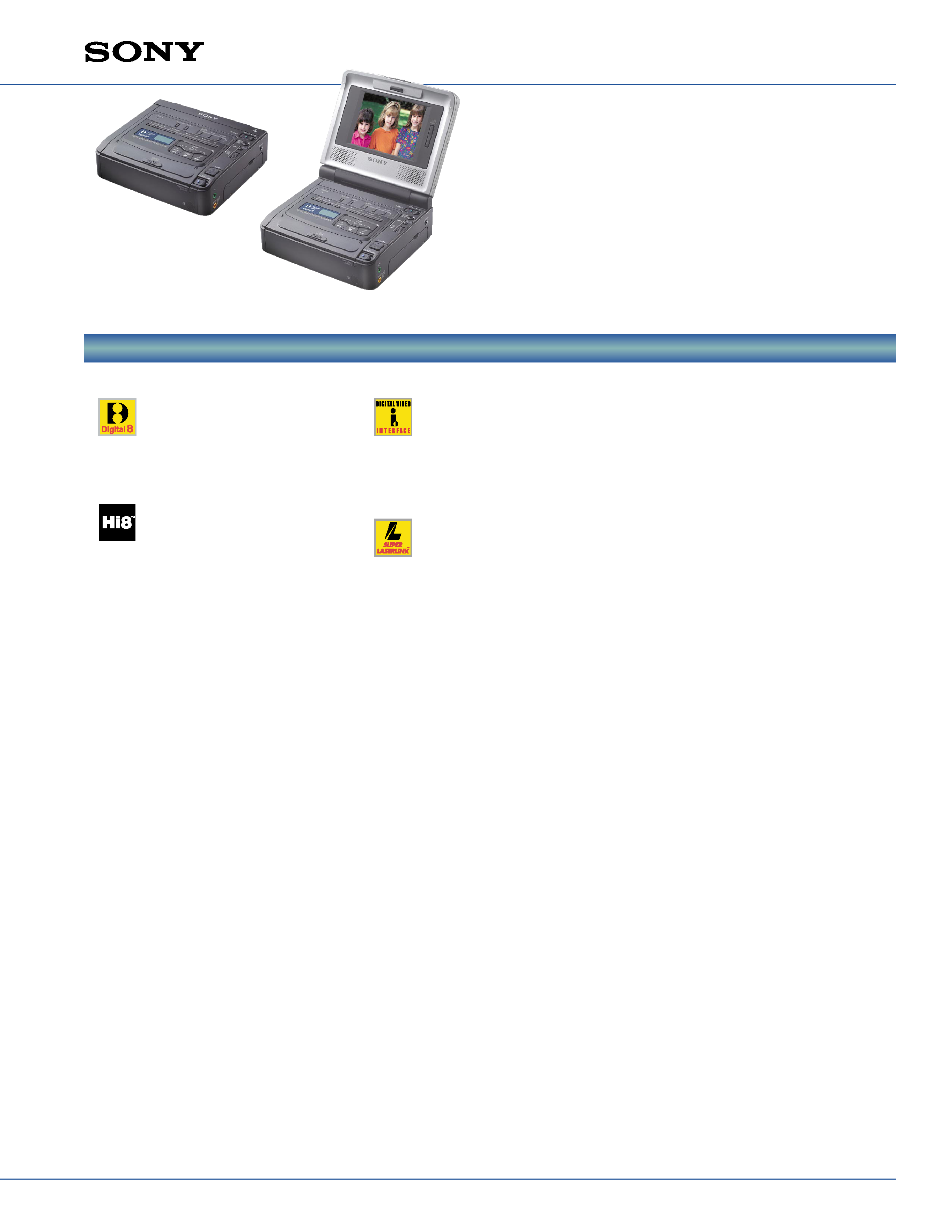 Records outstanding digital picture
and sound on affordable Hi8TM and
8mm tapes. Offers up to 520 lines of
resolution with three times the color bandwidth
of VHS and significantly lower video noise.
Video WalkmanTM VCRs can playback
previously recorded material from
Hi8TM or 8mm videotapes in either
Analog-to-Digital Conversion
Convert your analog tapes to digital via real-
time analog to digital conversion using the
®
* (IEEE1394) connection. It allows you
to pass-through an analog signal to a PC for
editing, without first recording it digitally.
Allows the user to connect the Video
WalkmanTM VCR to other camcorders or VCRs
to edit and create entertaining home videos.
With this feature you can select up to twenty
different scenes and assemble them together
12/16-Bit PCM Digital Stereo Audio
16-bit recording capability offers the same,
outstanding sound quality as Compact Disc.
12-bit recording enables you to transfer the
recorded signal via i.LINK
connector to a compatible DV device so that
stereo music or narration can be added
without disturbing the original audio tracks.
®
* (IEEE 1394) DV Input/Output
Provides bi-directional digital
communication that carries digital
audio, digital video and control signals
®
* equipped video devices and a
growing range of compatible PCs for dubbing
Super LaserLink Wireless Connection
Allows the user to transmit audio and
video, via infra-red, from the
GV-D200/800 to the optional IFT-R20
®
receiver, at a distance of up to 26
feet. The Super LaserLink system eliminates
the need for running long video cables or
4" Color Active Matrix LCD Screen and
Built-in Stereo Speakers (GV-D800 only)
Provides on the spot high quality viewing of
AC Powered with Supplied Adapter/DC
Powered or Optional InfoLithium
Supplied AC-L10 adapter allows you to plug in
your Video WalkmanTM VCR into any standard
AC outlet. By adding an optional InfoLithium
battery (NP-F550, NP-F750 or NP-F960) you
can enjoy using your Video WalkmanTM VCR
in portable applications such as playback
Crystal Clear Still/Slow Motion and Frame-
Digital video recording allows crystal clear
still/ slow motion and frame-by-frame advance
Playback PAL Recorded Digital8
Provides the ability to playback PAL system
2X Playback and 2X Playback Zoom
Allows for 2X playback in forward and reverse.
2X Playback zoom allows you to zoom into a
selected area of the video during playback of a
Reduces chrominance (color) noise up to 20%
Time Base Correction (TBC)
Corrects timing errors, which eliminate the
jitters commonly found in home video.
Digital8
®
Video Walkman
TM
VCR
The portable GV-D200 Digital8
®
Video Walkman
TM
provides playback,
editing, and records video while on the go. It has the capability to
record up to 500 lines of resolution for outstanding digital picture quality,
and the ability to playback previously recorded material from Hi8TM or
8mm videotapes, can be operated on AC/DC power for total flexibility.
The portable GV-D800 provides a large 4" Color LCD Screen, to edit and
record your digital videos. Backward compatibility with previously
recorded Hi8TM or 8mm videos makes the GV-D800 the perfect
accessory for any of Sony's Digital8
®
Handycam
®
Camcorders.
---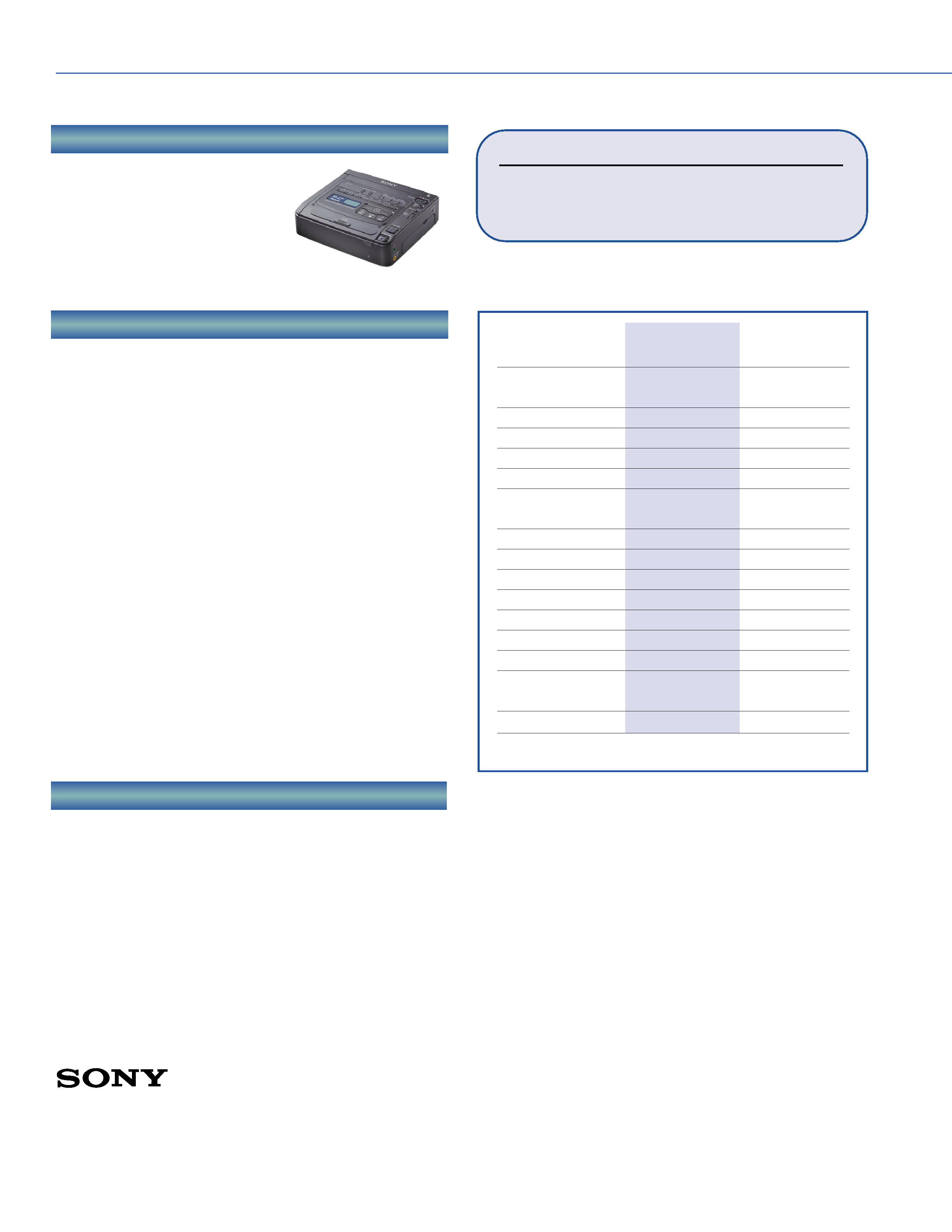 Recording Format:
Digital8
®
only
Playback Formats
: Digital8
®
, Hi8TM & 8mm
Video Signal:
NTSC Standard
Recording and Playback Speeds:
SP/LP
GV-D800 Playback Time:
13 Hours Max, LCD and Laserlink
®
off (Using optional
NP-F960 InfoLithium
®
battery)
GV-D200 Playback Time:
13 Hours Max, LaserLink
®
off (Using optional NP-F960
Assemble Edit:
20 Segments
Audio Recording System:
12/16-bit PCM digital stereo recording
Built-in Stereo Speakers:
Yes (GV-D800 only)
Display:
4-inch 123K Pixel Active Matrix LCD Display (GV-D800)
Video Input/Output:
One Composite, One S-Video
Audio Input/Output
: One set of Composite (Left & Right)
Digital I/O:
i.LINK
®
(IEEE1394) DV Interface
Control L:
Stereo Mini-Mini Jack
Headphone Jack:
Stereo Mini Jack
Dimensions (WHD):
GV-D200: 5
7
/
8
" x 2" x 5
3
/
8
"
GV-D800: 5
7
/
8
" x 2
5
/
8
" x 5
3
/
8
"
Weight:
GV-D200: 1 lb 7 oz
Supplied Accessories:
AC Adapter (AC-L10), Standard phono
AV Cable, Special AV-Mini to Phono Cable
©2004 Sony Electronics Inc.
Reproduction in whole or in part without written permission is prohibited. All rights reserved. Sony, Digital8,
Hi8, InfoLithium, i.LINK, LaserLink and Video Walkman are trademarks of Sony. All other trademarks are
property of their respective owners. Features and specifications subject to change without notice.
Non-metric weights and measures are approximate.
TGV-100 TV Tuner (for GV-D800 only)
IFTR-20 Super LaserLink Receiver
All the great features of the GV-D800
without the LCD screen and stereo
speakers. The GV-D200 makes a great
side-by-side editing companion to the
GV-D800 or most camcorders with video
inputs and remote control capabilities.
Digital Video Walkman
TM
VCR
16765 West Bernardo Drive
---