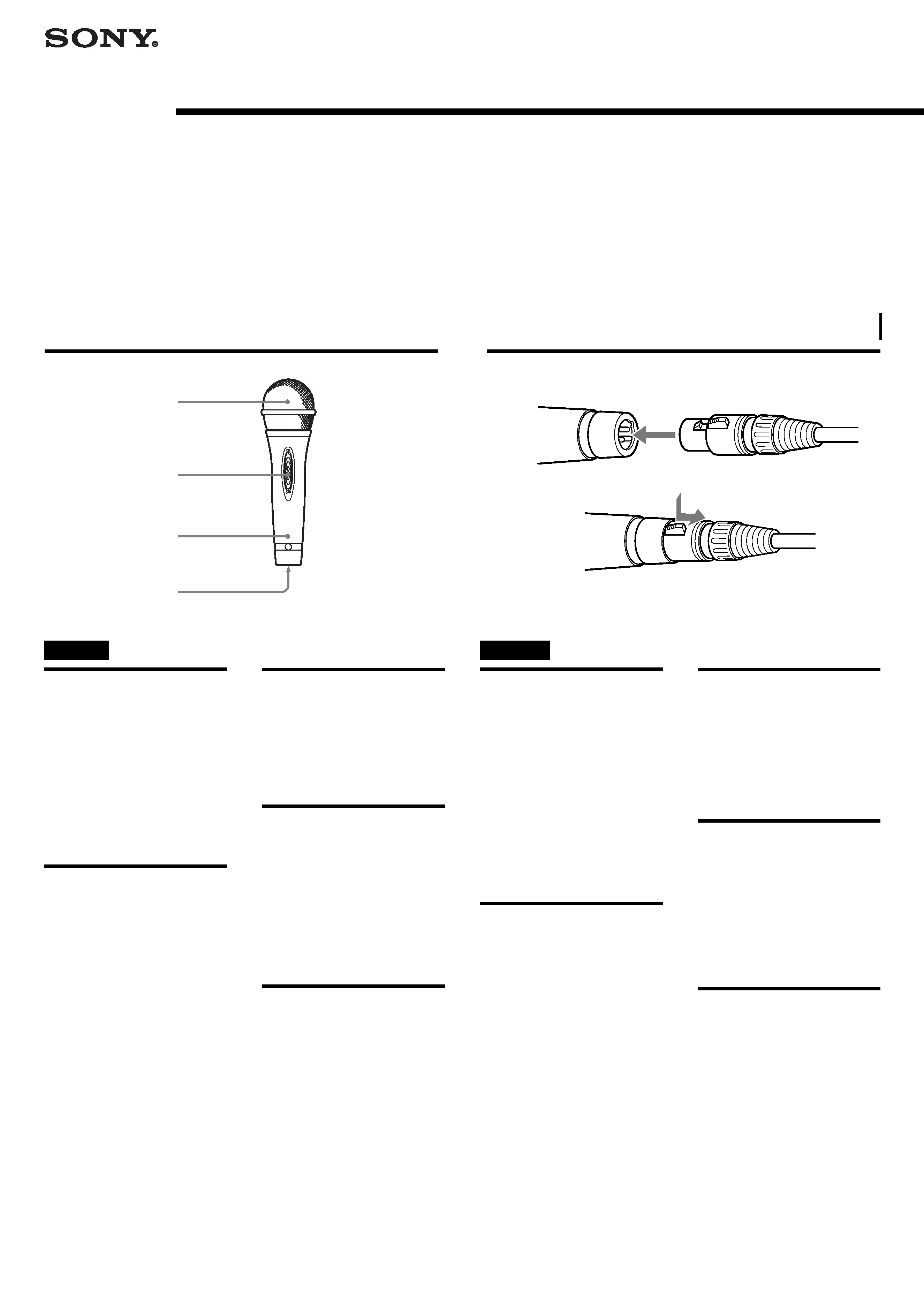 Sony Corporation ©2000 Printed in Japan
Thank you for purchasing the Sony
Dynamic Microphone. Some features
· High quality unit employing Alnico
for the magnetic material.
· Durable zinc diecast body.
· Equipped with the Cannon type
connector for high reliability.
· An OFC (Oxygen Free Copper)
microphone cord with a diameter of
6.5 mm for high quality sound and
Set this switch to ON when
stop the microphone picking
up the sound, set it to OFF.
4
Output connector (Cannon
Merci d'avoir acheté ce microphone
dynamique Sony, dont voici quelques
unes des caractéristiques:
· Microphone de haute qualité qui
utilise de l'alnico comme matériau
· Coffret coulé sous pression en zinc
· Equipé d'un connecteur de type
Cannon pour une plus grande
· Cordon de microphone OFC
(Oxygen Free Copper) de diamètre
6,5 mm pour un son de haute
qualité et une plus grande fiabilité.
Réglez l'interrupteur sur ON
microphone. Réglez-le sur OFF
pour que le microphone cesse
4
Connecteur de sortie (Type
Align the connector with the output
terminal of the microphone. Insert
the connector until it clicks into place.
To detach the connector, pull out the
connector while sliding down the
Keep the microphone approximately
10 cm (4 inches) away from your
mouth. If positioning too close
causes the proximity effect (an
increase in bass response) or
breathing noise, move the
microphone a little away from your
· The microphone should never be
dropped or subjected to extreme
· Keep the microphone away from
extremely high temperature (above
60°C or 140°F) and humidity.
· If the microphone is placed too near
a speaker, an acoustic feedback
(howling effect) may occur. If this
happens, decrease the speaker
volume, change the direction of the
microphone away from the speaker
· When using the microphone
outdoors, avoid getting it wet.
· Wipe the microphone and the plug
with a dry cloth when they are
Alignez le connecteur sur la borne de
sortie du microphone. Insérez le
connecteur jusqu'à ce qu'il
Pour déconnecter, tirez sur le
connecteur en poussant le sautoir
Tenez le microphone à environ 10 cm
(4 pouces) de votre bouche. Si vous
obtenez un effet de proximité
(augmentation de la réponse des
graves) ou un bruit de respiration,
éloignez un peu le microphone de
· Ne laissez pas tomber le
microphone et protégez-le des
· Gardez le microphone à l'abri des
températures élevées (supérieures à
60°C ou 140°F) et de l'humidité.
· Si le microphone est placé trop près
d'un haut-parleur, une rétroaction
acoustique (effet de larsen) risque
de se produire. Dans ce cas, baissez
le volume du haut-parleur,
différemment ou éloignez-le du
haut-parleur jusqu'à ce que le
· Quand vous utilisez le microphone
à l'extérieur, évitez qu'il ne soit
· Si le microphone et la fiche sont
sales, essuyez-les avec un chiffon
---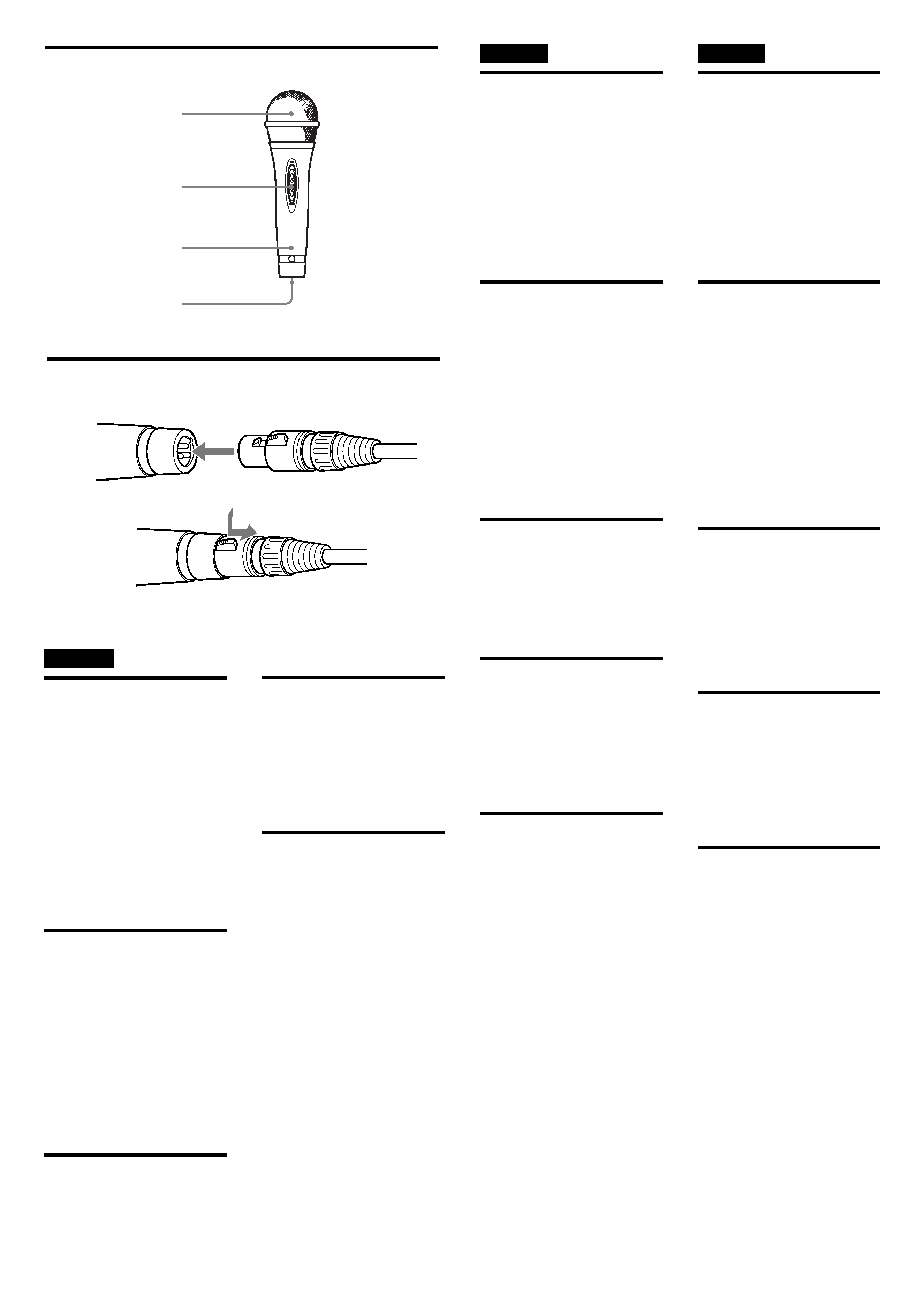 Wir beglückwünschen Sie zum Kauf
dieses Sony Dynamic-Mikrofons.
Hier die wichtigsten Merkmale:
· Hohe Aufnahmequalität dank
· Widerstandsfähiges Gehäuse aus
· Hochzuverlässiger Cannon-
· OFC-Mikrofonkabel (Oxygen Free
Copper, sauerstofffreies Kupfer)
mit einem Durchmesser von
hochqualitativen Klang und hohe
2
Ein/Aus-Schalter (ON/OFF)
In der Position ON ist das
Mikrofon eingeschaltet und in
Stecken Sie den Stecker richtig
ausgerichtet in den Anschluß, so daß
er mit einem Klicken einrastet. Zum
Abtrennen halten Sie die Sperrtaste
Muchas gracias por la adquisición de
este micrófono dinámico Sony.
Algunas de sus funciones son:
· Unidad de gran calidad que utiliza
Alnico para el material magnético.
· Cuerpo duradero de cinc
· Conector tipo Cannon de gran
· Cable del micrófono de cobre
desoxidado (OFC) con un diámetro
de 6,5 mm a fin de ofrecer sonido
de gran calidad y fiabilidad.
1
Pantalla contra el viento
2
Interruptor de conversación
Póngalo en ON cuando utilice
el micrófono. Para cortar la
micrófono, póngalo en OFF.
4
Conector de salida (tipo
Alinee el conector del cable con el de
salida del micrófono. Inserte el
conector hasta que chasquee en su
lugar. Paa extraer el conector, tire el
mismo mientras deslice el seguro.
Mantenga el micrófono a unos
10 cm de la boca. Si lo acerca
demasiado y se produce efecto de
proximidad (aumento en la respuesta
de graves) o ruido de respiración,
· No deje caer nunca el micrófono ni
· Mantenga el micrófono alejado de
temperaturas extremadamente alts
(más de 60°C) y de la humedad.
· Si coloca el micrófono demasiado
cerca de un altavoz, es posible que
se produzca retroalimentación
acústica (efecto aullido). En este
caso, disminuya el volumen del
altavoz, cambie la orientación del
micrófono, o aleje éste del altavoz
hasta que cese el aullido.
· Cuando utilice el micrófono en
exteriores, evite que se humedezca.
· Cuando el micrófono y la clavija se
encucien, límpielos con un paño
Halten Sie das Mikrofon etwa 10 cm
vom Mund entfernt. Wenn es zu
Atemgeräuschen kommt, halten Sie
das Mikrofon weiter vom Mund
· Lassen Sie das Mikrofon nicht
fallen und setzen Sie es keinen
· Halten Sie das Mikrofon von hohen
Temperaturen (über 60 °C) und
· Wenn sich das Mikrofon zu dicht
an einem Lautsprecher befindet,
Rückkopplung (Heulgeräusch)
kommen. Reduzieren Sie in einem
solchen Fall die Lautstärke, richten
Sie das Mikrofon in eine andere
Richtung oder entfernen Sie es
weiter vom Lautsprecher, bis das
· Achten Sie insbesondere bei
Außenaufnahmen darauf, daß das
· Wenn das Mikrofongehäuse oder
der Stecker verschmutzt ist,
reinigen Sie diese Teile mit einem
Grazie per l'acquisto del microfono
dinamico Sony. Ecco alcune
· Microfono di alta qualità che
impiega alnico per il materiale
· Corpo durabile in zinco pressofuso.
· Dotato di connettore tipo Cannon
per una alta affidabilità.
· Cavo microfono in rame OFC
(Oxygen Free Copper) con un
diametro di 6,5 mm per un suono di
alta qualità e affidabilità.
2
Interruttore di attivazione/
Regolare questo interruttore su
microfono. Per interrompere la
Per applicare e staccare il
Allineare il connettore con il
terminare di uscita del microfono.
Inserire il connettore fino a quando
Per scollegare il connettore tirare in
fuori il connettore facendo scorrere in
Tenere il microfono a circa 10 cm
dalla bocca. Se una collocazione
vicina causa l'effetto di vicinanza (un
aumento della risposta dei bassi) o il
rumore del respiro, allontanare di un
· Non lasciar mai cadere il microfono
e non sottoporlo a scosse violente.
· Non esporre il microfono a
temperature eccessivamente alte
(oltre i 60°C) e all'umidità.
· Se il microfono viene collocato in
prossimità dei diffusori potrebbe
verificarsi un fenomeno di
retroazione acustica (effetto
ululato). In questo caso, abbassare il
volume dei diffusori, cambiare
l'orientamento del microfono o
allontanare il microfono dai
diffusori fino a che il fenomeno
· Quando si usa il microfono
all'aperto, evitare di bagnarlo.
· Passare il microfono e la spina con
un panno asciutto quando è sporco.
---