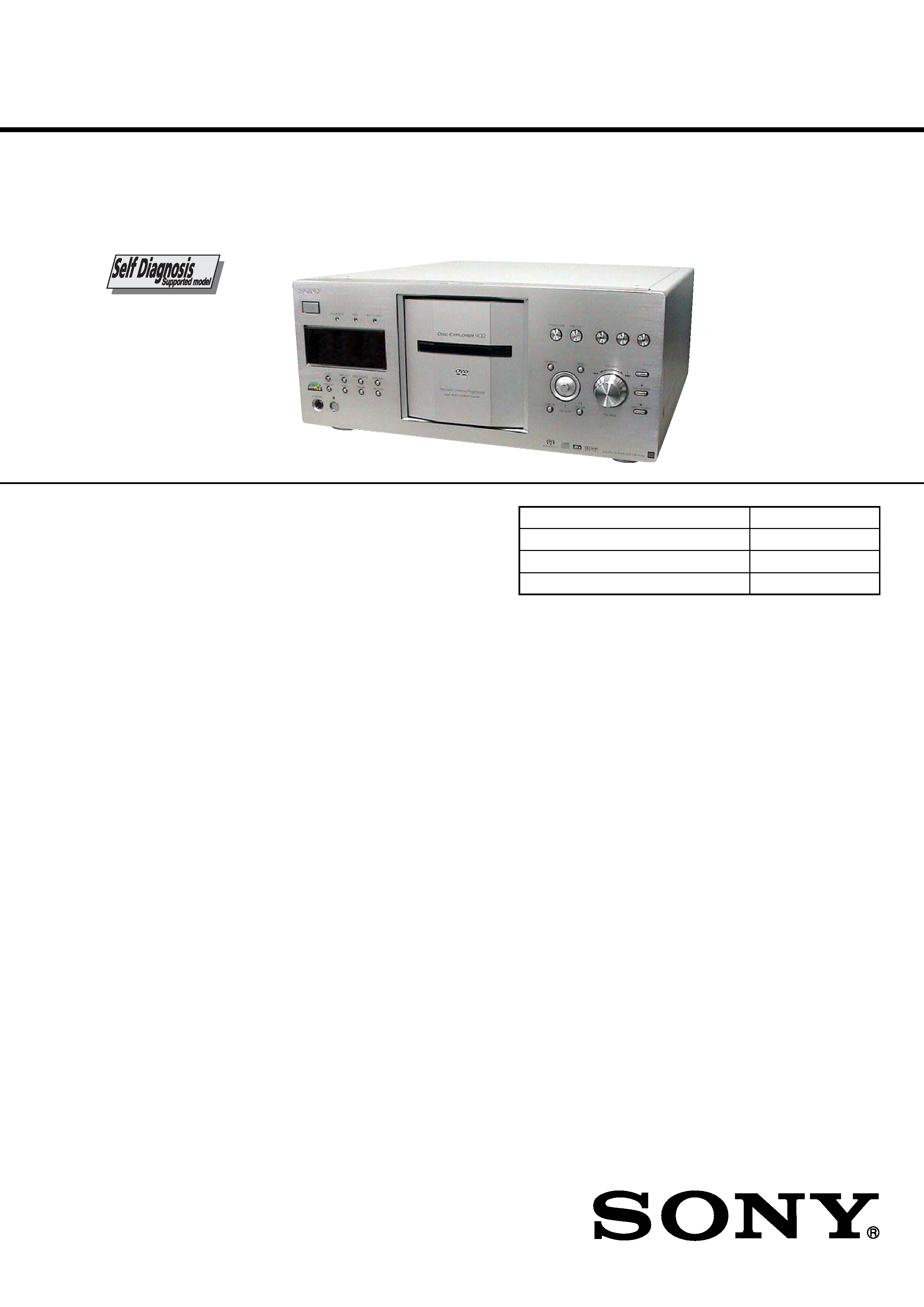 Published by Sony Engineering Corporation
Model Name Using Similar Mechanism NEW
Laser: Semiconductor laser
= 650 nm for SA-CD and DVD
Emission duration: continuous
Signal format system: NTSC
Frequency response: DVD VIDEO (PCM
96 kHz): 2 Hz to 44 kHz (44 kHz: ­2 dB
±1 dB), Super Audio CD: 2 Hz to
100 kHz (50kHz: ­3dB ±1 dB), CD:
Signal-to-noise ratio (S/N ratio): 115 dB
(LINE OUT AUDIO L/R 1/2 jacks only)
Harmonic distortion: 0.003 %
Dynamic range: DVD VIDEO/Super Audio
Wow and flutter: Less than detected value
(Jack name: Jack type/Output level/Load
LINE OUT AUDIO L/R 1/2: Phono jack/
DIGITAL OUT (OPTICAL): Optical
output jack/­18 dBm (wave length:
DIGITAL OUT (COAXIAL): Phono jack/
5.1CH OUTPUT: Phono jack/2 Vrms/
COMPONENT VIDEO OUT (Y, P
B
/C
B
,
P
R
/C
R
): Phono jack/Y: 1.0 Vp-p/P
B
/C
B
,
P
R
/C
R
: interlace*=0.648 Vp-p,
progressive or interlace**=0.7 Vp-p/
LINE OUT VIDEO 1/2: Phono jack/
S VIDEO OUPUT 1/2: 4-pin mini DIN/
Y: 1.0 Vp-p/C: 0.286 Vp-p /75 ohms
S-LINK (CONTROL S IN): Mini jack
Dimensions (approx.): 430
× 7
1
/
2
× 21
1
/
2
in.) (width/height/
depth) incl. projecting parts
Mass (approx.): 10 kg (22 lb 1 oz)
Operating humidity: 25 % to 80 %
Specifications and design are subject to
·Audio/video cord (pinplug
·Remote commander (remote) (1)
·Size AA (R6) batteries (2)
E
NERGY
S
TAR
R
is a U.S. registered mark.
E
NERGY
S
TAR
R
Partner, Sony
Corporation has determined that this product
E
NERGY
S
TAR
R
guidelines for
---

(When letters/numbers appear in the
When the self-diagnosis function is activated
to prevent the player from malfunctioning, a
five-character service number (e.g., C 13 50)
with a combination of a letter and four digits
appears on the screen and the front panel
display. In this case, check the following
, Clean the disc with a soft
automatically opens and the
player enters standby mode.
To prevent a malfunction, the
character service number.
Note: Refer to the "4. TEST MODE" (page 23)
for another self-diagnosis function.
---

Use of controls or adjustments or performance of procedures
other than those specified herein may result in hazardous ra-
Notes on chip component replacement
·Never reuse a disconnected chip component.
· Notice that the minus side of a tantalum capacitor may be dam-
Flexible Circuit Board Repairing
·Keep the temperature of the soldering iron around 270 °C dur-
· Do not touch the soldering iron on the same conductor of the
circuit board (within 3 times).
· Be careful not to apply force on the conductor when soldering
After correcting the original service problem, perform the follow-
ing safety check before releasing the set to the customer:
Check the antenna terminals, metal trim, "metallized" knobs,
screws, and all other exposed metal parts for AC leakage.
Check leakage as described below.
The AC leakage from any exposed metal part to earth ground and
from all exposed metal parts to any exposed metal part having a
return to chassis, must not exceed 0.5 mA (500 microamperes.).
Leakage current can be measured by any one of three methods.
1. A commercial leakage tester, such as the Simpson 229 or RCA
WT-540A. Follow the manufacturers' instructions to use these
2. A battery-operated AC milliammeter. The Data Precision 245
digital multimeter is suitable for this job.
3. Measuring the voltage drop across a resistor by means of a VOM
or battery-operated AC voltmeter. The "limit" indication is 0.75
V, so analog meters must have an accurate low-voltage scale.
The Simpson 250 and Sanwa SH-63Trd are examples of a pas-
sive VOM that is suitable. Nearly all battery operated digital
multimeters that have a 2 V AC range are suitable. (See Fig. A)
Using an AC voltmeter to check AC leakage.
ATTENTION AU COMPOSANT AYANT RAPPORT
LES COMPOSANTS IDENTIFIÉS PAR UNE MARQUE 0
SUR LES DIAGRAMMES SCHÉMATIQUES ET LA LISTE
DES PIÈCES SONT CRITIQUES POUR LA SÉCURITÉ
DE FONCTIONNEMENT. NE REMPLACER CES COM-
POSANTS QUE PAR DES PIÈCES SONY DONT LES
NUMÉROS SONT DONNÉS DANS CE MANUEL OU
DANS LES SUPPLÉMENTS PUBLIÉS PAR SONY.
SAFETY-RELATED COMPONENT WARNING!!
COMPONENTS IDENTIFIED BY MARK 0 OR DOTTED
LINE WITH MARK 0 ON THE SCHEMATIC DIAGRAMS
AND IN THE PARTS LIST ARE CRITICAL TO SAFE
OPERATION. REPLACE THESE COMPONENTS WITH
SONY PARTS WHOSE PART NUMBERS APPEAR AS
SHOWN IN THIS MANUAL OR IN SUPPLEMENTS PUB-
Boards requiring use of unleaded solder are printed with the lead-
free mark (LF) indicating the solder contains no lead.
(Caution: Some printed circuit boards may not come printed with
the lead free mark due to their particular size)
Unleaded solder has the following characteristics.
· Unleaded solder melts at a temperature about 40 °C higher than
Ordinary soldering irons can be used but the iron tip has to be
applied to the solder joint for a slightly longer time.
Soldering irons using a temperature regulator should be set to
Caution: The printed pattern (copper foil) may peel away if the
heated tip is applied for too long, so be careful!
Unleaded solder is more viscou-s (sticky, less prone to flow)
than ordinary solder so use caution not to let solder bridges oc-
cur such as on IC pins, etc.
· Usable with ordinary solder
It is best to use only unleaded solder but unleaded solder may
also be added to ordinary solder.
---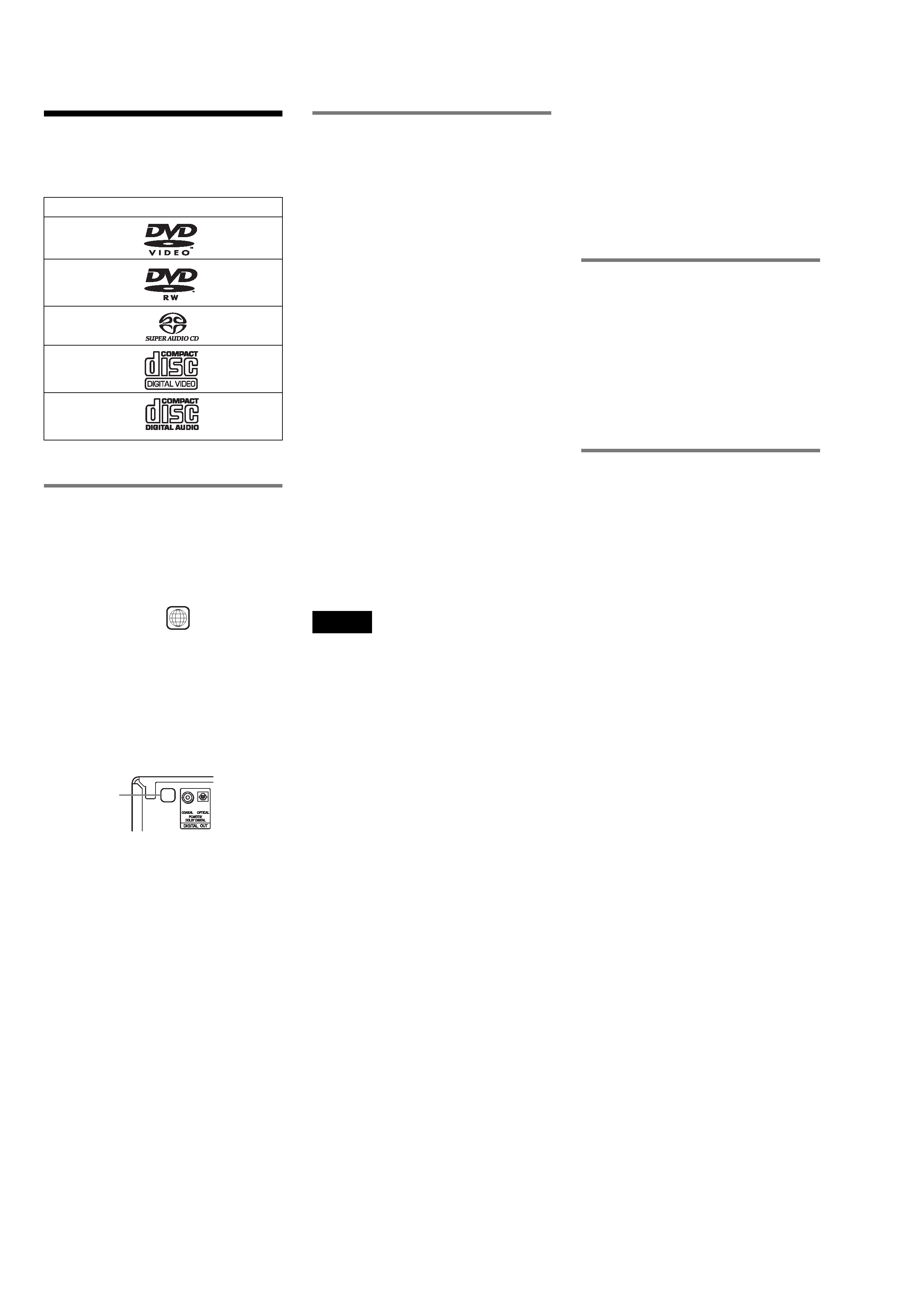 Example of discs that the player
The player cannot play the following discs:
·All CD-ROMs (including PHOTO CDs)/
CD-Rs/CD-RWs other than those recorded
in the following formats:
­MP3 format that conforms to ISO9660*
Level 1/Level 2, or its extended format,
*A logical format of files and folders on CD-
ROMs defined by ISO (International Standards
Also, the player cannot play the following
·A DVD VIDEO with a different region
·A disc recorded in a color system other than
NTSC, such as PAL or SECAM (this player
conforms to the NTSC color system).
·A disc that has a non-standard shape (e.g.,
·A disc with paper or stickers on it.
·A disc that has the adhesive of cellophane
tape or a sticker still left on it.
·Note about DVD-RWs/DVD-Rs, DVD+RWs/
Some DVD-RWs/DVD-Rs, DVD+RWs/
DVD+Rs, or CD-Rs/CD-RWs cannot be played
on this player due to the recording quality or
physical condition of the disc, or the
characteristics of the recording device and
authoring software. Also, images in DVD-RWs
with CPRM* protection may not be played if they
contain a copy protection signal. "Copyright
lock" appears on the screen. For more
information, see the operating instructions for the
Note that discs created in the Packet Write format
*CPRM (Content Protection for Recordable
Media) is a coding technology that protects
"DVD VIDEO" and "DVD-RW" are
Your player has a region code printed on the
back of the unit and will only play DVD
VIDEOs (playback only) labeled with
identical region codes. This system is used to
If you try to play any other DVD VIDEO, the
message "Playback prohibited by area
limitations." will appear on the TV screen.
Depending on the DVD VIDEO, no region
code indication may be labeled even though
playing the DVD VIDEO is prohibited by
·Music discs encoded with copyright protection
This product is designed to playback discs that
conform to the Compact Disc (CD) standard.
Recently, various music discs encoded with
copyright protection technologies are marketed
by some record companies. Please be aware that
among those discs, there are some that do not
conform to the CD standard and may not be
playable by this product.
Note on playback operations of
Some playback operations of DVDs and
VIDEO CDs may be intentionally set by
software producers. Since this player plays
DVDs and VIDEO CDs according to the disc
contents the software producers designed,
some playback features may not be available.
Also, refer to the instructions supplied with
This product incorporates copyright
protection technology that is protected by
U.S. patents and other intellectual property
rights. Use of this copyright protection
technology must be authorized by
Macrovision, and is intended for home and
other limited viewing uses only unless
otherwise authorized by Macrovision.
Reverse engineering or disassembly is
---

SELF DIAGNOSIS FUNCTION
....................................
SERVICING NOTES
............................................... 6
GENERAL
................................................................... 10
3-1. Disassembly Flow ........................................................... 11
3-2. Case (ES) Assy ................................................................ 12
3-3. MB Board ........................................................................ 12
3-4. AV Board ......................................................................... 13
3-5. Bracket (L)/(R) ................................................................ 13
3-6. Front Panel Section ......................................................... 14
3-7. Cover (PT)/(CDM) .......................................................... 14
3-8. DVBU26 Assy ................................................................. 15
3-9. Power Block, Power Transformer (T102) ...................... 15
3-10. Table (400) Assy ............................................................. 16
3-11. Door Block, Base (Door) Assy ....................................... 16
3-12. DC Motor (Door) (M603) ............................................... 17
3-13. Holder (Table Sensor 400) .............................................. 17
3-14. D. SENS OUT Board, D. SENS IN Board ..................... 18
3-15. Pop-up (400) Assy ........................................................... 18
3-16. Door SW Board ............................................................... 19
3-17. Lock SW Board, Loading SW Board ............................. 20
3-18. CD/DVD Mechanism Deck Block
(CDM62-DVBU26) ........................................................ 21
3-19. Motor (400) Assy (Loading) (M602)/(Table) (M601),
Loading Motor Board ..................................................... 21
3-20. Optical Pick-up (KHM-290AAA) .................................. 22
TEST MODE
.............................................................. 23
MECHANICAL ADJUSTMENTS
....................... 45
ELECTRICAL ADJUSTMENTS
......................... 46
7-1. Block Diagram ­ RF Section ­ ...................................... 50
7-2. Block Diagram ­ SERVO/CHANGER Section ­ ......... 51
7-3. Block Diagram ­ AUDIO Section ­ .............................. 52
7-4. Block Diagram ­ VIDEO Section ­ .............................. 53
­ PANEL/POWER SUPPLY Section ­ .......................... 54
7-6. Note for Printed Wiring Boards and
Schematic Diagrams ....................................................... 55
7-7. Schematic Diagram ­ MB Board (1/15) ­ .................... 57
7-8. Schematic Diagram ­ MB Board (2/15) ­ .................... 58
7-9. Schematic Diagram ­ MB Board (3/15) ­ .................... 59
7-10. Schematic Diagram ­ MB Board (4/15) ­ .................... 60
7-11. Schematic Diagram ­ MB Board (5/15) ­ .................... 61
7-12. Schematic Diagram ­ MB Board (6/15) ­ .................... 62
7-13. Schematic Diagram ­ MB Board (7/15) ­ .................... 63
7-14. Schematic Diagram ­ MB Board (8/15) ­ .................... 64
7-15. Schematic Diagram ­ MB Board (9/15) ­ .................... 65
7-16. Schematic Diagram ­ MB Board (10/15) ­ .................. 66
7-17. Schematic Diagram ­ MB Board (11/15) ­ .................. 67
7-18. Schematic Diagram ­ MB Board (12/15) ­ .................. 68
7-19. Schematic Diagram ­ MB Board (13/15) ­ .................. 69
7-20. Schematic Diagram ­ MB Board (14/15) ­ .................. 70
7-21. Schematic Diagram ­ MB Board (15/15) ­ .................. 71
7-22. Printed Wiring Board
­ MB Board (Component Side) ­ ................................... 72
7-23. Printed Wiring Board
­ MB Board (Conductor Side) ­ ..................................... 73
7-24. Printed Wiring Board ­ DRIVER Board ­ .................... 74
7-25. Schematic Diagram ­ DRIVER Board ­ ....................... 75
7-26. Printed Wiring Boards
­ MOTOR/SWITCH Section ­ ....................................... 76
7-27. Schematic Diagram ­ MOTOR/SWITCH Section ­ .... 77
7-28. Printed Wiring Boards ­ SENSOR Section ­ ................ 78
7-29. Schematic Diagram ­ SENSOR Section ­ .................... 79
7-30. Printed Wiring Board
­ AV Board (Component Side) ­ .................................... 80
7-31. Printed Wiring Board
­ AV Board (Conductor Side) ­ ...................................... 81
7-32. Printed Wiring Board
­ RS-232C Board ­ ......................................................... 82
7-33. Schematic Diagram ­ AV (1/3)/RS-232C Boards ­ ...... 83
7-34. Schematic Diagram ­ AV Board (2/3) ­ ........................ 84
7-35. Schematic Diagram ­ AV Board (3/3) ­ ........................ 85
7-36. Printed Wiring Board
­ PANEL-L Board (Component Side) ­ ......................... 86
7-37. Printed Wiring Board
­ PANEL-L Board (Conductor Side) ­ .......................... 87
7-38. Schematic Diagram ­ PANEL-L Board (1/2) ­ ............ 88
7-39. Schematic Diagram ­ PANEL-L Board (2/2) ­ ............ 89
7-40. Printed Wiring Boards ­ PANEL Section ­ .................. 90
7-41. Schematic Diagram ­ PANEL Section ­ ....................... 91
7-42. Printed Wiring Board ­ POWER Board ­ ..................... 92
7-43. Schematic Diagram ­ POWER Board ­ ........................ 93
7-44. IC Pin Function Description .......................................... 102
8-1. Overall Section ............................................................... 128
8-2. Front Panel Section ........................................................ 129
8-3. Power Block Section ...................................................... 130
8-4. Table Section .................................................................. 131
8-5. Chassis Section .............................................................. 132
8-6. Base (Door) Section ....................................................... 133
8-7. CD/DVD Mechanism Deck Section-1
(Pop-up Block) ............................................................... 134
8-8. CD/DVD Mechanism Deck Section-2
(Pulley Block) ................................................................ 135
8-9. CD/DVD Mechanism Deck Section-3
(Lever, Holder Block) .................................................... 136
8-10. CD/DVD Mechanism Deck Section-4
(Gear, Motor Block) ....................................................... 137
8-11. Optical Pick-up Section (DVBU26) .............................. 138
ELECTRICAL PARTS LIST
.............................. 139
---