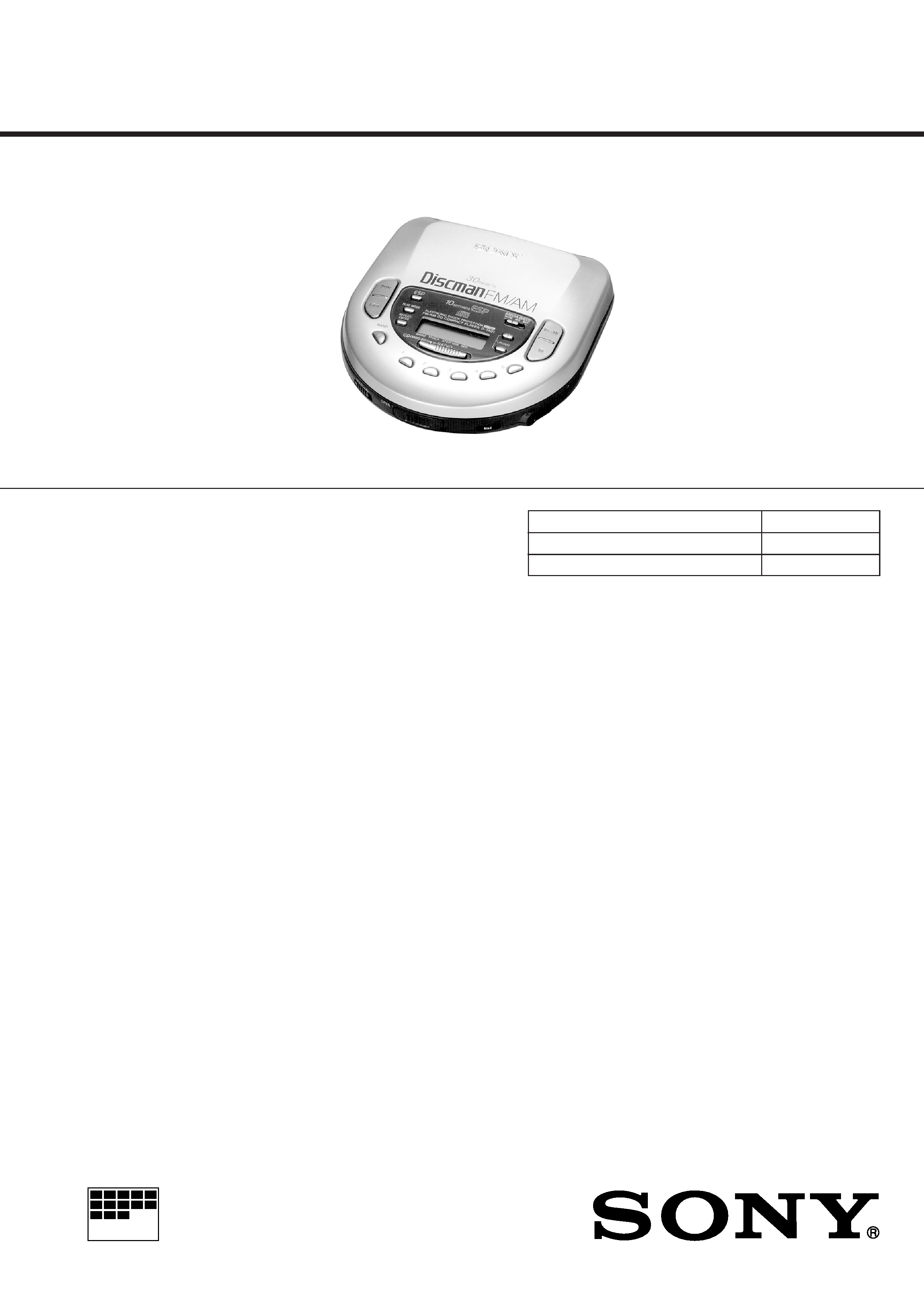 FM/AM COMPACT DISC COMPACT PLAYER
Model Name Using Similar Mechanism
-- Continued on next page --
Compact disk digital audio system
Emission duration:Continuous
Laser output:less than 44.6uW (measured at 200mm
away from the objective lens surface)
Sony Super Stlategy Cross Interleave Reed Solomon Code
1-bit quartz time-axis control
dB (measured by EIAJ CP-307)
Output(at 4.5V input level)
Headphones (stereo minijack)
Line output (stereo minijack)
Output level 0.7Vrms at 50kilohms
Recommended load impedance over 10 kilohmes
Optical digital output (optical output connector)
Wavelength:630-690nm at peak level
FM:Headphones coad antenna
AM:Built-in ferrite bar antenna
For the area code of the model you purchased,
check the upper left side of the bar code on the
· Sony BP-DM10 Rechargeable battery:
Sony BP-DM20 Rechargeable battery:
· Two LR6 (Size AA) batteries:3 V DC
· AC power adaptor (DC IN 4.5V jack)
US/CND/E92model:220-230V, 50/60Hz
EA model:110-240V,50/60Hz
JEW/E33 model:100-240V,50/60Hz
· Sony CPM-300P mount plate for use on car
Dimensions(w/h/d) (without projecting parts and
Mass (without rechargeable battery)
For the area code of the model you purchased,
check the upper left side of the bar code on the
Connecting cord (phone plug
a) Supplied with US model
c) Not supplied with US,CND and E92 models
d) Not supplied with JEW, AEP, UK and CEF
Design and specifications are subject to change
---

SAFETY-RELATED COMPONENT WARNING!!
COMPONENTS IDENTIFIED BY MARK ! OR DOTTED LINE WITH
MARK ! ON THE SCHEMATIC DIAGRAMS AND IN THE PARTS
LIST ARE CRITICAL TO SAFE OPERATION. REPLACE THESE
COMPONENTS WITH SONY PARTS WHOSE PART NUMBERS
APPEAR AS SHOWN IN THIS MANUAL OR IN SUPPLEMENTS
ATTENTION AU COMPOSANT AYANT RAPPORT
LES COMPOSANTS IDENTIFÉS PAR UNE MARQUE ! SUR LES
DIAGRAMMES SCHÉMATIQUES ET LA LISTE DES PIÈCES SONT
CRITIQUES POUR LA SÉCURITÉ DE FONCTIONNEMENT. NE
REMPLACER CES COMPOSANTS QUE PAR DES PIÈSES SONY
DONT LES NUMÉROS SONT DONNÉS DANS CE MANUEL OU
DANS LES SUPPÉMENTS PUBLIÉS PAR SONY.
Connecting cord(phone plugx2 stereo miniplug)(1)
Connecting cord(phone plugx2 stereo miniplug)(1)
b)Not supplied with US model
c)Not supplied with AEP,UK and CEF models
Car connecting pack CPA-9
Car battery cord with car connecting pack
Car battery cord DCC-E245
Active speaker system SRS-A21,SRS-A41,
Rechargeable battery BP-DM10,BP-DM20
Connecting cord RK-G129HG
Optical digital connecting cord POC-5B
POC-10B,POC-15B,POC-5AB,POC-10AB,POC-15AB
AC power adaptor AC-E45HG
Stereo headphones MDR-35,MDR-E848
Your dealer may not handle some of the above listed accessories.Pleaseask the dealer
for detailed information about the accessories in your country.
In this set, there are a former type (board suffix-12) and a
new type (board suffix-13).
In electrical adjustment, between a former type and a new
type, there is a difference of measurement point.
Flexible Circuit Board Repairing
· Keep the temperature of the soldering iron around 270
· Do not touch the soldering iron on the same conductor of the
circuit board (within 3 times).
· Be careful not to apply force on the conductor when soldering or
Notes on chip component replacement
· Never reuse a disconnected chip component.
· Notice that the minus side of a tantalum capacitor may be
NOTES ON LASER DIODE EMISSION CHECK
The laser beam on this model is concentrated so as to be focused
on the disk reflective surface by the objective lens in the optical
pick-up block. Therefore, when checking the laser diode emission,
observe from more than 30cm away from the objective lens.
GENERAL
······································································ 4
SERVICE NOTE
··························································· 7
Cabinet (Lower) ································································· 8
Cabinet (Upper) ·································································· 8
Tuner Board ········································································ 9
CD Board ············································································ 9
SERVICE MODE
························································ 10
ELECTRICAL ADJUSTMENT
······························ 11
Block Diagram ­CD Section­ ·········································· 16
Block Diagram ­Tuner Section­ ······································ 19
Printed Wiring Board ­Tuner Section­ ···························· 21
Schematic Diagram ­Tuner Section­ ······························· 23
IC Block Diagrams ··························································· 25
Printed Wiring Board ­CD Section ­ ······························· 26
Schematic Diagram ­CD Section­ ··································· 29
IC Block Diagrams ··························································· 34
IC Pin Function ································································ 39
Cabinet Section-1 ····························································· 43
Cabinet Section-2 ····························································· 44
Optical Pick-up Section (CDM-2811CAA) ····················· 45
ELECTRICAL PARTS LIST
··································· 46
---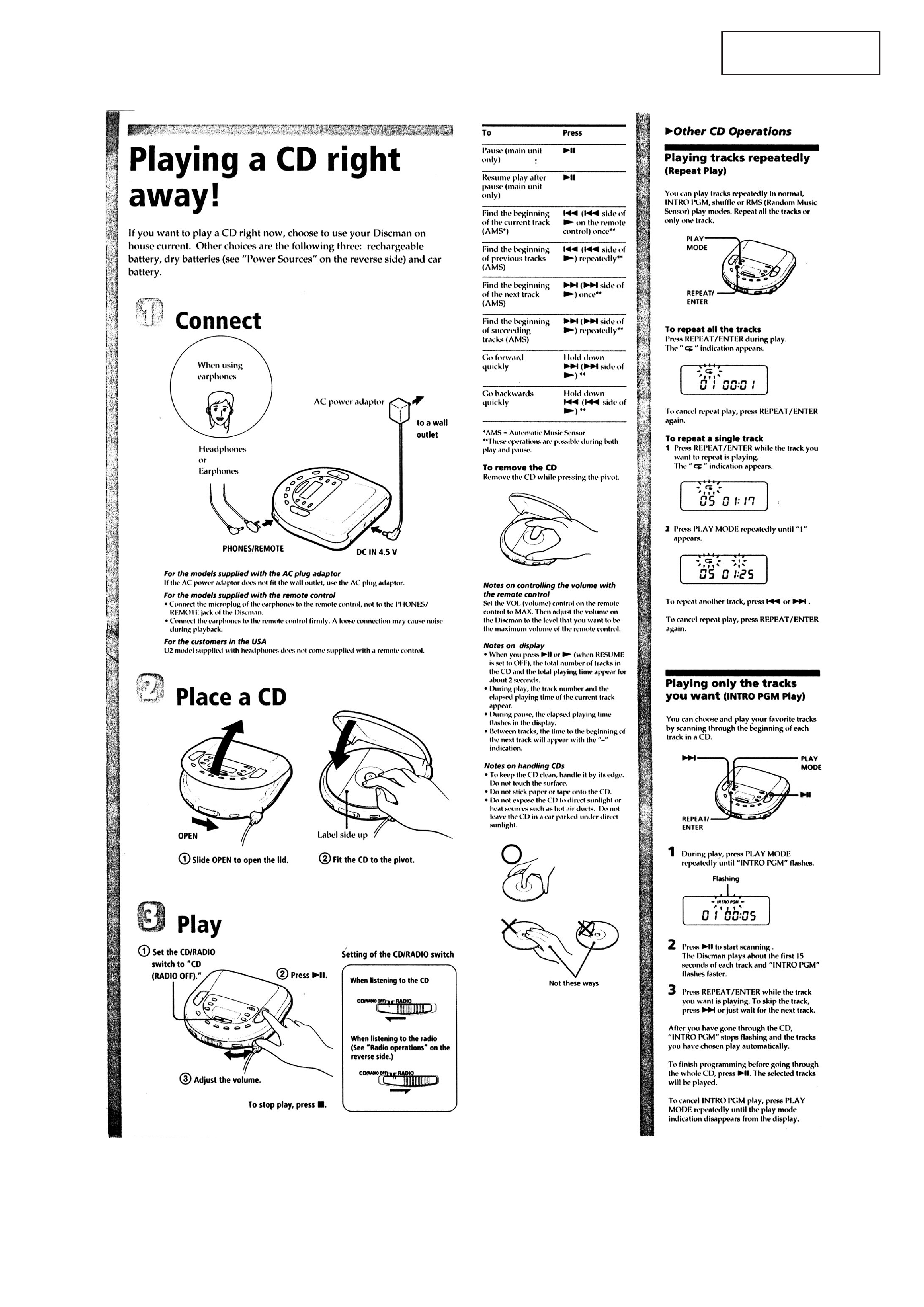 This section is extracted
---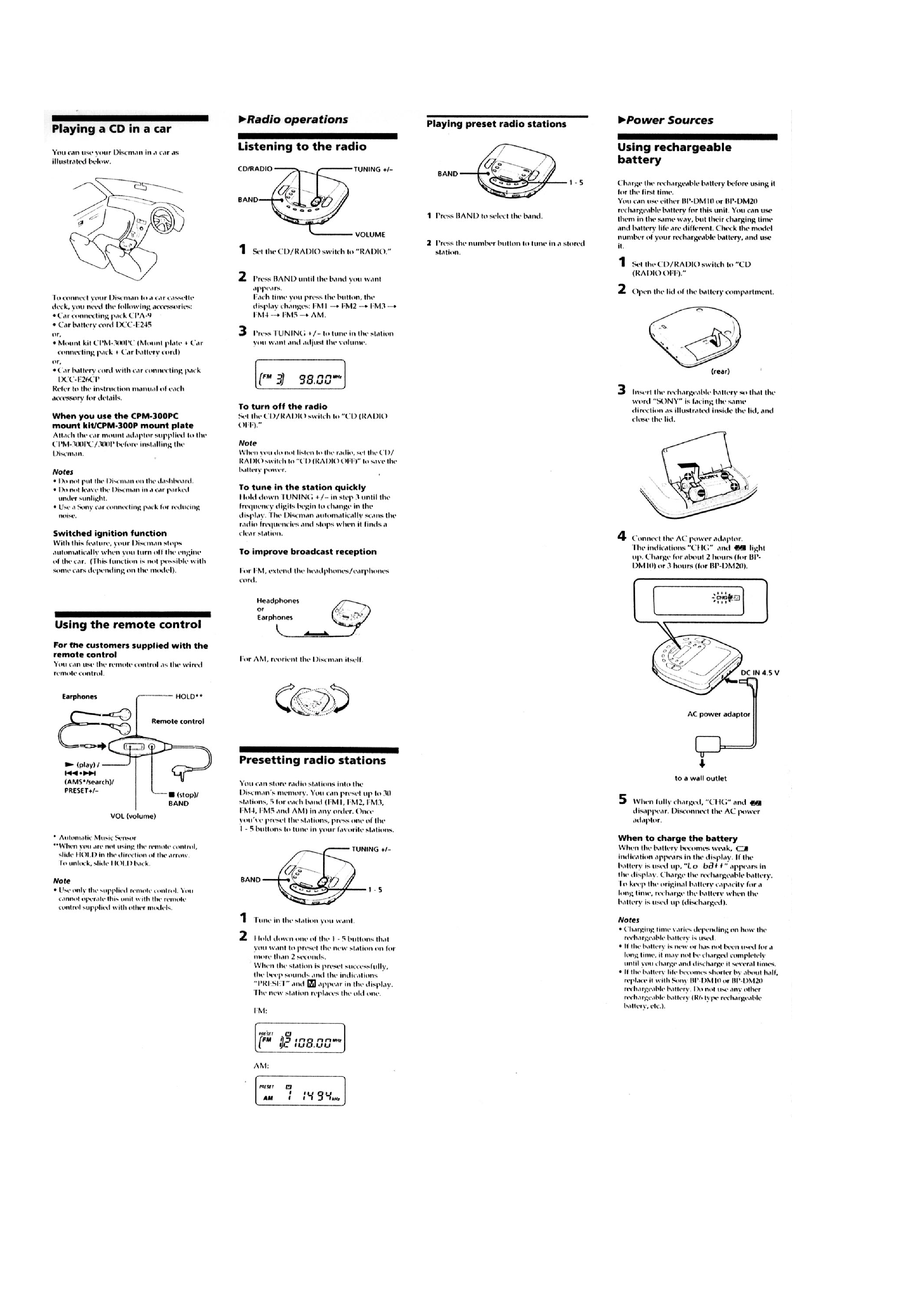 ---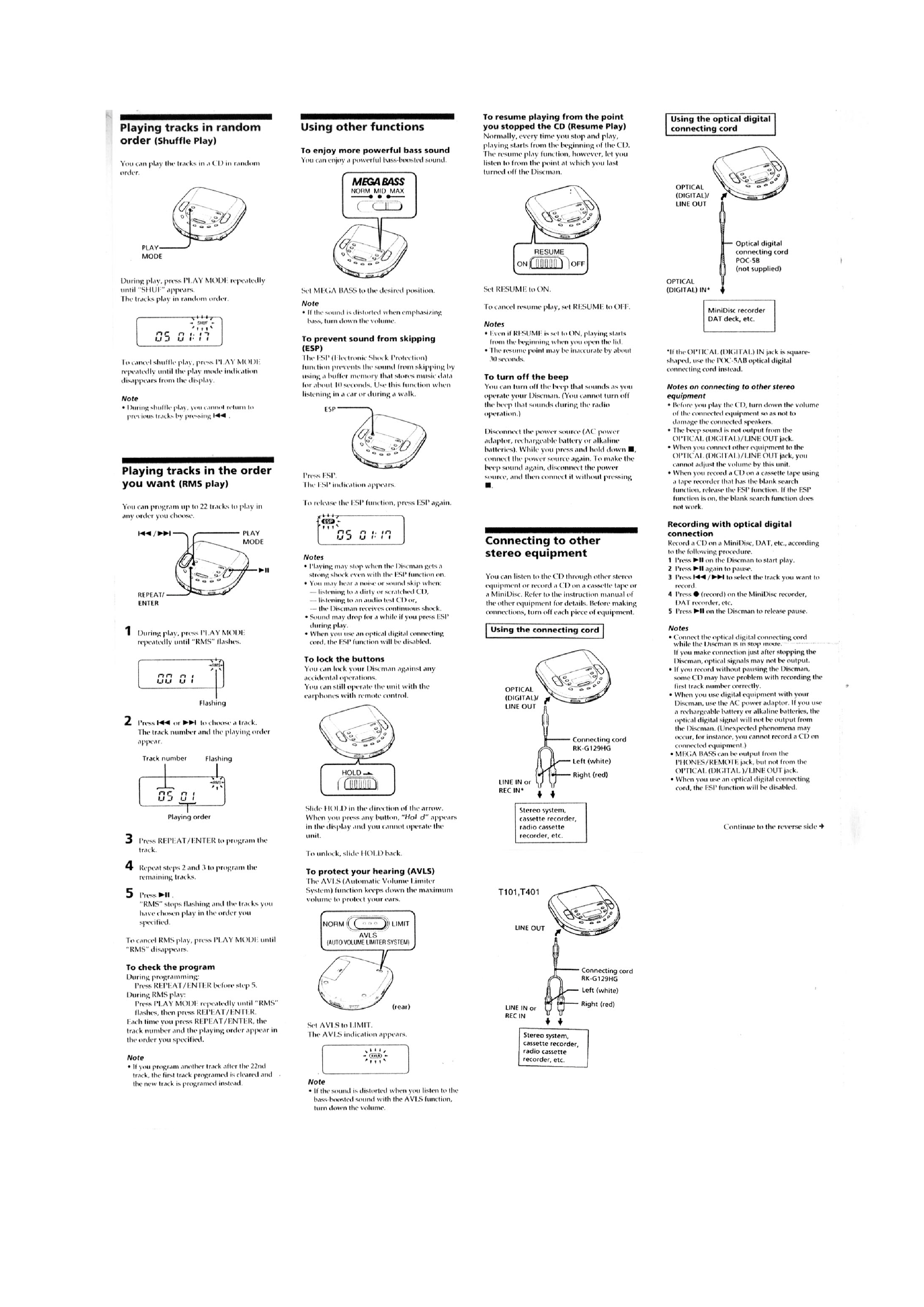 ---