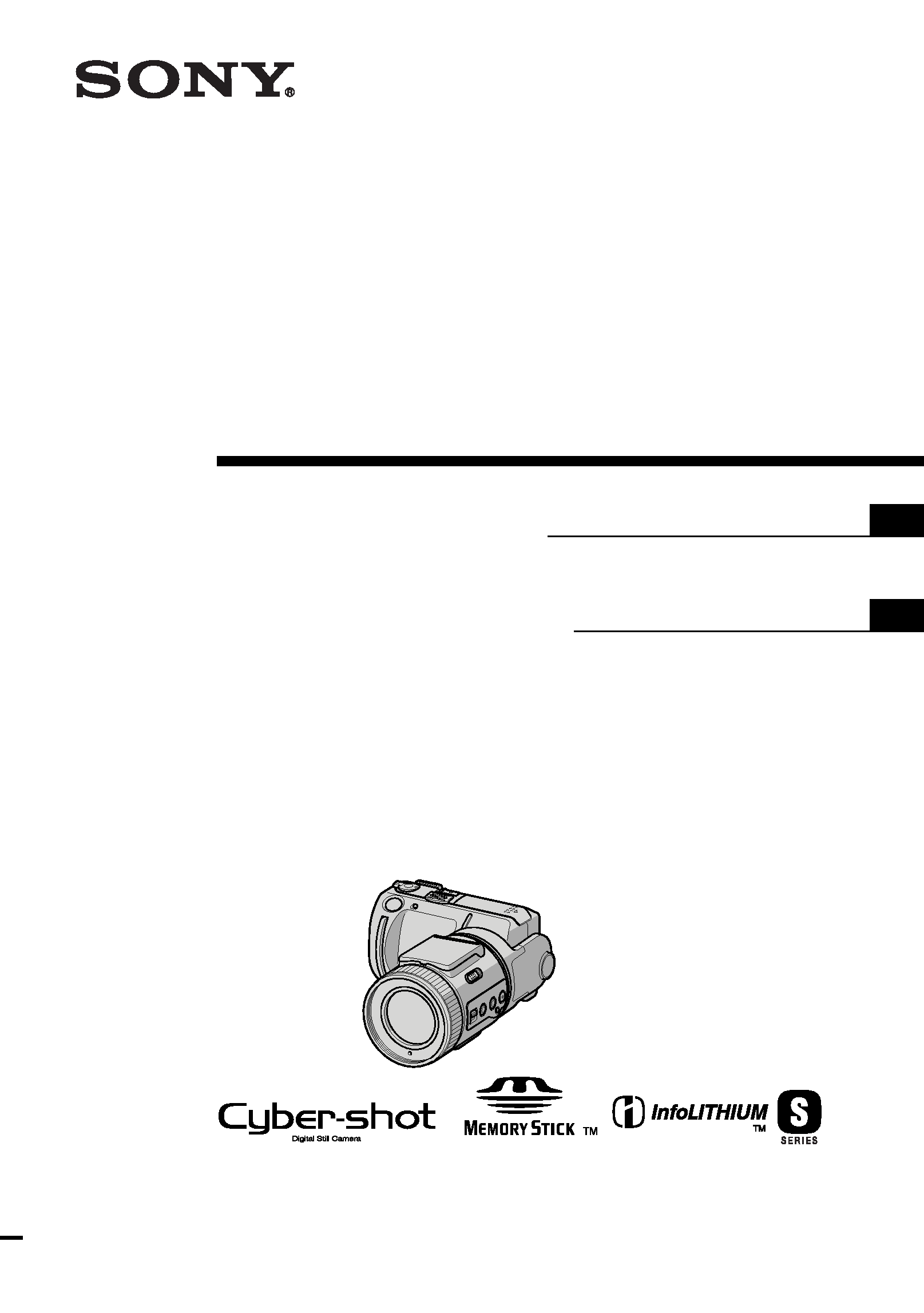 Before operating the unit, please read this manual thoroughly, and
retain it for future reference.
Antes de utilizar la unidad, lea detenidamente este manual de
instrucciones y consérvelo para futuras referencias.
The model and serial numbers are located on the bottom. Record the
serial number in the space provided below. Refer to these numbers
whenever you call upon your Sony dealer regarding this product.
Serial No. ________________________
---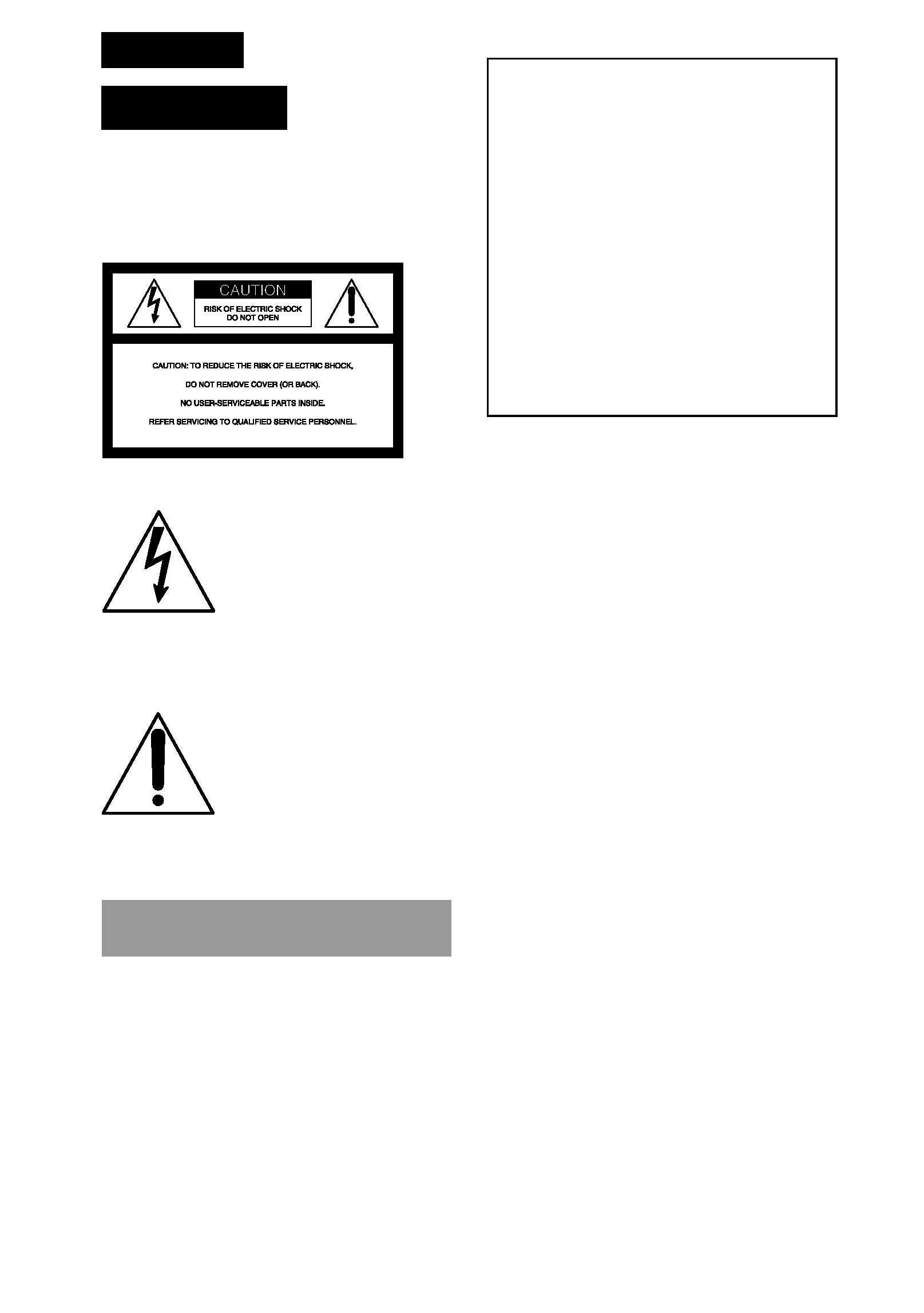 Declaration of Conformity
Responsible Party: Sony Electronics Inc.
This device complies with Part 15 of the
FCC Rules. Operation is subject to the
following two conditions: (1) This
device may not cause harmful
interference, and (2) this device must
accept any interference received,
including interference that may cause
This equipment has been tested and found
to comply with the limits for a Class B
digital device, pursuant to Part 15 of the
FCC Rules. These limits are designed to
provide reasonable protection against
harmful interference in a residential
installation. This equipment generates, uses,
and can radiate radio frequency energy and,
if not installed and used in accordance with
the instructions, may cause harmful
interference to radio communications.
However, there is no guarantee that
interference will not occur in a particular
installation. If this equipment does cause
harmful interference to radio or television
reception, which can be determined by
turning the equipment off and on, the user
is encouraged to try to correct the
interference by one or more of the following
-- Reorient or relocate the receiving
-- Increase the separation between the
-- Connect the equipment into an outlet on
a circuit different from that to which the
-- Consult the dealer or an experienced
radio/TV technician for help.
The shielded interface cable recommended
in this manual must be used with this
equipment in order to comply with the
limits for a digital device pursuant to
Subpart B of Part 15 of FCC Rules.
hazard, do not expose the
unit to rain or moisture.
electric shock to persons.
TO PREVENT ELECTRIC SHOCK, DO
NOT USE THIS POLARIZED AC PLUG
RECEPTACLE OR OTHER OUTLET
UNLESS THE BLADES CAN BE FULLY
INSERTED TO PREVENT BLADE
You are cautioned that any changes or
modifications not expressly approved in
this manual could void your authority to
---

You can return your unwanted lithium ion
batteries to your nearest Sony Service
Center or Factory Service Center.
Note: In some areas the disposal of lithium
ion batteries in household or business
For the Sony Service Center nearest you call
1-800-222-SONY (United States only)
For the Sony Factory Service Center nearest
you call 416-499-SONY (Canada only)
Caution: Do not handle damaged or
leaking lithium ion battery.
A moulded plug complying with BS 1363 is
fitted to this equipment for your safety and
Should the fuse in the plug supplied
need to be replaced, a 5 AMP fuse
approved by ASTA or BSI to BS 1362, (i.e.
If the plug supplied with this equipment
has a detachable fuse cover, be sure to
attach the fuse cover after you change the
fuse. Never use the plug without the fuse
cover. If you should lose the fuse cover,
please contact your nearest Sony service
For the Customers in Germany
Directive: EMC Directive 89/336/EEC.92/
This equipment complies with the EMC
regulations when used under the following
· Light-industry district
(This equipment complies with the EMC
standard regulations EN55022 Class B.)
The electromagnetic fields at the specific
frequencies may influence the picture and
For the Customers in CANADA
This Class B digital apparatus complies
This device complies with Part 15 of the
FCC Rules. Operation is subject to the
following two conditions: (1) This
device may not cause harmful
interference, and (2) this device must
accept any interference received,
including interference that may cause
For the Customers in the U.S.A.
THIS CLASS B DIGITAL DEVICE
COMPLIES WITH PART 15 OF THE
FCC RULES AND THE CANADIAN
ICES-003. OPERATION IS SUBJECT TO
CONDITIONS: (1) THIS DEVICE MAY
INTERFERENCE, AND (2) THIS
INCLUDING INTERFERENCE THAT
---

About the Carl Zeiss lens
This camera is equipped with a Carl
Zeiss lens which can reproduce a fine
The lens for this camera was developed
jointly by Carl Zeiss, in Germany, and
Sony Corporation. It adopts the MTF*
measurement system for camera and
offers a quality as the Carl Zeiss lens.
* MTF is an abbreviation of Modulation
Transfer Function/Factor.
The value number indicates the
amount of light of a subject
penetrating into the lens.
· IBM PC/AT is a registered trademark of
International Business Machines
Corporation of the U.S.A.
· Microsoft and Windows are registered
trademarks licensed to Microsoft
Corporation, registered in the U.S.A. and
· Macintosh, iMac and Mac OS are
trademarks licensed to Apple Computer,
Inc., registered in the U.S.A. and other
· All other product names mentioned
herein may be the trademarks or
registered trademarks of their respective
Furthermore, "TM" and "®" are not
mentioned in each case in this manual.
Be sure to read the following
Before you record one-time events, you
may want to make a trial recording to
make sure that the camera is working
No compensation for contents of
Contents of the recording cannot be
compensated for if recording or playback
is not made due to a malfunction of your
Image data files recorded on "Memory
Stick"-s by your camera conform with
the Design Rules for Camera File
Systems universal standard established
by the JEIDA (Japan Electronic Industry
Development Association).
You cannot play back on your camera
still images recorded on other equipment
(DCR-TRV890E/TRV900/TRV900E,
DSC-D700) that does not conform with
this universal standard. (These models
are not sold in some areas.)
Television programs, films, video tapes,
and other materials may be copyrighted.
Unauthorized recording of such
materials may be contrary to the
provision of the copyright laws.
---

Parts identification
............. 7
1 Charging the battery pack .. 10
2 Installing the battery pack
and "Memory Stick" .......... 12
3 Setting the date and time .... 14
Recording still images ............. 16
Recording moving images ...... 17
Playing back still images ......... 20
Playing back moving images
............................................... 21
a personal computer .......... 23
Various ways of recording
Focusing manually ........................ 32
Recording images in macro .......... 32
Recording images with the flash
.................................................... 33
(EXPOSURE) ............................. 34
Adjusting the white balance ........ 35
Enjoying Picture Effect .................. 36
function ...................................... 36
Using the spot light-metering
mode .......................................... 38
Using the self-timer ....................... 38
(QUALITY) .............................. 39
Selecting image size ....................... 40
(REC MODE) ............................ 41
Playing back multiple images at a
time (INDEX) ............................ 43
Enlarging a part of the image
­ Zoom and trimming ............. 44
Rotating image (ROTATE) ........... 45
Playing back images in a continuous
loop (SLIDE SHOW) ................ 46
Preventing accidental erasure
(PROTECT) ............................... 47
Deleting images (DELETE) .......... 48
"Memory Stick" ........................ 50
Formatting (initializing) a
"Memory Stick" ........................ 51
Changing the menu setting
Changing the menu setting .......... 52
Setting the mode of each item ...... 53
Using the house current (mains)
.................................................... 57
Watching images on a TV screen
.................................................... 57
Printing the recorded images ....... 58
on an image ............................... 58
Precautions ..................................... 60
Using your camera abroad ........... 61
Troubleshooting ............................. 62
Self-diagnosis display ................... 64
Warning and notice messages ..... 65
Specifications .................................. 66
Index ................................................ 67
PictureGear 3.2 Lite
..... 68~93
---