Published by Sony Engineering Corporation
·DAV-FC7 is composed of following models.
As service manuals are issued for each component
model, please refer to them.
1-478-143-11 COMMANDER, STANDARD (RM-SP900)
0 1-569-008-12 ADAPTOR, CONVERSION 2P (SP)
1-754-059-12 ANTENNA, LOOP (AM)
1-754-147-11 ANTENNA (FM)
1-769-108-11 CORD, CONNECTION (VIDEO CORD)
1-827-243-11 CORD (WITH CONNECTOR)(SPEAKER CORDS)
3-084-601-01 COVER, BATTERY (FOR RM-SP900)
4-248-450-11 MANUAL, INSTRUCTION (ENGLISH)
4-248-450-21 MANUAL, INSTRUCTION (FRENCH)(CND)
4-248-450-31 MANUAL, INSTRUCTION (TRADITIONAL CHINESE)(SP)
The components identified by
mark 0 or dotted line with mark
0 are critical for safety.
Replace only with part number
Les composants identifiés par
une marque 0 sont critiques
Ne les remplacer que par une
pièce portant le numéro spécifié.
---

Clicking the version allows you to jump to the revised page.
Also, clicking the version at the upper right on the revised page allows you to jump to the next revised
Correction of Description for SPEAKER CORDS
---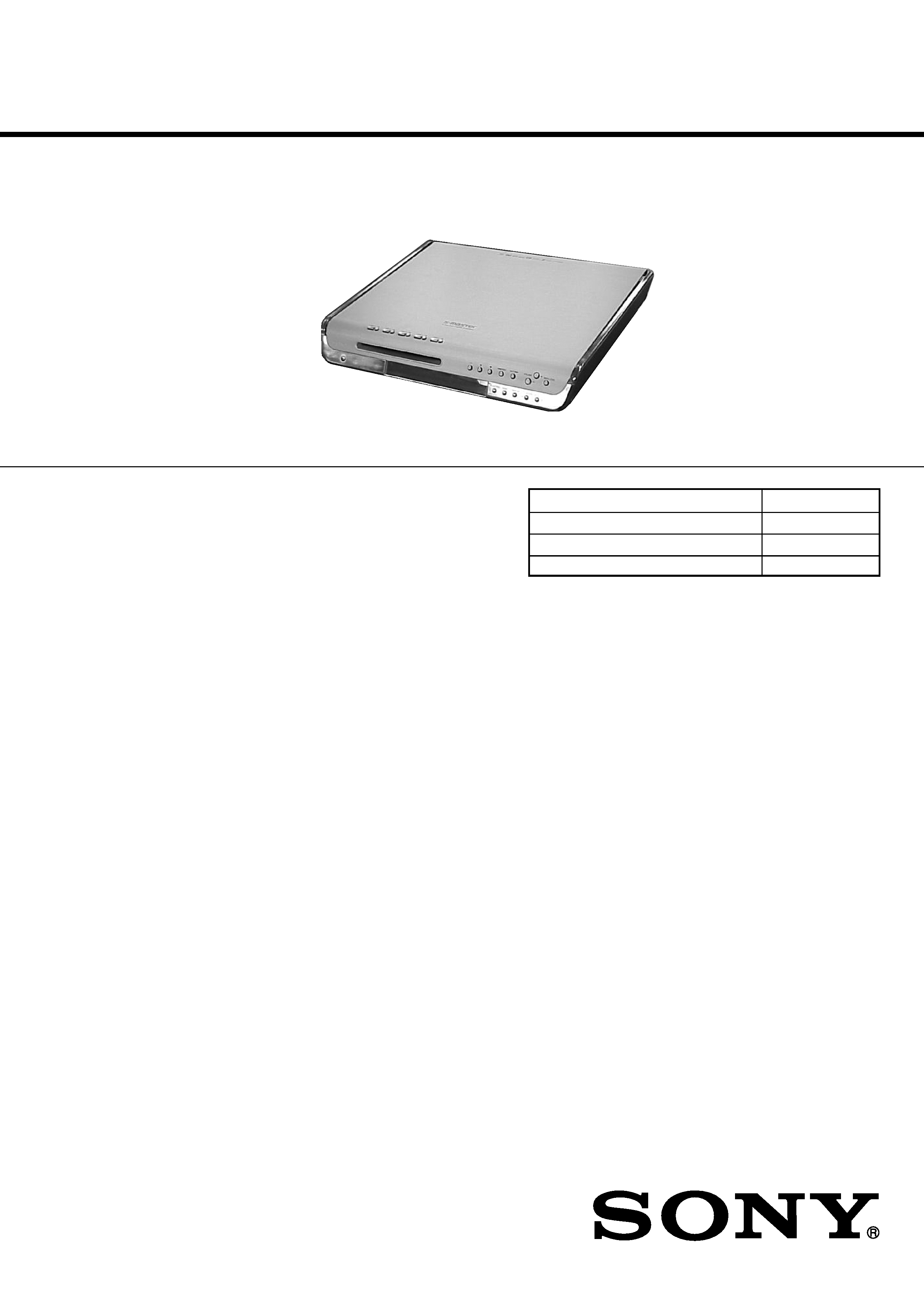 Published by Sony Engineering Corporation
HCD-FC7 is the amplifier, DVD/SACD and tuner
Model Name Using Similar Mechanism
AUDIO POWER SPECIFICATIONS POWER
OUTPUT AND TOTAL HARMONIC
With 4 ohm loads, both channels driven, from 20 ­
20,000 Hz; rated 75 watts per channel minimum RMS
power, with no more than 0.7 % total harmonic
distortion. (from 250 milli watts to rated output)
* Depending on the sound field settings and the source,
there may be no sound output.
Super Audio CD/DVD system
Frequency response (at 2 CH STEREO mode)
PLL quartz-locked digital
531 ­ 1,710 kHz (with the
530 ­ 1,710 kHz (with the
531 ­ 1,602 kHz (with the
530 ­ 1,710 kHz (with the
Australian and Asian models:
Australian and Asian models:
°C to 35°C (41°F to 95°F)
Design and specification are subject to change without
---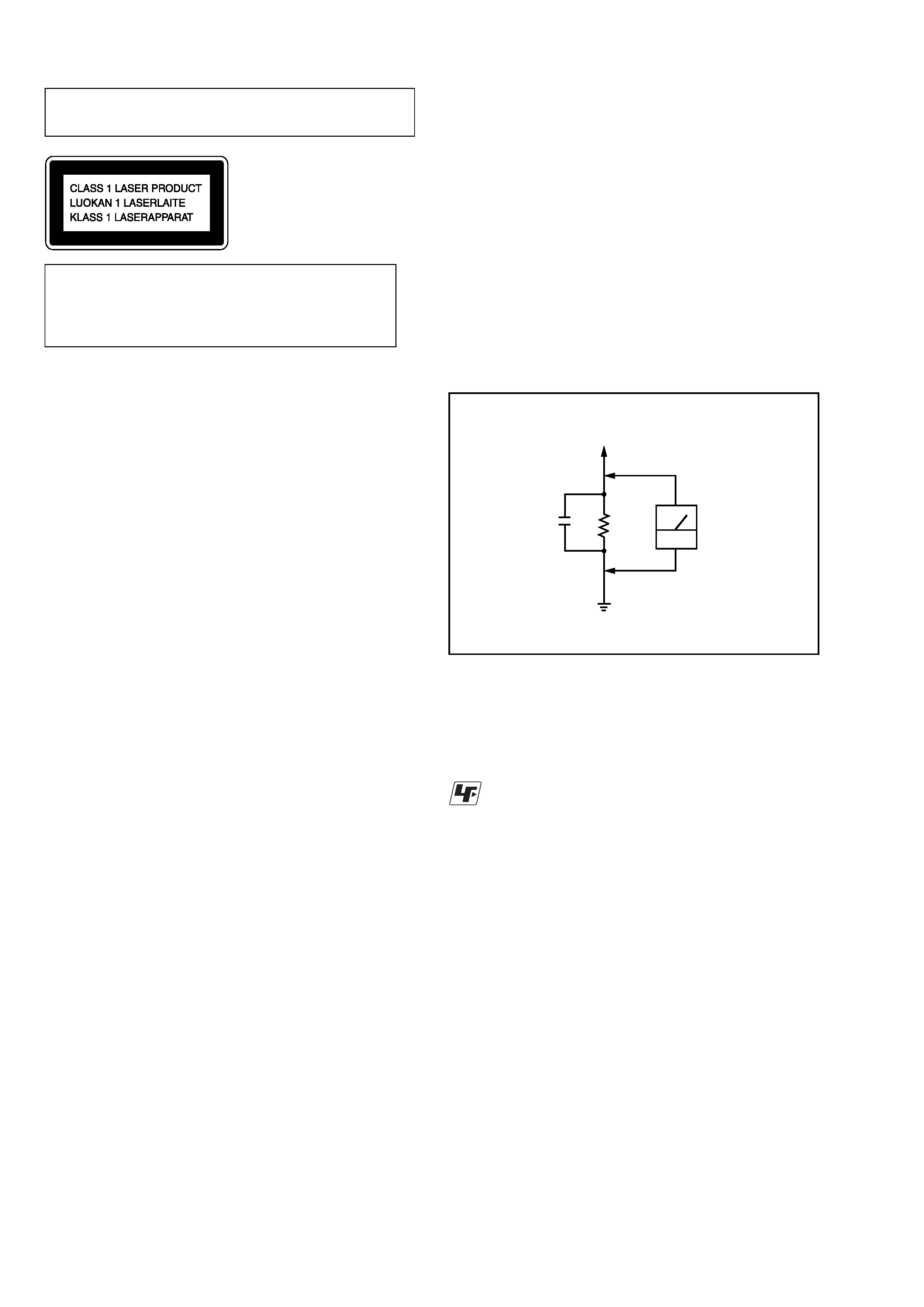 The AC leakage from any exposed metal part to earth Ground and
from all exposed metal parts to any exposed metal part having a
return to chassis, must not exceed 0.5 mA (500 microampers).
Leakage current can be measured by any one of three methods.
A commercial leakage tester, such as the Simpson 229 or RCA
WT-540A. Follow the manufacturers' instructions to use these
A battery-operated AC milliammeter. The Data Precision 245
digital multimeter is suitable for this job.
Measuring the voltage drop across a resistor by means of a
VOM or battery-operated AC voltmeter. The "limit" indication
is 0.75 V, so analog meters must have an accurate low-voltage
scale. The Simpson 250 and Sanwa SH-63Trd are examples of
a passive VOM that is suitable. Nearly all battery operated
digital multimeters that have a 2V AC range are suitable. (See
Fig. A. Using an AC voltmeter to check AC leakage.
Use of controls or adjustments or performance of procedures
other than those specified herein may result in hazardous
Notes on chip component replacement
·Never reuse a disconnected chip component.
· Notice that the minus side of a tantalum capacitor may be
Flexible Circuit Board Repairing
·Keep the temperature of soldering iron around 270°C
· Do not touch the soldering iron on the same conductor of the
circuit board (within 3 times).
· Be careful not to apply force on the conductor when soldering
After correcting the original service problem, perform the following
safety checks before releasing the set to the customer:
Check the antenna terminals, metal trim, "metallized" knobs, screws,
and all other exposed metal parts for AC leakage. Check leakage as
NOTES ON DMB03 BOARD EXCHANGE
If a DVD board is exchanged, "DRIVE AUTO ADJUSTMENT"
may be unable to be performed. In this case, initialize a memory in
1. Starting Test Mode (see page 27).
2. Press the 2 button of remote commander to set the Drive
Manual Operation (see page 29).
3. Press the 6 button of remote commander to set the Memory
4. Press the [CLEAR] button of remote commander to initialize
Laser component in this product is capable of emitting radiation
exceeding the limit for Class 1.
This appliance is classified as
located on the rear exterior.
SAFETY-RELATED COMPONENT WARNING!!
COMPONENTS IDENTIFIED BY MARK 0 OR DOTTED LINE WITH
MARK 0 ON THE SCHEMATIC DIAGRAMS AND IN THE PARTS
LIST ARE CRITICAL TO SAFE OPERATION. REPLACE THESE
COMPONENTS WITH SONY PARTS WHOSE PART NUMBERS
APPEAR AS SHOWN IN THIS MANUAL OR IN SUPPLEMENTS
Boards requiring use of unleaded solder are printed with the lead-
free mark (LF) indicating the solder contains no lead.
(Caution: Some printed circuit boards may not come printed with
the lead free mark due to their particular size.)
Unleaded solder has the following characteristics.
· Unleaded solder melts at a temperature about 40
Ordinary soldering irons can be used but the iron tip has to be
applied to the solder joint for a slightly longer time.
Soldering irons using a temperature regulator should be set to
Caution: The printed pattern (copper foil) may peel away if the
heated tip is applied for too long, so be careful!
Unleaded solder is more viscous (sticky, less prone to flow) than
ordinary solder so use caution not to let solder bridges occur such
· Usable with ordinary solder
It is best to use only unleaded solder but unleaded solder may
also be added to ordinary solder.
ATTENTION AU COMPOSANT AYANT RAPPORT
LES COMPOSANTS IDENTIFÉS PAR UNE MARQUE 0 SUR LES
DIAGRAMMES SCHÉMATIQUES ET LA LISTE DES PIÈCES SONT
CRITIQUES POUR LA SÉCURITÉ DE FONCTIONNEMENT. NE
REMPLACER CES COMPOSANTS QUE PAR DES PIÈSES SONY
DONT LES NUMÉROS SONT DONNÉS DANS CE MANUEL OU
DANS LES SUPPÉMENTS PUBLIÉS PAR SONY.
---

1. SERVICING NOTE
·························································· 4
2. GENERAL
·········································································· 7
3. DISASSEMBLY
······························································ 10
3-1. FRONT PANEL SECTION,
SIDE PANEL (L)/(R) SECTION ································· 11
3-2. DDCON BOARD, LED BOARD, FL BOARD ·········· 12
3-3. KEY BOARD ······························································ 12
3-4. POWER BOARD ························································· 13
3-5. AMP BOARD ······························································ 13
3-6. DVD BOARD, DC FAN ·············································· 14
3-7. CD MECHANISM DECK (CDM69-DVBU16) ········· 15
3-8. SELECTOR BOARD, VIDEO BOARD,
LF BOARD ·································································· 16
3-9. AUDIO BOARD, S-VIDEO BOARD ························· 16
3-10. BASE UNIT (DVBU16) ············································ 17
3-11. PICK-UP UNIT (TDP022W) ····································· 17
3-12. SW BOARD, BRACKET (TOP) ASSY ···················· 18
3-13. RELAY BOARD ························································ 18
3-14. MOTOR (STOCKER) ASSY (STOCKER)(M761) ··· 19
3-15. MOTOR (STOCKER) ASSY (ROLLER)(M781) ····· 19
3-16. MOTOR (STOCKER) ASSY (MODE)(M771) ········· 20
3-17. RUBBER ROLLER (SLIDER) ASSY ······················· 20
3-18. TIMING BELT (FRONT/REAR) ······························ 21
3-19. CAM (GEAR) ···························································· 21
3-20. SENSOR BOARD ····················································· 22
4. ASSEMBLY
······································································ 10
4-1. HOW TO INSTALL THE CAM (EJECT LOCK) ······· 23
4-2. HOW TO INSTALL THE CAM (GEAR) ··················· 23
4-3. HOW TO INSTALL THE GEAR (MODE 2) ·············· 24
4-4. HOW TO INSTALL THE GEAR (MODE CAM) ······· 24
THE ROTARY ENCODER (S702),
GEAR (STOCKER COMMUNICATION) ················· 25
4-6. HOW TO INSTALL THE STOCKER ASSY ·············· 25
5. TEST MODE
···································································· 26
6. ELECTRICAL ADJUSTMENT
·································· 36
7-1. CIRCUIT BOARDS LOCATION ······························· 35
7-2. BLOCK DIAGRAMS ­ RF/SERVO SECTION ­ ······ 36
­ AUDIO SECTION ­ ················································· 37
­ AUDIO OUT SECTION ­ ······································· 38
­ VIDEO SECTION ­ ················································· 39
­ POWER SECTION ­ ··············································· 40
7-3. PRINTED WIRING BOARD ­ RF SECTION ­ ········ 41
7-4. SCHEMATIC DIAGRAM ­ RF SECTION ­ ············· 42
7-5. PRINTED WIRING BOARD
­ CHANGER SECTION ­ ·········································· 43
­ CHANGER SECTION ­ ·········································· 44
7-7. PRINTED WIRING BOARD
­ DVD SECTION (SIDE A) ­ ···································· 45
7-8. PRINTED WIRING BOARD
­ DVD SECTION (SIDE B) ­ ···································· 46
­ DVD SECTION (1/10) ­ ·········································· 47
­ DVD SECTION (2/10) ­ ·········································· 48
­ DVD SECTION (3/10) ­ ·········································· 49
­ DVD SECTION (4/10) ­ ·········································· 50
­ DVD SECTION (5/10) ­ ·········································· 51
­ DVD SECTION (6/10) ­ ·········································· 52
­ DVD SECTION (7/10) ­ ·········································· 53
­ DVD SECTION (8/10) ­ ·········································· 54
­ DVD SECTION (9/10) ­ ·········································· 55
­ DVD SECTION (10/10) ­ ········································ 56
7-19. PRINTED WIRING BOARD
­ AMP SECTION (SIDE A) ­ ···································· 57
7-20. PRINTED WIRING BOARD
­ AMP SECTION (SIDE B) ­ ···································· 58
­ AMP SECTION (1/2) ­ ············································ 59
­ AMP SECTION (2/2) ­ ············································ 60
7-23. PRINTED WIRING BOARD
­ AUDIO SECTION ­ ················································· 61
­ AUDIO SECTION ­ ················································· 62
7-25. PRINTED WIRING BOARD
­ VIDEO SECTION ­ ················································· 63
­ VIDEO SECTION ­ ················································· 64
7-27. PRINTED WIRING BOARD
­ DDCOM SECTION ­ ·············································· 65
7-28. PRINTED WIRING BOARD
­ CONTROL SECTION ­ ·········································· 66
­ DDCOM/CONTROL SECTION ­ ·························· 67
7-30. PRINTED WIRING BOARD
­ POWER SECTION ­ ··············································· 68
­ POWER SECTION ­ ··············································· 69
7-32. IC BLOCK DIAGRAMS ············································ 71
7-33. IC PIN FUNCTION DESCRIPTION ························· 82
8-1. CASE SECTION ······················································· 106
8-2. FRONT PANEL SECTION ······································· 107
8-3. CHASSIS SECTION-1 ············································· 108
8-4. CHASSIS SECTION-2 ············································· 109
8-5. CHASSIS SECTION-3 ············································· 110
8-6. MECHANISM DECK SECTION-1 ························· 111
(CDM69-DVBU16) ··················································· 111
8-7. MECHANISM DECK SECTION-2 ························· 112
(CDM69-DVBU16) ··················································· 112
8-8. MECHANISM DECK SECTION-3 ························· 113
(CDM69-DVBU16) ··················································· 113
8-9. MECHANISM DECK SECTION-4 ························· 114
(CDM69-DVBU16) ··················································· 114
8-10. MECHANISM DECK SECTION-5
(CDM69-DVBU16) ··················································· 115
8-11. MECHANISM DECK SECTION-6
(CDM69-DVBU16) ··················································· 116
8-12. BASE UNIT SECTION (DVBU16) ·························· 117
9. ELECTRICAL PARTS LIST
····································· 118
---