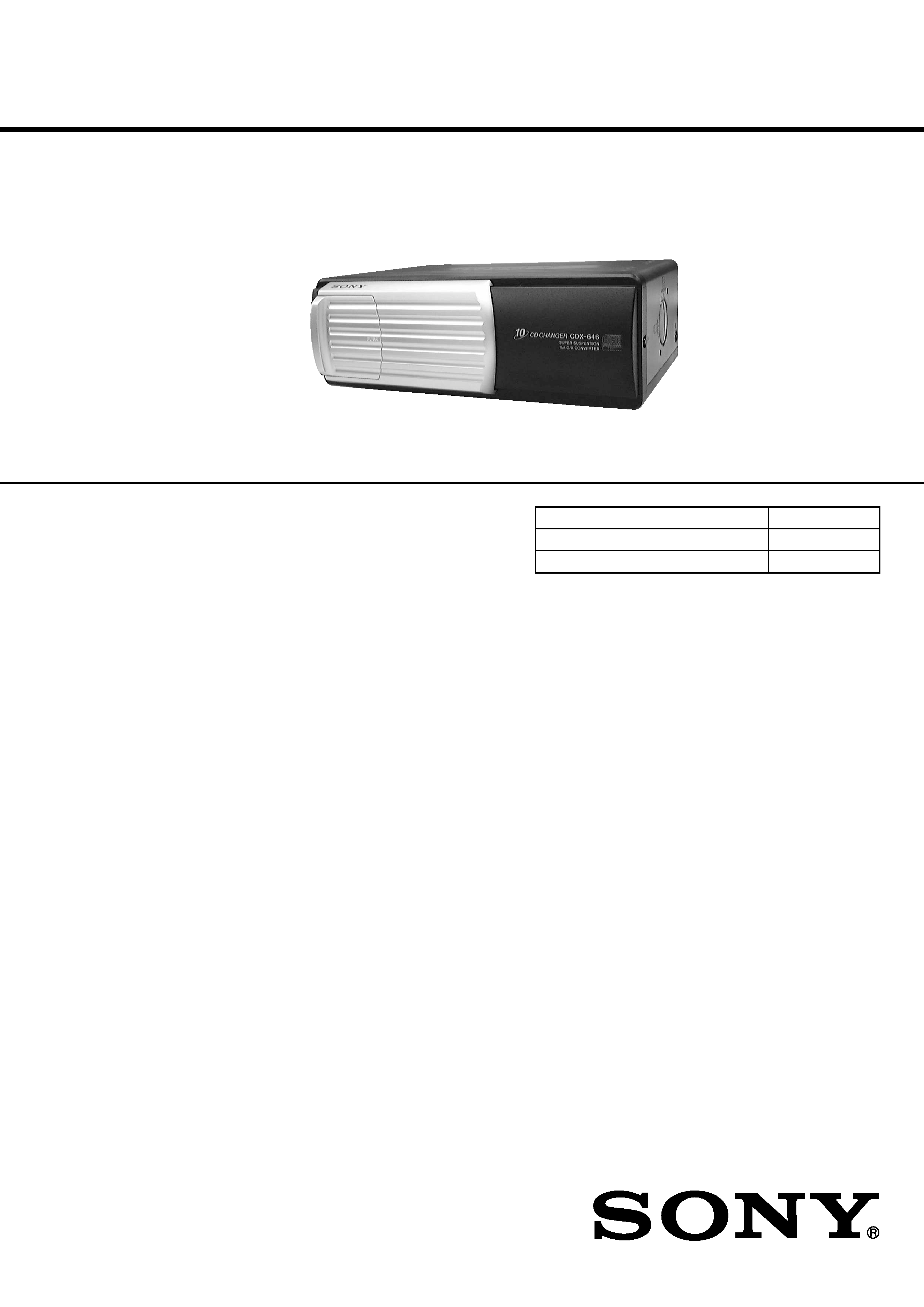 Model Name Using Similar Mechanism
Compact disc digital audio system
Laser diode properties Material: GaAlAs
Emission Duration: Continuous
Laser out-put Power: Less than
* This output is the value measured at a distance of 200 mm
from the objective lens surface on the Optical Pick-up Block.
Below the measurable limit
BUS control output (8 pins)
Analog audio output (RCA pin)
800 mA (during CD playback)
800 mA (during loading or ejecting
Operating temperature ­10
°C to +55°C (14°F to 131°F)
(w/h/d) not incl. projecting parts
Approx. 2.1 kg (4 lb. 10 oz.)
Parts for installation and
Design and specifications are subject to change without
Shinagawa Tec Service Manual Production Group
---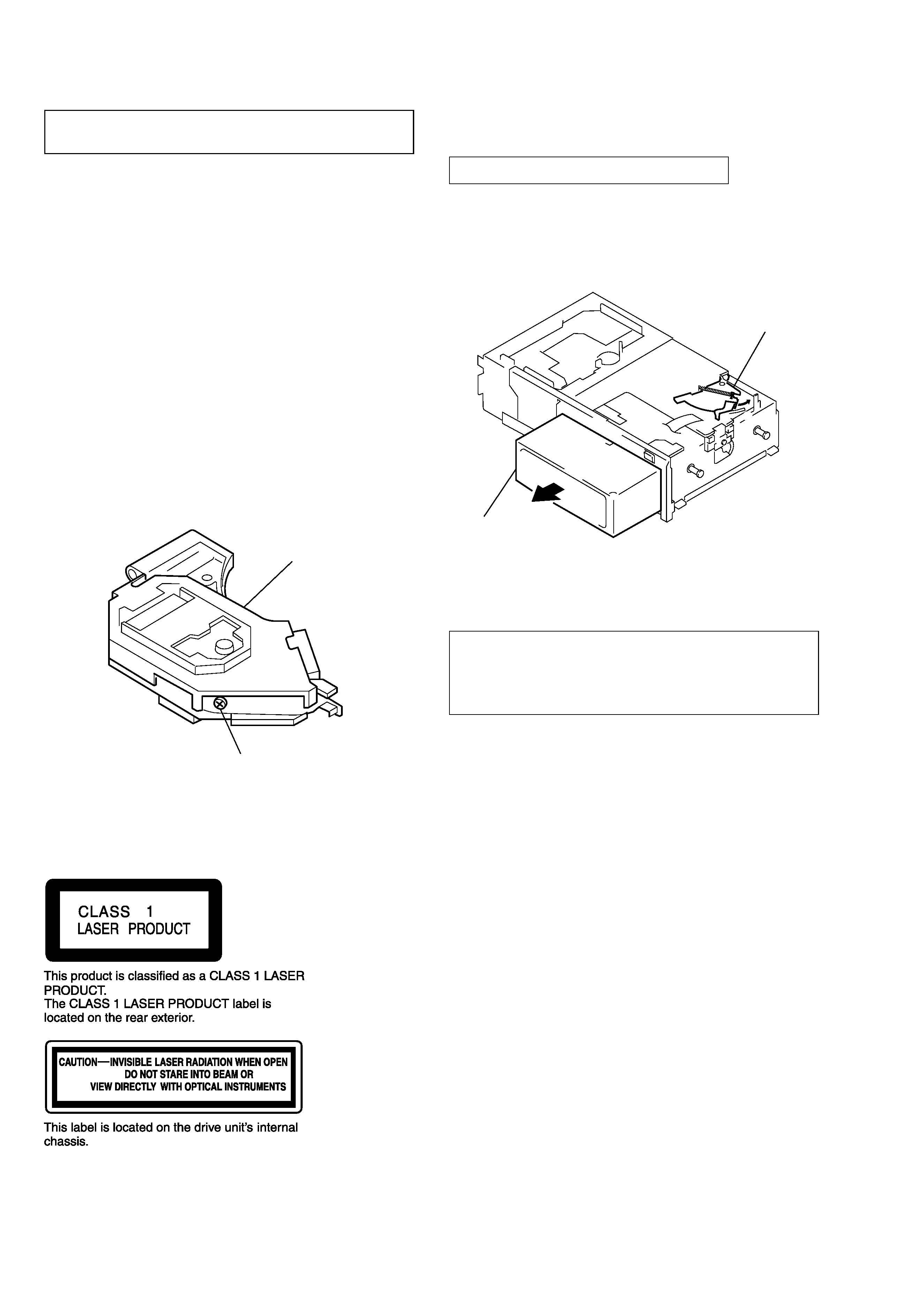 SAFETY-RELATED COMPONENT WARNING!!
COMPONENTS IDENTIFIED BY MARK 0 OR DOTTED
LINE WITH MARK 0 ON THE SCHEMATIC DIAGRAMS
AND IN THE PARTS LIST ARE CRITICAL TO SAFE
OPERATION. REPLACE THESE COMPONENTS WITH
SONY PARTS WHOSE PART NUMBERS APPEAR AS
SHOWN IN THIS MANUAL OR IN SUPPLEMENTS PUB-
ATTENTION AU COMPOSANT AYANT RAPPORT
LES COMPOSANTS IDENTIFIÉS PAR UNE MARQUE 0
SUR LES DIAGRAMMES SCHÉMATIQUES ET LA LISTE
DES PIÈCES SONT CRITIQUES POUR LA SÉCURITÉ
DE FONCTIONNEMENT. NE REMPLACER CES COM-
POSANTS QUE PAR DES PIÈCES SONY DONT LES
NUMÉROS SONT DONNÉS DANS CE MANUEL OU
DANS LES SUPPLÉMENTS PUBLIÉS PAR SONY.
When replacing the chassis (U.S) sub assy of mechanism deck
which have the "CAUTION LABEL" attached, please be sure to
put a new CAUTION LABEL (3-223-913-11) to the chassis (U.S)
Flexible Circuit Board Repairing
· Keep the temperature of the soldering iron around 270 °C dur-
· Do not touch the soldering iron on the same conductor of the
circuit board (within 3 times).
· Be careful not to apply force on the conductor when soldering
Notes on chip component replacement
· Never reuse a disconnected chip component.
· Notice that the minus side of a tantalum capacitor may be dam-
Use of controls or adjustments or performance of procedures
other than those specified herein may result in hazardous ra-
NOTES ON HANDLING THE OPTICAL PICK-
The laser diode in the optical pick-up block may suffer electro-
static breakdown because of the potential difference generated by
the charged electrostatic load, etc. on clothing and the human body.
During repair, pay attention to electrostatic breakdown and also
use the procedure in the printed matter which is included in the
The flexible board is easily damaged and should be handled with
NOTES ON LASER DIODE EMISSION CHECK
The laser beam on this model is concentrated so as to be focused
on the disc reflective surface by the objective lens in the optical
pick-up block. Therefore, when checking the laser diode emis-
sion, observe from more than 30 cm away from the objective lens.
If the optical pick-up block is defective, please replace the whole
Never turn the semi-fixed resistor located at the side of optical
DISC MAGAZINE GETTING OUT PROCEDURE
ON THE POWER SUPPLY IS OFF
Remove the CASE (LOWER. T) beforehand
1) Press the lever (ML.S) assy in the direction of arrow A.
2) Removal the magazine assy.
Note: Take out the magazine only when the tray is completely within the
magazine. If the disk or tray is sticking out, turn on the power and
---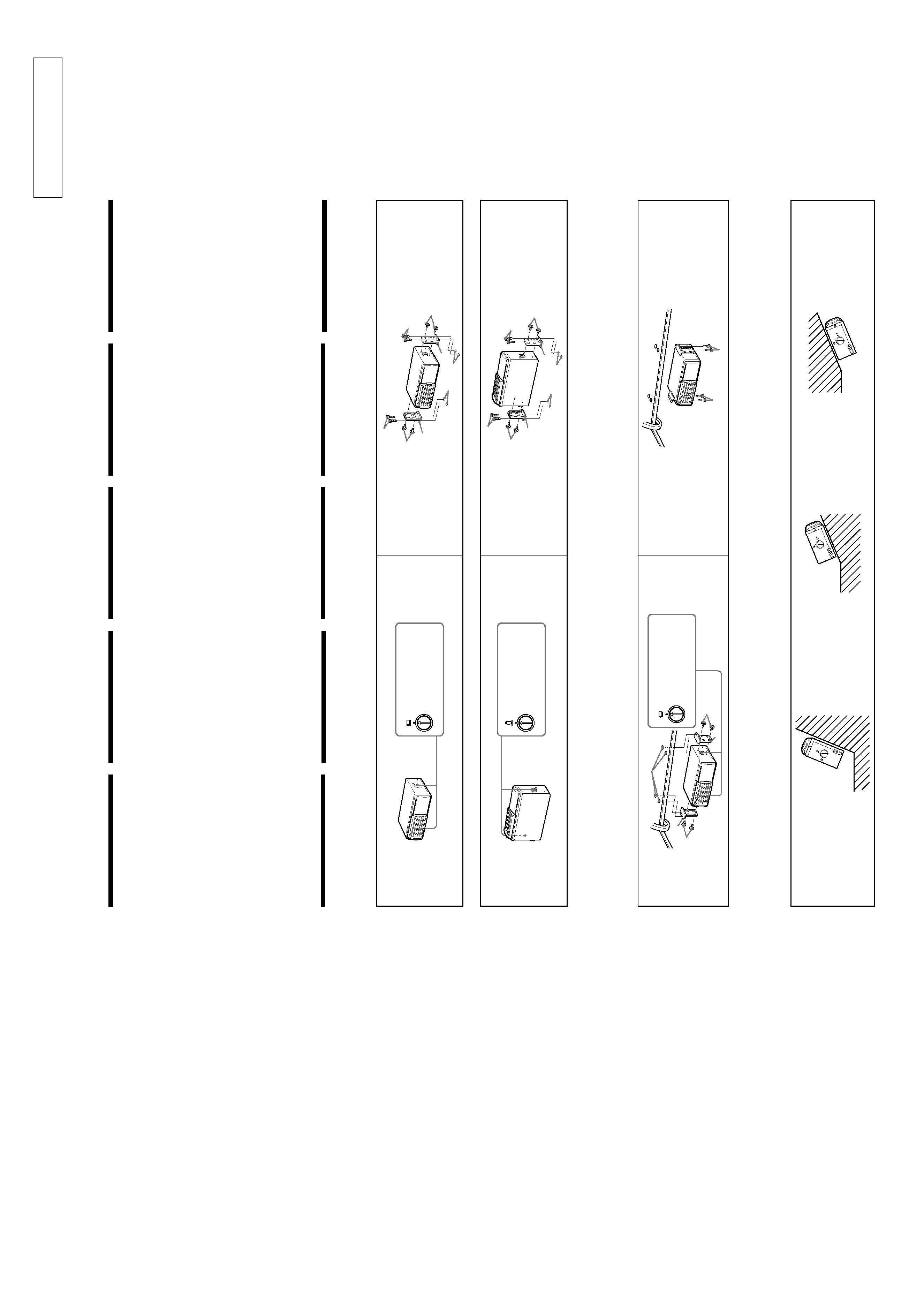 · Scegliere con cura il luogo di installazione, seguendo le
istruzioni riportate di seguito ed evitando di installare
-- soggetti a temperature oltre i 55
-- esposti alla luce solare diretta.
-- vicini a fonti di calore (come impianti di
-- esposti alla pioggia o all'umidità.
-- esposti a polvere o sporco eccessivi.
-- soggetti a vibrazioni eccessive.
-- Il serbatoio del carburante non deve essere danneggiato
-- Non devono essere presenti né cavi né tubi sotto il
luogo scelto per l'installazione dell'apparecchio.
-- Le viti e l'apparecchio stesso non devono interferire
con, o danneggiare, la ruota di scorta, gli attrezzi o altri
dispositivi presenti dentro o sotto il bagagliaio.
· Assicurarsi di usare solo il materiale di montaggio in
dotazione per un'installazione stabile e sicura.
· Utilizzare solo le viti in dotazione.
· Assicurarsi che non vi sia nulla sull'altro lato della
superficie di montaggio, quindi effettuare fori di solo 3,5
· Kies de plaats van opstelling met zorg, zodat het toestel
-- onderhevig is aan temperaturen boven de 55
in een auto geparkeerd in de volle zon).
-- steeds blootgesteld wordt aan direkt zonlicht.
-- te dicht bij een warmtebron komt (zoals een
-- nat kan worden, door regen, vocht of opspattend water.
-- in kontakt komt met veel stof of vuil.
-- onderhevig is aan sterke trillingen of schokken.
-- Let op dat de plaatschroeven de benzinetank niet
-- Kontroleer of onder de plaats waar u het apparaat wilt
monteren geen bedrading of leidingen lopen.
-- Houd bij het monteren rekening met het reservewiel,
gereedschappen en-eventueel in de kofferruimte
aanwezige andere apparaten, zodat deze de compact
disc wisselaar niet in de weg zitten, noch beschadigd
kunnen worden door de montageschroeven van de
· In het belang van een veilige en stevige montage dient u
uitsluitend het bijgeleverde montagemateriaal te
· Gebruik enkel de meegeleverde schroeven.
· Controleer of er niets achter het bevestigingsvlak zit en
maak pas dan gaten van 3,5 mm diameter.
· Bei der Wahl des Einbauortes ist folgendes zu beachten:
-- Das Gerät darf keinen Temperaturen über 55
ausgesetzt sein, wie sie z. B. in einem in der Sonne
geparkten Fahrzeug auftreten können.
-- Das Gerät darf keiner direkten Sonneneinstrahlung
-- Das Gerät muß von Wärmequellen (z. B. der Heizung)
-- Das Gerät darf weder Regen noch Feuchtigkeit
-- Das Gerät darf keinem übermäßigen Staub oder
anderer Verschmutzung ausgesetzt sein.
-- Das Gerät darf keinen übermäßigen Vibrationen
-- Der Tank darf durch die Schneidschrauben nicht
-- Unter der Fläche, auf die das Gerät montiert werden
soll, dürfen sich keine Kabelbäume oder Leitungen
-- Ersatzreifen, Werkzeug usw. im oder unter dem
Kofferraum dürfen durch die Schneidschrauben nicht
beschädigt werden. Achten Sie auch darauf, daß die
Herausnahme des Ersatzreifens, Werkzeugs usw. nicht
durch das Gerät behindert wird.
· Für sicheren und stabilen Einbau verwenden Sie
ausschließlich die mitgelieferten Befestigungsteile.
· Verwenden Sie ausschließlich die mitgelieferten
· Bohren Sie die Löcher mit einem Durchmesser von 3,5 mm
erst, wenn Sie sich vergewissert haben, daß sich nichts auf
der Rückseite der Montagefläche befindet.
Die Halterungen 1 eignen sich für zwei Einbaupositionen, oben
und unten. Verwenden Sie je nach Bedarf die geeigneten
Installatie van het apparaat
De beugels 1 zijn geschikt voor twee montageposities, hoog en
laag. Maak gebruik van de vereiste schroefgaten afhankelijk van
de gewenste montagepositie.
Installazione dell'apparecchio
Le staffe 1 consentono l'installazione in due diverse posizioni:
alta e bassa. Utilizzare i fori per le viti in base alla posizione di
Installazione in orizzontale
· Choisissez l'emplacement de montage en tenant compte
des observations suivantes :
-- L'appareil ne doit pas être exposé à des températures
°C (comme dans une voiture garée en
-- L'appareil ne doit pas être utilisé en plein soleil.
-- L'appareil ne doit pas être utilisé près d'une source de
chaleur (comme un chauffage).
-- L'appareil ne doit pas être utilisé dans un endroit
exposé à la pluie ou à l'humidité.
-- L'appareil ne doit pas être utilisé dans un
endroitpoussiéreux ou sale.
-- L'appareil ne doit pas être exposé à des vibrations
-- Vérifiez que le réservoir d'essence ne risque pas d'être
endommagé par les vis taraudeuses.
-- Il ne doit pas y avoir de faisceau de fils ou de tuyaux à
l'emplacement du montage.
-- Vérifiez que l'appareil ou les vis ne risquent pas
d'endommager ou de gêner la roue de secours, les
outils, ou tout autre objet dans le coffre.
· Pour garantir la sécurité de l'installation, utiliser
uniquement le matériel de montage fourni.
· Utilisez uniquement les vis fournies.
· Ne percez les trous de 3,5 mm de diamètre qu'après vous
être assuré qu'il n'y avait rien de l'autre côté de la surface
Installation de l'appareil
Les supports 1 offrent deux positions de montage, haut et bas.
Utilisez les trous de vissage appropriés en fonction de vos
Installazione in verticale
Als u het apparaat onder de hoedenplank of iets
dergelijks wilt installeren, let dan op de volgende
· Kies een geschikte plek waar u het apparaat horizontaal
· Vergewis u ervan dat het apparaat niet beschadigd kan
worden door bewegende onderdelen zoals een
kofferdeksel, de veren van de vijfde deur, enz.
Bei hängender Installation unter der Heckablage
usw. im Kofferraum beachten Sie folgende
· Wählen Sie den Befestigungsort sorgfältig so aus, daß das
Gerät horizontal montiert werden kann.
· Achten Sie darauf, daß das Gerät die
Heckklappendämpfer usw. nicht behindert.
Installazione in sospensione
Se l'apparecchio deve essere installato sotto il ripiano
posteriore, nel bagagliaio, ecc., assicurarsi di
prendere le seguenti precauzioni:
· Scegliere con attenzione il luogo di montaggio in modo
che l'apparecchio possa essere installato orizzontalmente.
· Assicurarsi che l'apparecchio non ostacoli il movimento
della molla della barra di torsione ecc. del coperchio del
Si l'appareil doit être installé sous la plage arrière
dans le coffre par exemple, observer les précautions
· Choisissez l'emplacement pour pouvoir installer l'appareil
· Vérifiez que l'appareil ne gêne pas les mouvements du
ressort de fermeture du coffre, entre autres.
Align with the marked position.
Auf die richtige Position stellen.
Stel aldus in op het merkteken.
Allineare con il punto segnato.
Align with the marked position.
Auf die richtige Position stellen.
Stel aldus in op het merkteken.
Allineare con il punto segnato.
· Choose the mounting location carefully, observing the
-- The unit is not subject to temperatures exceeding 55
(such as in a car parked in direct sunlight).
-- The unit is not subject to direct sunlight.
-- The unit is not near heat sources (such as heaters).
-- The unit is not exposed to rain or moisture.
-- The unit is not exposed to excessive dust or dirt.
-- The unit is not subject to excessive vibration.
-- The fuel tank should not be damaged by the tapping
-- There should be no wire harnesses or pipes under the
place where you are going to install the unit.
-- The spare tire, tools or other equipment in or under the
trunk should not be interfered with or damaged by the
screws or the unit itself.
· Be sure to use only the supplied mounting hardware for a
safe and secure installation.
· Use only the supplied screws.
· Make holes of ø 3.5 mm only after making sure there is
nothing on the other side of the mounting surface.
The brackets 1 provide two positions for mounting, high and
low. Use the appropriate screw holes according to your
When the unit is to be installed under the rear tray
etc. in the trunk compartment, make sure the
following provisions are made.
· Choose the mounting location carefully so that the unit can
be installed horizontally.
· Make sure the unit does not hinder the movement of the
torsion bar spring etc. of the trunk lid.
Align with the marked position.
Auf die richtige Position stellen.
Stel aldus in op het merkteken.
Allineare con il punto segnato.
Niet-horizontale plaatsing
Zodra de eenheid geplaatst is, draait u de ringen op
een stand waarbij de pijl zoveel mogelijk in een
Zet de linker-en de rechterring op dezelfde stand.
Installazione in posizione inclinata
Dopo aver installato l'apparecchio, allineare le
manopole ad una delle tacche in modo che la freccia
sia il più verticale possibile.
Accertarsi di allineare le manopole di sinistra e di destra
Installation in geneigter Position
Nach dem Installieren des Geräts richten Sie die
Dial-Ringe an einer der Markierungen aus, so daß
der Pfeil möglichst senkrecht steht.
Achten Sie darauf, den linken und rechten Dial-Ring an
derselben Markierung auszurichten.
Après avoir installé l'appareil, alignez le disque sur
l'un des repères afin que la flèche soit aussi proche
que possible de la position verticale.
Veillez à aligner les disques gauche et droite sur le même
After installing the unit, align the dials with one of
the marks so that the arrows are as vertical as
Be sure to align the left and right dials with the same
This section is extracted from
SERVICING NOTES
.......................................................... 2
Installation .......................................................................
Connections .....................................................................
DISASSEMBLY
......................................................... 5
MECHANISM DECK ASSEMBLY
................... 11
MECHANICAL ADJUSTMENT
.......................... 13
ELECTRICAL CHECK
.......................................... 14
6-1. Block Diagram ­ MAIN Section ­ ................................ 17
6-2. Block Diagram ­ BUS CONTROL/
POWER SUPPLY Section ­ ........................................... 18
6-3. Note for Printed Wiring Boards and
Schematic Diagrams ....................................................... 19
6-4. Printed Wiring Boards ­ LSW/RF Boards ­ ................. 20
6-5. Schematic Diagram ­ LSW/RF Boards ­ ...................... 21
6-6. Printed Wiring Board
­ MAIN Board (Component Side) ­ .............................. 22
6-7. Printed Wiring Board
­ MAIN Board (Conductor Side) ­ ................................ 23
6-8. Schematic Diagram ­ MAIN Board (1/2) ­ .................. 24
6-9. Schematic Diagram ­ MAIN Board (2/2) ­ .................. 25
6-10. Printed Wiring Boards ­ JACK/SWITCH Boards ­ ..... 26
6-11. Schematic Diagram ­ JACK/SWITCH Boards ­ ........... 26
6-12. IC Pin Function Description ........................................... 30
EXPLODED VIEWS
................................................ 33
ELECTRICAL PARTS LIST
............................... 38
---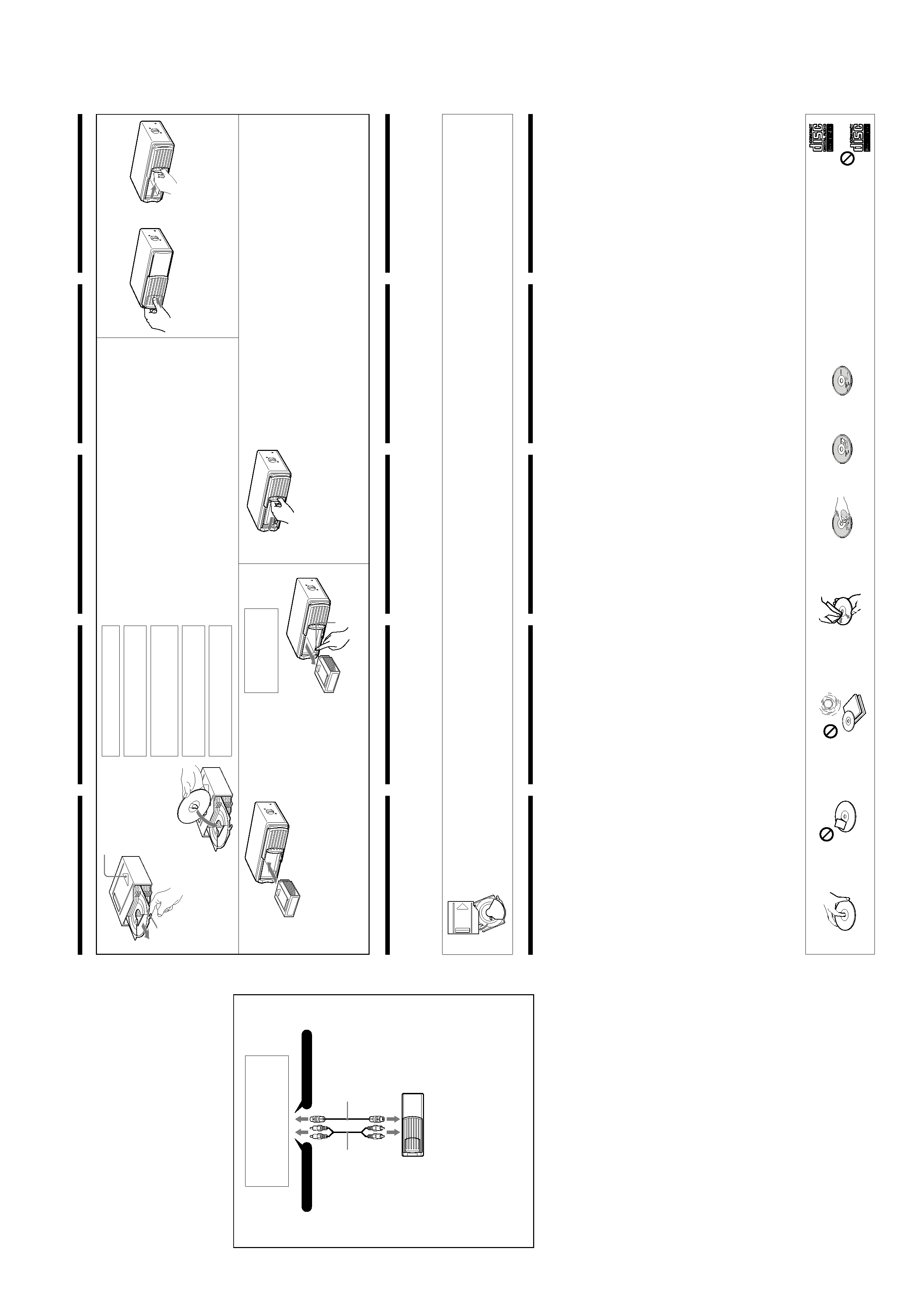 For details, refer to the Installation/Connections manual of each product.
Pour plus de dtails, consulter le manuel dinstallation/connexions de chaque produit.
Einzelheiten entnehmen Sie der Installations-/Anschlu§anleitung des betreffenden Gerts.
Zie voor nadere bijzonderheden de gebruiksaanwijzing voor installatie en aansluitingen
van de aan te sluiten apparatuur.
Per i dettagli, fare riferimento al manuale di installazione/collegamenti dellautoradio.
Sony BUS compatible car audio
Autoradio compatible BUS Sony
Mit dem BUS-System von Sony kompatible Autoanlage
Sony BUS compatibele auto-geluidsapparatuur
Autostereo compatibile con BUS Sony
For connecting two or more changers, the XA-C30 source selector (optional) is necessary.
Pour raccorder deux ou plusieurs changeurs, le sélecteur de source XA-C30 (en option) est nécessaire.
Zum Anschließen von zwei oder mehr Wechslern wird der gesondert erhältliche Signalquellenwähler
Om twee of meer wisselaars aan te sluiten is de optionele geluidsbronkiezer XA-C30 vereist.
Per collegare uno o più cambia CD, è necessario il selettore di fonte XA-C30 (opzionale).
Connection diagram/Schma de connexion/Anschlu§diagramm/
Aansluitingsschema/Schema di collegamento
· To listen to an 8 cm CD, use the separately sold Sony CD adapter
CSA-8. Be sure to always use the specified adapter, as failing to
do so may cause a malfunction of the unit. If you use any other
adapter, the unit may not operate properly. When using the
Sony CD adapter, make sure the three catches on the adapter
are firmly latched onto the 8 cm CD.
· Do not insert the Sony CD adapter CSA-8 in the magazine
without a disc, malfunction may result.
· Pour écouter une disque de 8 cm, utilisez l'adaptateur Sony CSA-
8, vendu séparément, à l'exclusion de tout autre, pour éviter
tout problème de fonctionnement. Si vous utilisez un autre
adaptateur, l'appareil risque de ne pas fonctionner
correctement. Quand vous utilisez l'adaptateur CD Sony, vérifiez
que les trois griffes sont bien en prise sur le CD de 8 cm.
· Ne pas insérer d'adaptateur CD Sony CSA-8 dans le chargeur
sans disque, car cela pourrait provoquer un dysfonctionnement.
· Zum Abspielen einer 8-cm-CD wird der Sony Adapter CSA-8
(Sonderzubehör) benötigt. Verwenden Sie keinen anderen
Adapter, da es sonst zu Fehlfunktionen kommen kann. Achten
Sie darauf, daß die drei Halterungen des Adapters richtig auf
· Setzen Sie den CD-Adapter CSA-8 von Sony nicht ohne CD in das
Magazin ein, da es sonst zu Fehlfunktionen kommen kann.
10 discs, one in each tray
10 disques, un par plateau
Insgesamt 10 CDs (eine in jedem Fach)
Tien discs, in elke gleuf één
10 dischi, uno in ciascun comparto
Herausnehmen des CD-Magazins
If the disc magazine does not lock properly
Take out the magazine, and after pressing the
Z (EJECT) button, reinsert it.
Si vous ne pouvez pas fermer le chargeur de disques
Sortez le chargeur et, après avoir appuyé sur la touche
Wenn sich das CD-Magazin nicht richtig verriegeln läßt
Nehmen Sie das Magazin heraus, drücken Sie die
Z (EJECT)-Taste, und setzen Sie das Magazin dann wieder ein.
Als het disc-magazijn niet soepel op zijn plaats vastklikt
Verwijder het disc-magazijn, druk op de
Z (EJECT) toets en breng vervolgens het disc-magazijn opnieuw in.
Se il contenitore dischi non si blocca in posizione correttamente
Estrarlo e, dopo aver premuto il tasto
Use the unit with the door closed completely
Otherwise, foreign matter may enter the unit and contaminate the
lenses inside the changer.
When a disc magazine is inserted into the CD changer or the reset
button of the connected car audio is pressed, the unit will
automatically be activated and read the information on the CDs.
When the information on all the CDs in the disc magazine has been
read, the unit will automatically stop operation.
Opmerkingen betreffende het disc-magazijn
· Laat het magazijn niet achter op plaatsen waar dit blootgesteld wordt aan
vocht of aan hoge temperaturen, zoals op het dashboard van een auto of op
de hoedenplank, waar het magazijn in de volle zon staat.
· Steek niet meer dan één enkele disc in een uitsparing, anders kunnen zowel
de CD-wisselaar als de compact discs beschadigd worden.
· Laat het apparaat niet vallen en stel het niet bloot aan hevige trillingen of
Aprire facendo scorrere lo sportello
Poussez pour déverrouiller la porte
Zum Entriegeln der Klappe hier drücken
Duwen om klep te ontgrendelen
Premere per sbloccare la porta
Remarques sur le chargeur de disques
· Ne pas laisser le chargeur de disques dans un endroit très chaud ou très
humide comme sur le tableau de bord ou sur la plage arrière d'une voiture
où il serait en plein soleil.
· Ne pas insérer plus d'un disque à la fois sur le plateau, sinon le changeur et
les disques risquent d'être endommagés.
· Ne pas laisser tomber le chargeur de disques ni le cogner.
· Halten Sie das Magazin von hohen Temperaturen und Feuchtigkeit fern.
Lassen Sie es nicht auf dem Armaturenbrett, auf der Heckablage usw.
liegen, wo es direktem Sonnenlicht ausgesetzt ist.
· Versuchen Sie nicht, mehr als eine CD in ein Fach einzulegen. Andernfalls
können der Wechsler und die CDs beschädigt werden.
· Lassen Sie das Magazin nicht fallen, und schützen Sie es vor Stößen.
Note sul contenitore dischi
· Non lasciare il contenitore dischi in luoghi con temperature elevate o molto
umidi, come sul cruscotto o sul ripiano posteriore di un'auto dove il
contenitore potrebbe essere esposto alla luce solare diretta.
· Non inserire più di un disco alla volta in ciascun comparto, diversamente il
cambia CD e i dischi saranno danneggiati.
· Non lasciar cadere il contenitore dischi e non sottoporlo a urti violenti.
En principe, les plateaux ne sortent pas du chargeur. Toutefois, s'ils
sortent du chargeur, il est facile de les réinsérer.
Avec la portion découpée du plateau vous faisant face, insérer le
coin droit du plateau dans la fente, puis enfoncer le coin gauche
Ne pas insérer le plateau à l'envers ou dans le mauvais sens.
Normaal gezien steken de houders niet uit het magazijn. Als ze er toch
zouden zijn uitgetrokken, kan u ze er makkelijk weer insteken.
Met de uitsparing in de houder naar u toe gericht, brengt u de
rechterhoek van de houder in de gleuf en drukt dan de linkerhoek
erin tot u een klik hoort.
De houder niet omgekeerd of in de verkeerde richting inbrengen.
Mit der beschrifteten Seite nach oben
Con l'etichetta rivolta verso l'alto
Utilisez le magasin à disques fourni ou un magasin à disques
XA-250. Vous ne pouvez pas utiliser de magasin à disques
XA-10B avec cet appareil. L'utilisation d'un autre type de
magasin à disques risque de provoquer un dysfonctionnement.
Verwenden Sie das mitgelieferte CD-Magazin oder das CD-
Magazin XA-250. Das CD-Magazin XA-10B kann nicht
zusammen mit diesem Gerät eingesetzt werden. Wird ein
anderes als das empfohlene CD-Magazin verwendet, kann es zu
Gebruik het meegeleverde disc-magazijn of het disc-magazijn
XA-250. Het disc-magazijn XA-10B kan niet met dit toestel
worden gebruikt. Het gebruik van een ander magazijn kan
Utilizzare il contenitore dischi in dotazione o il contenitore
dischi XA-250. Il contenitore dischi XA-10B non può essere
utilizzato con questo apparecchio. Se si utilizza qualsiasi altro
contenitore, potrebbero sorgere problemi di funzionamento.
With the arrow side facing up
Avec la partie fléchée tournée vers le haut
Met het pijltje naar boven
Con il lato della freccia rivolto verso l'alto
· Voor het afspelen van een 8 cm CD-single heeft u de Sony
adapter CSA-8 (los verkrijgbaar) nodig. Gebruik uitsluitend het
voorgeschreven type adapter, aangezien anders storingen in de
werking van het apparaat kunnen ontstaan. Bij gebruik van een
ander type adapter kan het apparaat niet naar behoren
funktioneren. Zorg bij gebruik van de CSA-8 adapter dat de drie
palletjes hiervan het CD-singletje goed vasklemmen.
· Geen Sony CD-adapter CSA-8 zonder een disc in het magazijn
inbrengen, want dit kan de werking verstoren.
· Per riprodurre compact disc da 8 cm, usare l'adattatore Sony
CSA-8 in vendita separatamente. Assicurarsi di utilizzare
l'adattatore specificato onde evitare problemi di funzionamento
dell'apparecchio. L'apparecchio potrebbe non funzionare
correttamente con un adattatore diverso. Quando si usa
l'adattatore Sony, assicurarsi che i tre fermi dell'adattatore si
aggancino saldamente al compact disc da 8 cm.
· Non inserire l'adattatore CD Sony CSA-8 nel contenitore senza
un disco, diversamente l'apparecchio potrebbe non funzionare
Use the supplied disc magazine or the disc magazine XA-250.
The disc magazine XA-10B can not be used with this unit. If you
use any other magazine, it may cause a malfunction.
Utilisez cet appareil avec la fenêtre complètement fermée
Sinon, des corps étrangers pourraient pénétrer dans l'appareil et
encrasser les lentilles dans le lecteur.
Quand un chargeur de disques est inséré dans le changeur de CD ou
si la touche de réinitialisation de l'autoradio raccordé est
enclenchée, l'appareil se met automatiquement en marche et
reproduit les CD. Lorsque tous les CD du chargeur ont été
reproduits, l'appareil s'arrête automatiquement.
Verwenden Sie das Gerät nur mit vollständig geschlossener
Halten Sie die Klappe des Geräts stets geschlossen, damit keine
Fremdkörper eindringen und die Linsen im Wechsler nicht
Wenn Sie ein CD-Magazin in den CD-Wechsler einsetzen oder die
Rücksetztaste an der angeschlossenen Audio-Anlage in Ihrem Auto
drücken, schaltet sich das Gerät automatisch ein und beginnt, die
Daten auf den CDs zu lesen. Nachdem die Informationen auf allen
CDs im CD-Wechsler gelesen wurden, stoppt das Gerät automatisch.
Gebruik het toestel met volledig gesloten klep
Anders zou er stof of vuil in het apparaat terecht kunnen komen,
met als gevolg vervuilde lenzen en storingen in de werking.
Wanneer een disc-magazijn in de compact disc-wisselaar wordt
geplaatst of de terugsteltoets van de uitleesvenster-eenheid wordt
ingedrukt, zal het apparaat automatisch ingeschakeld worden,
waarna de informatie van de compact discs gelezen wordt. Nadat
alle informatie gelezen is, zal het apparaat weer automatisch in de
stopstand komen te staan.
Utilizzare l'apparecchio con lo sportello chiuso
Diversamente oggetti estranei potrebbero penetrare
nell'apparecchio e contaminare le lenti all'interno del cambia CD.
Quando un contenitore dischi è inserito nel cambia CD o viene
premuto il pulsante di azzeramento dell'autostereo collegato,
l'apparecchio si accende automaticamente e legge le informazioni
dei dischi. Quando le informazioni di tutti i dischi inseriti nel
contenitore dischi sono state lette, l'apparecchio si ferma
Notes on the disc magazine
· Do not leave the disc magazine in locations with high temperatures and high
humidity such as on a car dashboard or in the rear window where the disc
magazine will be subjected to direct sunlight.
· Do not place more than one disc at a time onto one tray, otherwise the
changer and the discs may be damaged.
· Do not drop the disc magazine or subject it to a violent shock.
Normally, the trays will not come out of the magazine. However, if
they are pulled out of the magazine, it is easy to re-insert them.
With the cut-away portion of the tray facing you, insert the right
corner of the tray in the slot, then push in the left corner until it
Do not insert the tray upside down or in the wrong direction.
Wenn sich ein Fach gelst hat
Normalerweise können sich die Fächer nicht vom Magazin lösen.
Werden sie jedoch aus dem Magazin herausgezogen, lassen sie sich
mühelos wieder anbringen.
Hierbei muß die Aussparung des Fachs auf Sie weisen. Setzen Sie
dann die rechte Ecke des Fachs in den Einschub ein, und drücken
Sie danach die linke Ecke an, bis das Fach mit einem Klicken
Versuchen Sie nicht, das Fach mit der falschen Seite nach oben oder
verkehrt herum einzusetzen.
Quando il comparto fuoriesce
Di solito, i comparti non fuoriescono dal contenitore; se ciò dovesse
avvenire, è facile reinserirli.
Con la parte del comparto tagliata rivolta in avanti, inserire
l'angolo destro del comparto nell'alloggiamento, quindi inserire
l'angolo sinistro fino a farlo scattare in posizione.
Non inserire il vassoio capovolto o nella direzione errata.
Hinweise zum Umgang mit CDs
Eine verschmutzte oder beschädigte CD kann Tonaussetzer verursachen. Um
optimale Klangqualität sicherzustellen, beachten Sie folgendes:
· Damit die CD sauber bleibt, fassen Sie sie immer am Rand an, und
berühren Sie nicht die Seite ohne Beschriftung. (Abb.
· Kleben Sie weder Papier noch Klebeband auf die CD. (Abb.
· Bewahren Sie CDs in ihrer Hülle oder in den CD-Magazinen auf, wenn
sie nicht abgespielt werden.
Schützen Sie die CD vor Sonnenlicht und Wärmequellen wie
Warmluftauslässen. Lassen Sie sie nicht in einem Auto liegen, das direkt
in der Sonne geparkt ist, da die Temperatur im Wageninneren sehr hoch
· Vor dem Abspielen reinigen Sie die CD mit einem im Handel erhältlichen
Reinigungstuch, indem Sie in Pfeilrichtung über die Oberfläche wischen.
Lösungsmittel wie Benzin, Verdünner sowie für Analogplatten bestimmte
Reinigungsmittel und Antistatiksprays dürfen nicht verwendet werden.
· CDs mit außergewöhnlichen Formen (z. B. herzförmige oder achteckige
CDs) können mit diesem Gerät nicht wiedergegeben werden. Falls Sie es
doch versuchen, kann das Gerät beschädigt werden. Verwenden Sie
Wenn Sie die unten aufgeführten CDs verwenden, können
Klebstoffrückstände dazu führen, daß die CD sich nicht mehr dreht, oder
Fehlfunktionen oder Schäden an der CD verursachen.
Verwenden Sie keine gebraucht gekauften oder Leih-CDs mit klebrigen
Rückständen auf der Oberfläche (z. B. von abgelösten Aufklebern, von Tinte
oder von Klebstoff, der unter den Aufklebern hervorquillt).
· Klebstoffrückstände. Tinte klebt. (Abb.
Verwenden Sie keine Leih-CDs mit alten Etiketten, die sich abzulösen
· Aufkleber, die sich zu lösen beginnen und Klebstoffrückstände
Verwenden Sie keine CDs, an denen Etiketten oder Aufkleber angebracht
· Angebrachte Etiketten. (Abb.
· Mit diesem Gerät können Sie CD-Rs (beschreibbare CDs) wiedergeben
lassen, die für den Einsatz als Tondatenträger konzipiert sind. (Abb.
· Je nach dem Aufnahmegerät, mit dem die CD-R bespielt wurde, oder
dem Zustand der CD-R selbst können einige CD-Rs mit diesem Gerät
möglicherweise nicht wiedergegeben werden.
· Eine noch nicht abgeschlossene CD-R kann nicht wiedergegeben
Damit eine bespielte CD-R auf einem Audio-CD-Player wiedergegeben werden
kann, ist ein spezieller Prozeß erforderlich.
Opmerkingen bij het omgaan met discs
Bij het afspelen van een vuile of beschadigde disc kan het geluid regelmatig
wegvallen. Voor het verzekeren van een goede geluidsweergave dient u als
volgt met discs om te gaan.
· Pak een compact disc altijd bij de rand vast, houd hem proper en raak
het oppervlak (behalve het label) niet aan. (afb.
· Plak geen papier of plakband op een compact disc. (afb.
· Bewaar uw discs in hun doosje of disc-magazijn wanneer u ze niet
Stel compact discs niet bloot aan direkt zonlicht of warmeluchtkanalen.
Laat ze niet liggen in een geparkeerde auto in de volle zon, aangezien
de temperatuur hierin bijzonder hoog kan oplopen. (afb.
· Veeg een compact disc voor het afspelen schoon, bij voorkeur met het
los verkrijgbare speciale reinigingsdoekje. Veeg licht over het oppervlak
van de compact disc, van het midden naar de rand. (afb.
Gebruik voor het reinigen geen oplosmiddelen als benzine of thinner, noch
de in de handel verkrijgbare vloeistoffen of antistatische spray voor het
reinigen van konventionele grammofoonplaten.
· Discs met speciale vormen (hartvormige discs, achthoekige discs enz.)
kunnen niet met dit toestel worden afgespeeld. Indien u dat toch doet,
kan het toestel worden beschadigd. Gebruik geen dergelijke discs.
Indien u de discs behandelt zoals hieronder beschreven, kunnen kleverige
resten de disc doen stoppen waardoor het toestel defect of uw discs
Gebruik geen gebruikte of gehuurde CD's met kleverig oppervlak
(bijvoorbeeld afkomstig van stickers of inkt of lijm die van onder de stickers
· Lijmresten. Kleverige inkt. (afb.
Gebruik geen gehuurde CD's met oude labels die loskomen.
· Stickers die loskomen laten kleverige resten achter.
Gebruik geen discs waarop stickers zijn gekleefd.
· Vastgekleefde labels. (afb.
Opmerkingen bij CD-R discs
· Audio CD-R's (opneembare CD's) kunnen met dit toestel worden
· Sommige CD-R's (afhankelijk van de opname-apparatuur of de staat van
de disc) kunnen niet met dit toestel worden afgespeeld.
· U kunt geen CD-R afspelen die niet is gefinaliseerd*.
Proces dat nodig is om een opgenomen CD-R disc af te spelen met een CD-
Note sulla manipolazione dei dischi
Un disco sporco o difettoso può causare cadute di suono durante la
riproduzione. Per poter ascoltare un suono ottimale, trattare i dischi come
· Prendere i dischi per il bordo e, per tenerli puliti, non toccare la
superficie senza etichetta. (fig.
· Non attaccare carta o nastro adesivo sul disco. (fig.
· Quando non vengono utilizzati, conservare i dischi nelle apposite
Non esporre i dischi alla luce solare diretta o a fonti di calore come
condotti di aria calda. Non lasciarli in veicoli parcheggiati al sole dove
può verificarsi un considerevole aumento della temperatura. (fig.
· Prima della riproduzione, pulire i dischi con un panno di pulizia
opzionale. Pulire i dischi nella direzione indicata dalle frecce. (fig.
Non usare solventi come benzina, acquaragia, pulitori reperibili in
commercio o spray antistatici per dischi analogici.
· Non è possibile riprodurre CD con forme particolari, quali CD a forma di
cuore, ottagonali e così via, con il presente apparecchio. Non utilizzare
tali dischi onde evitare di danneggiare l'apparecchio.
I residui di colla presenti sui dischi indicati di seguito potrebbero causare
l'arresto del disco stesso e problemi di funzionamento dell'apparecchio o
danneggiare i dischi stessi.
Non utilizzare dischi di seconda mano o presi a noleggio che presentano
residui di colla sulla superficie, ad esempio residui di etichette o inchiostro
rimossi oppure residui di colla che fuoriescono dalle etichette.
· Residui di colla. Residui di inchiostro. (fig.
Non utilizzare dischi presi a noleggio con etichette vecchie che cominciano a
· Etichette che cominciano a staccarsi, lasciando residui di colla. (fig.
Non utilizzare dischi su cui siano applicati etichette o adesivi.
· Etichette applicate. (fig.
· Con il presente apparecchio è possibile riprodurre CD-R (CD registrabili)
progettati per l'utilizzo audio. (fig.
· In base alle condizioni dell'apparecchio di registrazione o del CD-R
stesso, alcuni CD-R potrebbero non essere riprodotti su questo
· Non è possibile riprodurre CD-R non finalizzati*.
Operazione necessaria per la riproduzione di un CD-R registrato su lettore CD
Remarques sur la manipulation des disques
Un disque sale ou défectueux peut provoquer des pertes de son à la lecture.
Manipuler le disque comme suit pour obtenir un son optimal.
· Manipuler le disque par son arête et le maintenir dans un état propre,
ne pas le toucher sur la surface non imprimée. (fig.
· Ne pas coller de papier ou de bande adhésive sur le disque. (fig.
· Conservez vos disques dans leurs boîtiers ou des pochettes de
rangement lorsqu'ils ne sont pas utilisés.
Ne pas laisser les disques en plein soleil ou près d'une source de chaleur
comme des conduits d'air chaud. Ne pas laisser les disques dans une
voiture garée en plein soleil car la température de l'habitacle risque
d'augmenter considérablement. (fig.
· Avant la lecture, essuyer les disques avec un chiffon de nettoyage en
option. Essuyer chaque disque dans le sens des flèches. (fig.
Ne pas utiliser de solvants tels que de la benzine, du diluant, des produits de
nettoyage vendus dans le commerce ou de vaporisateurs anti-statiques
destinés aux disques analogiques.
· Il n'est pas possible d'utiliser les disques de formes spéciales (en forme
de coeur ou octogonaux, etc.) avec cet appareil. Vous risquez
d'endommager l'appareil. N'essayez jamais de lire ces disques.
Remarques sur les disques
Si vous utilisez les disques décrits ci-dessous, le résidu adhésif risque de
provoquer l'arrêt de la rotation du disque et d'entraîner un
dysfonctionnement ou d'endommager vos disques.
N'utilisez pas de CD de seconde main ou de location qui présentent des
résidus adhésifs à la surface (par exemple d'étiquettes décollées ou d'encre, de
colle dépassant de l'étiquette).
· Résidus de colle. L'encre colle. (fig.
N'utilisez pas de CD de location avec d'anciennes étiquettes qui
commencent à se décoller.
· Les étiquettes qui commencent à se décoller laissent des résidus
N'utilisez pas vos disques avec des étiquettes ou des autocollants apposés
· Les étiquettes sont fixées. (fig.
Remarques sur les disques CD-R
· Vous pouvez écouter avec cet appareil des CD-R (CD enregistrables)
conçus pour une utilisation audio. (fig.
· Certains CD-R (en fonction des conditions de l'équipement
d'enregistrement ou du disque) risquent de ne pas être lus avec cet
· Vous ne pouvez pas lire de disques CD-R non finalisés*.
Un processus nécessaire à la lecture des disques CD-R enregistrés sur le lecteur
A dirty or defective disc may cause sound drop-outs during playback. To
enjoy optimum sound, handle the disc as follows.
· Handle the disc by its edge, and to keep the disc clean, do not touch the
· Do not stick paper or tape on the disc. (fig.
· Keep your discs in their cases or disc magazines when not in use.
Do not expose discs to direct sunlight or heat sources such as hot air-
ducts. Do not leave discs in a car parked in direct sunlight where there
can be a considerable rise in the temperature inside the car. (fig.
· Before playing, clean the discs with an optional cleaning cloth. Wipe
each disc in the direction of the arrows. (fig.
Do not use solvents such as benzine, thinner, commercially available
cleaners or antistatic spray intended for analog discs.
· Discs with special shapes (heart-shaped discs, octagonal discs etc.)
cannot be played on this unit. Attempting to do so may damage the
unit. Do not use such discs.
If you use the discs explained below, the sticky residue can cause the disc to
stop spinning and may cause malfunction or ruin your discs.
Do not use second-hand or rental CDs that have a sticky residue on the surface
(for example from peeled-off stickers or from ink, or glue leaking from under
· There are paste residue. Ink is sticky. (fig.
Do not use rental CDs with old labels that are beginning to peel off.
· Stickers that are beginning to peel away, leaving a sticky residue.
Do not use your discs with labels or stickers attached.
· Labels are attached. (fig.
· You can play CD-Rs (recordable CDs) designed for audio use on this
· Some CD-Rs (depending on the equipment used for its recording or the
condition of the disc) may not play on this unit.
· You cannot play a CD-R that is not finalized*.
A process necessary for a recorded CD-R disc to be played on the audio CD
H
Look for this mark to distinguish CD-Rs for audio use.
Ce symbole permet de distinguer les CD-R conçus pour une utilisation audio.
Für den Einsatz als Tondatenträger konzipierte CD-Rs sind mit dieser
Markierung gekennzeichnet.
Audio CD-R's zijn hieraan te herkennen.
Ricercare questo simbolo per distinguere i CD-R per utilizzo audio.
This mark denotes that a disc is not for audio use.
Ce symbole indique qu'un disque n'est pas conçu pour une utilisation audio.
Nicht für den Einsatz als Tondatenträger geeignete CD-Rs sind mit dieser
Markierung gekennzeichnet.
Dit geeft aan dat een disc niet geschikt is voor audiotoepassingen.
Questo simbolo indica che il disco non è destinato all'utilizzo audio.
Tragen Sie danach die Seriennummer (d.h. SERIAL
NO. ) in dem reservierten Feld ein. Sie finden diese
auf einem Aufkleber, der auf dem Gertegehuse
angebracht ist, Es ist sehr wichtig, da§ Sie den
ausgefllten Gerte-Pass abschlie§end aus der
Bedienungsanleitung entfemen, falls Sie diese im
Fahrzeug aufbewahren mchten. Bitte bewahren Sie
den Gerte-Pass an einem sicheren Ort auf, er kann
im Falle eines Diebstahls zur Identifikation Ihres
Dieser Gerte-Pass dient als Eigentumsnachweis
fr Ihr caraudio-Gerte im Falle eines Diebstahls.
Wir empfehlen, den Gerte-Pass nicht im
Fahrzeug aufzubewahren, um unrechtmssigen
Seriennummer (d.h. SERIAL NO.)
To prevent injury, do not insert your hand in the CD changer.
Pour éviter toute blessure, ne pas introduire la main dans le changeur de CD.
Um Verletzungen zu vermeiden, greifen Sie mit der Hand nicht in den CD-Wechsler.
Steek uw hand niet in de CD-wisselaar om verwondingen te voorkomen.
Per evitare danni alla persona, non inserire le mani nel cambia CD.
---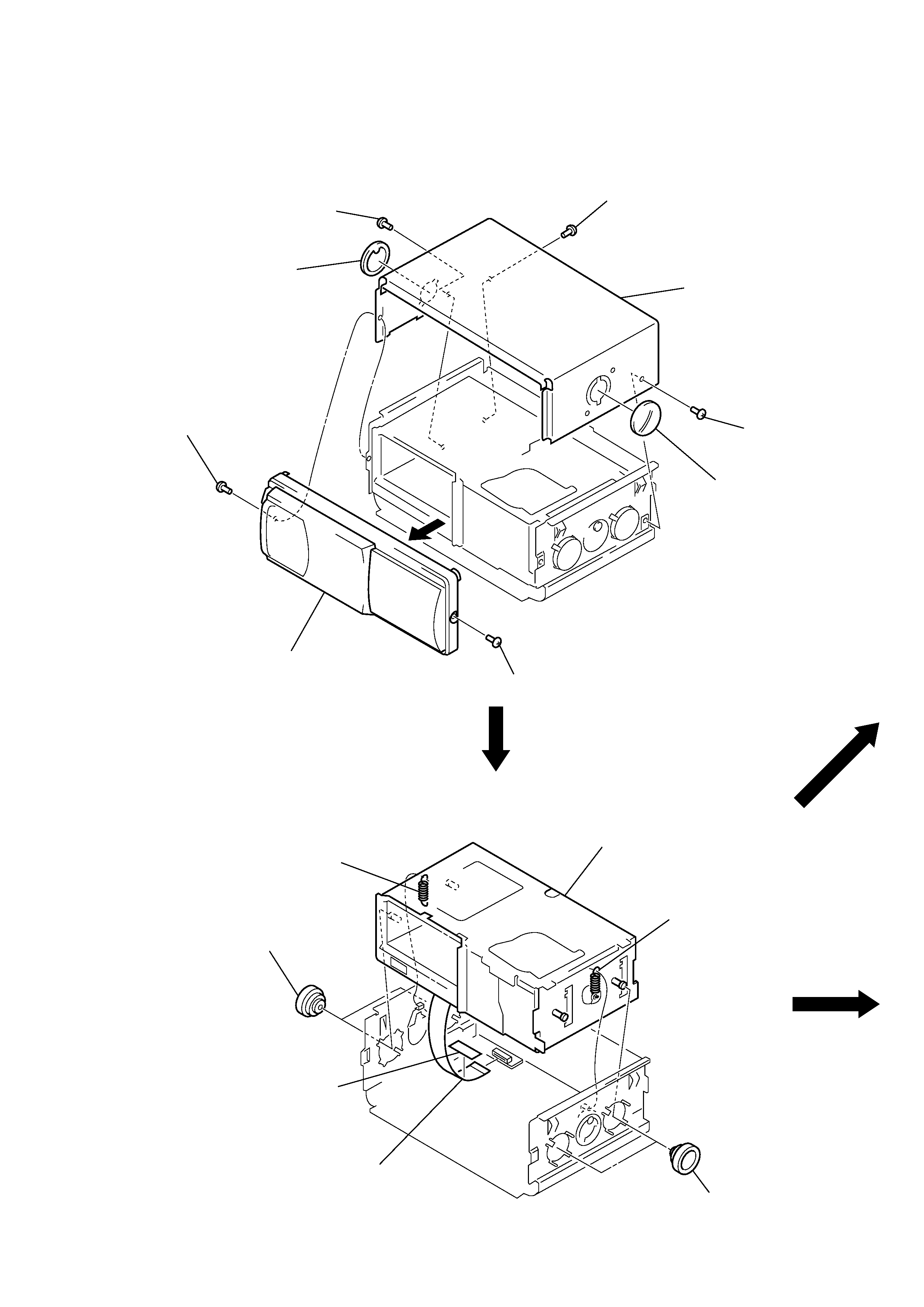 CASE (UPPER. T), FRONT PANEL ASSY
Note: Follow the disassembly procedure in the numerical order given.
MECHANISM DECK (MG-251A-137)
mechanism deck (MG-251A-137)
---