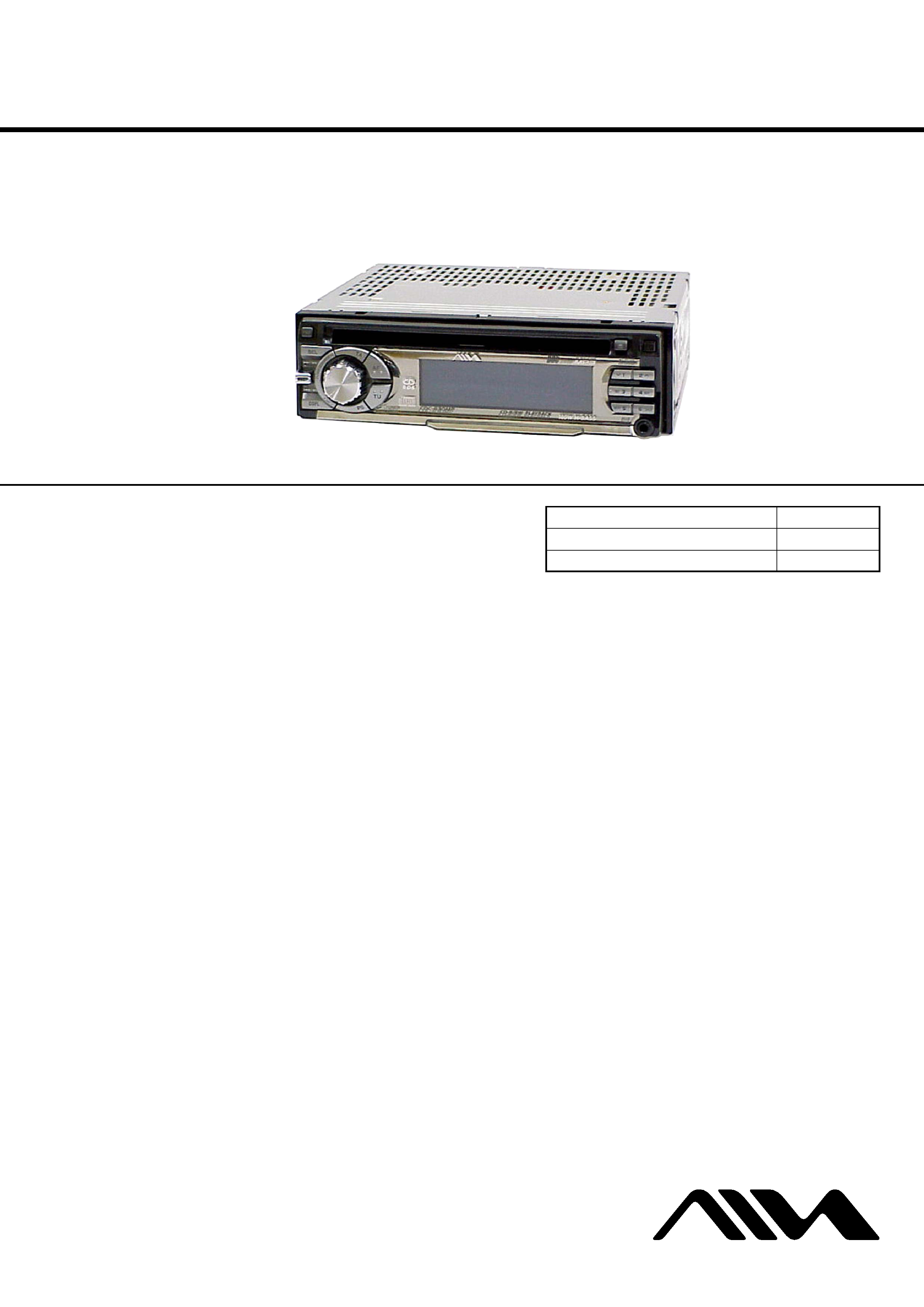 Model Name Using Similar Mechanism
Frequency Range: 87.5 MHz ­ 108 MHz
Intermediate frequency: 10.7 MHz (CDC-R30MP)
Usable Sensitivity: 12.7 dBf
50 dB Quieting Sensitivity: 17.2 dBf
Frequency Response: 30 Hz ­ 15,000 Hz
S/N Ratio: 67 dB (CDC-R30MP)
Stereo Separation: 35 dB at 1 kHz
Alternate Channel Selectivity: 98 dB
Frequency Range: 530 kHz ­ 1,710 kHz
Usable Sensitivity: 30 µV (30 dB)
Frequency Range: 531 kHz ­ 1,602 kHz
Intermediate frequency: 10.71 MHz/450 kHz
Usable Sensitivity: 30 µV (30 dB)
Frequency Range: 144 kHz ­ 288 kHz (1 kHz/9 kHz step)
Intermediate frequency: 10.71 MHz/450 kHz
Usable Sensitivity: 30 µV (30 dB)
Frequency Response: 17 Hz ­ 20 kHz +0/­3 dB
Dynamic Range: More than 92 dB
Channel Separation: More than 60 dB
S/N Ratio: More than 90 dB
Wow/Flutter: Unmeasurable
MP3 Decoding: MPEG 1 Audio Layer 3
Input sensitivity (load impedance) AUX: 300 mV (10 k
· The CD section have no adjustment.
Published by Sony Engineering Corporation
­ Continued on next page ­
FM/AM COMPACT DISC PLAYER
FM/MW/LW COMPACT DISC PLAYER
---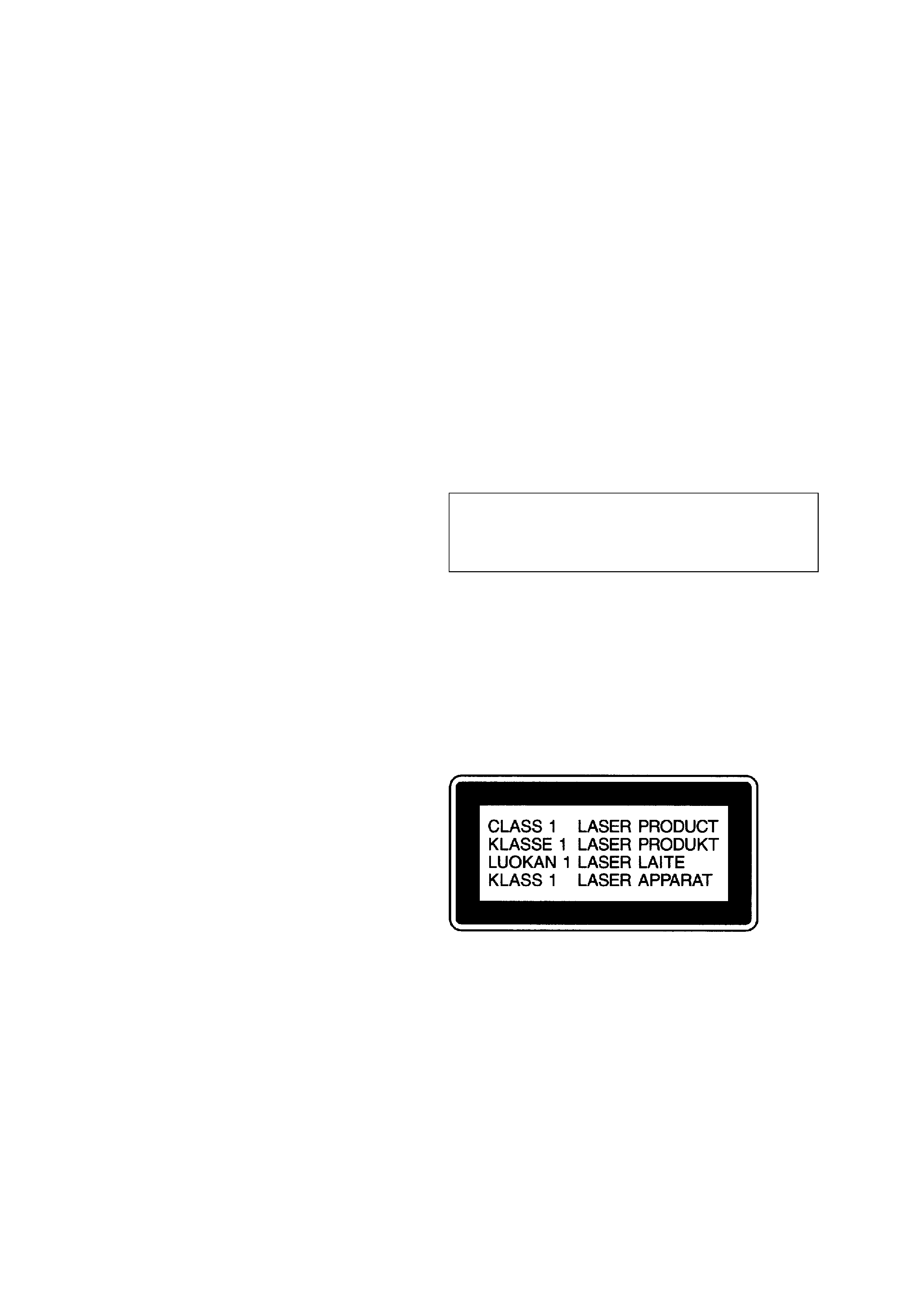 SAFETY-RELATED COMPONENT WARNING!!
COMPONENTS IDENTIFIED BY MARK 0 OR DOTTED LINE
WITH MARK 0 ON THE SCHEMATIC DIAGRAMS AND IN
THE PARTS LIST ARE CRITICAL TO SAFE OPERATION.
REPLACE THESE COMPONENTS WITH SONY PARTS WHOSE
PART NUMBERS APPEAR AS SHOWN IN THIS MANUAL OR
IN SUPPLEMENTS PUBLISHED BY SONY.
Power-Supply Voltage: 14.4 V (11 to 16 V allowable),
Tone Control: Bass ±10 dB at 100 Hz,
Preamp Output Voltage (load impedance): 2.2 V (10 k
× 2
1/8
(H) × 6
1/8
(D) inches)
Supplied Accessory: Carrying case (1)
Dimensions: Approx. 33 (W)
× 3
3/8
(H) ×
5/16
(D) inches)
Weight: Approx. 20 g (0.7 oz.) (including battery)
· Specifications and external appearance are subject
to change without notice due to product improvement.
NOTES ON HANDLING THE OPTICAL PICK-UP BLOCK
The laser diode in the optical pick-up block may suffer electrostatic
breakdown because of the potential difference generated by the
charged electrostatic load, etc. on clothing and the human body.
During repair, pay attention to electrostatic breakdown and also use
the procedure in the printed matter which is included in the repair
The flexible board is easily damaged and should be handled with
NOTES ON LASER DIODE EMISSION CHECK
The laser beam on this model is concentrated so as to be focused on
the disc reflective surface by the objective lens in the optical pick-
up block. Therefore, when checking the laser diode emission, ob-
serve from more than 30 cm away from the objective lens.
Notes on Chip Component Replacement
· Never reuse a disconnected chip component.
· Notice that the minus side of a tantalum capacitor may be dam-
Use of controls or adjustments or performance of procedures other
than those specified herein may result in hazardous radiation
This compact disc player is classified as a CLASS 1 LASER
product. The CLASS 1 LASER PRODUCT label is located on the
Use of controls or adjustments or performance of procedures
other than those specified herein may result in hazardous
ATTENTION AU COMPOSANT AYANT RAPPORT
LES COMPOSANTS IDENTIFIÉS PAR UNE MARQUE 0 SUR LES
DIAGRAMMES SCHÉMATIQUES ET LA LISTE DES PIÈCES
SONT CRITIQUES POUR LA SÉCURITÉ DE FONCTIONNEMENT.
NE REMPLACER CES COMPOSANTS QUE PAR DES PIÈCES
SONY DONT LES NUMÉROS SONT DONNÉS DANS CE MANUEL
OU DANS LES SUPPLÉMENTS PUBLIÉS PAR SONY.
---

Connections (CDC-X30MP) ................................................... 4
Connections (CDC-R30MP) ................................................... 5
2-1. Sub Panel Assy .................................................................... 8
2-2. CD Mechanism Block ......................................................... 8
2-3. Main Board Section ............................................................ 9
2-4. Main Board ......................................................................... 9
2-5. Heat Sink (CT) .................................................................. 10
2-6. Sub Board .......................................................................... 10
2-7. Servo Board ....................................................................... 11
2-8. Floating Block Assy .......................................................... 11
2-9. Lever Assy (CD Up Holder CNF) ..................................... 12
2-10. Lever (CD Roller) Sub Assy ............................................. 12
2-11. Lever Assy (CD Holder) ................................................... 13
2-12. Motor (Sled) Sub Assy ...................................................... 13
2-13. Pick-up Sub Assy .............................................................. 14
3. ELECTRICAL ADJUSTMENT
.................................... 15
4-1. IC Pin Descriptions ........................................................... 16
4-2. Block Diagram ­CD Section­ ........................................... 23
4-3. Block Diagram ­Main Section­ ........................................ 24
4-4. Block Diagram ­Front Section­ ........................................ 25
4-5. Circuit Boards Location .................................................... 25
4-6. Printed Wiring Boards ­CD Mechanism Section­ ............ 26
4-7. Schematic Diagram ­CD Mechanism Section (1/2)­ ....... 28
4-8. Schematic Diagram ­CD Mechanism Section (2/2)­ ....... 29
4-9. Printed Wiring Board ­Main Section­ .............................. 30
4-10. Schematic Diagram ­Main Section (1/2)­ ........................ 31
4-11. Schematic Diagram ­Main Section (2/2)­ ........................ 32
4-12. Printed Wiring Boards ­Front Section­ ............................ 33
4-13. Schematic Diagram ­Front Section­ ................................ 34
4-14. IC Block Diagrams ............................................................ 35
5-1. Chassis Section ................................................................. 38
5-2. Front panel Section ........................................................... 39
5-3. CD Mechanism Section (1) ............................................... 40
5-4. CD Mechanism Section (2) ............................................... 41
6. ELECTRICAL PARTS LIST
........................................ 42
---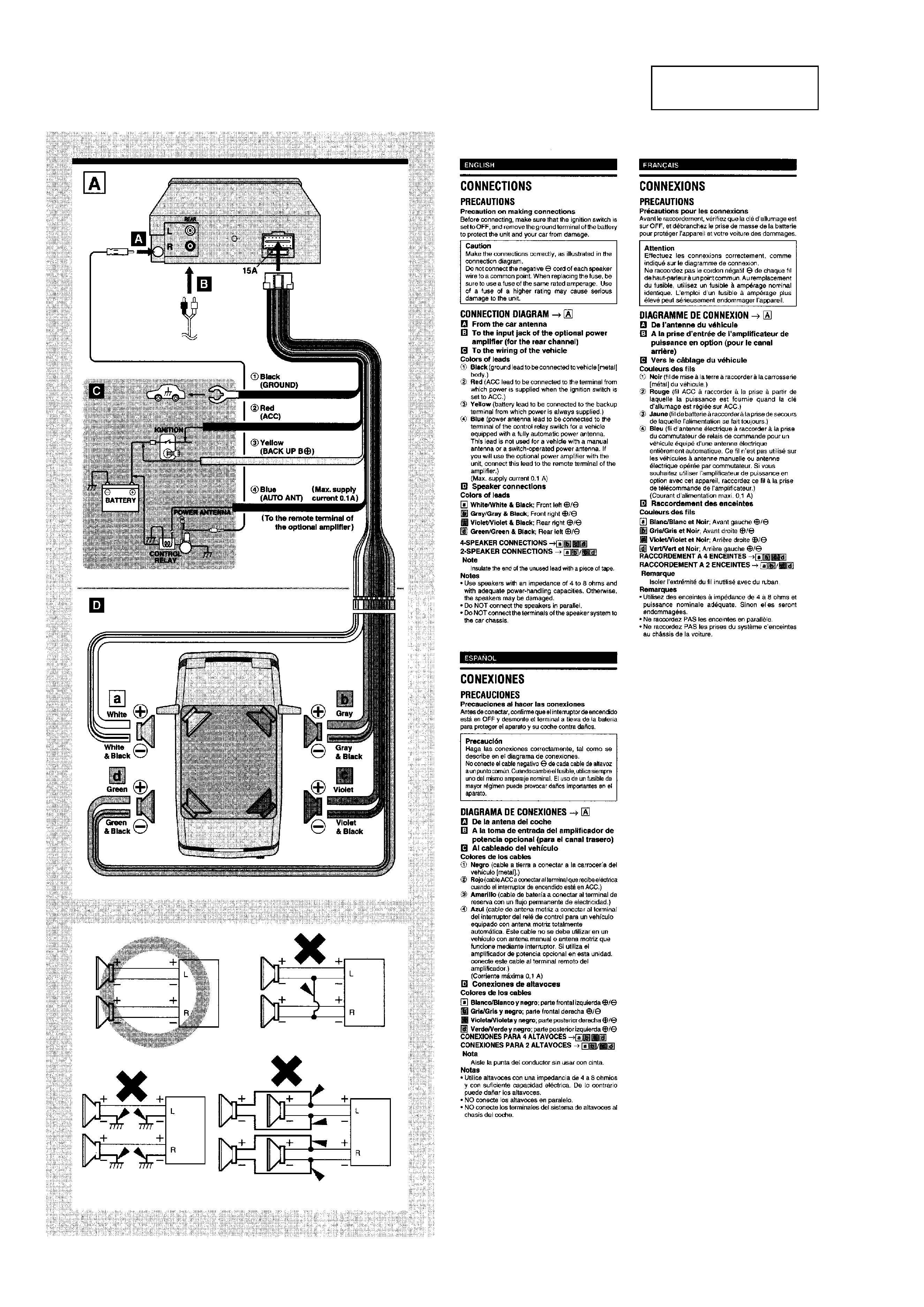 This section is extracted
---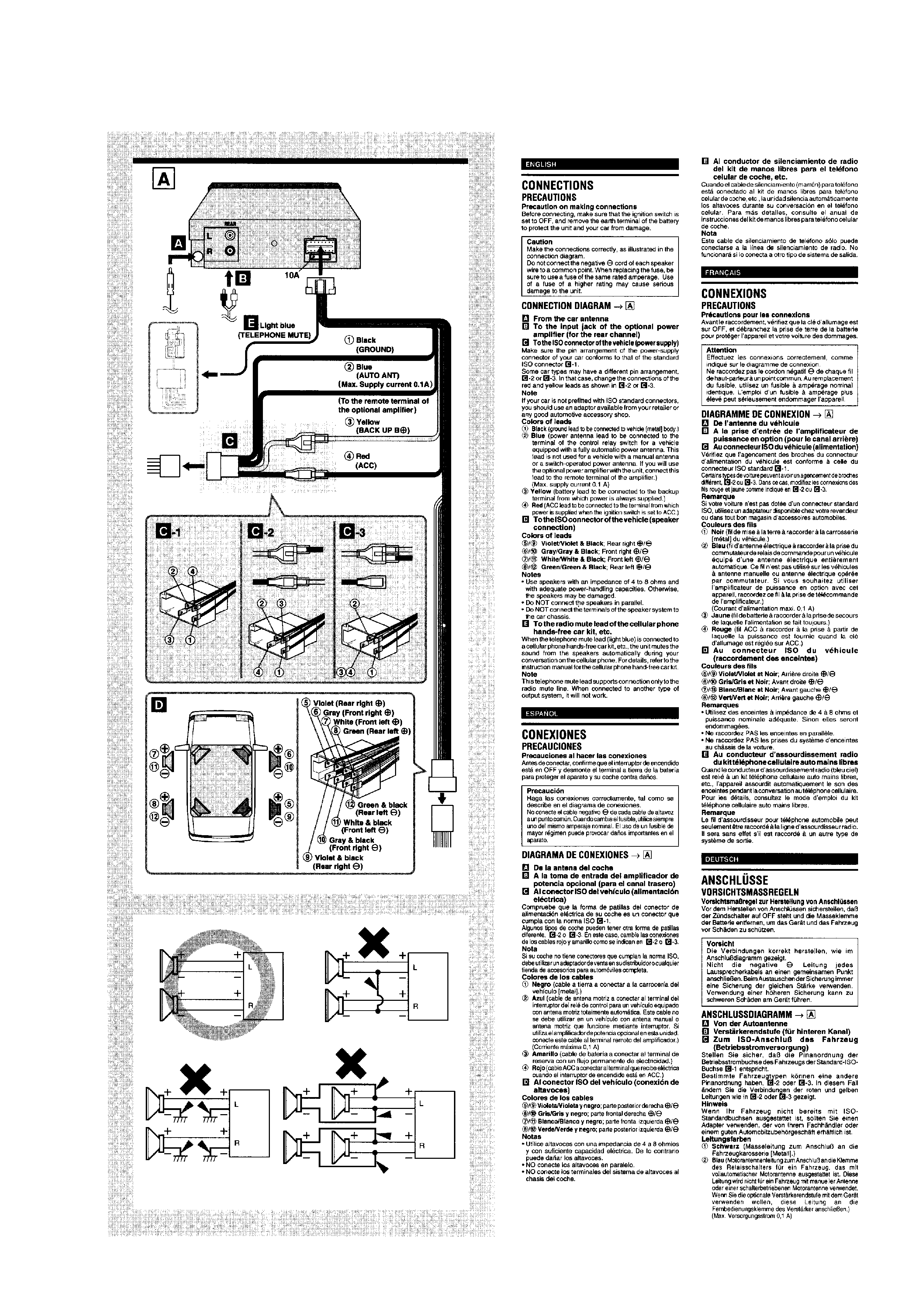 ---