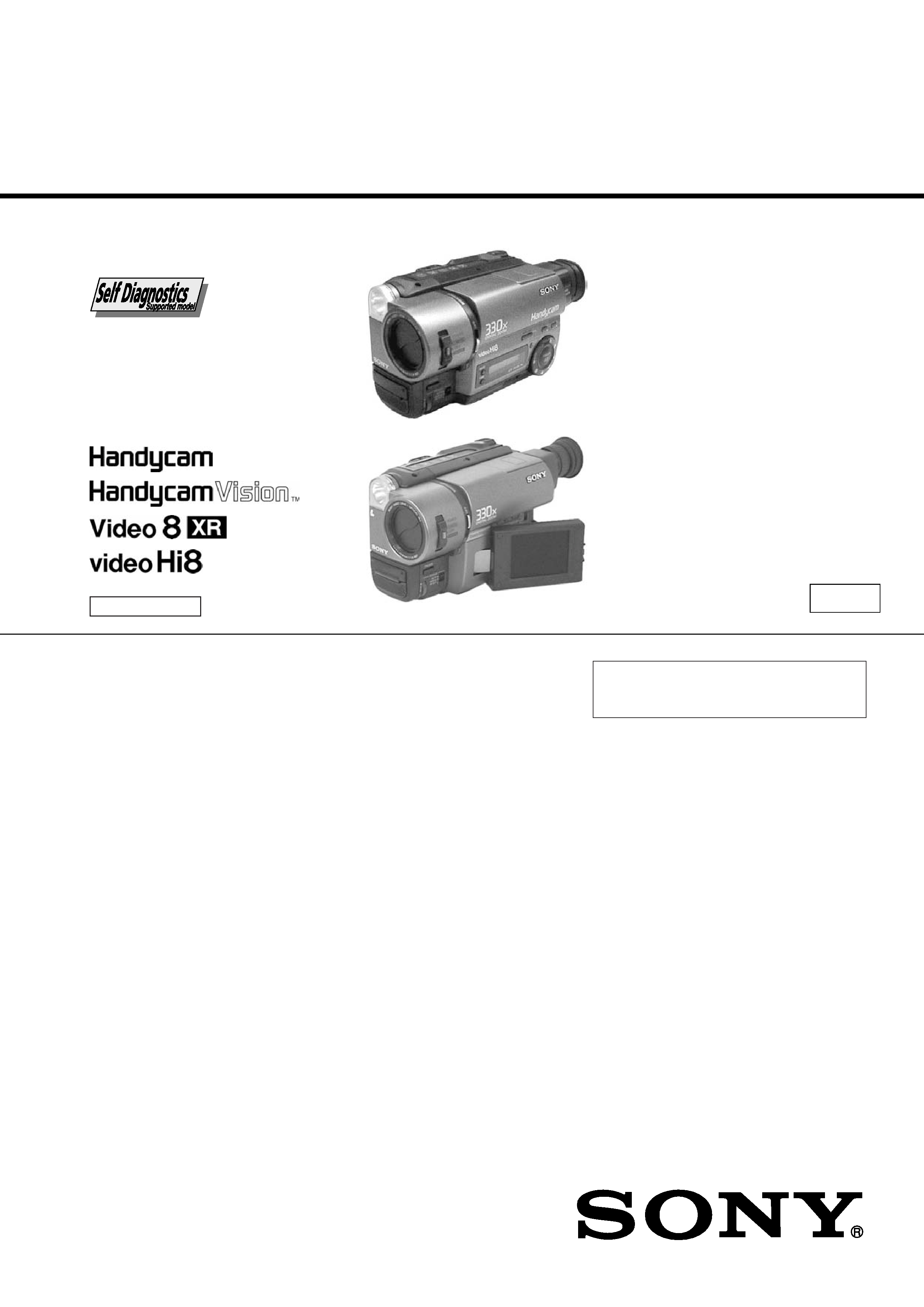 CCD-TR315/TR416/TR416PK/TR516/TR516PK/TR716
CCD-TRV16/TRV16PK/TRV36/TRV36PK/TRV43/
CCD-TRV16/TRV36/TRV43/TRV46
CCD-TR315/TR416PK/TR516PK
CCD-TRV16/TRV16PK/TRV36PK/
-- Continued on next page --
Helical scanning FM system
NTSC color, EIA standards
8mm video format cassette
CCD-TRV36/TRV36PK/TRV43/TRV46/
Recording / Playback time
(using 120 min. cassette)
(using 120 min. cassette)
1/4 inch CCD (Charge Coupled Device)
CCD-TR315/TR416/TR416PK/TR516/
TRV36PK : Approx. 270,000 pixels
(Effective : approx 250,000 pixels)
CCD-TRV34/TRV46/TRV46PK :
(Effective : approx 200,000 pixels)
CCD-TR315/TRV series : Monochrome
Filter diameter 1 7/16 in. (37 mm)
: 18 x (Optical), 180 x (Digital)
: 18 x (Optical), 220 x (Digital)
CCD-TRV36/TRV36PK/TRV43/TRV46/
: 18 x (Optical), 330 x (Digital)
3/16 - 8 in. (4.1 - 37.8 mm)
When converted to a 35 mm still camera
CCD-TR315/TR416/TR416PK/TR516/
: 1 9/16 - 28 in. (39.4 - 709 mm)
: 1 7/8 - 33 1/2 in. (47.2 - 850 mm)
CCD-TRV36/TRV36PK/TRV43/TRV46/TRV46PK
0 lux (in NightShot mode)*
* Object invisible for the dark can be
shot with infrared lighting.
LCD screen (TRV series only)
2.5 inches measured diagonally
2 x 1 1/2 in.(50.3 x 37.4 mm)
TN LCD/TFT active matrix method
For MECHANISM ADJUSTMENTS, refer to
the "8mm Video MECHANICAL ADJUSTMENT
MANUAL VII" (9-973-801-11).
---

SAFETY-RELATED COMPONENT WARNING !!
COMPONENTS IDENTIFIED BY MARK
! ON THE SCHEMATIC DIAGRAMS AND IN THE PARTS
LIST ARE CRITICAL TO SAFE OPERATION. REPLACE THESE
COMPONENTS WITH SONY PARTS WHOSE PART NUMBERS
APPEAR AS SHOWN IN THIS MANUAL OR IN SUPPLEMENTS
1. Check the area of your repair for unsoldered or poorly-soldered
connections. Check the entire board surface for solder splashes
2. Check the interboard wiring to ensure that no wires are "pinched"
or contact high-wattage resistors.
3. Look for unauthorized replacement parts, particularly transistors,
that were installed during a previous repair. Point them out to
the customer and recommend their replacement.
4. Look for parts which, though functioning, show obvious signs
of deterioration. Point them out to the customer and recommend
5. Check the B+ voltage to see it is at the values specified.
6. Flexible Circuit board Repairing
· Keep the temperature of the soldering iron around 270°C during
· Do not touch the soldering iron on the same conductor of the
circuit board (within 3 times).
· Be careful not to apply force on the conductor when soldering
After correcting the original service problem, perform the following
safety checks before releasing the set to the customer:
ATTENTION AU COMPOSANT AYANT RAPPORT
LES COMPOSANTS IDENTIFIÉS PAR UNE MARQUE
DIAGRAMMES SCHÉMATIQUES ET LA LISTE DES PIÉCES SONT
CRITIQUES POUR LA SÉCURITÉ DE FONCTIONNEMENT. NE
REMPLACER CES COMPOSANTS QUE PAR DES PIÉCES SONY
DONT LES NUMÉROS SONT DONNÉS DANS CE MANUEL OU
DANS LES SUPPLÉMENTS PUBLIÉS PAR SONY.
Input and output connectors
Phono jack, 1 Vp-p, 75 ohms, unbalanced
Monaural, Phone jack, 327 mV
(at output impedance 47 kilohms)
impedance less than 2.2 kilohms
Earphone jack (TRV series only)
Monaural minijack (ø 3.5 mm)
Stereo mini-minijack (ø 2.5 mm)
Mini jack, 0.388mV low impedance with
2.5 to 3.0 V DC, output impedance 6.8
kilohms (ø 3.5 mm) : Monaural type
Speaker (TRV series only)
Averege power consumption(when
During camera recording using
CCD-TRV43/TRV46/TRV46PK : 3.2 W
CCD-TRV43/TRV46/TRV46PK : 2.6 W
32°FC to 104°F (C0°C to 40°C)
-4°FC to 140°F (-20°C to +60°C)
4 1/4 x 4 1/4 x 7 5/8 in.
107 x 107 x 193 mm)(w/h/d)
CCD-TR315/TR716 : 1 lb 11 oz (790 g)
TR516PK : 1 lb 11 oz (780 g)
TRV36PK : 1 lb 14 oz (870 g)
excluding the battery pack, lithium
battery, cassette and shoulder strap
including the battery pack NP-F330,
lithium battery CR2025, cassette and
DC OUT: 8.4 V, 1.5 A in operating mode
32°F to 104°F(0°C to 40°C)
-4°F to +140°F(-20°C to +60°C)
5 x 1 9/16 x 2 1/2 in. (125 x 39 x 62
mm)(w/h/d) excluding projecting parts
9.8 oz (280 g) excluding power cord
Design and specifications are subject to
Canadian model is abbreviated as CND.
Brazilian model is abbreviated as BR.
---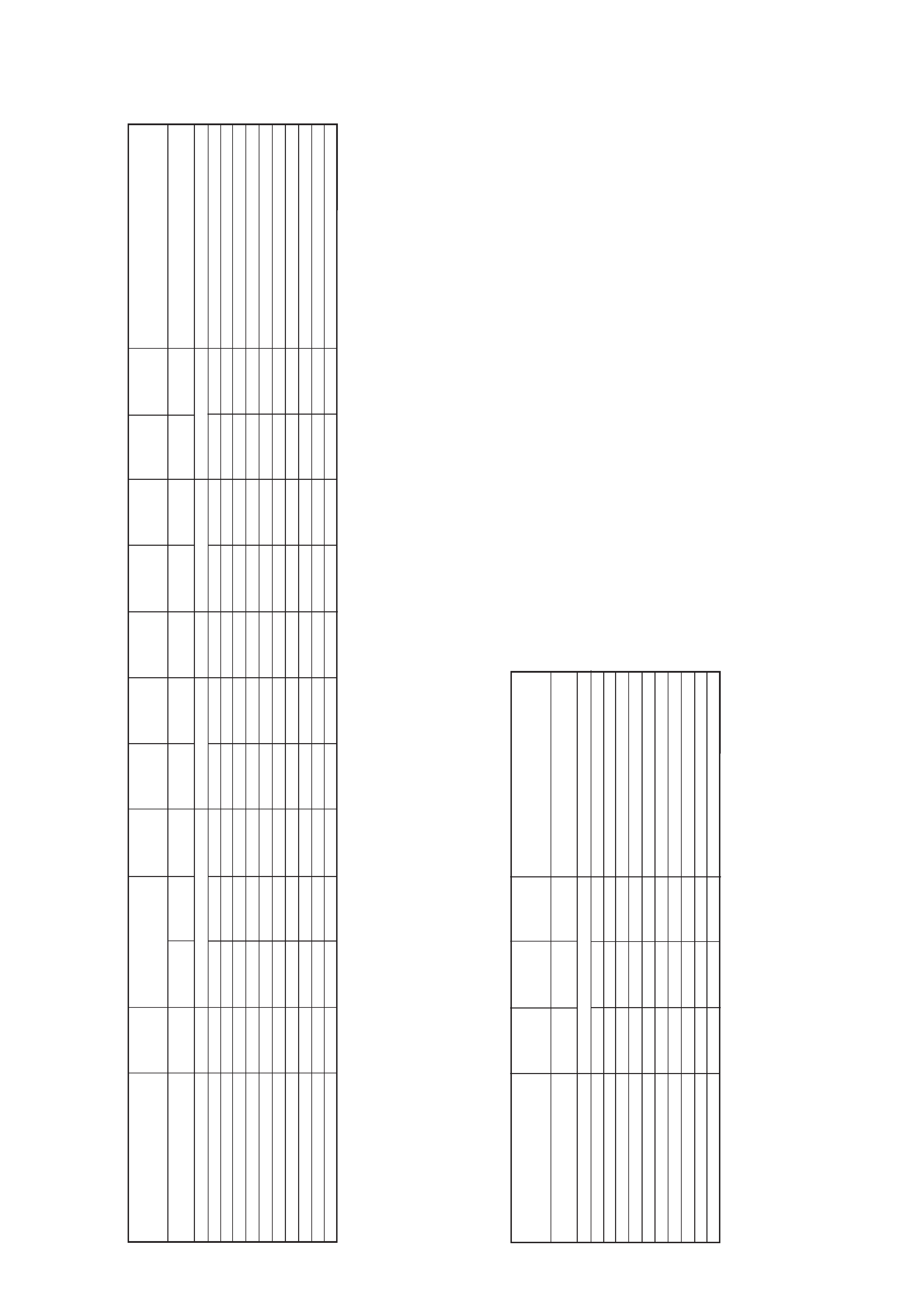 ---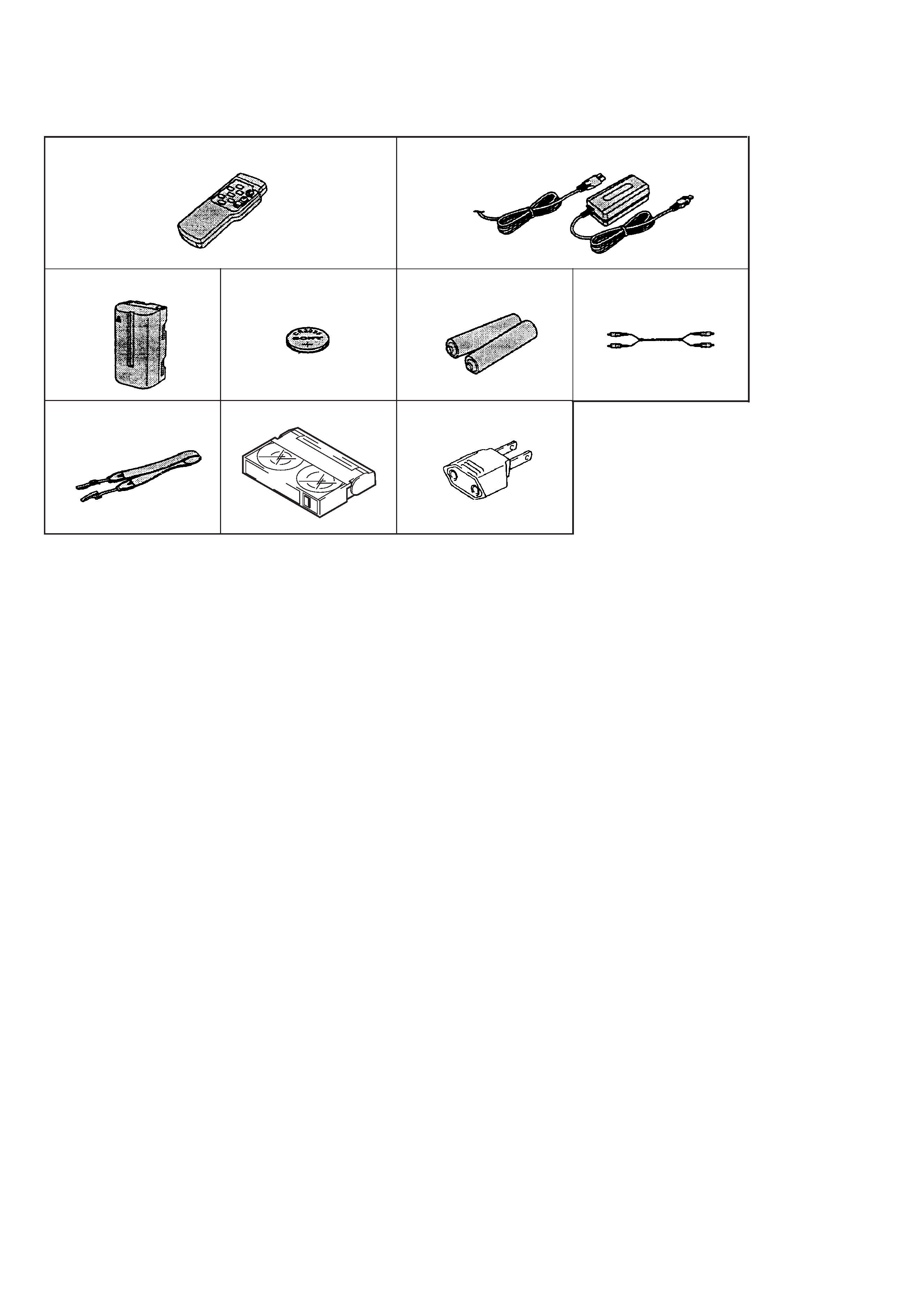 1 RMT-708 Wireless Remote Commander (1)
CCD-TRV36/TRV36PK/TRV43/TRV46/TRV46PK
2 AC-L10A/L10B/L10C AC power adaptor
3 NP-F330 Battery pack (1)
4 CR2025 Lithium Battery (1)
The lithium battery is already installed in your camcorder.
5 Size AA (R6) battery for Remote Commander
CCD-TRV36/TRV36PK/TRV43/TRV46/TRV46PK
6 A / V connecting cable (1)
Brazilian model is abbreviated as BR.
Hong Kong model is abbreviated as HK.
Taiwan model is abbreviated as TW.
CCD-TR416: US/TR516: US/TR716:US
CCD-TRV16:US/TRV36:US/TRV43:US/TRV46:US
9 2 pin conversion adaptor (1)
CCD- TR315//TR416PK/TR516PK
CCD- TRV16:E,BR,HK,TW/TRV16PK/TRV36PK/
---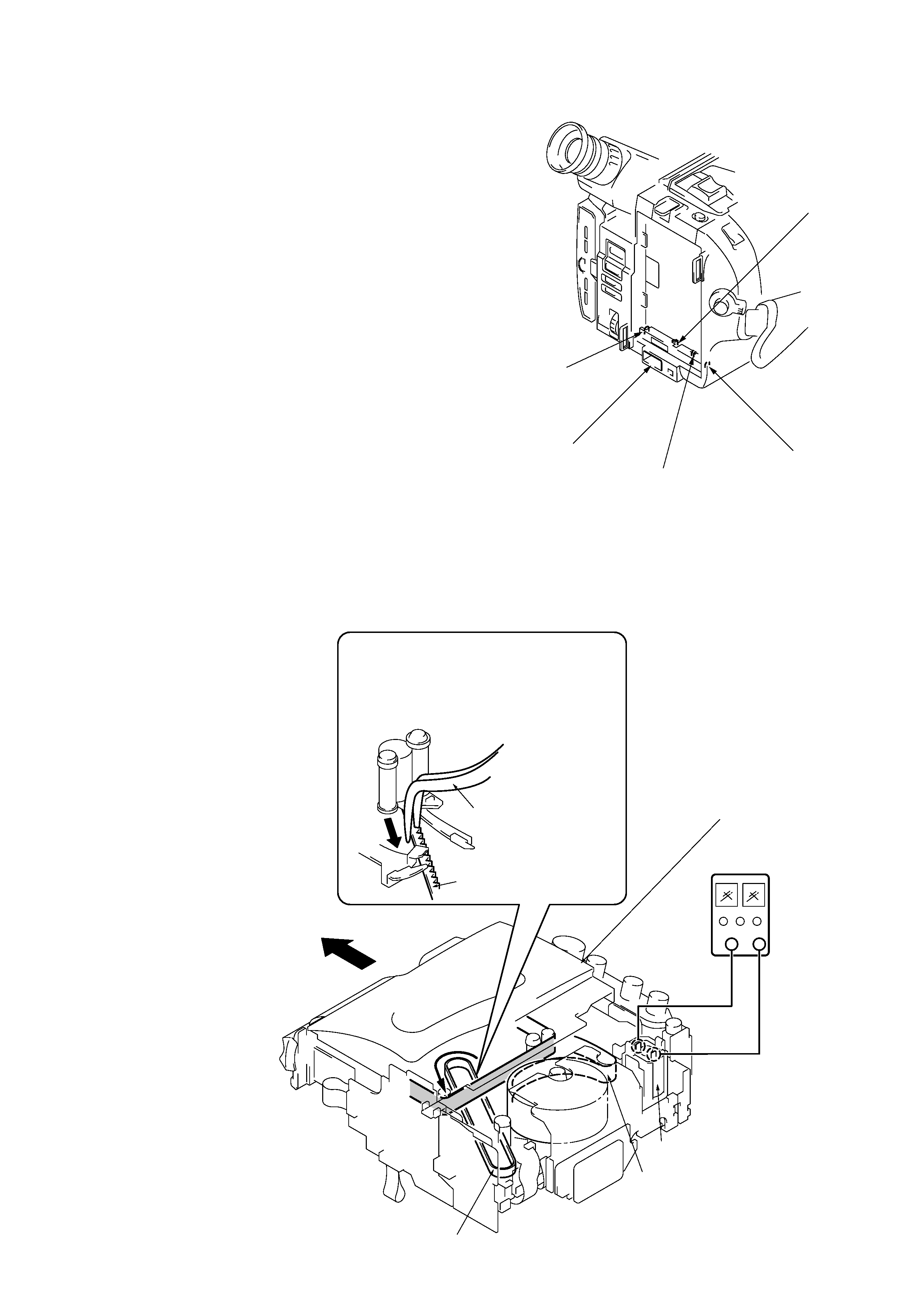 Pull the timing belt in the direction of arrow
with a pinsette while pressing the cassette lid
(take care not to damage) to adjust the
Let go your hold the cassette
lid and rise the cassette
compartment to take out a cassette.
Press the cassette lid not to rise the
Adjust the bending of a tape
1 Refer to 2-1. to remove the front panel block.
2 Refer to 2-4. to remove the cabinet (R) assembly.
3 Refer to 2-6. to remove the battery panel block.
4 Refer to 2-7. to remove the cabinet (L) block.
5 Add +5V from the DC POWER SUPPLY and unload with a
pressing the cassette lid.
2. TO TAKE OUT A CASSETTE WHEN NOT EJECT (FORCE EJECT)
1. POWER SUPPLY DURING REPAIRS
In this unit, about 10 seconds after power is supplied (8.4V) to the
battery terminal using the service power cord (J-6082-223-A), the
power is shut off so that the unit cannot operate.
This following three methods are available to prevent this. Take
note of which to use during repairs.
Connect the servicing remote commander RM-95 (J-6082-053-B)
to the LANC jack, and set the remote commander switch to the
Press the battery switch of the battery terminal using adhesive tape,
Use the DC IN terminal. (Use the AC power adaptor.)
---