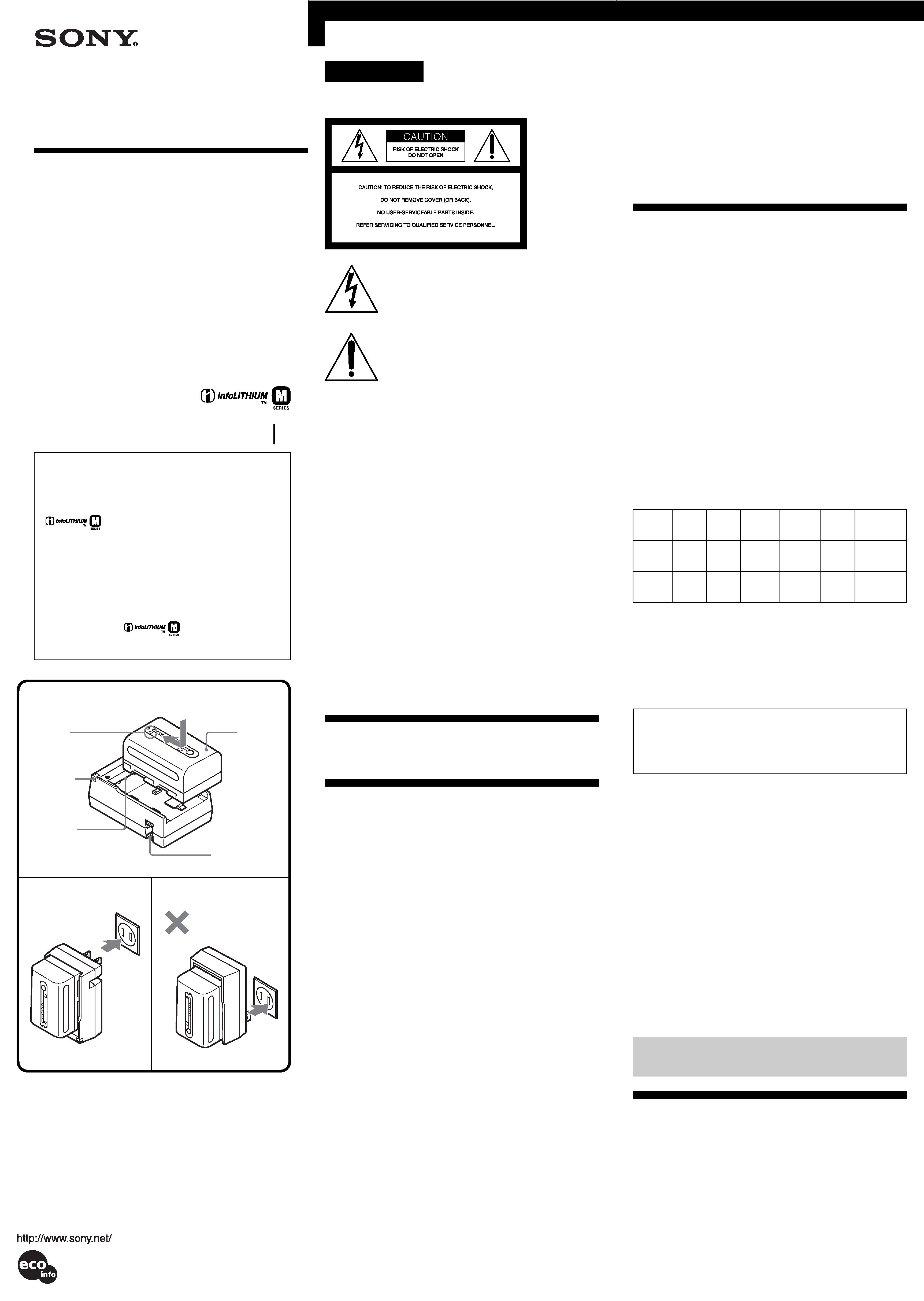 The model and serial numbers are located on the bottom.
Record the serial number in the space provided below. Refer
to these numbers whenever you call upon your Sony dealer
Printed on 100% recycled paper using
VOC (Volatile Organic Compound)-free
Sony Corporation © 2003 Printed in Japan
·The BC-TRM battery charger can only be used to charge
a lithium ion type "InfoLITHIUM" battery pack (M
·Unable to use this unit to charge a nickel cadmium type,
or nickel metal hydride type battery pack.
·"InfoLITHIUM" M series battery packs have the
·"InfoLITHIUM" is a trademark of Sony Corporation.
·Le chargeur de batterie BC-TRM ne peut être utilisé que
pour la recharge de batteries au lithium-ion de type
« InfoLITHIUM » (modèle M).
·Ce chargeur ne peut pas être utilisé pour charger les
batteries au nickel-cadmium ou aux hydrures
·Les batteries rechargeables « InfoLITHIUM » de série M
·« InfoLITHIUM » est une marque de fabrique de Sony
To prevent fire or shock hazard, do not expose the unit to
This symbol is intended to alert the user to the
presence of uninsulated "Dangerous voltage"
within the product's enclosure that may be of
sufficient magnitude to constitute a risk of
electric shock to persons.
This symbol is intended to alert the user to the
presence of important operating and
maintenance (servicing) instructions in the
literature accompanying the appliance.
You are cautioned that any changes or modifications not
expressly approved in this manual could void your authority to
This equipment has been tested and found to comply with the
limits for a Class B digital device, pursuant to Part 15 of the FCC
Rules. These limits are designed to provide reasonable
protection against harmful interference in a residential
installation. This equipment generates, uses, and can radiate
radio frequency energy and, if not installed and used in
accordance with the instructions, may cause harmful
interference to radio communications.
However, there is no guarantee that interference will not occur
in a particular installation. If this equipment does cause harmful
interference to radio or television reception, which can be
determined by turning the equipment off and on, the user is
encouraged to try to correct the interference by one or more of
­ Reorient or relocate the receiving antenna.
­ Increase the separation between the equipment and receiver.
­ Connect the equipment into an outlet on a circuit different
from that to which the receiver is connected.
­ Consult the dealer or an experienced radio/TV technician for
To avoid electrical shock, do not open the cabinet.
Refer servicing to qualified personnel only.
· Connect the battery charger to an available wall outlet. Even
though the CHARGE lamp of this unit is off, the battery
charger is not disconnected from the power source. If any
trouble occurs while the unit is in use, unplug the cord from
the wall outlet to disconnect the power source.
· Unable to use this unit to charge a nickel cadmium type, or
nickel metal hydride type battery pack.
· Attach the battery pack to the unit firmly when you charge the
· The battery terminal may be damaged if the battery pack is not
· To protect the battery pack, remove the battery pack from the
unit within 24 hours after the charging is completed.
· Do not apply mechanical shock or drop the unit.
· Keep the unit away from a TV or AM receivers.
In particular, noise from the device may enter a TV or radio if
· Unplug the unit from the wall outlet after use. Pull it out by
the battery charger when unplug this unit. Do not pull it out
· Be sure that nothing metallic comes into contact with the metal
parts of the unit. If it does, a short may occur and the unit may
Where not to place this unit
Regardless of whether this unit is in use or in storage, do not
place it in any of the following locations. Doing so may lead to
· Locations of extremely high temperature
The temperature gets extremely high inside a car with the
windows closed in summer or in strong sunshine, and leaving
the unit inside may cause it to be deformed or break down.
· In direct sunlight or near a heater
There is a risk of deformation or breakdown.
· Locations of excessive vibration
· Locations with strong electromagnetism or radiant rays
· Locations with excessive sand
In locations such as the seashore and other sandy areas or
where dust clouds occur, protect the unit from sand and dust.
There is a risk of breakdown.
· Wipe the unit with a soft dry cloth when it's dirty.
· When the unit is very dirty, wipe it using a cloth with a little
neutral solvent added, and then wipe it dry again.
· Do not use thinners, benzine, alcohol, etc., as they will damage
· When you use chemical cleaning clothes, refer to their
· Using a volatile solvent like an insecticide, or keeping the unit
touching a rubber or vinyl plastic products for a long time may
cause a deterioration or damage of the of the unit.
To Charge the Battery Pack
Charging by attaching the battery pack to this unit.
1 Fit the battery pack to this unit and slide the battery pack
in the direction of the allow. (See Illustration A)
Align the end surface of the battery pack shown by the V
mark to the edge of the terminal shutter of this unit.
2 Pull the power plug up, and then connect it to a wall
outlet. (See Illustration B)
The CHARGE lamp (orange) will light and charging will
When the CHARGE lamp goes out, normal charge is
completed (Normal charge).
For a full charge, which allows you to use the battery longer
than usual, leave the battery pack in place for approximately
Do not connect the power plug of this unit by letting the plug
side down. (See Illustration C)
To remove the battery pack
Slide it in the direction opposite to the operation when you
attach it to this unit, and lift the battery pack above.
The following table shows the charging time for the battery pack
which is discharged completely.
· Approximate minutes to charge an empty battery pack fully
· Numbers in parentheses indicate the time when you charge
normally (Normal charge).
· To ascertain the battery life, refer to the instruction mamual of
the video equipment which you use.
· The charging time may differ depending on the condition of
the battery pack or the temperature of the environment.
The temperature range for charging is 0°C to 40°C (32°F to
104°F). However, to provide maximum battery efficiency, the
recommended temperature range when charging is 10°C to
To use the battery pack quickly
You can remove the battery pack from this unit to use even
though the charging is not completed yet. However, the time
that the battery pack can be used differs depending on the
· Check if the battery pack is attached to this unit firmly when
the CHARGE lamp is not light.
· When a fully charged battery pack is installed, the CHARGE
lamp will once light, then go out.
· When charging a battery pack which is not used for a long
time period, it may take longer than usual to charge the battery
· Do not expose the battery terminal to any mechanical shock.
Be careful not to attach the battery pack forcefully.
· The following events may happen, if there is a battery pack on
the unit. In that case, please contact your Sony dealer or local
authorized Sony service facility.
­ The CHARGE lamp keeps blinking or does not light.
­ Your video equipment does not work with a full-charged
Do not connect the battery charger to a voltage adaptor
(travel converter) for overseas travel. This may result in
overheating or other malfunction.
100 - 240 V AC, 50/60 Hz, 5W
0°C to + 40°C (32°F to 104°F)
­20°C to + 60°C (­4°F to 140°F)
Design and specifications are subject to change without notice.
NP-FM30 NP-FM50 NP-FM70/ NP-QM71/ NP-FM90
---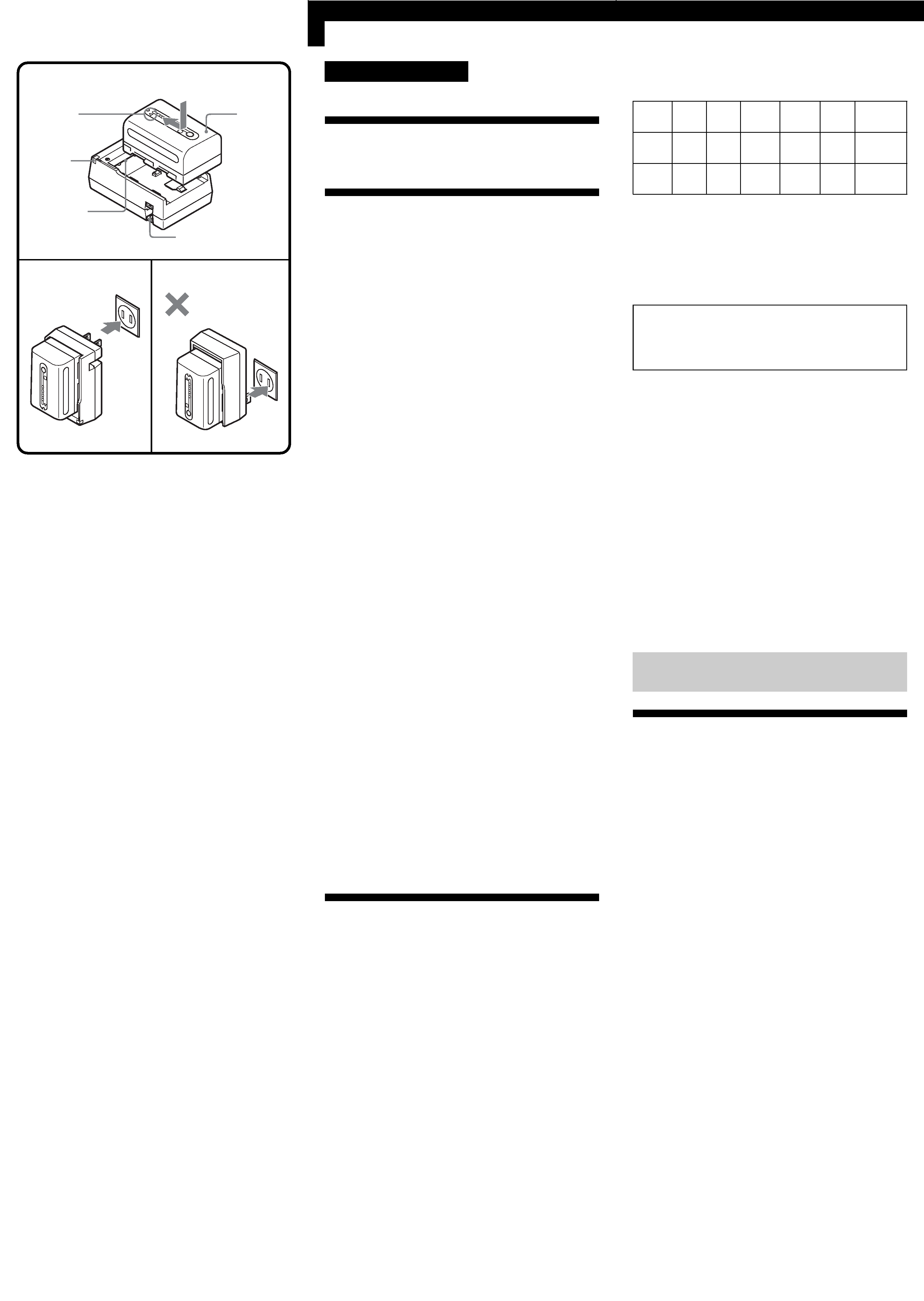 Afin d'éviter tout risque d'incendie ou d'électrocution, ne
pas exposer cet appareil à la pluie ou à l'humidité.
Afin d'écarter tout risque d'électrocution, garder le boîtier
fermé. Ne confier l'entretien de l'appareil qu'à un technicien
Remarques sur l'utilisation
· Raccordez le chargeur de batterie à une prise secteur. Même
lorsque le témoin CHARGE est éteint, le chargeur n'est pas
isolé de la source d'alimentation. En cas de problème,
débranchez immédiatement le cordon d'alimentation de la
prise murale pour isoler le chargeur de la source
· Rattachez correctement la batterie rechargeable à l'appareil
lorsque vous la rechargez.
· La borne de la batterie peut être endommagée si la batterie
n'est pas rattachez correctement.
· Pour protéger la batterie, ne pas la laisser plus de 24 heures sur
le chargeur après la recharge.
· Ne pas appliquer de chocs mécaniques au chargeur. ni le
· Ne pas laisser le chargeur à proximité d'un téléviseur ou d'un
Il peut parasiter la réception télévisée ou radio s'il est placé
· Débranchez l'appareil de la prise secteur après emploi. Pour le
débrancher, tirez sur le chargeur et non pas sur la batterie.
· Evitez que des objets métalliques ne touchent les parties
métalliques du chargeur. Un court-circuit pourrait se produire
et endommager l'appareil.
Qu'il soit en service ou rangé, le chargeur ne devra pas être posé
dans les types d'endroits suivants au risque de l'endommager.
· Endroits à température très élevée
Ne posez pas le chargeur dans une voiture fermée en plein été
ou lorsqu'elle est garée en plein soleil car la température de
l'habitacle atteint des degrés susceptibles d'endommager le
dispositif ou de la déformer.
· Ce chargeur ne peut pas être utilisé pour charger les batteries
au nickel-cadmium ou aux hydrures métalliques de nickel.
· Sous les rayons de soleil ou près d'un chauffage
Risques de déformation ou de détérioration.
· Endroits soumis à de fortes vibrations
· Endroits exposés à un électromagnétisme ou à des radiations
· Environnement très sablonneux
En bord de mer et dans les autres types de régions sableuses
ou soumises à des nuages de poussière protégez le chargeur
du sable et de la poussière. Risques de détérioration.
· Essuyez l'appareil avec un chiffon sec et doux lorsqu'il est sale.
· Lorsqu'il est très sale, essuyez-le avec un chiffon imprégné
d'un peu de solvant neutre, et séchez-le bien.
· Ne pas utiliser de diluants, benzine, alcool, etc. car ils peuvent
endommager la surface de l'appareil.
· Si vous utilisez des tissus de nettoyage chimique, lisez
attentivement le mode d'emploi.
· L'appareil peut se décolorer ou être endommagé à l'emploi de
solvants volatils, comme les insecticides, ou s'il reste
longtemps au contact de produits en caoutchouc ou en vinyle.
Mettez la batterie sur le chargeur pour la recharger.
1 Insérez la batterie sur le chargeur et poussez-la dans le
sens de la flèche. (Voir l'illustration A)
Alignez l'extrémité de la batterie indiquée par le repère V sur
le bord de l'obturateur de cet appareil.
2 Relevez la fiche d'alimentation et branchez-la sur une
prise secteur. (Voir l'illustration B)
Le témoin CHARGE (orange) s'allume et la recharge
Lorsque le témoin CHARGE s'éteint, la recharge normale est
terminée (Recharge normale).
Pour une recharge complète, qui permettra d'utiliser la
batterie plus longtemps, laissez la batterie en place encore
une heure environ (Recharge complète).
Ne pas brancher le chargeur avec la fiche vers le bas. (Voir
Tirez-la dans le sens opposé à la mise en place et levez-la vers le
Le tableau suivant indique le temps de recharge quand la
batterie est complètement déchargée.
Batterie NP-FM30 NP-FM50 NP-FM70/ NP-QM71/ NP-FM90
· Temps de recharge approximatif en minutes pour recharger
complètement une batterie vide (Recharge complète).
· Les chiffres entre parenthèses indiquent le temps normal
· Voir le mode d'emploi de l'appareil vidéo utilisé pour
l'autonomie de la batterie.
· Le temps de recharge varie selon l'état de la batterie et la
La batterie peut être rechargée à une température comprise
entre 0°C et 40°C (32°F et 104°F). Cependant, pour que son
efficacité soit optimale, il est conseillé de la recharger entre
10°C et 30°C (50°F et 86°F).
Pour utiliser rapidement la batterie
Vous pouvez utiliser la batterie même si elle n'a pas été
complètement chargée. Son autonomie sera toutefois moins
· Vérifiez si la batterie est bien fixée au chargeur si le témoin
· Quand vous insérez une batterie pleine dans le chargeur, le
témoin CHARGE s'allume puis s'éteint.
· Il faudra probablement plus de temps que d'habitude pour
recharger une batterie qui n'a pas été utilisée depuis
· N'exposez pas la borne de la batterie à un choc. Ne forcez pas
lorsque vous rattachez la batterie.
· Les phénomènes suivants peuvent se présenter si une batterie
est en place sur le chargeur. Dans ce cas, veuillez contacter
votre revendeur Sony ou un centre de réparation agréé par
­ Le témoin CHARGE continue de clignoter ou ne s'allume
­ L'appareil vidéo ne fonctionne pas bien que la batterie soit
Si vous voyagez à l'étranger, n'utilisez pas le chargeur avec
un adaptateur de tension (adaptateur portatif). Cela peut
provoquer une surchauffe et des dysfonctionnements.
Secteur 100 - 240 V, 50/60 Hz, 5W
Borne de recharge de la batterie:
Température de fonctionnement
0°C à +40°C (32°F à 104°F)
Température d'entreposage
­20°C à +60°C (­4°F à 140°F)
La conception et les spécifications peuvent être modifiées sans
---