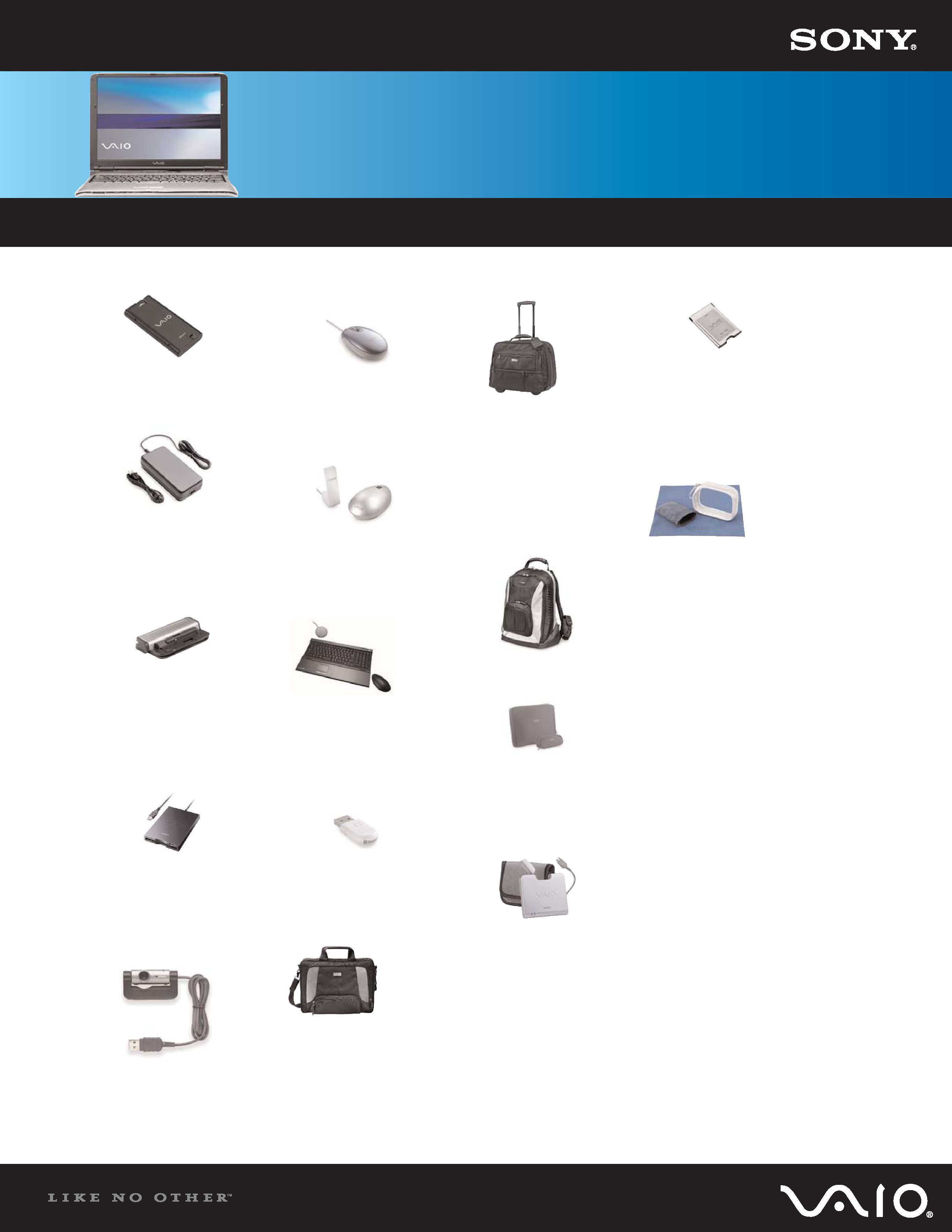 ©2004 Sony Electronics Inc. All
rights reserved. Reproduction in
whole or in part without written per-
mission is prohibited. Sony, i.LINK,
Memory Stick, Memory Stick Pro,
Magic Gate, Click to DVD, Like No
Other, and VAIO are trademarks of
Sony. Microsoft, Windows and
Outlook are trademarks of Microsoft
Corporation. All other trademarks
are trademarks of their respective
owners. This product meets the
standards of the International
Energy Star Program for energy
efficiency. Features and specifica-
tions are subject to change without
notice. Non-metric weights and
measurements are approximate.
PCGA-AC19V7 (For use with AV
With the port replicator you get
Ethernet, VGA output, DVI-D, S
Video out, Video out, audio in
(pin jack), audio out (pin jack),
book. Sleek black color coor-
dinates perfectly with your PC.
Sensor. Dimensions: 2.38"W x
design perfectly matches VAIO
less convenience and smooth,
precise control. A USB powered
your lap. The kit includes a
wireless keyboard and mouse,
and USB wireless receiver.
with urban style. Room for files,
mobile accessories and up to
17" LCD VAIO PC. External
Dimensions: 17"W x 13"H x
makes your trip much easier.
Convenient 22" long retractable
handle. External Dimensions:
comfortable backpack with
Neoprene offers durable and
water-resistant protection. The
AC adapter case helps you to
and more. Compact design and
included case makes it perfect
Install an additional memory
module so you can open and
run more applications at once.
a PC card slot on you PC:
MemoryStick
®
, Memory Stick
quickly and safely. This con-
venient cleaning kit includes a
high quality cleaning cloth,
handy cleaning mitten and
1. Interoperability among Bluetooth
2. 60GB means one billion bytes
when referring to hard drive
capacity. Accessible capacity
3. Not all products with USB con-
nectors may communicate with
each other due to chipset varia-
4. Does not support Memory Stick
media and Memory Stick PRO
media using the MagicGate func-
tion. Tested to support Memory
Stick PRO media for up to 1GB.
SmartMedia media or the ID
function of SmartMedia media
with IDs. Does not support the
SD Memory Card media copy
right protection function.
5. i.LINK is a trademark of Sony
used only to designate that a
product contains an IEEE 1394
connector. All products with an
i.LINK connector may not com-
municate with each other.
Empower and Enhance Your VAIO
®
PC Capabilities.
Notebook Accessories Spring 2005
---